This article contains affiliate links for which I may receive a small commission, at no additional cost to you, should you decide to make a purchase by using them. Learn More
Sustainable underwear brands that make you feel comfortable and confident without compromising your values!
Minimalist, ethical & sustainable underwear is super important to us because we wear it on our most intimate body parts every day. We want underwear that makes us feel confident, sexy, and comfortable while meeting our ethical standards. Lingerie that not only makes us feel good, but that is also good for the planet and the brands that produce it.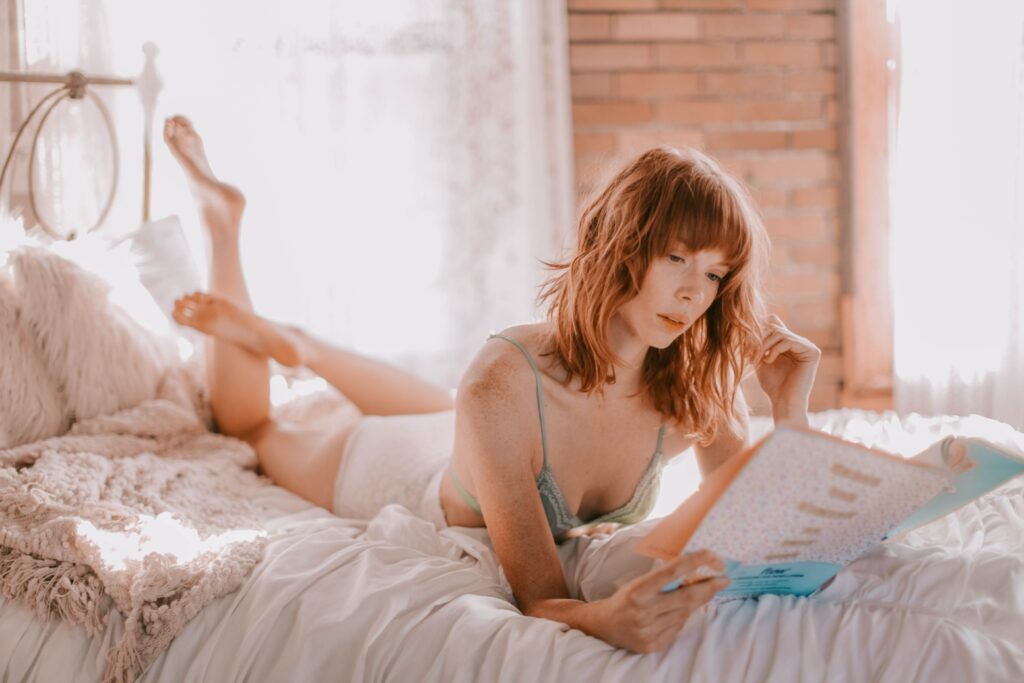 Why choose sustainable underwear?
The biggest reason for supporting ethical and sustainable brands is simple: they are better for the environment. Most large-scale industries have a devastating impact on the environment, but the fashion industry is among the most destructive industries in the world. Fashion production can cause water pollution, carbon emissions, and textile waste.
Cotton underwear undergoes significant chemical processing that contributes to waste and pollution and leaves traces of harmful toxins on your skin, leading to yeast infections. Also, nylon and polyester are non-natural fibers that cause even more pollution because they shed tiny plastics into waterways every time they're washed. These non-natural fibers also are not ideal for physical activity since plastic doesn't breathe well. Ethical, sustainable underwear brands use organic cotton or polyester to process their underwear without toxic chemicals.
Another reason to keep an eye out for minimalist, ethical and sustainable brands is that they support artisans worldwide to make sure they are compensated fairly. 93% of brands surveyed by Fashion Checker aren't paying their garment workers a living wage. This means that our fashion choices and the brands we support can be held responsible for a person's living wage.
Ethical practice aside, the minimalistic style of these brands, alongside their sustainable production policies, ultimately results in a much higher quality. As a consumer, it feels good to wear something made for your unique body type, with fabrics and designs that prioritize women's health and the environment. These are aspects of fashion–particularly in the underwear industry–often lacking in stores run by large corporations.
If you're ready to update your everyday essentials to minimalist and ethical brands, check out our favorite sustainable underwear lines below. Location, ethics, fabrics, price range, and size rated these sustainable underwear brands so you can find the right pair for you.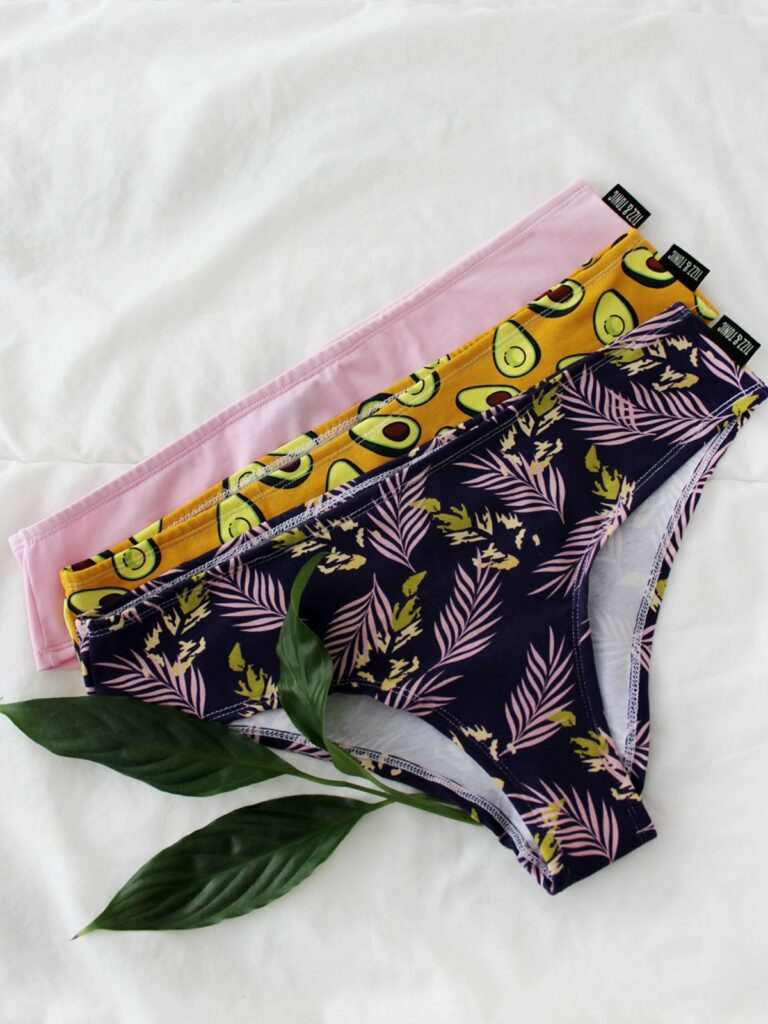 Based | Bremen, Germany
Ethics | Eco-friendly, Fair working conditions, Small scale production.
Fabrics | Organic cotton
Price Range | $$
Size range | XXS-XXL
Tizz and Tonic is one of the sustainable underwear brands that satisfied every requirement to be a part of this list. First, they use organic cotton in the process, so this fabric doesn't pollute the environment with pesticides. The business is run and operated by women, assuring that the workers are respected and well rewarded.
The idea was born when two sisters decided to launch a brand that will empower women. The idea was turned into reality in 2017 when they introduced the German lingerie brand on the global market. To reduce waste, they produce high-quality pieces in smaller quantities. So, if you spot a piece that you like, make sure to grab it before it is sold out.
This brand ships their orders in recyclable packaging to reduce waste. However, this isn't the only green practice. They are well known for recycling the fabric offcuts into reusable cotton pads for removing makeup. You can throw them in the washer and reuse them again and again.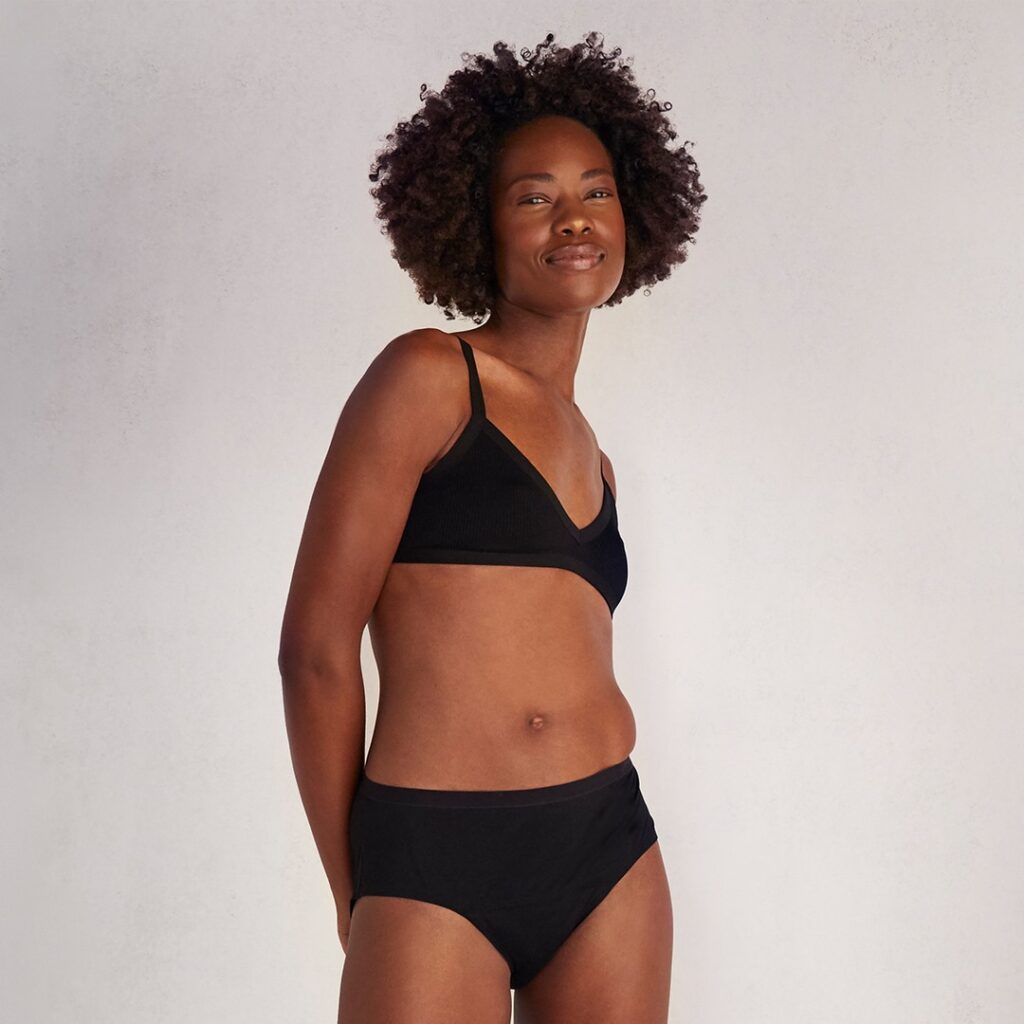 Based | New York
Ethics | Sustainable practices, Fair working conditions.
Fabrics | Cotton, Polyester
Price Range | $$
Size range | XXS-3XL
Thinx is a revolutionary brand that makes women's life more comfortable since 2013. They produce underwear meant to replace hygiene products or offer additional protection against leaks. There are different designs available so that you can choose the one you like the best. Also, the panties are available in a wide variety of sizes.
If you think that you spend too much on feminine hygiene products or want to reduce the waste, you certainly need a few pairs of these reusable panties. Additionally, they offer a unique design to make the postpartum period more comfortable for new moms.
The business has a goal to empower women and help them in different ways. The manufacturing facility is located in Sri Lanka, offering excellent working conditions and education for women. Not that only they recycle the waste into pavement blocks for the locals, but they plan to become a zero-waste business by 2025.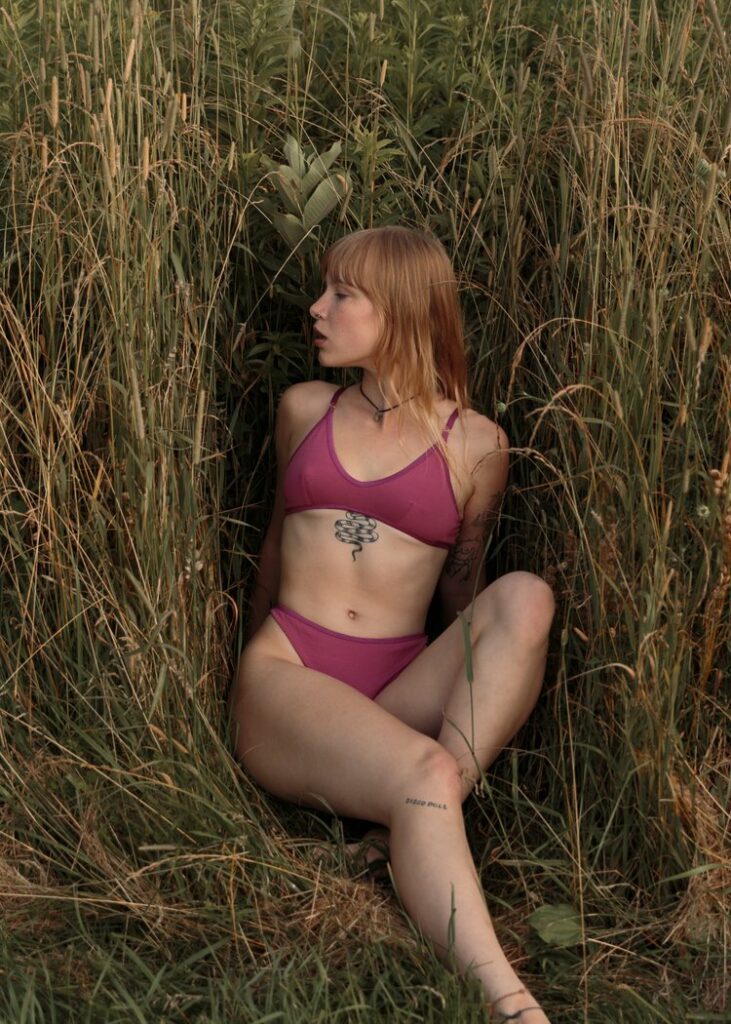 Based | Maine
Ethics | Sustainable material, local sourcing.
Fabrics | Organic cotton
Price Range | $$
Size range | XS-XXL
Launched in 2007, Brook There produces minimalist, comfy, and ethical underwear. The founder herself had a problem finding the perfect fit, so she learned the basics of design and started making her own lingerie.
This ethical underwear brand offers lingerie sets, bras, and bottoms. You can choose to buy a lingerie set or make a combination according to your needs and preferences. On each bra page, you can find a few different styles of matching underwear. Whether you prefer hipster or Brazilian panties, you can match the one you like with your chosen bra. Brook There offers many color options for undergarments, from rich earthy tones to deep blue, if you're a fan of nature's color tones.
In the process of production, they use locally sourced and low-impact fabrics that guarantee longevity. They keep the process within the U.S. to be able to monitor their partners' ethical practices. Acknowledging the production of conventional cotton pollutes the environment with pesticides, Brook There chooses organically grown cotton.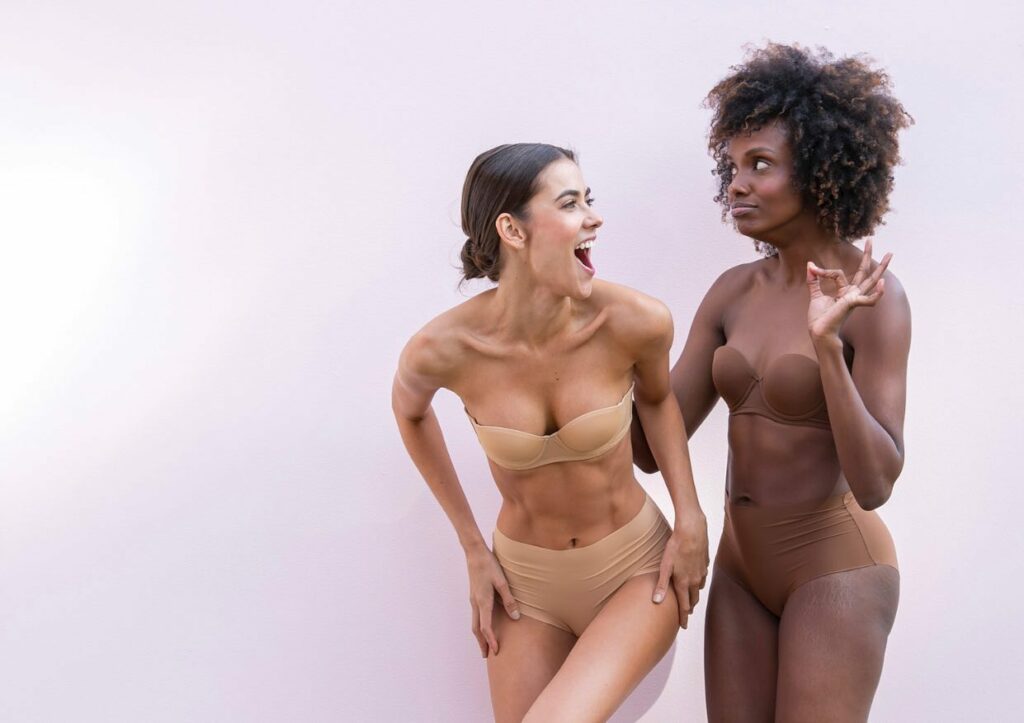 Based | Los Angeles
Ethics | Fair working conditions, Eco friendly
Fabrics | Cotton, nylon.
Price Range | $$
Size range | XS-2XL
The brand shares the opinion that all bodies are perfect and offer a wide range of sizes. Whether you are looking for bras, panties, or activewear, you can find a suitable size here.
Naja is a brand that respects women in every possible way. As a part of their practices, they give advantage to single mothers when hiring. This brand wants to empower women and offer fair working conditions for them.
When it comes to the eco-friendly side, they choose to eliminate wastewater. The conventional manufacturing process releases wastewater with toxic dyes, which harm the environment. To avoid polluting the water, this brand chooses digital printing over dying.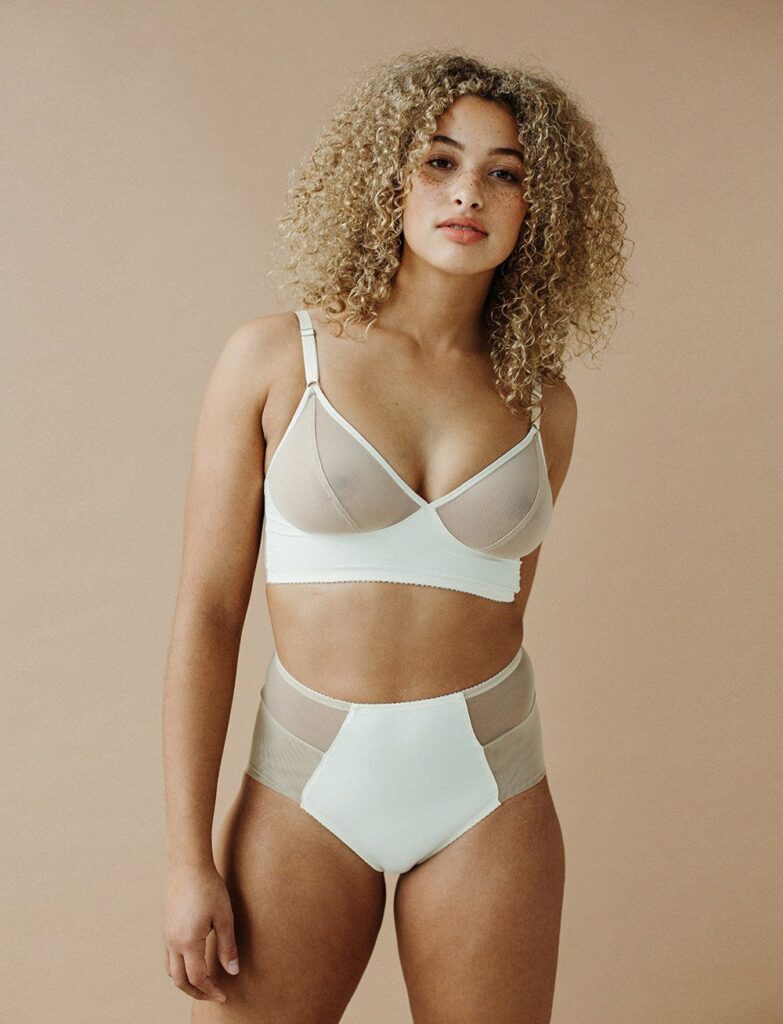 Based | Toronto, Canada.
Ethics | Ethically sourced materials
Fabrics | Cotton, Nylon
Price Range | $$
Size range | XS-XL
Fortnight is a brand engaged in the production of minimalist pieces since 2010. Their lingerie collection features comfort, confidence, and quality. Each piece is made to last, so be prepared to keep it in your collection for a long time. Whether you are looking for a bra, panties, bodysuit, or swimwear, be sure that you will find your favorite piece here.
Since the underwear is the base of your outfit, you need to make the right choice. If you are tired of the undergarments that lose their shape after a few washes, this is your go-to brand. Each piece is made of ethically sourced material that guarantees quality. There is nothing better than a good quality piece that will retain its shape and fit.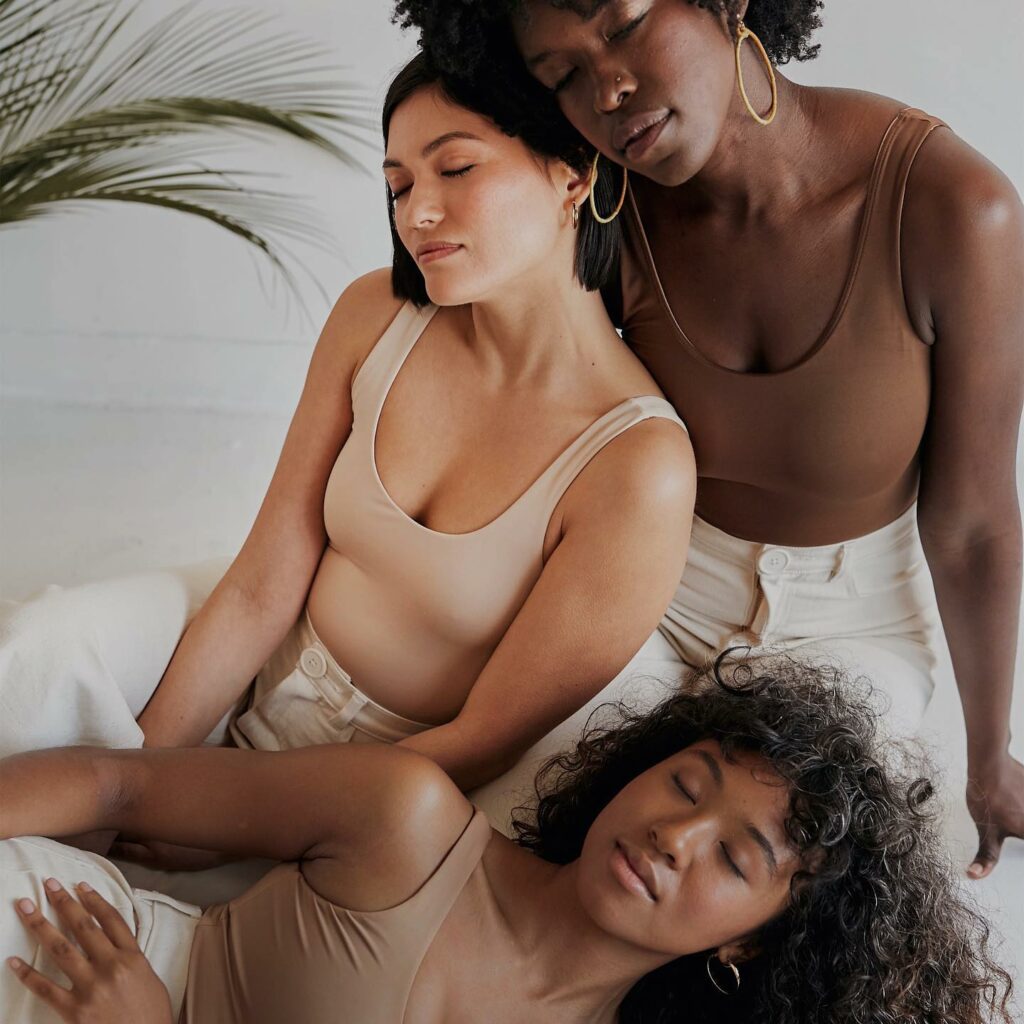 Based | Los Angeles
Ethics | Eco-friendly, Fair working conditions, Inclusive design, Ethically made
Fabrics | TENCEL, polyester
Price Range | $$
Size range | S-3XL
Proclaim is one of the sustainable underwear brands that use TENCEL to produce high-quality pieces. It is an innovative fabric that ensures the optional use of resources and doesn't harm the environment. TENCEL is soft and breathable, making it the ideal choice for underwear. Also, they use recycled polyester that would otherwise end up as plastic waste. This means that they turn plastic bottles into lovely bras and save the environment. Furthermore, the packaging and tags are 100% recyclable.
The collection consists of romantic bralettes, panties, and body sculpting bodysuits. No matter which size you wear, you can find the right fit here. Ladies with larger busts usually have a problem finding cute bras that fit correctly. Keep in mind that the undergarments are available up to size 3XL, making it easier for you to find the right piece.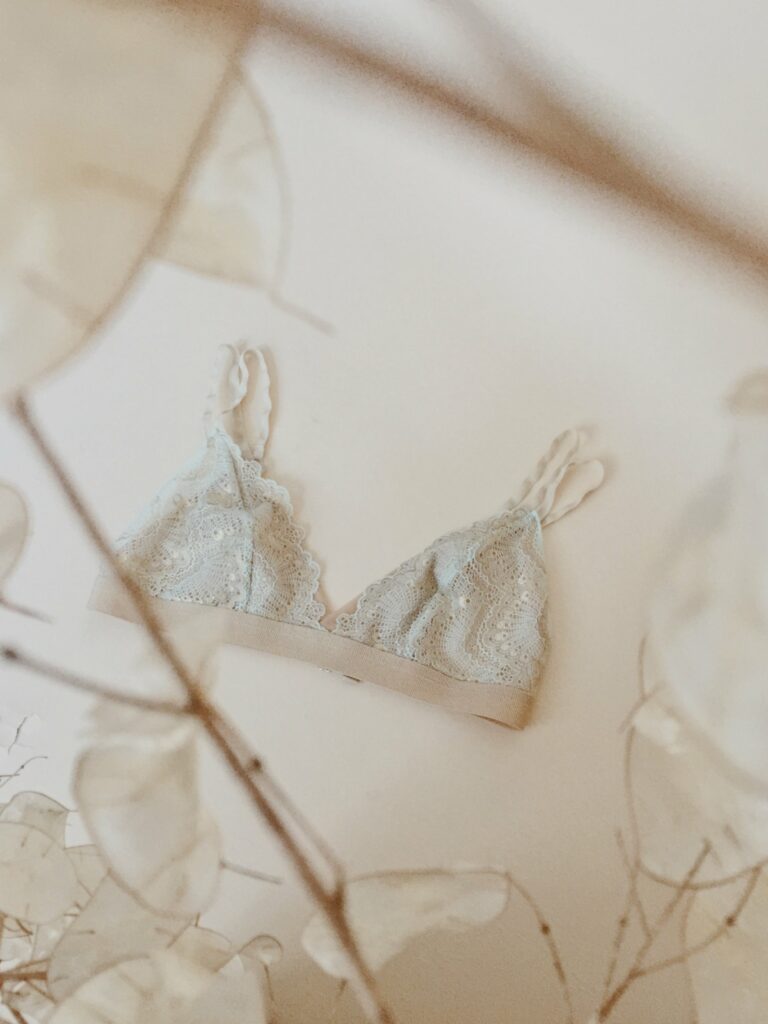 Based | Antwerp, Belgium
Ethics | Eco-friendly, local sourcing.
Fabrics | polyester
Price Range | $$
Size range | S-L
Orphelia is a brand that creates ethical underwear since 2015. The pieces are soft, feminine, and allow every woman to express herself. Ophelia Debisschop incorporates her art knowledge into creating unique pieces in their Belgian atelier.
Orphelia offers a range of bras, panties, bodysuits, and swimwear. All the designs are handmade using fabrics sourced from Europe to reduce the carbon print. The brand has an idea to produce quality undergarments that will eliminate the need for frequent purchases and reduce waste.
Do you want to have a peek at the process? This brand offers a unique chance to book a lingerie making workshop in their atelier. This is an excellent chance for ladies to have fun and learn something new.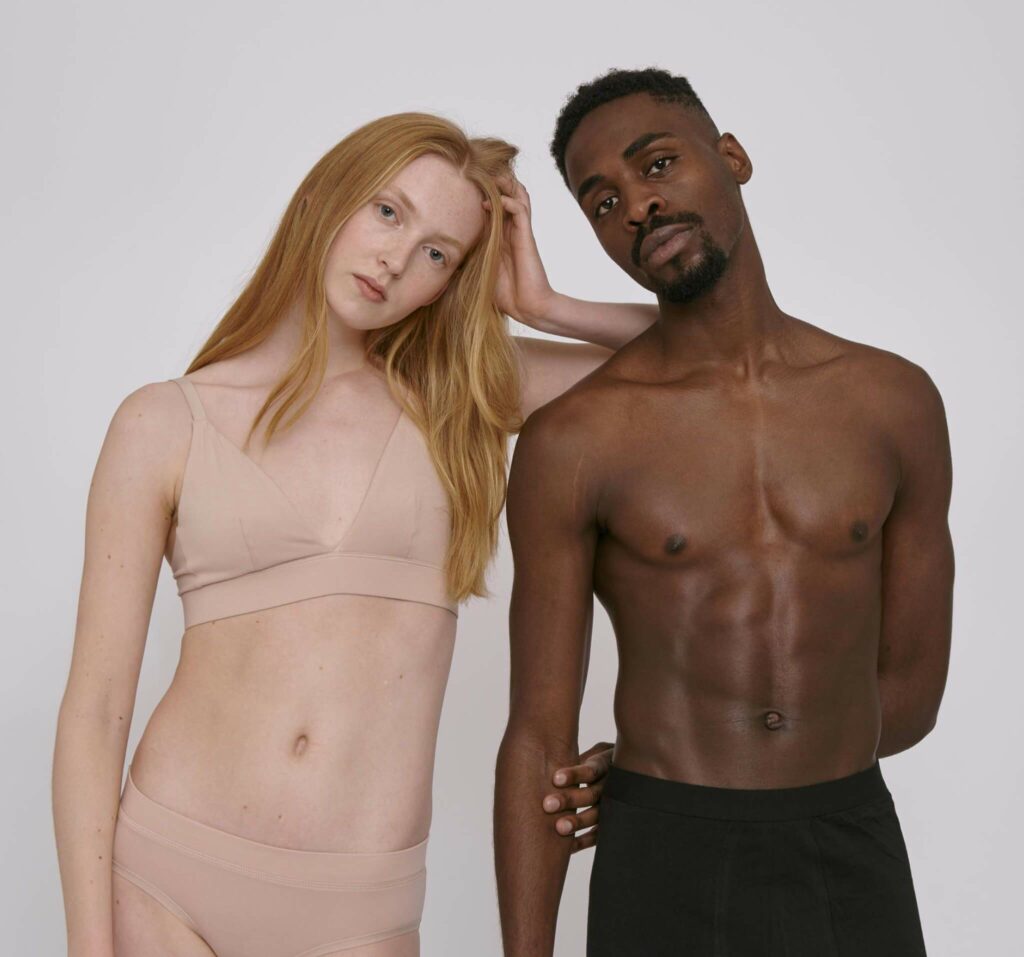 Based | Copenhagen
Ethics | Eco-friendly, fair sourcing
Fabrics | Organic cotton, TENCEL
Price Range | $$
Size range | XS-XL
Organic Basics has been on the lingerie market since 2015. It was founded by four Danish guys who didn't like the lingerie industry's negative environmental impact and decided to make a change. Now, they have a popular brand for men's and women's underwear. When you are too picky about choosing lingerie, keep in mind that they have comfortable, stylish, and conscious underwear.
Their activewear collection is outstanding and will solve one of the worst problems – odor. It is made of a unique fabric that has silver salts incorporated in the fibers. This will stop bacteria from growing and keep your workout clothes odor-free for a longer time. Fewer washes mean less laundry time for you and saving on water and electricity. Other products that you can shop for are comfy underwear, no wire bras, and socks.
As with other minimalist underwear brands, you might find their tags a bit pricey. However, make sure that you check the underwear packs. If you want to upgrade your drawer, you can save when buying a bunch.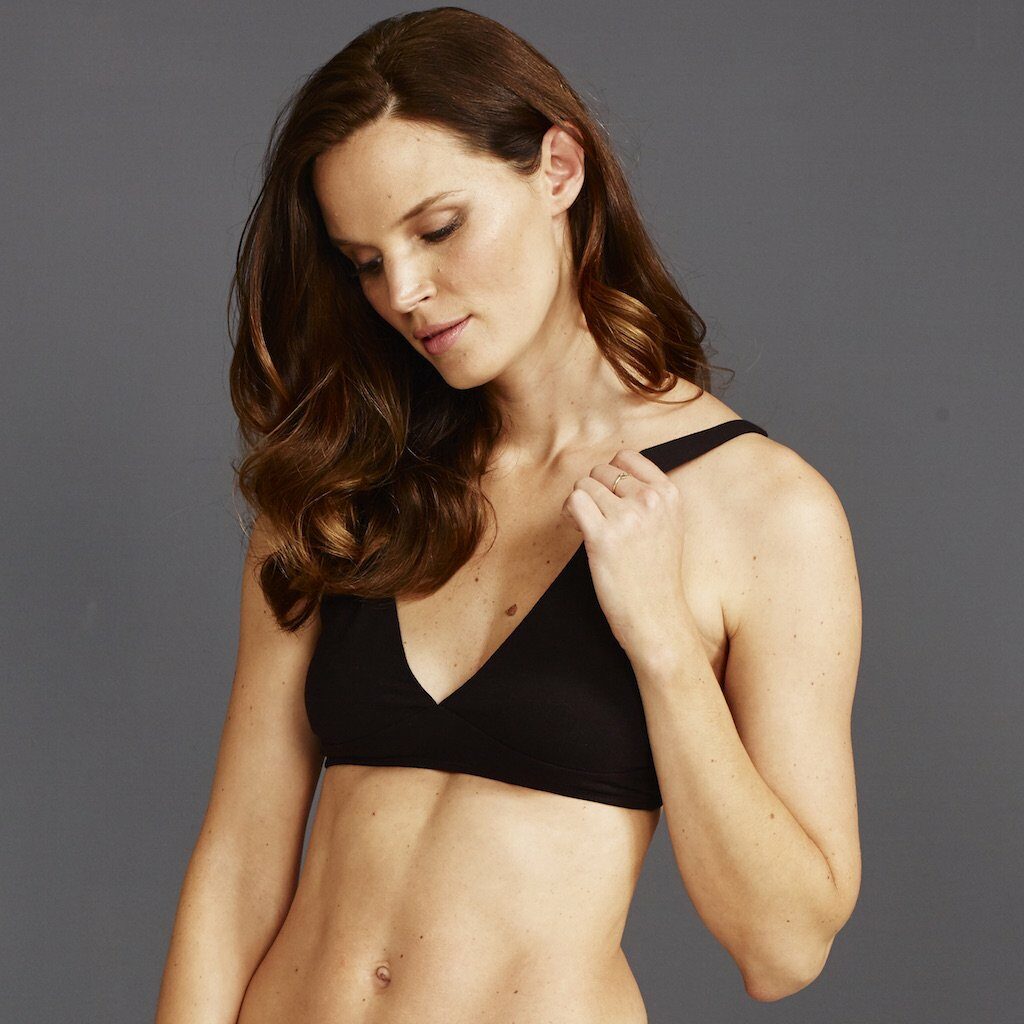 Based | U.K.
Ethics | Vegan, fair working conditions, eco friendly
Fabrics | Organic cotton
Price Range | $$
Size range | XS-4XL
Y.O.U. Underwear is a brand that embraces natural bodies in all shapes and sizes. We really need more brands that make us feel confident and spread body positivity.
Y.O.U. Underwear has men's and women's underwear and swimwear in lovely neutral colors.
The brand focuses on creating comfortable underwear that you can wear every day. There is a wide range of sizes so that anyone can find the perfect fit.
When it comes to sustainable and ethical practices, the brand works with an ethical manufacturer from India. All the people included in the process get a fair wage and are treated right. Also, they ship each order in a reusable cotton bag. Whenever plastic is used, they make sure to include only recyclable ones.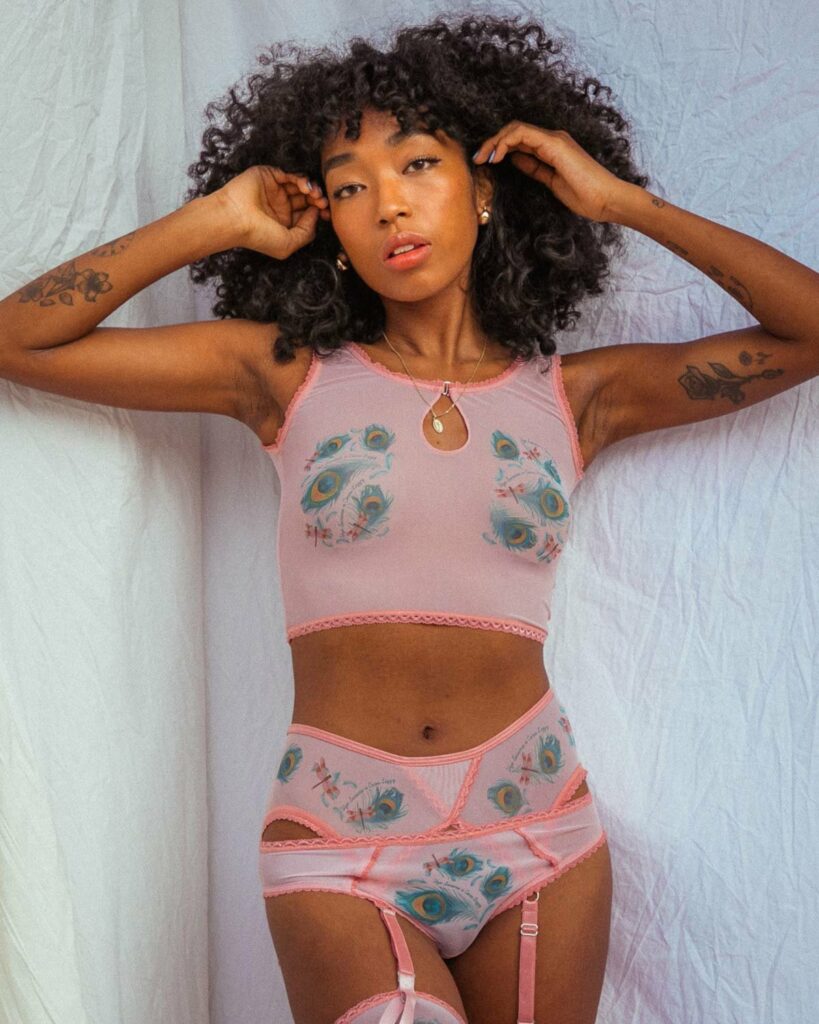 Based | New York
Ethics | Fair working conditions, eco-friendly
Fabrics | Nylon, polyester
Price Range | $$
Size range | XS-3XL
Uye Surana is a lingerie brand that offers feminine and cheeky underwear. They embrace body positivity and widen their size range up to 3XL. The collection comes in bright pastel colors and lovely prints to enhance femininity. If you want to update your underwear drawer with smart choices, they have bras, underwear, stockings, garters, and camis.
Each of the pieces is handmade in Colombia by a family-owned factory. Then, the pieces travel back to New York for a final touch where they are handprinted. This process adds the signature style without using dyes and wasting water. Also, they produce a limited edition of each collection. By avoiding mass production, they focus on quality and help reduce waste.
When you spot a cute bralette, make sure to grab it as soon as possible. Otherwise, it will go out of stock, and they won't produce the same one again.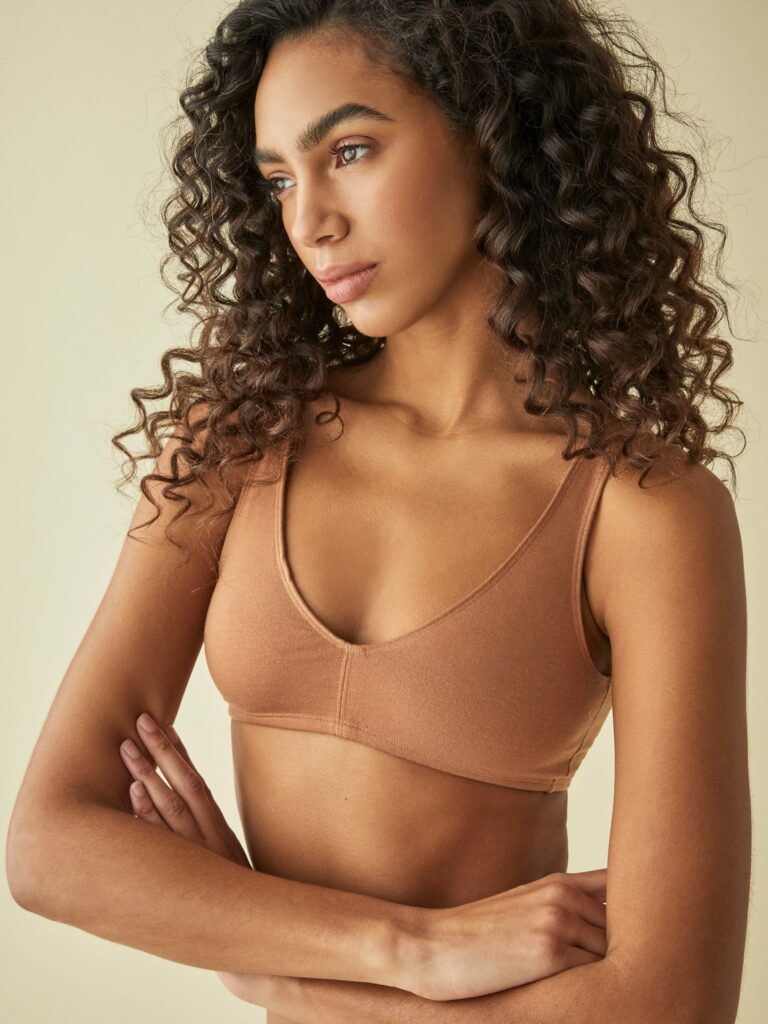 Based | Los Angeles
Ethics | Eco friendly
Fabrics | TENCEL, silk, cotton
Price Range | $$-$$$
Size range | S-3XL
Reformation is a brand that offers a wide range of ethical clothing, including a lingerie collection. The brand emphasizes their choice of fabrics, as this determines the washing methods and possibility of recycling. Since these two factors will determine the environment's impact, the brand chooses natural and low impact fibers. They do their best to protect the environment, such as minimum gas emissions, efficient use of resources, and don't use toxic dyes.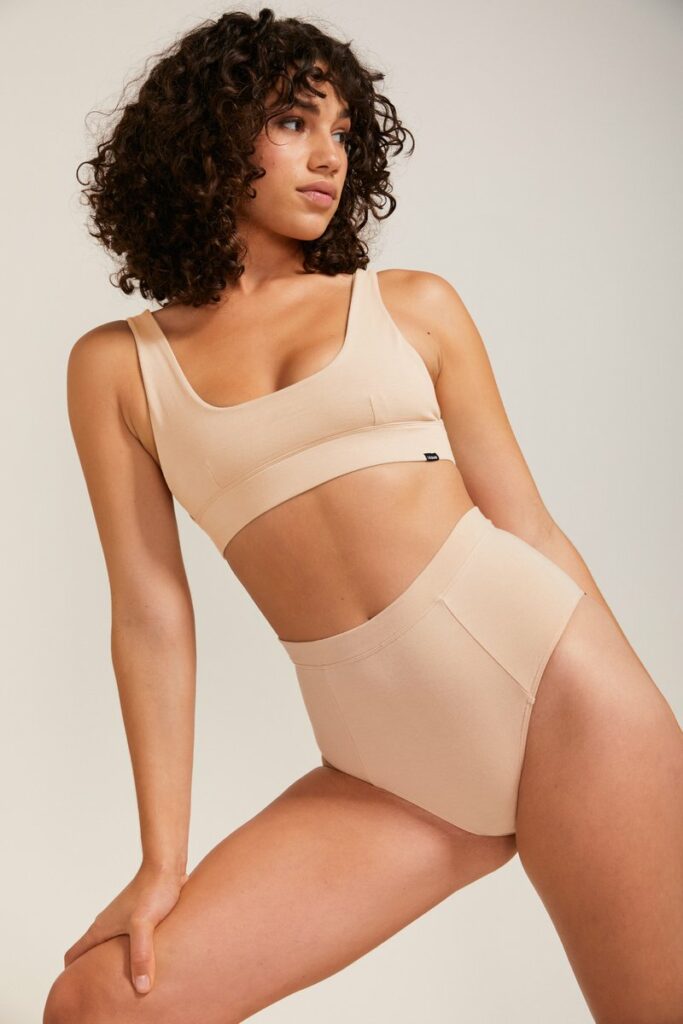 Based | Melbourne, Australia
Ethics | Eco-friendly, fair working conditions
Fabrics | Organic cotton, nylon
Price Range | $$-$$$
Size range | M-4XL
Le Buns is one of the ethical underwear brands based in Australia. They have achieved the perfect balance between producing conscious lingerie and introducing timeless and wearable designs. You can enjoy the feeling of organic cotton and know that it is low impact.
Le Buns also recycles fishing nets into beautiful swimwear, which can be styled in your day outfit too. They ship your orders in biodegradable and recyclable packages to further reduce the waste. The brand also respects its workers and offers excellent conditions.
Are you wondering where do the pieces with minor flaws go? They certainly don't end up in the garbage. This brand sells pieces with minor imperfections from the production process for a reduced price. This simple practice helps reduce waste but also makes it affordable even for a limited budget. If you want to save some more, check their multipacks and find the thing that matches your taste.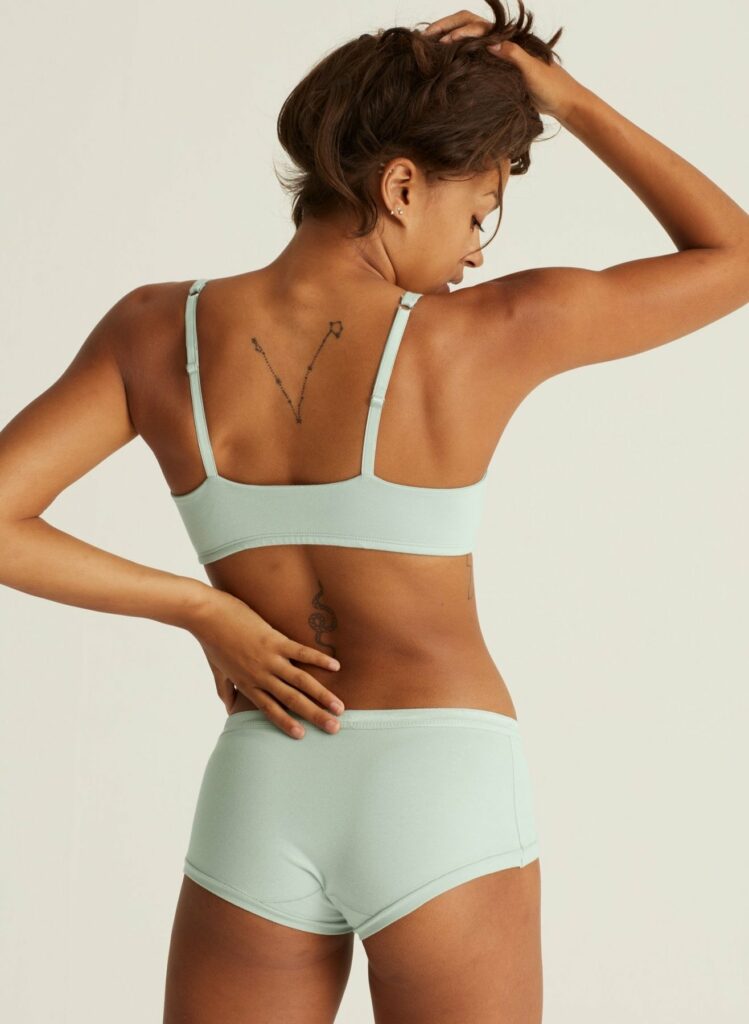 Based | Copenhagen
Ethics | Eco-friendly, sustainable materials, vegan
Fabrics | Modal, organic cotton
Price Range | $$
Size range | XS-XL
Woron is a Scandinavian brand based in Copenhagen, so expect to see simple and minimalist designs. Two sisters launched the brand to introduce comfortable lingerie that you will love to wear every day. It is one of the minimalist underwear brands that doesn't sacrifice comfort for aesthetics. The collection is made of toxin-free and breathable materials.
Despite using organic cotton to reduce the impact, they introduce a special Lenzing Modal that is made of beech wood, feels smooth and silky but is comfy and breathable. Browse their collection and find lovely bras, panties, bodysuits, and loungewear.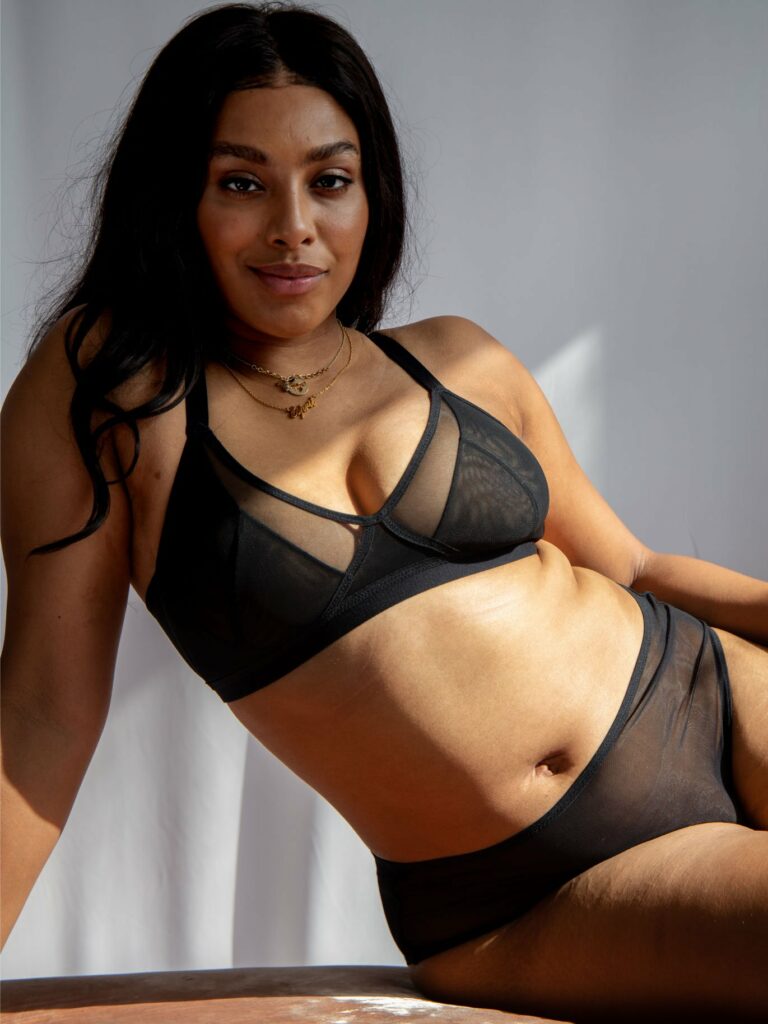 Based | London
Ethics | Eco friendly, women-operated business
Fabrics | Nylon, cotton
Price Range | $$
Size range | M-4XL
Lara Intimates is another brand that normalizes standard bodies. Ladies with large breasts find it difficult to pick the right fit for non-wired bras, so this brand makes it easier for you. With sizes ranging up to 4XL, there is a wide choice available for everyone. The collection offers mostly black pieces, which look so elegant and feminine.
The brand is zero waste and recycles the offcut materials. Also, they source recycled fabrics and eco-friendly packaging. Each piece is produced in-house so that they can have full control over the ethics.
Lara Intimates is a business founded and operated by women. They think that women can understand the needs of other women and produce underwear that matches them. Each worker is respected, paid well, and works in a safe environment.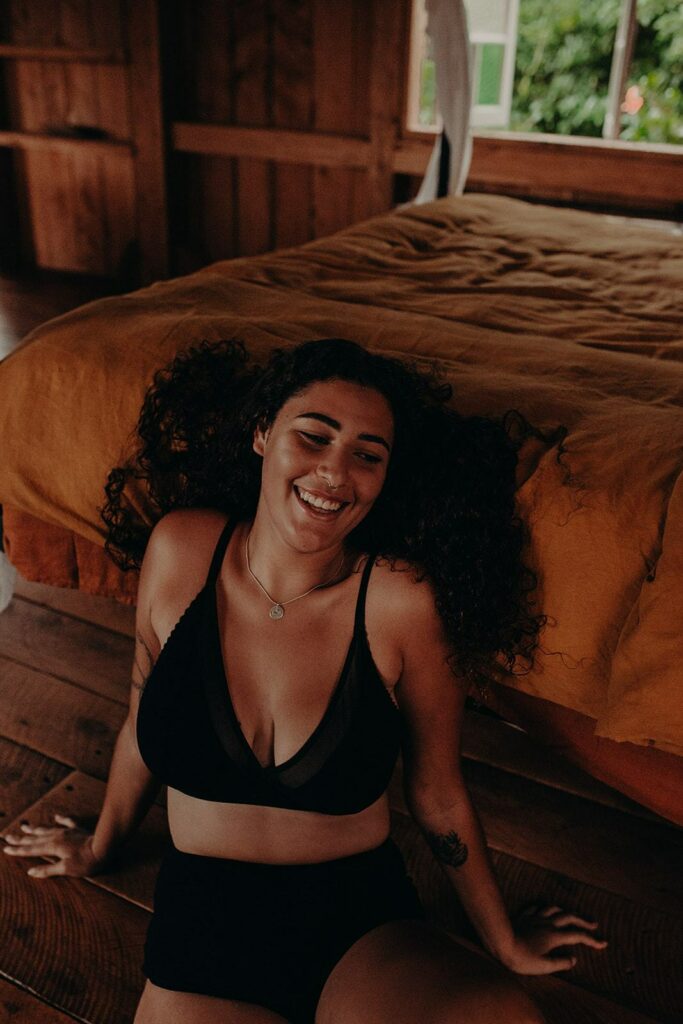 Based | Byron Bay
Ethics | Eco friendly, fair working conditions
Fabrics | Organic cotton
Price Range | $$
Size range | XS-4XL
Eco Intimates is one of the ethical underwear brands that introduce conscious cotton lingerie. Find different types of bras and panty styles that flatter your body type. They use organic cotton and low-impact dyes to protect the environment.
To further reduce the impact, they produce their lingerie in small quantities. Not only does this eliminate extra waste, but it allows them to pay attention to every single detail. If you are looking for lingerie that feels luxurious, this is your choice. All orders are shipped in biodegradable packages so that you can put them in your compost.
The brand offers ethical working conditions for the seamstresses. They have a unique approach called "home industry," which allows each sewist to sew the pieces at their own home's comfort. This gives them flexibility and offers the best working conditions.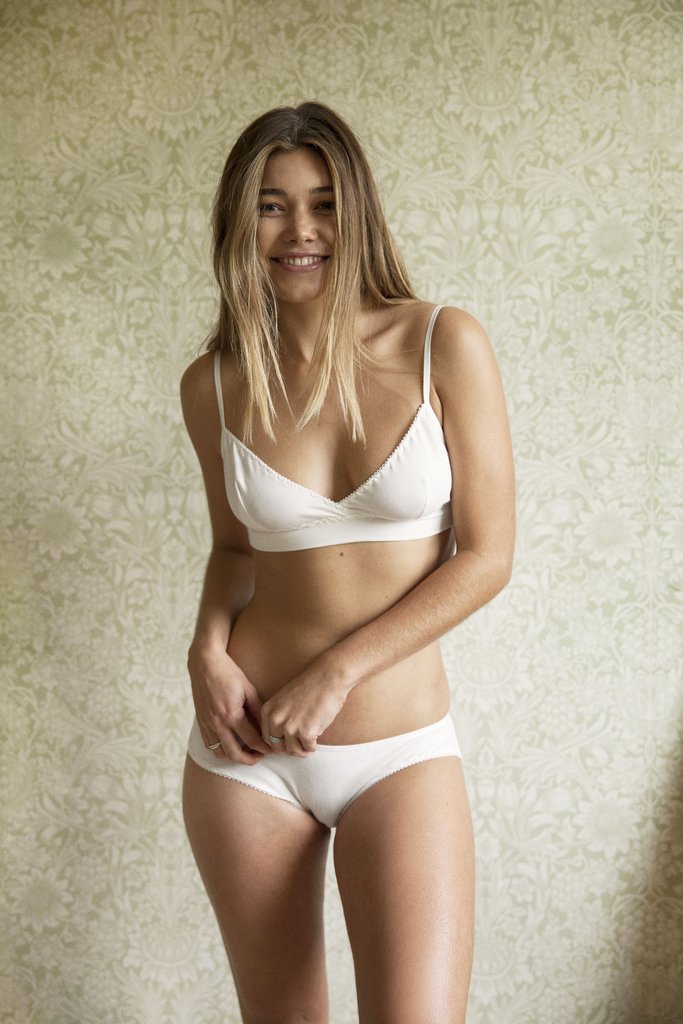 Based | Brighton
Ethics | Eco friendly, women-operated business
Fabrics | TENCEL, organic cotton, bamboo, hemp, soy
Price Range | $$
Size range | XS-XL
Luva Huva is one of the minimalist underwear brands that prioritize local suppliers whenever possible. They use natural materials such as bamboo, cotton, hemp, and TENCEL, making the undergarments feel comfortable and stylish.
Luva Huva does their best to reduce the waste, as they recycle everything they can. Some of their collections are limited edition, with less than ten pieces available for each design.
In case you can't find the perfect fit among the sizes available, this brand will happily create customized pieces per your measurements. This is perfect if you can't find the right size in the standard lingerie. They won't charge you custom sizing, so contact them online to find out more.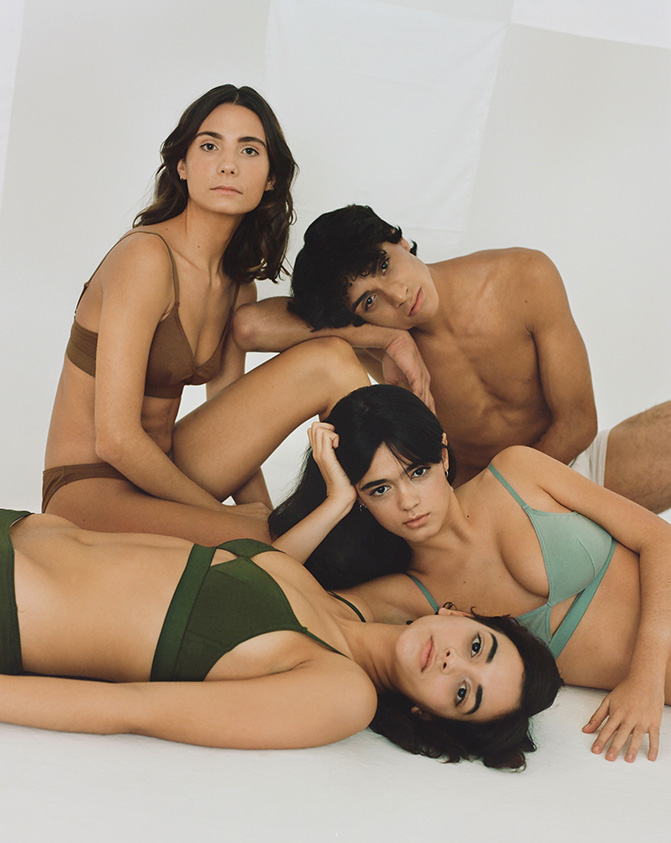 Based | Valencia, Spain
Ethics | Fair working conditions, local sourcing, sustainable practices
Fabrics | Organic cotton, recycled polyamide
Price Range | $$$
Size range | XS-XL
Spanish underwear brand The Nude Label creates underwear that is both appealing, comfortable and designed for women by women. The company believes in feminism, the concept of self-love and being inherently natural, and this comes across in all of their work. The beautiful color palette of these Spanish-made cotton underthings might finally convince me to add a bit of color to my underwear collection!
The idea for The Nude Label came from two long times friends who were working in fashion and realized there was a lack of comfortable yet beautiful ethical underwear brands on the market. Their approach is to design for women and to give them the comfiest, prettiest underwear in the most sustainable way possible. Designs are minimal and heavenly comfortable, and the brand features models across the age and size spectrum, proving this is underwear for the everywoman.
As an openly sustainable label, they prioritize the actual product and remain conscious towards the people who produce it. The Nude Label produces locally, so they can control and monitor the entire process. This ethical underwear brand uses organic stretch cotton to create clothing that fits like a second skin and support for a woman's everyday life. They locally make all of their pieces in a family-run facility in Valencia, Spain. They also defend the slow fashion movement and believe in buying less but better and enjoying and loving the products you purchase.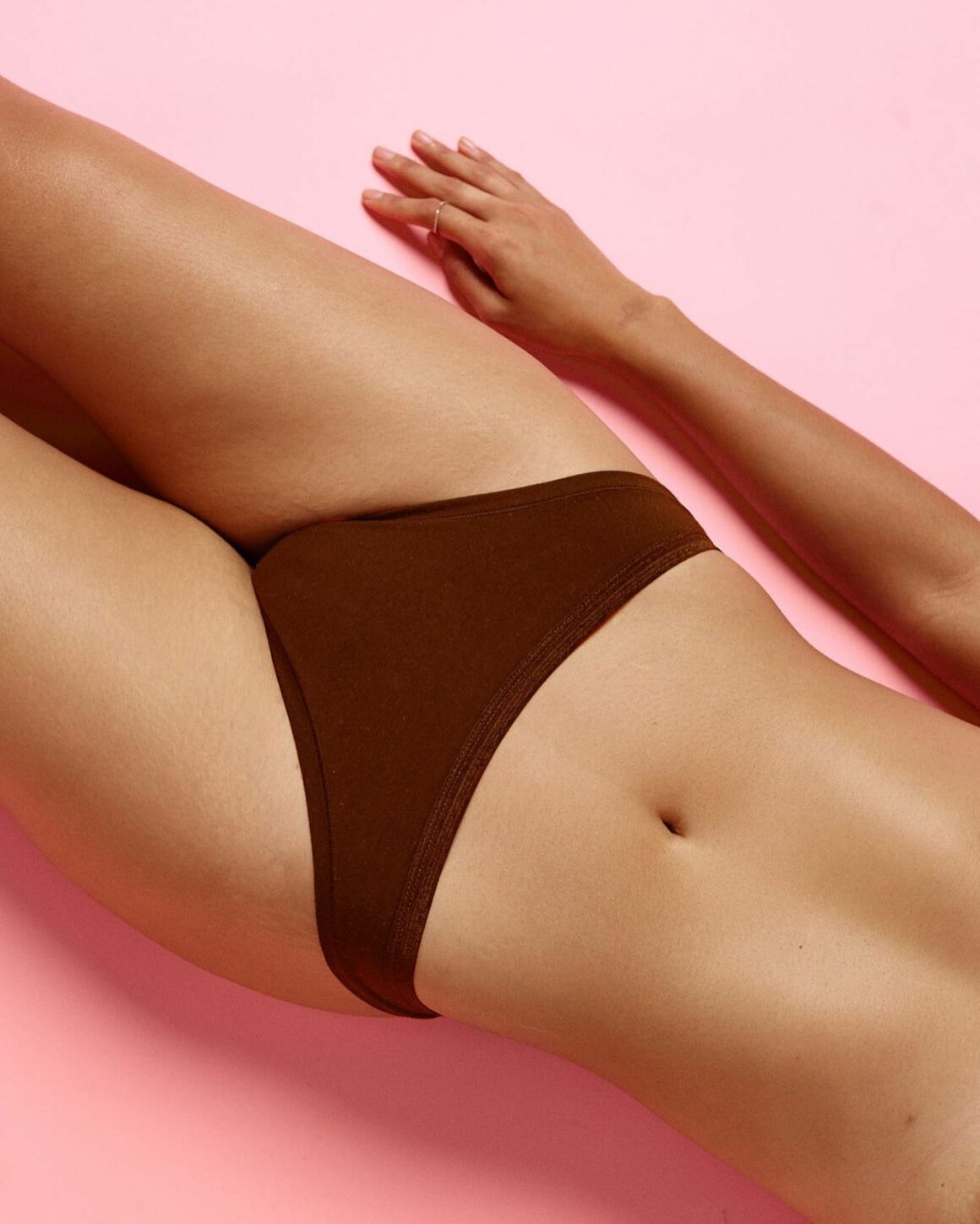 Based | New York City
Ethics | Eco-friendly, sustainable practices
Fabrics | Organic cotton, elastane
Price Range | $$
Size range | XXS-XXXL
Knickey is a direct-consumer women's underwear brand that offers a subscription service for women who want great underwear, but not at the cost of the environment. The founders of Knickey come from a strong background in sustainability and supply chain and believe in taking a holistic view to minimizing waste beyond the purchase. They sell one item purchases through Knickey for $12 a piece, and the subscription option provides discounts for bundle offerings. Knickey's smartly designed and ethically made underwear means you can finally fully stock your drawers without compromise.
They even have a recycling program. Your used intimates will be turned into new materials like insulation, carpet padding, and furniture batting. You will receive a free pair of Knickeys in your next order. You can also recycle your kid's and your partner's underwear!
Knickey is all about elevated sustainable basics made with certified organic cotton from a farm in Gujarat, India. They are both OEKO-TEX certified, and Fairtrade International certified. They even have a section called Behind the Seams on their website dedicated to sharing their sustainability and ethical manufacturing standards.
Another feature and excellent selling point of Knickey is that they take pride in inclusivity. Knickey offers neutral shades of underwear for different skin tones. They also feature a variety of models of different sizes and skin tones, so that's outstanding and inclusive as well.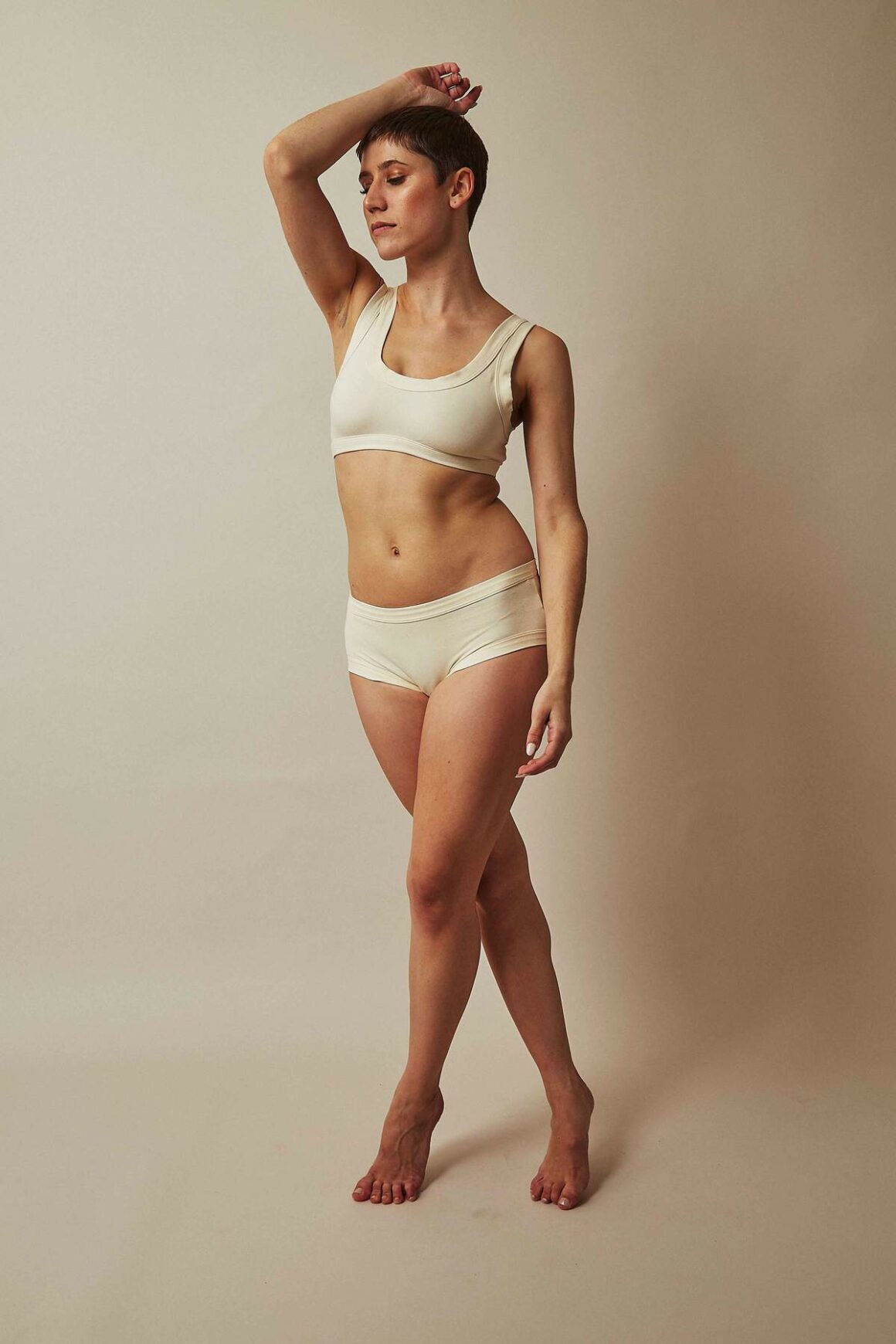 Based | Carrboro, NC
Ethics | Eco-friendly
Fabrics | Organic cotton, bamboo, local sourcing
Price Range | $$$
Size range | XS-XL
MadeTrade is a family-owned company that has ethical and sustainable home décor and clothing. Basically, they wanted to make the process simple and have all sustainable home décor and clothing in one place.
Finding comfortable, flattering, and sustainable underwear can be a challenging task, and this is where Madetrade comes in handy. Their sustainable women's underwear collection features top ethical and sustainable underwear brands locally sourced from the United States.
You will have numerous brands to search and compare to find the best pair for you. They have organic cotton and even silky smooth bamboo underwear and matching bamboo bras. You will find an exceptional piece, whether you're looking for low-rise bikinis, mid-rise briefs, or high-waisted thongs.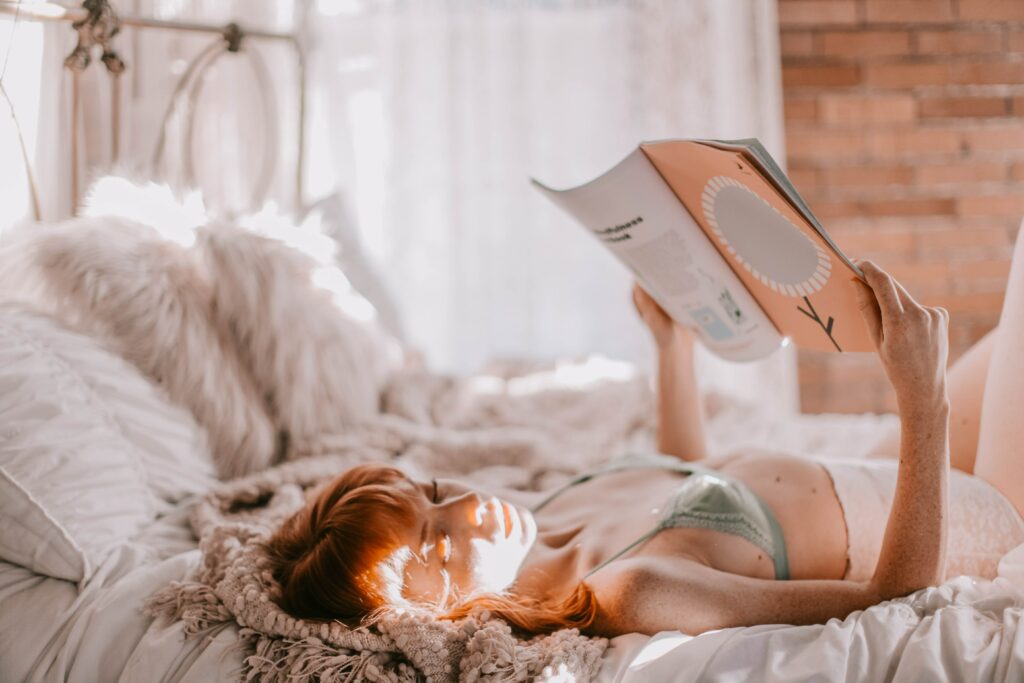 Finding minimalist lingerie is so tricky when we are bombarded with fast fashion marketing. These 19 responsible brands provide comfortable, stylish, and simple designs that will suit any minimalist needs. Whether you prefer cheeky, sexy, or cute everyday lingerie designs, you can easily find the thing that works for you.