This article contains affiliate links for which I may receive a small commission, at no additional cost to you, should you decide to make a purchase by using them. Learn More
Less is always more with a minimalist life, and even your alarm clock can sync with the minimalist décor. While we mainly use an alarm clock for its time telling ability and alarm, a clock with the proper aesthetics is even better. The goal with a minimalist alarm clock is to keep it simple but functional. It provides all the basic features and fits your home without drawing attention. Minimalist alarm clocks can be a beautiful part of a bedroom's décor.
Most alarm clocks share three essential features:
The alarm itself also includes a snooze feature.
Digital or analog display which is the clock's component.
A minimalist alarm clock will always have a brightness or back-light setting so you can check the time even in the dark.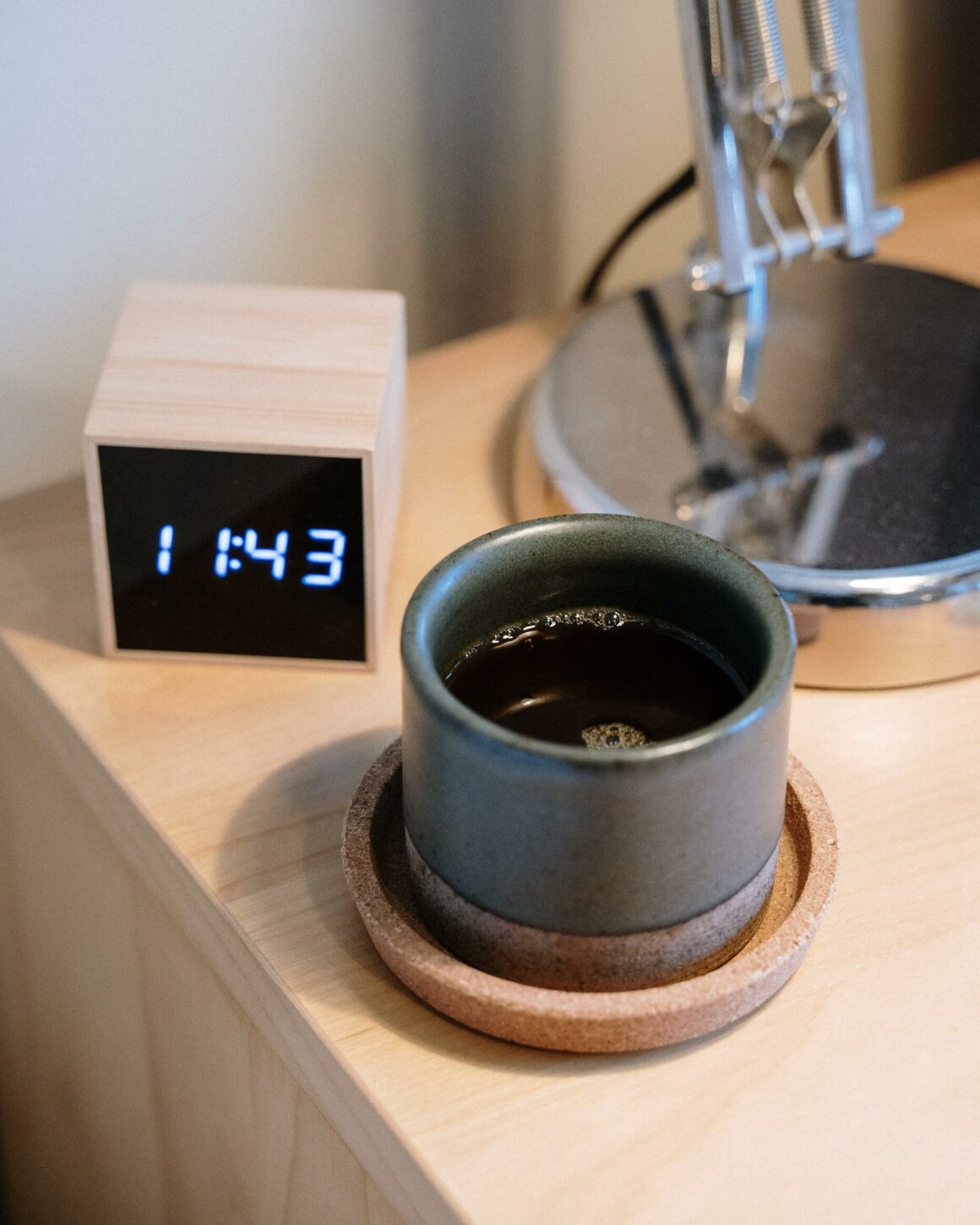 While these are alarm clocks, some clocks boast a couple of extra settings that won't sacrifice much in the way of simplicity. These settings can be displayed in military time, the option to set multiple alarms, or even an option to control the room's humidity.
Minimalist clocks can come in various designs, from modern and sleek to having more classic design features like a bell on top of the big, bright red numbers. To power a minimalist alarm clock, you plug into the wall or, for the ultimate streamlined look, choose one that is battery-operated.
Minimalist alarm clocks are so simple, and budget-friendly you will be happy with whatever you choose. If you enjoy the minimalist lifestyle and are looking for a simple, chic, and lifelong, here is a list of worth minimalist alarm clocks you should consider buying.
1. JALL Wooden Alarm Clock 
The JALL Wooden alarm clock is a simple and minimalistic wooden clock cube. It's practical and has all the functionality you would want in a clock, and it adds a wonderfully modern aesthetic to the room.
Its numbers are large enough to see from your bed, it's small enough to be tucked into the bookcase at a perfect height, and the light of the numbers is adjustable at three levels of brightness, so it will not be too harsh for your eyes during the night. It provides three alarm settings, perfect if you love hitting the snooze button or if your partner wakes up later than you do, and it allows you to set a weekday mode.
The JALL Wooden alarm clock can also protect your health because it has a sensor that monitors the indoor temperature and humidity. It's a simple, minimalist alarm clock with an unexpected element of joy.
2. WulaWindy Digital Alarm Clock 
This is a unique minimalist alarm clock with a compact and innovative design. Its small compact size is perfect as a desk clock in your office or décor for your bedside time. It also makes for a great portable travel clock since it can run with batteries or AC power.
The WulaWindy digital alarm clock is a sleek, wood grain designed cube that is beautiful, and natural and it's clear and bright to read with its large LED screen with four brightness settings.
Its digital display goes into blackout stealth mode when no sound is detected, and when it's in this mode, you can't even tell it's a clock! The display is activated by noise such as talking or hand clapping, or you can set it to stay on constantly. It keeps time accurate with military or standard, shows the room's temperature in Celsius or Fahrenheit, and can have three alarms set at once.
3. Sukeen LED Digital Alarm Clock 
The Sukeen LED digital alarm clock is sleek, multi-functional, and a statement piece. Its unique mirror display is perfect for daily use, and you can the time clearly at a glance. The Sukeen LED digital alarm clock provides 3-levels of brightness that you can adjust manually or auto-setup to a comfortable brightness.
The LED light will automatically dim during your sleep to protect your eyes at night and save energy. It's the perfect, peaceful option for rest because no blinding lights or annoying sounds will disturb you from this clock. The alarm is very subtle, and it will still wake you up but without scaring you to death. If you are a fan of savoring those last few minutes in bed, there is a large snooze button that quickly turns off the buzzer without opening your eyes for that extra five minutes of rest. They equipped the Sukeen with two USB charging ports so you can charge cellphones, tablets, and laptops simultaneously.
4. JALL Sunrise Alarm Clock 
With the JALL Sunrise Alarm clock, say goodbye to noisy alarms and fatigue, and improve your evening and morning routine. It's a minimalist, budget-friendly alarm clock that wakes you up gently with a soft light that gradually increases. A sunrise clock like this one brightens over time with a gradual change in light to wake you up naturally. It lights up 10, 20, or 30-minutes before your alarm and slowly changes from a dim orange to bright white light.
The JALL Sunrise Alarm Clock has 20 brightness levels so that you can customize the brightness to your suiting. It's perfect for kids because you can switch between seven bright colors. If they need a nightlight, so the kids will sleep soundly throughout the night, just set it to your preferred light level. It's also perfect as a reading lamp or just mood lighting for décor.
You will start the day feeling more alert and refreshed because there's no harsh alarm waking you up mid-dream. You can use seven alarm sounds if you are a heavier sleeper. These include ocean waves, birdsongs, streams, and piano music which go off at the end of the set time. It's great for people who have very little natural light in their rooms, and it's also a good option for anyone who wakes up before the sun rises or those who have been struggling with their sleeping and waking routines when the seasons change.
But it's not just your standard alarm clock; along with the "sunrise" function, you also have an evening or "sunset" function. You can gradually dim over the course of 10 to 30 minutes as you wind down for bed. Lastly, you can use it as an FM radio, and it doubles as a charger since it has a USB port in the back.
5. JALL Analog Desk Clock 
If you are looking for a minimalist alarm clock with a retro design, this is the clock for you. The JALL Analog desk clock is cute, stylish, and quieter than a mouse! The sweep second-hand does not make any annoying noise, and it's so subtle it will not distract you from anything you are working on, or it makes a super peaceful space for you to sleep. It's small enough to fit where ever you need it but also strong enough that it will not tip over.
The JALL Analog desk clock is big enough to be readable from any point in your room, and it's easy to read because it only shows even numbers, which makes for a more straightforward design. It has a night light button so you can light up the clock in the darkness without hurting your eyes. It has a simple alarm function that will last up to 30 minutes and be easily turned off with a button. The JALL Analog desk clock comes in four colors – black, red, green, and white – powered by one AA battery.
6. Laigoo Analog Alarm Clock 
The Laigoo Analog Alarm Clock is a great minimalist option for anyone that wants to reduce the amount of blue and red light in the room. It's a simple design, yet looks stylish and expensive. The little night light is a button on top of the clock that gives just enough light to see the time in the middle of the night. There is no ticking sound, so light or restless sleepers will not have issues. While it only requires one AA battery, the company sends you two! This is a good, minimalist little clock with great value for the price.
7. Philips SmartSleep HF3500 Alarm Clock
The Philips SmartSleep HF3500 alarm clock is a sunlight simulation that makes waking up a joyful and more effortless experience thanks to its wake-up light. You wake up feeling much more refreshed with a gradually brightening light. The Philips SmartSleep HF3500 alarm clock is also great as a reading light or mood décor. It comes with only one single alarm option, a beeping noise, easy to set up. This alarm clock also has easy-to-use settings to control the brightness of the light and time display. This minimalist alarm clock stands apart because it is a great clock and lamp.
While you get a 9-minute snooze option with the Philips SmartSleep HF3500 alarm clock, it isn't the easiest to reach or rather use. You have to tap on the top of the clock to turn it off, but it's pretty confusing, considering there is no designated button. So if you are a frequent snoozer, this could be challenging, or it could encourage you to jump out of bed in the morning!
That being said, the Philips SmartSleep HF3500 alarm clock is functional and simplistic. But if you are not a fan of traditional beeping alarms, I would probably suggest spending a few dollars finding a clock that offers more alarm styles.
8. JIJI Alarm Clock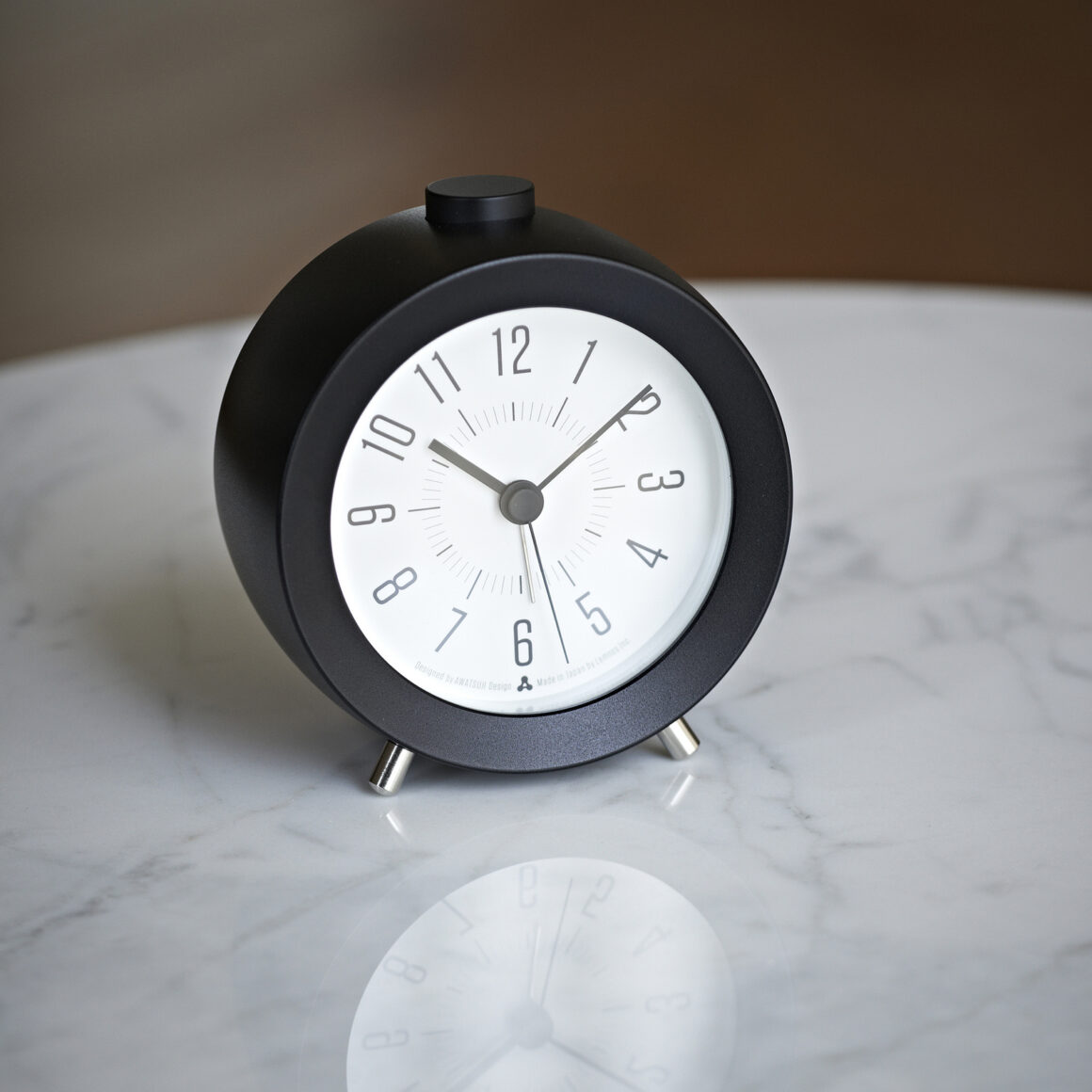 While this is the most expensive clock on this list, it comes with a few perks. It's a simple design, yet elegant and universal, and will fit almost any décor. It's a clock that, apart from determining the time, defines the character and creates the interior's personality in which it is located.
It's a beautiful thing to see when you first wake up in the morning and also the perfect companion for your working desk. Designed by the AWATSUJI design studio, it comes in a wall version or alarm clock. Both feature elegant, oversized numerals and slender minute markers, whereas the wall clock boasts only even numbers while the alarm clock features all numerals. The Jiji Alarm Clock comes with an electric buzzer and a step second hand. They made this clock of natural materials such as aluminum and glass, and it has a smooth surface and durable build.
9. Numbers LED Clock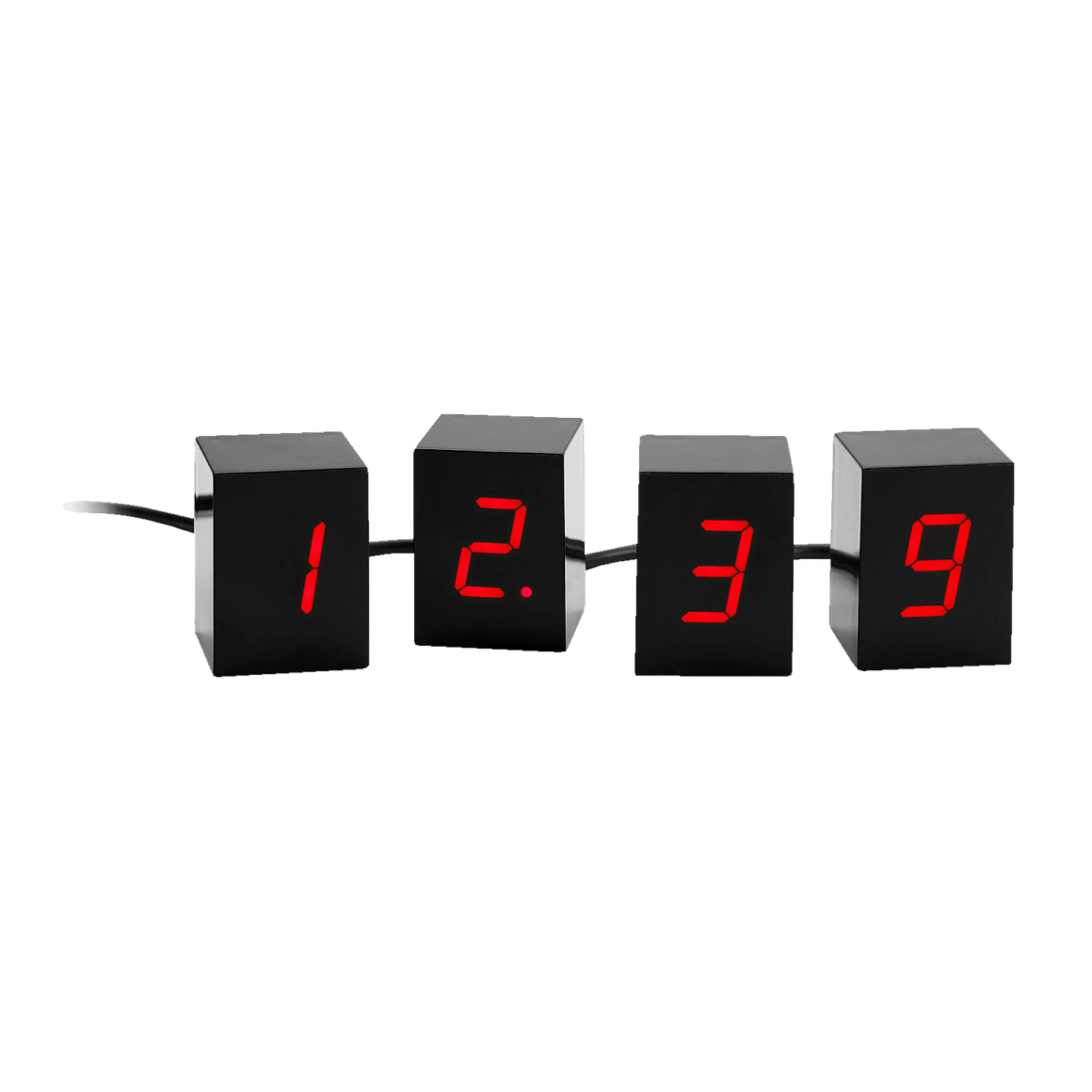 This is by far the most unique minimalist alarm clock; the design sets it apart while the functions do not differ from other clocks on this list. New York-based designer Jonas Damon created it, and the Numbers LED clock features a minimalist yet slightly futurist design.
The clock numbers look like they are floating in the air, and it's a very innovative and simple minimalist style for the home or office. Even with the unique design, it is still effortless to read in both daytime and night since the numbers glow with eco-friendly LEDs. Damon composed the Numbers LED clock of four blocks, each showing one digit of the time. A cord connects each block, so don't worry about mixing the order.
Unfortunately, there is no snooze function, so you will have to wake up when the alarm goes off. The numbers LED clock easily plugs in the wall, so you will not have to worry about constantly replacing batteries, but on the other hand, it might not be wise to use it as an alarm if your power frequently goes out.