This article contains affiliate links for which I may receive a small commission, at no additional cost to you, should you decide to make a purchase by using them. Learn More
The New Year might be a few months away (or is already here!). Why not prepare yourself for the days ahead, just a little bit.
With personal items such as wallets, handkerchiefs, watches, even phone cases, changing them for newer options creates a better image of you. It shows the world that you invest in your self-worth. And before you say it doesn't matter, it does.
We all carry a judgmental trait. And while you may not need to judge, others do, especially if you're working in a professional environment.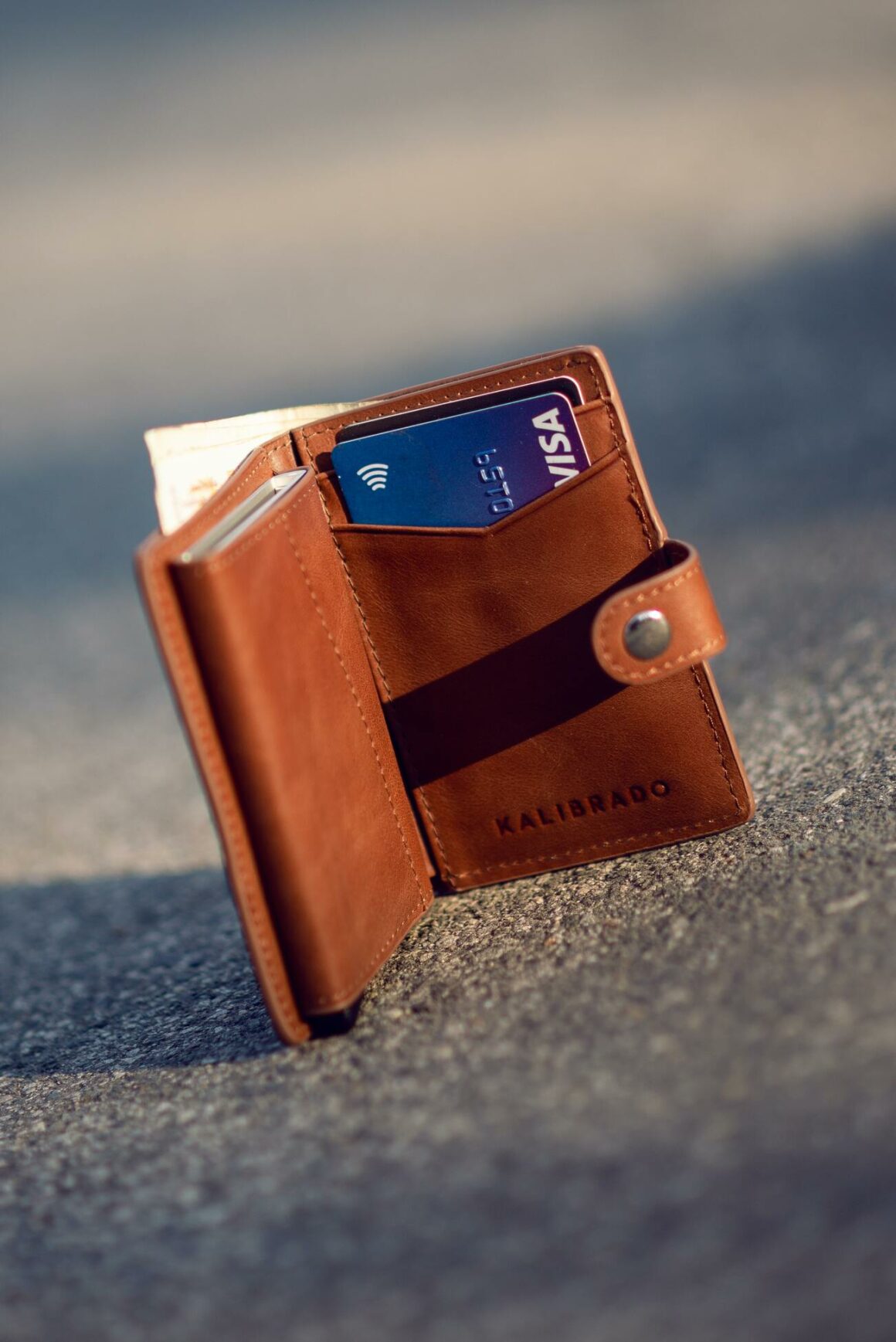 You want to put your best foot forward when dealing with all potential clients, potential bosses, and potential connections. One of the best ways to do that is by paying attention to things like your wallet.
If you still have the wallet from high school, throw it away and get a new one. Better yet, choose from one of the 11 minimalist wallets listed below. These wallets are unisex and work perfectly for anyone who wants to show a well-maintained, minimalist persona!
1. Pop Up Wallet
This wallet is probably the smallest one you'll find.
Featuring an ultra-lightweight body and slim design, this wallet is perfect for immediate access. It has enough holding space for five cards, depending on their embossing. It is also made using advanced aluminum technology, which means your cards will stay protected from any unnecessary wireless communications.
The wallet also uses patented double silicon strips that prevent the cards from sliding out. Instead, the wallet uses a sliding mechanism for quick access. No more worry about fiddling with your cards while the cashier waits patiently.
2. FIDELO Minimalist Wallet
Need a wallet to store your bulk of cards and money?
Ditch the old cracked leather wallet. Instead, opt for the Fidelo minimalist wallet, made with crazy horse leather, a type of leather used to make horse saddles.
This wallet is made with a nylon lining, so your cards don't get scratched up. The wallet exterior is water-resistant and is wax-treated, so you can be sure this purchase will serve you for a long time. The wallet also features a 3-piece design, which means you can take apart the wallet's aluminum chamber, the chamber, and the cash band or the chamber with the leather case. However you want, this wallet gives you options.
It also features RFID technology, a nifty feature to have to protect your information from unscrupulous characters. With a premium metal eject feature, you're the only one who gets to access your belongings easily and smoothly.
And did I mention that this company offers a lifetime warranty? Just something to think about.
3. Clifton Heritage Minimalist Wallet
The Clifton Heritage wallet is an ideal choice if you want a no-nonsense wallet with plenty of space and a small price tag.
Marked at just $7.64, this slim, leather-lined wallet is discreet, elegant, and durable. It's made with 100 percent genuine cowhide leather and is sewed with polyester fabric to ensure its longevity. The wallet also features the necessary advanced RFID blocking technology needed to protect your information.
Space is one of the many plus points that make this wallet a five-star choice for thousands of people. Although it is slim, there's just enough space to put five credit cards, an ID card, currency, and any documents you have on you. And it'll slide into your back pocket with no one being the wiser.
4. Buffway Slim Minimalist Wallet
Buffway is another popular brand that gives people what they want. Their minimalist wallet testifies to their promise of quality and customer satisfaction.
Made with 100 percent leather and lined with polyester, this wallet is modern and slim and can fit inside your pocket, purse, or travel kit without even creating a crease. It's available in 23 colors and uses various patterns to set its wallets apart.
The Buffway wallets also use the signature advanced RDIF blocking technology, so your information stays protected. With about eight slots available in this slim, small wallet to carry all your papers and cards, the Buffway wallet is another affordable find, costing only $12.99.
5. Thread Wallet
The thread wallets are a minimalist's dream.
Build for functionality and quality; Thread combines excellent aesthetics with practical designs that make for a perfect wallet. This durable cardholder holds from 2 – 8 cards and has space leftover for cash too. These wallets are made using durable leather that's tried and tested for safety. They also feature a D-ring that attaches to lanyards and backpacks. You can even attach your keys to it.
Overall, this wallet has all the basics required in a nifty wallet, including an elastic pocket for those knick-knacks.
Thread also provides their wallets in several designs, so whether you're looking for dark and rugged designs of feminine, whimsical patterns, Thread has you covered. And let's not forget, this wallet also uses advanced RFID blocking technology.
6. GH Gold Horse Minimalist Wallet
GH God Horse has a long list of satisfied clients, thanks to their quality products, including their exclusive minimalist slim wallet.
Available in 36 colors, the leather-lined wallet with a genuine leather frame is slim but sturdy, so there's no worry about the wallet losing its shape within two uses. Like all other quality wallets, this one also uses advanced RFID blocking technology to keep your contents safe. And with the number of things you'll carry, you'll need it.
While this wallet is slim, it has a lot of storage capacity. Four card slots, three large slots, holder for ID cards, and space for business cards, driver's license, or cash.
Priced at $11.99, this wallet is a long-lasting accessory that worth more than the small amount. But, if the wallet isn't satisfactory for you, no worries. The company also provides a replacement/refund guarantee.
7. RFID Carbon Fiber Wallet
Although the carbon fiber wallet is a little pricier than the leather wallets, it's worth it when you consider the durability, aesthetic, and strength of this gorgeous accessory.
This wallet is made with top-quality material. It uses anti-scratch technology to keep your wallet's aluminum smooth and dependable. No more thoughts about it slipping from your hands! The rugged carbon fiber wallet comes with a money clip and has enough space for 12 CREDIT CARDS and nine bills in cash. So, you can throw your old wallet right away.
The convenient sizing and design of this carbon fiber wallet make it suitable for men and women. It's convenient, discreet, and just slim enough to fit in even the tightest of jean pockets.
8. TRAVANDO Slim Bifold Wallet
If you're not a fan of genuine leather, the TRAVANDO bi-fold wallet will be an excellent choice for you.
Made with faux leather, this bifold wallet features 11 business or card pockets, slim designs, and smaller dimensions, so it doesn't bulge out of your pocket. This accessory comes with a metal money clip as well, so if you have separate bills, there will be no need to stuff them in the wallet's nooks and crannies.
Per industry standards, the RFID-protected lining in this wallet is tested for quality control. It can block around 13.56 MHz, making it a refined, stylish, and protective piece that doesn't just offer aesthetic value.
Unlike other wallets, this one is priced at $29.95 and comes in nine colors with two combinations. So, if you're looking for something funky, TRAVANDO has the best options for you.
9. LEAD Minimalist Slim Wallet
If you're looking for a rugged aluminum wallet, I'd recommend the LEAD wallet.
Unlike your average wallet, this accessory uses nuts, bolts, aluminum plates, and elastic to create a wallet that almost looks like a specialty tool. The company offers a lifetime guarantee on its product. But, with its straightforward design, you may never need it. All elements of this matte black aluminum wallet are specially made with quality products so that you can expect durability from LEAD wallets.
Like all high-quality wallets, this one also features RFID blocking technology for preventing electronic theft. Alongside, it also features plenty of space to keep its customers happy. You can store up to 12 cards and even nine bills without worrying about your pockets bulging.
This wallet is simple and minimalist but very effective in keeping your belongings safe.
10. Radix One Slim Wallet
The Radix One wallet is in a league of its own.
Featuring slim, bi-fold, and tri-fold forms, this silicon-based wallet is a flexible, ultra-light, minimalist wallet that ticks all the right boxes.
It's spacious enough to carry 4 – 10 cards and is durable to boot. It's made using polycarbonate and silicon and uses a patent-protected design that keeps all your cards secure. The material also keeps the wallet protected from harm. If you're a clumsy person, this wallet may be your savior.
Remember that, unlike the wallets listed above, this one does not use RFID technology. So, if you're looking for a wallet for everyday use, it serves well. But if you need something more protective, there's no reason why you can't purchase any of the other wallets along with this one.
It pays to have a backup, just in case.
Buy a Wallet as a Gift
All of the wallets listed above serve well as gifts if you need an ideal present choice, especially one that's aesthetically pleasing, functional, and protects your information when you're out and about.
All these wallets are also unisex. So, whether you need a gift for mom or your kid or even a colleague, they'll probably thank you for getting them such a nifty tool.
Conclusion
While the wallets in this list are excellent choices, please do your research before purchasing one.
Every person's needs are different, and you must be sure you're choosing the right option for the sake of your finances. Look through the reviews, stay within your budget, and make a choice.
With these wallets, you can't go wrong.