This article contains affiliate links for which I may receive a small commission, at no additional cost to you, should you decide to make a purchase by using them. Learn More
Traveling for long hours by flight (especially in economy class) can be exhausting. Airplane seats can be uncomfortable, and sitting in an odd position for very long can cause lumbar spine pressure and hurt your back. Now imagine sitting on such uncomfortable seats every single day for 8 hours or longer. Doing this could strain your back daily and cause serious health issues that cannot be reversed over time. Hence, you must be careful when choosing your office chair.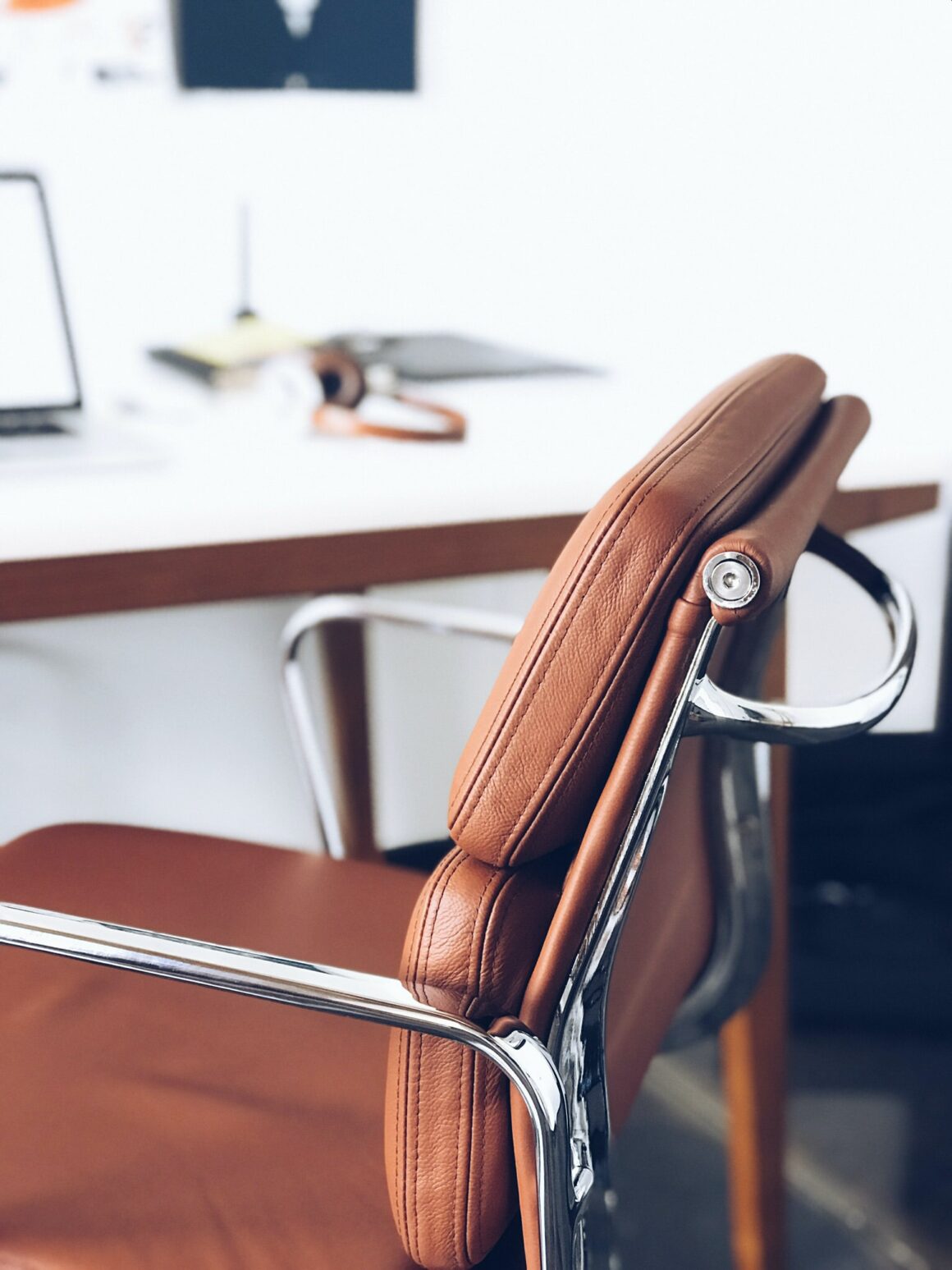 An office chair needs to be comfortable and support your back well. And while choosing a comfortable chair, we cannot let aesthetics take a back seat. Compromising on aesthetics can make your office space look disorganized and unplanned. Below I have selected a few office chairs from Amazon that are aesthetically appealing and practical. These minimalist office chairs will not just enhance your office space but also take care of your well-being.   
1. Armen Living Daphne Office Chair
Armen Living Store believes that every office chair should always have features such as comfort, the convenience of mobility, and control over the chair's height adjustment. These features are present in all their office chair collections – including the Daphne office chair.
Although visually striking, this chair is highly functional and recommended for everyday use. The chair can hold up to 250 lbs due to the solid walnut wood and chrome structure. The open concept design allows for breathable seating, keeping you cool for hours. The walnut veneer finish seating with a sleek but thick and firm black leatherette bottom and back gives you the comfort to work all day long. Overall you get a stylish and dependable chair to elevate your office space.
2. LOKOC Backrest Reclining Swivel Chair
This chair is uniquely engineered – to support your spine, especially your lumbar spine. The seating is made of high-quality PU leather, and the padding is made of high-density foam. The leather looks attractive and has a smooth texture, while the foam padding gives good support to your body. Including the headrest, armrest, and soft padded seat provides additional comfort.
The chair is strong enough to hold up to 300 lbs. It can rotate 360 degrees, tilt at 90 degrees to 135 degrees, and has smooth mobility features. The seat height can be adjusted to your liking, and the leather used for the seat is low maintenance.
3. LOKOC Office Desk Chair CiHAIR
CiHAIR is a minimalist chair with a futuristic edge to it. Although this one is a gaming chair, it can also function as an office chair. A gas lift between 44-54 cm can adjust the seat height. The backrest angle is flexible with a simple push of a button and swings between 95 degrees – 172 degrees. The chair has other engineering features like high-quality mute multi-direction wheels, scratch-proof, and 360 degrees swivel rotation.
Commercial-grade parts are used to build this chair – and can easily carry up to 300 lbs. Premium quality, breathable leather is used for the seats for extra comfort. The seat cushion is 9 cm thick and filled with natural elastic cotton for a relaxed seating experience.
4. Flash Furniture High Back Desk Chair
Look no further than this Flash Furniture Store's unique piece for an office chair that looks great but functions even better. The chair's striking rose gold metallic frame with the black leather upholstery makes this chair unique.
The pneumatic adjustment lever makes it simple to adjust the seat to your preferred height. The waterfall seat (molded foam and curved front of the seating) relieves tension from the back of the thighs and knees and improves blood circulation to the lower legs. The frame of the arms is metallic with leather padding on the top. The tilt lock system provides a nice rocking or reclining motion. The unrestricted movement and the arm padding are ideal for taking a break from constant typing to answer phone calls and relax.
5. Hbada Ergonomic Office Chair
If you are searching for an office chair where you can work comfortably and take a quick nap during your break, this chair from Hbada is a good choice. The synchronized tilt mechanism ensures a smooth and easy recliner. This allows for a customized fit, with the ability to lock at any angle between 90 and 150 degrees. Straighten up at 90 degrees for work mode, tilt at 120 degrees for a quick break to check your phone, and fully recline at 150 degrees to fall asleep.
The mesh back lets the air, body heat, and water vapor escape – preventing heat and humidity from building up around the body. This enables a comfortable seating experience for up to 8 hours.
6. CangLong Mid-Century Modern Swivel Accent Chair
This chair from CangLong isn't your typical office chair. It looks different – more like a chair you could have in your living room as an accent chair. This chair fits perfectly in an informal office space or a corner of your living room or studio apartment that you use as your workspace.
Inspired by mid-century design – this modern and chic-looking chair comes with a comfy cushion seat, armrest, tilt backrest, and a sturdy metal frame. The brand offers a range of similarly styled chairs in different colors. You can purchase a couple and mix them up in your office space for a colorful workspace.
7. Armen Living Summer Chair
The Armen Living Summer chair is a lovely addition to any modern office. The frame of this styled bucket seat chair is made of durable walnut or black brushed wood and provides outstanding support and comfort. The 100 percent polyester fabric covered back and seat, the open back with a medium cushion height, and the armrest provide extra comfort and support while highlighting the chair's unique design.
The chair is available in a range of colors and finishes. The smart design makes it an excellent fit for smaller and tighter spaces. Ideal for a small office room, a tiny study area, or a bedroom nook where you prefer doing your office work.
8. Hylone Ergonomic Office Desk Chair
This ergonomic chair is aesthetically pleasing and blends with any type of decor. The chair is available in an all-black and a white plus grey model. Equipped with smart features such as gas lift adjustable height, lumbar support, 360 degrees swivel, and 90 to 120 degrees rocking swing.
The nylon dual-wheel casters provide excellent stability and movement. It can be used on carpeted or wood flooring. The padded armrest and headrest help take the pressure off your shoulders and neck. The arms fold up to give extra room when seated, or it lets you push your chair under the desk when not required.
9. Gabrylly Ergonomic Mesh Office Chair
For a reliable chair, you must try this one from Gabrylly, and I'm sure you won't be disappointed. They are available in two colors: black and grey and are perfect for any work environment.
The chair can hold up to 280 lbs and features flip-up arms, an adjustable armrest, and an adjustable seat height. The well-ventilated mesh back provides lumbar support that is tailored to your body. The high-quality PU office casters make no noise when the chair is dragged around and leave no scratch marks behind on your floor.
If you give utmost importance to your comfort when at work, this Apollo chair is the most comfortable out there. The design is stylish and modern and can adorn any contemporary office space.
Apollo chairs are available in two designs: one without a headrest and one with a headrest. The adjustable armrest can be positioned in four ways, providing ample support and comfort to your shoulders and wrists. This flexible, practical desk chair is built to last and comes with a no-hassle 5-year warranty.
11. XWJXRY Modern Minimalist Office Chair
Find it painful sitting in one position for extended hours? This office chair will help you get rid of all these woes.
The thoughtful design helps you sit through long meetings without getting tired. The curved backrest fits the natural curve of the human body and gives your back – firm support. Using high-grade materials ensures there is no deformation in the seat shape even after sitting for a long duration. The mesh used for the seat is tough, breathable, long-lasting, and suitable for all seasons. PP material is used to build the chair's frame, making it safe, stable, and strong impact resistant.
12. JYHZ Office Life Ergonomic Fashion Computer Chair
If you need a chair to support and provide comfort to your neck, this chair is excellently designed, keeping the cervical vertebrae in mind. The chair features a 2D headrest that can be adjusted up to 4 cm in height and 30 degrees in angle. The chair rotates 360 degrees and moves around smoothly without damaging the surface.
The neutral grey shade of the chair blends well with any decor. It has a modern and minimalist vibe, which is perfect for a contemporary office setup.
13. High-Back Executive Swivel Office Desk Chair
It is typically believed that expensive chairs offer fancy features, great quality, and thoughtful design. But this affordable chair from Amazon Basics is cleverly designed with smart features and has great quality. It is sturdy, comfortable, and can seat up to 330 lbs.
The chair is lightweight and weighs about 34 lbs. The high back offers good support to the back and is excellent for daily use. You can move the chair smoothly due to the sturdy five-point base with rolling caster wheels.
14. Flash Furniture Conference Office Chair
The contoured walnut wood structure with glossy black LeatherSoft upholstery for the back and seat looks gorgeous and provides strong support to your body.
The pneumatic adjustment lever makes it simple to adjust the seat to your preferred height. The Tilt Lock mechanism tilts or rocks the chair and locks it in place. Heavy-duty chrome is used to build the base with dual-wheel casters for easy movement.
The chair conforms to ANSI/BIFMA standard, which guarantees safety, durability, commercial-grade, and high-quality product. It is available in white or black leather and walnut or mahogany frames.
Last but not least
You can stay glued to these chairs the whole day without worrying about your posture getting ruined or your health deteriorating. These chairs will improve your posture and reduce your stress. Always remember a comfortable work environment is beneficial for all. It increases your productivity, which, in turn, increases profitability and boosts your overall growth.