This article contains affiliate links for which I may receive a small commission, at no additional cost to you, should you decide to make a purchase by using them. Learn More
New minimalist enthusiasts begin modifying their lifestyle to the philosophy of minimalism with their interior and clothing items. Over time, this concept extends to many other more minor aspects of their daily life, including water bottles!
Yes, it may seem relatively trivial right now – "how can a mere water bottle contribute at all to my minimalist life??"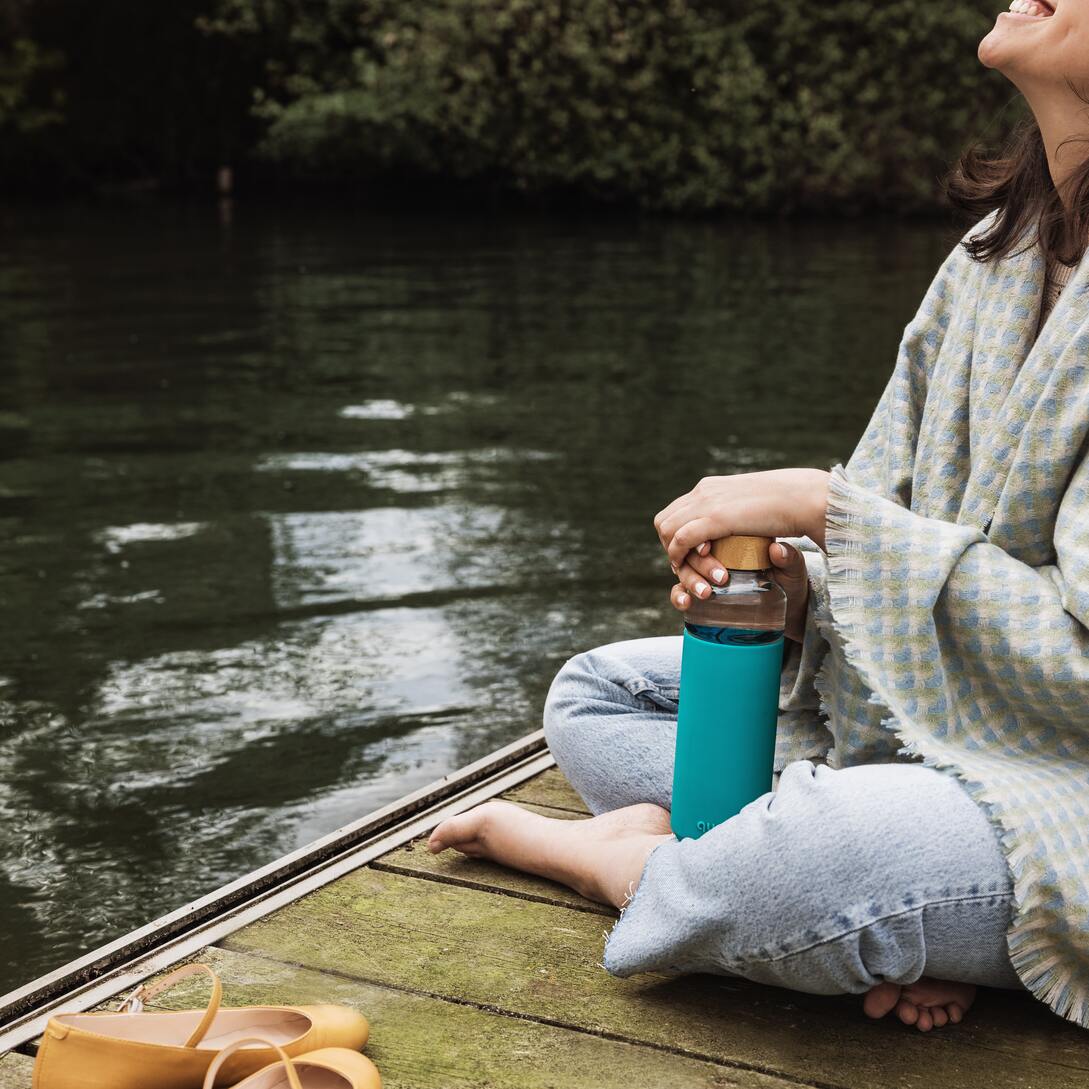 Well, a water bottle does impact the overall productivity of your day and your health. A good bottle comes with all the features necessary to ensure a successful day – maintain the temperature of your beverage, remind you when to take a sip, prevent the transfer of taste from its body material, and many more.
To find a simple, efficient, and long-lasting minimalist water bottle like that, we are here to discuss the top choices from Amazon.
1. Arcana Water Bottle With Time Marker  
The water bottle from Arcana is designed to bring all sorts of conveniences to the minimalists. With this one bottle, you can ensure your daily hydration through reminders, let the environment breathe because of its non-toxic materials, and look stylish while doing all of that!
It comes in three colors of black, pink, and white, so that you can pick your preferred aesthetic. The bottle is made of BPA-free plastic, while the golden lid is built from aluminum. A reminder function called "time markers" will remind you to drink water every hour.
Features:
It comes in three colors of pink, white and black
Reminder to hydrate through time markers
Body of BPA-free plastic with an aluminum lid
Lightweight, durable and leak-proof design
2. LARQ Bottle PureVis  
The PureVis water bottle from LARQ comes in two convenient sizes with 17 oz and 25 oz, respectively. You can find the stainless steel bottle in eight colors – Monaco Blue, Electro Blue, Obsidian Black, Granite White, Seaside Mint, Eucalyptus Green, and Himalayan Pink.
Its most attractive aspect is the award-winning design which enables the bottle to clean itself! The innovative technology of UV-C LED neutralizes bacteria and viruses, which can cause odor.
Because of its double-wall vacuum insulation, you can maintain cold water temperature for up to 24 hours and that of hot water for up to 12 hours. A safety deactivation measure has been embedded in its cap to prevent accidental UV-C exposure.
Features:
It comes in eight colors and two sizes
Award-winning self-cleaning design
UV-C LED technology sanitizes water
Insulated bottle maintains temperature
Stainless steel body and splash-proof
3. Hydro Flask Water Bottle 
Another minimalist water bottle that can assure you temperature preservation is the Hydro Flask. Because of its double-wall vacuum insulation technology called TempShield™ and the stainless steel body, the temperature of your water is preserved within the bottle for hours.
The standard water bottles of Hydro Flask bring a wide variety in terms of both size and color. You can get it in a total of 13 colors, including fog, black, white, cobalt, rain, olive, orange, eggplant, and pineapple. After use, you don't have to wash it manually since the bottle is dishwasher safe.
Features:
It comes in a wide range of 13 colors
Three sizes of 18 oz, 21 oz, and 24 oz
Double-wall vacuum insulation of TempShield™
Dishwasher safe stainless steel body
4. MIRA Stainless Steel Water Bottle 
MIRA presents a bottle built from 18/8 food-grade stainless steel so that it doesn't transfer any flavor to the liquid. Along with the durable material, it also comes with a leak-proof design which ensures that no liquid will spill during movements or while traveling somewhere.
Because of the double-walled vacuum insulation, you can enjoy hot water even after 12 hours and cold water for up to an entire day! In addition to twenty color variations, including yellow, orange, blue, pink, white, and two tones, the bottle comes in two sizes of 17 oz and 25 oz.
Features:
Double-walled vacuum insulation
Water preserves temperature for 12+ hours
Body made of 18/8 food-grade stainless steel
Leak-proof design for safe portability
Available in two sizes and twenty colors
5. Thermoflask Insulated Water Bottle 
Keeping up with the trend of minimalist stainless steel water bottles, this option from Thermoflask also brings in several standard conveniences for the user. Its double-wall structure makes sure that the sweat-free design keeps condensation at bay.
The durable material of 18/8 food-grade stainless steel is free from BPA and toxins. Moreover, it can combat rust formation and keep the bottle usable for a long time. There is a loop-top attached to hold on to it with only a finger during traveling.
Features:
Double-wall to prevent condensation
Vacuum insulation for temperature preservation
Made from 18/8 food-grade stainless steel
Loop-top attached to stay steady on the move
6. IRON °FLASK Sports Water Bottle 
If you are an athlete or someone who takes fitness very seriously, this water bottle can be your new best friend! The Iron Flask Sports water bottle is designed to be functional and aesthetically pleasing at the same time. The powder coat exterior finish ensures elegance and durability simultaneously.
You can carry it with you anywhere and take a quick sip with a narrow mouth. Because of its double-wall insulation, the flask stays sweat-free and preserves the temperature of the water.
The body made of food-grade 18/8 premium stainless steel will prevent the water from having a metal taste or forming rust. It comes in six sizes of 12, 16, 20, 24, 32, and 64 ounces and 25 shades, including both solid colors and two-toned variations. Additionally, you will get three leak-proof lids like the patented straw lid, a flip lid, and a handle lid.
Features:
Six sizes from 12 to 64 oz and 25 colors
Body made of food-grade 8/18 stainless steel
Double-wall insulation preserves the temperature
Functional and aesthetically pleasing design
Three different leak-proof lids included
7. SquireMe Y1 Glass Water Bottle  
The Y1 Water bottle from SquireMe was developed for easy portability and maneuverability. That is why it comes with a patented industry-leading ⅓ turn cap. Such a mechanism only requires you to twist it 120 degrees to open up the mouth instead of unscrewing it all the way.
Being made from handmade Borosilicate glass, it brings in a lightweight structure that is also quite strong and durable. This BPA-free material can also stay thermally stable, helping the water or beverage remain hot or cold for a long time. It also comes with a strap made from sustainable leather, which will let you carry it anywhere.
Features:
Patented ⅓ turn cap for easy use
Made from handmade Borosilicate glass
1.5-inch opening to allow ice cubes in
Lightweight, durable, and dishwasher safe
Sustainably-sourced leather strap for traveling
8. Thermoflask Double Stainless Steel Water Bottle 
With this BPA-free stainless steel water bottle, you can keep yourself hydrated all day long without having to deal with a metallic taste. It won't sweat or rust, either. Due to the double-wall vacuum insulation, the bottle can keep the water hot for up to 12 hours or cold for up to 24 hours.
You will get two kinds of lids with it – a leak-proof chug lid and an enhanced straw lid that ensures better flow. So you can keep sipping with one hand or even with no hands!
Features:
BPA-free stainless steel body doesn't transfer flavors
It comes in five colors, including plum, capri, and cobalt
Available in five sizes ranging from 18 to 64 ounces
Vacuum insulation for preserving temperature
It comes with a leak-proof chug lid and a straw lid
9. Takeya Insulated Stainless Steel Water Bottle
Takeya Actives series of insulated water bottles come with either a straw lid or a spout lid. This one belongs to the former group, which is available in four sizes – 18, 22, 24, and 32 ounces. There are also eight color variations: coral, teal, canary, mint, lilac, blush, black, and white.
The elegant finish of the double-treated powder coat adds to the durability already provided by its stainless steel body. Since the material is food-grade, it prevents any transfer of taste. Because of the leak-proof straw lid, it can be used for single-handed drinking. You can fold the straw when closed.
Features:
It comes in eight colors and four sizes
Double-treated powder coating
Food-grade stainless steel body
Leak-proof insulated straw lid
Double-wall vacuum insulation
10. Vmini Water Bottle
The minimalist water bottle from Vmini will let you pick your preferred aesthetic from the 23 gradient colors available. It also comes in six sizes of 12, 18, 24, 32, 40, and 64 ounces. Built from premium high-grade 18/8 stainless steel, it can resist oxidation and corrosion.
However, despite having double-walled vacuum insulation, this bottle can keep the water hot for only 8 hours, which is 4 hours shorter than most other options on this list. For cold water or beverages, though, it can preserve the temperature for 24 hours.
Features:
It comes in 23 gradient colors
Six sizes of 12, 18, 24, 32, 40 and 64 oz
It stays cold for 24 hours and hot for 8 hours
Wide mouth and wide handle straw lid
Durable 18/8 stainless steel material
11. TAKISO BPA Free Water Bottle 
For those who follow their daily routines religiously and want their water bottles to help manage their time, this water bottle from TAKISO can be a great choice. It comes with time markers on its body which can help you track your daily hydration accurately. So you can stay productive all day while also taking care of your hydration levels.
The bottle is made from an impact-resistant and BPA-free plastic called Tritan. To increase durability, it also has a lid made of stainless steel. Each bottle of such a lightweight and portable design can hold up to 32 ounces of water.
Features:
Time markers for accurate tracking
BPA-free Tritan body and stainless steel lid
Each bottle has a capacity of 32 oz
Lightweight and portable design
12. Soma Glass Water Bottle  
This water bottle from Soma will help you see how much water is left without opening the lid. Its transparent body is made from shatter-resistant glass, which will not break down as quickly as regular glass. Additionally, a silicone sleeve is provided for you to have a good grip on the bottle.
The bottle is accompanied by a bamboo twist cap that easily fits into an inch's wide mouth opening. You can get it in either 17 oz or 25 oz capacity. The container comes in six colors: white, black, blush, emerald, mint, and sapphire.
Features:
It comes in 2 sizes and 6 colors
Made of shatter-resistant glass
Silicone sleeve for easy grip
9 or 11 inches tall with 1″ mouth
Bamboo twist cap as the lid
13. IRON °FLASK Retro Sports Water Bottle 
Last but not least, this minimalist water bottle from the Retro series of Iron Flask brings a versatile spectrum of aesthetics. In a total of 29 color options, there are solid ones, gradients, and even some patterns like floral and marble. So you will have no shortage of choices.
The double-wall insulation ensures temperature preservation for the beverage stored within. Because of its 19/8 stainless steel and classic powder coating, the bottle should last a long time. Such leak-proof design comes in three sizes of 12, 17, and 25 ounces. A cleaning brush is included in each package.
Features:
It comes in three sizes of 12, 17, and 25 ounces
Choose from 29 colors, gradients, and patterns
Double-wall insulation for temperature preservation
Classic powder coat finishing on 18/8 stainless steel
The leak-proof design comes with a cleaning brush
Conclusion
Almost every minimalist water bottle comes with some standard features like insulation, sturdy BPA-free material, and an array of aesthetic varieties to choose from. Remember to look for the little things you will need to suit your lifestyle, like an attached loop-top or the proper size to fit in a cup holder.