This article contains affiliate links for which I may receive a small commission, at no additional cost to you, should you decide to make a purchase by using them. Learn More
Well-designed homes shouldn't be limited to humans only. Your feathered friends also deserve a pretty place to call home. A birdhouse is alluring for birds and can be a perfect option to jazz up your outdoors. Birdhouses protect little birdies from predators and keep them warm during cooler months. Thus, birds consider birdhouses as a safe place and build their nests in them.
I have made a list of minimalist birdhouses that your feathery guests should appreciate. These minimalist birdhouses are modern and should instantly transform the look of your home. But before we dive into this list's details, let's look at the basics we need to get right.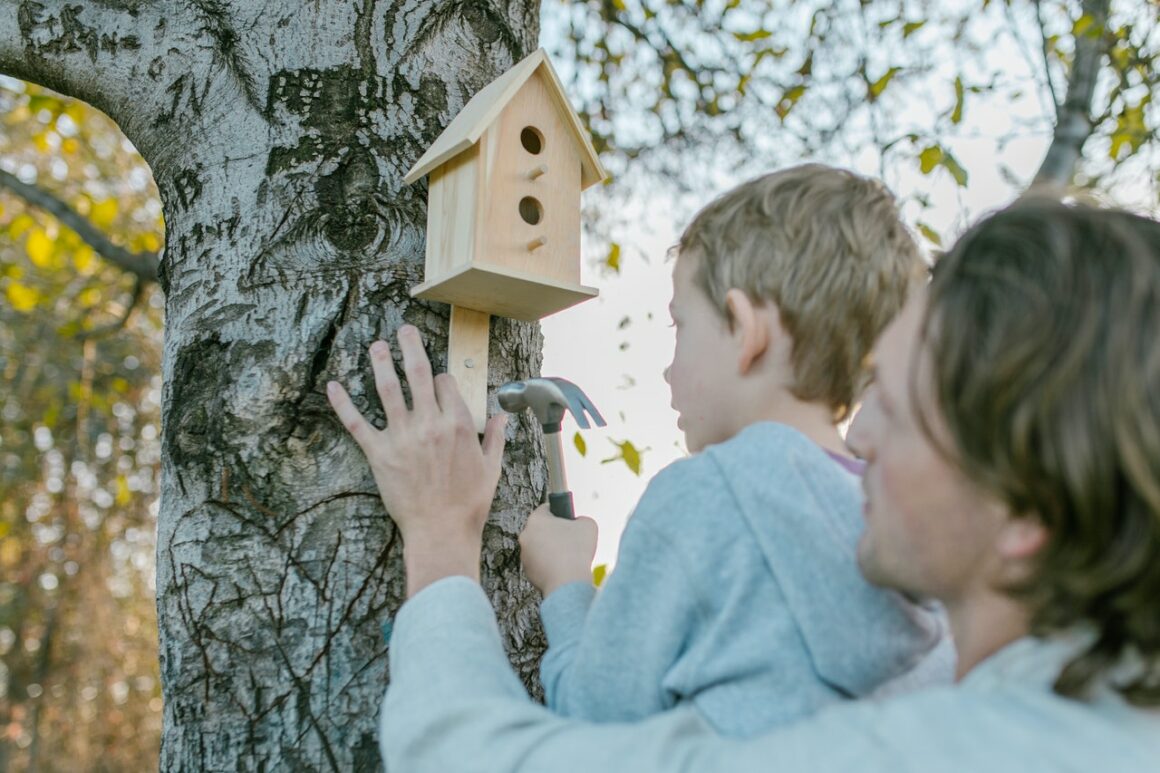 How to pick the right birdhouse?
Birds can be fussy when it comes to picking the right house. Determining the species of birds you would want to host in your garden would help you identify the right kind of house. The following factors are general characteristics to consider when buying a new birdhouse.
Entry Hole
Ideally, an entrance that ranges between 1 inch to 1 ½ inch in diameter should be fine for most wild birds. Observe the predators in your vicinity and ensure the entry hole isn't big enough for them to get through. Most birds prefer a circular opening as it reminds them of the nests in the wild.
Material
Birdhouses built from bald cypress, red cedar, plywood, and pine are great options. However, the interiors of the birdhouse should always be untreated. Thick walls are better as they keep the homes warm through insulation.
Roofing
Extended, slanted roofs prevent the interiors of the birdhouse from getting wet. The extension of the roofs also helps protect little birds from aerial predators.
Easy to Clean
Every season you must tidy up the birdhouses. If you plan on entertaining these birds for years, consider buying houses with removable panels or hinged walls. Houses made of white vinyl clean up effortlessly and are appealing to birds.
Lastly, you are buying the birdhouse not just for the birds but also to beautify your outdoors. Therefore, buy a house that works with your setup style and the one you would enjoy gazing at for hours.
Where to place your birdhouse?
The location of your birdhouse depends on the species of birds you are planning to welcome. Most birds love to have their nesting houses in the open, whereas some birds prefer them in a shaded area. If you face heavy rain showers or live in a very sunny region, it is recommended to mount the birdhouses in a dim, sheltered location. Be careful not to keep the opening of the birdhouse facing the usual direction of the wind. The cool breeze could make the young ones uncomfortable and freeze them. In warmer regions – face the entrance to the north or eastern side to keep the interiors cool.
Let's now look at the shortlisted birdhouses and explore them in detail.
1. Hole Inn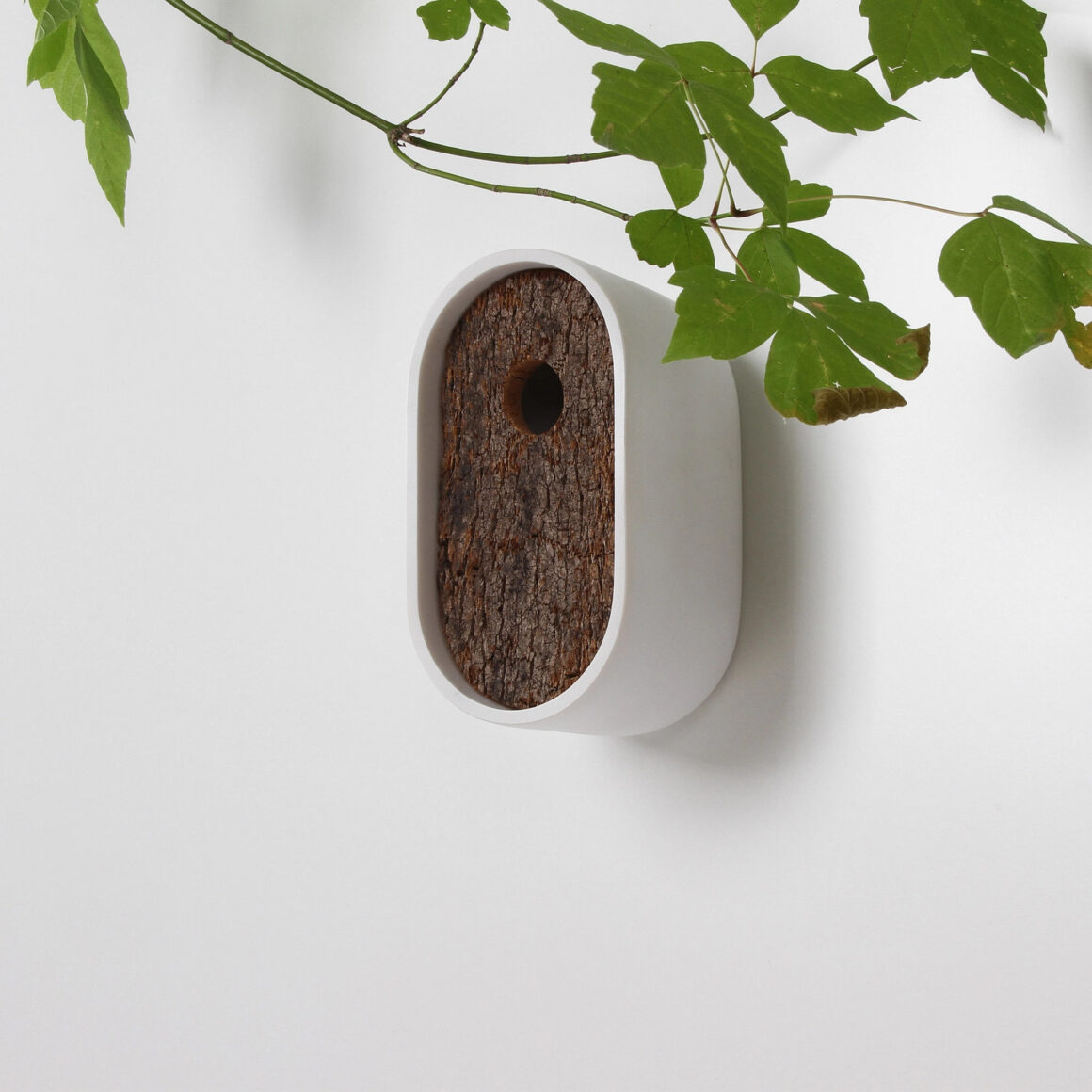 The Hole Inn from Utoopic is a charming way to incorporate a modern birdhouse into an outdoor living space. The design is both stylish and practical with a minimal approach.
The birdhouse has been recreated into a modern, urban abode for birds but draws inspiration from tree trunk burrows. It has a white concrete exterior with a natural cork panel that is eco-friendly. The cork panel looks and feels like bark and tricks the bird into believing it is living in a tree. This panel is removable, making cleaning and maintaining the birdhouse easier.
Hole Inn can be installed easily either in vertical or horizontal orientation. It can be installed on a tree or one of your exterior walls.
2. Gidon – Bing Bird House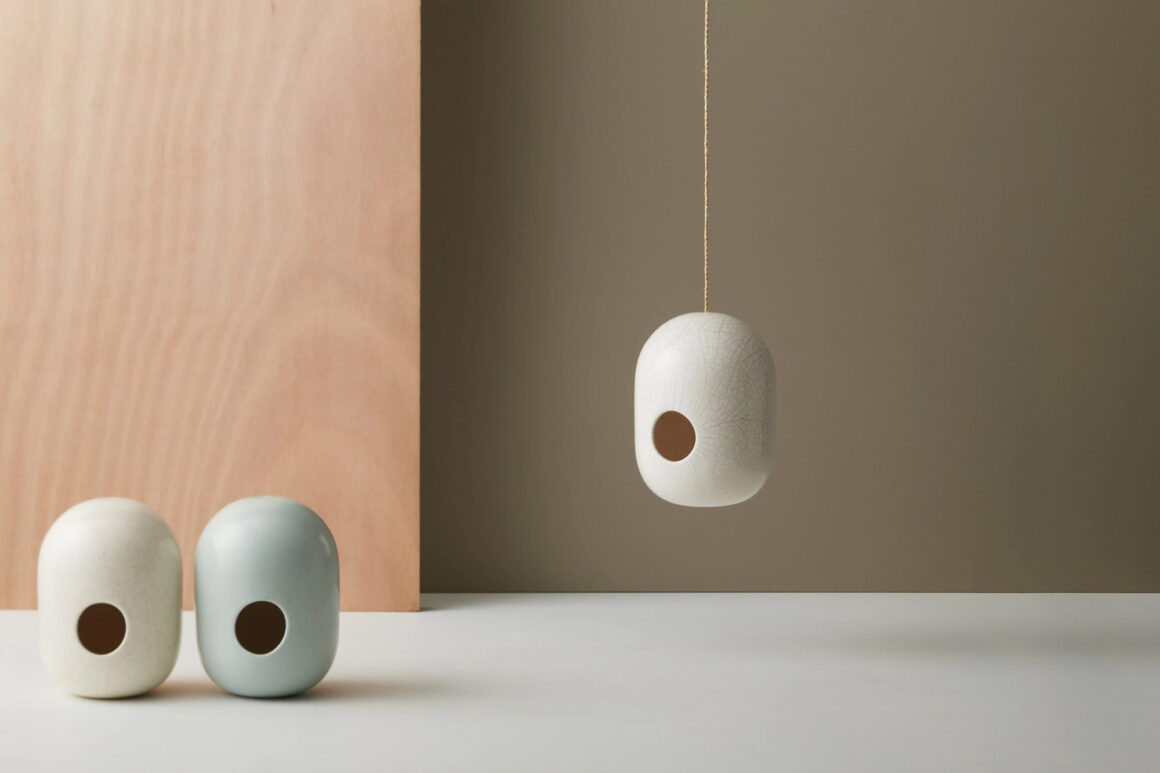 The Gidon-Bing Bird House, designed by Brogen Averill Studio, is an ultra-modern birdhouse. The design is versatile, attractive, and perfect for minimalism lovers.
The birdhouse can be hung from the ceiling or perched on a flat surface. The ceramic house has a curved outline and a tiny entryway. The exterior is smooth and glossy with elegant abstract patterns. They are available in two colors: Bone Crackle (a cream-based hue) and Japanese eggshell Blue (a soft mint blue). This birdhouse is not just an attractive home for your birds but also a beautiful decor piece for your home.
3. HublerFurniture – Birdhouse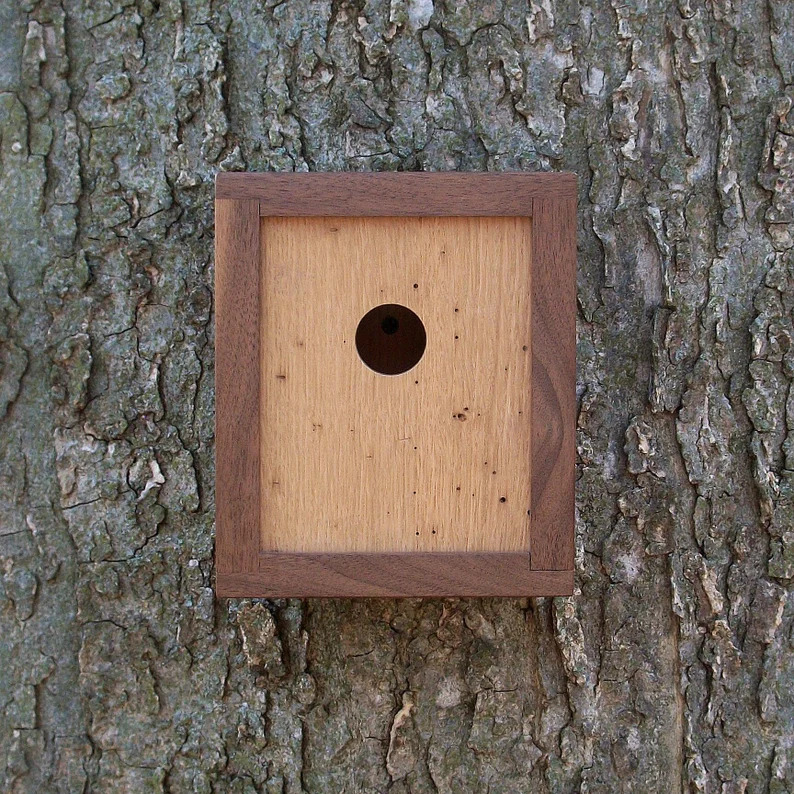 If you are looking for something simple, rustic, and handmade, this birdhouse from HublerFurniture will make you happy. HublerFurniture specializes in handmade birdhouses that are plain and modest. This particular one is no exception.
The design is an uncomplicated box with a small opening of 1 ¼ inch diameter. The box dimensions are 6 ¼ inches in breadth, 5 ⅜ inches in depth, and 7 ½ inches in height. The box is big enough to accommodate cavity-nesting birds like sparrows, chickadees, and wrens. 
The front is constructed from wormy white oak, and the sides are built using walnut. Spar Urethane is used to finish the birdhouse, which gives excellent UV and weather protection. The installation process is simple – you only have to screw the rear wall into place and slide the house into the tongue and groove.
4. The Hatteras Outdoor Birdhouse
The cozy cabin has embraced mid-century modern design with a unique twist. Crafted from sustainable materials like bamboo and fir, the Hatteras is good for the planet and birds.
The top is at a perfect right angle that acts as the roof and one of the side panels. It has one small entryway that is ideal for North American bluebirds. But it can also accommodate most backyard birds like chickadees, bluebirds, wrens, and swallows. Three ventilation holes are drilled on the side panel to allow sufficient airflow and keep the birdhouse from overheating. Four drainage holes at the bottom guarantee – no water is held back in the birdhouse. The rear panel opens up and makes cleaning the birdhouse a breeze.
5. Loll Designs, Rapson Birdhouse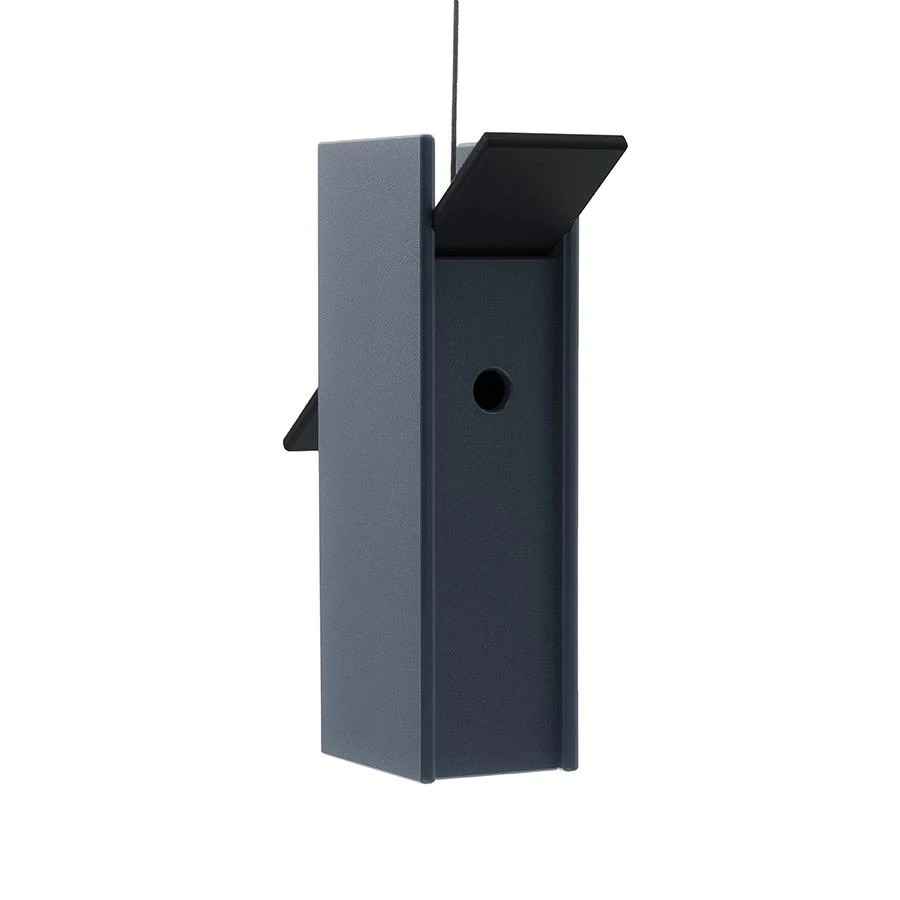 Looking for a condo for multiple birds to reside? Rapson is a contemporary bungalow birdhouse large enough to accommodate two bird families. Inspired by the design of the Hope Lutheran Church in Minneapolis, the Rapson birdhouse is a tribute to the church's midcentury architect Ralph Rapson.
This birdhouse is a minimalist take on midcentury architecture. The house is available in a wide range of color combinations. You can pick a different bottom and roof color to add a pop of color to your outdoor space. Alternatively, you can choose a solid-colored birdhouse if you prefer a monochrome minimalist birdhouse.
6. Bird BNB Birdhouse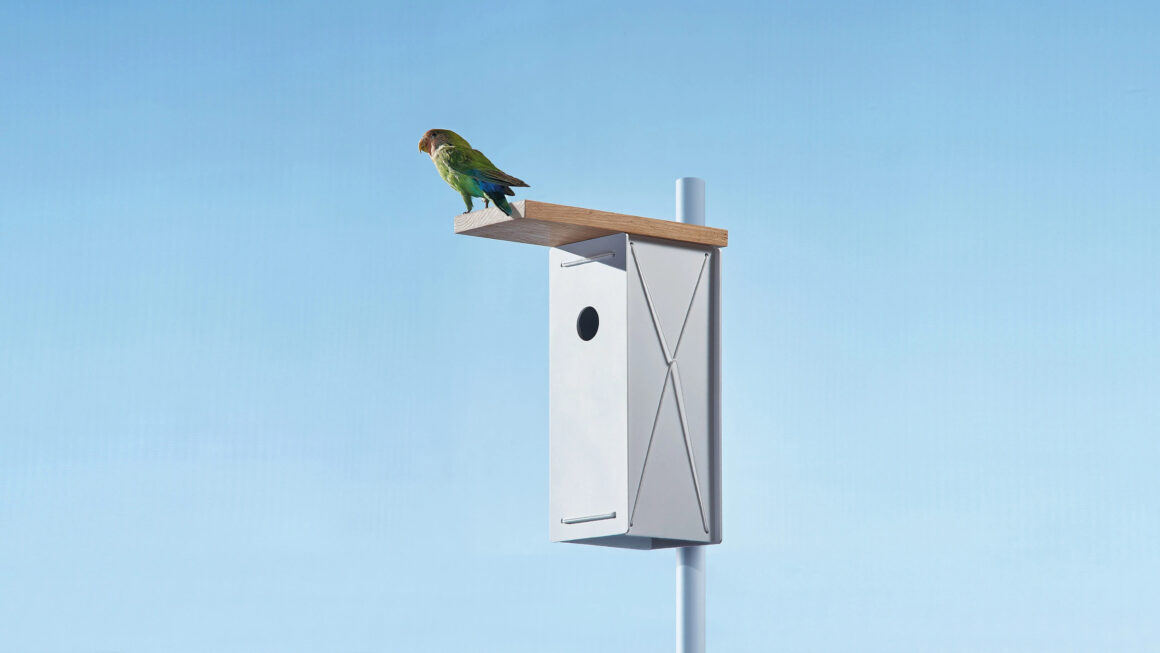 Are you looking for a safe haven for your garden birds? Martynas Kazimierenas' Bird BNB Birdhouse provides a well-designed habitat for little garden birds.
The simple-to-install structure is shipped flat and then unfolds into the 3D shape by simply pulling on the inbuilt ropes. No tools are required to assemble this birdhouse. Once completed, the home easily attaches to exterior walls, balcony rails, or trees.
The birdhouse has a long-lasting treated oak roof and a robust plastic structure. The extended roof design looks chic but, most importantly, helps protect the small birds from predators.
The pattern is available in white or black and will look good in any modern house.
7. Birdy Modern Hanging Bird House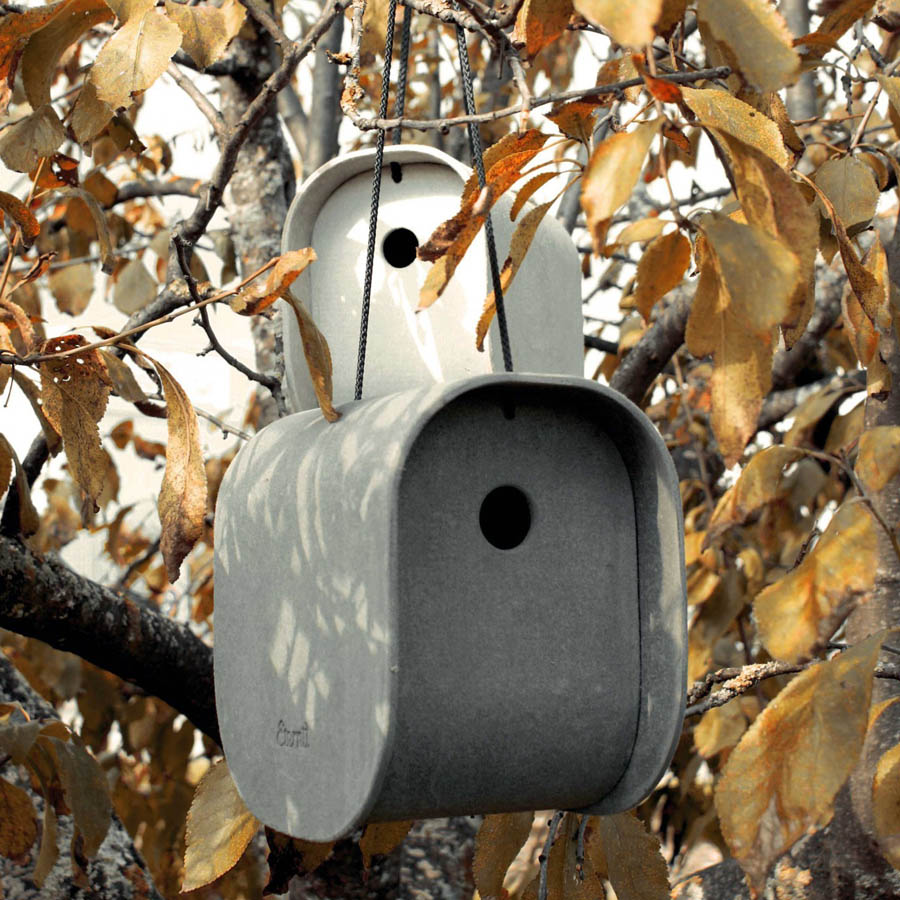 This birdhouse is a potpourri of industrialist, brutalist, minimalist, and modern architecture. Crafted from mostly organic fiber cement that is 100 percent recyclable, this birdhouse will last you a lifetime.
This stylish birdhouse is handcrafted and imported from Switzerland. The subtle grey shade of the cement and the stunningly basic form of this modern birdhouse will easily fit in any outdoor setting. It hangs well on a branch or any other appropriate support. You can choose to hang it on your terrace, balcony, or even in your backyard garden.
8. Outdoor Habitatz Wooden Birdhouses
Who does not like multipurpose products? Outdoor habitatz wooden birdhouse doubles as a bird feeder. They come in a pack of two and are reasonably priced. Yes, it's a steal!
These delightful birdhouses are built from eco-friendly compressed bamboo fiber and are hung using a sisal rope. Alternatively, you could attach the birdhouse to a wall using the readymade mounting slots. The bamboo front panel is removable to turn the house into a feeder. Removing the panel also makes it easier to clean and maintain the birdhouse. The entry hole is 1.2 inches which is the right size for nuthatches, chickadees, and wrens.
Hang these in your backyard, open the front panel, and enjoy watching birds build their nests and feed their young ones.
9. Mid Century Modern Birdhouse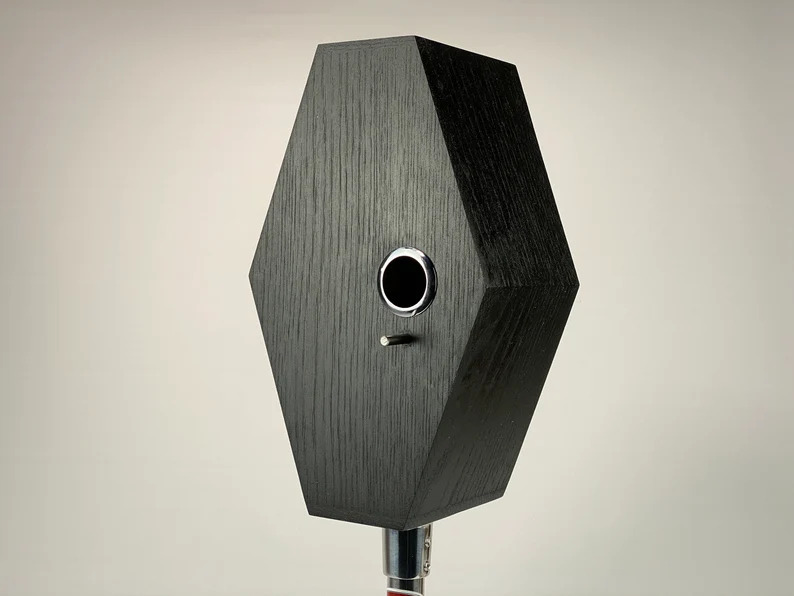 Stretched hexagrams are called Hexocasters and were extremely popular in the 1950s and 1960s. Made of solid white oak and furnished with chrome and polished stainless steel, these handmade birdhouses were intended to resemble electric guitars.
Hexocaster birdhouses are available in two varieties: for exterior use called Solid Body Hexocasters and the one for interior use called Semi-Solid Body Hexocasters. The difference lies in the make and materials used.
These sleek birdhouses come with a tiny entry hole and a steel perch on the front panel. And five holes at the back for ventilation. You can purchase them with wall or deck mounting or could seat them on a post or a flat surface.
10. DeCubbies 2-in-1 Birdhouse Bird Feeder
Decubbies offers a thoroughly planned and well-executed design. A simple birdhouse accommodates a pull-out drawer which transforms into a bird feeder when flipped. The four ventilation holes (two on each side) prevent the birdhouse from heating up. The mesh flooring makes for easy cleaning of nesting or feeding residuals. And the four drainage holes at the bottom keep the house feeling dry.
Pre-drilled holes at the back of the house make it easy to screw the house to a wall or a tree. When not using it as a birdhouse, you can always use it to adorn your homes.
11. NestBirdhouses – Contemporary Birdhouse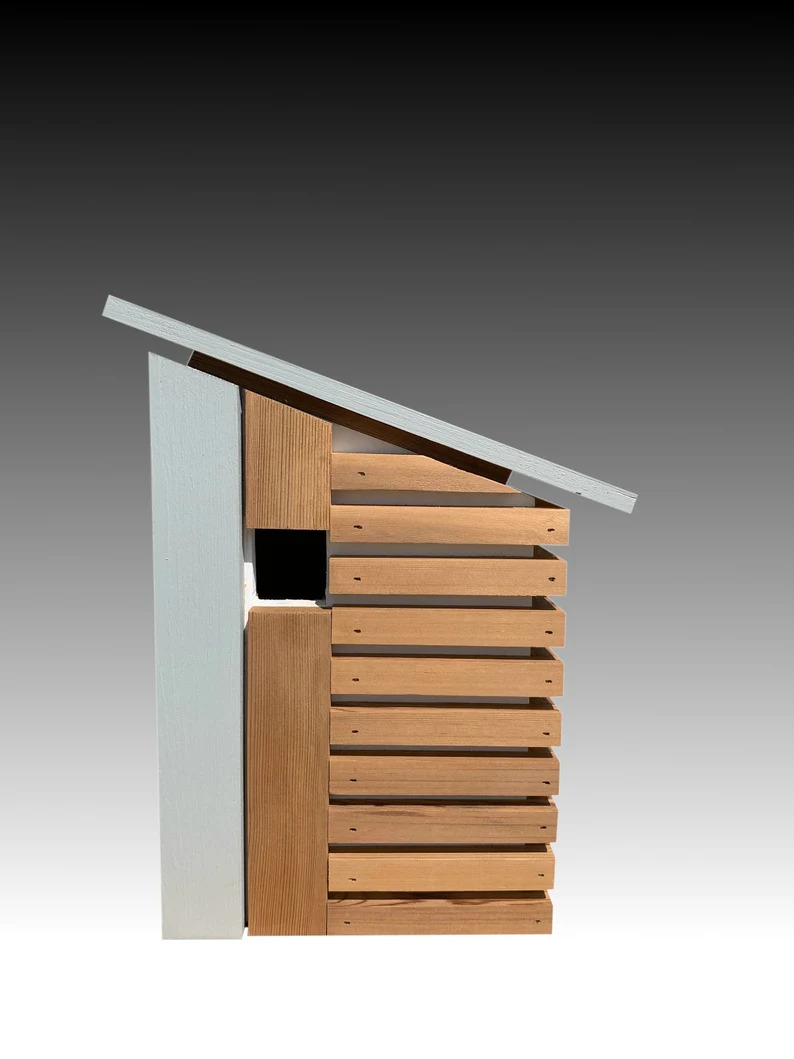 Nestbirhouses' contemporary birdhouse is true to its name. It is a beautiful modern birdhouse that echoes fine craftsmanship and ingenious aesthetics.
The house is built of western red cedar, which naturally protects itself against humidity and insects. The entrance gap for the birds is either square or round in shape. Pigmented outdoor-grade solid stains are used to help the colors last longer. Proper airflow is ensured in this house with ventilation holes at the top and bottom. The practicality of the design enables easy cleaning between nesting seasons.
Each birdhouse is handmade and slightly differs in dimensions and make. You can be certain – that you will get a one-of-a-kind birdhouse that you can mount in your front yard to add a stylish touch to your entrance.
12. mwwHandcraftedDesign – Modern Birdhouse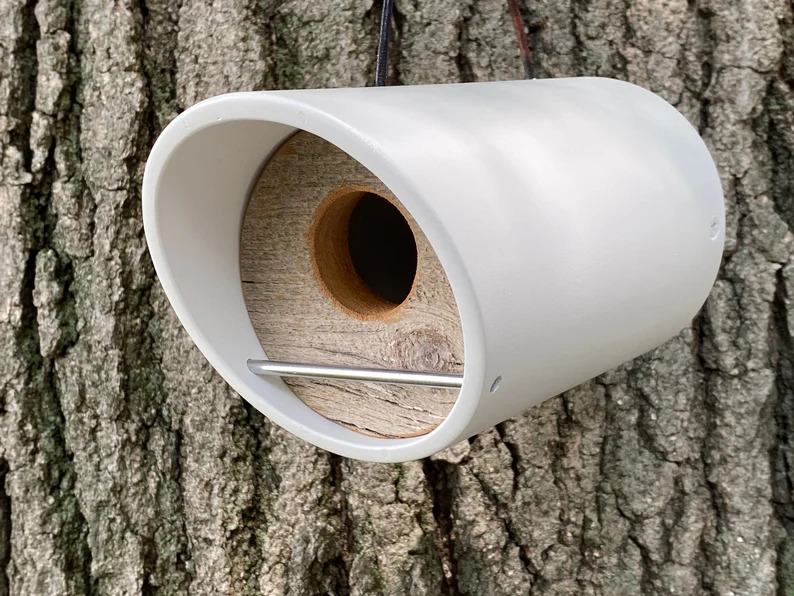 Look no further than this modern tubular house for a unique design. It features a tubular form that blends contrasting materials like PVC tubes and aged barn wood. The PVC tube is angle-cut, smoothed, and painted with a circular cut, vintage barn wood plank at the front and rear. An unusual pivoting rear panel allows for seasonal cleaning.
You can use a leather strap to hang the tube on your patio or from a tree branch. Birds can perch on the sleek nickel-plated metal rod at the entrance. You can sit back on your deck and listen to them chirp.
Lastly, some thoughts.
No wonder birds can be a delight to watch. But they are also helpful at maintaining your lawn. They can help pollinate by sipping on energy-rich nectar and passing the pollen to the next flower. Birds also consume insects and weed seeds which helps keep these pests and weeds at bay. Having a loving home for these birds ensures your tiny visitors return to your yard.