This article contains affiliate links for which I may receive a small commission, at no additional cost to you, should you decide to make a purchase by using them. Learn More
When it comes to advertising for engagement rings, jewelry companies pull out all the stops to reel the customer in. But how many of them advertise where their jewelry comes from?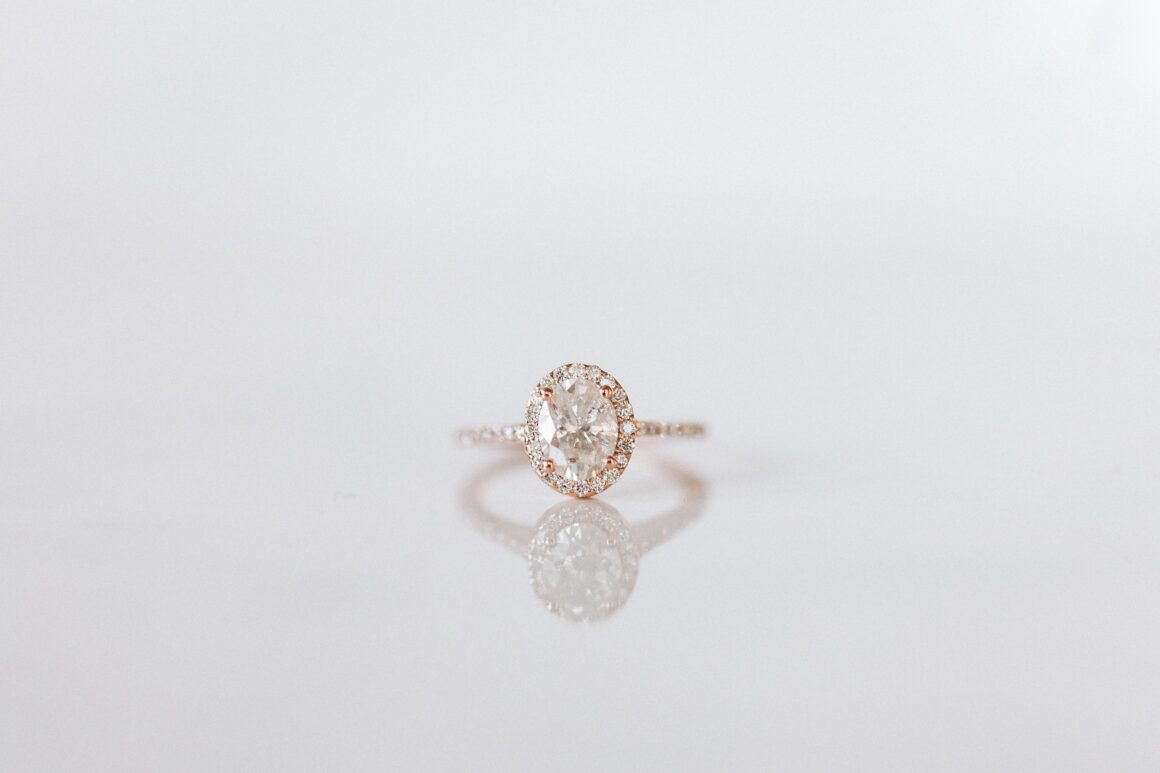 When purchasing an engagement ring, couples seldom think about the origins of the diamonds in their rings. But it's high time we, as a community, started focusing on the fact.
If you're searching for a perfect minimalist engagement ring, search for a company that promotes conflict-free jewelry.
If you aren't socially conscious, you may wonder what the term "conflict-free" is and how it relates to your engagement ring. Before we list our best choices for brands, let's have a little lesson on the subject of "conflict-free" and why you should be concerned.
What is Conflict-Free?
If you want to learn about conflict, you must first understand the concept of blood diamonds and diamonds in general.
One of the most significant resources of diamonds is the continent, Africa. Countries such as Botswana, Angola, South Africa, the Democratic Republic of Congo, and Namibia are just some of the diamond mining countries.
Diamonds, as an investment, are lucrative and can go up in value over time. Because of that—and the jewelry industry—the demand for diamonds has been at an all-time high. But to meet this demand, many suppliers in different countries, throughout time, unfortunately, resorted to unethical and inhumane practices.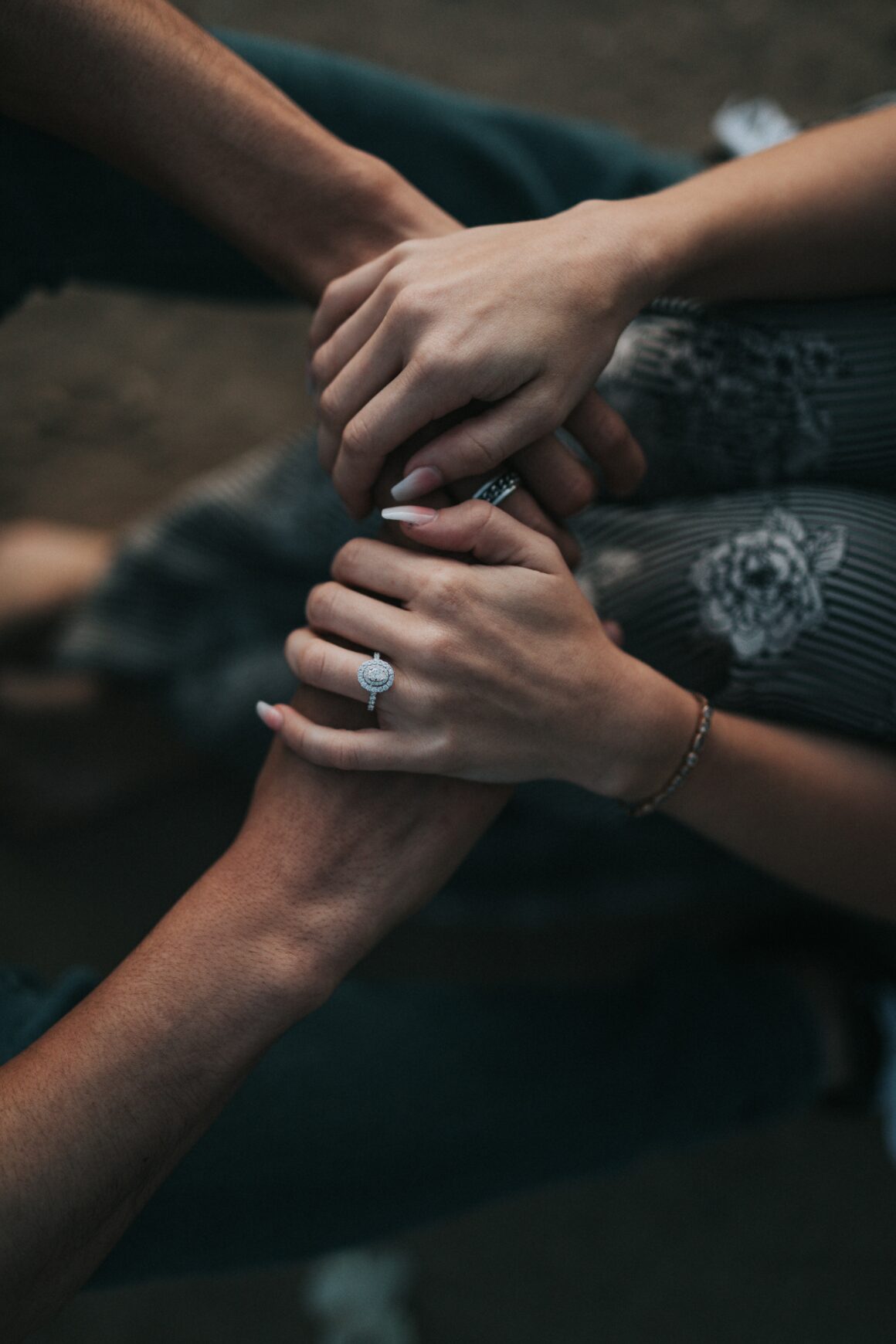 Rebel groups fought to gain power over diamond-rich mines, terrorist groups used diamonds to fund their moves, and suppliers fueled civil wars so that they could get their hands on the most prominent stock. The diamonds that came from such areas became known as blood diamonds or conflict diamonds.
Statistics released by the Statistic Brain Research Institute showed that 4 percent of the world's diamonds were conflict diamonds, a number that has grown substantially. The same statistics further explained that 3–4 million people had died because of diamond mining and countless more because of the civil wars.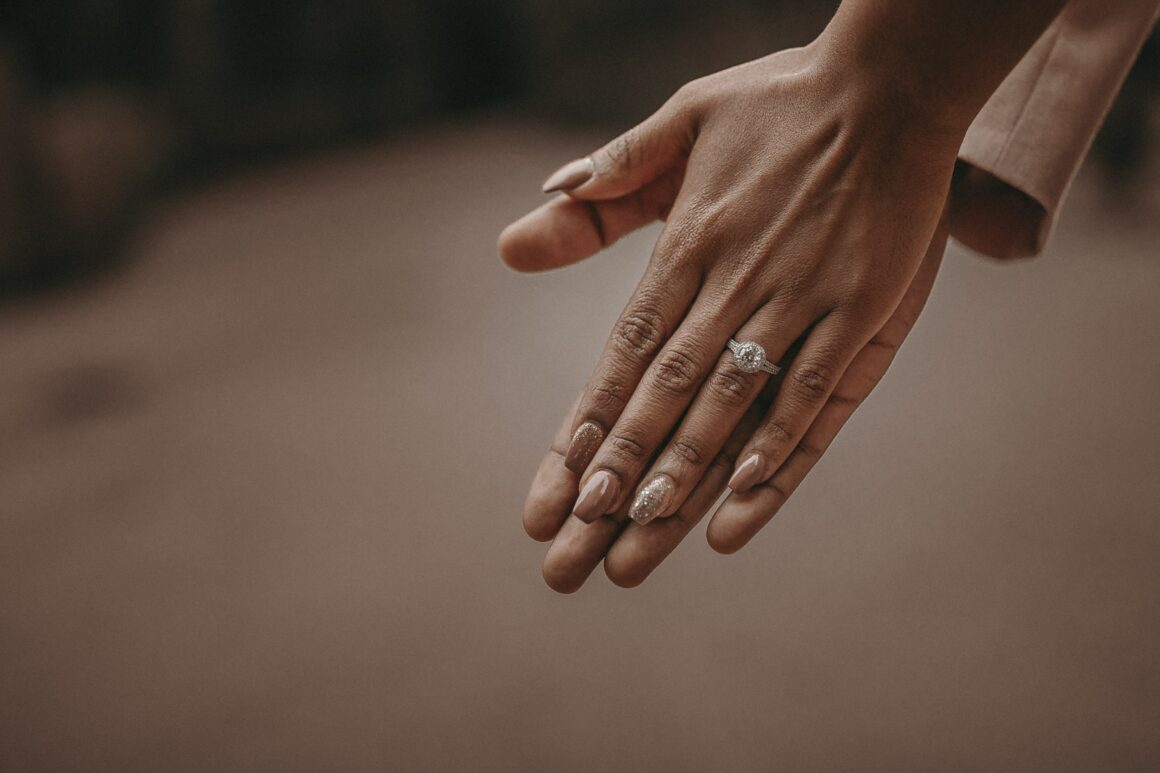 Conflict-free diamond rings mean that the diamond encased in that ring is not mined and shipped from any country or supplier with connections to terror or supply groups. The diamonds also were not acquired through or financed any civil war.
Do Conflict-Free Diamonds Exist?
Yes, they do.
And to guide you on the path toward ethically-resourced, conflict-free diamonds, we offer a list of minimalist brands that only provide conflict-free diamonds which are evaluated for quality and source.
The Best Conflict-Free Minimalist Engagement Ring Brands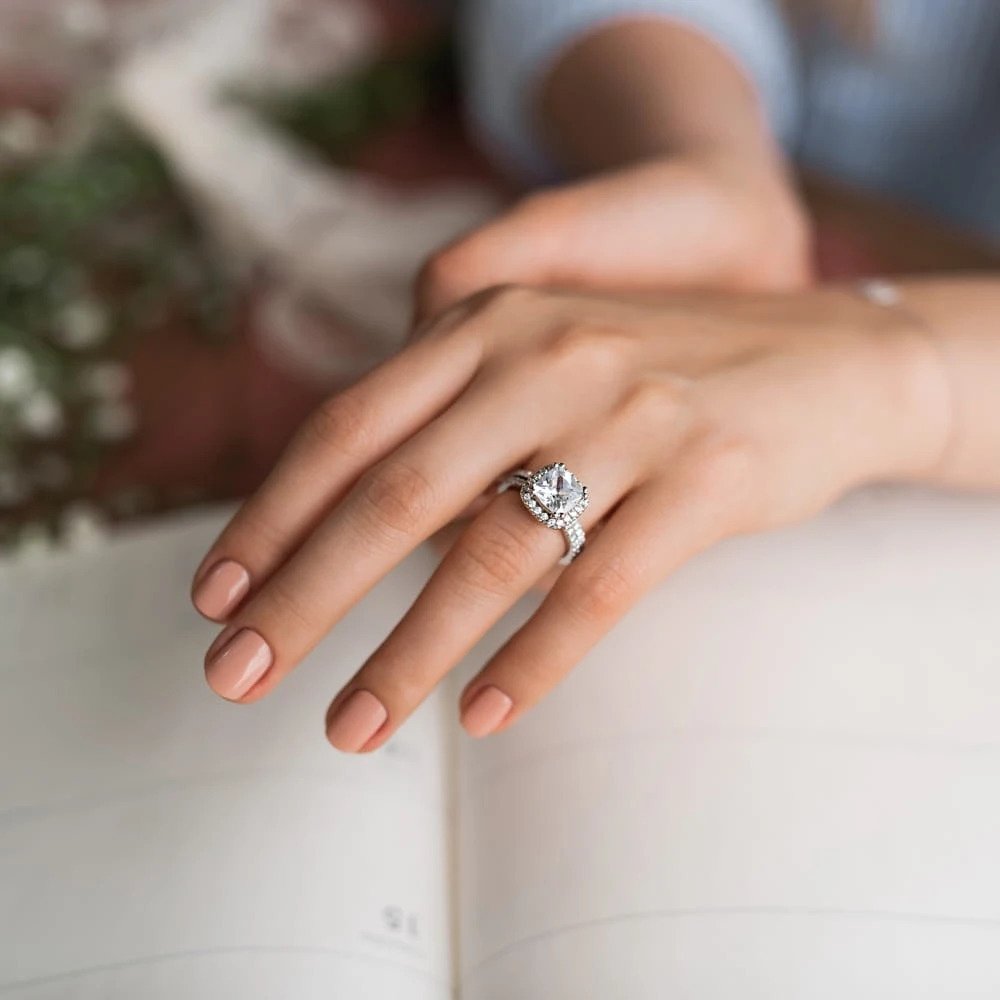 Ethics | Ethical, lab-grown, affordable jewelry, recycled precious metals
Price Range | $$–$$$
MiaDonna is a female-founded company and one of the most popular brands for minimalist jewelry, especially engagement rings.
Created by Anna-Mieke Anderson in 2005, the company followed Anna-Mieke's desire to help children worldwide, particularly in countries that supplied earth-mined diamonds. After learning about the circumstances through which these diamonds were mined and shipped, Anna-Mieke dedicated her life to finding a safer alternative. And once she learned about lab-grown diamonds, she invested in her dream, and MiaDonna was born.
All engagement rings by MiaDonna are conflict-free and are created by using recycled metals and lab-grown diamonds and gemstones. All engagement rings are also handcrafted and utilize a brilliant yet straightforward style that would satisfy even the most demanding jewelry lover.
The collection of engagement rings at MiaDonna is exquisite in style and almost genius in its design. The combination of the gemstone, diamond, and metal borders on perfection, instantly giving a minimalist ring a timeless look.
For any ladies out there who value exclusive styles with a classic twist, MiaDonna is your ideal choice.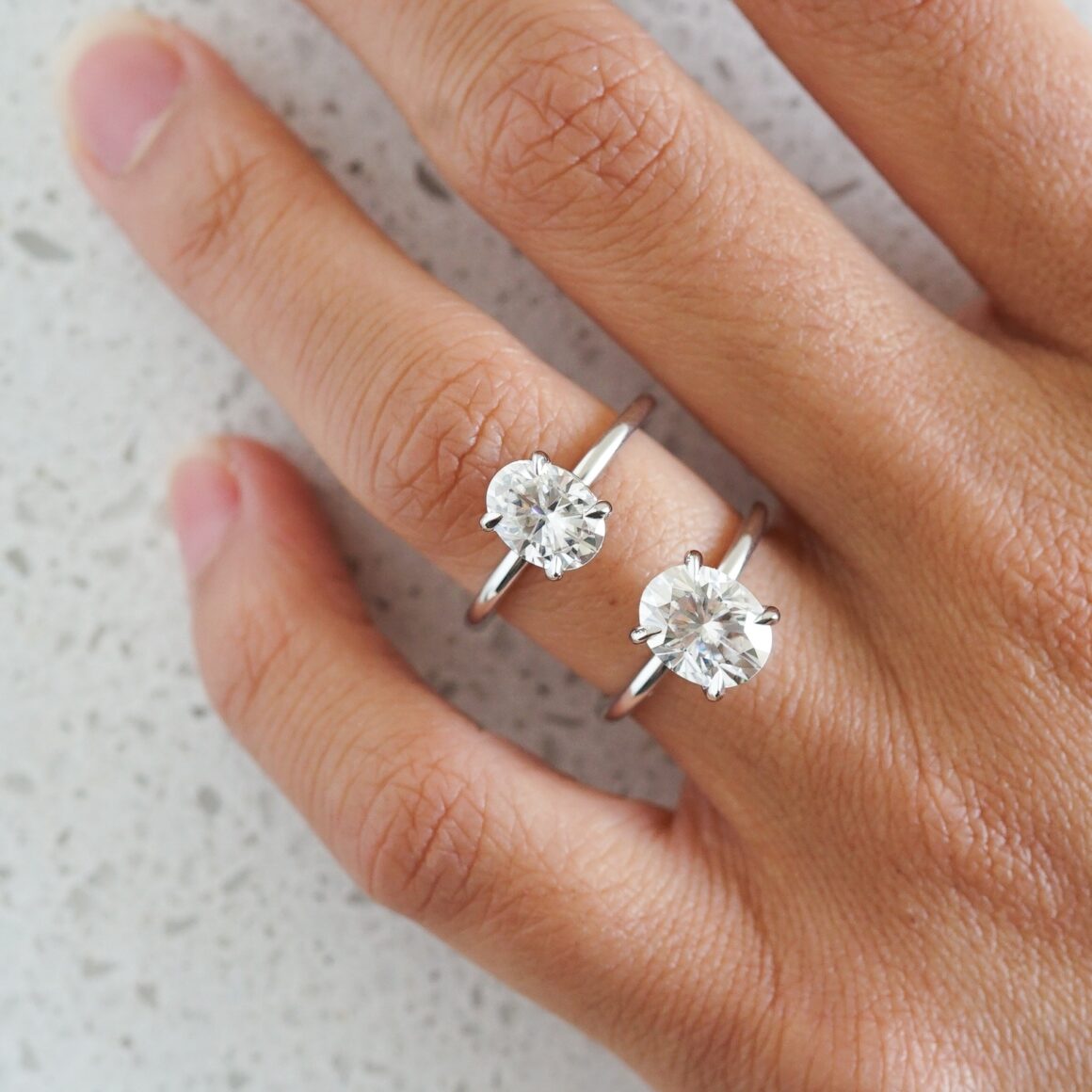 Ethics | Conflict-free, recycled precious metals, handcrafted in the United States, sustainable wood boxes for rings
Price Range | $–$$$
Do Amore is an exciting endeavor by one, Krish Himmatramka. After working at an oil drilling rig and realizing how easy it is to drill for water, as it is for oil, Mr. Himmatramka realized that he could use this discovery for good.
And when he came upon the dubious ethical origin of diamonds while searching for an engagement ring himself, he put two and two together, and Do Amore was founded.
Do Amore does more than use ethical diamonds and decreases the use of plastic. For every ring that's sold, they identify a community living without clean water, then provide them with the funds they need to start and maintain a project to bring water. In some cases, Do Amore pulls together funds from multiple jewelry purchases.
Their partners in various countries around the globe drill water wells, so the community has clean running water. They also fund sanitation and health training.
With such a worthy cause, Do Amore's minimalist engagement ring collection does not disappoint and provides exceptionally worthy choices too. Ranging across the price scale, these rings, nonetheless, have a quality that exudes exclusivity. In other words, they look far more expensive than they are. Do Amore offers other jewelry as well as moissanite, so you'll be spoilt for choice.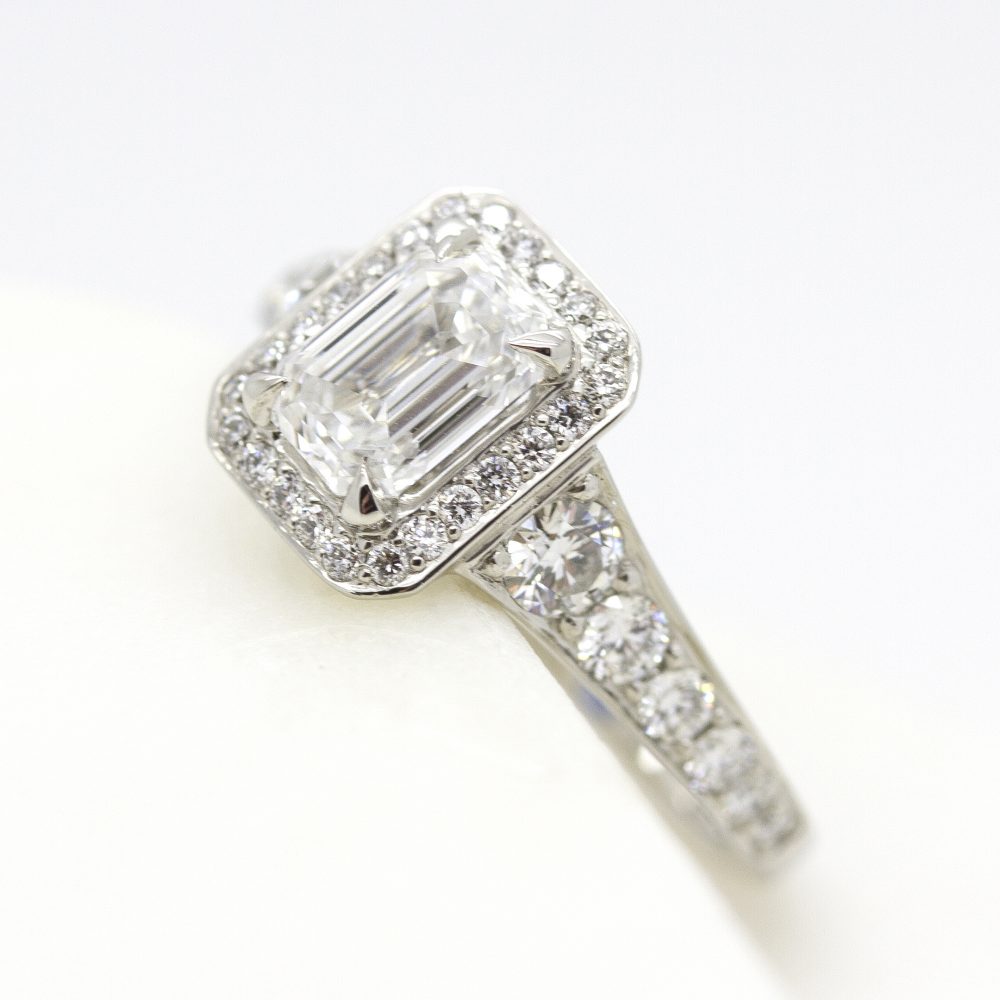 Ethics | Ethically sourced, CanadaMark diamonds, lab-grown diamonds, sustainable metals, Fairtrade gold and platinum, recycled gold and platinum, ethically sourced gemstones, sustainable sapphires
Price Range | $$$
Taylor & Hart is very transparent about their entire process. From suppliers and sources to partners and designers, the company has provided a comprehensive report on their system online, which you can read here.
The company is perhaps, one of the most dedicated organizations, highlighting the importance of ethically-sourced diamonds. Taylor & Hart works with multiple companies worldwide, supporting women-owned businesses and small endeavors, partnering with them to create a robust and sustainable system.
Like many jewelry companies, Taylor & Hart also provides options for custom-designed rings and offers a lovely selection of metals, diamonds, gemstones, and designs to choose from. However, for those who want a ready-made ring, the company pulls out all the stops to ensure that the ring designs exceed your expectations.
With prices starting from $875, the initial ring selection is enough to get you hooked. Although, if you want something a bit more intricate, Taylor & Hart does not disappoint.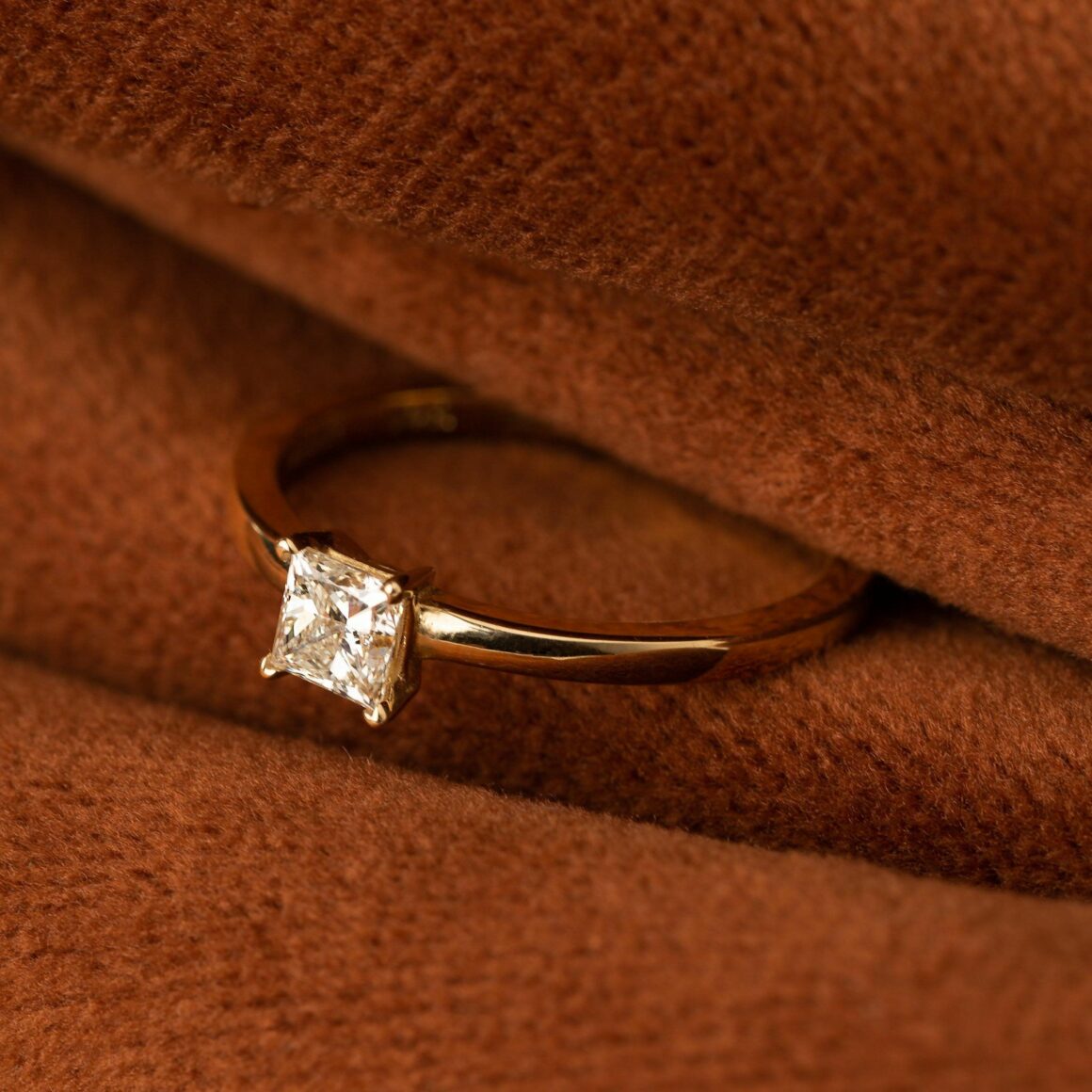 Ethics | 100% recycled gold, family-run farms for pearls, ethically-resourced diamonds, and precious gems, ethical diamonds
Price Range | $
Aurate is a New York-based company with a straightforward, no-nonsense style of business, and that's something you see in their engagement ring designs too. Minimalist, beautiful, and affordable to boot, the rings (and other jewelry) offered by Aurate gives you the chance to deck yourself with pearls and diamonds without feeling the weight of it on your wallet.
Aurate is a company dedicated to following the ethical rules of the world. That's why they only use 100 percent recycled gold for their creations. The company also keeps track of the gemstone and diamond suppliers they use, making sure the mines are kept in proper working conditions and the workers are offered fair pay.
The company also partners with reliable family-run farms when it comes to their pearl stock. The pearls are sustainably farmed and harvested, so the marine environment is not disturbed.
Founded by Sophie Kahn and Bouchra Ezzahraoui in 2015, Aurate offers a wide range of jewelry designs for each category, so if you want an engagement ring, you don't get just one style. From stackable rings to dainty to statement rings, you will be tempted to splurge on an extensive collection, one ring for every day of the week!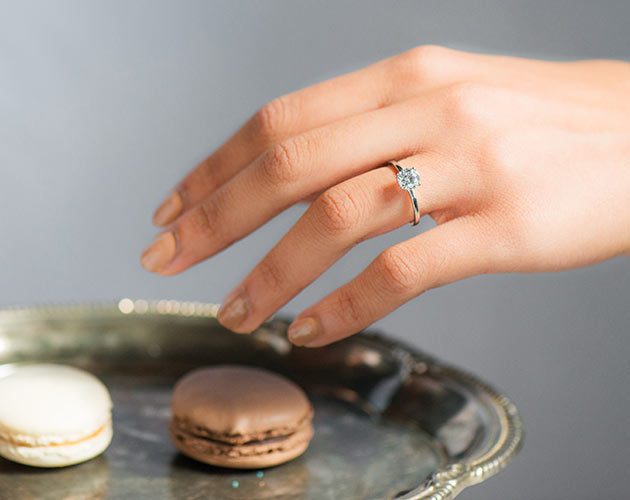 Ethics | certified conflict-free diamonds, diamond experts who provide real-time diamond inspections, lifetime guarantee
Prices | $$
James Allen is perhaps one of the most popular brands on this list, and for a good reason.
Since the company was founded in 2006, James Allen has dominated the field, providing clients with the best jewelry money can buy. In particular, their engagement rings have garnered a significant reputation for being affordable, beautiful, and strangely perfect. With prices starting from $750, even the simple rings are enough to have you catch your breath.
James Allen only uses conflict-free diamonds from sources that are registered as reliable members of the professional diamond trade. And does its best to educate its clients on what conflict-free diamonds are and why we should be dedicated to only using conflict-free and ethical diamonds.
And with more than 200,000 conflict-free diamonds sold, James Allen continues to send the message to their client base across the United States.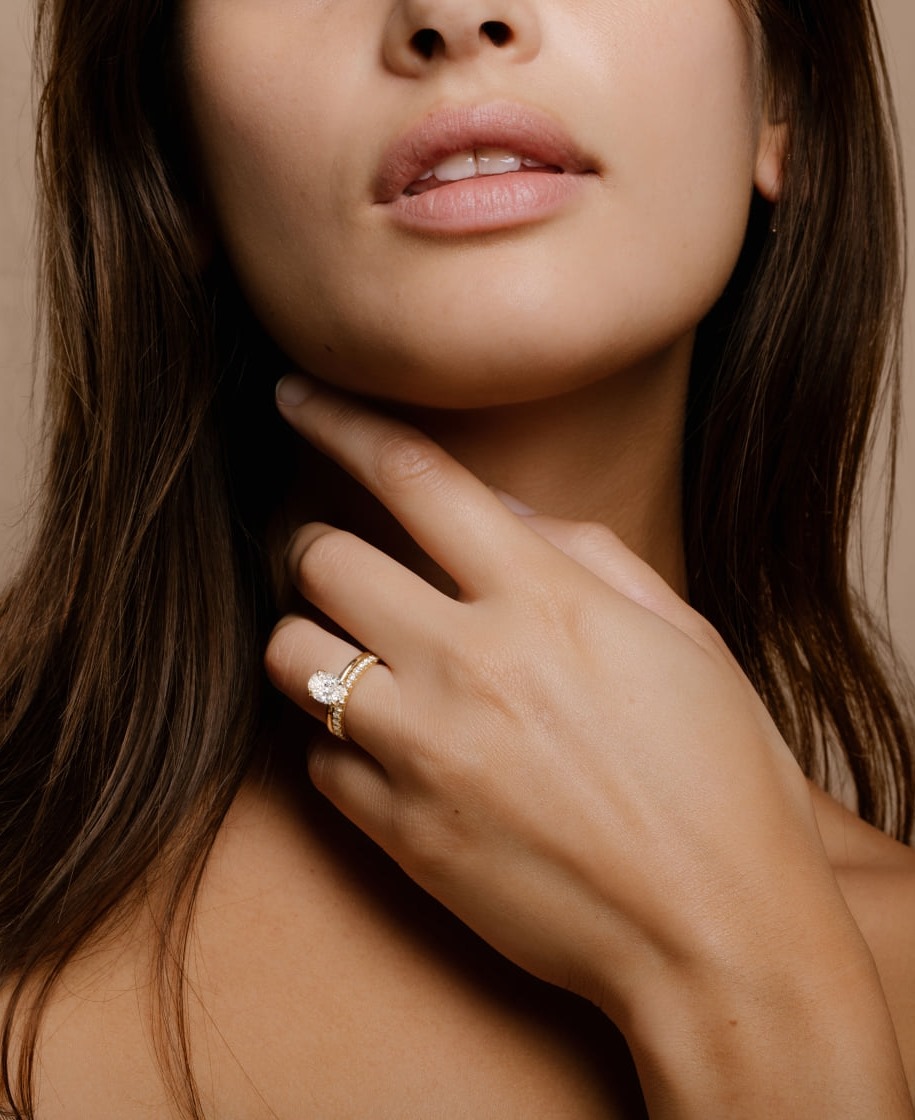 Ethics | Certified producer of diamonds with zero carbon footprint, sustainably grown in the Pacific West using proprietary technology in a zero-emission foundry
Price Range | $$
VRAI is dedicated to making the best diamond jewelry by embracing innovative tools and design as a company. And that's exactly what it accomplishes by sustainably growing diamonds without creating a carbon footprint.
Although their diamonds meet the international standards for diamonds perfectly, their origin and the refined source are what sets them apart from the rest. By combining technology with zero-emission power, VRAI grows their diamond crystals that provide maximum brilliance and are cut by master craftsmen to ensure quality and beauty.
You may think that VRAI's engagement ring collection may cost upwards of quadruple digits because of their source. However, their classic solitaire in rose gold is estimated at £628, over $860.
The ring can be customized. You can choose from band options and metal options. However you want to customize the ring, VRAI offers the most pristine diamonds and quality metals for your engagement.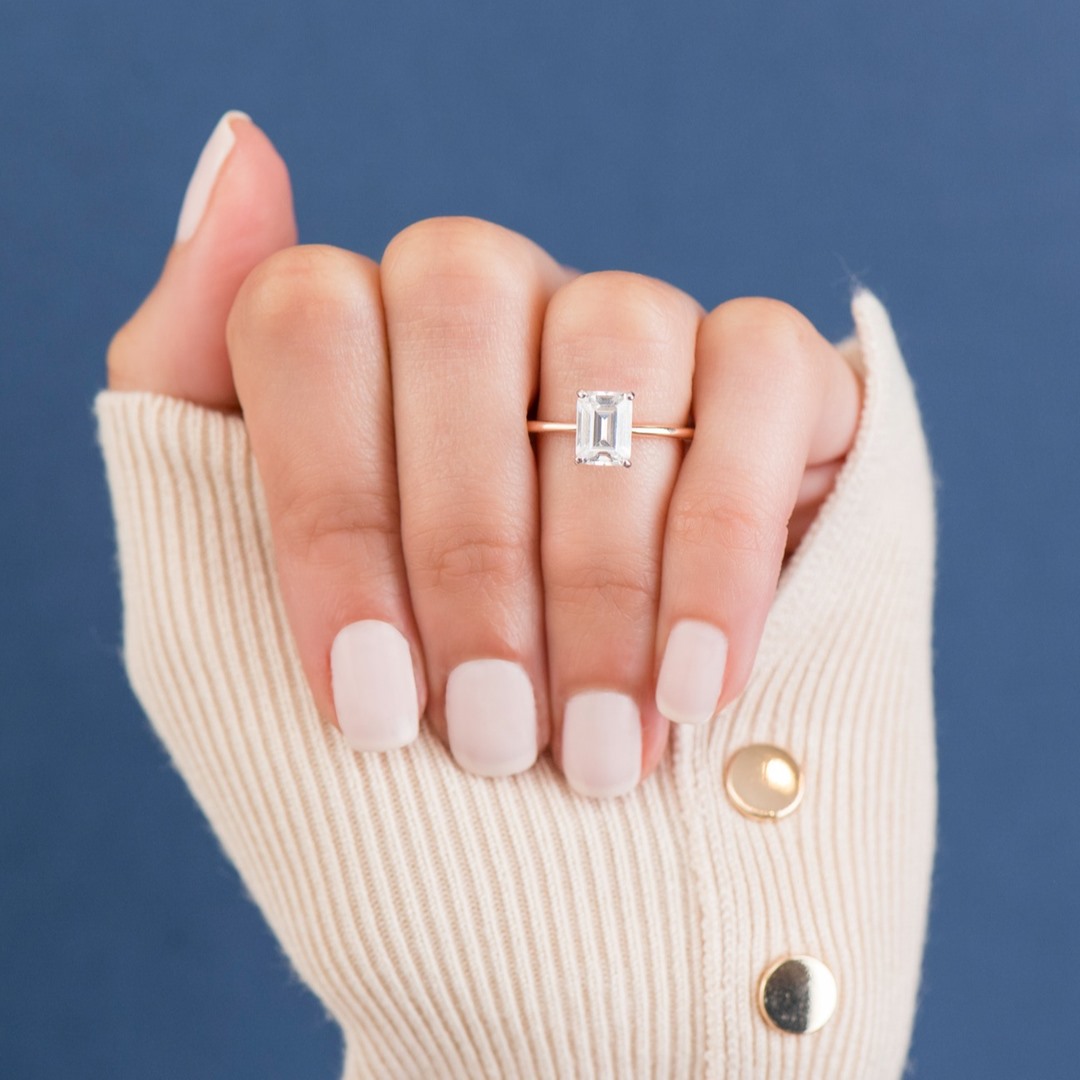 Ethics | 100% ethical and lab-grown
Price Range | $$
Clear Origin stays true to its name with its 100 percent ethical selection of lab-grown diamonds and premium quality. Clear Origin was founded in 2017 and depends on the collective 100 years of industry veterans' combined expertise to ensure that their customers receive the best designs and pristine diamonds.
The selection of minimalist engagement rings at Clear Origin is breathtaking and surprising, considering that their least expensive ring—the Classic Oval Solitaire—is priced at an affordable $485. Rings priced within $1000 look twice as expensive, thanks to their classically beautiful designs, carried down from generations.
The rings are available in a wide range of metals, including platinum, gold, white gold, and rose gold. The designs include all style rings, such as the favorite halo and solitaire rings.
For anyone who wants a diamond ring that would forever become a family heirloom, Clear Origin is your best option.
Closing Thoughts
Diamonds may be a girl's best friend. But conflict-free diamonds are a smart girl's best friend.
So, whether you're looking for a ring to buy or one to propose with, make the right decision by going with an ethical, conflict-free option. This choice may not seem as impactful on your part. Still, by contributing to any of the companies mentioned above, you'll be supporting a community that's helping those ravaged by civil wars on diamonds for decades.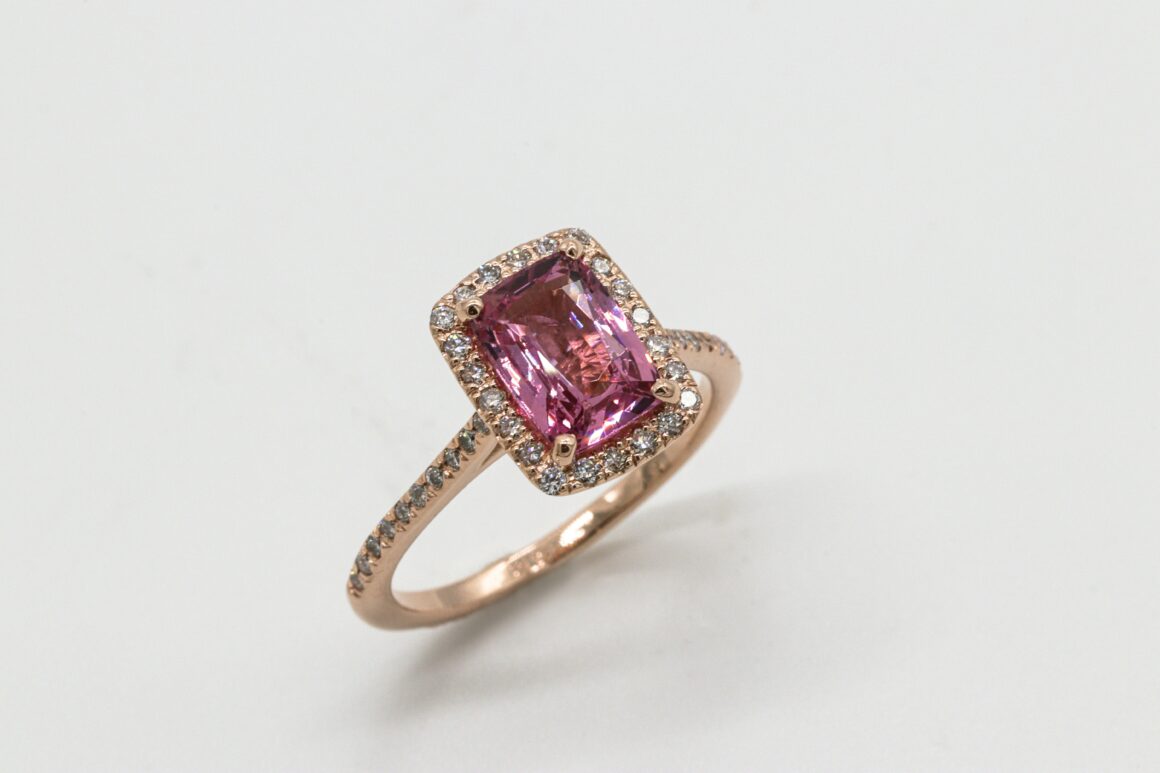 For further information on conflict-free diamonds, the International Gem Society offers a comprehensive view of what they mean for the diamond industry. With your help, the industry will slowly but surely turn the tide in its favor. And you'll get a guilt-free, exquisite diamond ring in return!