This article contains affiliate links for which I may receive a small commission, at no additional cost to you, should you decide to make a purchase by using them. Learn More
Is a skincare product at all beneficial if it doesn't contain a bit of aloe vera?
As an ingredient that's been a staple in skincare products (and others) for centuries, aloe vera embodies the essence of the phrase, "simple but powerful."
In terms of beauty, the aloe vera plant works its magic in multiple ways. It softens the skin, heals scarring, improves the effects of skin disorders, and treats minor burns, acne, herpes sores, dandruff, psoriasis, and seborrhea. In other words, aloe vera does the job of 12 different skincare products, all through one product.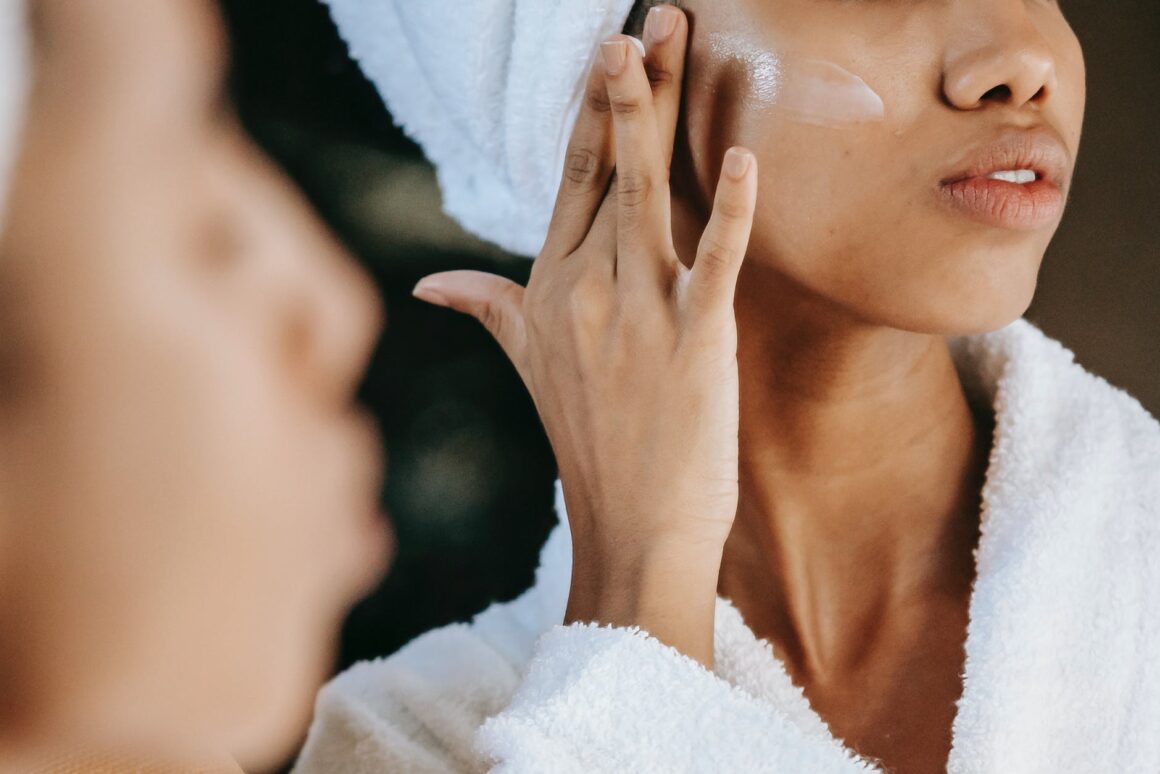 But does this mean that you throw away your entire skincare collection and keep a plant on your dressing table? In a word, no.
While the aloe vera plant is excellent at treating your skin and beauty, it needs to be enriched thoroughly. That's where my list of the best organic aloe vera products comes into place. This list offers mists and gels to help improve your skin faster and more efficiently. Try one or more on your skin, and stick to what soothes your pores and freshens your skin!
1. Herbivore – Natural After Sun Soothing Aloe Mist
Ethics | Organic, natural, cruelty-free, vegan, non-toxic
Features | Mint, Aloe Vera, Lavender Scent
If your baby enjoys tummy time under the sun, then this mist is a must.
Made using only two ingredients—mint and aloe vera—this product is a soothing mixture with some therapeutic lavender scent thrown in. It's excellent for treating heated skin and does the job well of cooling down and hydrating it. The product is also paraben-free, sulfate-free, and GMO-free.
The Herbivore mist's only requirement is that you keep it in the refrigerator, so the product stays chilled. That will also prevent any breakage since the bottle is made of glass. This requirement aside, the product is perfect for babies and mamas, dads, and siblings who may have sensitive skin.
2. NaturSense – Organic Aloe Vera Gel
Ethics | 99.75% organic, natural, made in the USA, usable for hair, skin, and scalp
Features | Organic aloe vera juice
The NaturSense Organic Aloe Vera Gel is a straightforward product that gets the job done.
Whether you want to use it for your face, hair, body, or scalp, the product works evenly to hydrate and refresh all surfaces. In addition to the aloe vera, this product's ingredient list includes essential preservatives, such as xanthan, potassium sorbate, ascorbic acid, and citric acid, and that's it. So, there's no concern about allergies or reactions.
For your skin and face, you can use it as a primer before putting any makeup on. And use it as a pre-wash hair treatment so that your hair is well and truly nourished. Only keep in mind, the right consistency can make all the difference. Aloe gels are thicker than your average gel. Using the right amount will ensure that your skin doesn't look too gloopy and oily.
3. Pura D'or – Healing Organic Aloe Vera Gel
Ethics | Climate pledge friendly, hand-selected rare botanical ingredients, non-toxic, cruelty-free, made in the USA
Features | USDA certified organic, zero artificial preservatives, fresh-cut, no sticky residue
Pura D'or is a well-loved brand in the organic community for its pledge to be climate-friendly. But with their other qualities, including being cruelty-free and non-toxic, it's a wonder why Pura D'or hasn't become a staple for all organic beauty lovers.
With their healing organic skin gel, the company hits it out of the park. With purely one ingredient, aloe vera, the compacted packaging of the healing Pura D'or gel allows you to take this little miracle worker with you wherever you want. As we know, you can use aloe vera to treat dry, itchy skin, skin irritation and redness, and dry hair. With the bonus of being USDA-certified organic with zero preservatives, this healing gel does all that.
It also helps the product is certified by Amazon as Compact by Design, i.e., the product removes excess air and water from the shipping and packaging process, thus reducing their carbon footprint.
4. Seven Minerals – Organic Aloe Vera Gel
Ethics | High-quality, US grown, 99 percent organic
Features | Usable for skin, scalp, face, and hair, natural product, does not include xanthan
The complete ingredient list consists of only six elements, including aloe vera. Those being agar, citric acid, ascorbic acid, seaweed extract, and potassium sorbate, none of which impact the efficacy of the main ingredient. The aloe vera is harvested from home-grown plants grown in Southern Texas from USDA-certified fields.
The product is then scraped from the leaves, combined with the other ingredients, and bottled, ready to be shipped. As a potent formula, the product work quite effectively in improving and healing all the factors that aloe vera is famous for, whether it's treating scrapes, removing cellulite, or calming down that burning nick from the morning shave.
5. Beauty by Earth – After Sun Aloe Vera Gel
Ethics | Organic, natural, ideal for sunburns, uses recycled BPA free plastics
Features | Soothing for sunburn, unscented, rapid effects
Sometimes, you just want a no-nonsense product that treats your sunburn quickly and effectively.
Enter the Beauty By Earth After Sun aloe vera gel. Providing deep hydration and rapid recovery through one application, nature's solution to sunburn and everyday problems stays true to its promise.
The product is combined with some additional ingredients such as ascorbyl glucoside (vitamin C), xanthan gum, radish root ferment filtrate, tocopherol (vitamin E), and sodium citrate. But these are preservatives and additives to ensure the product's efficacy, so the minimal ingredient list should not put you off.
Usable for children and adults, this product can be used for small medicinal purposes, treat your hair or skin, and remove makeup. Same as with any aloe vera gel, this one does the work well.
6. Botanic Hearth – Aloe Vera Gel with Tea Tree Oil
Ethics | Cruelty-free, packaged in the USA, paraben-free, no artificial color, made with pure aloe vera
Features | Ideal for all skin types can be used as hand soap, facial masque, as a moisturizer
One of the best qualities of Botanic Hearth aloe vera gel is its use of tea tree oil.
This product essentially combines two powerful ingredients that come together to soothe, hydrate, nourish, and heal your skin from the outside in.
It is made with multiple ingredients, including phenoxyethanol, vegetable glycerin, witch hazel water (hamamelis virginiana), alcohol, carbomer, triethanolamine, and tetrasodium glutamate diacetate. Now, this product may seem a bit extreme than your average scraped jar of aloe vera. However, these ingredients only intensify the effects of the two powerhouse characters.
The Botanic Hearth aloe vera gel is fast-absorbing, lightly moisturizing, not sticky, and can be used in multiple ways, such as hand soap, moisturizer, lotion, and facial mask. The tea tree oil component is well-balanced, so you're not overwhelmed by the smell or the menthol-like effect. All you get is an energized, rejuvenating scent from a product that nourishes your skin and wakes up your pores.
7. Nature Republic – Soothing & Moisture Aloe Vera Gel
Ethics | 100% organic, approved by CCOF (California Certified organic farmers), ideal for the whole body, cruelty-free, vegan
Features | South Korean brand, made with aloe vera extracts
You can always count on South Korea to come up with a product that easily trumps its competitors. Nature Republic's Soothing & Moisture Aloe Vera Gel is one such marvel that hydrates your skin and seemingly deactivates all irritants, leaving your skin feeling smooth, silky, and refreshed.
Using aloe vera gel as the main star of the product, this gel only utilizes essential ingredients to preserve the product, so you don't get to worry about carrageenans or any other harmful factors. This product is widely used for moisturizing, as a hand sanitizer, face masque, and lotion. So feel free to experiment with it however you want. But be warned, with 92 percent aloe, your skin will practically beg to be slathered in this wonderful formula.
8. Yes to Cucumbers – Daily Calming Moisturizer
Ethics | 95% natural ingredients, free from parabens and SLS, cruelty-free, vegan
Features | Dermatologically tested, hydrates and calm skin flares, ideal for sensitive skin, soothes and moisturizes
Yes to Cucumbers combines two of the most soothing ingredients you could find; cucumbers and aloe vera.
It is formulated with 97 percent natural petroleum, zinc oxide, almond oil, titanium dioxide, and organic cucumber, along with aloe. This daily moisturizer works perfectly as a soothing balm for sensitive skin, sunscreen, and hydration serum with such an ingredient base.
Thanks to the zinc oxide and titanium dioxide components, the product prevents your skin from looking ashy. Instead, it gives it a nice, soft glow that you won't likely gain from even the most expensive moisturizer.
Only, there is one caveat to the product. A little goes a long way. So, rather than scooping a big helping, wonder why your skin feels irritated and sticky, take out a quarter's worth of product, rub it on your hands, and then massage it into your facial skin.
While cucumbers and aloe both are perfect for sensitive skin, it doesn't mean they won't affect you if you use them in excess. So, be cautious when using Yes to Cucumbers or any other natural aloe vera product.
9. Avalon Organics – Aloe Hand & Body Lotion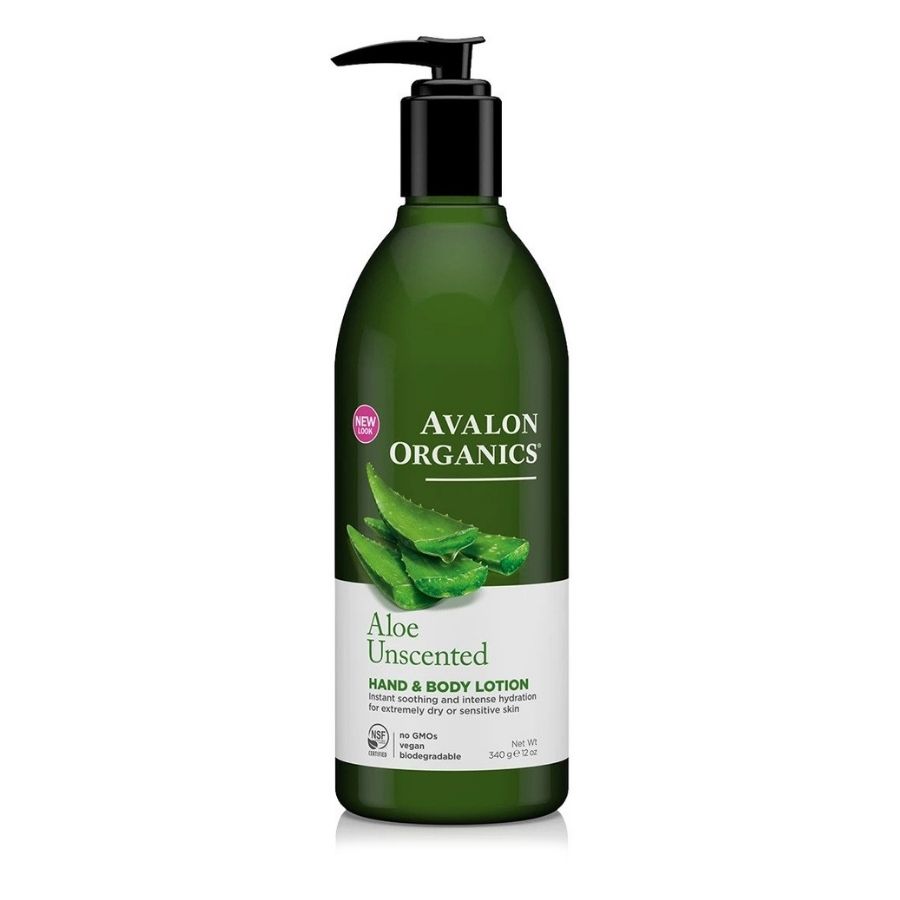 Get Aloe Hand & Body Lotion at Avalon Organics
Ethics | Vegan, certified organic, free from GMOs, harsh preservatives, parabens, synthetic colors, fragrances, phthalates, sulfates
Features | Plant-based formula made using essential oils and organic botanicals, perfect for eco-conscious consumers
This unscented, deeply nourishing, and moisturizing hand and body lotion is a must-have if you're eco-conscious.
It's certified organic, and uses natural ingredients, and follows a plant-based formula. But what makes the product even better is that the lotion is cruelty-free, gluten-free, and is essentially free of all chemicals that could potentially irritate the skin.
Avalon Organics follows the motto of "pure beauty that honors the body and the world we live in." And with their aloe hand and body lotion, the brand stays true to its word. With a biodegradable bottle and a product formula that hydrates and protects your skin from irritants and dryness, the Avalon Organics aloe lotion is one worth having.
Before buying it, though, check the complete ingredients list and learn what each ingredient means. The product is organic and natural, but the preservatives and chemicals may scare some people. Don't worry. Ninety-five percent of the ingredients section lists natural products by their botanical names. A little Google search will dispel all those scary thoughts you'll initially have.
10. Mario Badescu – Aloe Moisturizer SPF 15
Ethics | Cruelty-free uses natural ingredients
Features | Oil-free hydrates the skin, infused with aloe, lightweight, sun protector, ideal for almost all skin types
The Mario Badescu skincare line is a cult favorite for its effectiveness, natural ingredients, and cruelty-free policies. But what makes the product even better is that it works fast enough without relying on too many ingredients, chemicals, and preservatives.
The aloe moisturizer is excellent for oily, combination, and sensitive skin types and works well for women of all ages, especially those who may have acne-prone skin. This product offers moderate, daily skin protection and is lightweight enough, so it does not clog your pores if you've been out all day or worked up a sweat. As long as you use it on clean, makeup-free skin, this aloe moisturizer will continue to work its soothing, hydrating magic.
Closing Thoughts
Aloe vera has a very long history and a long list of nutritional and metabolic effects.
If anything, this ingredient should have been a part of your skincare regime a lot sooner. But don't worry. Now that you know how fantastic aloe vera can be find your perfect product from the list mentioned above. And remember, use good-quality skincare products alongside aloe vera, products that suit your skin type.
You want to have a superhero team guarding your skin's health and beauty!