This article contains affiliate links for which I may receive a small commission, at no additional cost to you, should you decide to make a purchase by using them. Learn More
This is a PSA to everybody out there: when buying underwear, don't always go with the cheapest option you can find. Your decision may be affecting the earth!
If you're surprised by this fact, it may be because you're not aware of how damaging our clothing choices can be to the environment.
According to a report published by the BBC, clothing production accounts for about 10 percent of greenhouse gas emissions. It also dries out water resources, pollutes streams and rivers, and costs way less to produce when you consider how much the wages are for workers in the export textile and apparel industry.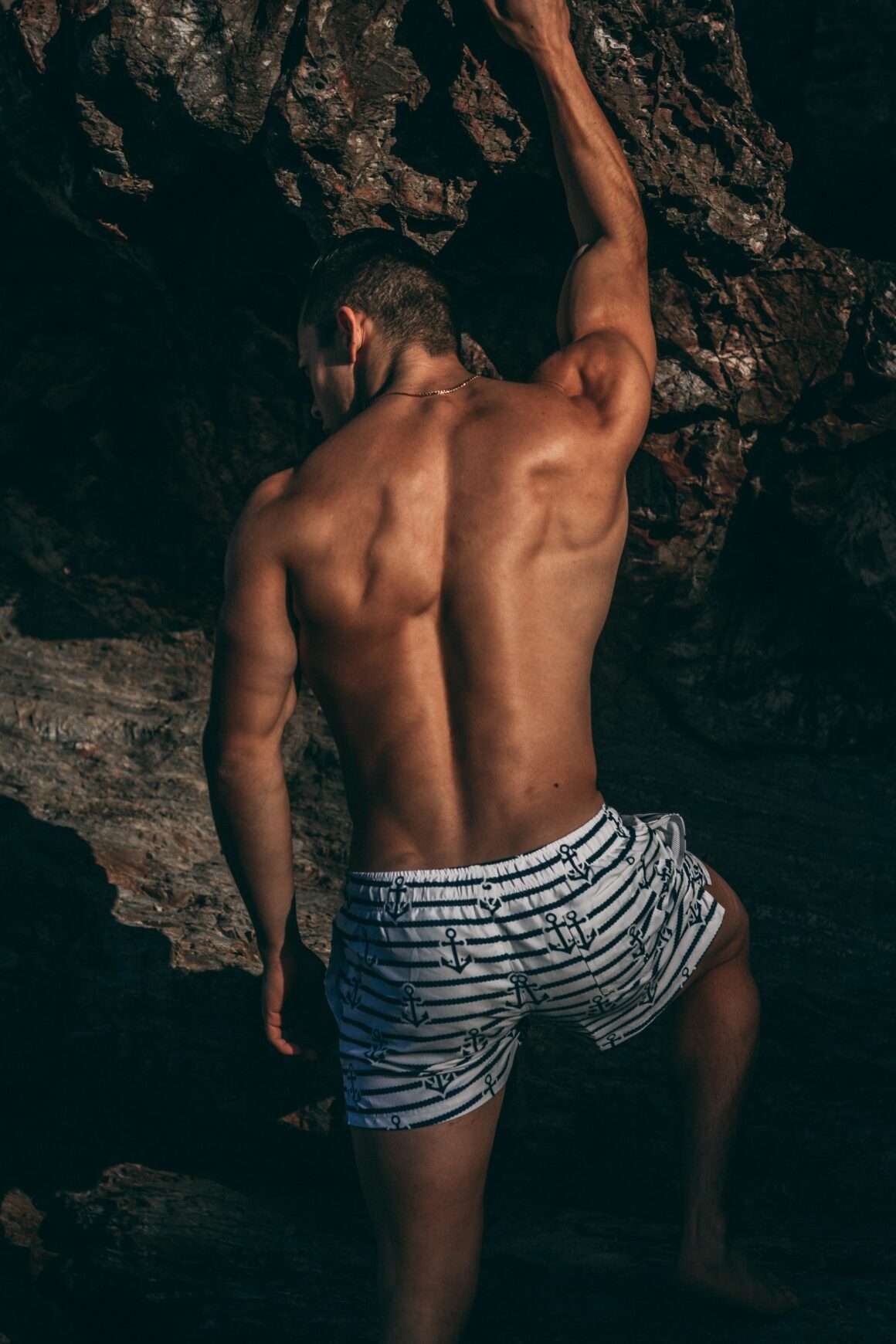 Cheap "fast" fashion also gets tossed out more. People create an estimated 92 million tons of textile waste every year. And as time goes on, this waste crisis is only getting worse.
Now, you may ask, how would my pair of underwear contribute to that? In a small way, every 6-pack of cheap underwear you buy contributes to the fast fashion industry.
While switching to ethical and sustainable clothing by your lonesome may not feel like it makes a difference. It's only when you start supporting the right brands that you make a difference.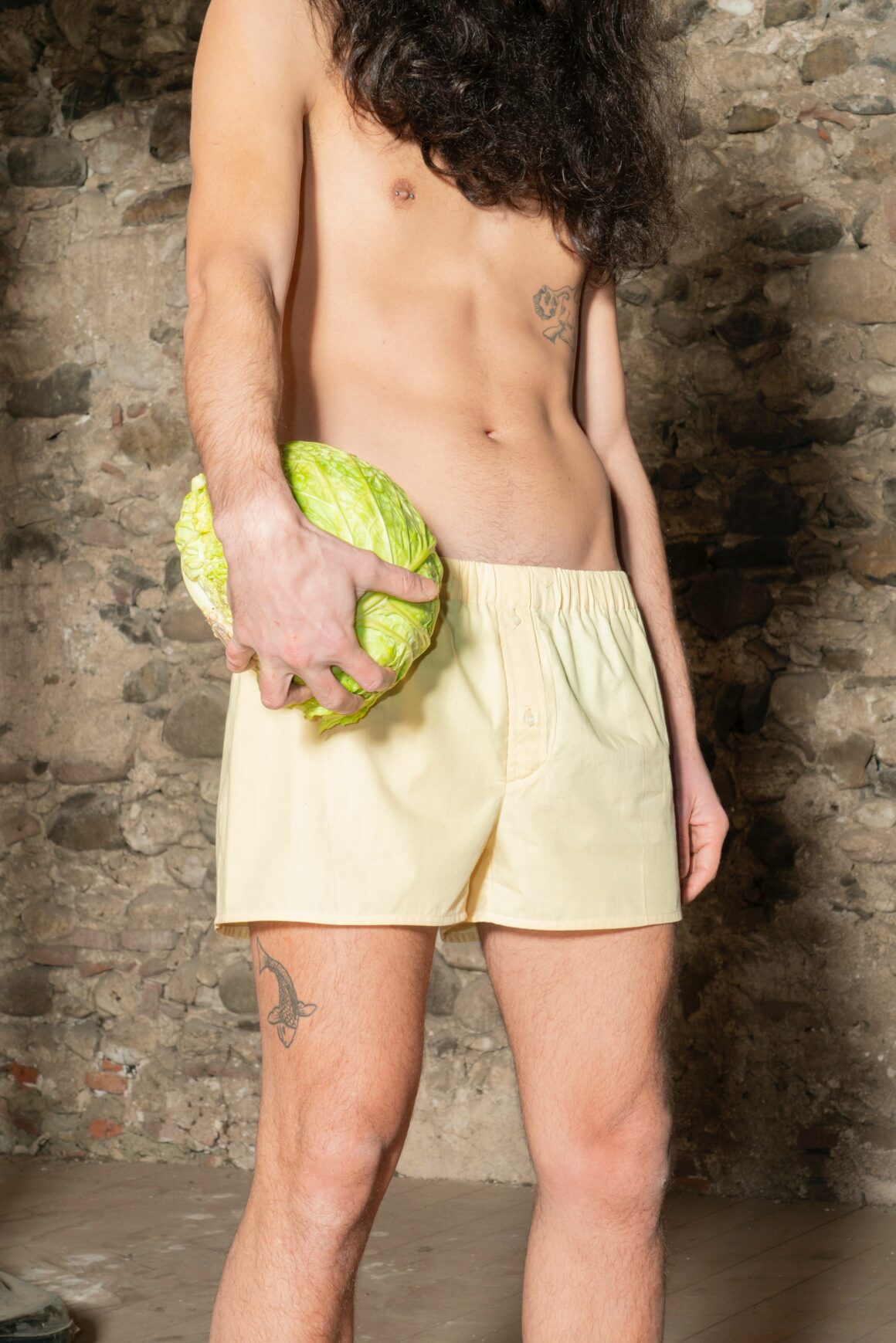 To make this transition easier to ethical clothing easier, I present my list of the top affordable and ethical underwear brands out there.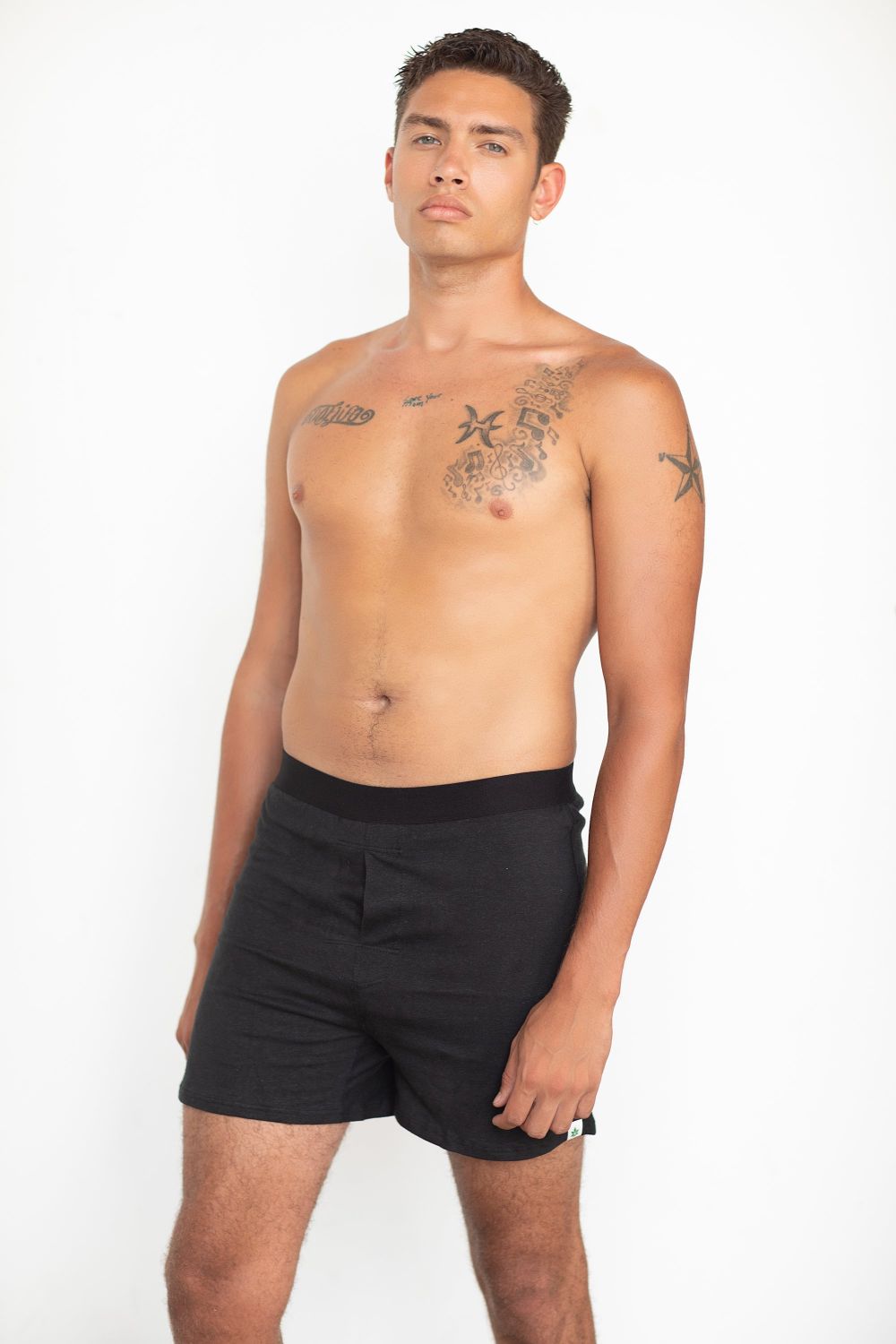 Ethics| Made with hemp, manufactured in China from authentic hemp, follow Supplier Code of Conduct, National Hemp Association member, Green America Certified Business, PETA-approved vegan, part of Business Social Compliance Initiative, fabric dyed at an Okeo-Tex certified facility
When you think about it, it's strange that hemp isn't the staple fabric choice for manufacturing underwear.
Hemp is super comfortable, breathable, and soft. It's a natural fiber that possesses anti-odor and anti-bacterial properties, perfect for anyone with sensitive skin. Hemp is also eco-friendly, organic, and available in surplus.
Hemp is the ideal choice of fabric, and those at Wama understand its properties.
Wama produces men's and women's accessories in bulk in different styles and designs. For men's underwear, you'll find all underwear in one color, all of which is stitched, so it doesn't flap about and fits the body perfectly. The Wama underwear brand is the only one you should choose for men who want consistency and comfort.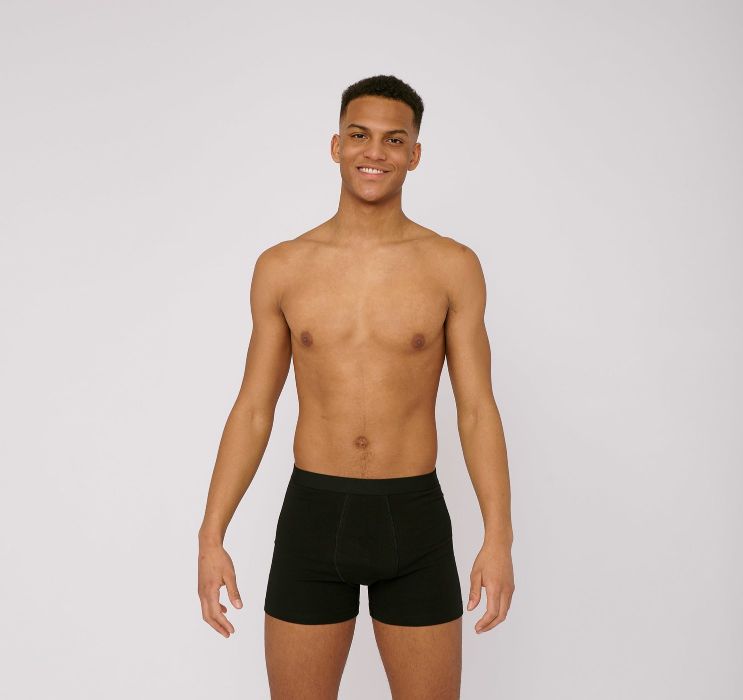 Ethics | collaboration with certified factory partners, dedicated to reducing environmental footprint, use Class A and B fibers, natural, renewable, recyclable, biodegradable, and low-impact textiles are used only.
Organic Basics pulls out all the stops for designing the perfect pair of underwear for men and women.
Although it is an all-inclusive clothing brand that produces everything, from denim to swimwear, their underwear is by far the most popular item from the lot. And it's the fabric and the many projects the brand is associated with that make Organic Basics so appealing.
The brand makes a point to only use eco-friendly materials such as recycled nylon, organic cotton, TENCEL™ Lyocell, recycled cashmere, and recycled wool. All fabrics are treated using SilverTech™, which makes the fabrics softer, heat-regulated, and odor-controlling. All clothes are also treated with the Polygiene® treatment that freshens the fabrics, thus prolonging their life.
The clothes from Organic Basics are meant to last a long time, and by using the different treatments and seamless knitting techniques, the company accomplishes its goal easily.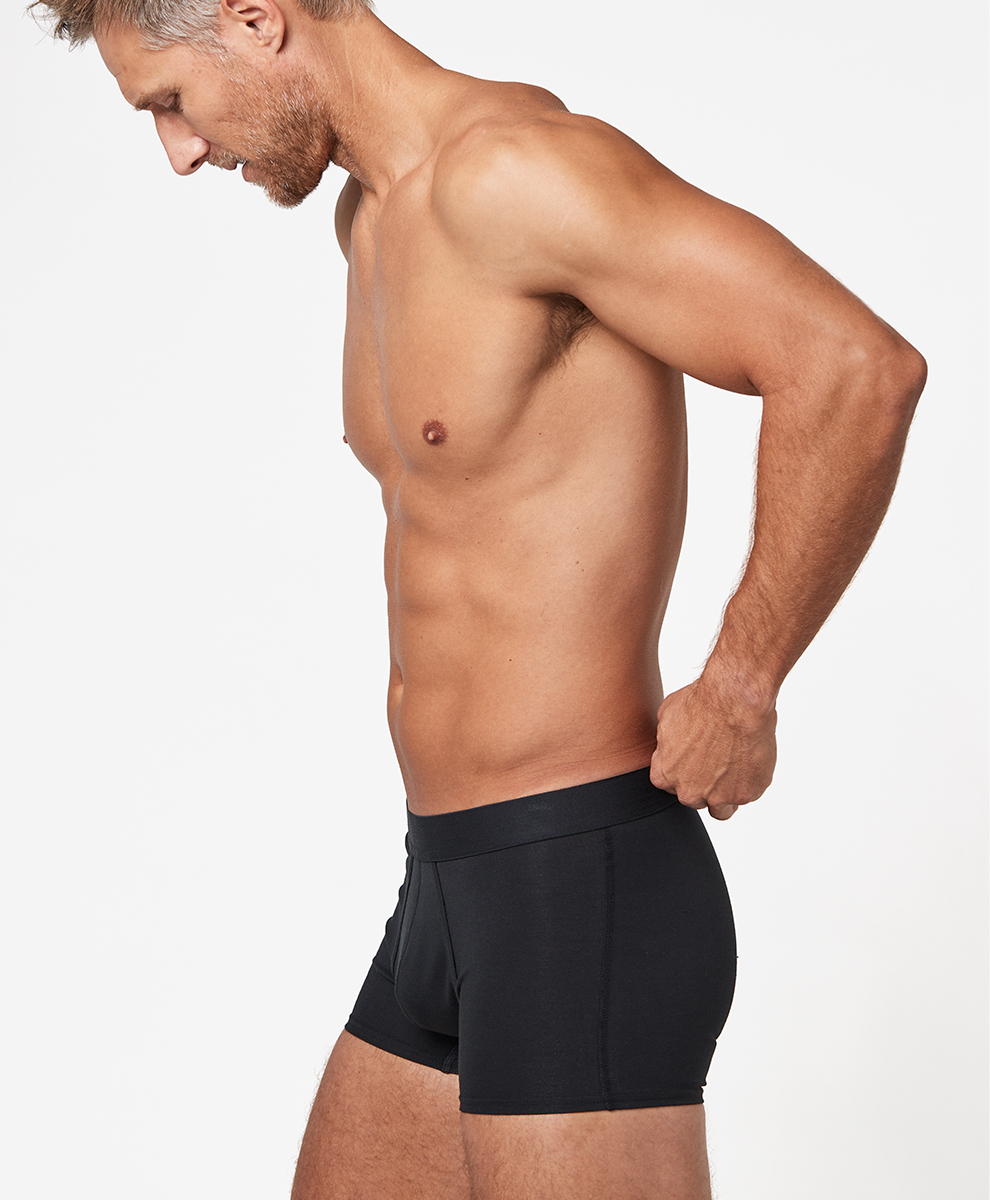 Ethics | Made with organic cotton in a Fair Trade Certified™ factory, offers carbon offset shipping options, minimal packaging, clothing donation program, a mission to build Earth's Favorite™ clothing factory, no toxic chemicals.
Pact is what you would call a well-rounded brand.
The brand offers a versatile selection of men's underwear. Like Organic Basics, Pact is also an all-around brand that offers a range of apparel. But their underwear collection continues to be a staple for almost all buyers.
All clothing, including underwear, is made using certified organic cotton and is manufactured from a Fair Trade factory. Although the design selection is simple, it's good enough for all customers. Their underwear selection includes trunks, boxer briefs, briefs, knit boxers, and extended boxer briefs in various simple colors.
As long as you need soft, comfortable cotton underwear that won't cause any sweaty problems, Pact will continue to fulfill its promise of satisfaction for its customers.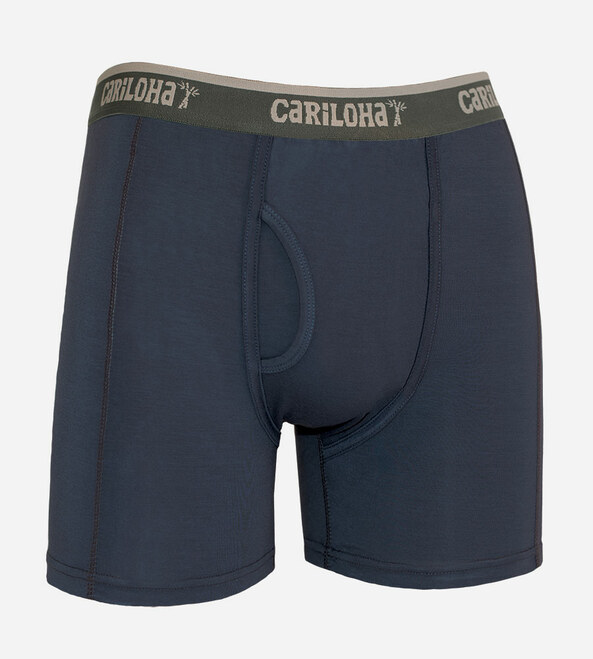 Ethics | Sustainable and comfortable, made using bamboo viscose fabrics, harvested from the official Cariloha Bamboo farm, made using renewable resources, Fair Trade certified, organically blended.
Have you ever heard of bamboo underwear? Cariloha has brought that concept to life with its apparel selection, including men's underwear.
Although their collection only features boxer briefs, their designs may convert you from being a strictly-briefs man. The material is highly soft and comfortable, sustainable, and durable to boot. And thanks to its vibrant designs, you don't feel like you're wearing just underwear either.
Cariloha has become a world-renowned brand, primarily because of its commitment to bamboo sustainability. By promoting the diverse nature of these viscose fabrics, Cariloha—through its small way—is making changes in the textile industry and its customer base.
In their words, Cariloha has created "a comfy way to save the world™." By educating all consumers on bamboo growth and harvesting and their apparel's manufacturing process, the brand is taking positive steps to lessen their carbon footprint, one pair of underwear at a time.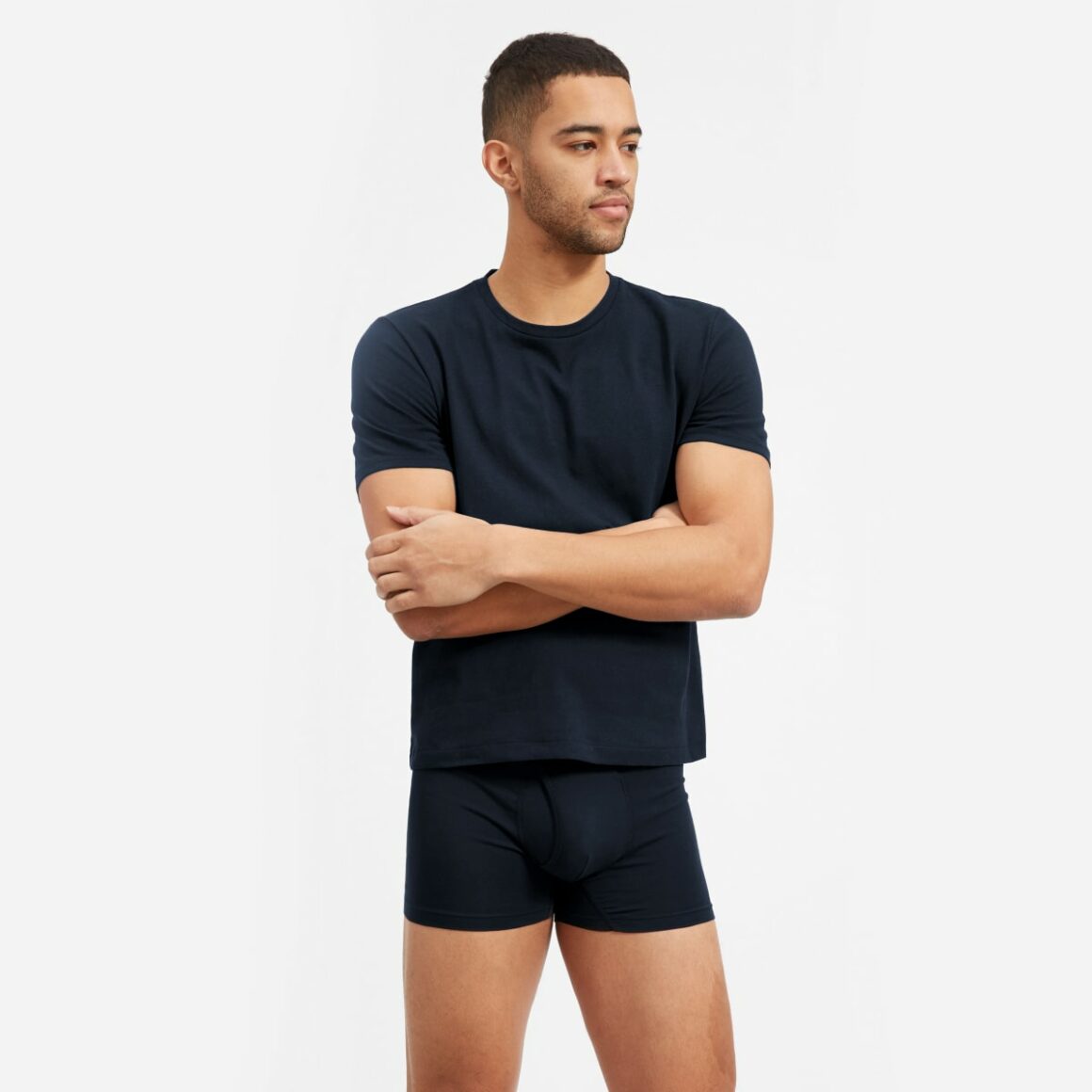 Ethics | Ethical factories, products made using organic cotton, radically transparent; apparel fabrics made using 97 percent recycled fibers, 100 percent recycled plastic and FSC-certified paper packaging, bluesign® Systems Partner, GFA Associate member.
Because of Everlane's simple website layout, the business may seem like any other online market. But the devil is in the details. And it's only when you buy something that you realize how amazing the products are at Everlane.
Everlane's underwear collection is small and limited to only boxer briefs. But, with 100 percent organic cotton underwear that doesn't cost a lot and lasts a lifetime, you can't complain about the lack of underwear types.
Everlane's products are also a lot more affordable than your average pair. But before you think there's something fishy about that, look again. Everlane is dedicated to radical transparency, which is why they present all their information online, down to cost breakdowns for all products sold. You get information on every step that goes. So, you see exactly how much other brands rip you off when you could easily buy a pair of underwear without worrying about the price tag.
If you want a brand that practices sustainability and is accessible on the wallet, Everlane is the best choice.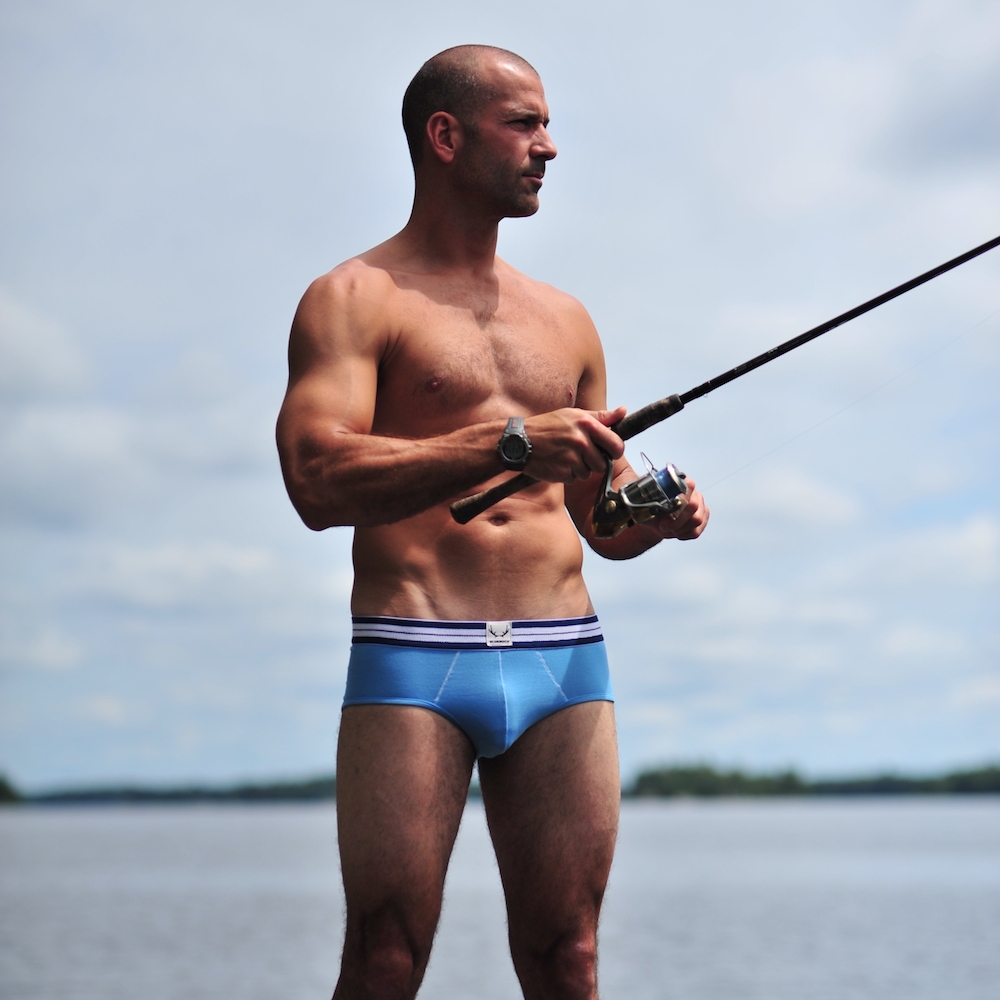 Ethics | Eco-friendly, low carbon footprint, made with organic cotton, 100 percent made in Europe, factories powered by sustainable energy, long-lasting product, durable, reliable
Bluebuck is the type of no-nonsense brand I love, mainly because there's no filler. What you see is what you get, and what I see is a brand that delivers upon your expectations.
Unlike some other brands, Bluebuck's men's underwear collection consists of various categories – sports briefs, sports trunks, classic briefs, boxer briefs, boxers, long johns, as well as jockstraps. You can buy the pairs individually. But packs are available for purchase.
The underwear fabrics use 95 percent organic cotton and five percent elastane for that ideal comfort and support. Even the elastic waistbands are made using the same cotton used to make the product. Overall, you get a durable product that keeps you and your nether region comfortable.
It also helps that Bluebuck's collection comes in a range of colors, so if you hate having boring underwear, Bluebuck is the site to shop at!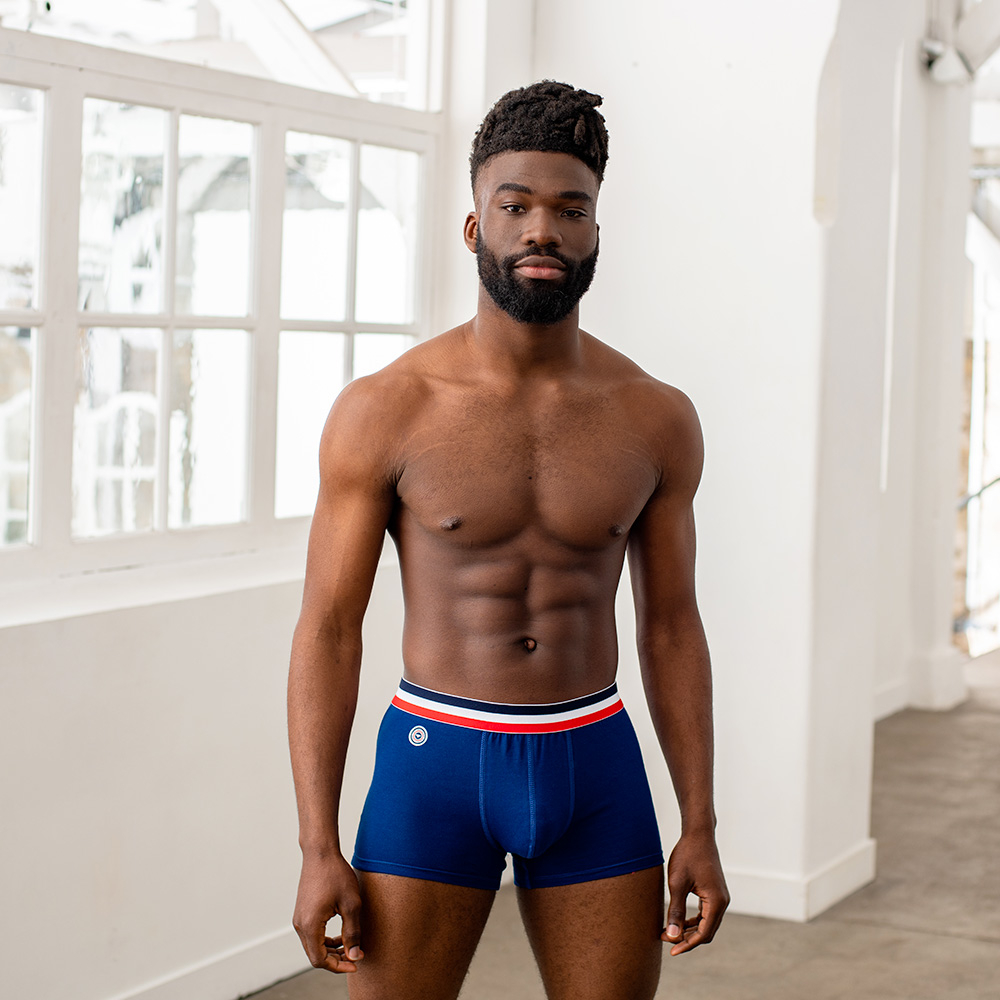 Ethics | Eco-responsible clothing, made using local materials, recycled materials, biocentric materials, French craftsmanship, locally made, eco-designed
Le Slip Français is a French brand that puts the perfect French touch on underwear that you wouldn't think was possible.
Their men's underwear is incredibly extensive, not to mention worth the price tag when you consider their durability and eco-friendly qualities. Le Slip Français's selection consists of briefs, boxer briefs, and boxer shorts. All products are available in a range of sizes and designs. So, if you hate those dull grey and black underwear packs, not to worry. This brand has you covered.
Aside from being incredibly comfortable, what makes the French brand's apparel so appealing is its eco-friendly motives. Le Slip Français is leading the industry to provide ethical clothing that doesn't step on human rights or the earth's rights. For a reasonable price, what you get is guilt-free clothing that's sure to last a long time.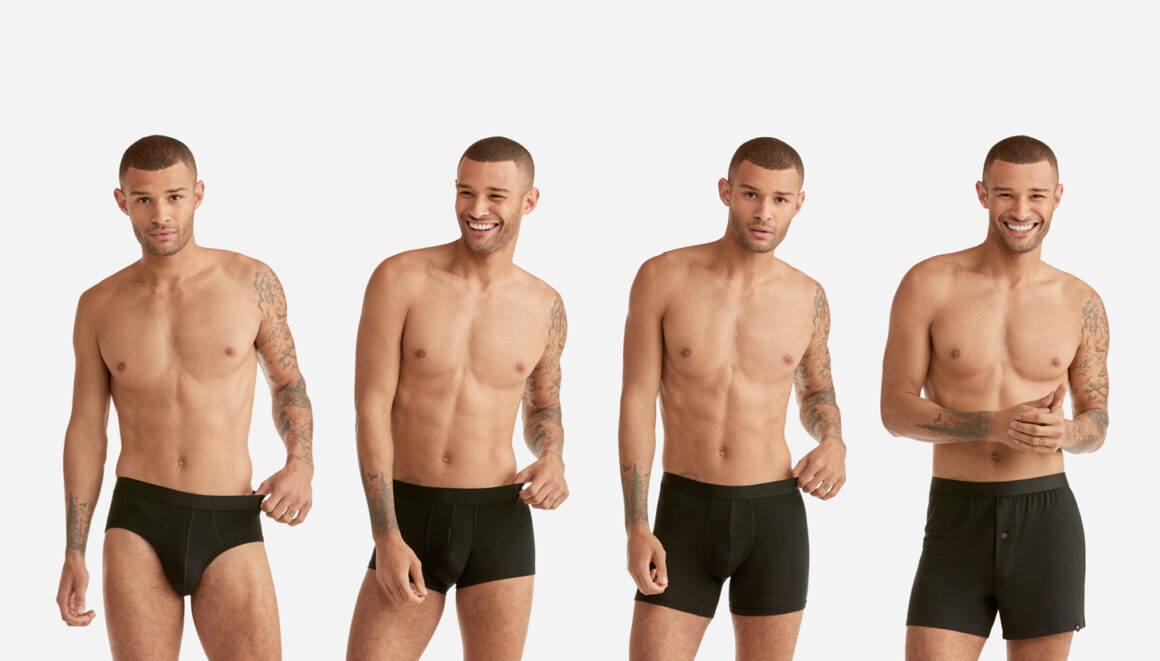 Ethics | Designed for comfort, made for self-expression, partnered with the LA LGBT Center, The Body Positive organization, and the Fashion Scholarship Fund, ethically sourced, partnered with Fair Trade factories in Los Angeles, Turkey, Sri Lanka, China, and Guatemala
One of the reasons why MeUndies is so popular among men is not eight types of underwear available in 66 colors. It's the fact that these underwear are grown on trees!
Strictly speaking, you won't find a pair of underwear attached to a branch. However, the fibers taken from beechwood trees lend these items of clothing their super soft quality, breathability, and sustainability. MeUndies' Breathe collection has especially knocked their goal out of the park. The material is ultra-light, quick-drying, super-stretchy, and has anti-odor properties.
So, whether you're wearing your underwear at home or while working out at the gym, you won't have to think about any unpleasant smells, skin irritation, or wedgies at all.
Like many sustainable brands, MeUndies is also very transparent about its system and provides complete information on how its products are made. If you want complete know-how, MeUndies is there to educate you on all the details.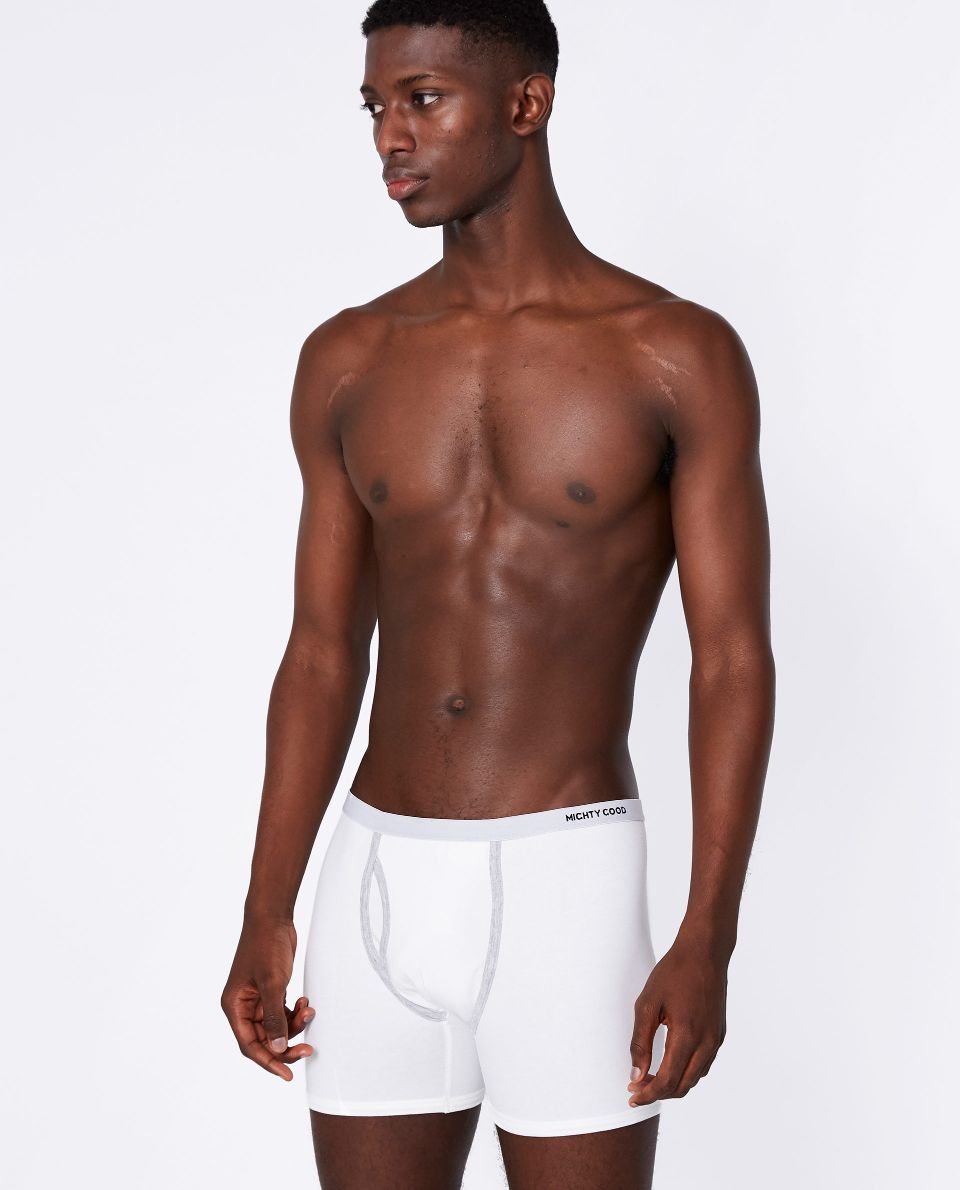 Ethics | Ethical production, organic Fairtrade cotton, partnered with ethical factories, certified under Fairtrade Labeling Organization and Global Organic Textiles Standard, non-toxic, non-GMO, 46 percent less CO2 production, 91 percent reduced water consumption, 62 percent less energy consumed
Mighty Good Basics or M/G Basics believes in a world of transparency and respect. So, you'll find all the information you need on how the company works with its suppliers and partners around the world.
With factories based in three locations in India, M/G Basics keeps track of all suppliers and ensures quality production and employee satisfaction in all ways. All cotton suppliers and factories are Fairtrade approved and are certified under SA 8000 standards. The company also offers comprehensive information for each factory and gives us a complete rundown of how these factories have thrived over the years.
The result of these steps is that when customers buy their products, they feel assured that their purchase is guilt-free and good for the earth. The brand has also highlighted its impact as a result of its partnership with different merchants and suppliers. M/G Basics was even given an A+ rating in the 2019 Ethical Fashion Report.
So, whether you buy one pair of underwear or enough to stock up your drawer, you can be sure your purchase will in no way impact the earth negatively.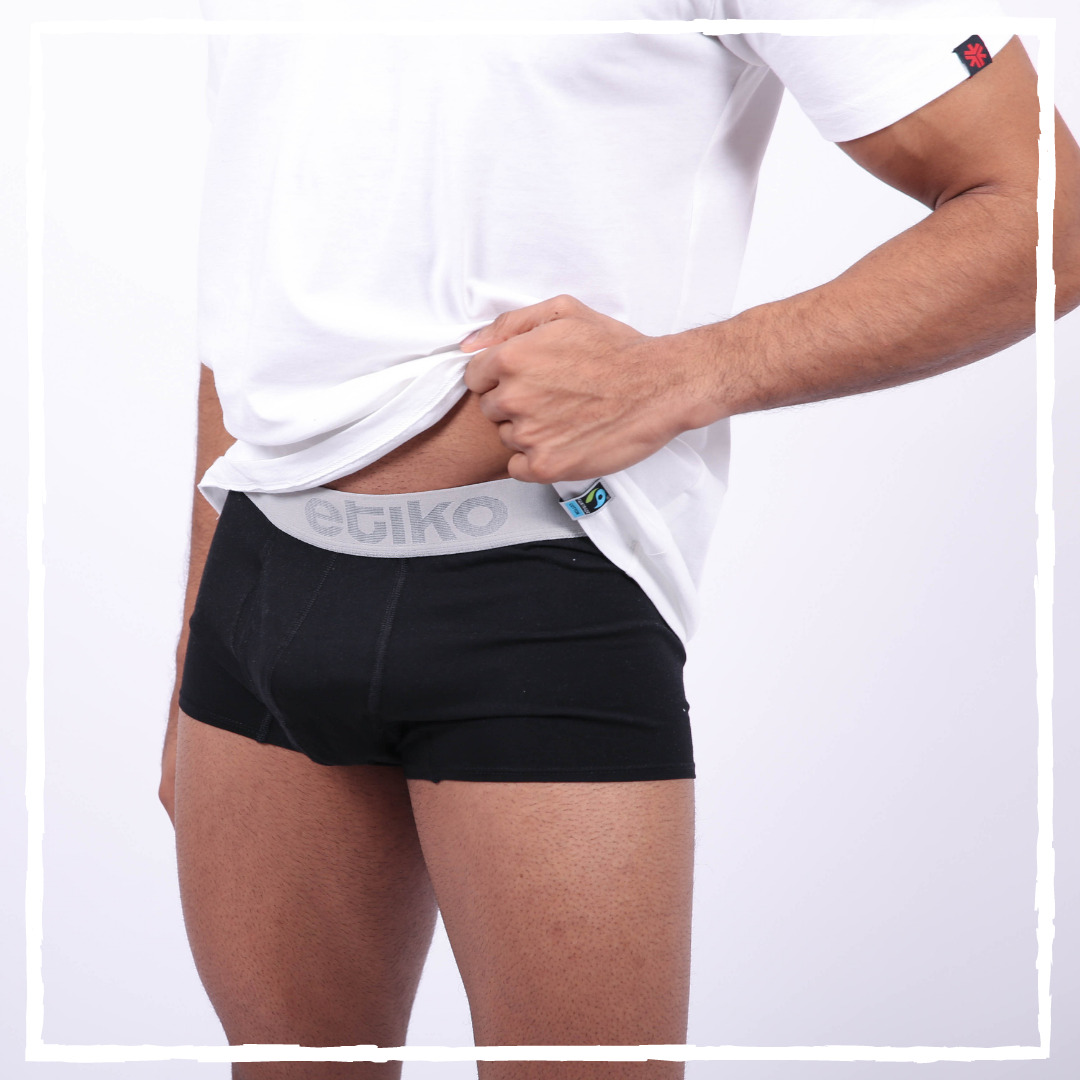 Ethics | First fashion brand in Southern Hemisphere to be Fairtrade Certified, uses organic cotton, no animal glues, use natural rubber, partnered with Carbon Social, use FSC certified cardboard and paper, biodegradable and compostable plastic packaging, recycled plastic mail bags, Certified B Corporation, Social Traders Certified, winner of ten ethical and environmental awards
For a "small" Australian brand, Etiko is perhaps one of the most impactful names on this list.
As the first company in the Southern hemisphere to gain the Fairtrade certification, Etiko set the standard for what people should expect from their favorite apparel brand. Having maintained its position for more than one and a half-decade, Etiko leads the Australian industry by doing its best to increase its impact on improving the environment.
The company only uses organic cotton from the Rajlakshmi cotton mills. Its manufacturing hubs are situated in Pakistan, India, and Sri Lanka, in factories held to the suitable standard for a proper work environment. The company promotes its fairtrade model to tackle inequality and reduce poverty. And by supporting the company, you do your small smart in improving the world and making it better for its people.
Etiko's men's underwear collection is small but features just enough so you know what you want. In other words, it makes shopping so much easier!
Final Thoughts
You see how buying the right underwear can have such an impact?
Make the right changes to your shopping habits and switch to any of the above underwear brands. All these brands are pulling out all the stops to make the world a healthier, better place. And now, you can support their endeavors too.
Who knows, there may come a time when we may convince the entire fashion industry to finally do what's good for the earth and its people!