This article contains affiliate links for which I may receive a small commission, at no additional cost to you, should you decide to make a purchase by using them. Learn More
"Imperfection is beauty…"
This is the core of wabi-sabi, an interior design style that emphasizes the beauty of imperfect creations. Heavily influenced by Japanese ideology, this Zen-inspired aesthetic embodies the philosophy of its name.
Wabi—to embrace a simple lifestyle in accordance with nature, and Sabi—to accept life for what it is, good or bad.
Wabi-Sabi Interior Design Overview
Wabi-Sabi emphasizes creating spaces that are homely, beautifully weathered, and authentic. The style promotes a "lived-in" vibe that isn't afraid of the blemishes or imperfections that result from everyday life.
The nuanced, inviting design evokes a sense of peace through simplicity. While not as open or stark as minimalist design, wabi-sabi shies away from clutter to promote an open, inviting interior. But life is rarely sterile and clean, and wabi-sabi utilizes these imperfections to significant effect. Abstract and creative, this style is great for those hoping to create a personalized, judgment-free space.
Tricks to Incorporate the Wabi-Sabi Style
Do you want to "go with the flow" and adopt the Wabi-Sabi style? Remember the following:
Emphasize Handmade Décor
Handcrafted accessories, homespun fabrics, and handmade furniture.
Beautiful and imperfect, handmade items evoke the spirit of wabi-sabi itself. These items are crafted with effort and care—emanating an aura of beautiful, simple authenticity.
That vintage trunk you inherited from grandma? It's going to look better in this space than any mass-produced item you find elsewhere! Authentic, beautiful, and imperfect; wabi-sabi's magic ingredients.
Bring the Outdoors Inside
Have you ever looked at a picture of the outdoors and immediately felt a little bit better? That's because humans thrive in nature because what better example of beautiful imperfection than the great outdoors?
Nature is an essential part of wabi-sabi interior design, so anyone hoping to implement this style should invest in some planters! Be it a windowsill garden, a cluster of planters on a desk, hanging indoor vines, or a single statement planter in a corner, the green, healing aura of plants and fauna emphasizes the wabi-sabi style and creates a beautiful ambiance for your living space.
Mix & Match
Do you know all those 'rules' of contemporary interior design? Throw them out! Wabi-Sabi emphasizes personalization and beauty through imperfection. Mix and match your colors, fabrics, and textures; give yourself permission to be creative. Don't get too crazy—remember, we don't want clutter—but don't be afraid to incorporate a few items that might 'clash' in contemporary styles. You want to create a space that's open, inviting, and undeniably you.
Work with the Bare Necessities
Simplicity is peace. It's true in life, and it's true in wabi-sabi. From the furniture to the accessories and all that lies between, items should be simple, functional, and serve a purpose. Spaces should be open and accessible; clutter denotes chaos—the enemy of wabi-sabi's Zen aesthetic.
But that doesn't mean everything has to be bare or sleek. A broken vase can be a centerpiece, a favorite chair can be an accent piece, or your heirloom sofa can be a statement object. Just because the necessities aren't glamorous by traditional or contemporary standards doesn't mean they can't be part of a creative, minimalist design.
De-clutter with Style
Creativity may know no bounds, but it must be contained in order to adhere to wabi-sabi style! Freedom to mix and match doesn't mean you can go crazy with accessories.
Remember, wabi-sabi not only embraces imperfections but it also highlights them. Don't let your 'things' get in the way of your interior's beautiful flaws! Let your space be flawed, beautiful, and most of all, let it be intentional.
Wabi-Sabi Furniture
Furniture in wabi-sabi should be artisanal or handcrafted; it should be (or should at least look) well-loved, lived-in, and homely. There's no shortage of floor plans or ideas to draw inspiration from, so let some Zen into every room of your home!
The Wabi-Sabi Living Room
The sofa should present an aura of rugged comfort. Leather, for example, ages well and looks better with use; a fine option. Distressed wood—tables, cabinets, and console tables—offer high-contrast to wabi-sabi spaces. If you want an accent chair, club chairs and wingbacks work best; just make sure they're comfy with A-plus fabric!
The Wabi-Sabi Bedroom
Avoid beds with headboards or footboards; an 8-to-10-inch mattress can make a rugged base pop! Consider a low-height platform bed with a raw wood base, and think about accenting it with a scandi-modern end table or simple shabby nightstand.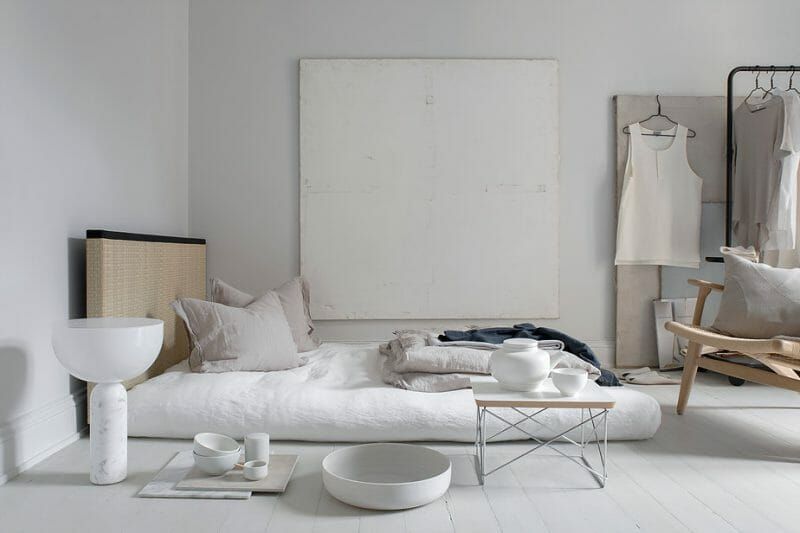 Your bedroom is your most private space, so if you see something you love, bring it in! Even if it breaks the mold.
The Wabi-Sabi Kitchen
If the eyes are windows into a person's soul, cabinets represent your kitchen's spirit! Keep the wabi-sabi spirit alive with natural finishes.
The countertops should have asymmetric and discordant designs; flecks, spots, and veins; think marble or granite, possibly butcher-block wood. 
Tiny details make significant differences, so distressed brass and vintage copper make an excellent drawer and cabinet handle!
Vintage spoon hangars combined with mismatched accessories are great for creating style without clutter; mix, match, and see what works best for you and your home!
The Wabi-Sabi Dining Area
Tables, chairs, and possibly a sideboard for crockery. You don't need much more than that in a dining area, do you? Choose items with natural wood finishes to really embrace the well-loved and well-used aesthetic of wabi-sabi interior design.
Wabi-Sabi Color Palette
You'll want colors that emphasize peace, love, harmony, and tranquility. Embrace the understated with a neutral palette with browns, taupe, beige, tans, and other earthy tones rich as soil and inviting as an enchanted glen.
Turn to healing colors for your accents; chocolate brown, rejuvenating greens, and calming shades of blue provide a pop of contrast in wabi-sabi interiors.
Wabi-sabi is pretty standard in its use of materials and texture. Woods like bamboo and rattan are great for style and impact. When utilized sparingly and intentionally, stone adds an extra level of 'pop' guaranteed to highlight the other materials and tones.
Wabi-Sabi Décor Elements
Just as a patchwork quilt is the sum of its parts, so too is a wabi-sabi design. Therein lies the charm of such works, and here are some décor elements to stitch together when creating your ideal living space.
Textures
Wabi-sabi style makes excellent use of its handcrafted décor and stone and wood accessories. Stone walls painted white or beige add just the right touch of rustic charm to a room, while distressed wood furniture offers beautiful contrast. Even light concrete can bring out the time-worn and lived-in look this interior design style promotes.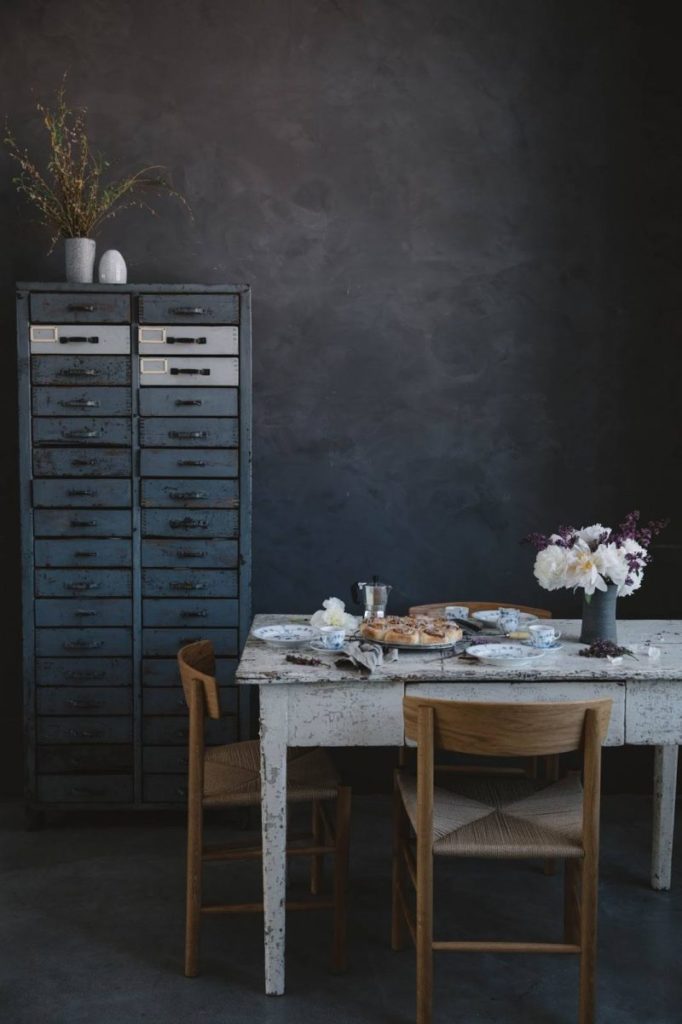 Fabrics
The right fabric can be a significant décor element in wabi-sabi design; the only problem is choosing the right one! Remember, we want handmade and homely. A family quilt, a crocheted shawl, or an old throw can be artfully arranged across the back of a chair or the arm of a sofa.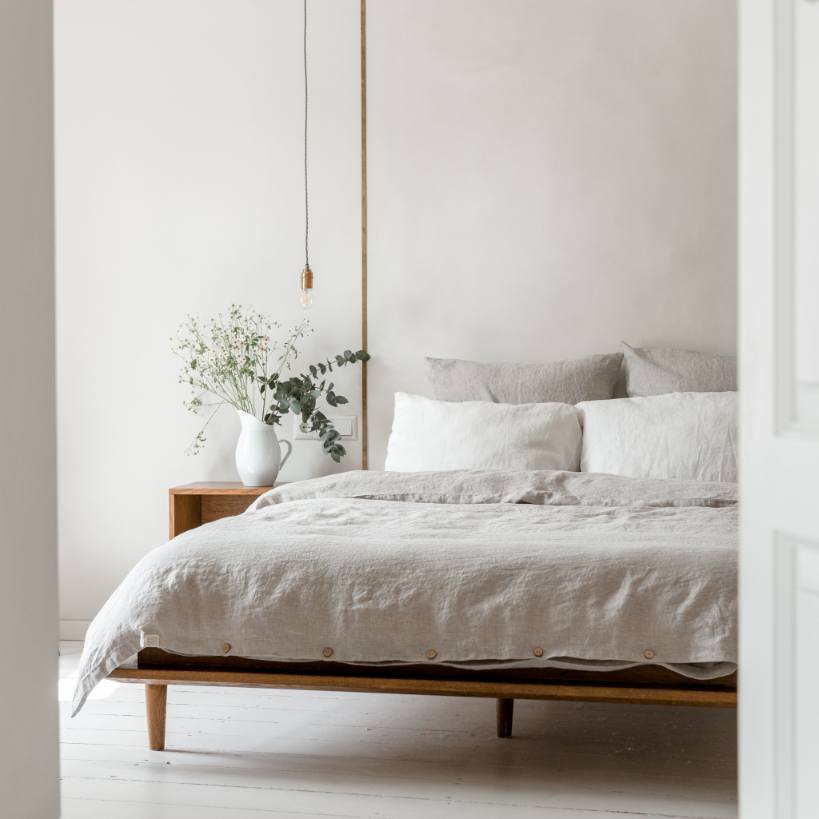 Kintsugi
Translated as "golden joinery," few artistic endeavors embody the wabi-sabi spirit better than kintsugi.
The art of repairing broken pottery with gold or silver lacquer, kintsugi pottery displays every crack, chip, and repair with precious metal, meaning something must first be broken before it can be beautiful; a perfect, literal metaphor for the spirit of wabi-sabi!
Braided Jute/Cotton Baskets
Made from fabric or homespun designs, highly functional braided jute and cotton baskets suit the wabi-sabi style just fine. An excellent place to hide clutter, place a planter, or just accent a room, they look great in a wabi-sabi room.
Ceramic Art
Handcrafted ceramic art is a worthy addition to the wabi-sabi home. Ranging from unadorned and unpainted to colorful and intricately patterned, there's no shortage of ceramic art to draw design inspiration from. Pots, plates, and hanging wall ornaments are all fair game; just remember to keep it simple, keep it clutter-free, and keep it Zen.
Terracotta Pottery
Terracotta pottery aesthetic lends itself well to this interior design style. From simple planters to elegant designs, the diversity and functionality of terracotta pottery make it very "wabi-sabi" indeed. Plus, it's easily customizable with only some watercolors and a paintbrush, so why not add some DIY charm to your happy place?
Natural Fiber Rugs
Khaki jute, hemp, and sisal are just three examples of natural fiber rugs brimming with natural color, exciting textures, and unique aesthetic offer stylish boho-chic vibes to a wabi-sabi room.
Dry Arrangements
No wabi-sabi home is complete without some dry nature arrangements! The importance of nature and creating a 'natural' space is vital in tying the style together.
Take a vase (preferably from one of the styles mentioned above) and fill it with twigs and/or flowers. It doesn't have to be perfect. If it is, it's probably not wabi-sabi. Celebrate the imperfections, celebrate nature, and look around online for some truly inspired dry arrangements!
Wabi-Sabi Lighting
Lighting can be divided into one of two categories; natural and artificial. Natural light suits the wabi-sabi style best. Big windows and open floors invite a warm, radiant glow that soothes the soul, quiets the mind, and energizes the body. Cover your windows with sheer curtains—preferably homespun—through sheer cloths can add a touch of personal style as well.
Artificial light can also be used to great effect in a wabi-sabi space, provided the light is soft, and the glow is warm; it elevates the peaceful vibe and calming atmosphere. Lamps and wall-lights are great for accentuation, while LED ceiling lights can be used for ambient lighting.
Why choose Wabi-Sabi?
Do you need a break from society's impossibly high standards or insistence on sterile perfection? Wabi-sabi might just be your best option! With an emphasis on mood overlooks, the natural, homespun appeal is undeniable. The nature connection soothes the soul, and the clutter-free space encourages clarity of thought.
Surrounding yourself with items that are functional or hold personal worth is satisfying to the core, and the style's emphasis on imperfection and creativity means you can live comfortably, tranquility, and—most important of all—happily.
I hope this guide helps you implement wabi-sabi with style and ease. Namaste!