This article contains affiliate links for which I may receive a small commission, at no additional cost to you, should you decide to make a purchase by using them. Learn More
When it comes to jewelry, minimalism is a huge trend lately. Women can't resist the simple and timeless designs that go well with just anything. Convenience is a favored advantage, as you can incorporate minimalist pieces in your casual and dressy looks.
Another thing that we love about minimalist jewelry is layering. You are free to mix and match different pieces to style your outfit uniquely. However, it isn't all about the looks. Some minimalist jewelry brands go a step forward and implement sustainable and fair practices.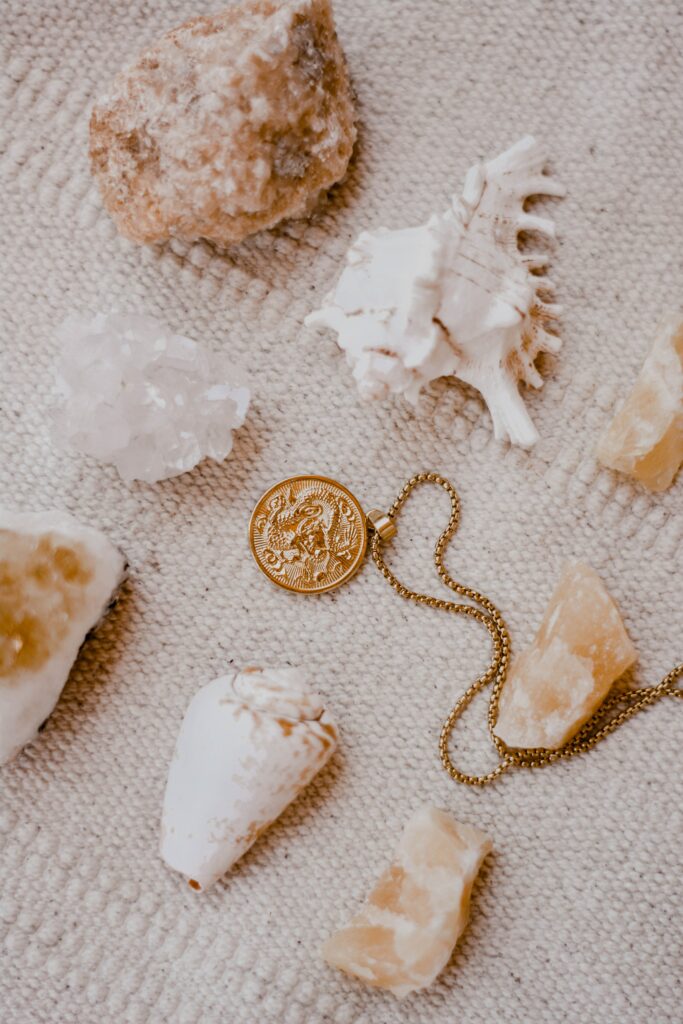 Customers know that their choices can bring changes globally, so they prefer to shop wisely and rely on brands that manufacture jewelry the right way.
Whether you prefer choker necklaces to enhance your collarbone or elegant earrings to go with your updo, the possibilities are endless. And you certainly want to enhance your jewelry collection with elegant minimalist pieces.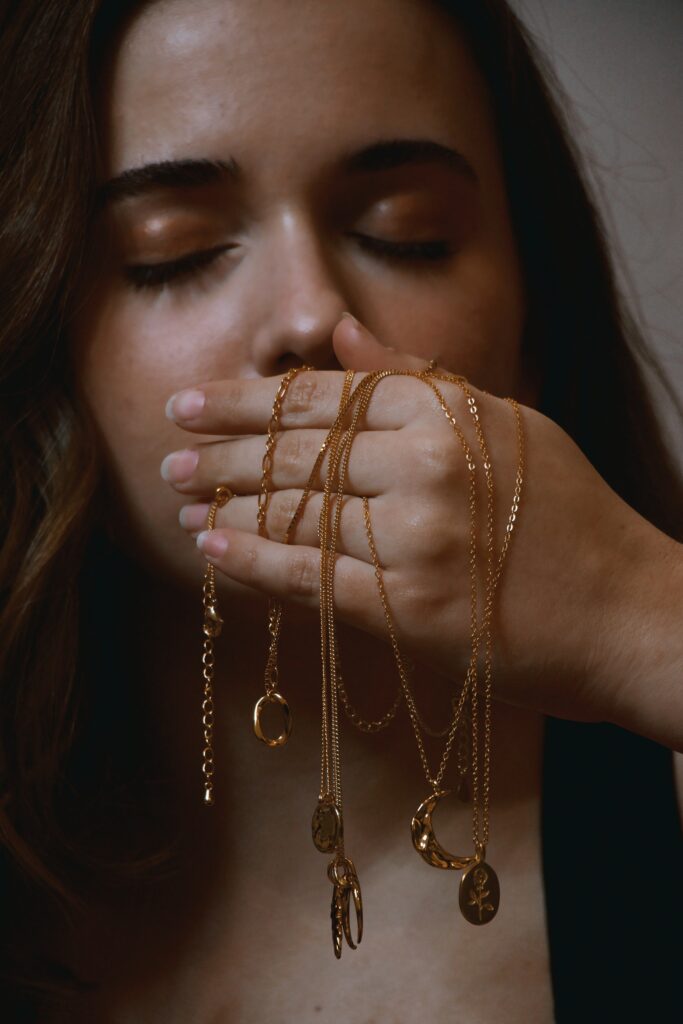 Finding the right brands that suit your preference might be tricky. We want to make it simple for you. We compiled a list of the best brands for shopping minimalist jewelry. There is a short review for each one so that you can decide which brand will suit your specific needs. So, let's go through them together!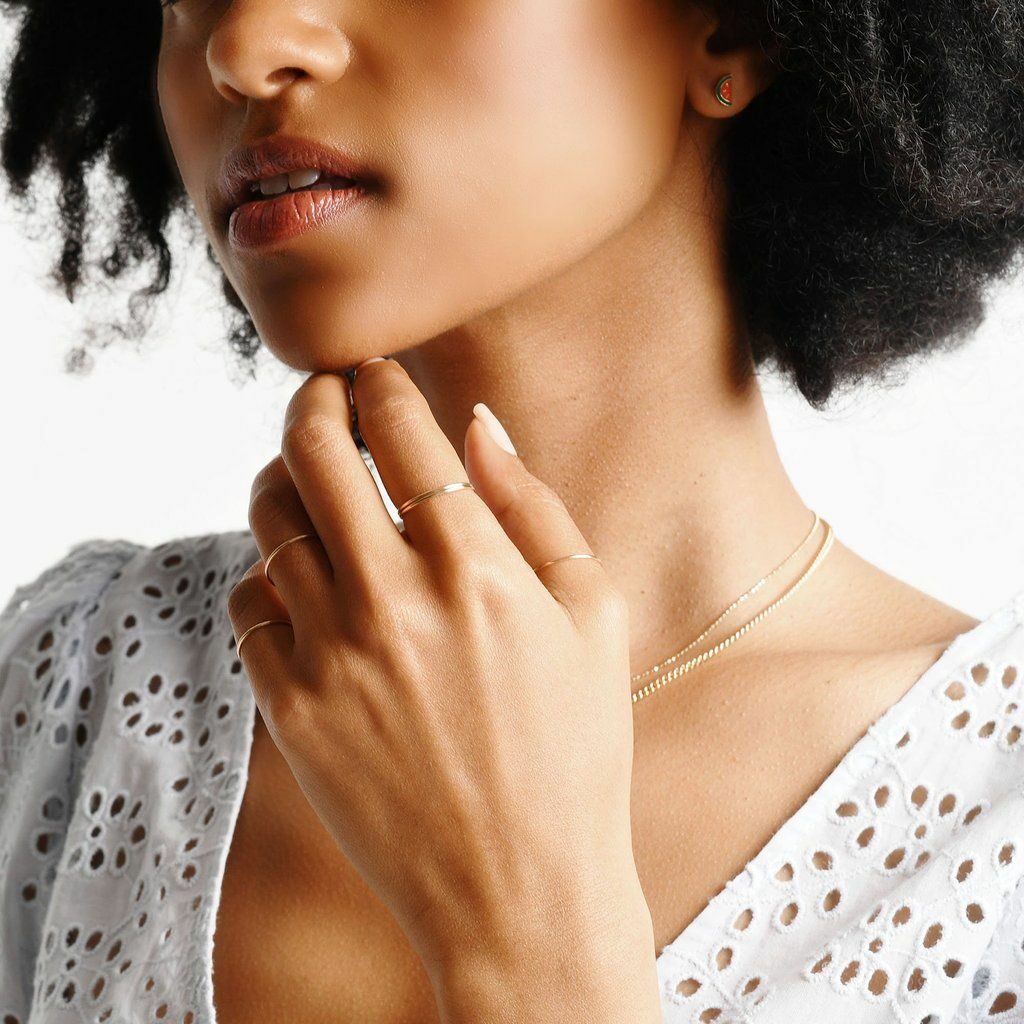 Based In | Los Angeles, California.
Ethics | Locally sourced materials, fair wages.
Price Range | $$-$$$
The LA-based brand is rocking the market since 2009. It offers timeless pieces of jewelry for the classy ladies. If you aren't looking for fast fashion and prefer timeless classics, this will become your favorite brand.
Ariel Gordon Jewelry is known for using 14k gold and real stones. If you plan to pass your jewelry to the next generations, it will become part of your family heirloom. There is a wide range of products, but most of them come with minimalist and classy designs. If you appreciate the gold and pearl combo, you will find many elegant pieces that suit your taste.
When it comes to ethical practices, we can tell a lot about this brand. The designer is transparent about sharing her specific business practice. The materials are sourced locally to avoid gas emissions during the process of transport. The stones are sourced from reputable partners in the industry. Another essential aspect is respecting the team involved in the process, receiving excellent above-standard compensation for their effort.
You can find minimalist earrings, rings, necklaces, and bracelets, but there are a few other complementary products. There are personalized options that would make an excellent gift. The lucky charm candles are unique. There is a small charm hidden in the wax, so it is up to you to reveal the surprise.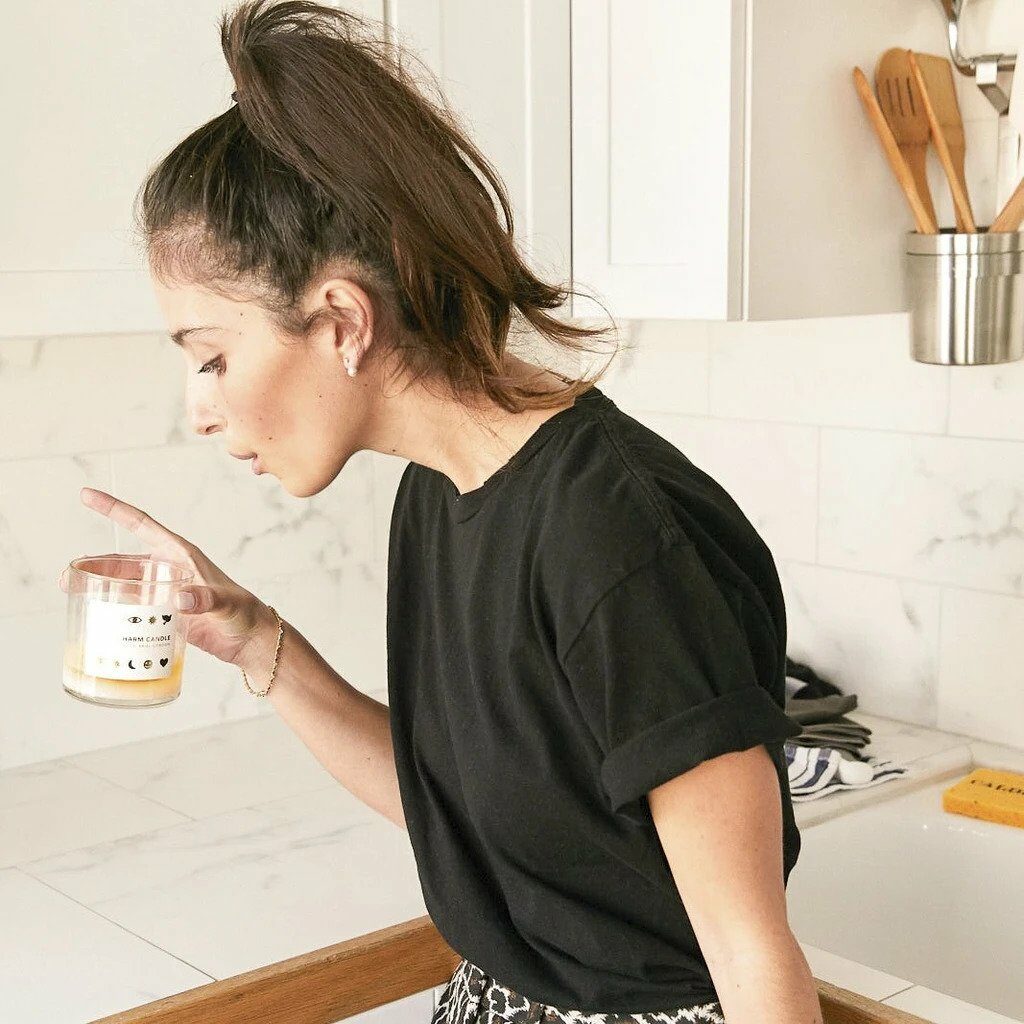 You can also find a special jewelry cleaning product designed to clean the gold jewelry and restoring its shine. Following the fair practices, the product is made of natural ingredients and cruelty-free. It doesn't contain silicones, bleach, parabens, or other chemicals that can potentially irritate the skin. Ariel Gordon has developed her own line of nail polishes too.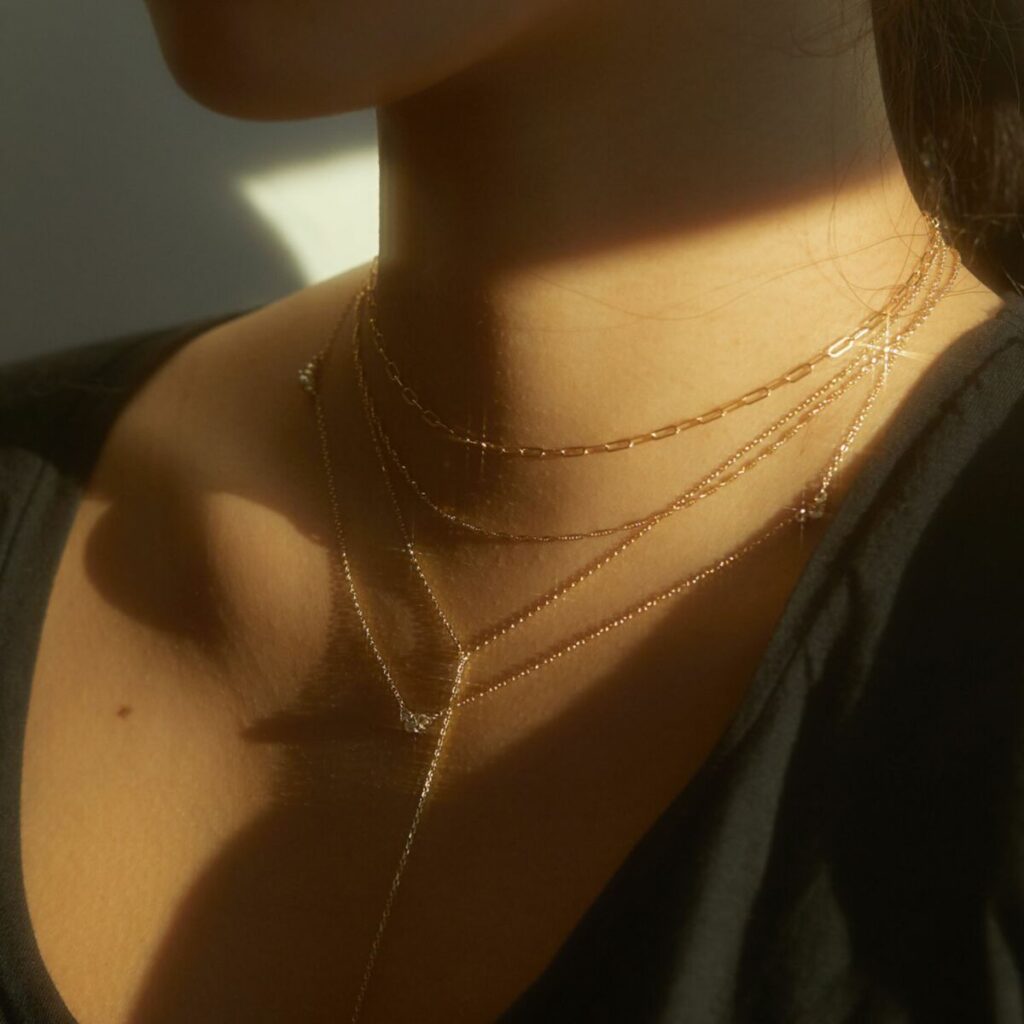 Based In | Brooklyn, New York City.
Ethics | Woman-operated business, fair working conditions, ethically sourced materials, reducing gas emission.
Price Range | $$-$$$
Catbird Jewelry is in the business since 2004. When "barely there" is your preference as a minimalist jewelry lover, this brand will surprise you with the choices. The pieces are feminine and elegant, so we can say that they are practically timeless.
The brand is all about creating high-quality jewelry that lasts a lifetime. They use genuine gold and silver, so you won't have to worry about tarnishing.
Customers support the woman-operated business that treats their employees right. The brand puts a lot of effort to ensure that the diamond sourcing is fair, by using recycled diamonds, conflict-free diamonds, and lab-made diamonds. All the operations connected with designing, making, shipping are done in-house to reduce the gas emission.
You can find beautiful jewelry sets for any occasion. Or, you can choose different pieces if you prefer to mix and match. No matter what your choice is, be sure that you can layer your jewelry. The simple and minimalist design allows you to create many different combinations. The stacking rings are one of their most well-known pieces, designed to make layering easier for you. Other products that you can find in their collection are beauty and home products.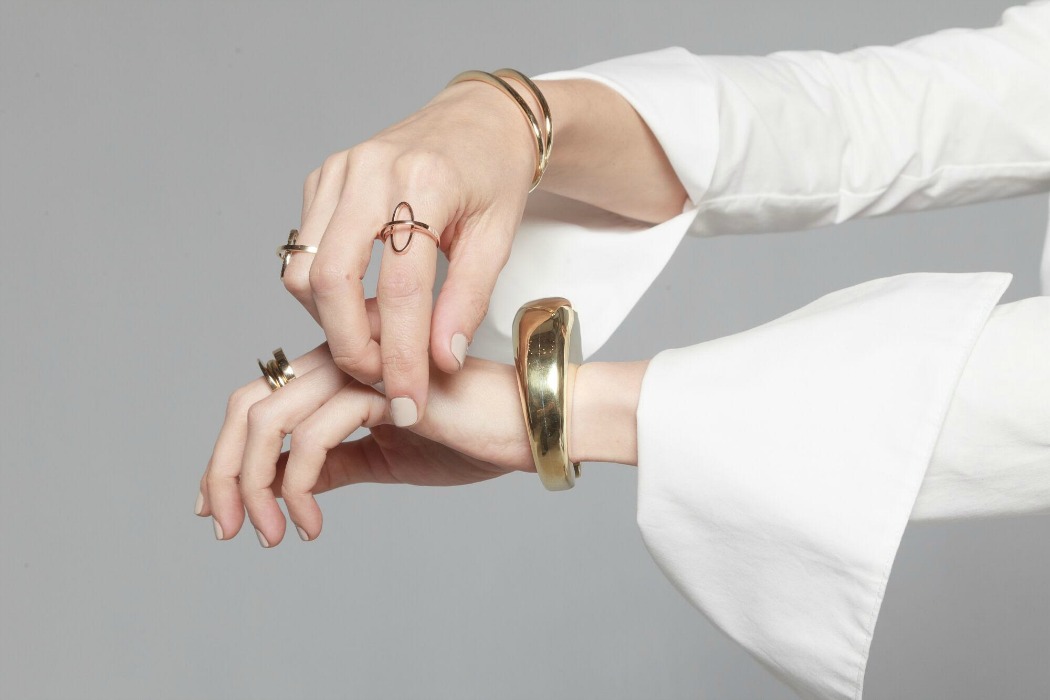 Based In | Los Angeles, California.
Ethics | Environment-friendly and ethically sourced materials.
Price Range | $$-$$$
The brand is founded by two sisters Tere and Gabriela. 2008 is the year when their jewelry saga marked its beginnings. The sisters get their inspiration from art, design, and architecture and the primary goal is to create quality pieces that will last forever.
The collection has fine pieces that you can wear day and night, ranging from subtle minimalism to bold and brave designs, so everyone can find something to suit their taste. A large part consists of minimalist jewelry specially designed for layering.
The cuff bracelets are gorgeous and available in different thicknesses. If you want to add a dose of texture, there are other chain bracelets available.
The brand is known for its lovely tusk earrings with a simple design. All of the jewelry is made of yellow, white, and rose gold, so you can pick the one that suits your skin tone the best.
Gabriela Artigas applies ethical practices to their business operations. They source conflict-free precious stones as part of their ethical strategy.
The jewelry range extends to bridal and men's collection. Additionally, they offer designer home decors such as vases, sculptures, and jewelry boxes.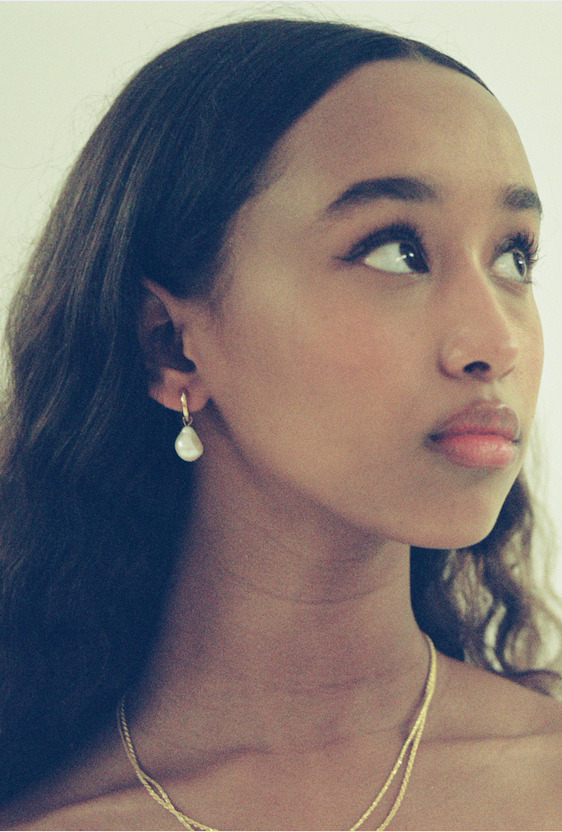 Based In | Toronto, Canada.
Ethics | No information at the moment.
Price Range | $$
Founded in 2016, the brand specialized in making affordable and high-quality jewelry. Sarah Dunn is the proud owner that had the idea to sell reasonably priced and wearable pieces for every woman. We can describe the pieces as timeless and classic, and you can wear them without fearing that they might go out of style someday. The collection is strictly dedicated to minimalism, so you have a wide range of options.
The Herringbone chain is one of their bestsellers. The piece itself is minimalist, but it has a subtle dose of character. Expect to see lots of feminine pendant chain necklaces.
Most of the earring collection consists of small and tasteful hoops. You won't miss the pearls, as they are one of the classics that never fades. The pieces are made of plated sterling silver, sterling silver, and gold fill to allow women to have quality pieces without overpaying.
Their site lacks information about their ethical practices.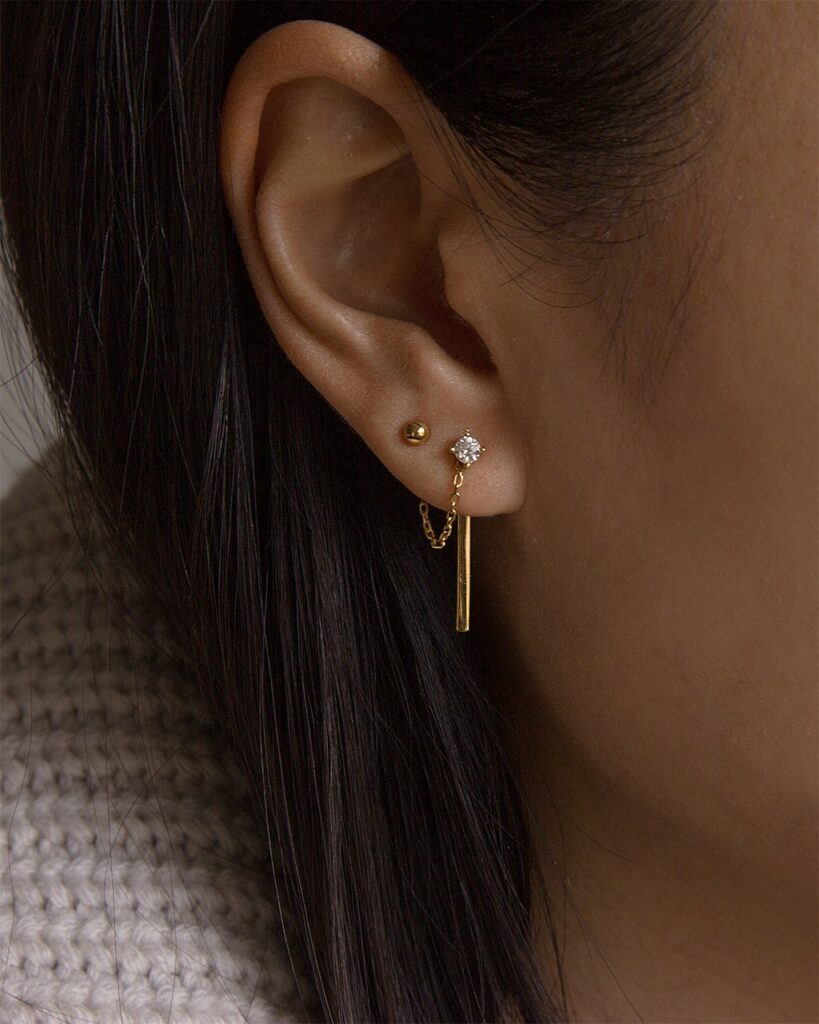 Based In | Toronto, Canada.
Ethics | Sustainable pieces, recycled materials, environment-friendly suppliers.
Price Range | $$
Grace Wong started her jewelry journey as a self-taught designer. She embraced minimalism as a part of her lifestyle, which later reflected in her earring collection.
The young entrepreneur created a minimalist collection that doesn't limit your options.
All the pieces are made of 14k gold or sterling silver. The earring collection is named Earring Capsule, and the concept is all about having essential components that you can mix and match. You have the freedom to tailor the combinations according to your taste and personality. Pick a well-curated set or choose a few pieces that you find convenient for experimenting.
The collection brings simple and minimalist pieces that will never go out of style. This brings the sustainability factor and allows you to wear your jewelry every season. The jewelry pieces are made of recycled premium metals, which makes them environment-friendly.
Lab-made gems are added to the designs to make them elegant without sacrificing fairness—also, they source materials from companies that treat the wastewater properly. The package is plastic-free, and you can use it to store your precious pieces.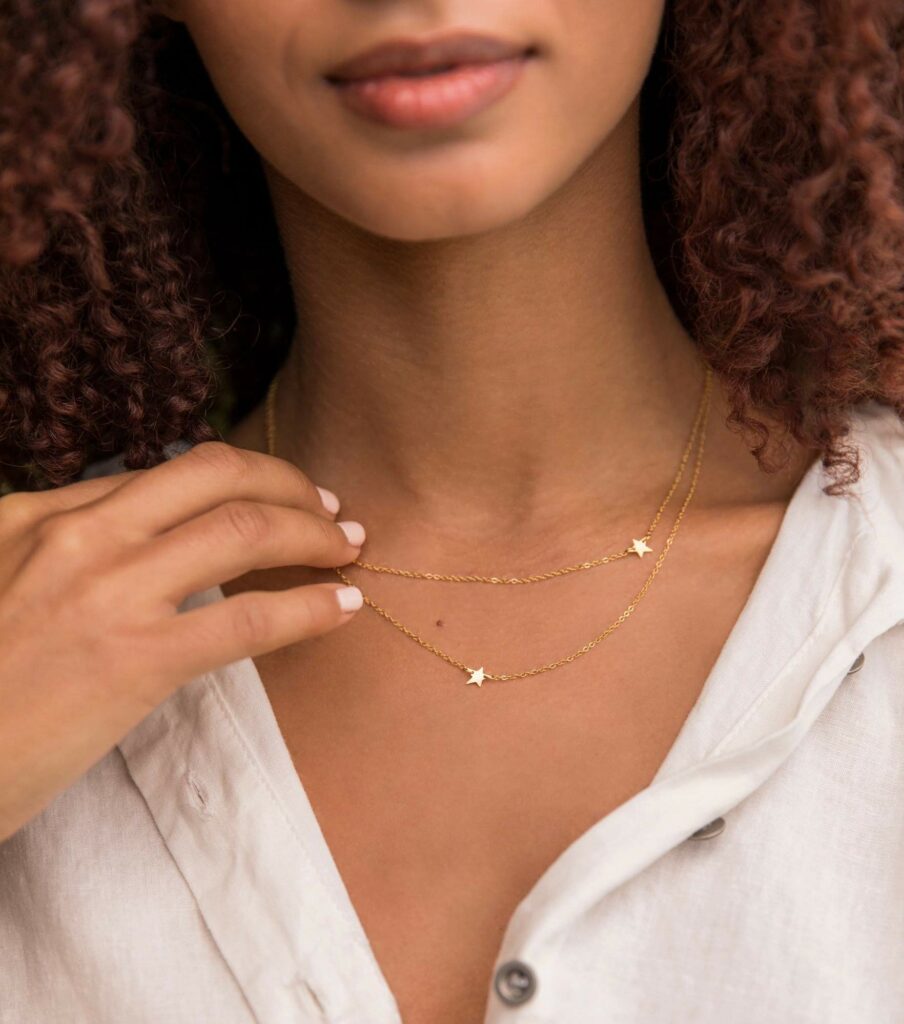 Based In | Boca Raton, Florida
Ethics | No information at the moment.
Price Range | $$-$$$
Jenifer Zeuner is a jewelry designer that launched this famous jewelry brand. The concept behind the brand is to create minimalist pieces that are easy to layer. This sounds perfect, as you can tailor your combinations according to your outfit or mood, and it gives you the freedom to get creative with your choices.
The jewelry is made of high-quality materials such as gold vermeil, 14k yellow gold plated silver, and stainless steel. Expect to find lots of pendant necklaces in different styles. Bracelets follow the same manner while having a hand chain option as the brand's signature style. There are many personalized jewelry choices, so this is the perfect place to get a meaningful gift that will stay for years to come.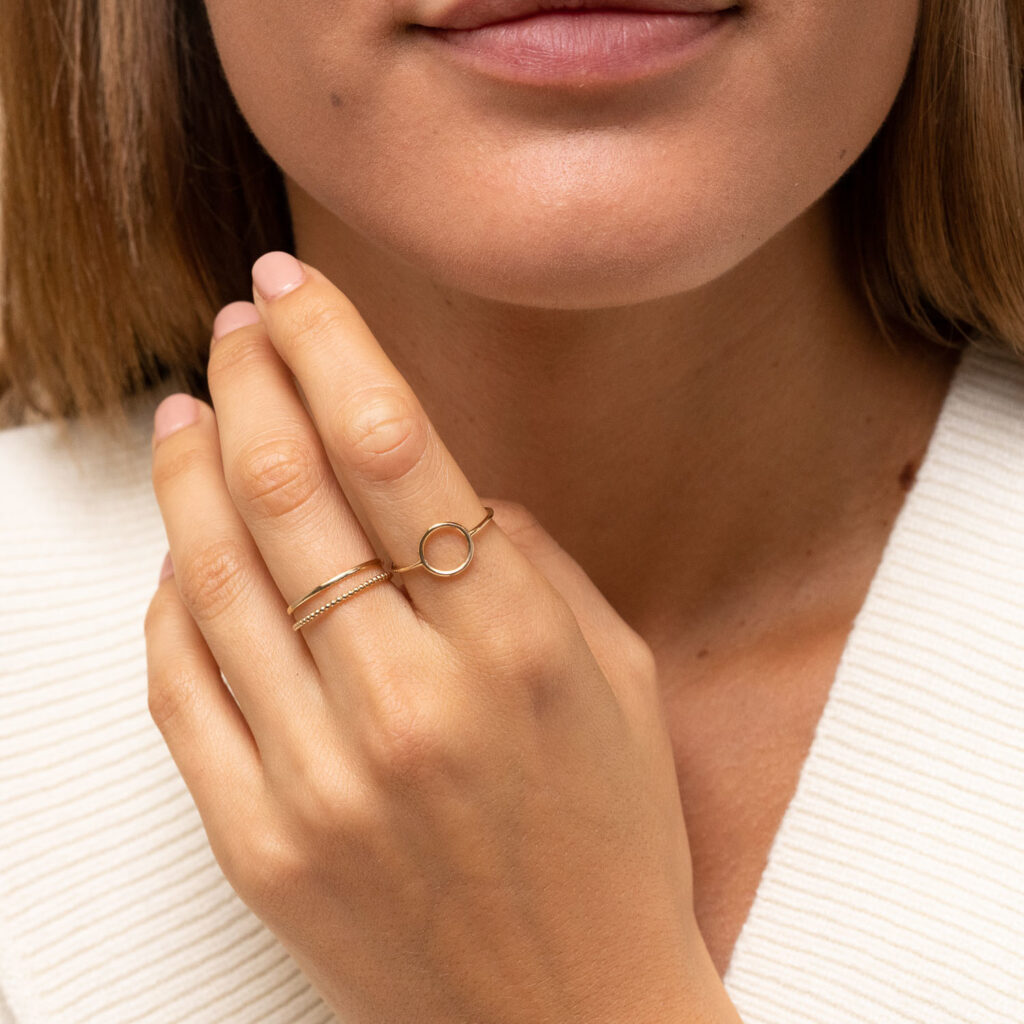 Based In | Toronto, Canada.
Ethics | Ethically sourced materials.
Price Range | $$-$$$
Mejuri was founded in 2015, propagating the idea that you don't have to wear fine jewelry only for special occasions. This brand is all about creating fine pieces that you can wear every day.
Mejuri makes luxurious jewelry accessible with its well-crafted strategy. It consists of a long-term partnership with suppliers and direct sales to the customer to reduce the operational costs. You avoid overpaying the retail prices while still getting to enjoy the quality and luxury.
The pieces are made of 14k gold, sterling silver, and gold vermeil. There are various products, so you will find something that suits your taste. The stackable rings collection consists of basic thin rings that you can mix and match. When it comes to earring choices, there are versatile hoops, studs, and drop earrings. The chain necklaces are simple, so you can layer them the way you want.
The process of creating its jewelry pieces is focused on quality, not quantity. This means that they are handcrafted and available in smaller amounts. The diamonds are conflict-free and ethical.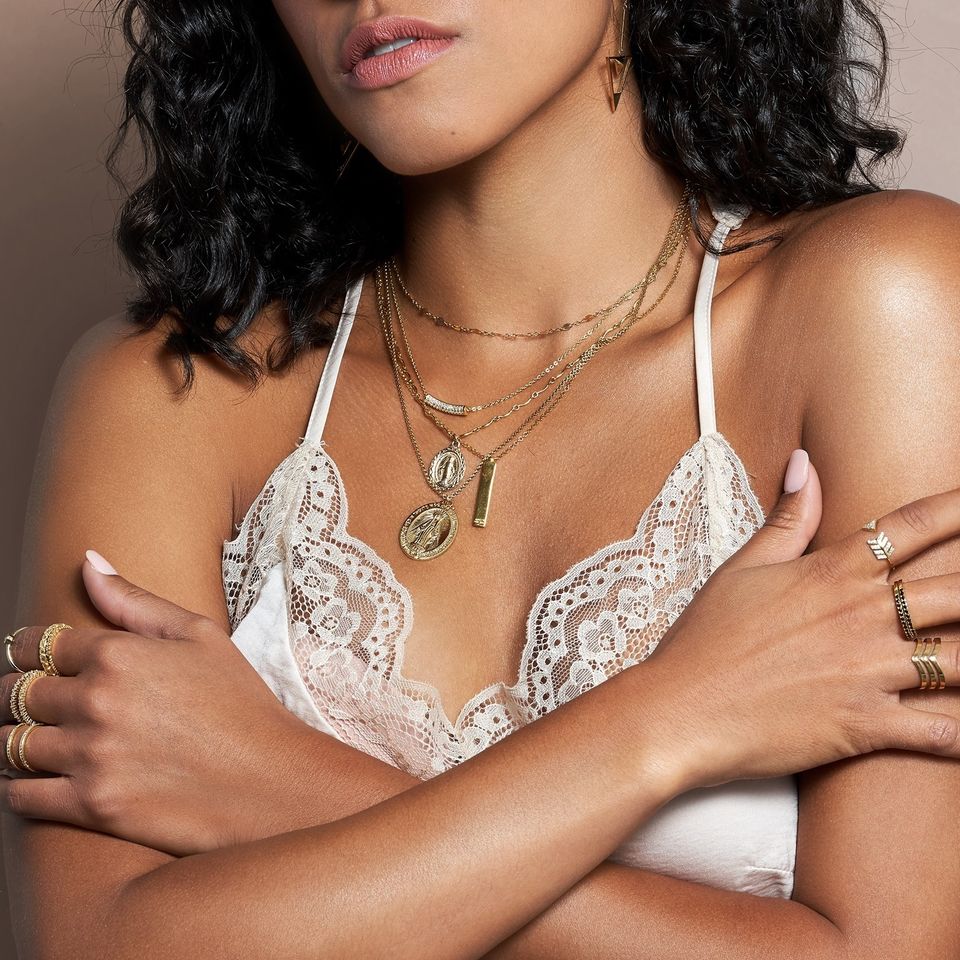 Based In | Dallas, Texas.
Ethics | No information at the moment.
Price Range | $-$$
Kallista has an impressive minimalist collection consisted of versatile pieces. The herringbone chain necklaces are perfect for accentuating the collarbone. In addition to that, there are different hoop earrings styles so that you can choose your favorite.
Since layering is the minimalist jewelry's most significant advantage, Kalista offers many mixing and matching options. For instance, the chain necklaces can be paired with a herringbone necklace, creating a unique look for everyday or office wear.
The ring collection brings large pieces with a simple design. If you are not a fan of layering and prefer to stick with one large piece of jewelry, this brand is ideal for you. The bracelets follow the same style as the necklaces so that you can easily find a matching set.
If you are on a budget when it comes to your jewelry, always keep an eye on the 'sale' section. You can find excellent, well-crafted pieces for less money.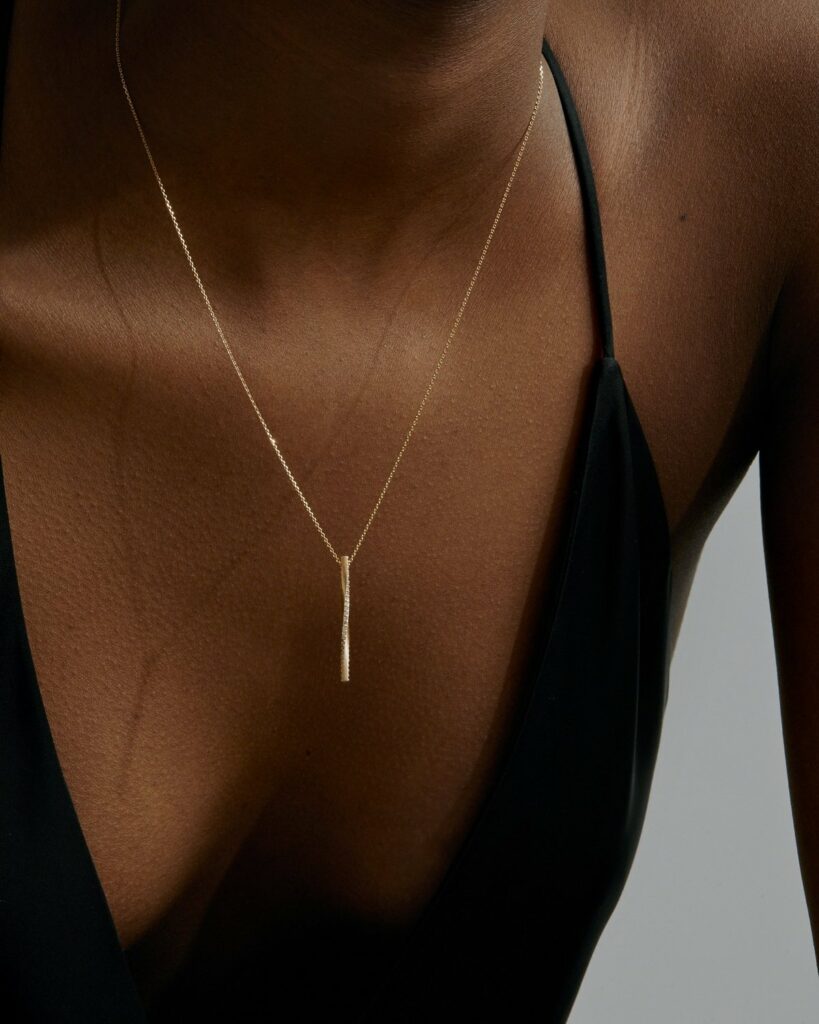 Based In | Sydney, Australia.
Ethics | Recycled and ethically sourced materials, environment-friendly.
Price Range | $$$
In 2012, Sarah and Robert Sebastian joined forces to establish their brand. Two years later, they quit their jobs to focus on their business. Now, they are fully committed to creating wearable pieces that you can identify with. Their collection is famous for its clean and minimalist design.
You can find a wide range of pendant necklaces that come with a thin chain. Thee is a unique collection dedicated to zodiac signs, in case you prefer personalized pieces. When it comes to rings, you can choose thicker or thinner. They are all minimalist, so decide whether you prefer single piece or layered styles.
Additionally, you can find men's jewelry, such as necklaces and rings. All of the pieces are made of gold or silver and contain conflict-free semi-precious gems or diamonds.
The brand strives to be zero-waste, so they recycle their scraps—they source materials from ethical and environment-friendly companies only. The packages are plastic-free and recyclable as well. You get your jewelry in a nice wooden box to use for storage.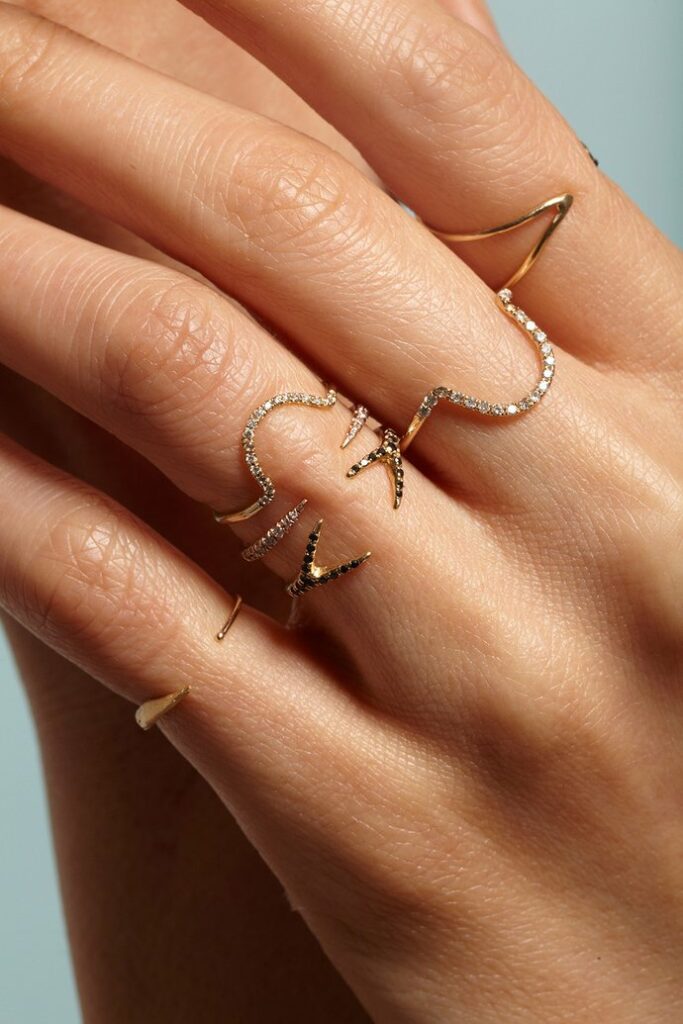 Based In | New York City
Ethics | Ethically sourced materials, environment-friendly, fair partners, diversity.
Price Range | $$$
WWAKE is a line of minimalist jewelry for the modern woman. Wing Yau is the mastermind behind this concept of creating demi-fine pieces. The minimalist pieces were adorned and worn by celebrities.
The single earrings are one of their bestsellers, from diamonds to opal and pearls, there are many options to choose from. You can find a wide range of rings with precious stones. Their cuff bracelets and anklets are thin and simple.
When it comes to necklaces, there are different styles to pick from. However, the best thing is that you can layer them and achieve a different look each time.
The brand favors local partners to stimulate the local economy. Also, they respect diversity in the workplace. The production relies on recycled diamonds, gemstones, and metals, and the partners they choose to work with are oriented towards fairtrade.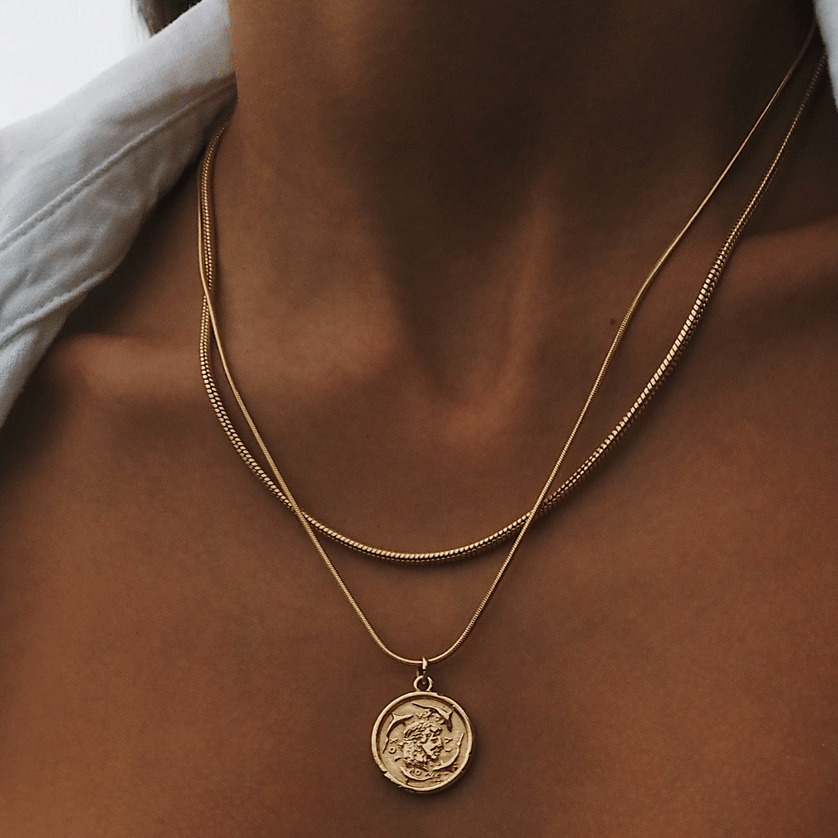 Based In | Barcelona, Spain.
Ethics | Environment friendly.
Price Range | $$
It all began when two young influencers couldn't find jewelry that suits their taste, so they decided to produce it themselves. TWOJEYS was an idea put to reality in 2019. Joan and Biel agreed that they want to sell timeless jewelry for men and women. The versatile pieces are designed and crafted in Spain.
The collection is specially designed for young people. The gold plated and sterling silver jewelry is made to last. But also, it is affordable. This is an excellent combo for the ones seeking excellent price to quality ratio.
In the necklace collection, you can find a simple chain with different pendants. The chan and cuff bracelets are simple but outstanding. You are free to wear a few for a layered look. There is a limited choice of earrings. You can find minimalist hoops, but they will fit any style. Most of the rings look rough and unfinished, which gives them a dose of character.
The brand is environment-friendly, so they use a plastic-free package. It is reusable, so it doubles as a storage box.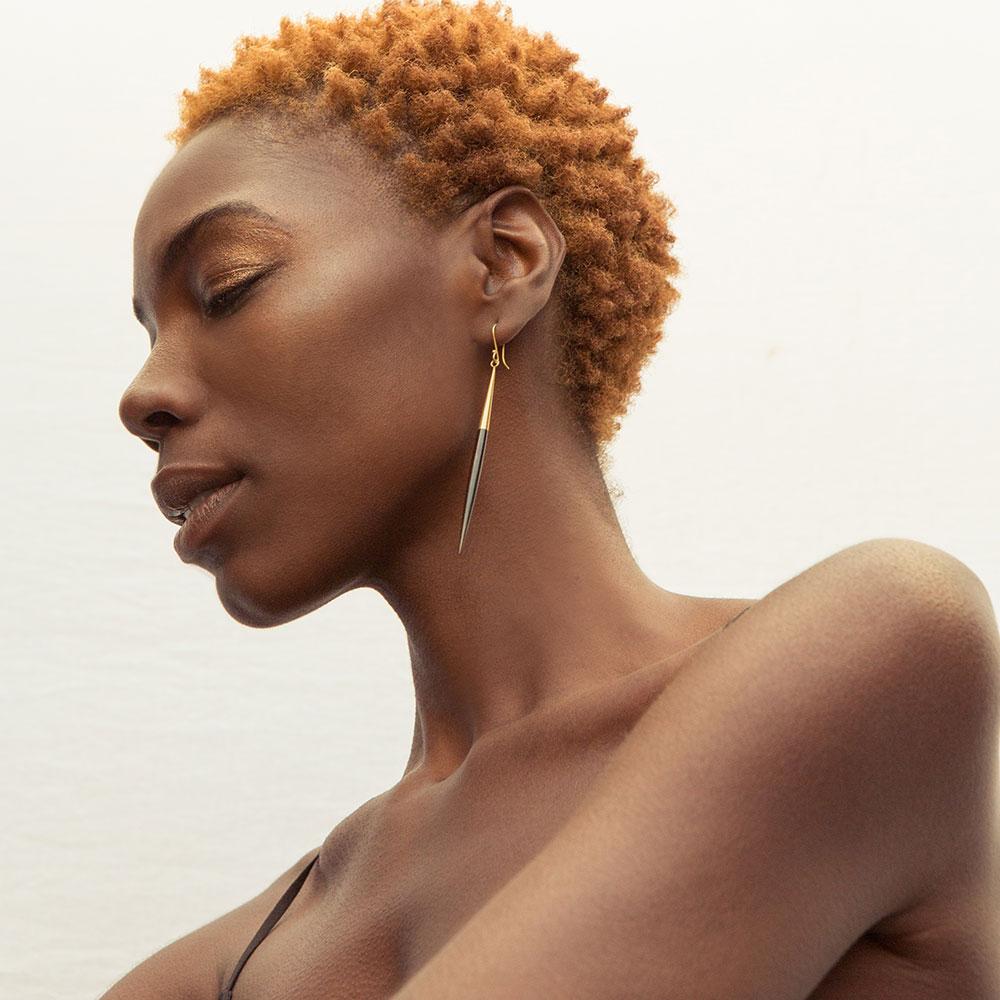 Based In | San Francisco, California.
Ethics | B-Corp, fair wages, eco-friendly
Price Range | $$
Soko is a unique jewelry brand that is all about being socially responsible. It is a platform that allows artisans and jewelry makers in Kenya to be present on the global market. This startup was founded in 2012 to allow the local artisans to sell worldwide.
Soko is quite a unique brand, as the designs and materials are authentic. They use recycled brass, wood, and cow horn to craft unique pieces. We can say that they are bold and have a dose of personality but remain timeless.
If you want unique minimalist jewelry, the choker necklaces are something that you can't find anywhere else. The design is minimalist but charming enough to make a statement. You can also find a whole collection of stackable jewelry if it fits your style.
The brand favors structured jewelry that doesn't feel too heavy. You can also find large rings and earrings that still keep the minimalist vibes.
The material for their jewelry is ethically sourced. The brand is all about equality and fairness when we talk about the workforce. Local artisans are paid five times more than they would be if working in a workshop. Saying that the company is B-corp is enough to explain their ethical practices.