This article contains affiliate links for which I may receive a small commission, at no additional cost to you, should you decide to make a purchase by using them. Learn More
Your body may look thirty, but your joints are probably in their mid-90s, considering the amount of cracking they do every time you stand up!
Leading a sedentary adult life may seem less stressful to someone. But as the person in that life, you know the toll it's taking on your health. Backaches, neck aches, eye strain, joint pain, and that weird twang you feel at your tailbone every time you sit up—this path is leading you to an early old age. What should you do?
The answer lies in how you park your posterior while working for hours in a day!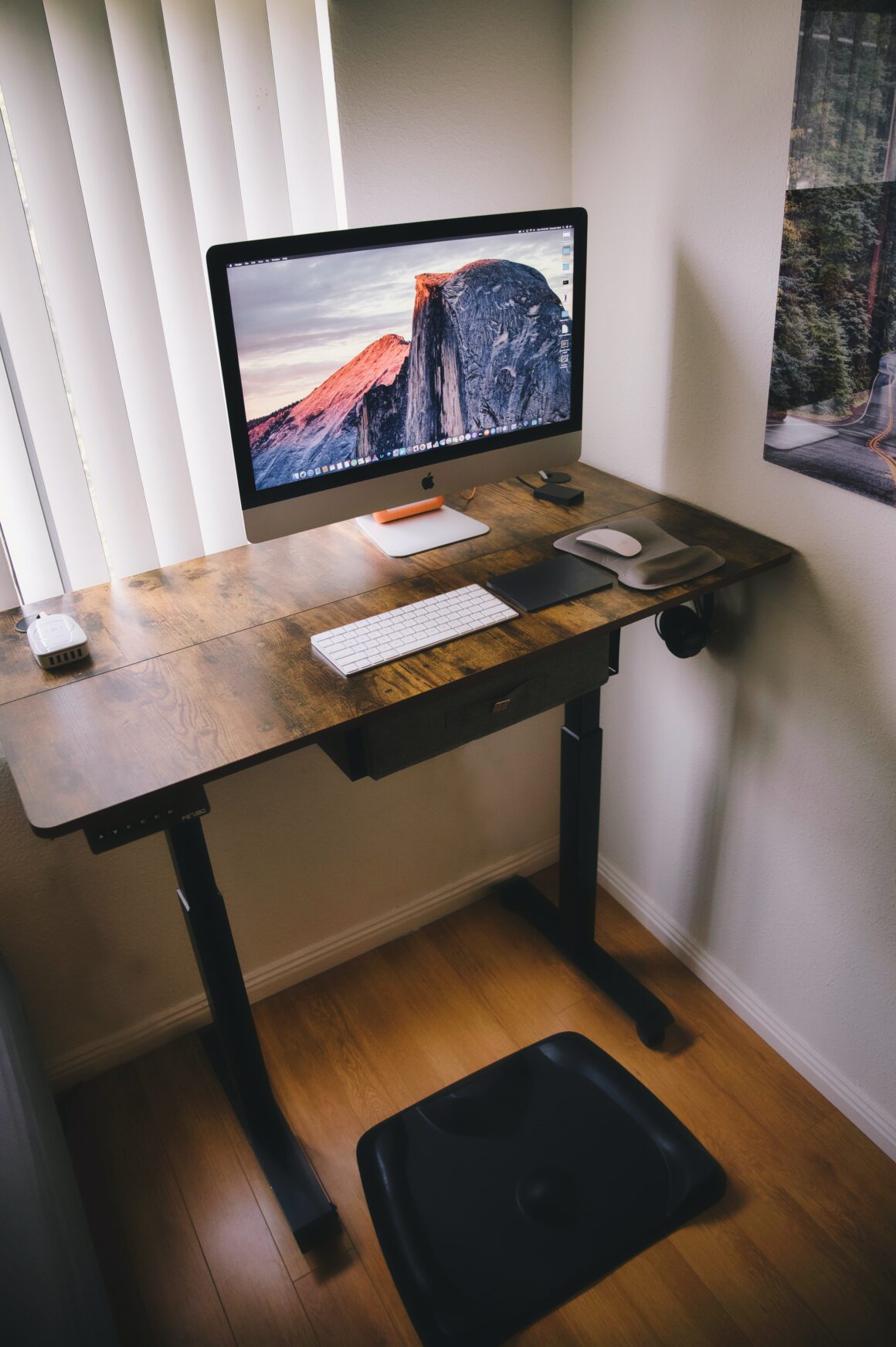 What's the Harm in Sitting?
In addition to Harvard and The Times, multiple publications—both scientific and news—explain that sitting is about as dangerous as smoking. And they are not exaggerating.
Researchers are confounded as to why sitting affects our body the way it does. We know that prolonged sitting increases pain, leading to a higher chance of developing obesity, cardiovascular diseases, metabolic syndrome, diabetes, and deep-vein thrombosis.
One reason could be that prolonged sitting leads to relaxed muscles, which causes the body not to work as hard as it should. Fat accumulates as we continue working, not knowing what we're putting in our bodies, as long as it's tasty and finishes fast.
Persistent bad habits, work stress, and an irregular sleep cycle lead to higher blood pressure, increased blood sugar, increased cholesterol levels, and excess body fat.
How Do You Prevent Damage from Sitting?
Fortunately, there are some things you can do to prevent the excessive damage sitting can do.
Taking breaks every 30–40 minutes, closing your eyes for two minutes, stretching at your desk, or even turning your head right to the left can have an impact on your health. But, these are only temporary solutions.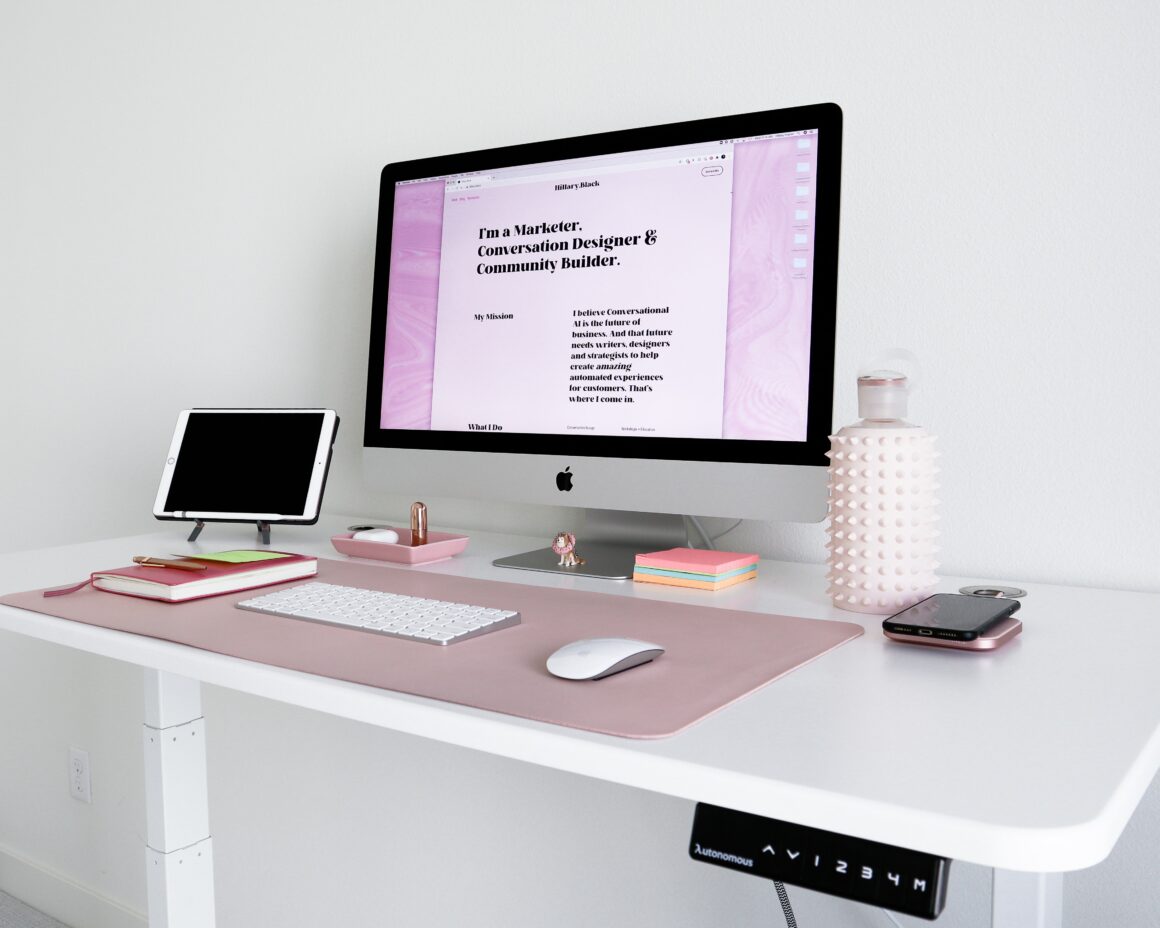 If sitting has affected your health negatively, it's high time you invested in yourself a little by purchasing one of the following standing desks.
My List of the Best Standing Desks
Before we begin, understand that a standing desk is not a one-size-fits-all answer to all your health problems.
Standing desks offer plenty of benefits. Standing burns calories faster (not too many, but enough to help that waistline), and it prevents further development of obesity, cardiovascular disease, diabetes, and more. You also feel more active while standing and are more productive since you're focused on standing upright and working.
However, standing desks do not treat medical conditions. If you have body pain, nausea, weight issues, diabetes, or joint pain, the only person who can help you is a professional physician. Get yourself tested for all things necessary, then buy a standing desk.
UPLIFT Standing Desk (V2 & V2-Commercial)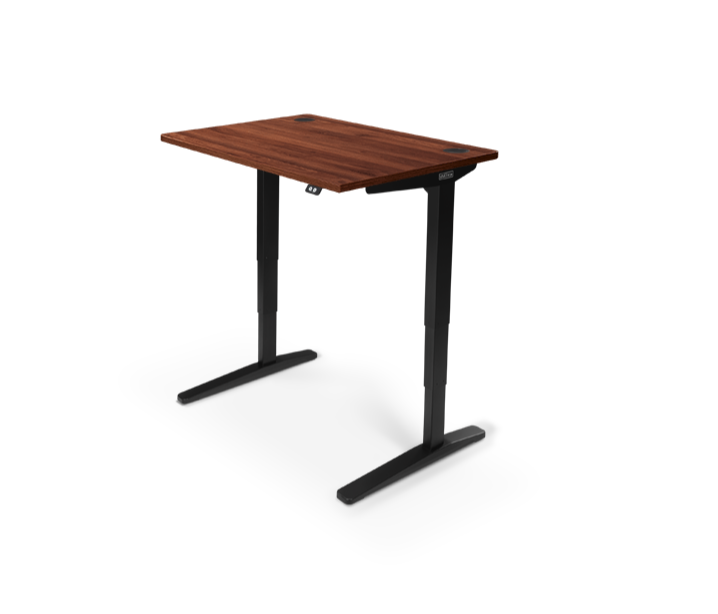 Get UPLIFT Standing Desk from UPLIFTDESK.COM
You know the phrase, "simple but powerful." That's what you get with the UPLIFT standing desk.
Although it may seem simple in design, this adjustable desk is perhaps one of the most popular desks in the online forum. The desk by UPLIFT is designed by a certified professional ergonomist and prepared by a world-class engineering team. So, you know you're getting the best standing desk that money can buy.
With its award-winning desk configurator, this desk provides additional accessories and over 200 desk choices. The desk can be brought up to 6'7″ and down to 4'4″, whichever height suits you best. With an added keyboard tray that gives you enough space to work efficiently.
The desk also utilizes its C-shaped legs to give you enough legroom, so even if you decide to sit, your chair won't take much space. The mechanism to adjust the desk has a 1-touch height feature and rapid up-and-down movement. The desk is also BIFMA certified, so if you're worried about comfort, quality, safety, durability, or sustainability, don't. You're covered.
FEZIBO Electric Height Adjustable Standing Desk
One of the great things about minimalist standing desks is that they are designed to offer you plenty of space and comfort while looking luxurious and aesthetically pleasing.
The FEZIBO electric standing desk is one such example of an excellent standing desk. Engineered to provide the ultimate experience, this desk has phased out all pointy corners and has added desk hooks, a cable management tray, lockable casters, and anti-collision technology.
This desk isn't as lightweight compared to other desks, but its design makes it look so. Sleek and beautiful with its smooth transition and excellent structure, the desk's frame is finished in soft matte black. This desk is designed more for laptop use, so the person can easily adjust the table up and down without worrying about additional hardware.
The height can go up to 40.6 inches and come down to 28.36 inches if needed. Overall, this desk is a solid buy.
Jarvis Bamboo Standing Desk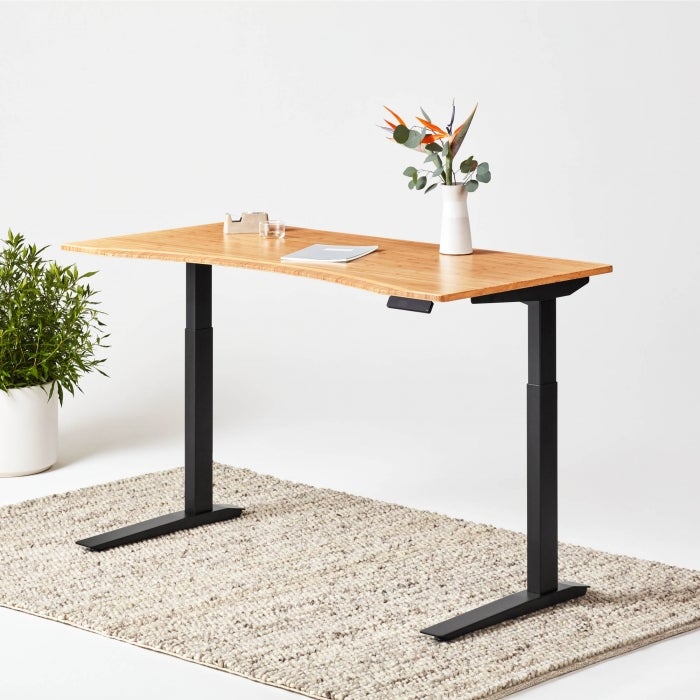 Jarvis Bamboo Standing Desk at Fully.com
For the earth-conscious workers among us, Jarvis presents the Bamboo standing desk. The bamboo used by Jarvis is obtained from sustainable forests that are grown without the use of pesticides and fertilizers.
So, you get a solid, strong table that'll stand the test of time. Easy to customize and work with, Jarvis offers their bamboo standing desk in a range of designs, with a variety of size tops to choose from. The design of the table is very straightforward and can adjust to a height of 50 inches. The desk is also equipped with an easy up-and-down toggle handset with an upgraded OLED touch display.
With their latest release, Jarvis has upgraded their desks to include strengthening gussets and foot-to-leg connections that improve stability from front to back and side to side. Pair that with a reliable chair or a mat for your feet, and you have yourself a workstation that is efficient, aesthetically pleasing, and reliable.
Branch Standing Desk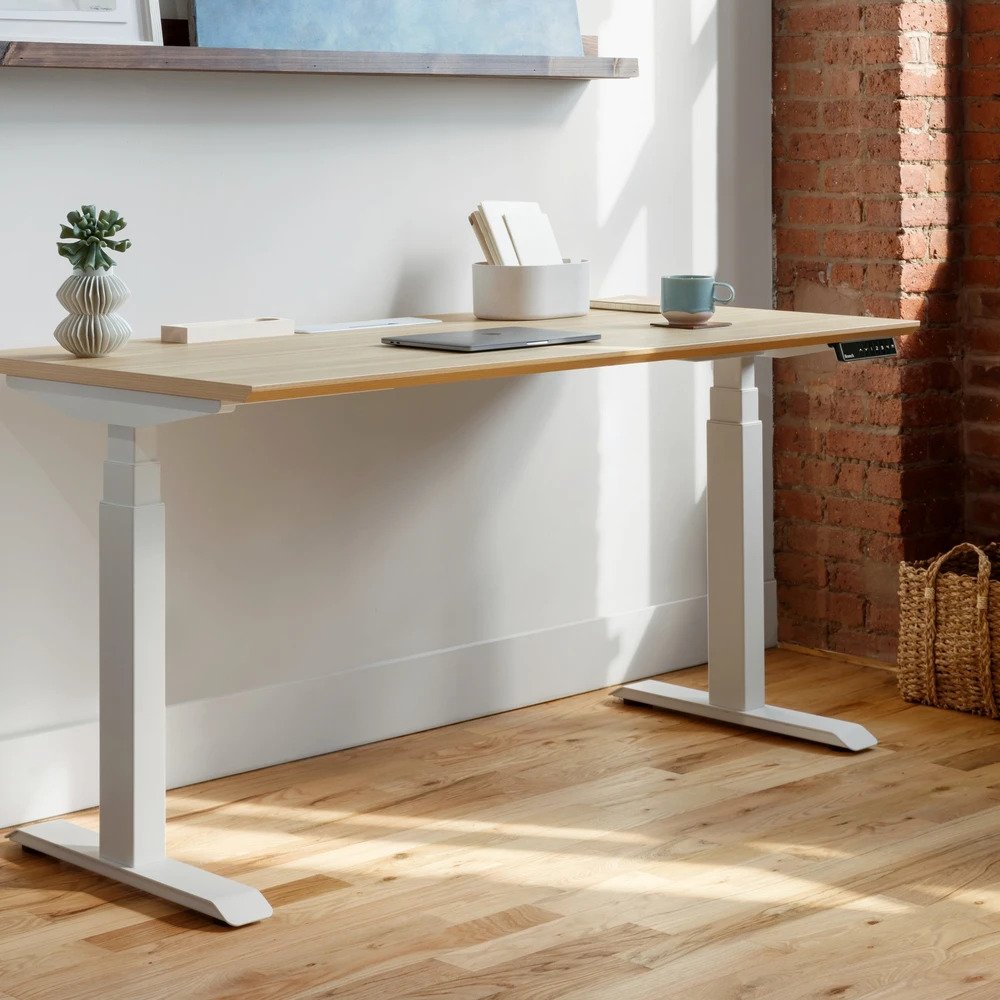 Branch Standing Desk at BranchFurniture.com
The standing desk by Branch is perfect if you have height issues and can't find a desk that'll fit your stature. The Branch standing desk can rise to a height of a whopping 88 inches and come down to 25 inches.
With a Dual EasyGlide function that makes adjusting height easy and straightforward, the smooth function keeps your desk stable enough that you don't have to worry about your cup of coffee spilling over. The desk comes with a smart panel with four memory presets and offers adjustments up to a centimeter-level.
The desk is available in two sizes with two top sizes, white or woodgrain. The top is made of melamine, is stain-resistant, and is impact-resistant. So, for the days when you think you may type through your keyboard, no worries. Branch has got you covered.
Evodesk Single Level Desktop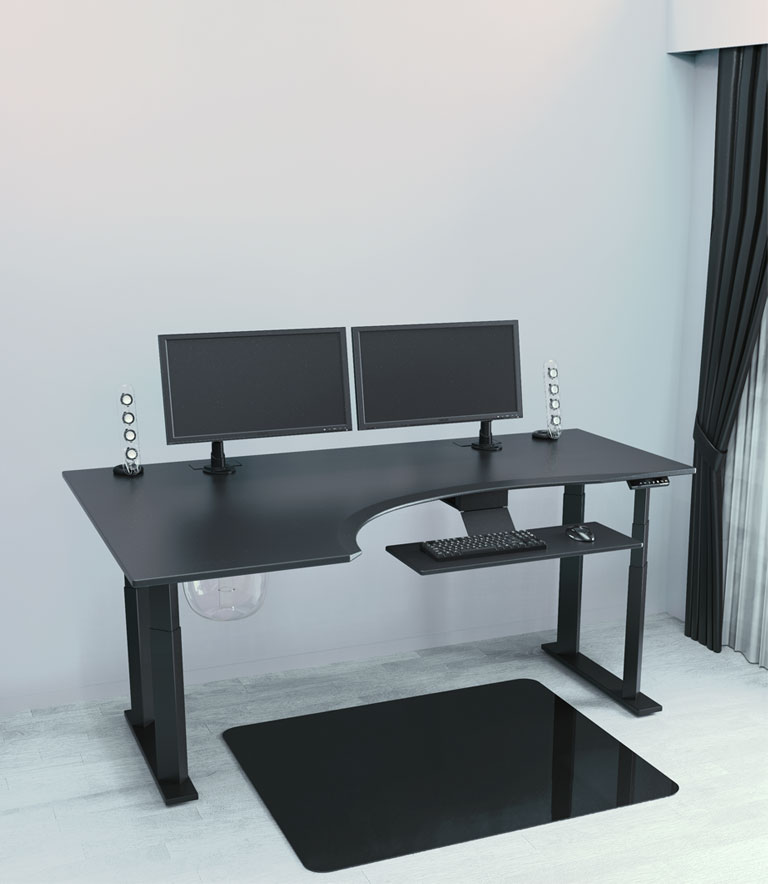 Evodesk Single Level Desktop at EvoDesk.com
Available in single and double levels, the Evodesk desktop may be a little expensive for some. But it stands as an investment once you figure out the benefits of this unique desk.
You get a range of options when choosing this one. Once you've decided on the right level, you're asked to choose a shape that would suit you. The choices are basic rectangle, L-shaped, and ergo edge. Once you've done that, you can choose the desktop material. The desk is made with recycled wood and offers a choice of three finishes.
Another great thing about Evodesk is that there's an option for left-handed and right-handed people. So, if you've ever mourned the lack of furniture for the lefties, here's a present, just for you. As far as customizing the desk is concerned, when choosing your desk, you'll see that the list goes on and on, so you will be spoilt for choice.
Ikea SKARSTA Standing Desk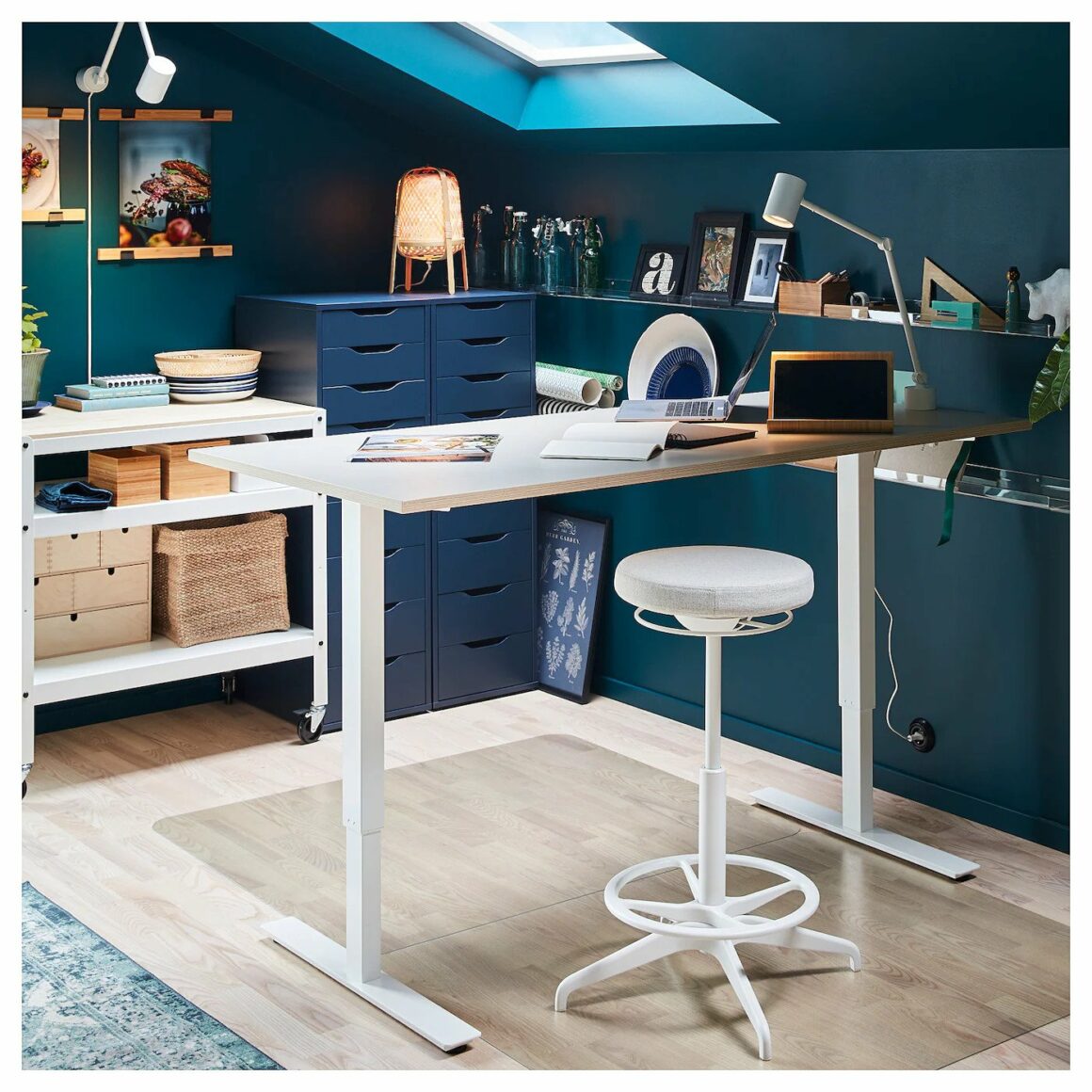 Ikea SKARSTA Standing Desk at Ikea
If you've ever purchased an Ikea product, you know you'll get a good-quality product that's easy to adjust and only a *little difficult* to assemble.
Nonetheless, with the Ikea SKARSTA standing desk, all that effort may seem worth it. This standing desk is available in white, designed to be comfortable for both left-handed and right-handed people, given that the crank handle can be mounted on either side. The desk can go up to 47.5 inches, so a sizable height for an average-sized person.
The desk also comes with adjustable feet, so if your floors are not as even as they should be, that poses no problems for the Ikea SKARSTA. The product was tested for office spaces and use, so you know it's good enough. With a 10-year warranty and low-maintenance material, this desk is a dream for any economic desk worker.
What If I Don't Want to Stand All Day?
It's understandable if you're not ready to take on the challenge of standing all day just yet.
If you've been a sedentary worker primarily, this change may bring you more harm than good since your joints and limbs won't be strong enough to withstand all that strain from standing.
Yet, this does not mean you should keep sitting in that lousy posture (SIT UP STRAIGHT!) and continue to work. It's not fair to you or your joints. Instead, why not opt for a small desk converter?
Desk converters are small adjustable stands, just big enough for your laptop. You can keep the stand down for a while, and when you're ready for a good half-hour of standing, you adjust the stand and bring it up at the right level and continue to work.
Aside from aiding a standing work mindset, a desk converter works wonders for your neck muscles too. Sitting at your desk and looking down at your laptop strains your neck and back muscles unnecessarily. With the aid of the following desk converters, you can bring some relief to your body without compromising on your work hours:
HUANUO Adjustable Laptop Stand for Desk
Inexpensive, easy-to-assemble, and to adjust, the HUANUO adjustable stand is a durable and steady find that stays upright even with heavier laptops.
With a height adjustment of 3.3 inches to 16.5 inches, this desk laptop stand offers nine ergonomic angles so you can easily adjust your laptop to whichever level you want. The stand is ideal for almost all sizes of laptops, especially the larger ones, thanks to the 15.6-inch platform.
Made with solid steel, the adjustable stand is also quite effective in design and has non-slip padding on the bars, MDF platform, and heavy-duty steel to increase stability and prevent your laptop from sliding.
Compared to the many less expensive adjustable desks, this one has been received very positively on Amazon. And on a platform where customers are very clear about their likes and dislikes, this desk stand is a true winner!
FLEXISPOT Standing Desk Converter
You don't see many products with five stars on Amazon.
Yet, the FLEXISPOT standing desk converter takes the cake. From what I could gather from its loyal fan club online, what makes the FLEXISPOT standing desk converter so fabulous is not only its ergonomic 2-tier design.
This desk offers optimum workspace, with a 28.4-inch top tier and a 12.1-inch bottom tier, which can hold a standard mouse, keyboard, and even a 13-inch laptop. The desk converter can rise to 28 inches, although you can also choose different sizes, including 30 inches, 32 inches, 35 inches, and 42 inches. Using a classic gas spring system, the stand can hold around 33 pounds evenly without destabilizing the stand.
A significant fact here is that this stand comes fully assembled, which is excellent news for the busy worker. With a five-year warranty on frame and a 3-year warranty on the mechanisms, the FLEXISPOT standing desk converter ticks all the right boxes.
TechOrbits Standing Desk Converter
The TechOrbits standing desk might be a little on the expensive side, but it's worth it.
Featuring a simple, straightforward design, this ergonomic desk lifts and sits on any platform or desk and is a great choice for a larger work area. The desk has enough space for two monitors, a laptop, a keyboard, and mouse, and even your office plant while you're at it.
This desk riser can be lifted to 20 inches, thanks to its gas spring system. With a weight limit of over 30 pounds, this white-hued premium wood desk converter is enough to keep your laptop safe and secure and you in a good standing position for as long as you want.
Conclusion
These standing desks can make all the difference for your health. Invest in the right one, and change your work position.
You'll notice straight away how much strain you've been putting on yourself, especially your back. But remember, if the pain persists, go to your physician and get a diagnosis. Unfortunately, a sedentary lifestyle is typical for most of us, and we don't realize how much danger we put ourselves in when we sit for hours at a time.
But, it's not too late. With a standing desk or a converter, you'll be taking the first necessary steps to change your life for the better!