This article contains affiliate links for which I may receive a small commission, at no additional cost to you, should you decide to make a purchase by using them. Learn More
Skincare Fridges have become all the rage lately. You may have spotted someone flaunting one on Instagram or YouTube. They're cute, handy, and very modern. Plus they bring a little flair to your daily skincare regime.
Most products can last longer if stored in a cool and dry place. And you don't want to run to the kitchen every time you grab sunscreen. Nor should you have to drag yourself to the fridge mid-sleep for a jar of night cream.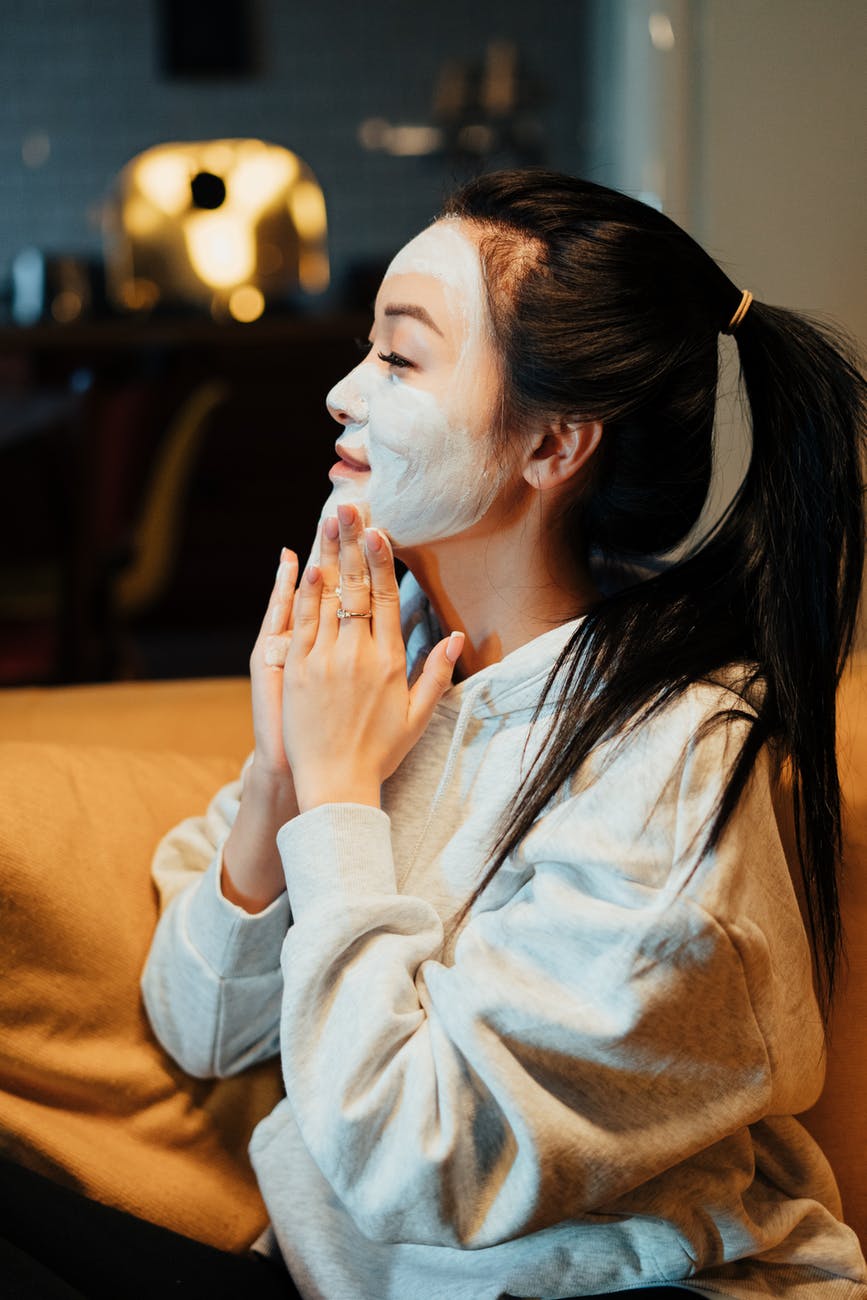 To help make your life easier, we've put together a list of some of the best mini skincare fridges money can buy. Sheet masks to toners, eye creams to organic lip balms – these fridges will have you loving your essentials like never before! And with so many gorgeous options to choose from, you'll be spoiled for choice.
"But is a skincare fridge really worth it?" you ask. We hear you. So here's everything you'd want to know about buying your very own skincare fridge.
Is a Skincare Fridge necessary?
Many natural skin care products need refrigeration because they lack preservatives. Several products also specifically require a cool and dry atmosphere for storage. You can use a regular fridge for these things. But it's much more convenient to have all your skincare products in one place. If you're a makeup artist, beauty blogger, or influencer, you will appreciate a good skincare fridge more. But if most of your products don't specify the need for refrigeration, you can do without one.
What are skincare fridges for?
Skincare fridges are used to keep beauty products chilled for daily usage. They can be necessary for storing products that require a cool and dry atmosphere. Many serums, toners, cosmetics, and vitamin C products often need refrigeration. A skincare fridge can take care of that from the convenience of your desk!
How cold is a skincare fridge?
Temperatures can range between 40° to 50° Fahrenheit (i.e. 7° to 10° Celsius)
What skincare product should I put in the fridge?
Skincare products such as eye gels, sheet masks, moisturizers, serums, jade rollers. Also, any under-eye creams that help depuff tired eyes. Products with vitamin C also often require refrigeration.
What you should not put in a mini skincare fridge?
Be careful of what you put in your mini skincare fridge. Products that do NOT prescribe cold temperatures or anything below room temperature should NOT be kept in the cool ambiance of a fridge.
Do skincare fridges use a lot of electricity?
It depends on which fridge you have. Electricity consumption varies from product to product. Brands with high environmental awareness take electricity consumption seriously. Their products are likely to use less power. (Note that skincare fridges do not use the energy star rating system. You have to find each product's consumption individually.)
On average, skincare fridges use 0.5 to 0.7 kWh of power per day. In comparison, regular fridges use about 1 to 2 kWh in a day.
Are mini skincare fridges loud?
Just like any other appliance, skincare fridges can be loud or quiet. When choosing one, opt for a fridge that lets out 25 to 30 dB of sound. This range is low enough to be perfectly acceptable.
Where to place the skincare fridge?
Portability is a big advantage of a skincare fridge. It can be placed on your dresser, nightstand, bathroom, kitchen shelf, or even in your car!
Now that we've addressed some of the most common questions about skincare fridges, let's dive into our top picks for minimalists.
 1. Chefman Mirrored Beauty Fridge
Chefman's mini-fridges have a great reputation all around. This particular option is no exception. It looks so good, you'll want to fill it up!
The outside of the fridge is basically a mirror. This makes it a handy tool around the dresser because you can see yourself while you carry out your daily skincare routine. Plus it looks super minimalist and you don't have to worry about picking the right color. It just blends right in with any kind of interior decor.
This product's name may say it's a fridge but make no mistake. It can keep your goods nice and warm too! So aside from cooling eye creams and toners, it can help keep your coffee and hot towels nice and toasty. Talk about five-star treatment!
With its 4-liter capacity, it's also super portable and takes up little space anywhere you put it. If you're worried about power on the go, the fridge comes with home AND car plug settings.
2. FaceTory Portable Beauty Fridge
FaceTory's offering comes in soothing colors fit for a spa! You can choose between a gorgeous coral pink and a refreshing shade of mint. Both of these are super elegant and sure to please a minimalist!
With its generous 10 liter capacity, this is one of the roomiest options on our list. Its shelves are removable too, so you can easily adjust how much space you get inside. If you've got LOTS to store, you'll be very happy with this option. It does have a larger footprint than most other beauty fridges though. So if you want something compact, this isn't it.
This fridge also lets you plug into a car socket, which makes it great for travel. And if you need something to keep your tea warm while you work, you'll love its heat settings!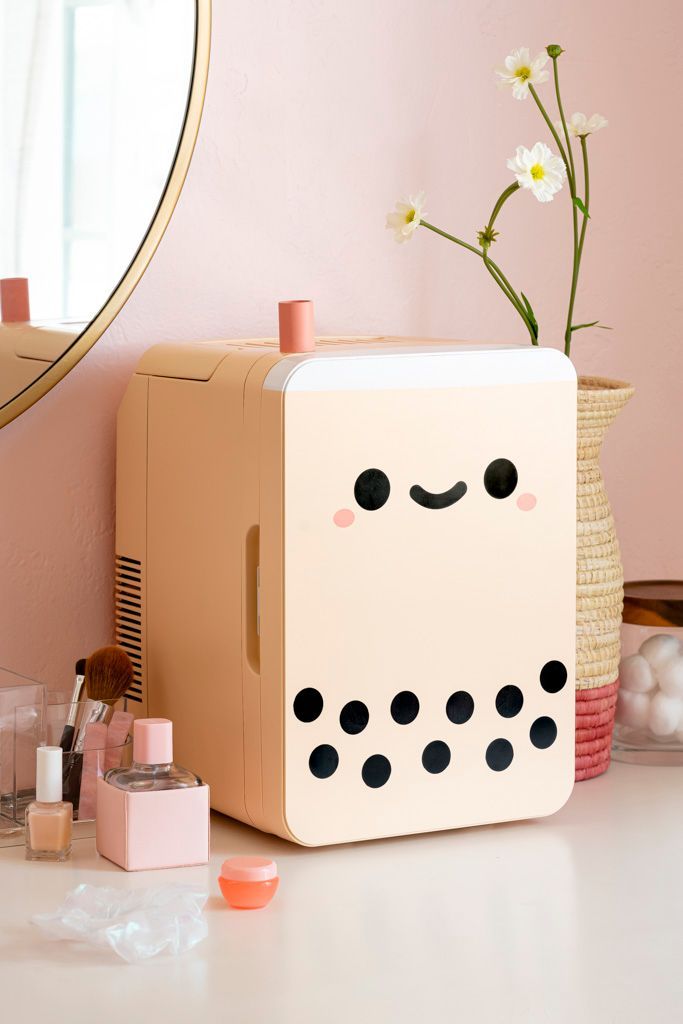 Smoko Pearl Boba Tea Mini-Fridge at SmokoNow.com
If you're looking for something super adorable, Smoko's always a safe bet! Their kawaii mini-fridge, called Pearl, brings a dash of personality anywhere you put her.
At 10 liters capacity, this one's another generous option and can store up to 12 cans. But if you'd rather go small, Smoko also offers a 4L limited edition to keep you company on the go. It also has a power plug for cars, which makes it even better for travel. With a 5.9 foot cable, you don't have to worry about running out of wire with this one. Its temperature goes as low as 55 – 65° F (or 13 – 18°C). But its cooling heavily relies on surrounding temperature and will cool your products 20°C below the room they're in.
Pearl comes with an AC/DC setting, which means you can plug it into an outlet as well as your car too. Smoko promises low electricity consumption, so you don't have to worry about using too much power either. Plus the fridge also doubles as a warmer when needed, so you get twice the functionality!
4. Cooluli Classic Mini-Fridge
Boasting seven colors, Cooluli's fridge ranges from a girly pink to a macho black and lots of shades in between. It even has a quirky cow pattern! Its compact design and matte finish scream modern minimalism.
The fridge is energy-efficient so it will be easy on your electric bill. That's because Cooluli has developed a unique semiconductor that makes their fridge as green as they come. On top of that, it's also super quiet. You can sleep right next to it and won't even realize it's running. That makes it light on your ears and your bills.
At 4 lbs, it's a light little offering, so it's great for travel. Plus, along with the usual wall and car outlet, it also has a USB power input option. That means you can hook it up with a power bank and it'll work just fine.
It is on the smaller side with a 4-liter capacity, but if you're looking for something small and handy, this skin-care fridge is fabulous.
5. Flawless Touch Flawless Mini Fridge
This compact offering by Flawless covers all the basics in style. It's one of the most portable options on this list.
The fridge comes in white with classy rose-gold accents. At first glance, it looks gorgeous for a vanity. Flawless also makes rollers and quartz massagers that wonderfully complement their fridge. At 4L capacity, it's exactly the right size for all the essentials and leaves plenty of room on your desk. If you've got longer tubes and bottles, you can easily remove the inner shelf to make room for them.
You can also use the fridge's exterior as a dry-erase board, which makes it that much more fun. Whether you fill it up with doodles or happy quotes, the fridge will help you feel good. Inside and out!
6. AstroAI Mini-Fridge
AstroAI's deceptively small fridge has one of the biggest storage capacities around. But from the way it looks, you'd never know!
This quirky-looking package comes in black, white, and blue. Its rounded design makes it seem smaller than it actually is. Despite having a big 9L capacity, it's super compact and can blend into any table or desk you choose. Plus it looks pretty gender-neutral, so you can gift it to anyone you know.
It has AC and DC input, so you can plug it into your car on long drives. It also has heat settings, so you can use it to keep food warm on road trips. AstroAI promises an eco-friendly experience too. The fridge is freon-free and is also energy-efficient. Plus it's quiet too, emitting an ear-friendly 25dB of ambient sound. If you're looking for a balance between space and portability, AstroAI has you covered!
7. Cooluli Infinity Compact Cooler
If you're an artsy person, you'll love Cooluli's Infinity Fractal Pink fridge. With pastel tones and a patterned glass front, this pick is a treat for the eyes.
This fridge also comes in 6 other design options, but the Fractal Pink is a popular choice. It's chic, earthy, and can make any room look fab. On the inside, you get a whopping 10 liters of space for all kinds of skincare supplies. It's also lightweight for its size, so it's easy to move about. You get a handle up top for that too.
There are 3 shelves inside which make compartmentalizing easy. But if you want to get more space, you can slide them out. The fridge can be powered up by home and car outlets, so you can use it anywhere. Cooluli has also used EcoMax technology to keep the fridge efficient. Like many other options, this one also gives you cool and warm functionality. So not only do you get to chill your sunscreen, but you can also use it to keep your coffee warm!
For a gorgeous balance between space and portability, Cooluli's Infinity is a delight!
8. Qubi Professional Skincare Fridge
Qubi's premium mini-fridge was specially designed for skincare products. It's the perfect option for a professional-grade storage experience.
The fridge's design is upscale and premium. Qubi understands that most of us would put a skincare fridge on a makeup desk. That's why they've made their fridge as pretty and Instagrammable as possible. It comes in cream white and pink. Both options have a vegan-leather handle and gorgeous rose-gold, anti-slip legs.
The fridge has dedicated compartments for skincare products like face masks. It has two temperature settings: 50°F for spring and summer, and 65°F for fall and winter. You can see the temperature through an LED screen on the inside too. Qubi has also made their fridge ultra-silent, so you can place it on the bedside without ever noticing.
The fridge even has an auto-climate control system that keeps the inside dry. This helps extend your products' shelf life as much as possible. If you're looking for the most premium skincare fridge, this is it.
9. Chefman Eraser-Board Mini-Fridge
This fun mini-fridge has a dry-erase door handy for quick notes or messages. It even comes with 3 different-colored markers right out of the box. Leaving love notes for the S.O. has never been more fun!
If you're looking for a safe, eco-friendly, no-fuss beauty fridge then this charcoal black piece is the way to go. Whether you're scouting through the countryside or chilling in a dorm, it'll help you stay stacked with snacks.
With a decent capacity of 4 liters, it's handy and portable. You also get a collapsible handle up top, which makes it even easier to carry around. It has a shelf that comes in handy to store small items like yogurt, eye-creams, and smoothies. If you've got a taller bottle on your hands, the shelf comes right off too.
10. Uber Appliance Skincare Fridge
Uber Appliances' mini-fridge sports a funky retro design. From Vibrant Red to Blackout Matte, it comes in 6 fun colors to match your vibe.
With a 4 liter capacity, it's cute, compact, and unassuming. You can fit it in a vanity just as well as a car. In fact, it even has a car plug to take with you on the move. Its handle will help you carry it around as well. The fridge can cool down to 35°F and get as hot as 135°F. That means it's just as good for chilling as it is for heating up. Uber Appliance has designed it to be quiet, so its noise won't bother you or anyone else around. It also has a removable shelf, so you can use its entire internal space however you want.
If you're looking for a simple, no-nonsense little skincare fridge, this one blends in anywhere and neatly does the job.
11. Frigidaire Retro Mini-Fridge
Fridigaire's mini-fridge takes design cues from classic cars. The logo upfront gives it an upscale flair, and the whole package has a super classy vibe!
You can choose between 6 neutral color tones that'll look gorgeous in any decor. Its handle is uniquely old-school and makes it easy to carry around. At 6.29 lb, it's a lightweight little offering you can take anywhere. Plus you can plug it into a wall or a car alike, making it the perfect travel companion.
It has 4 liters of storage capacity inside, fit for 6 soda cans. It's compact but takes up more space than most other fridges. And with a design like this, it deserves to!
The fridge uses thermoelectric technology which reduces electricity consumption. Frigidaire also makes sure their fridges are CFC-free, which makes this one a nice and green offering. If you love the retro aesthetic, Frigidaire's mini-fridge is the perfect statement piece for your vanity!