This article contains affiliate links for which I may receive a small commission, at no additional cost to you, should you decide to make a purchase by using them. Learn More
Looking at your unsuspecting deodorant sat atop your dressing table, you wouldn't think of it as something so menacing!
Yet, here we are. Your everyday deodorant is a villain in your skincare story. Time Magazine, the University of Pennsylvania, even the National Cancer Institute have something to say about the harmful effects of antiperspirants on the human body. The studies are in their early days, but they have sounded the alarms. There is a connection between breast cancer and the frequent use of deodorants.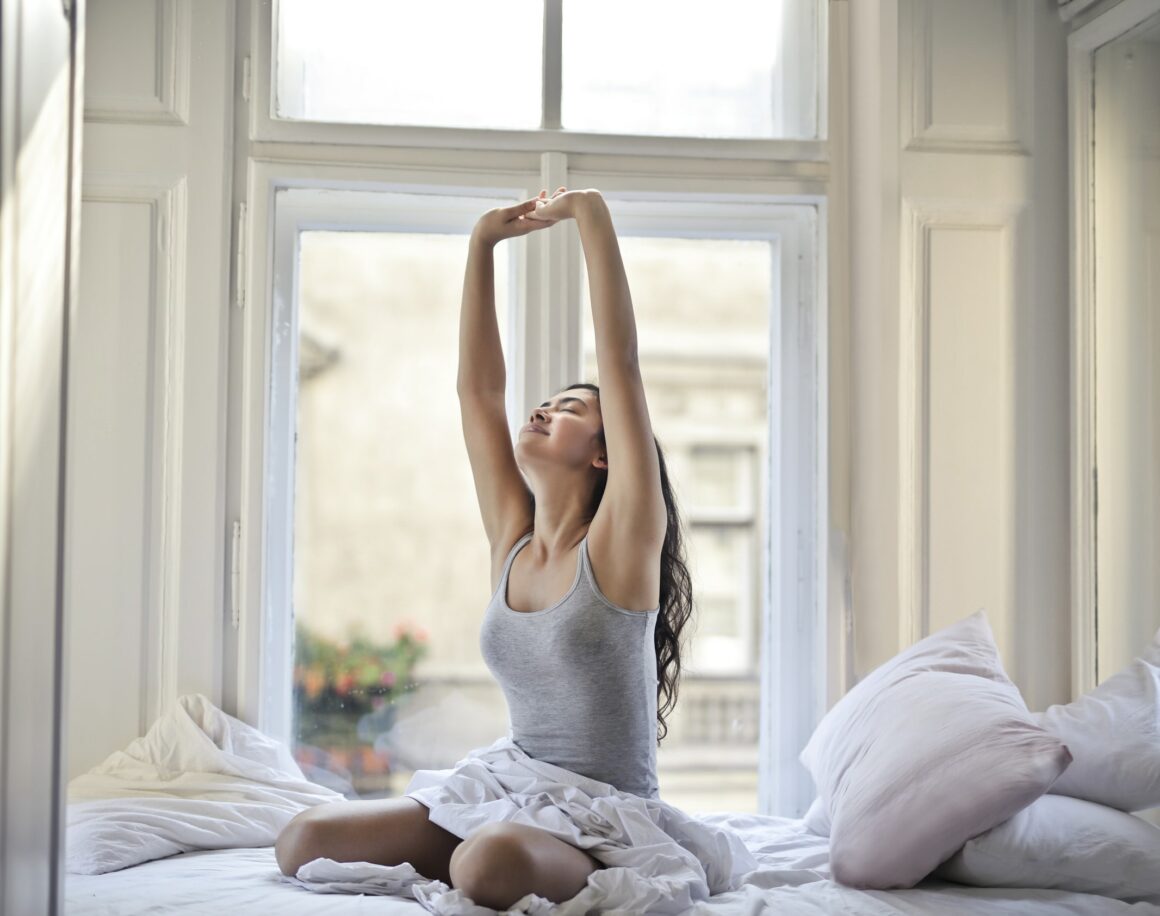 What should we do?
If you're thinking about throwing that deodorant stick in the bin, you might as well do it. Deodorants have already been under fire for a long time for using toxic ingredients which the body doesn't need. Why not use this opportunity to upgrade your body care collection with a product designed to protect you?
Here is a list of the best all-natural, organic deodorants that will keep you dry, safe, and smelling nice, all day long!
1. Wild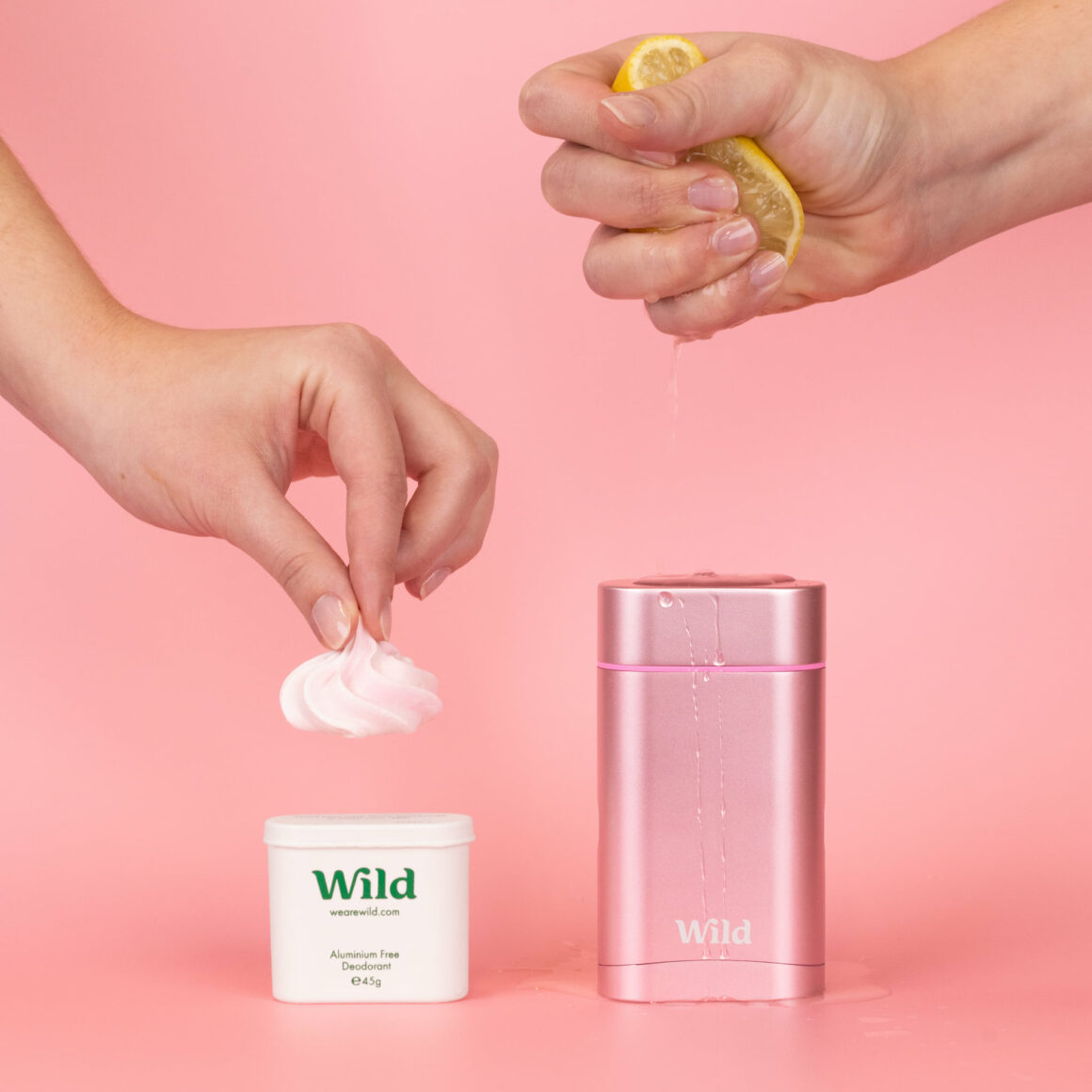 Ethics | Tested and customer approved, plastic-free, compostable refills, do not include parabens, sulfates, or aluminum, suitable for vegans.
Wild is a popular deodorant that can be delivered right to your doorstep.
The new sustainable deodorant uses all-natural ingredients, anodized aluminum, and recycled plastic to provide you with a nifty stick that lasts for months. Refillable and customizable so you can choose your case and a unique scent, Wild gives you complete control over what you get in your bottle. Wild deodorants are also refillable and changeable if you ever get tired of using the same fragrance. You can always switch things up, and the company will send you a new fragrance without a change in costs.
Unlike the average deodorant, you can't buy Wild in a drugstore. Wild is a flexible subscription service that's more affordable and safer to boot. If you want to switch things up a bit, get yourself a one-off first to check whether it suits your budget and skin. Wild also allows easy cancellation and pauses for subscription, so it's entirely up to you when you'll want your next stick or refill.
2. Nuud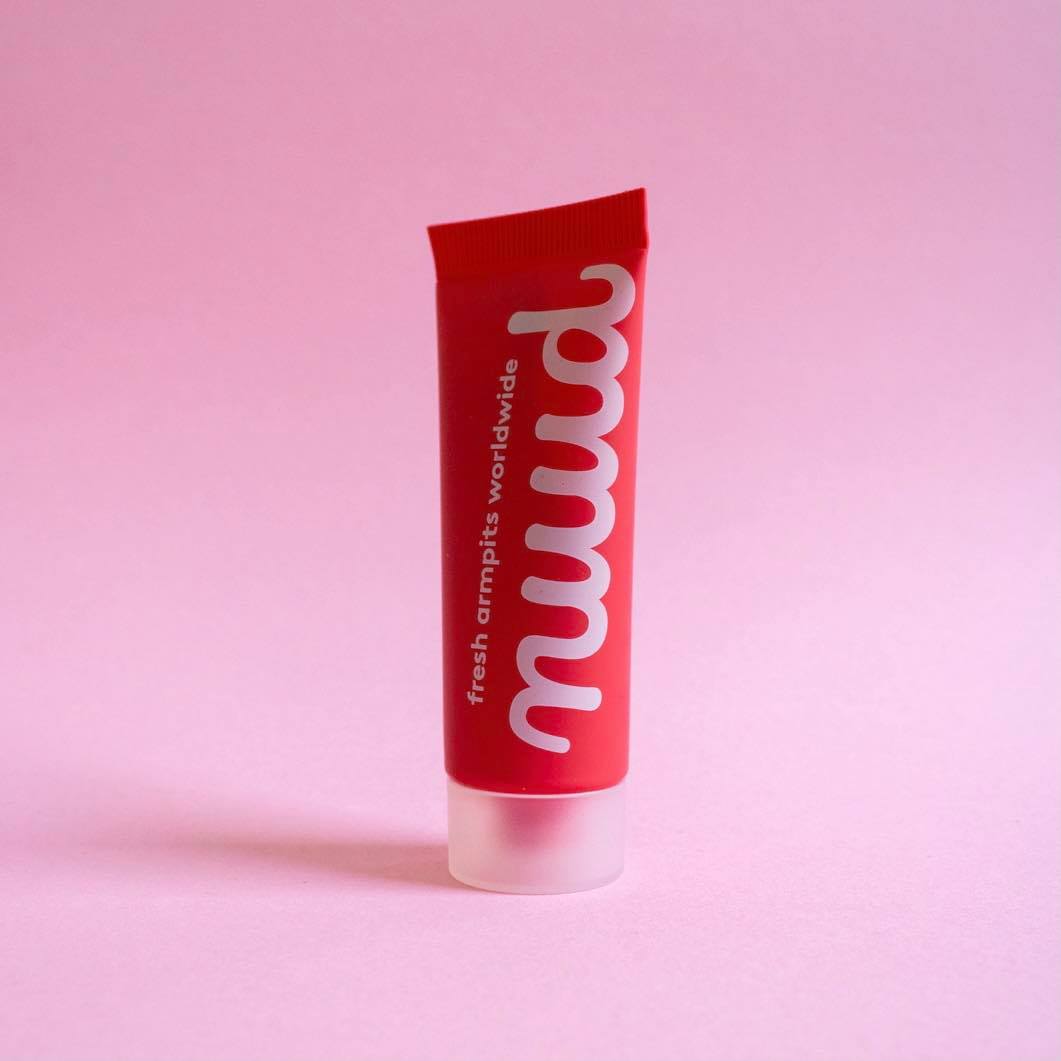 Ethics | Vegan, without aluminum, parabens, petrochemicals, salt, perfumes, does not use propellants or canisters, bioplastic tube made with sugarcane, cruelty-free, certified Plastic Negative product.
Nuud is a unique service because it offers a wide variety of product options and offers customizable plans, so you can get your Nuud sticks whenever you want.
Nuud products are free of any nanoparticles, microplastics, aluminum, fragrances, and dodgy chemicals that harm the human body. By using completely natural ingredients, Nuud allows users to apply one application that remains effective for 3 – 7 days, even if the person remains active or showers.
The product comes in several packages. So, you can choose your Starter Pack for a smaller price, a Smarter Pack that costs more and offers 25% more value. But, if you're looking for something specific, Nuud provides the Black Pack, Other Pack, as well as family packs for everyone in the household. Once you decide on the pack you need, you get the option to choose specific timing, so you get your packs every four months or three months, depending on how much you use it.
If you want an effective body care product that offers sound effects and doesn't cost much to boot, Nuud ticks all those boxes perfectly.
3. Native
Ethics | Free from sulfates, parabens, or aluminum, cruelty-free, crafted in the United States, LGBTQ+ inclusive, highly reviewed.
If you've never heard of Native in your life, where have you been!
Native is probably one of the most popular organic deodorants in the industry, even more than your average deodorant from the store.
As a cruelty-free, all-natural product, Native made its mark in the industry with the help of its organic deodorants. And while the company has now branched out and offers body washes and sunscreen, the deodorants still bring in more customers than ever. The products are made using clean ingredients and are perfectly safe to use for all skin types.
The company uses essential ingredients such as Shea butter, tapioca starch, baking soda, probiotics and provides a wide range of scents, including coconut and vanilla, lavender and rose, cucumber and mint, charcoal, sweet peach and nectar, and so many more. And if you're not in the mood for fragrances, you can even get an unscented product without a problem.
Native deodorants come in classic packs and summer deodorant packs, but you can also build a pack if you've found some products that suit you well.
With their highly affordable rates, plastic-free packaging, and range of scents, Native continues to knock the game out of the park.
4. Erbaviva Organic Skincare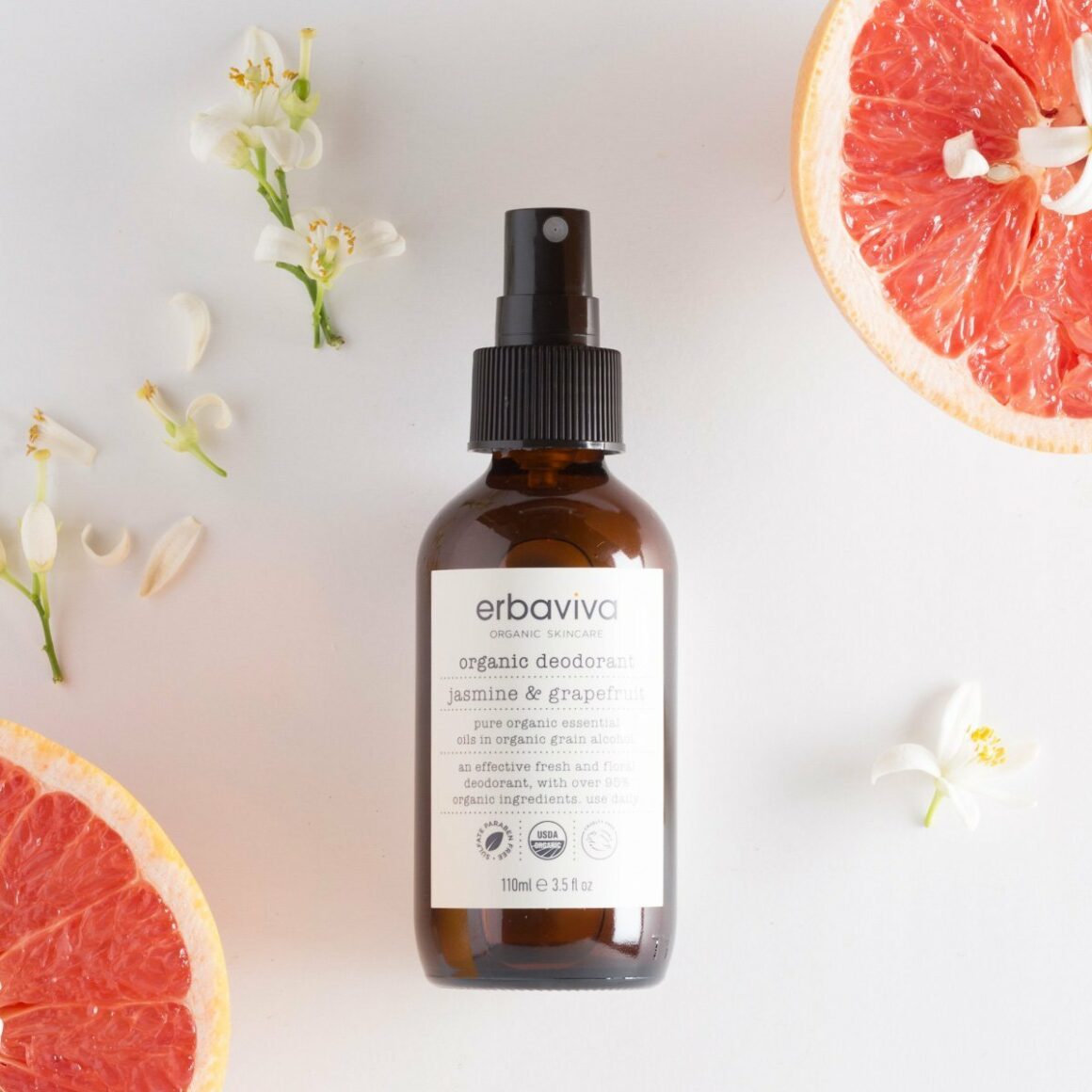 Ethics | USDA-certified organic, Certified B Corporation, cruelty-free, sulfate, and paraben-free, vegan, farm to bottle.
While Erbaviva's skincare line includes all types of products, its award-winning deodorants have so far been the star of the show.
The products are made using highly effective organic essential oils and all-natural ingredients to create a pure and safe mist that protects from bacteria growth and odor. Because the product is chemical-free and aluminum-free, there's no problem spraying the deodorant on your clothes, any fabrics, or even yoga mats.
Erbaviva's collection of deodorant scents include jasmine and grapefruit and lemon and sage, each costing $14.
The deodorant's chemical composition is simple as well, so there's no worry about any chemical reaction or allergy. However, if you're unsure, all you'll need to check is the ingredient list, and you'll be good to go.
5. Athena Club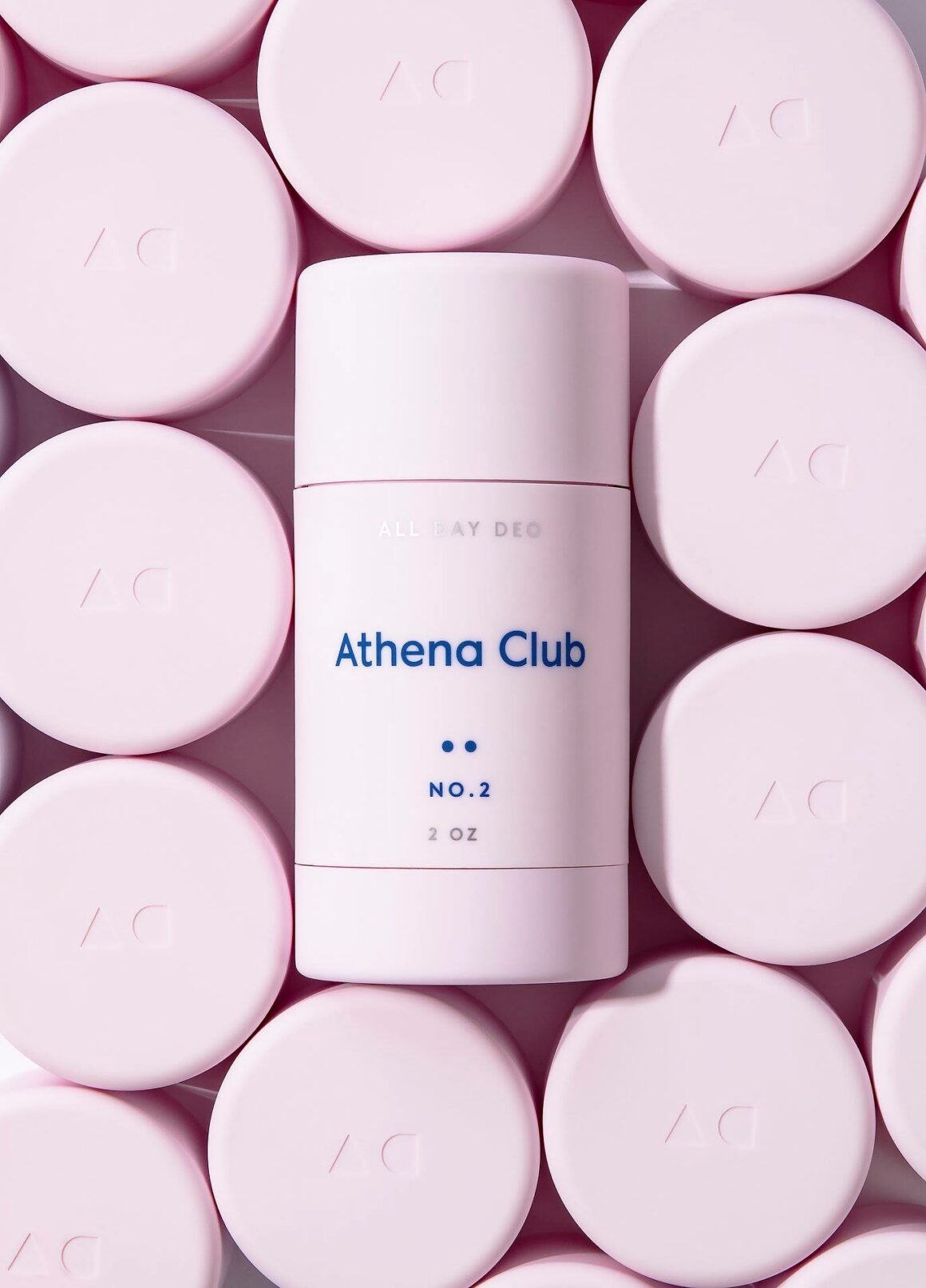 Ethics | Aluminum-free, plant-based formula, cruelty-free, lasts all day, made in the United States, solid stick formula, no transitional period smell, eco-friendly, free from chemicals, dyes, and additives, natural and sustainable.
Athena Club is another skin and body care line that's making waves in the skincare industry. All products that are designed by the company target everyday problems that women face. For example, their period care line includes pads, TLC wipes, liners, and more, all of which are effective, eco-friendly, and affordable to boot.
Their deodorant, the All Day Deo, has a special following, though. As a simple product, you wouldn't expect so many people to rave over a deodorant. But what makes it unique is not the product's ingredients but the after-effect. The All-Day Deo by Athena Club comes in a selection of scents, namely rose vanilla, grapefruit, and tropical bergamot. Each bouquet is fresh and light and comes with specific top notes that set it apart from the rest.
When you use the solid stick, the fresh scent stays for a long time. However, once the smell wears off, it doesn't leave any residue or the residual smell that makes you want to shower again. You remain dry and clean, and your clothes don't get the tell-tale signs of deodorant that so commonly happens with regular products.
6. Bai-Li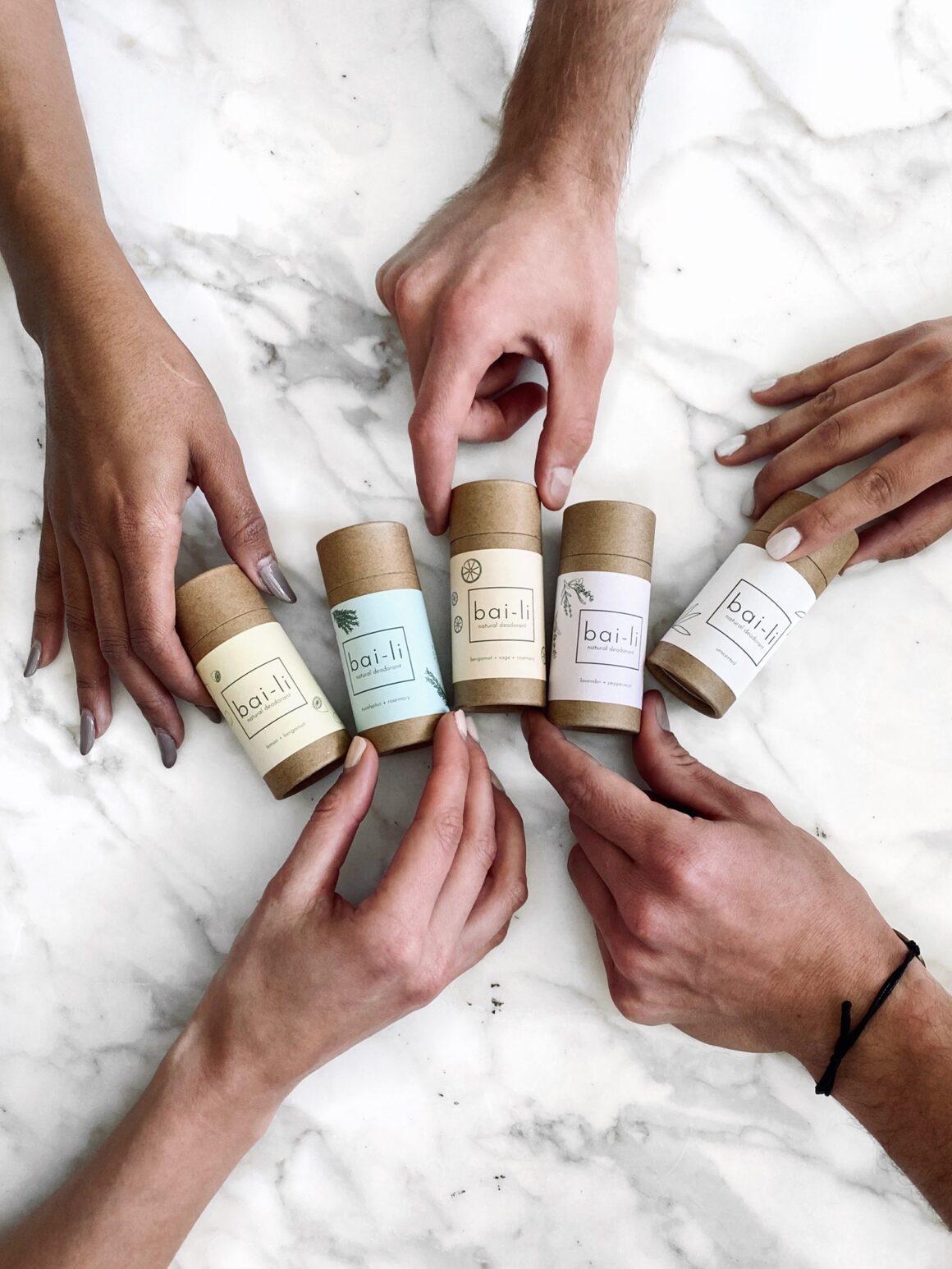 Ethics | Free from aluminum, parabens, fragrance, and baking soda, cruelty-free, natural formula, gentle on the skin, plastic-free, uses biodegradable push tube.
There aren't as many plastic-free deodorants as we'd like, which is perhaps why Bai-Li has become such a well-known name for using biodegradable push tubes.
Bai-Li is specifically a deodorant brand and offers some of the most popular scents out there. Aside from the unscented product, customers get to choose from lemon and bergamot, eucalyptus and rosemary, lavender and peppermint, and Cedarwood and sweet orange.
Unlike your average deodorant that can be powdery and leave residual scents, Bai-Li has not yet had any such customer complaints. Overall, it helps that in almost every aspect, Bai-Li is recyclable and easy to use. There's no staining, the scent is subtle, the push-up stick is easy to use, and it has compostable packaging.
For some, the scents do get a bit heady, especially the Cedarwood and Sweet Orange. So, to start with, I recommend using the lavender and peppermint or the unscented product and go on from that. If the scent is still too much, the unscented product will work fine for you.
7. Meow Meow Tweet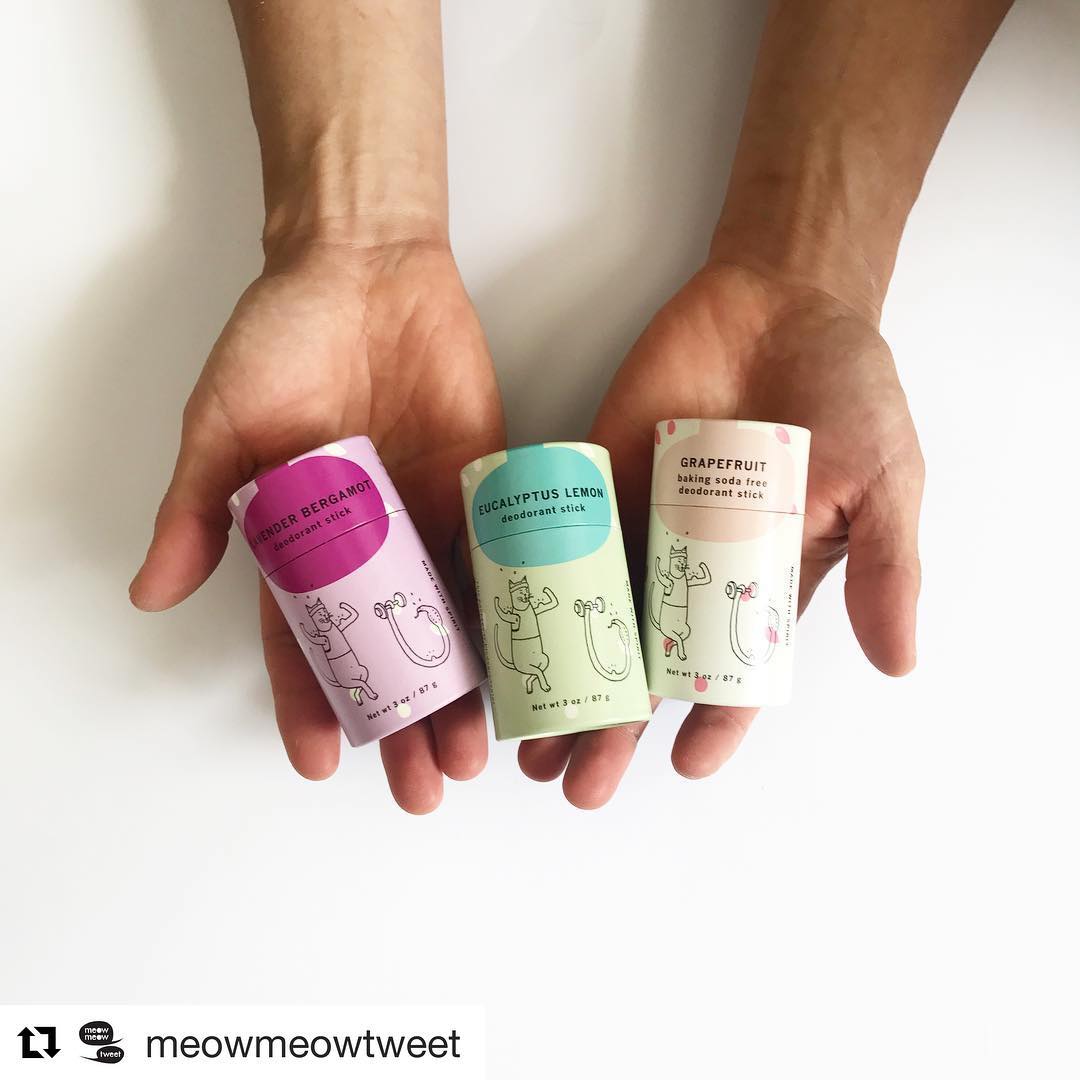 Ethics | Low-waste, handmade, cruelty-free, vegan, for all bodies, non-GMO, certified organic, use only raw and unrefined plants oils and butter, Certified Plastic Negative Product, partnered with BIPOC- and queer-led organizations.
Don't be fooled by the brand's cute name. When it comes to giving their customers what's needed, Meow Meow Tweet is all business. From soaps to insect repellents to deodorants, the brand has created a complete product line that targets every problem people have regarding skincare.
Their deodorants, in particular, have garnered a lot of positive attention. Aside from the deodorant stick, Meow Meow Tweet offers deodorant creams in refillable glass jars for sensitive skin. Their deodorant cream works well for those with body odor issues, so for those with feet, sweat, or widespread problems, the mixture absorbs most of the moisture, so there's no excess stinkiness.
The deodorant stick line is priced at $14 a pop, with the deodorant creams coming in at $45. But considering the product size, you can be sure each will last a long while, so you won't need to spend too much each month.
Meow Meow Tweet also offers an underarm primer. So, if you have sensitive skin that keeps getting irritated every time you use deodorant, the underarm primer will create a thin layer of protection that'll prevent your skin from reacting to the new ingredients.
8. Curie
Ethics | Clean, safe, effective, cruelty-free, ingredients are sustainably sourced, free from animal-derived ingredients, endocrine-disrupting chemicals, free from aluminum, 100% recyclable packaging, tested, and toxic-free fragrance.
Now here's another body care product that keeps your skin feeling fresh and pampered!
Curie is an all-natural brand that is clean and aluminum-free. Using ingredients such as sage oil, arrowroot powder, and coconut oil, the deodorants from Curie keep your skin feeling smooth and clean. Curie deodorants are particularly popular among those who have sensitive skin because the ingredients soothe razor burn.
Priced at $12, the deodorant sticks come in three scents, orange neroli, white tea, and grapefruit cassis. Each has its top notes, middle notes, and base notes. So, instead of getting a chalky deodorant that gives off a musty scent afterward, you get a deodorant that offers heady fragrances that keep you smelly wonderful all day.
If you're concerned about skin quality, Curie offers one-time purchase offers. But, if the deodorant suits you, the brand gives a 10% discount on subscription, allowing you to save up in the long run. Curie offers both deodorant sprays and deodorant sticks, whichever suits your mood, each with zero residues.
9. Kosas
Ethics | Clean, free from talc, phthalates, parabens, fragrances, including 2700 ingredients, cruelty-free and Leaping Bunny certified, vegan, gluten-free.
Kosas offers an extensive range of products, including lip, eye, cheek, face, brow, and body wash. However, their simple deodorant product is in a separate league altogether.
Priced at £14, the Chemistry Deodorant from Kosas does so much more than keep you B.O. free. This stain-free serum deodorant uses multiple ingredients to treat your skin from the outside in. It soothes the skin, brightens it, and helps decrease ingrown hair. Furthermore, by using a blend of AHAs, this deodorant reduces the pH level in your pit. That makes it harder for bacteria to live in your skin, thus preventing odor from forming.
It's this AHA blend that exfoliates and brightens your puts to make them look smoother and clearer too. This lightweight formula treats sensitive skin well, too, and doesn't leave any stains or residue either. If you have B.O. issues and dark underarms that need some TLC, the Chemistry Deodorant is a must-have.
10. Hint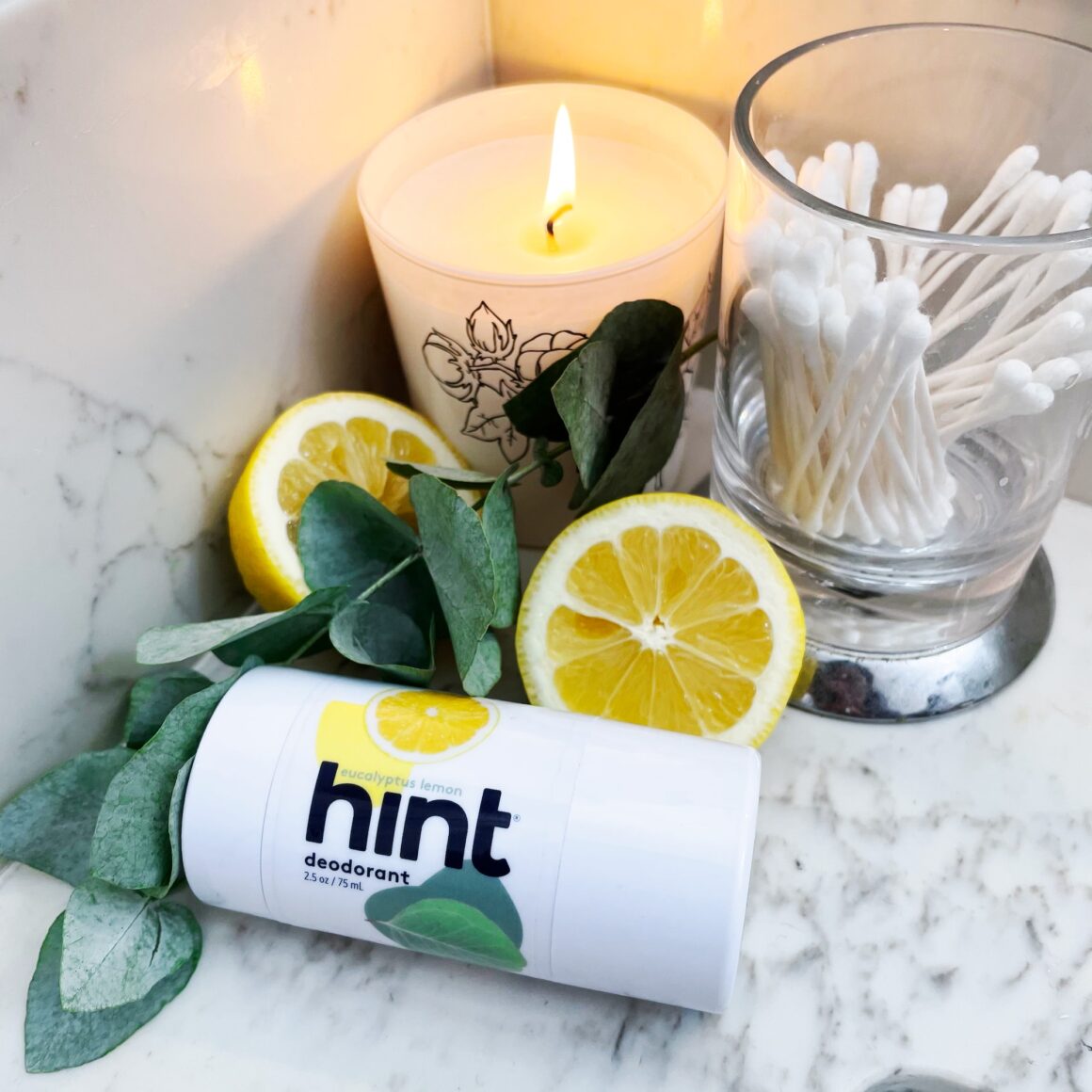 Ethics | Free from aluminum, non-GMO certified, vegan, no MSG, gluten-free, bottles are BPA-free, free from parabens, baking soda free, cruelty-free.
Hint, as a brand, it is all about giving the general public the better option. Starting from unsweetened flavored drinking water, Hint has branched out into other industries. Now, the brand boasts a line of reef-safe, oxybenzone-free sunscreens and lip balms, hand sanitizers, and vegan and cruelty-free deodorants, which is what I'm excited about.
Although Hint offers only one product in deodorants, the Eucalyptus and Lemon deodorant, you don't want more than that. The hint® deodorant is aluminum-free, has a gentle smell, and is smooth enough that it glides on your skin and dries quickly, thanks to the added aloe juice. The product stays dry and clean, and doesn't cause irritation, and smells great too.
In a way, the hint® deodorant offers us everything without going overboard. It's non-sticky, translucent, and offers long-lasting protection. At just $10.99, this one is a surefire purchase.
Conclusion
Whichever deodorant you buy from the list above is your decision. But, if you can't make up your mind, try one from each. Make a one-time order and experiment with the different scents and formulas.
Your body, especially your underarms, requires extra care from a hygiene standpoint. Invest in your cleanliness and get the best all-natural and organic deodorant there is. You'll smell and feel like a million bucks!