This article contains affiliate links for which I may receive a small commission, at no additional cost to you, should you decide to make a purchase by using them. Learn More
Truth be told, you decided to go down the minimalist route for your home's design because you loved the low-key, sustainable, affordable look it carried through its very essence.
But now, you're stuck handling the finer details of the house, like lamps. And you don't like what you see.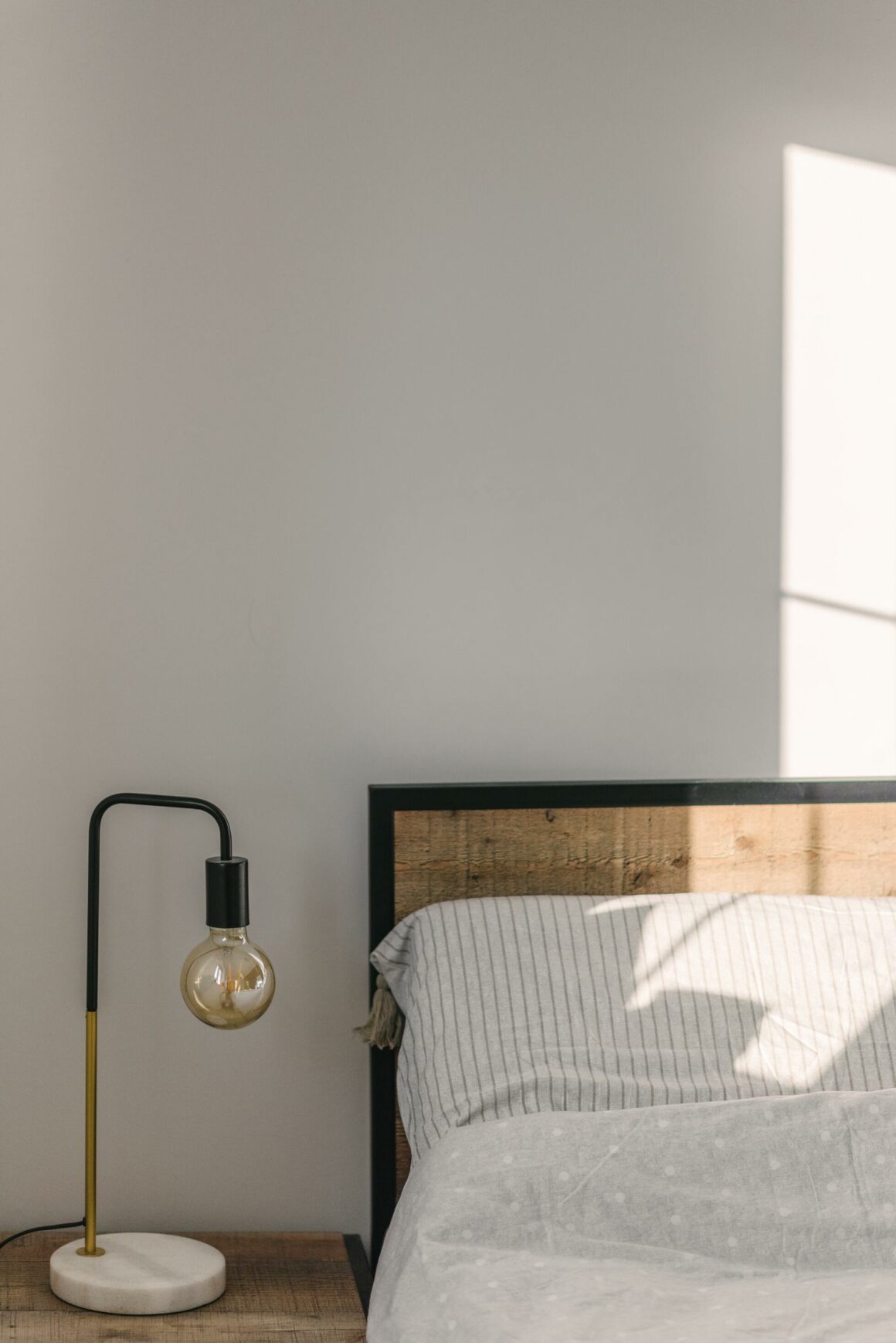 Home design elements such as lighting come with an expensive price tag, which somewhat defeats the purpose of a minimalist lifestyle.
But, is there any other way you can find affordable lamps that don't look cheap and tacky? Here are some lamp choices that'll have your home glowing beautifully.
1. LED Corner Floor Lamp with Changing Lights
Priced at $63.99, this gorgeous lamp is the epitome of minimalist lighting.
It's understated, offers soft lighting options, and is easy to install too. What's impressive about this lamp is that it provides a color-changing and music mode. If you want to wake up to a soft yellow glow and have the light dance to some classical music or be lulled to sleep with relaxing blue light and lullabies, this lamp does it all.
This lamp is also remote-controlled and dimmable, offers a usage life of 250,000 hours, and uses an AC power adapter, so you won't have to worry about getting a second adapter.
Measuring at 61.5 inches in height (that's a little over five feet!), the LED floor lamp fits snuggle in any room corner.
2. Modern Boho Circular Table Lamp
This simple, elegant lamp will satisfy even the toughest of critics.
This circular lamp rests against a little, filled cylinder and glows while allowing natural light. Despite what you may think, this lamp is not dim, neither is it a gimmick.
The modern shape of this lamp enhances and spreads light more, making the room glow without creating a glare. This lamp is 9.8 inches in diameter and requires a touch-to-turn option to change from warm white to pure white to cool white. You can also touch to hold the brightness.
It's USB powered and comes with a power adapter, so all you have to do is plug it in and bask in the glow from the wheel of light.
3. Hsyile Creative Modern Glass Ball Floor lamp
Inspired by mid-century modern design, this lamp combines elements from two different aesthetics to create something unique.
Keep in mind; this lamp might not suit everyone's taste. But if you love minimalist designs, all you have to do is give this one a chance. You'll fall in love once you see how it fits with your overall aesthetic.
This lamp offers enough illumination to light up the whole room, measuring 60.62 inches (just above five feet!). All you'll need to do is place it in the right corner. The lamp is also easy to install and assemble.
Keep in mind, though, that the globe is made of clouded glass. If you want soft light, you'll need to buy a bulb that uses the correct wattage.
Otherwise, the light will be too harsh and will take away from the overall statement look of this lamp.
4. Spiral LED Table Lamp
This lamp combines minimalism with chic contemporary style, presenting us with a design that ticks all the right boxes. The spiral structure of the lamp spreads more light than you'd think and is the perfect accessory to have if you have a simple bedroom that needs a bit of sparkle and glitz.
With rose gold and white sides, this lamp is constructed to exude quality in design. It's perched on non-slip metal material and can be adjusted in different corners if you want to play around with how much light this lamp should give.
Unlike other lamps, this one comes with a built-in 9-watt LED bulb and a 12-month warranty, so if you're ever in need of an extra bulb, all you have to do is get in touch with the supplier.
5. Oneach Industrial Floor Lamp
This is a classic minimalist lamp.
Inspired by industrial hanging lights, this lamp curves at the top of the floor lamp, exposing an Edison bulb in all its glory. These lamps can be fitted with other types of bulbs. But with so many Edison bulbs available, you'd have to be silly to pass up on the change.
Available in white, silver, gold, and black, this lamp is understated but stands on its own as a statement piece. It's also easy to assemble, easy to move, and provides durability and stability. So, if you have pets or kids in the house, don't worry. This lamp is strong enough to withstand a few wobbles and accidental falls.
This lamp is also priced at $29.99. Compared to the many other floor lamps in the market, this stylish and sleek model is an absolute steal.
6. Brightech Sparq Hanging Arc Floor Lamp
This is a must-have if you're a reader who wants plenty of light and a little nook all to yourself.
The Brightech Sparq arc lamp features a beautiful arched floor lamp that's 67 inches tall and covers enough space (covers 45+ inches) to give you plenty of light that covers the entire room.
You can place this lamp in the corner, behind a chair, or someplace where it can enjoy its status as a statement piece. However, you choose to model this lamp, remember that this ensemble will take center-stage in your minimalist room's design to decorate accordingly.
Although sleek and straightforward, the overall aesthetic of this lamp adds a lot of character and drama, not to mention heat and light, to the setting.
7. MASIVEL Modern Circle Table Lamp
This lamp is a small number that adds the perfect finishing touch to your room.
Available in black metal, the lamp is a circular shape illuminated from the inside and stands on a flat plate, allowing you to place it wherever you want. This modern ensemble is versatile in color and offers a long-touch option to adjust the brightness if needed.
The Masivel table lamp also uses a low-watt, only 12W. If you're thinking about adding more than one lamp but worried about the bill, the Masivel table lamp will give you no money problems.
Generally, I recommend using the Masivel lamp for your study or bedside table. With its perfect space-saving size, only 12.6 inches in diameter, and its soft illumination, you can't go wrong with a soft light lamp.
8. Agirlvct Edison Bulb Table Lamp
You're in the mood for something minimalist but with a bit more personality. Not to worry, the Agirlvct Edison lamp is just the thing you need.
Inspired by art deco design classics, this lamp uses an irregular polygon base that's polished and smoothed to perfection. The textual wood gleams from this solidly built base and exudes a type of elegance you won't find in a metal lamp.
The base is easy to use and is compatible with tungsten light bulbs as well as LED bulbs. However, if you're in the mood for some drama, invest in a Tungsten light bulb to upgrade the lamp's overall look.
This type of lamp is suitable for just about any room. However, if you need a statement lamp for the living room, office desk, or bedside table, you won't go wrong with this little wonder.
9. Curved Minimalist LED Lamp
Standing at nearly 15.7 inches tall, this dainty lamp is perfect for the kid's bedroom or even yours if you like a bit of whimsy in your minimalist setting.
This decorative lamp features a tighter curve than the spiral lamp featured above. It's also completely white, which is excellent news for the monochrome lovers among us. The vertical spiral is switchable, so you can use the on/off button to choose between three light shades; pure white, warm yellow, and warm white.
What's also great about this lamp is that there's no assembly required. And because it comes fitted with a 24-watt LED fixture, all you have to do is plug it and turn it on. Then you're done.
10. C-Shape Eye-Caring LED Desk Lamp
Talk about stylish!
This unique piece of art is the C-shaped desk lamp that stands at 10.63 inches high and 5.12 inches in diameter. Lending an artistic touch to what could have been a very basic lamp, the C-shaped LED table lamp offers soft, warm white light that doesn't hurt the eyes or create a glare.
The C-shape lamp is one-touch usable and requires no installation, making it a practical option if you want a low-maintenance light feature in your home. The light's LED is also made with a non-flickering SMD LED. This means no blue light or radiation.
If you use this lamp for your hours-long reading sessions or while pulling an all-nighter, you won't feel any heat emanating from this light source.
11. Magnum Modern Minimalist Style Floor Lamp
Oozing industrial style with a hint of contemporary chic, the Magnum Modern floor lamp in bronze is the only lamp you should get if you want a statement piece that's a conversation starter.
Standing at 61 inches tall, the Magnum lamp utilizes a flat head at 90 degrees to turn up and down. The central column measures 46 inches, with the 15-inch arm attached mid-way. The lamp's body and head are flexible, so you can rotate and adjust it whichever way you like.
The head features a built-in 10-watt LED with a dimmer switch, so you have complete control. Overall, the lamp's body is sleek and slim and has a burnished French bronze finish with metal construction that gives it that uber-luxurious look.
See Any That You Like?
The smaller details can make or break your home's interior design.
With the lamps listed above, you'll have more than enough choices to give each room a unique personality, one that resonates with your ideal of minimalism and beauty.