This article contains affiliate links for which I may receive a small commission, at no additional cost to you, should you decide to make a purchase by using them. Learn More
When it comes to minimalism, every little bit of your possession matters; while minimalism calls for eliminating clutter from your living space, it doesn't mean removing every small thing in your home. After all, you still need several essential but small items. These include keychains.
A good keychain will help you keep your keys held together and secure. After all, the right keychain helps you organize and easily access your keys, whether from the nightstand or in your handbag. This, in turn, complements your overall minimalist lifestyle, helping to maintain a clean and neat space at all times.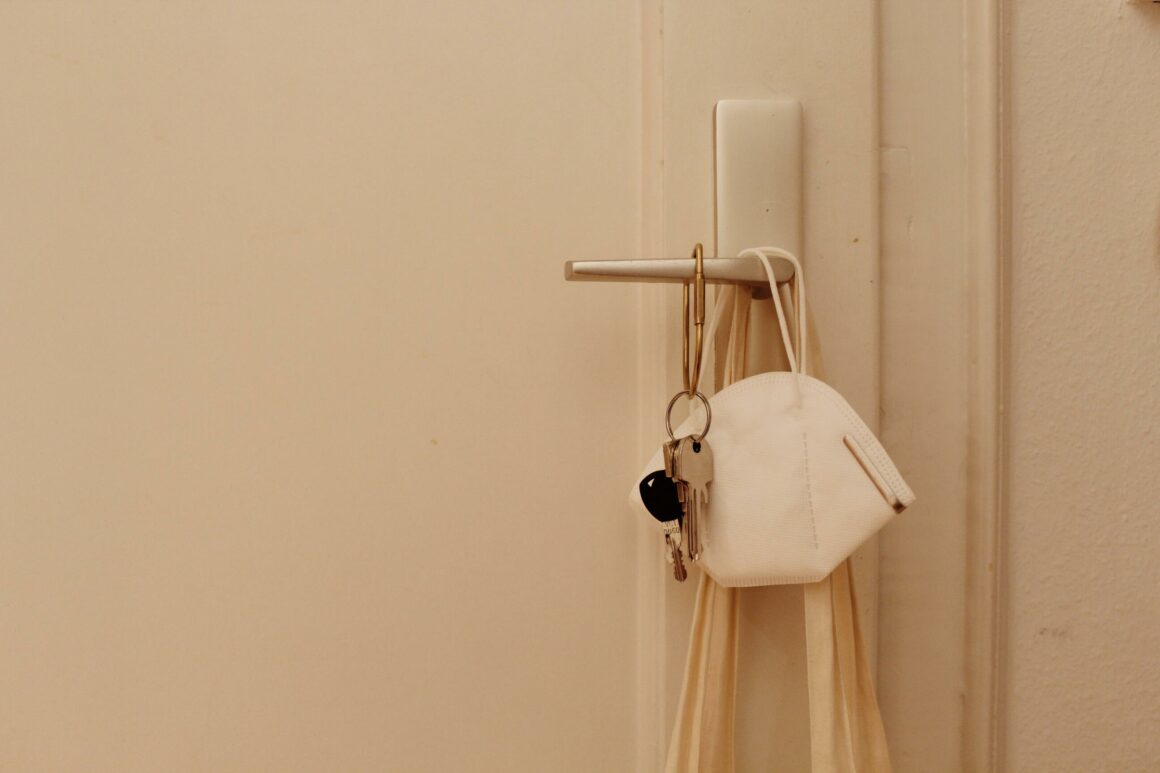 However, the online market is swarmed with a myriad of keychain options to choose from, which may be a painstaking task for some people. So, to make the process easier for you, we've shared our top 6 picks for the best minimalist Keychains this year to complement your simplistic living space.
1. PPFISH EPC Chain Ring
The PPFISH EPC Chain Ring features a minimalistic oval shape that resembles a paper clip. Yet, it offers outstanding carry capacity, allowing you to hold several keys. The vintage-style keychain is made using H62 high-quality brass with zero lead for a clean and safe finish.
Nonetheless, the small and compact keychain size lets it easily fit anywhere, whether on your accessory storage basket or in your bag. On the other hand, the paper clip-style keychain features a pretty practical screw lock clip mechanism to secure your keys instantly.
Its screw-in mechanism smoothly closes the loop and easily unscrews it to add and remove keys without worrying about damaging your nails. Moreover, the keychain boasts a unique golden-yellow from its brass construction for an elegant yet, minimalistic finish.
Over time, the brass keychain gets darker in color due to natural oxidation for an even more distinctive and vintage-style charm. However, if this style doesn't work out for you, you can quickly reverse it by a swift wipe with a clean cloth doused with toothpaste.
The budget-friendly minimalistic key chain comes in a two-piece packet at an incredibly affordable price to give you even better value for your money. These elegant unisex keychains also make a great gift for your minimalist loved ones.
2. YSALUTRA Leather Key Organizer
The YSALUTRA Crazy Horse Leather Key Organizer is a true minimalist's golden token. The key organizer does more than a simple keychain, offering you a variety of ways to use it. However, you will be most impressed with its classy and regal finish that seamlessly matches any interior space without looking like clutter.
Available in a choice of leather blue, yellow, and red, the leather key organizer features distinctive aging properties to give it a unique appearance while maintaining excellent durability. Plus, unlike many ornamental accessories, this key organizer is not filled with multiple accessories to enhance its look.
Its simple and minimalistic finish is enough to make it stand out. The key organizer is finished with clean brushed, corrosion-resistant stainless snap buttons and snaps buttons easily extended. The extensible screws are easy to install and allow the organizer to support anywhere between 4 and 12 keys of varying thicknesses.
The use of these screws is an ingenious way to apply pressure securely. It allows the keychain to hold on to the keys without the need for multiple clasps and rings to affect the key holder's stylish design.
This mechanism also allows you to switch the keychain from bulky to thin profile by removing or adding the screws without affecting its neat arrangement and look.
3. KeySmart Classic – Compact Keychain Organizer
The KeySmart Classic – Compact Key Holder and Keychain Organizer is a perfect option for those who want a full metal keychain design. The keychain is made from durable stainless steel material to withstand rust, corrosion, and staining to maintain this modern metallic finish.
The keyholder and keychain organizer features a revolutionary design that eliminates all the things you most hate on a regular bulky keychain. Available in a choice of red or blue finish, when using the keychain, you don't have to worry about bulky keys weighing you down, constant jingling, poking in your pockets, or finding the right key.
The stainless steel and aluminum key chain's streamlined design helps to eliminate all these problems. For one, it features quite a compact and lightweight profile, smaller than a pack of gum. This makes it easier to transform your key organization on a regular keychain into a slimmer and more manageable functional keychain.
Furthermore, the keychain organizer supports keys with up to 55mm lengths. The KeySmart feature holds on to the keys in a neat stackable manner to prevent unnecessary movement, mixing, or jingling.
On the other hand, the key chain's versatile design allows it to accommodate larger pieces, such as your car remote and key fobs, using a loop piece. The KeySmart feature even lets you support multiple KeySmart compatible accessories, including a small USB drive, mini opener, pocket clips, and utility blades.
4. KEYPER Key Ring Bracelet
Whether pink, gray, or red are your colors, the KEYPER Key Ring Bracelet offers a design option for everyone. The keyring bracelet provides an excellent balance between elegance, versatility, and highly functional key storage. The bracelet comes in a choice of over 30 different subtle and elegant colors to pick from.
The key chain even features a unique ring bracelet-like design to give it a simple and minimalistic yet, exquisite look. It comprises a simple colored loop made from a durable, animal-friendly PU faux leather key strap with a polished gold metal key ring and clip.
The key chain's beautiful design lets you pair it with any luxe or mini bag for a complete fashion statement. The KEYPER brand produces a beautiful and simple separately sold faux leather bag that pairs pretty well with this keyring bracelet.
Alternatively, you can attach the loop to a range of other items for versatile support, whether a suitcase, stroller, or treadmill bar. This design makes this keychain a perfect functional accessory for your minimalist living space.
5. Oventure The Original Bracelet Keychain
The Oventure The Original Bracelet Keychain features a subtle circular design that comes in 18 different color and pattern options. The signature women's keychain features a patented hands-free bracelet key ring that helps you carry all the essentials you need.
However, its distinctive minimalistic design maintains a clean profile even when supporting the most. You can use it to hold your house keys, car keys, and even smaller key accessories. The one size fits all key ring bracelet allows you to wear it on your forearm or above the elbows.
Nonetheless, this round key chain shouldn't be confused with just other regular keys. It is made from an ultra-durable and non-toxic silicone to feel comfortable and safer on the hand. The key chain's water-resistant and velvety soft key chain bracelet lets you wear it anywhere without risking any damage.
On the other hand, its reinforced inner core gives an unbeatable and long-lasting strength. It also features a secure locking clasp that snaps open and closed to hold your keys securely.
The keyholder features a Big O Keyring logo charm and split ring for an even more stylish and feminine charm look. According to the Oventure brand, the bracelet keychain is life-proof! After a long day out, a clean damp cloth is all you need to wipe the non-toxic silicone bracelet to maintain its hygiene, look, and longevity.
6. MØTH Titanium Carabiner Keychain
The Moth Titanium Carabiner Keychain reflects your minimalist life to give you an all-in-one, multipurpose tool. The carabiner-style keychain allows you to use it both around your home, during travel, and even when you hit the outdoors, hiking or camping.
Thanks to this construction design, you can use the versatile carabiner to attach keys, travel lanyards, wallets, flashlights, and small bags. However, this carabiner key holder stands out because of the rugged design that gives it an ultra minimalistic and outdoorsy technical gear look.
The carabiner's matte-finished and minimalistic crafted design gives you just what you need from the tool. Its high tensile titanium construction means it gives you an unwavering hold of your accessories. The use of titanium is intentional, thanks to its strength to weight ratio, allowing the carabiner key chain to handle incredibly high pressure.
This carabiner weighs only half an ounce but can support many accessories. The EDC-ready keychain also features a flex gate enclosure to complement its minimalistic look further, offering zero moving parts.
Final Verdict
Undoubtedly, investing in any of the 6 top recommended minimalist keychains will add value. What boosts the viability of these six picks is their designs and appeal to minimalism. Not only do they possess a minimalist, simple yet, functional design.
They also boost a multipurpose function which gives them more uses than simply holding your key. For instance, the YSALUTRA Crazy Horse Leather Key Organizer will not only hold your keys, bags, and other accessories. You can also use it as a great charm for your handbags to complement your outfits.
On the other hand, using the Moth Titanium Carabiner Keychain, you don't have to carry separate accessories to hold your water bottle when you go out hiking or running.