This article contains affiliate links for which I may receive a small commission, at no additional cost to you, should you decide to make a purchase by using them. Learn More
A minimalist digital watch is a watch that has a very simple, clean, and uncluttered design.
Minimalist digital watches are often made with a minimalist aesthetic in mind, which means they are often made with simple, clean lines and a lack of unnecessary embellishments. They are also often made with a focus on functionality, which means they often have features that are designed to be as useful as possible without being overly complicated.
With a style investment such as a minimalist digital watch, you want to be sure that the watch you choose is beautifully sleek, elegant, light, and complementary with all your style choices. Most of all, you want a watch that will last you a lifetime.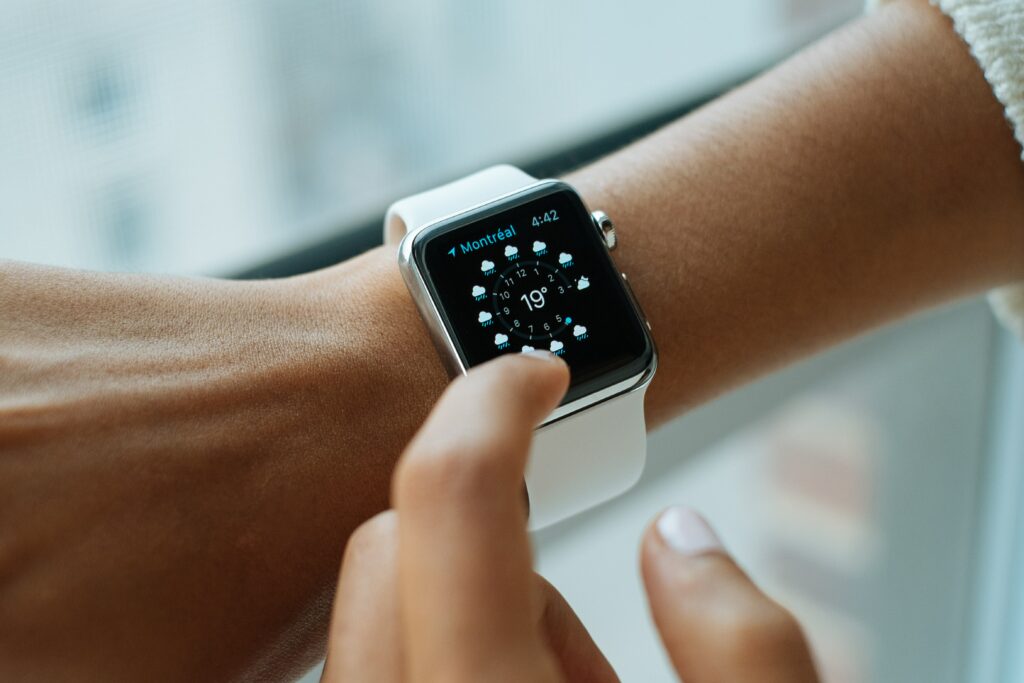 Not so easy to find such an option when you factor in that last option!
A minimalist watch should be an everyday staple in your wardrobe that you can rely on, no matter the occasion. It should be comfortable and easy to wear, with a design that is both timeless and modern.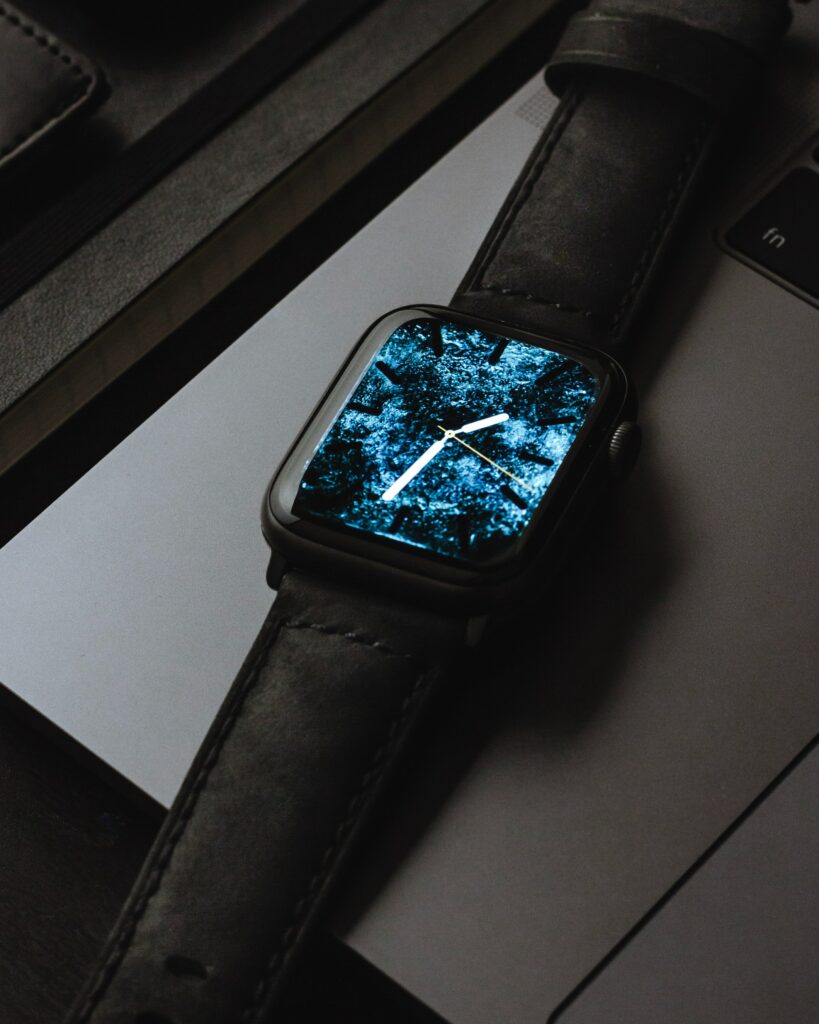 Many brands make beautiful minimalist digital watches, but not all of them are created equal. In order to help you find the best minimalist digital watch for your needs, we've put together a list of our favorite minimalist digital watches on the market today.
We've included a variety of different styles and price points so that you can find the perfect watch for your personal style and budget.
We hope you enjoy our list of the best minimalist digital watches.
1. Apple Watch Series 6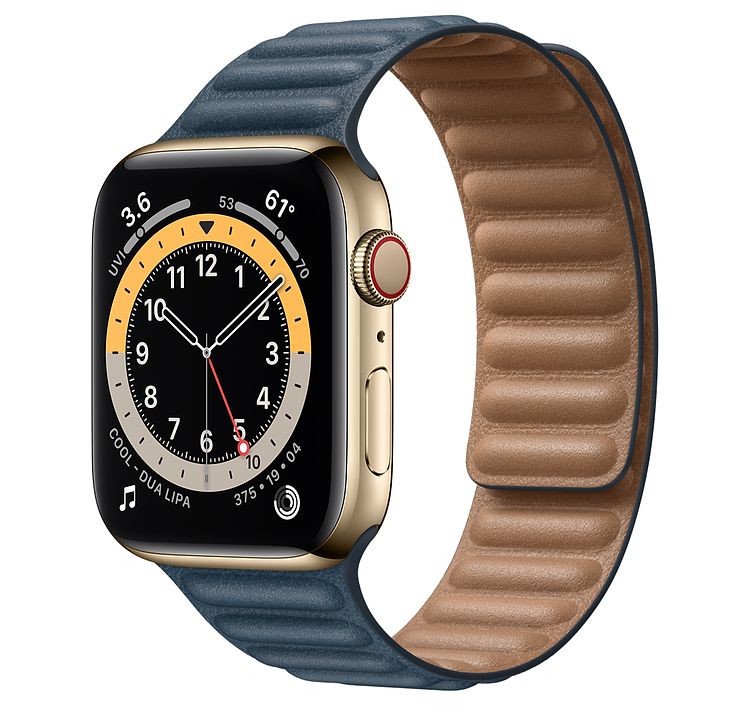 Available in a whopping eleven colors, the Apple Watch Series 6 comes equipped with a hefty price tag, with charges starting from $399 (at the time of writing). But the good thing is that you can buy it for a monthly rate at $16.62 per month for 24 months, making it very affordable for the average Joe.
The Apple Watch Series 6 is a nifty minimalist-style watch that's packed with all the features you could ever want. With a fitness tracker, elevation tracker, voice assistant, GPS, heart rate monitor, and so much more, this minimalist watch combines functionality and style in one sleek little gizmo.
With a variety of straps and styles available, the Apple Watch Series 6 is an investment that'll pay you back in the years to come.
2. Eone Apex Element Khaki Limited Edition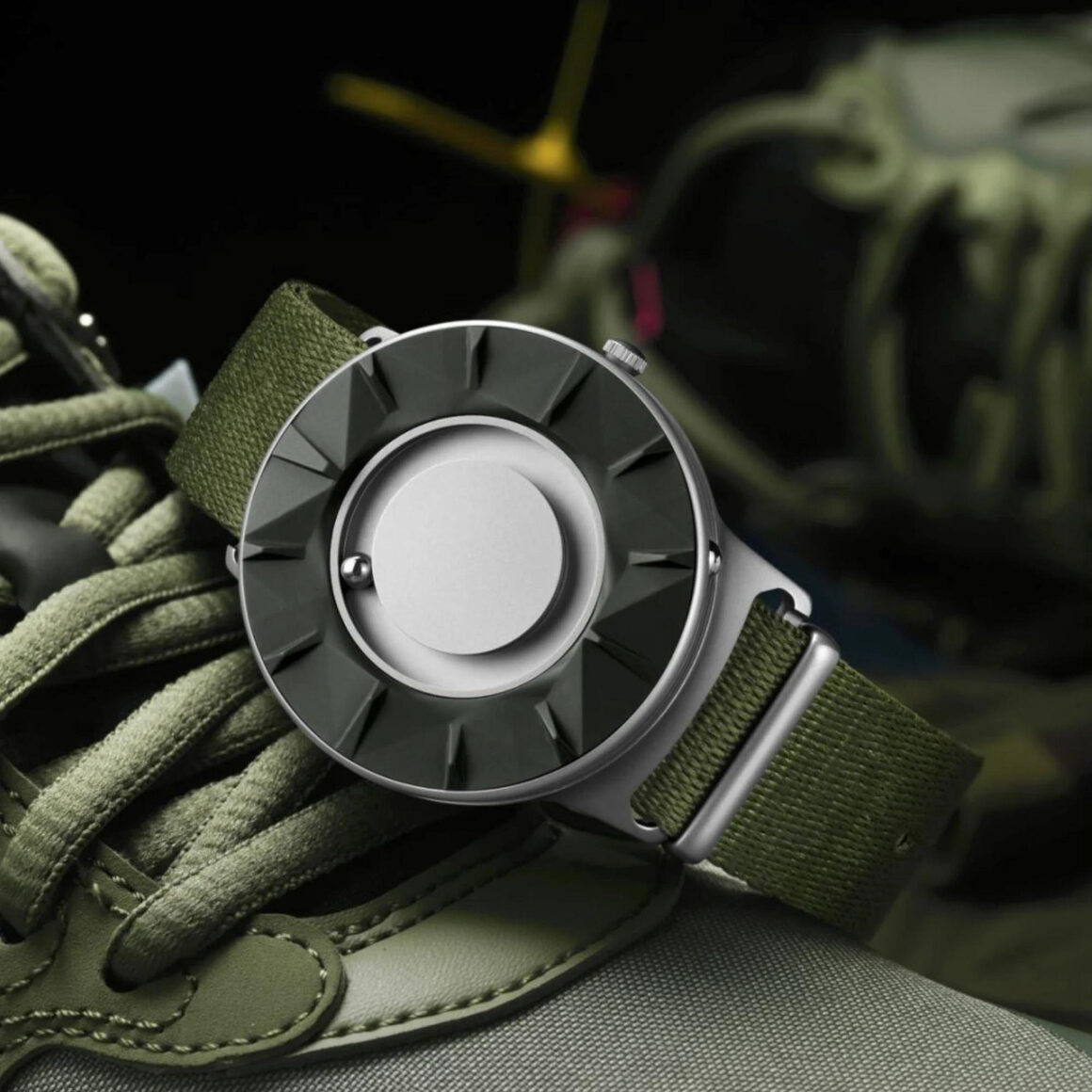 The Apex Element Khaki Limited Edition combines a modern and retro style while still giving that adventurous streak reminiscent of the 40s and 50s military. Intended for the Veterans Day celebration, Eone has released only 75 pieces of these timeless pieces to market.
A fraction of every sale of these limited edition watches goes straight to the Navy Special Operations Foundation. The watch is built with raised markers for a sensational time changing experience. It uses the finest stainless steel for its case, while the face is fitted with scratch-resistant ceramic.
The military green strap is made from durable nylon material for the ultimate snag-free finish. While the Apex Element isn't built for submersion underwater or high-intensity sports, it will still withstand brief contact with water, such as during light rain or washing hands.
3. AARK Collective Timeless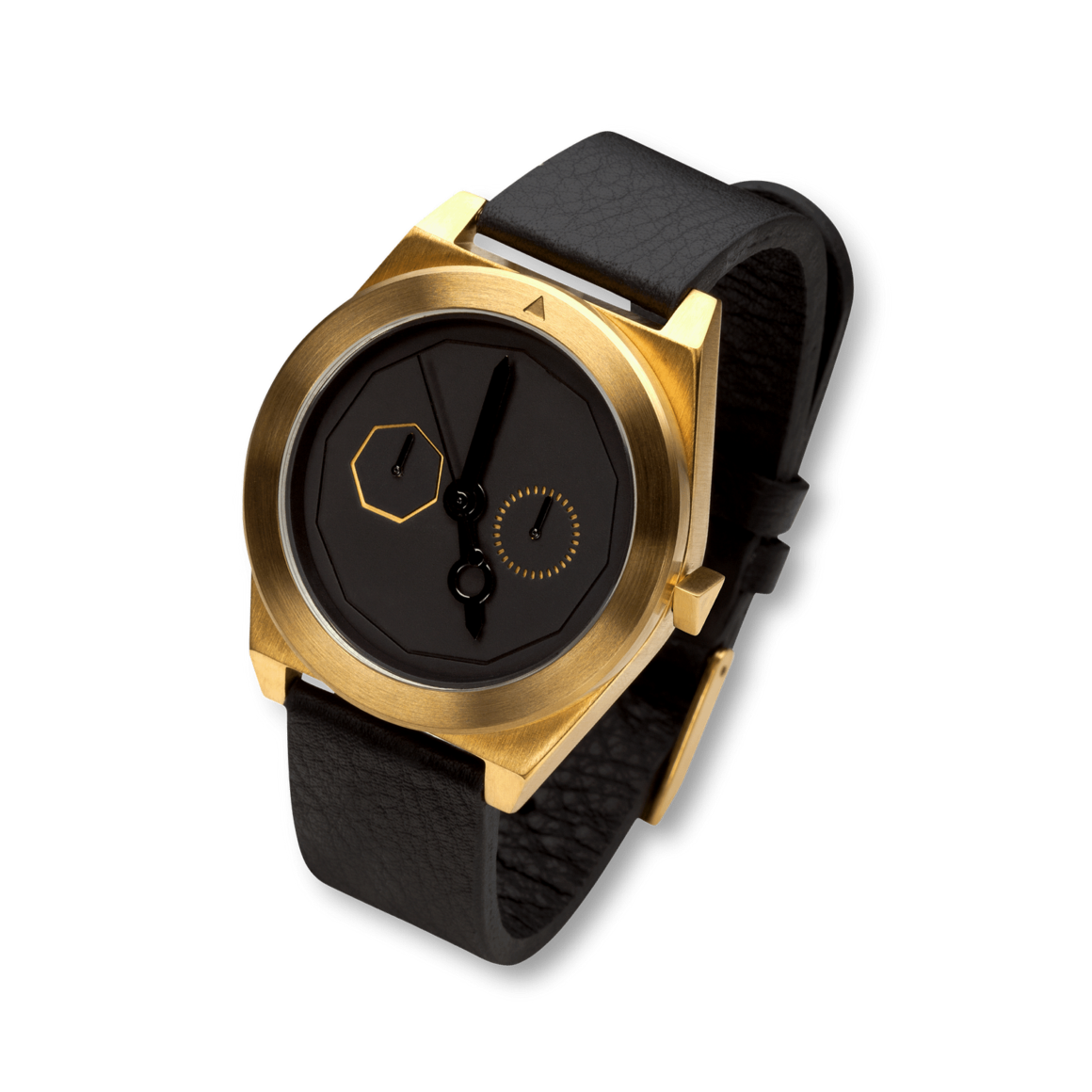 The name suggests that the AARK Collective Timeless Wrist Watch features a timeless, chic, elegant look while maintaining an outdoor edge and function. While the watch features a modern, classy appearance, it still maintains a clean and neat minimalist look.
The watch is fitted with a luxurious Italian leather strap and adorned with gold detailing, and sapphire coated mineral crystals. Furthermore, the analog watch is finished with a matte coating to contrast your typical high gloss hands, while its precise Japanese Quartz movement gives it a timeless appearance.
Its unique day-to-day function also complements people who have busy days with multiple schedules. To keep up with the rigors of everyday life, whether indoors or outdoors, the watch is made using the highest quality materials. Plus, it comes with a water resistance rating of up to 160 meters deep.
4. Eclipse AARK Collective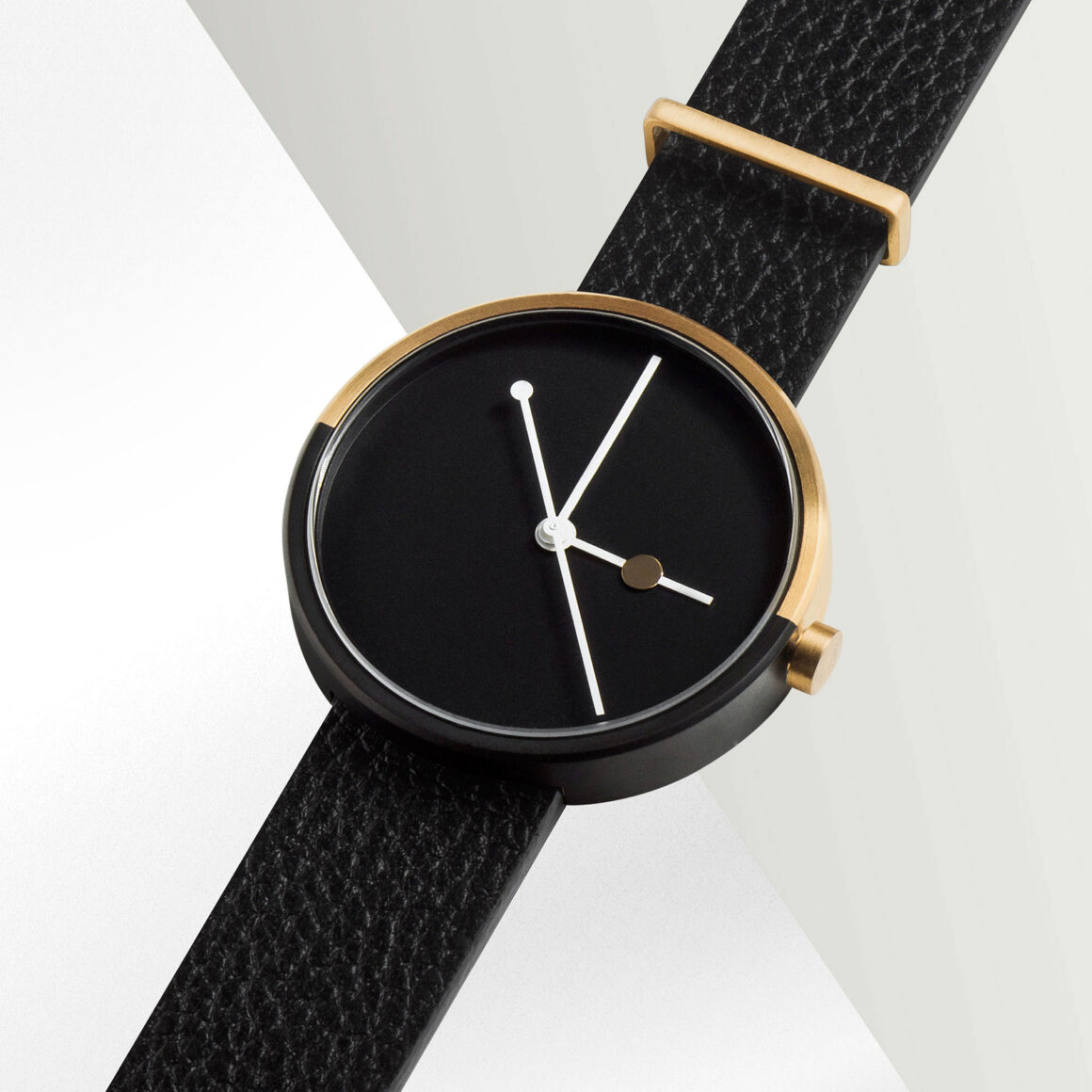 The Eclipse AARK Collective combines luxury and value in a single design. The neatly designed and minimalist watch lets you score the luxurious piece at a relatively affordable price. Wearing the watch virtually eliminates any extra weight on your wrist, yet, its simple articulated design remains eye-catching.
The "smart" wristwatch integrates an innovative design for simpler time reading. It features a gold hand-dipped, dual-tone plating that separates day and night.
On the face, a simple contrasting dial creates a sensational moon movement.
The analogue wristwatch features a precise Japanese Quartz movement covered by a scratch-resistant mineral glass case for the ultimate luxury finish. The thin profile glass case is complemented by the gold-dipped tone plating and smooth calfskin leather strap.
5. 22 Design studio 4th Dimension Concrete Wrist Watch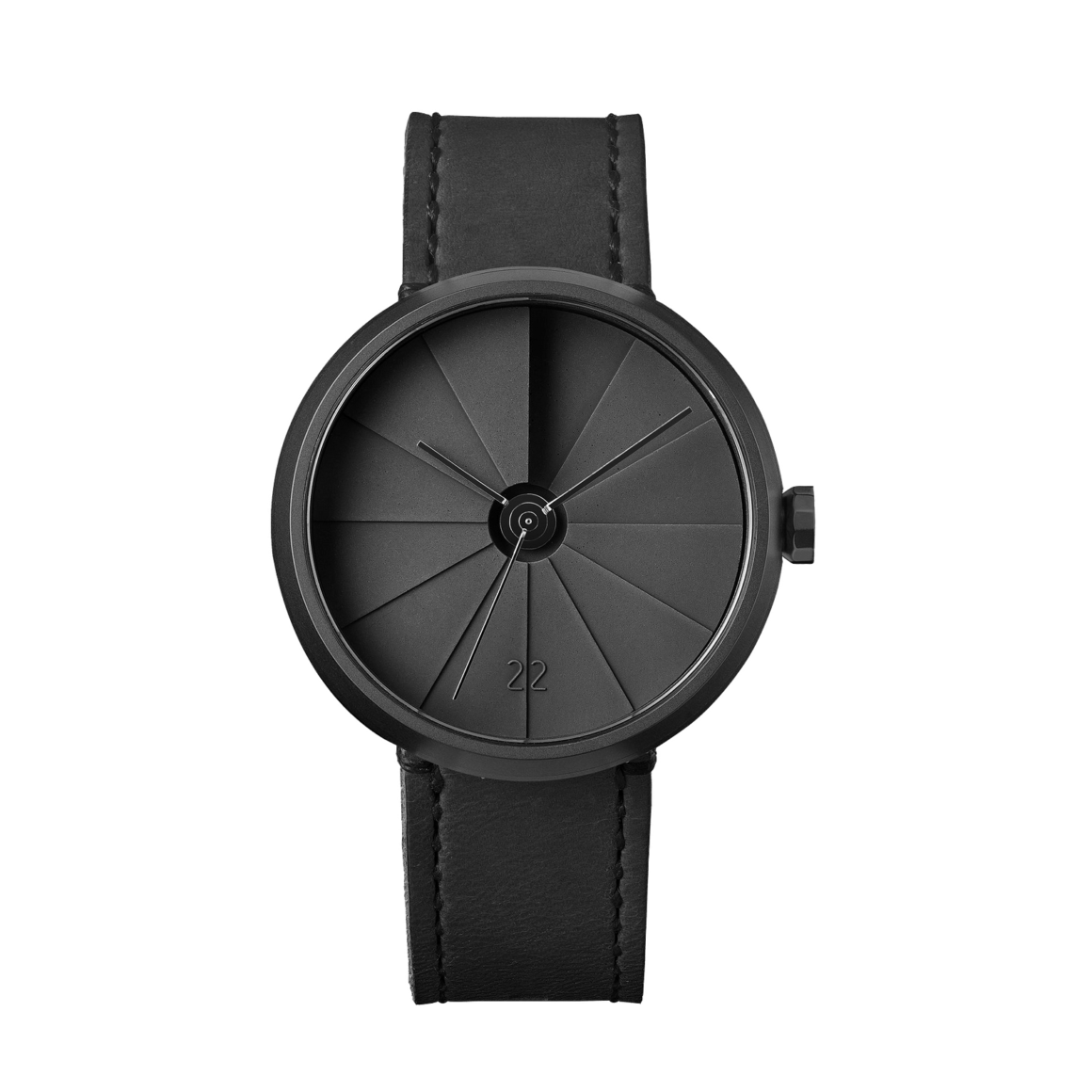 This Shadow Edition of the 4th Dimension Concrete Wrist Watch is specially designed for minimalists who have a thing for darker colors. The wristwatch combines subtleness, elegance, and modernity. It even features an innovative design unleashed by combining multiple components on the watch.
For example, the spiral staircase dial is emboldened by the dark monochrome matte, combining black and dark gray contrasts. The staircase design is ingeniously articulated to fragment 10-minute intervals on the watch.
On the other hand, the black PVD coated bezel is supported by a black Italian vegetarian leather strap and stainless steel case. The high-quality, tough sapphire glass material protects the lens from shattering and scratches.
6. Bulbul Ore 08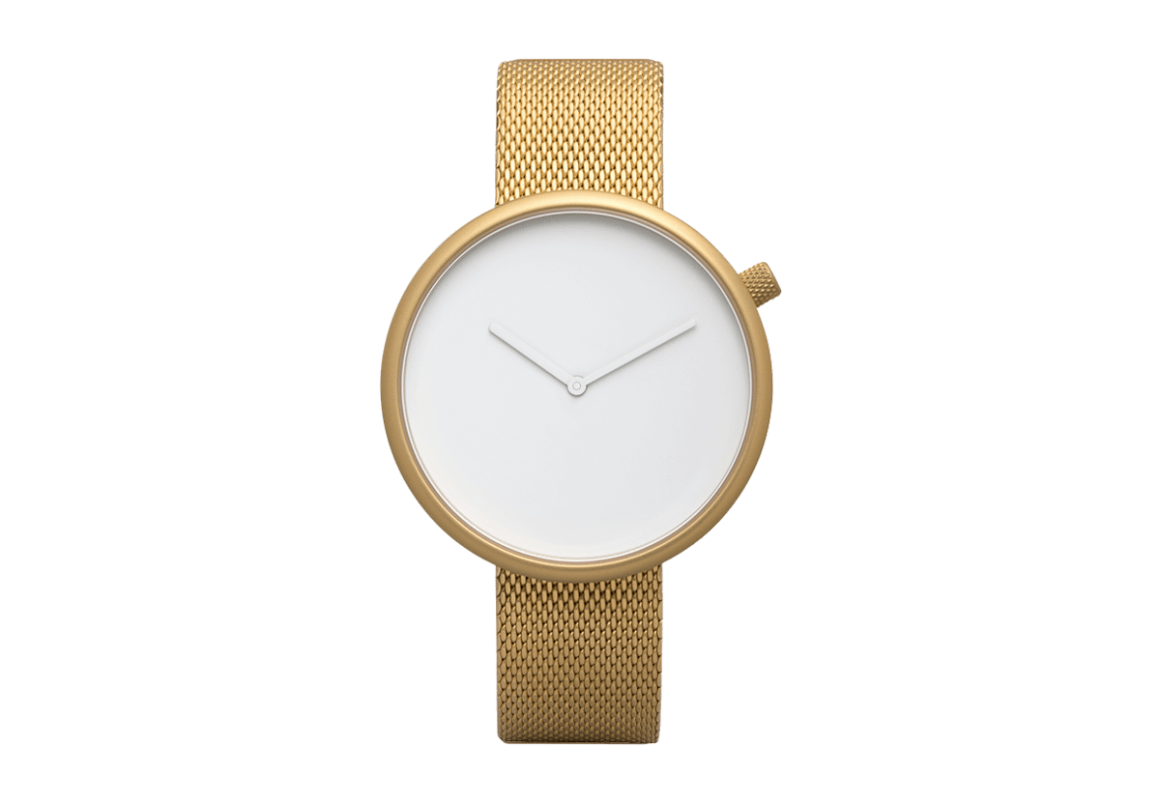 The Bulbul Ore 8 analog wristwatch features a warm golden charm finish with a clean white glass-covered face, accentuated by easy-to-read thicker white markers. Every little piece on the high-end wristwatch plays a role in bringing out its beautiful design. The white interior gives the watch's face a clean and minimalist appearance while making time reading a breeze.
The face is further complemented by a sapphire crystal and anti-reflective coated glass. The German-made watch is detailed using a Milanese mesh strap band, while its Swiss-made gold plated, four jewels a satin clean 316L steel case holds Ronda movement.
On the case side, you will notice its crystal-like golden dial that matches its contours. The watch's refined and sophisticated design reflects its deft durability and quality. It comes with a 10-year battery life and an articulate hour, minute, and seconds function.
7. Braun – BN0106 Watch
The Braun Prestige Digital Watch is a thing of beauty.
Designed using state-of-the-art technology, the Braun Watch emulates the company's core values; aesthetics, quality, and functionality—all of which are wrapped up in this beautiful watch.
Released in 2017, this watch continues to be a leading contender amongst other bigger brand models. What's impressive about this watch, though, is that it doesn't try to be too flashy. With its understated silver dial and stainless steel casing, the watch has a digital dial on a black background. This is an inconspicuous watch with a straightforward design and a classy metal clasp. With a water resistance of up to 99 feet, you can wear it out to the beach, for a swim, or even during those stressful board meetings.
Nothing will ruin the beauty of this Braun watch!
8. ZIIIRO Watch – Eclipse
The ZIIIRO Eclipse watch is almost ridiculously minimalist in style, which makes it perfect. Designed using stainless steel, this analog watch comes equipped with a soft silicone strap, a backlit dial, and needles that are discreet but clear enough to tell you the time every time you glance down.
This watch is perfect for anyone who doesn't like the traditional dial system in a watch and requires something stylish but functional.
This watch is available in black and is shock-resistant to boot, so you can wear it while wearing sports. But it doesn't have a larger depth for water resistance, only 30 meters. However, if you're not likely to take it out in the water, you should do just fine.
9. VOID Watch – V01
The VOID Watch is the epitome of masculinity.
With its smooth rectangle stainless casing with a digital display and black body, the watch is similar to the Braun Watch. However, the display is on the bottom rather than the top and isn't as shiny as its counterpart. The display has a grey font, which keeps it from attracting attention. The dial also has a burnished feel, giving it that extra oomph of grace.
But unfortunately, that's about it. Unlike the previous options, the VOID watch is not water-resistant or shock-resistant. But, if you'll be wearing this watch for special occasions, you won't need those features anyway.
10. NIXON Women's Siren Digital Watch
The Nixon® Siren Chronograph Watch is a classy, chunky watch that walks the line between functionality and minimalism. Available in various colors, including pink, lilac, black, white, aqua, and citrus, this watch comes equipped with a black dial and a soft, subtle display, so your watch doesn't attract too much attention. Ideally, this is a women's watch, but its style and rugged look have made the Nixon® Siren a popular choice amongst men.
Reviewers especially love this watch for its durable look and recommend it for those who have an active lifestyle. At a relatively affordable price, this watch is a must-have.
11. GUESS Men's Stainless Steel Digital Silicone Watch
Now here's a dazzling, sleek, polished watch that works as the full package. Featuring a chronograph dial, the GUESS watch comes equipped with other necessary features such as a stopwatch, light, different modes, all packed in a stainless steel case behind a durable mineral crystal.
The watch also features a silicone strap with gold touches, such as a gold buckle and closure. Alongside, it's water-resistant for up to 33 feet. A handy watch to have if you want one you can wear all day, every day.
12. Apple Watch Series 3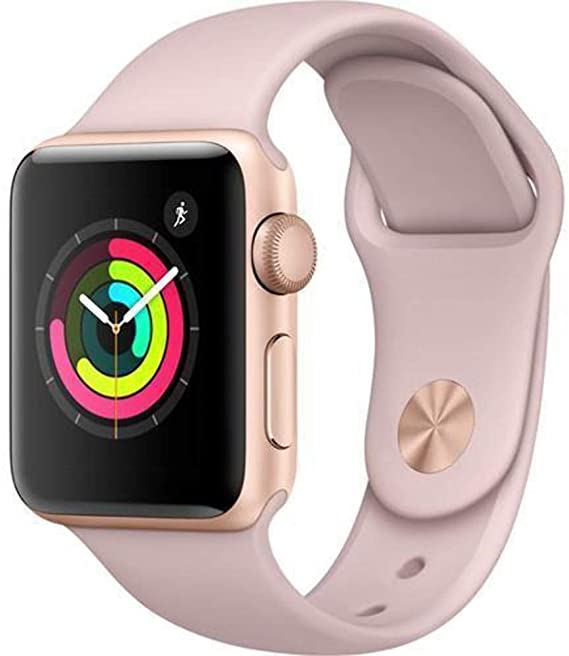 While the Apple Watch Series 3 might not have the same finesse and elegance as the Apple Watch Series 6, it's not that far behind.
This watch is a perfect option for any fitness lovers who want a solid watch that's durable and reliable. With a GPS, optical heart sensor, accelerometer, gyroscope, and a dual-core processor, the watch has a retina display with a digital crown, all packed in an aluminum case with a silicone sports band. The watch is also swim-proof, surf-proof, and splash-proof. In other words, it's water-resistant.
The watch also syncs with your phone, so if you get any calls, texts, or notifications, it'll all show up on the dial. On top of it all, the watch also allows you to use Apple Pay, which is an excellent option if you hate taking out your card or phone every time you make a purchase.
Simple and straightforward in design, this is a minimal, functional watch if there ever was one!
13. Fossil Q Smartwatch Sport (2018)
Fossil is a strong contender among other smartwatch makers, thanks to its latest Fossil Q smartwatch.
Equipped with a GPS, fitness tracker, messages, heart rate monitor, and music player, this smartwatch offers an intelligent OS powered by Google, which works with iPhones and Android phones. Great for distance tracking and waterproof, this watch is ideal for active people who want a durable timepiece that tracks their every move.
Like the Apple Watch, the Fossil Q's function streams all notifications, texts, and call notifications to your watch. You can manage app alerts, control your music, use your microphone, and use the wireless syncing function, all while using the watch. The Fossil Q Smartwatch is also easy-to-handle and offers an extended battery life, which can charge up to about 80 percent in just under an hour.
Design-wise, the watch is sleek and understated and available in four deep hues, making it a minimalist's dream watch.
14. Ticwatch E2 (2019)
While the Ticwatch E2 may not emulate the minimalist mindset completely, it does so in design, at least.
In function, the Ticwatch E2 is a full package, ready to be used. As a full-function wear OS smartwatch that uses the Google OS, this watch offers access to a wide range of apps and is compatible with Android phones and iPhones. With its Google Assistant Built-in feature, the watch also provides notifications of calls and messages and uses a built-in GPS and a 24-hour heart rate monitor to track your health as you move.
The watch also comes fitted with Google Fit and Tic Motion, an innovative next-gen app that keeps you motivated and fit. With its water-resistant quality with a depth limit of up to 50 meters, paired with its sleek look and display, this watch has it all. But it doesn't go above and beyond to show its perfection!
15. Fitbit Versa 2
Fitbit watches are the epitome of minimalism in design.
Rather than fitting a handful of features and overwhelming the design by making the watch as out there as possible, the Fitbit Versa 2 uses simplicity, packed in a sleek, water-resistant aluminum package that looks fashionable to boot.
The watch is available in a range of understated colors. That includes carbon with a black strap, copper rose with a Bordeaux strap, copper rose with a navy and pink woven strap, copper rose with a pink petal strap, mist grey with a smoke woven strap, and mist grey with a stone grey strap.
Fitted with many essential features, including Alexa, voice assistant, reminders, sleep monitor, weather, GPS, phone, and a heart rate monitor, this watch tracks all your workouts while keeping you informed of any texts and calls, and notifications you get.
And to top it off, the Fitbit Versa 2 is relatively affordable, not bad for an ultimate fitness watch.
16. Xiaomi Amazfit BIP (2018)
With competition like Apple and Fitbit, it's a testament to the Amazfit BIP Fitness Smartwatch's quality that it continues to have a significant following among fashion lovers.
Available in ten colors and four styles, the Amazfit BIP offers everything you'd need; a fitness tracker, calendar, GPS, time display, weather, sleep monitor, reminders, contacts, alarms, multisport tracker, elevation tracker, and a heart rate monitor. Alongside, when connected to your phone, the Amazfit BIP also displays messages, social media, emails, and more. The watch comes equipped with a battery that offers a 45-day life on a single charge.
Packed with so many features, the Amazfit BIP is impressive when you consider that its design does not reflect how jam-packed the watch is. With a sleek, simple display and a reflective touchscreen, and a silicon-and-aluminum body, this watch is elegant and beautiful.
17. Garmin Vívoactive
The Garmin Vívoactive takes functionality to a whole new level.
While it may seem inconspicuous with its look, thanks to its simple square display and heavy (but reliable) silicone strap, the watch uses its understated qualities to wow the wearer with its features. Although it doesn't have a heart rate monitor, the Garmin Vívoactive has almost everything else you'd want—a built-in sports app, GPS that can be used for running, golfing, biking, swimming, and activity tracking. Its battery charge also supports you for three months or more.
The watch also offers customizable watch face designs and a sunlight-readable touchscreen display. But it provides everything you'd want from the ideal sports watch.
The Garmin Vívoactive can easily pair with your smartphone and offers alerts on incoming calls, texts, and notifications. But primarily, the main focus of this watch is to help you maintain your active lifestyle.
18. Suunto Spartan Sports Watch
This watch is designed for outdoor use. It's simple, doesn't have many bells and whistles, and offers just enough features to make it perfect for the active user.
Built using stainless steel bezel and Sapphire glass, the water-resistant Suunto Spartan Sport can take a beating and still maintain its premium design and function. Equipped with 80 sports modes that come pre-installed, the Suunto Spartan makes it easy to start your training without waiting for you to find the right option and then syncing it to your phone.
The watch also offers 12 hours of battery life with a GPS. Besides that, the watch measures your speed, pace, distance, altitude, calories, and heart rate as you exercise so that you can keep an eye on your progress.
19. The Ultimate Minimalist Watch – QLOCKTWO W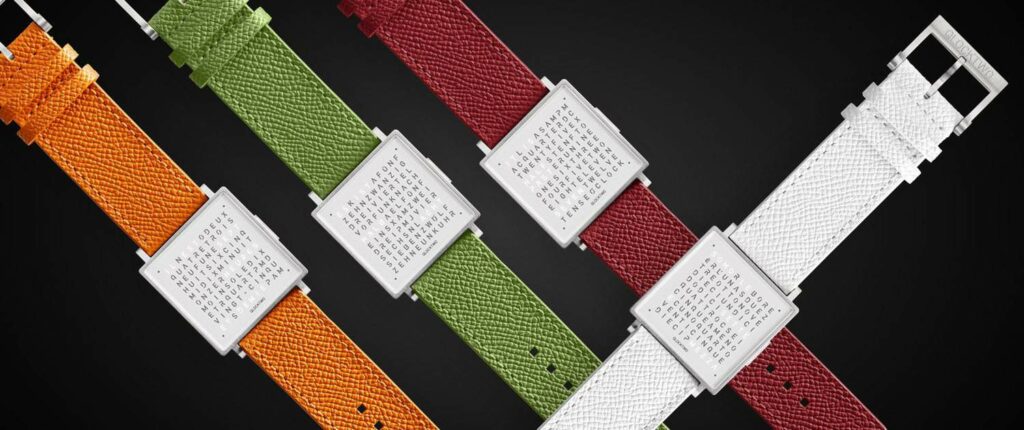 Handmade by Biegert & Funk, the QLOCKTWO watches are in a league of their own.
Taking away all the additional features, the Smart functions, even the analog or digital dial, the QLOCKTWO instead turns time-telling into an art form.
Using a statement display with words featured on the dial, this watch dismisses the traditional needle-and-number design that almost all watches use. In its place, this watch uses an ambient light sensor that moves behind the display, lighting up the time and day. The display is intricate, so the watch's luminance doesn't glare despite being a light source. So, whether you check out the time during the day in the middle of the night, you won't be turned off by the shiny light.
The QLOCKTWO W is pricier than any of the watches mentioned above—standing at 820 €, more than $900. But considering its timeless, minimalist qualities, this watch is worth the price.
Conclusion
Minimalist digital watches come in a variety of styles and designs, as seen above.
By going with the right option for your lifestyle, you'll invest in a timepiece that will add to your style and improve your daily life by optimizing your routine.
And that's something the laws of minimalism approve of.