This article contains affiliate links for which I may receive a small commission, at no additional cost to you, should you decide to make a purchase by using them. Learn More
In recent years, the most stylish trend of all has been minimalism. We all began to realize that a lack of fancy patterns does not show a lack of beauty. If anything, simplicity speaks for itself. This train of thought has sparked countless gorgeous makeovers, in closets and homes alike. One wonderful place where minimalism really shines is the kitchen!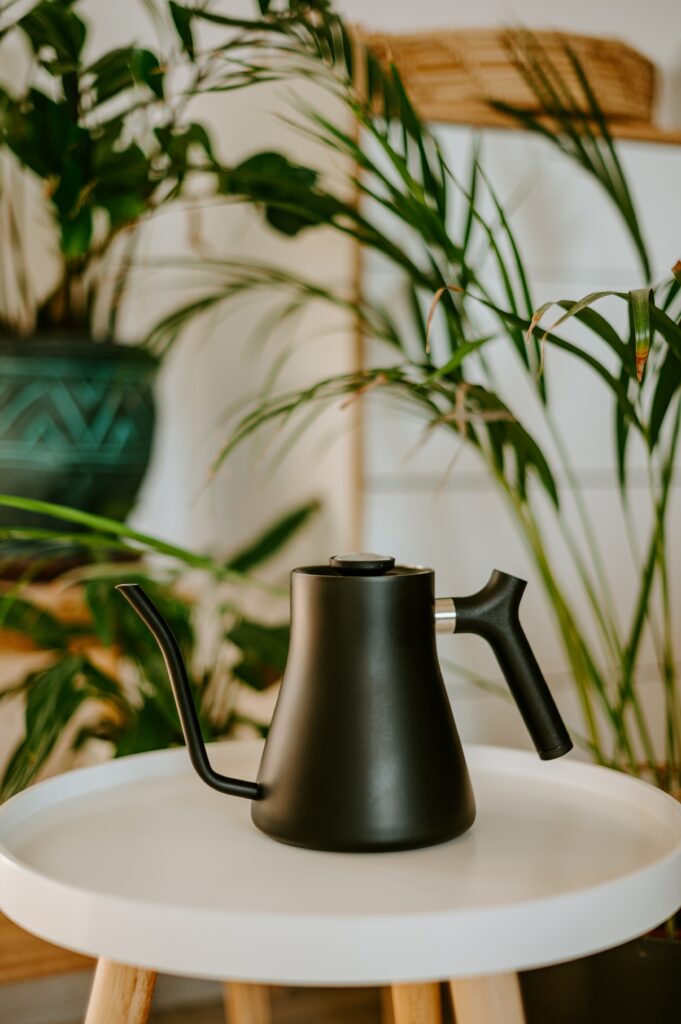 Now, you may be addicted to caffeine, or maybe you just like a little herbal tea to unwind. Whatever your taste, we guarantee that a simple little teapot can make all the difference. (Both, to your kitchen, and your day!)
Here are 14 of the most charming minimalist teapots and kettles we could find. Browse through them to see which one speaks to your soul!
1. Fellow Stag Pour-Over Teapot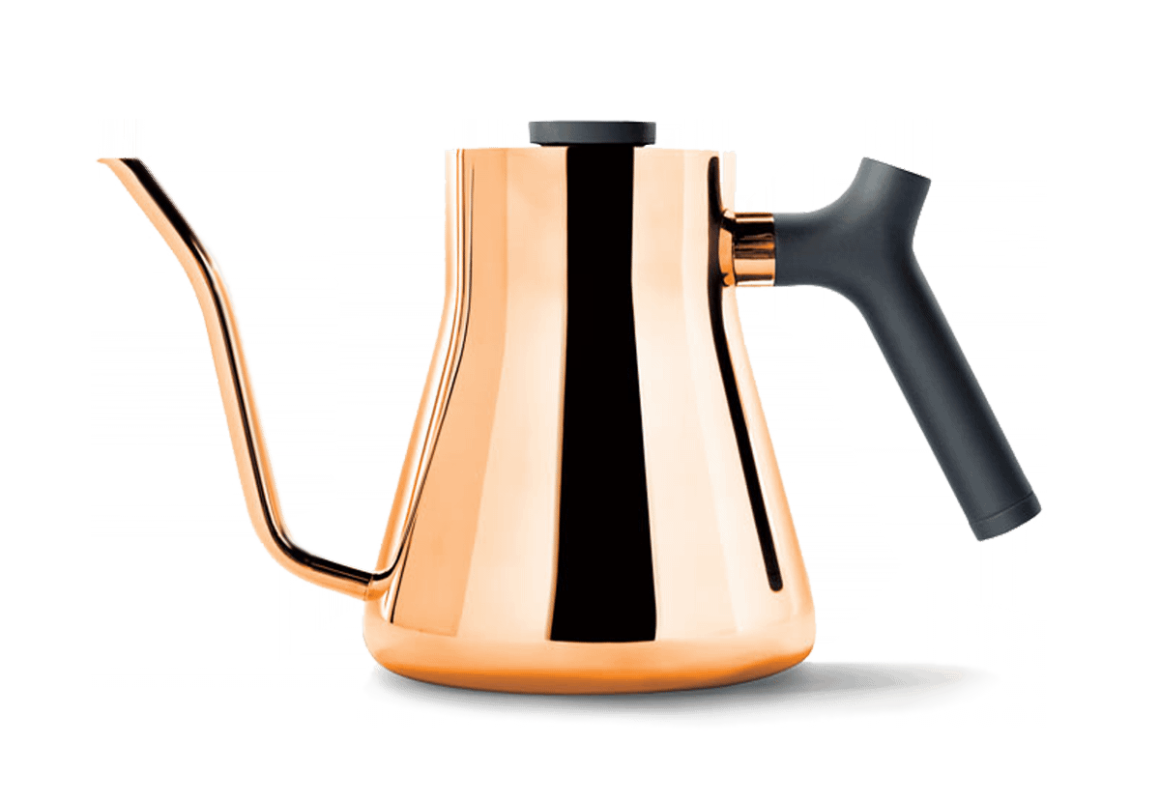 While boasting the functions of a regular kitchen teapot, the Fellow Stag Pour-Over Tea Pot stands out for its elegant design and classy omnipresent finish. Investing in this pot is undoubtedly a way to update the look of your home, giving it a minimalist yet, posh and high-end look.
While still adorning its stylish look, the teapot integrates a pretty ergonomic build for easy handling. It has a perfectly positioned black matte counterbalance silicone handle for a refined look and easy pouring grip. The satin copper finish on the rest of the jug gives it a contrasting profile as the subtle black matte top cap seals the deal.
The teapot is also designed with a brew range built-in thermometer with a distinctive red highlight to achieve the perfect water temperature between 195 and 205 degrees. On the other hand, its precision pouring spout provides greater pouring control for messy free countertops.
2. SXXYTCWL Stainless-Steel Kettle
This stainless steel kettle works wonders for tea and coffee alike. The unique thing about it is its long and slim spout. This helps it maintain an even and consistent flow so no water spills over while you pour. Because the spout is slender, it can even fit inside very narrow coffee filters.
Since it's an electric kettle, you can even plug it by your bedside for a fresh cup of tea first thing in the morning!
The brand also promises to use sustainable, high-quality materials, so you can trust the kettle to be strong and long-lasting. It'll also not have a bad impact on the environment. Win-win!
3. Ampato Gooseneck Kettle with Thermometer
If you're looking for a unique and head-turning design, Ampato has you covered. Inspired by the Ampato Volcano in Peru, this sleek kettle is considered barista-worthy! Its bottom is made of triple-layer stainless steel which heats water up pretty fast.
Everywhere else, the kettle comes with a tough Teflon coating, making it super hard-wearing and tough. You can count on this pot to last! One of its nicest features is the built-in thermometer you'll find up top. It's even marked at the right temperature, so you'll know just when to take your drink off the stove.
The kettle works perfectly with all kinds of stovetops. These include gas, electric, ceramic, halogen, and induction-type stoves. It can easily brew up to 4 cups of tea, making it excellent for family gatherings and other little parties. Its wooden handle and gooseneck spout both make it really easy to handle and pour. All these features make the Ampato a perfect fit for you if you take your tea and coffee really, really seriously.
4. Fellow Clyde Stovetop Tea Kettle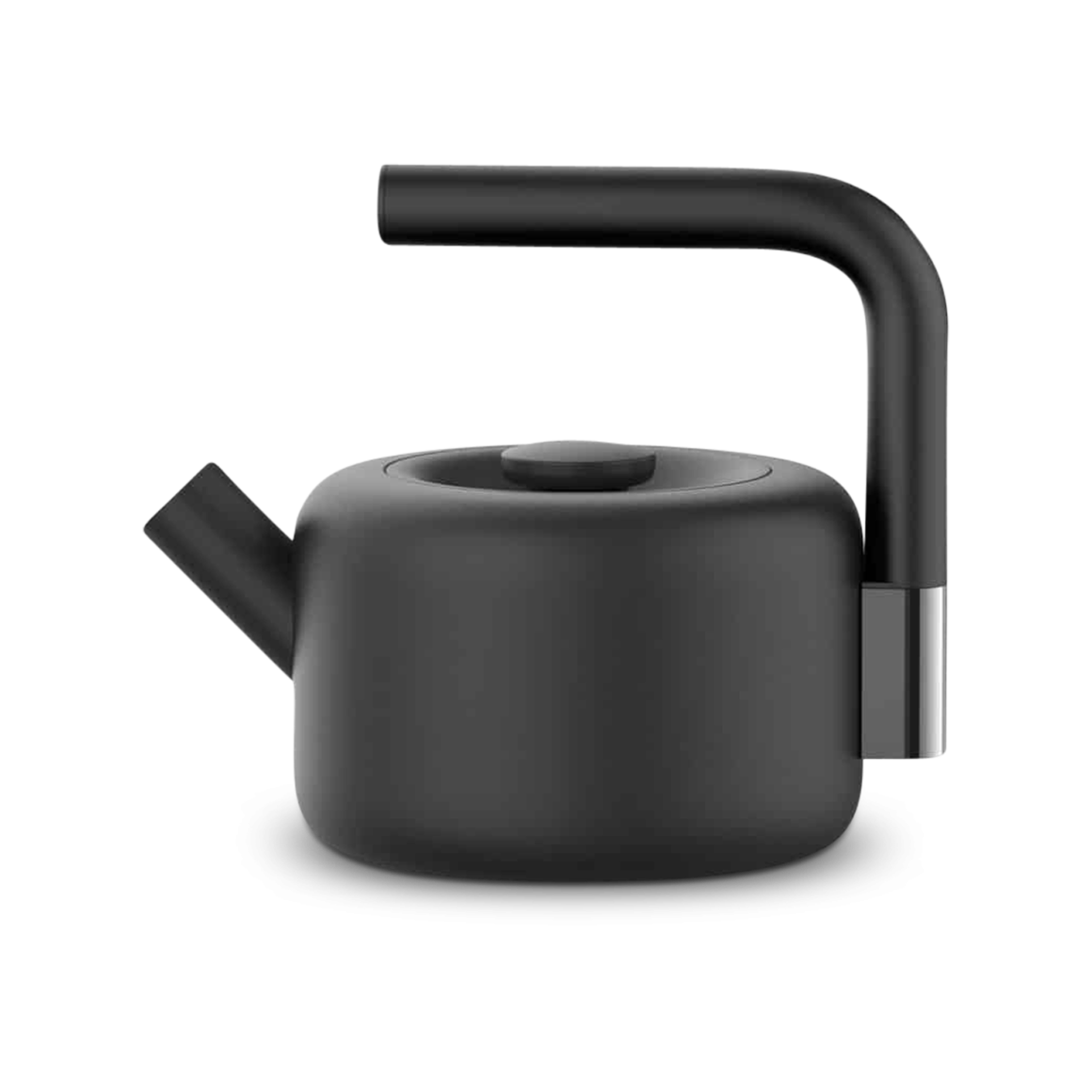 The all-black Fellow Clyde Stovetop Tea Kettle features a unique black matte stainless steel body to complement your kitchen setting, matching its minimalistic aesthetics, thanks to the subtle matte stainless steel body. Yet, the practically built kettle is compatible with most stovetops, including induction ones, for more convenience.
The 1.7-quart teapot features a bar-like streamlined silicone wrapper handle and tube-like pour spout for innovative functionality. The wide-mouth pouring spout remains sealed until you're ready to serve your hot beverage. But, what truly brings out the kettle's deft performance is its classic two-tone whistle that lets you know when your water is ready.
However, this elegant, oversized tea pot's design means it should certainly stay away from the dishwasher to maintain the look. Warm soapy water without the use of any abrasive materials is more than enough to give it a good clean.
5. Stelton Theo Tea Pot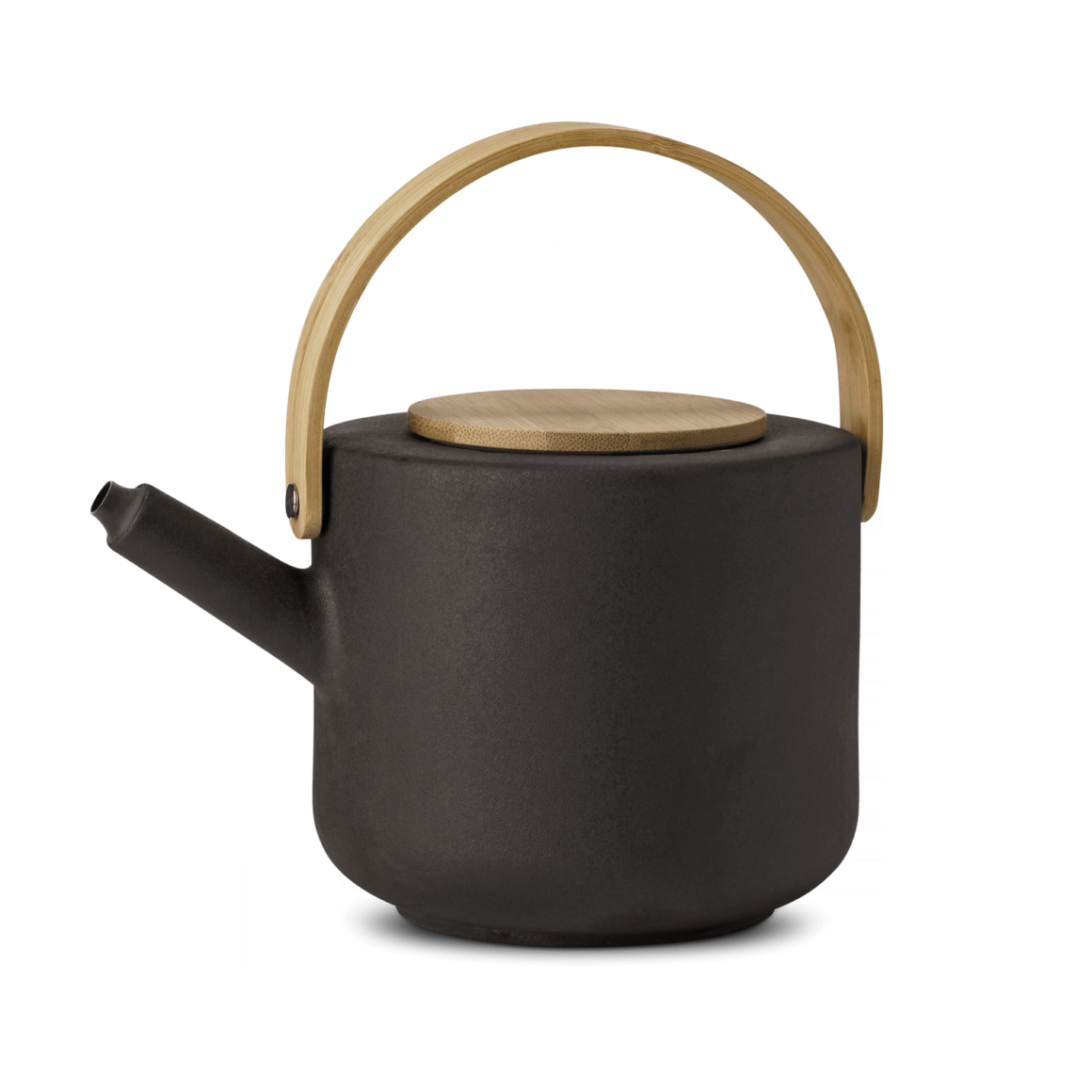 Featuring a uniquely distinctive Nordic design, the Stelton Theo teapot features a matte black stoneware finish with a wooden lid and handle for a modern-retro Zen style appearance. The Theo teapot designer, Francis Cayouette, draws inspiration for this unique teapot from ancient Asian tea ceremonies while adding a touch of simplicity to catch the eye of any true minimalist.
Each material and design incorporated into this teapot design isn't only for the eye and practical purposes. The stoneware finished teapot is made from cast iron, which is favored for its impressive heat conductivity and heat-retaining abilities—using this 42 fl. oz. pot, you can rest assured that you will enjoy the optimal temperature on your tea and coffee at all times.
On the other hand, the light brown bamboo lid and handle give it a traditional Asian twist, while the use of the wood also provides the lid and handle with a cool-to-touch finish, no matter how piping hot the water is.
6. . Poliviar Stone Kettle
There's something super relaxing about how rustic this kettle looks. And if you like its looks, you'll love how it feels! Poliviar's kettle is made of food-grade stainless steel. It's super tough and enduring, and its handle is made of gentle wood. The wood keeps the handle cool, so you don't have to grab a glove every time you put the tea on. The base of the kettle lets in more heat, so water boils pretty quickly in the pot.
When the water's done boiling, the kettle lets you know with a loud and distinct whistle. One great thing about this kettle is that you can use it on any kind of burner. That includes gas, electric, induction, radiation, and halogen stoves. So no matter what kind of heat source you're using, Poliviar just wants you to have your tea/coffee in peace.
7. . Vahdam Gleam Porcelain Teapot
This teapot is a bit of a supermodel, and for good reason. Its striking good looks were featured in Vogue, Forbes, and The Sunday Times. (To name a few!) The pot's minimalism shines through its solid green color.
Because it's so simple, it looks extremely sleek and elegant. It's also very petite but can brew up to 3 cups of your choice of beverage. Plus it only takes up a humble amount of space on your countertop.
On the inside, it holds a fabulous infuser for coffee grains or tea leaves. This helps you create as intense or mild a flavor as you please. The best part is, Vahdam is a climate and plastic neutral certified brand. So if you're all about going green, this teapot is an excellent way to honor it!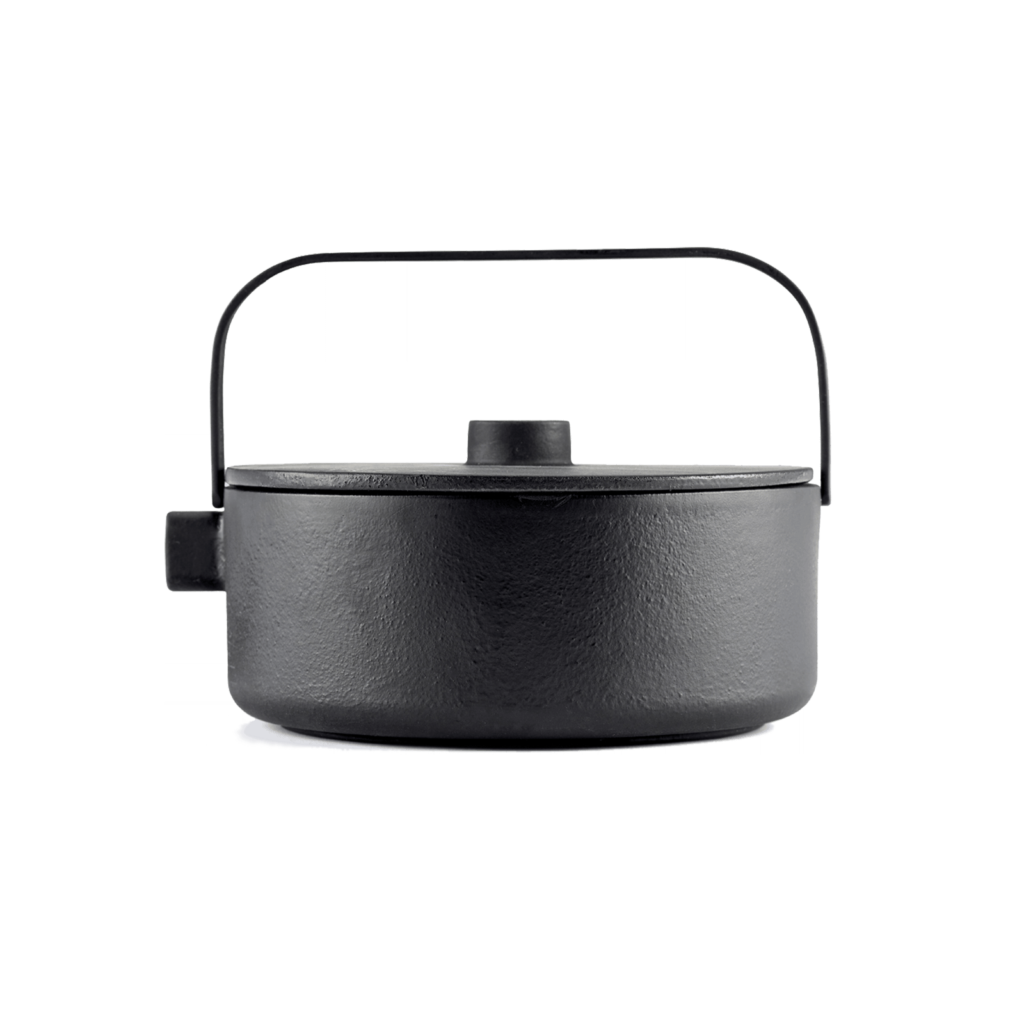 The Collage looks like a magical relic, and it works like one too! Serax's designers took cues from traditional Japanese vessels and put a modern spin on them.
With a cast-iron build, the pot has a matte finish so it looks super elegant and feels sturdy too. Serax's designers aimed to create something that reflects the past but serves the future. Keeping with that spirit, the Collage's design is built to impress and endure.
It can brew up to 5 cups of tea at once, so it's perfect for hosting and sharing. The teapot is compatible with all kinds of heat sources. (Remember to keep all your cast-iron utensils away from the microwave though!) If you're looking for a luxurious and impressive way to have your afternoon brew, Serax's Collage is the way to go!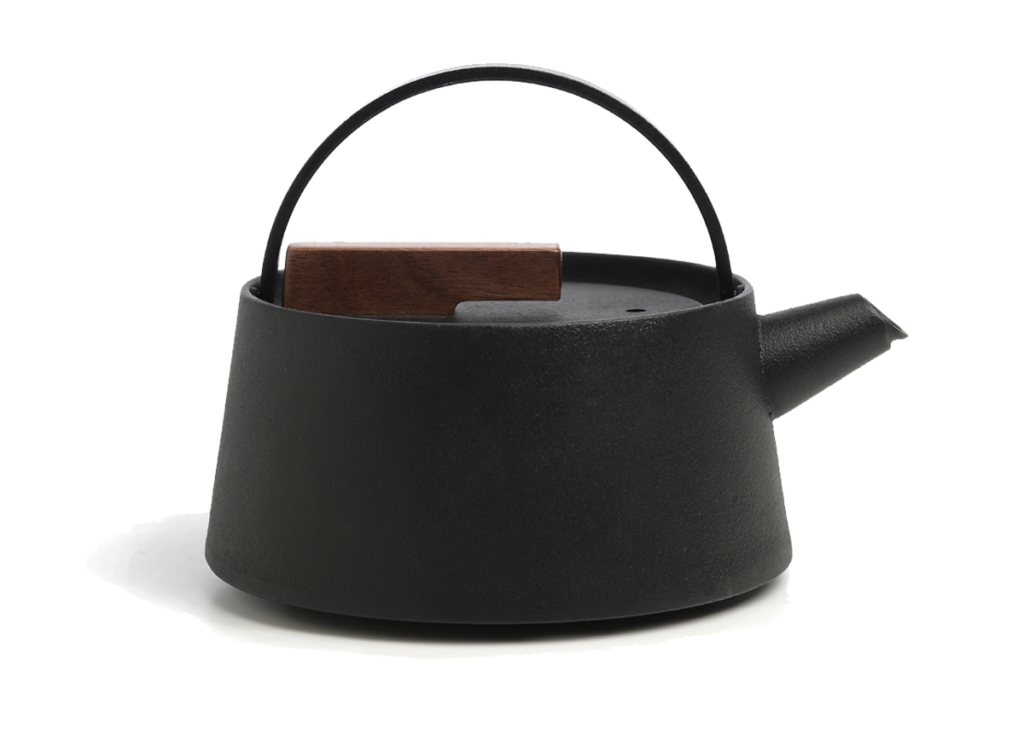 If you'd like to establish a family heirloom, Nambu's Kettle is one of the best options you'll ever find! It has won the Good Design Award for its stellar build and gorgeous looks.
Made with historic techniques dating back to 17th century Japan, the Nambu proves that you never have to fix what isn't broken. Built with high-quality cast iron, it features an oxidized outer layer. This gives it a rustic texture and an elegant industrial feel. It can withstand all kinds of knocks and wear, and can beautifully stand the test of time.
You'll love its walnut wood handle for its minimalism and elegance. Plus you get an additional cast-iron handle to carry around while traveling. It can brew 4 cups of tea at once, which makes it perfect for everyday use. Just be sure to use it with wooden utensils. And when washing, use hot water and dry immediately!
10. Forlife Stump Teapot
Forlife's Stump Teapot is the perfect accessory in a party for two! It evenly brews your tea/coffee all the way through, while keeping your drinks hot as you chatter the noon away!
If you like a little pop of color, Forlife gives you more than 10 gorgeous options to choose from. Made with smooth and elegant porcelain, Forlife's Stump is an homage to all the teddy bear tea parties you threw growing up. The pot has a very smooth flow with no spills or inconsistencies. If you're a tea lover, this is the perfect gift to give yourself or even someone like you!
Note that this teapot is NOT meant for the oven, microwave, or stove. You need to separately add boiling water to it, along with tea leaves or coffee grinds. Since it's made of porcelain, it can crack when exposed to heat on the outside. For better washing, Forlife suggests using a mixture of baking soda and warm water.
11. Tom Dixon Form Tea Pot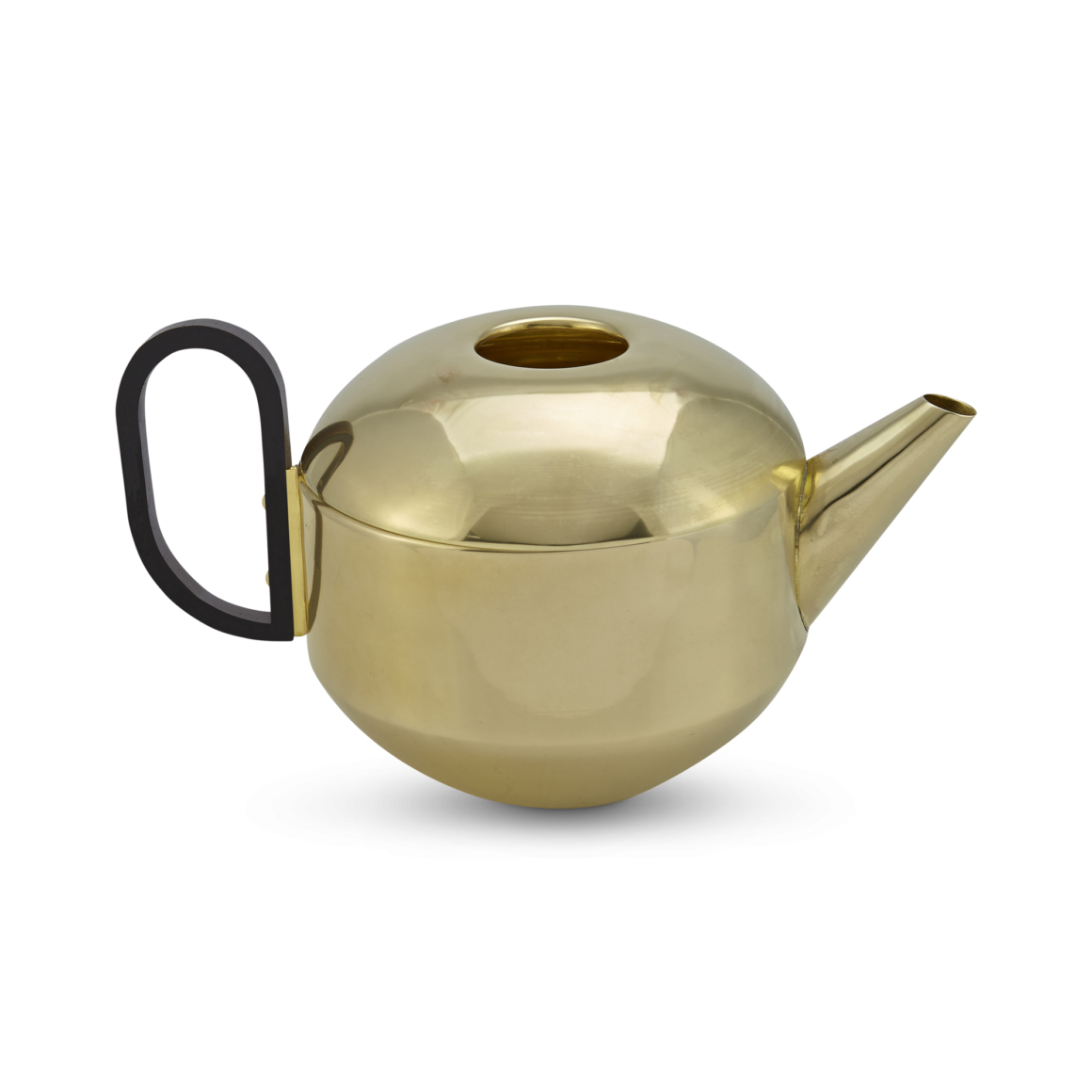 For a more exotic look for your home interior, the Tom Dixon Form tea pot s a perfect add-on piece. Designed by Tunisian-born British artist, tom Dixon, the tea pot's shiny brass finish, traditional pouring spout, and black rounded handle reflect the traditional tea serving pot design while adding modern elements.
Yet, its polished profile and distinctive silhouette will make the pot the focal point on your serving table. In addition to its leaching benefits to the body, the use of brass metal gives the pot naturally long-lasting durability, thanks to its corrosion resistance. However, to further prolong the durability of this high-end teapot, you want to keep it away from your dishwasher.
12. CnGlass Glass Teapot
If you like clear glass vessels, CnGlass's teapot will win you over. Made with borosilicate glass, you can trust it to keep its gorgeous looks for years to come. This kind of glass is also super resistant to high temperatures. Plus it's absolutely adorable when you can see your leaves and grinds brew in real-time!
The kettle comes with a metal infuser if you want to make filtering easier. It can also hold between 4-7 cups of water. This makes it perfect for intimate and big tea parties alike! One of the cutest things about it is its bamboo lid. Not only does it look elegantly minimalist, but also makes the teapot airtight. No spills or overflowing water with this pot! CnGlass has made its offering stovetop safe, so you can use it on a gas or electric burner without any worries. For a simple and excellent glass offering, this kettle is a great package!
13. Apexstone Pour Over Coffee Kettle
This stainless-steel kettle by Apexstone is a sleek and gorgeous little package. Its design is really well thought out. For one thing, its lid has a special seal so it doesn't fall off while you tip the kettle over. For another, it has a safe and ergonomic handle to protect your hands from scalding heat.
The spout is long and slender, with a handy gooseneck design. This gives it a really precise and spill-free pour. Plus you can also stick a thermometer right into the spout to make sure your temperatures are consistent. It's a simple and low-maintenance kettle.
All you have to do is use, rinse, and repeat! With its lightweight and petite size, you'll get a serving of about two and a half cups. You'll also get easy handling and extra portability. So if you're interested in a handy little kettle, this one is sure to please!
14. Zens Teapot with Infuser
If you like minimalist elegance, you will love the Zens' Teapot. Built with smooth white ceramic and topped with an elegant wood handle, this teapot is positively relaxing to see and to use.
Zens designers took cues from traditional Asian vessels when creating this pot. Its handle is attached to the kettle with two brass screws, which goes to show the level of craftsmanship put into creating it.
The kettle also comes with a nice little diffuser, making it perfect for aromatic teas and soothing blends. It can hold up to 3 cups of tea, so you can easily use it to serve intimate gatherings. (Or you could take it out for me-time and make a self-care ritual out of it.) This isn't a stovetop pot though, so you'll need to boil water separately before brewing your drink.
15. IwaiLoft Stovetop Glass Teapot
This is another all-clear option if you love the simplicity of glass. IwaiLoft's teapot is beautiful in the most minimalist sense. Its borosilicate glass makes it safe and reliably heat-resistant. It's also hand-blown glass, not machine-manufactured. This makes it that much more premium and bespoke. Plus it's safe to use on the stovetop.
Whether you want to use it on a stove or even in the microwave, IwaiLoft has you covered. Its handy design can easily hold 2 cups of tea. The pot is dishwasher and freezer safe too, so you can brew fruity tea and have it iced whenever you feel like it!
The handle is made of vine and looks nearly wooden. It stays comfortably lukewarm as you handle the pot, and the flow is always even and consistent. The aesthetic of the pot is super neat, and because it's so simple, it goes with anything!
16. OMGard Gold Teapot
The first thing you notice about the OMGard teapot is its sleek all-gold design. That's because it's made of high-quality stainless steel and is coated with titanium.
The titanium makes it super strong, tough, and enduring. You can expect this kettle to easily last a lifetime. Its distinct handle is specially designed to balance aesthetics with function. It's hollow, which makes it lightweight, and it also stays cool to the touch when pouring tea.
The teapot is compatible with all kinds of stovetops including gas, electric, and ceramic. It can brew up to 8 cups of tea, which makes it the best fit for large gatherings. The inner surface of the kettle has been electrolyzed. This makes it unreactive, meaning it won't rust over time.
The pot also comes with a strainer, so you can infuse your own leaves and herbs into your brew. (Or you could use it to filter out loose grains.) If you're looking for a gorgeous and big teapot that'll age like real gold, this one's perfect for you!
17. Hasting's Stainless-Steel Insulated Kettle
Hasting's insulated kettle is made with high-quality stainless steel and built with double walls. This creates a vacuum which helps in trapping heat inside the kettle, keeping your drink hot for hours. The handle is made with gorgeous German beechwood. And because of its industrial design, it really stands out! Plus the wood stays cold even when your drink is boiling hot.
It can store 5 cups of tea/coffee which means you'll be set for the day. There's a filter inside too, so you can brew your beverages on the go.
The lid comes with a thermolock system. Here's how it works: to pour your drink, you have to press a button. The button opens a valve in the bottle, allowing the fluid to pour out. This system helps in preventing spills as well as keeping your drink extra warm. It also comes with two different kinds of strainers, which is a bonus.
So, whether you're always traveling for work, or simply want a kettle for a picnic, this option is our best pick!
18. Saga Cast-Iron Teapot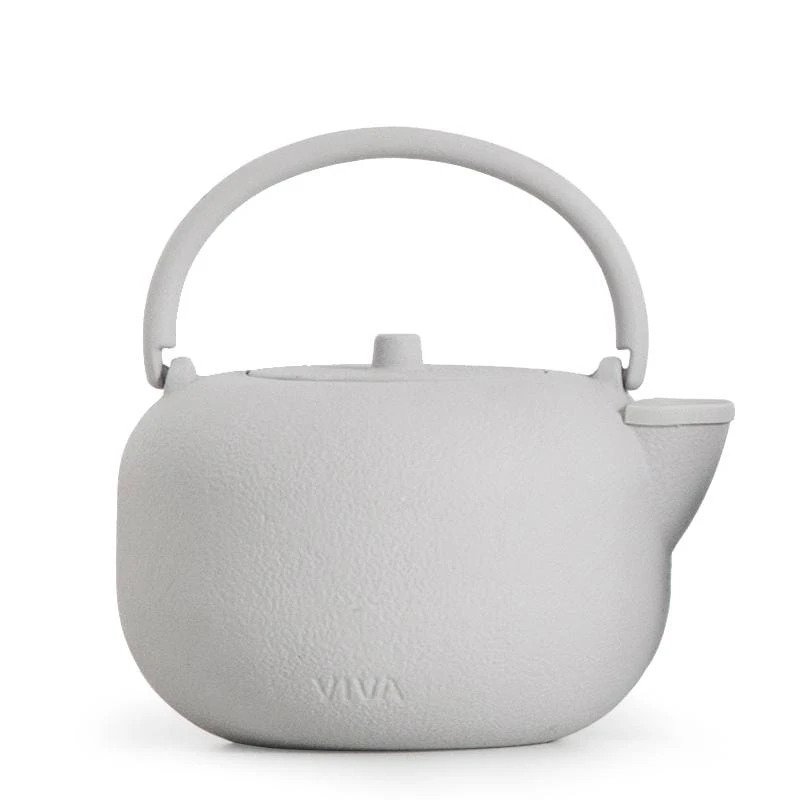 For a modern take on cast iron, Saga's teapots are a great choice. Made with Tradinox cast-iron metal, you can expect super high quality from this offering.
The cast-iron also keeps your drink hot for longer, so you don't have to worry about constant microwave trips. You can also choose between six elegant pastel colors, and each of them is gorgeously minimalist. The kettle can easily hold 3 cups of tea, making it ideal for daily use.
All of Saga's teapots come with mesh strainers, which are great for filtering and even infusing herbs and tea leaves into your brew. However, be careful about NOT using the pot on a direct heat source.
Saga does not recommend putting the teapot on the stove, so you'll need to boil water separately for your tea. It's a cute and handy package for serving though, and will earn you compliments from all your tea-party guests!