This article contains affiliate links for which I may receive a small commission, at no additional cost to you, should you decide to make a purchase by using them. Learn More
If this is the first time you've seen the phrase "Biophilic office" thrown about, don't worry. You'll get used to it soon enough.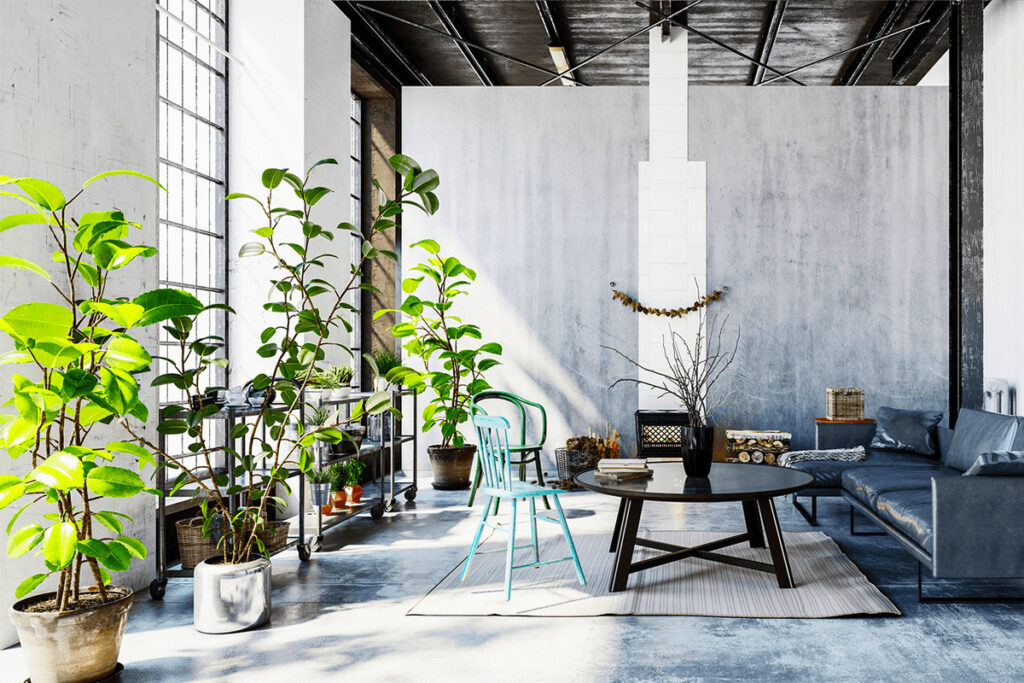 Biophilia in architecture and commercial design is the next best thing to take over the interior and exterior design industry.
According to Merriam-Webster, Biophilia is defined as:
A hypothetical human tendency to interact or be closely associated with other forms of life in nature: a desire or tendency to commune with nature
Harvard Naturalist Dr. Edward O Wilson first coined this term. He explained that humans are naturally—if you'll pardon the pun—drawn to all things that imitate life and a natural process. Nature is an integral part of our life; it nurtures us, protects us, and in times, harms us. In a way, nature is something to be feared and respected.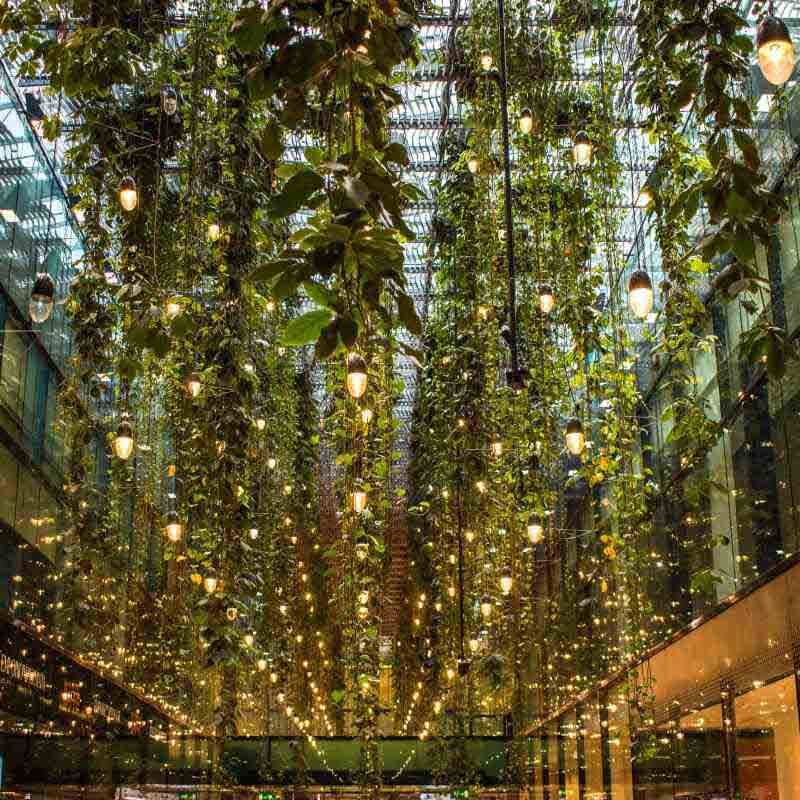 And as humans, we like to hold the things we respect in regard, perhaps up on a pedestal. With Biophilic design, that's what we do. The biophilic design focuses on our collective interest in nature and incorporates it in the most intense environment we have; our workplace.
An Introduction to Biophilic Office Design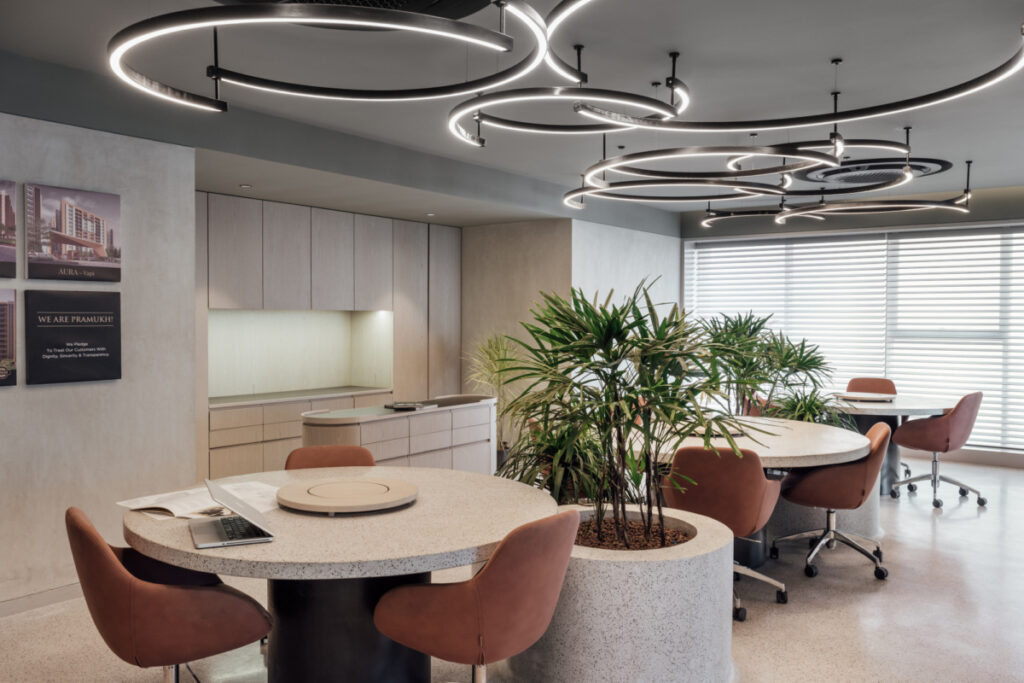 You have to wonder that, in essence, what is biophilic design, and what does it mean? Does it involve putting a plant on your desk and calling it a day?
Fortunately, Biophilic design is a bit more comprehensive than that.
Instead of going nuts with their green thumbs in the workplace, designers use different natural elements to create a space that boosts your energy and improves your health, literally.
A study on the effects of nature contact at work on employee stress and health explains that employees report significantly fewer stress-related problems when surrounded by natural elements. The study deduces that environments with natural elements helped reduce stress both intuitively and scientifically. Multiple reviews rave about the effects of nature on human health. So, Biophilic design comes at the perfect time.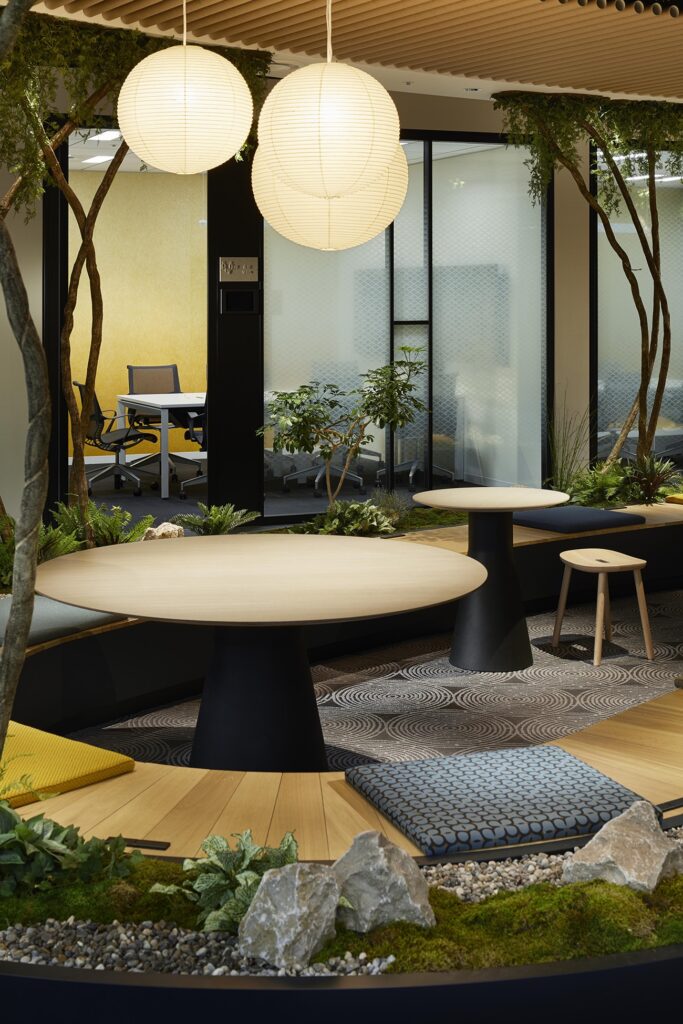 It also helps that biophilic design encourages the use of sustainable elements. As a result, this design choice is becoming more popular among businesses that are converting their workspaces.
What are the Elements of Biophilic Design?
Biophilic design involves taking all elements of nature and turning them into architectural works of art.
Think forest with a metallic edge. You'll find gorgeous vining and molding inspired by forest leaves, structural beams designed to reflect a tree trunk-esque look, plants fake and real, dotting the office and the building.
However, from a general perspective, you'll find the following elements in all biophilic offices: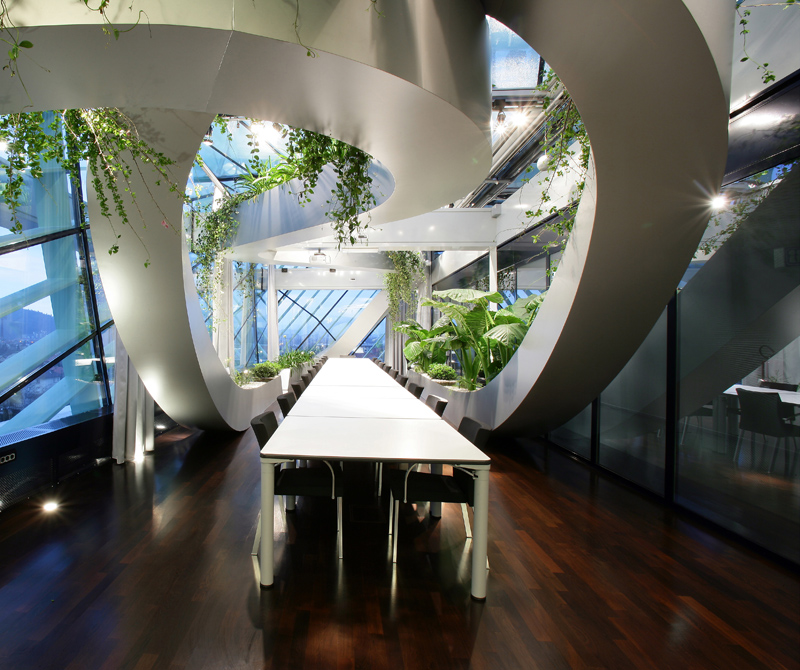 Natural Light
You don't need an extensive study on the effects of natural light on workplace health and productivity to know that light is essential in office design.
Natural light can make or break office productivity. And for those offices where you may not find natural light, LED sky panels can be convenient. A biophilic office must take advantage of natural light or use the right tools to replicate natural sunlight to create a sense of brightness.
Outdoor Spaces
About six in ten people eat lunch at their desk alone. This is sad, and not only because you miss out on socializing with your teammates. Eating at one's desk is also a health hazard. However, many people prefer to eat at their desks because it gives them privacy and keeps them away from the crowds. Not to mention that their lunchrooms don't offer any stimulation, to begin with.
But, if your office uses an outdoor space, one where people can sit and enjoy the scenery, employees will more likely want to leave their desks and eat in a comfortable area.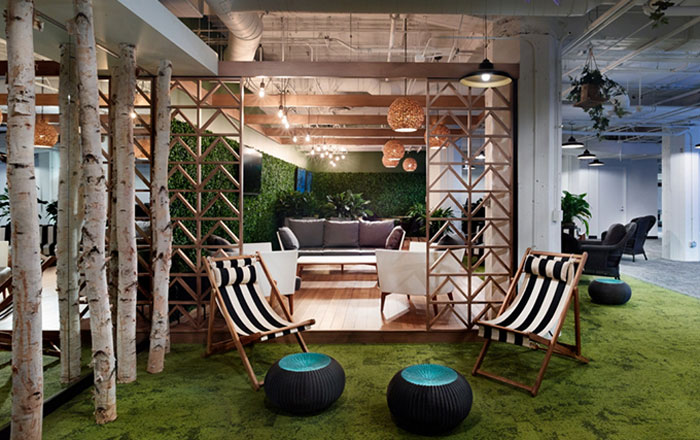 Natural Color Schemes
Natural color schemes toe the line between neutral and bright!
While you don't find a peacock-style color scheme in your average biophilic office space, such spaces do use splashes of bright colors wherever they can to brighten the place up. Emerald green, ruby red, chocolate brown, bronze, gold—biophilic offices use all-natural elements as their source of inspiration.
When aesthetically used, these sources provide us with color schemes so beautiful that they take your breath away.
Natural Materials
Of course, with a biophilic office, you can't skip using natural elements to jazz up the place.
Many companies are now using stone and wood to imitate a woodsy, outdoor environment. In addition to that, some utilize outdoor-inspired seating areas for a break room environment, so their employees can rest and relax.
Natural materials such as stone and wood have a calming, solid aura, which is useful if you're presenting an understated, sophisticated vibe for your company.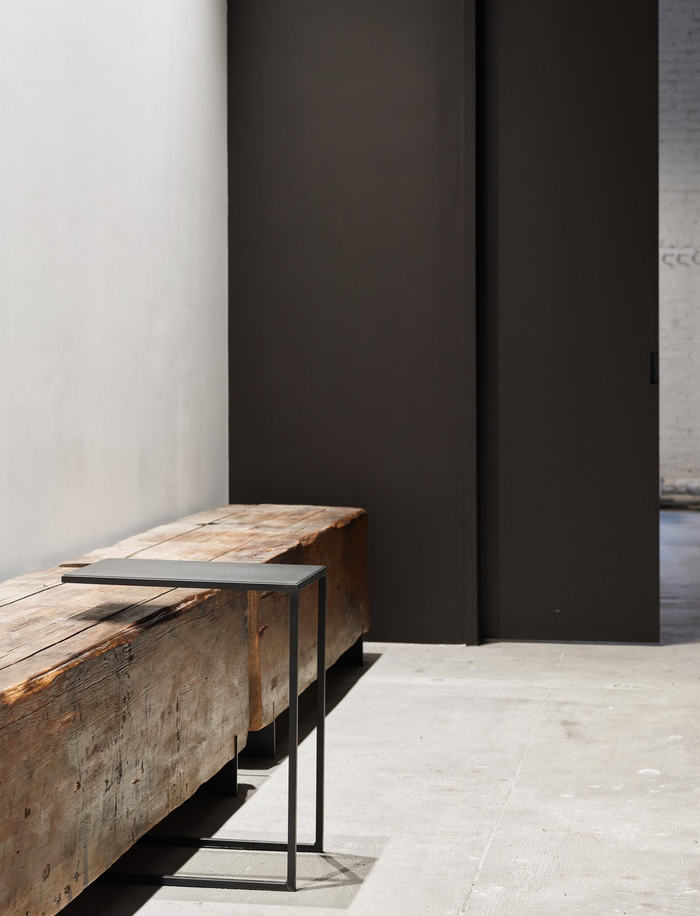 Plant Life
It's a testament to the power of nature that having a few indoor plants can actually impact your workplace productivity.
Plants don't only boost the overall atmosphere, making it more colorful, engaging, and bright. According to researchers, workspaces that used indoor plants reported a significant boost in cognition, decreased sickness-related absenteeism, and even a small increase in the employees' sleep quality.
Plants possess a comforting vibe, which helps when you work in an intense environment. A green office feels homier; it relaxes you and lends an air of content that practically-designed offices don't have.
Tips on Designing a Biophilic Office
There's nothing wrong with looking up biophilic office design examples on Pinterest.
But, no matter how big your board is, you can't seek inspiration from pictures until you get into the nitty-gritty of what the concept is.
We know by now what the necessary elements are. Next, let's find out how you can use those elements.
A Note on Designing a Biophilic 'Office'
Consider the fact that you're designing an office, i.e., space which multiple people will use. This doesn't necessarily mean that you take a survey and find out what everyone's opinion is on what the biophilic design should be.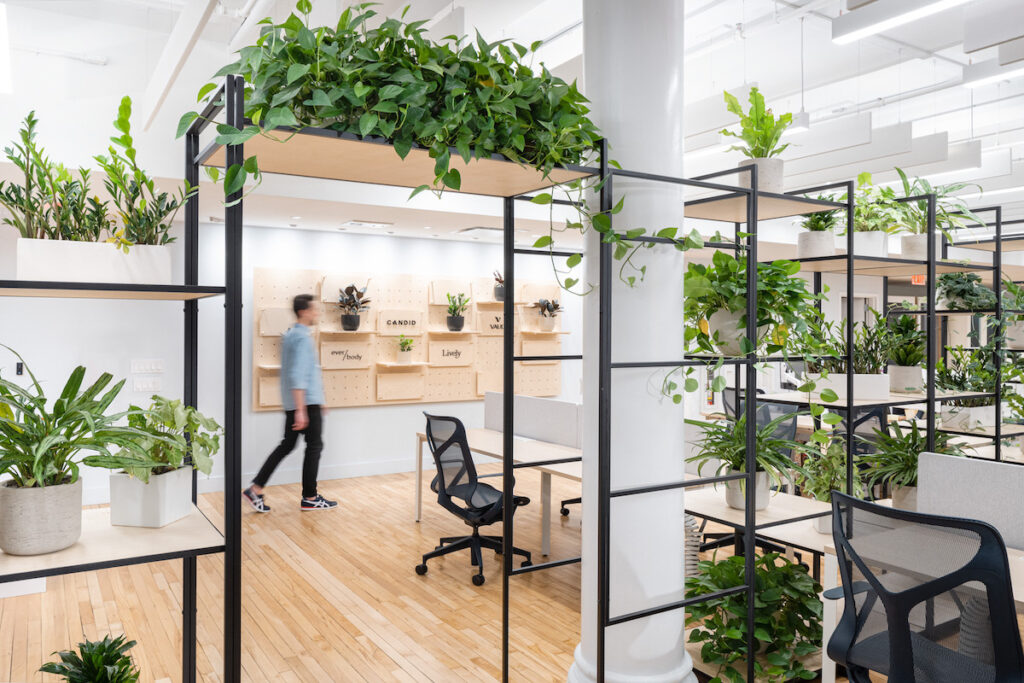 But like we said, with the nitty-gritty, you want to make the right choice. For example, when procuring indoor plants, find out if anyone's allergic to your selection of plants. Send out an email to the staff or HR requesting a data sheet on any allergies you should be aware of.
Even if you desire plants for just a small office, your office, you'll still want to make it safe for everyone. You don't want a lawsuit on your hands, only because you didn't ask.
Utilize All Available Outdoor Areas
Even if your office space is in the middle of the city, you still have the rooftop. Ask the building manager about using the area for your company.
If you're fortunate enough to have a balcony, a garden, or a backyard, use it wisely. Many companies waste their outdoor space by landscaping it and leaving it to be seen but not used. And that's a shame. Instead, place outdoor furniture sets with umbrellas, create little nooks where people can rest, place a small water feature for anyone who wants to meditate—design an outdoor space that offers comfort to your employees.
It's about time businesses took the right step for their employees' wellbeing.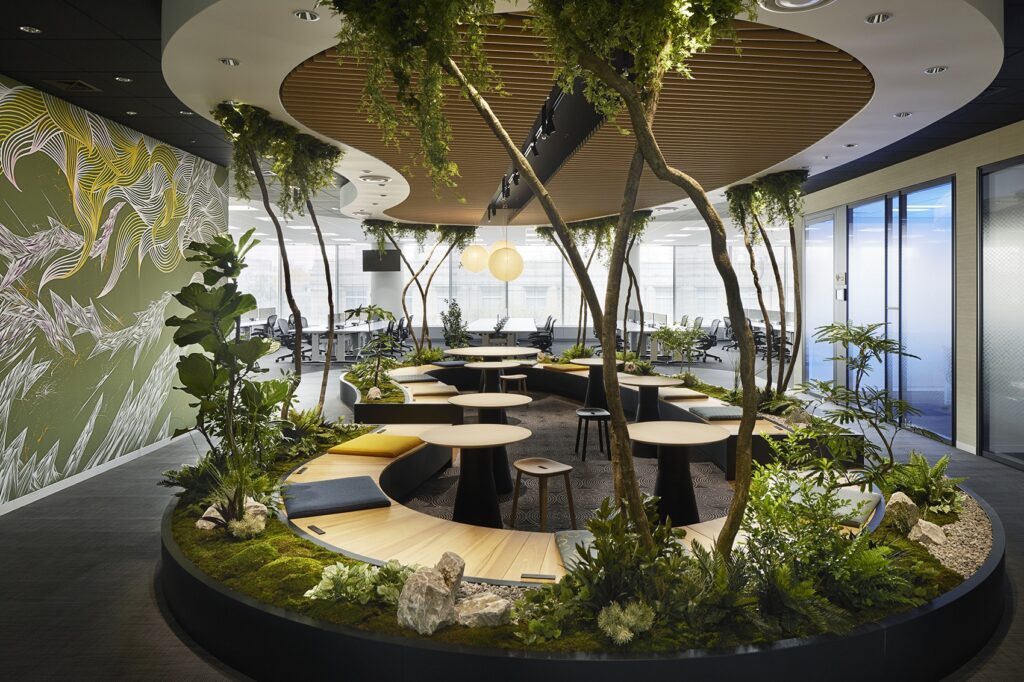 Use Real Plants
Let's list the many benefits of real plants:
They clean the environment by removing toxins from the air and emitting carbon dioxide
They're aesthetically pleasing
They're easier to clean
They produce flowers, which adds more color to the environment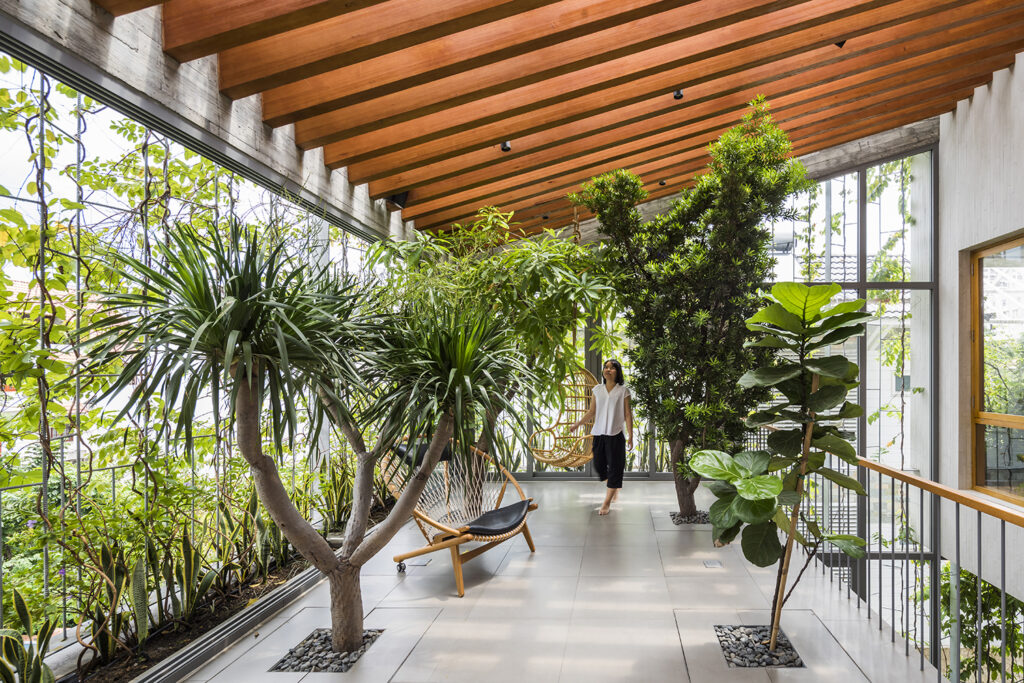 Now, what do fake flowers and plants offer? A cheaper rate should not be your answer.
Fake plants and flowers offer no benefits to the environment. They aren't easy to clean and gather dust and mold, especially if you use lower-quality plants. Fake plants also fade as time goes. And when you eventually throw them away, they end up in the landfill, which adds to the landfill problem.
Real plants offer beauty and ease. And are well worth the nominal price.
Give Your Staff Some Space
Biophilic office designs promote the concept of sanctuaries.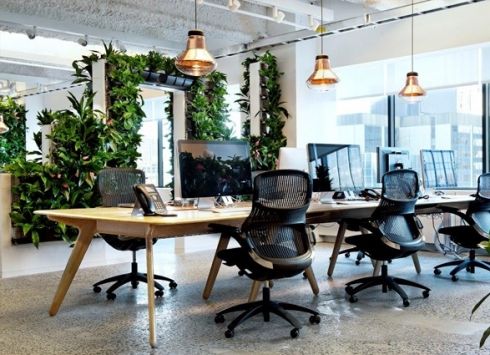 So, if you work in an industry that requires a lot of creative thinking, analytical thinking, or just focus and concentration, provide your workers with a space that promotes that train of thought.
Instead of stuffing your employees in grey cubicles surrounded by white walls, create an open-plan office with areas where your workers can sit back and brainstorm. Create a comfortable, collaborative setting. Use various natural features to section out the rooms.
Use Natural Elements Indoors
Stone borders, wood partitions, koi ponds—there are so many natural elements you can use to bring that natural outdoor look in. Incorporate stone paving in outdoor seating areas, add granite to the walls as a design feature, use climbing plants to create art, swap out all metal furniture for sustainable wood, and add touches of nature to your office structure.
Use Natural Light
Natural light is a biophilia lover's best friend.
It's good for the eyes and the body; it promotes workplace productivity, engagement, and individual performance. Overall, natural light only offers benefits on a personal and professional level. So, don't force your workforce to get used to gloomy office lighting.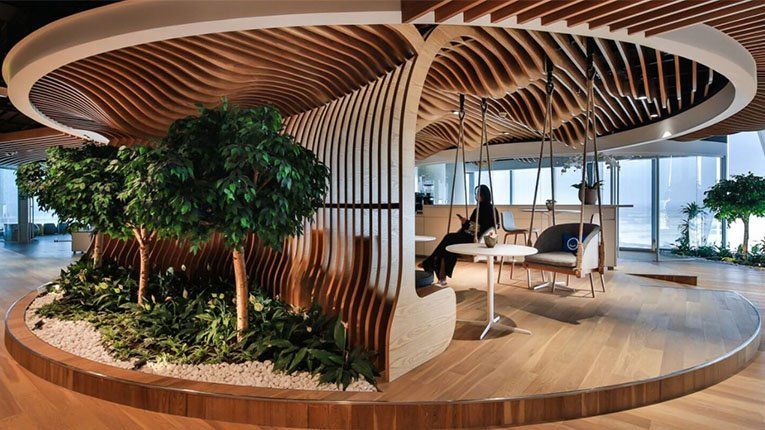 Suppose your office is in the middle or on the top floors, dot and scatter indoor plants. Design-wise, these work as visual breaks. Suppose your office is on the ground floor, place plants outside the windows, so your employees aren't looking out at traffic or a parking lot. Let the sunlight in, and open the windows while you're at it to let the fresh air in.
Embrace the Natural Color Palette
We've already discussed the right color palette for your office. However, if you're not one for deep, rich colors, you could always opt for a three-tone muted color palette, a neutral color palette, or choose a neutral base with one rich shade. As is with nature, you get an excellent selection of earthy colors to experiment with. It depends on you how you want to utilize the different shades.
If your company's brand colors match the natural palette, you can also use the dominant shade as the primary choice and match your theme to that. Keep in mind; nature is not just browns and greens. The oceans, the beaches, the forests, and the deserts—they're all a part of nature. Color-wise, it's all up for grabs.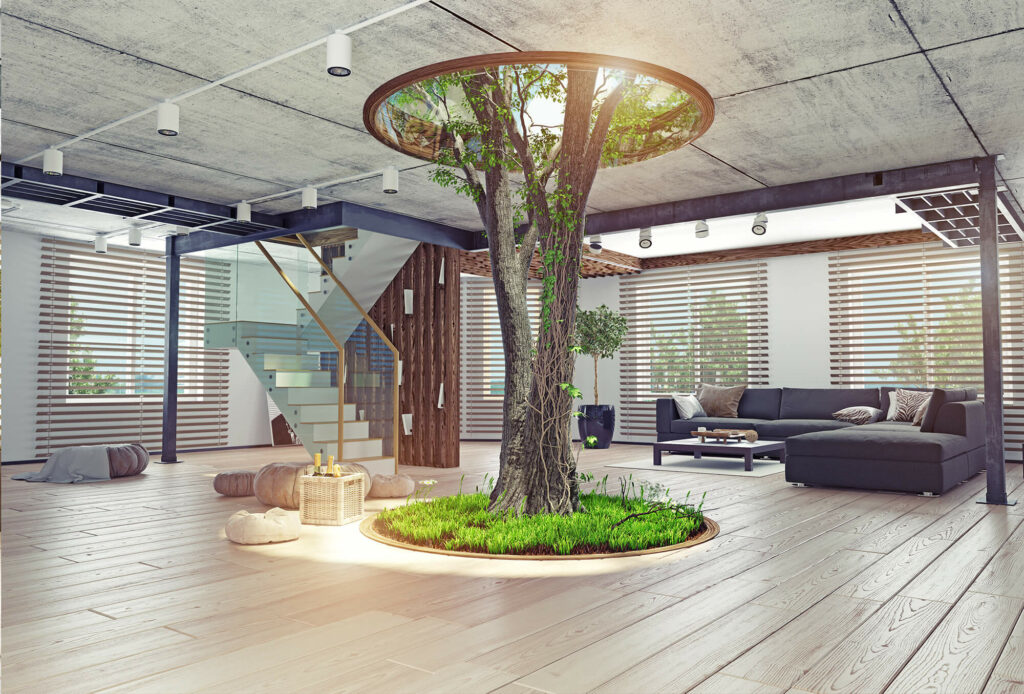 Final Thoughts
Biophilic offices take advantage of the aesthetic, environmental, and health benefits that nature offers, encapsulating them in closed spaces.
In a way, this style of interior design allows you to create an indoor oasis. Understandably, you may feel reluctant about it, though. Converting your simple office into a biophilic office may seem overwhelming if the concept is new.
But considering the many benefits, you'd be silly not to make this investment. It will benefit your present employees and provide all future investors and employees with the idea that you are doing what's best for your people and the planet.
So, go forth and begin your journey into bringing nature back. It's about time we perfected the concept of the concrete jungle!