This article contains affiliate links for which I may receive a small commission, at no additional cost to you, should you decide to make a purchase by using them. Learn More
Tarot cards are an essential tool for any tarot card reader.
Although simple in design, tarot cards are not to be trifled with. Reading these tarot cards gives us insight into our past, present, and future. It warns us and guides us about the path we take and which we shouldn't.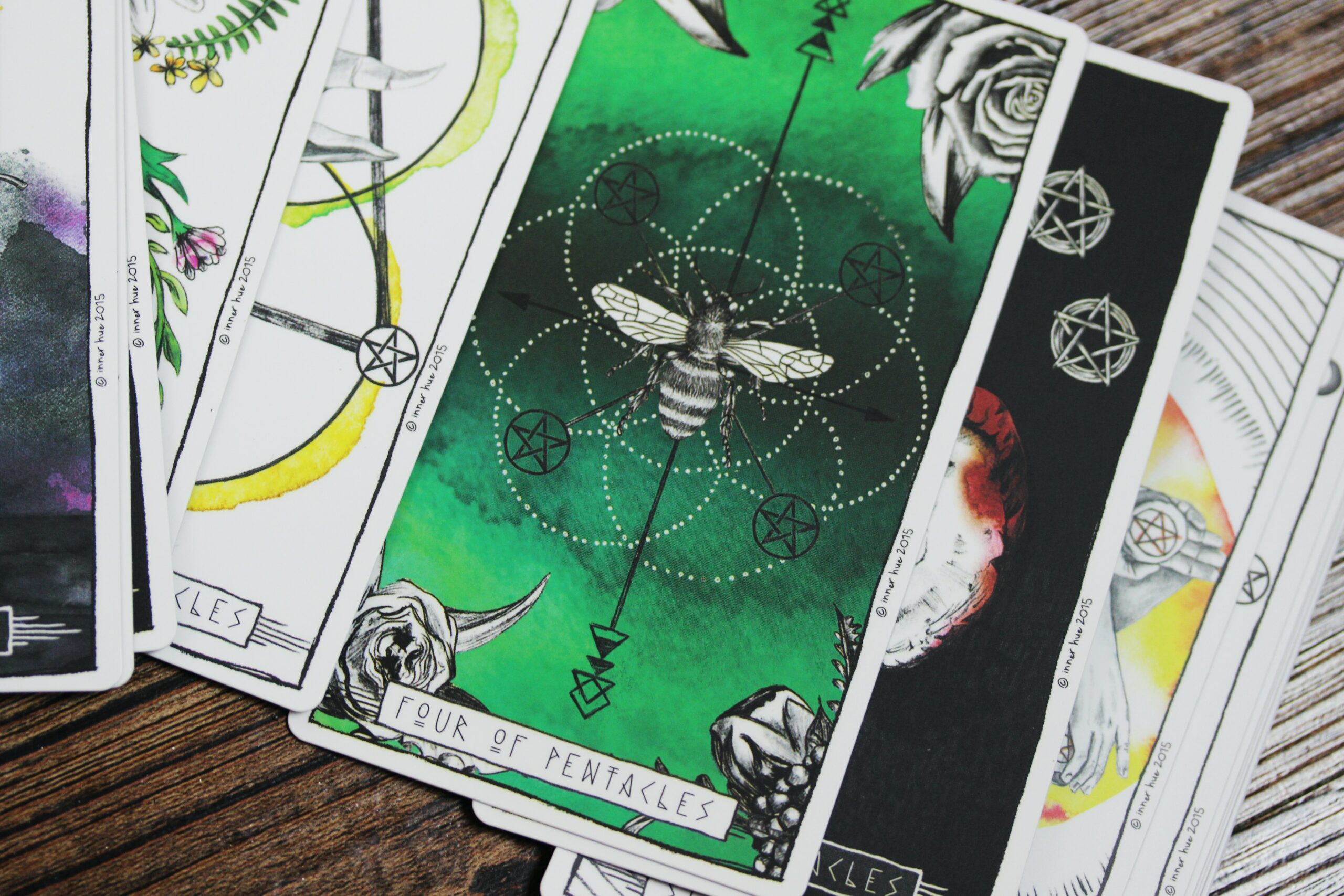 To the typical person, these cards resemble playing cards more than anything. But to a tarot reader, the design offers them plenty of information.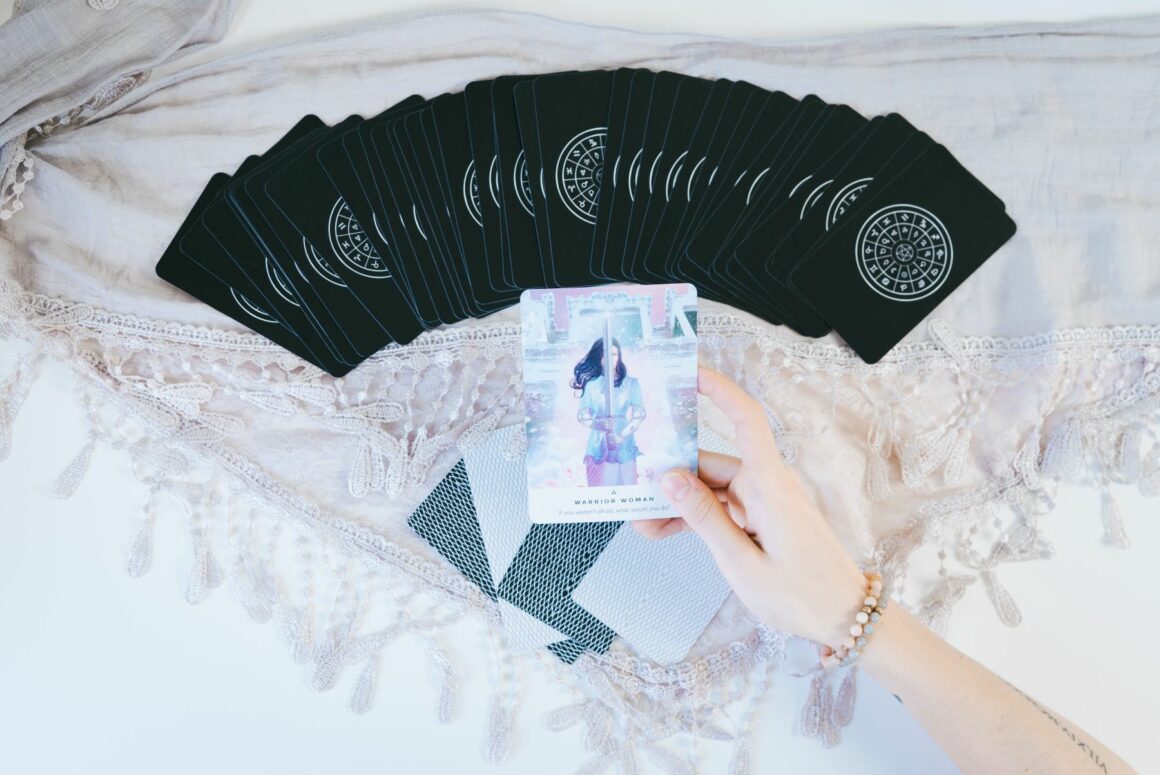 For a new tarot reader, the classic set of cards gives them the authenticity and confidence they need to provide tarot readings correctly. But for those who've learned the art, many try to branch out with their card design. That's why minimalist tarot cards have become so popular.
Why Do People Love Minimalist Tarot Cards?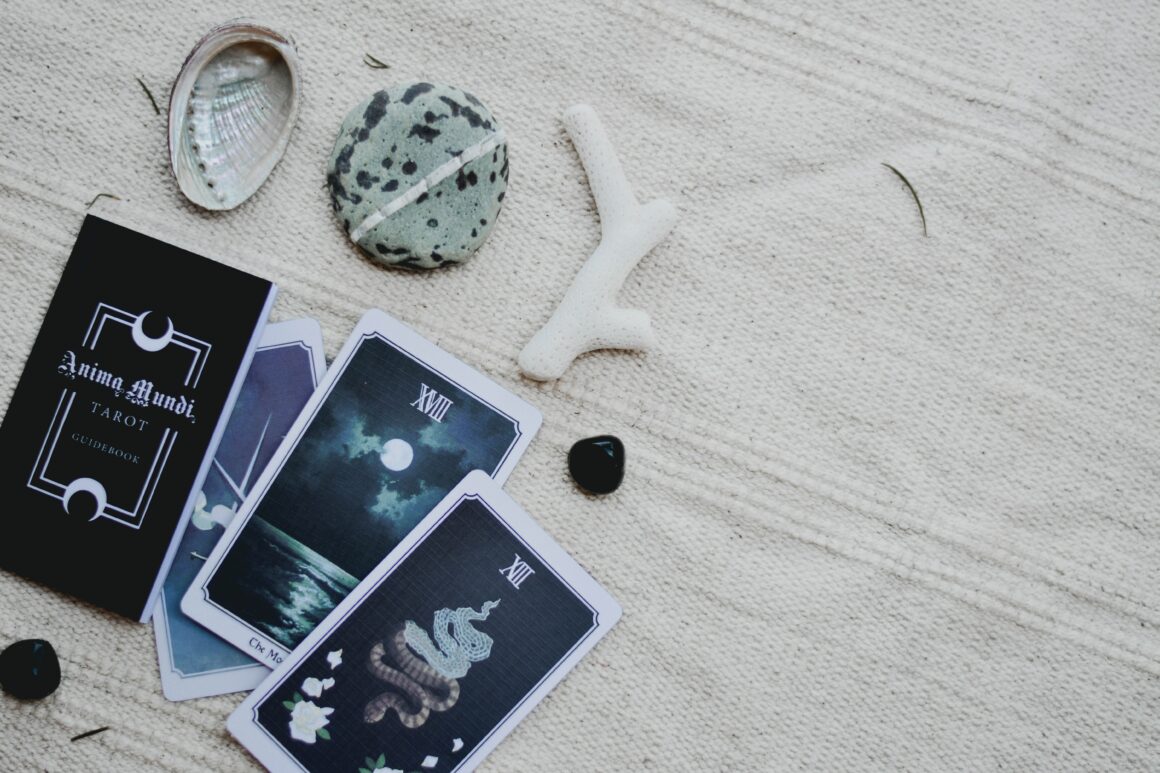 Looking at your average deck of tarot cards, you'll find the designs to be quite ornate and intricate. These designs have rarely changed in the past centuries and carry the same art style as they did in the 15th century, from where tarot reading originates.
Piedmontese or the Venetian tarot styles inspire the design for the card art, which was perfected by the Rider-Waite deck. Perhaps to stay true to its roots, many have continued to use the same deck. However, in modern times, many tarot card readers agree that minimalist tarot cards accomplish one fundamental goal: they alleviate people's fear of tarot.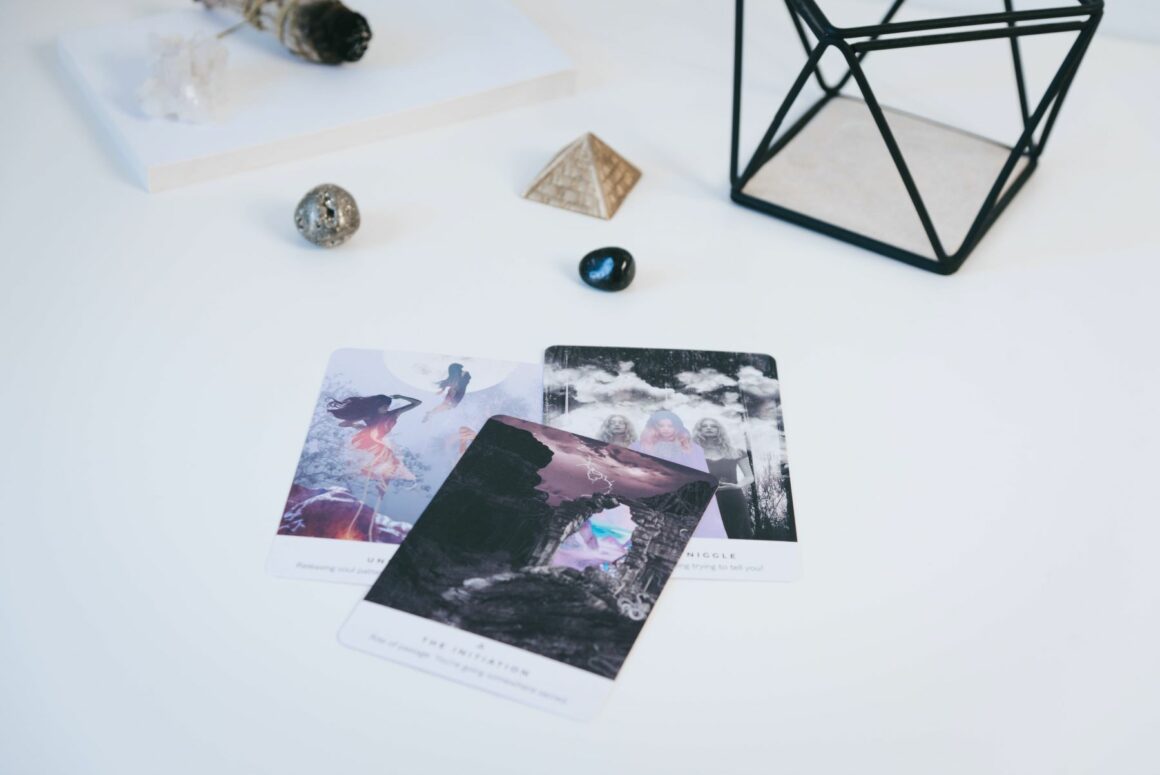 Even something like the Nine of Cups, a card of happiness and fulfillment, fills people with dread since the design doesn't initially scream happiness.
Tarot cards and tarot reading have long been shrouded in mystery and misconceptions, mainly because of people's perceptions. Minimalist cards remove the stigma related to the somewhat Art Nouveau design.
When people attend a card reading, they see these cards as neutral drawings and symbols. This allows them to forego their pre-conceived notions. In short, it makes tarot reading look more practical instead of mystical.
Minimalist tarot cards bring the attention of the subject to the symbol the card presents. People approach tarot reading with a more positive attitude rather than being distracted by the runes and art on the cards.
The Best Minimalist Tarot Cards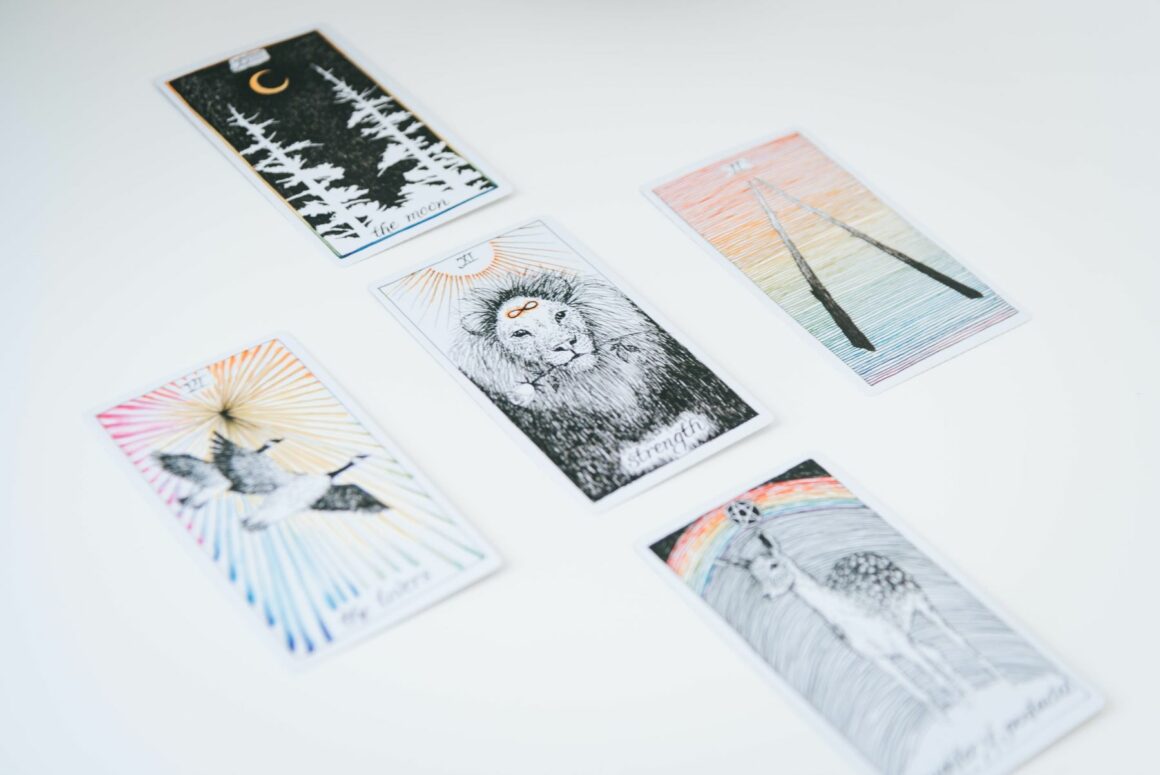 If you're a tarot minimalist, you'll find plenty of tarot decks that cater to your minimalist taste. But, to make your task easier, I've decided to list some of my favorites you can choose from.
OK Tarot: The Simple Deck for Everyday Cards
The OK Tarot deck is self-published by artist Adam J. Kurtz and is probably one of the cutest decks of tarot cards you'll find if that's possible.
Priced at $32.95, the OK tarot deck features simple illustrations in black against a pink backdrop. While that may seem very ordinary, it's only until you look at the card deck that you realize how pretty the tarot cards are. The pink is perhaps the best hue for art as impressive as tarot reading. The color is calming, pleasant to the eye. Enhanced by the black illustrations, the cards almost seem animated.
The illustrations themselves are not perfect. But the hand-sketched drawings are almost child-like and add a sense of whimsy to the art. Each card presents the symbol in a minimalist way, with simple drawings and writing underneath each.
There's no added symbolism or intricacy to take the eye away. What you get is a cute deck that gets the point across.
Everyday Tarot Cards + Guide Book by Brigit Esselmont
Even those not interested in tarot reading will not resist the Everyday tarot cards by Urban Outfitters!
This Everyday deck features a very regal, traditional design choice. The patterns imitate art, presenting the major and minor arcana in a minimalist but straightforward pattern.
The package includes numerous tools such as the deck, a guidebook, and a keepsake box to store your cards in. For novices or experienced tarot readers, you'll have no problem keeping your cards safe and away from inquiring eyes.
The cards are very intriguing in design, so if you use them in public, be prepared to be hounded with curious questions about tarot and how these minimalist but insightful cards tell you their secrets.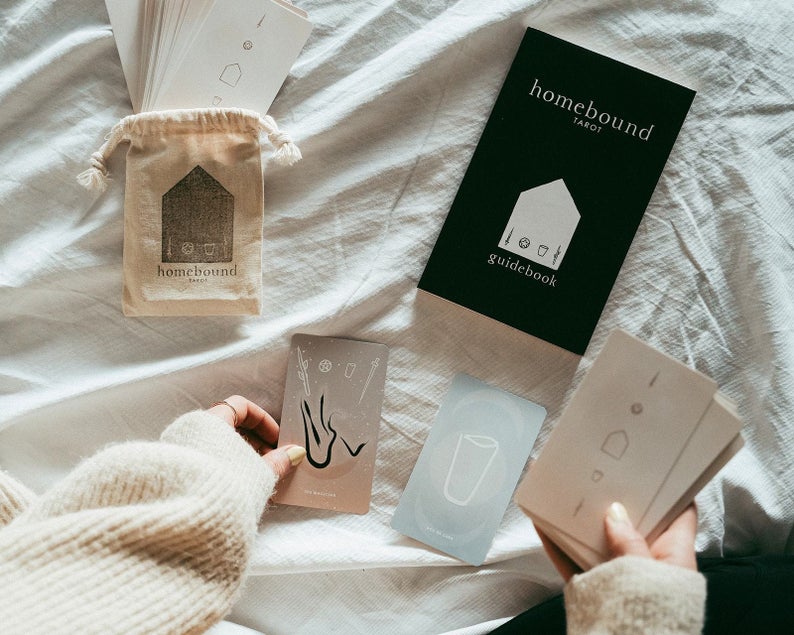 From the moment you first hold these cards in the palm of your hand, you know they're made especially for you.
The Homebound tarot deck sold by Arielle on Etsy features breathtaking, minimal illustrations made with cardstock, cotton, and paper. Ideal for novices and experienced tarot readers, this deck allows you to focus on the intent of each card without being distracted by any added impression you or your audience may have gotten from the card.
Each symbol uses a combination of calming images, colors, and illustrations that put the point across but without letting anyone interpret them into something negative.
The point of the design is to imitate emotions and feelings. So, for example, the card of happiness, "the nine of cups," doesn't only present the nine of cups in order. It uses body movement and body language to represent the happiness and emotion the card holds. As the tarot reader, this illustration allows you to understand the art of tarot reading more accurately.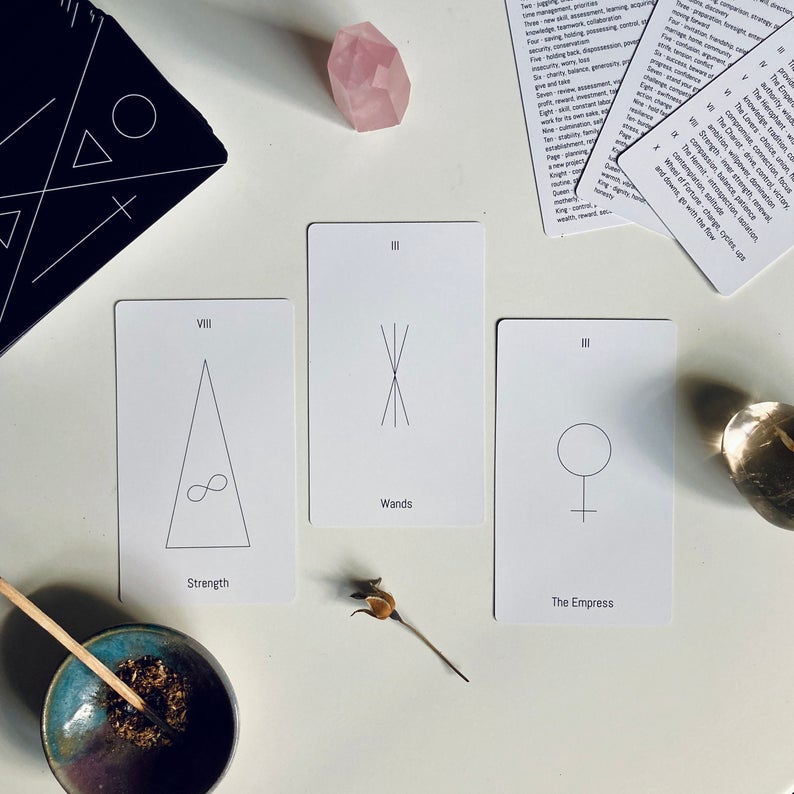 If you're a fan of the clean-cut minimalist styles, you will love the black and white 2021 edition by Katie Troisi.
Featuring the traditional 78 tarot cards inspired by various symbols used in mythology, astrology, and alchemy, the minimalist tarot deck cuts down on all excessive imagery, using minimal symbolism to make a point.
The clean black and white design allow the user and the subject to think deeply about each card's meaning and interpret each action, positively and negatively. There's no pre-conceived notion, even if the card is negative by name. For instance, even if someone were to get The Devil card, it would still not affect them negatively.
Made with luxe stock cards and paper, this card deck is the epitome of supreme minimalism.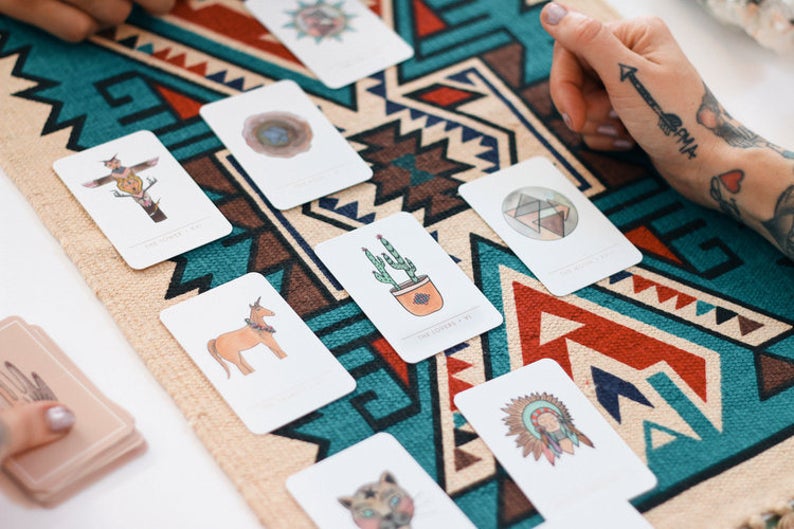 Although this deck only includes the 22 Major Arcana cards, that still hasn't stopped tarot loyalists from getting their hands on this exquisite selection.
This minimalist card deck is a perfect deck for novices and advanced sages, featuring monochromatic backs and watercolor art and symbolism. Unlike other minimalist cards that are more clean-cut, this deck celebrates the spiritual connection one has through tarot cards by using watercolors to present that link. Each illustration is precise but whimsical, infused by love and beauty, and is a perfect deck if you're someone who wants more from their tarot cards.
The 22-card deck is sold with a large cotton carrying case and storage bag, as well as a crystal. The cards are also small enough that you'll be able to travel with them easily.
This deck also makes a great gift for anyone interested. If you want to get them started, a 22-deck of Major Arcana cards seem as good a tool as any to start with.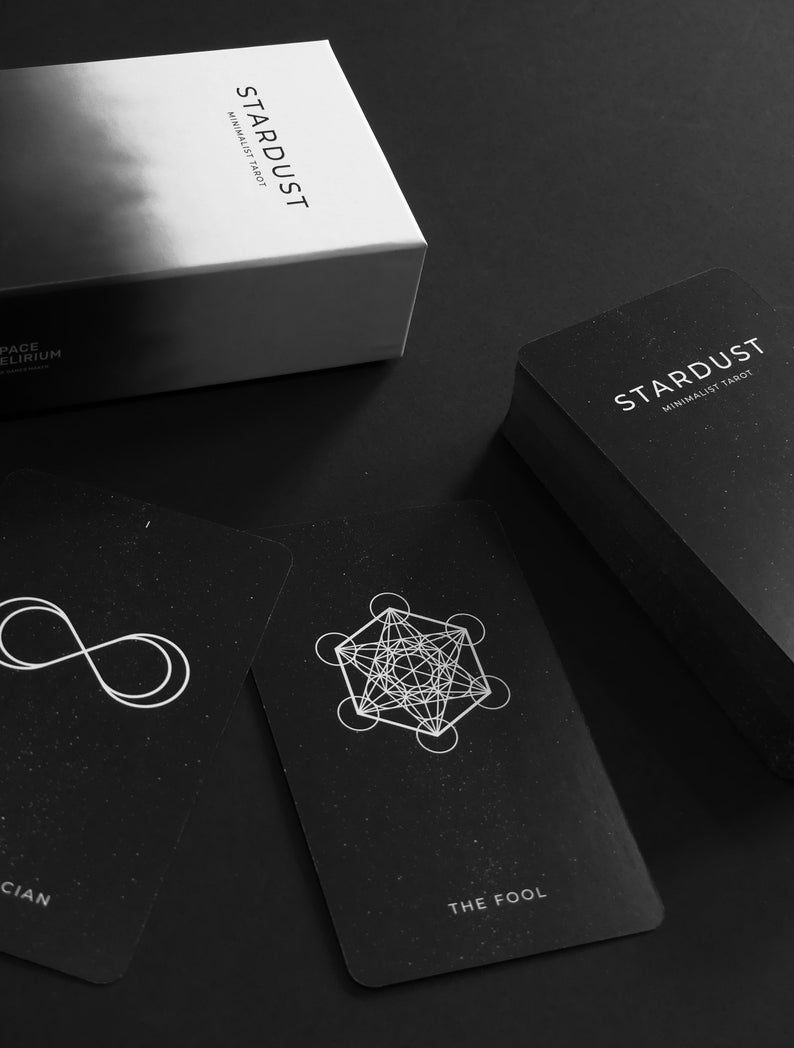 The STARDUST minimalist deck is a unique set of cards.
With an illustration of each symbol superimposed on a deck of cards that mimic stars in the night sky, each card carries distinctive energy and beauty about it. The deck follows the Rider-Waite tarot cards. But it does retain the suites to hark back to the French tradition of putting the origins in.
The deck of 79 cards is made in France and comes fitted in a rigid box with a French translation card, but that's about it. The reason behind the brand Space Delirium's omission of the guidebook is to allow the user to create their connection with the deck and the different meanings each card presents.
Even with the traditionally negative cards, the designers encourage their customers to draw each card with a neutral and calm mind and not be afraid of what energy the card brings.
In a way, the STARDUST minimalist tarot set allows people to revolutionize how they read tarot cards, making it a unique addition to the world of tarot.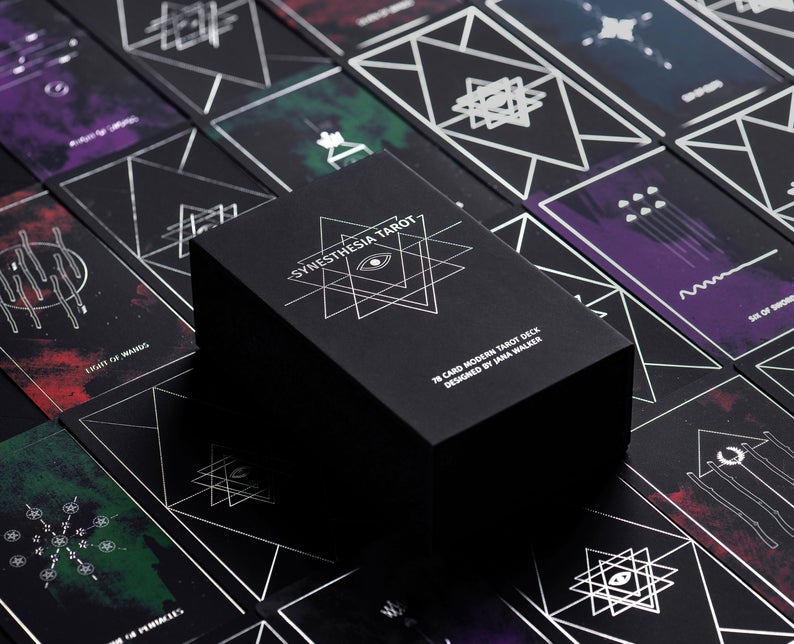 This is probably the most widely-loved deck from the bunch.
While the design is minimalist and straightforward, it's the added care and attention that went into the cards, making it such an attraction for tarot readers everywhere. Each gorgeous card takes inspiration from the traditional deck. Yet, the cards are designed with added color, matte black edging, silver foil accents on the deck, and a luscious soft-touch matte coating that turns each card into a miniature work of art.
These gorgeous cards combine matte and shine perfectly, allowing you to feel connected and bond with each card as it resonates with your mood and style. If you're a seasoned tarot reader, you will feel the dedication and love radiating from the cards as you hold them.
How Do You Read Tarot Cards the Right Way?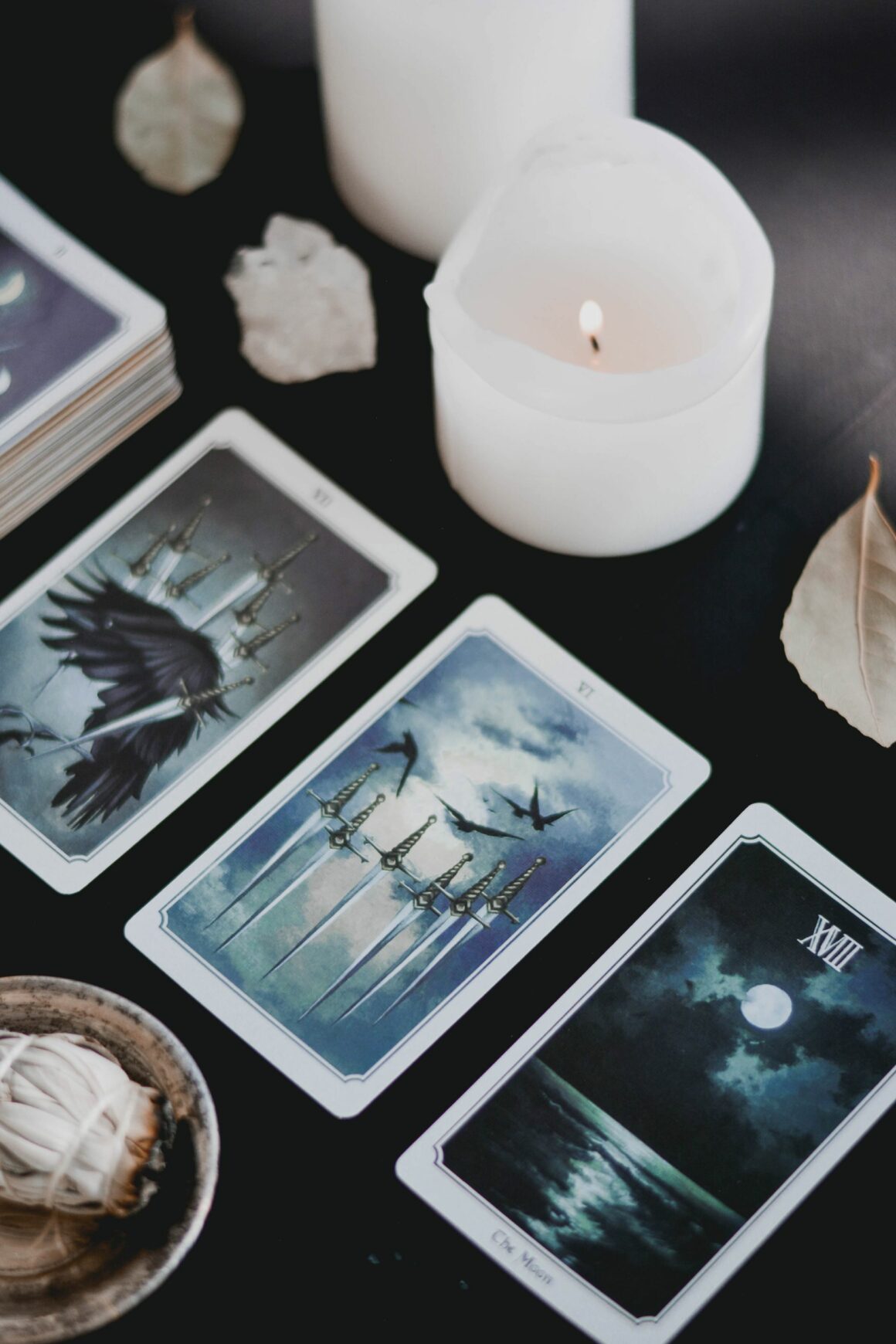 If you're new to reading tarot cards, understand that it will take time for you to become used to the energy surrounding each card.
These decks will speak to you, calling out to something within. And if you feel it, you will want to approach your tarot reading experience with a positive mindset. Even if you get any negative answers, our goal with tarot reading should not be to take this negative answer to heart but to heed this as a warning.
Look for a solution to it and use it as an opportunity to grow, giving out positive energy toward what you want to experience in later life. Your cards will guide you on the right way.
Conclusion
Tarot reading is not an absolute science, but it can be pretty intriguing once you put your mind to it.
Begin your journey into the world of tarot. Purchase any of the decks from the above selection that speaks to you. Start learning about what your cards say about you. Be ready for all the positive experiences your future holds.