This article contains affiliate links for which I may receive a small commission, at no additional cost to you, should you decide to make a purchase by using them. Learn More
Whether sober-curious or just trying to cut back, tasty non-alcoholic elixirs can make for a great sober night celebration and a better morning after!
There are many reasons you could refrain from drinking alcohol, and you never have to justify this for a celebration. Perhaps you're sober or sober curious, and maybe you are just trying to survive all the holiday parties of the season. The parties can multiply, and it's easy to feel like you are drinking a lot more during the season. While drinking alcohol in moderation can be safe and appropriate, it can become overwhelming and unhealthy during big celebrations.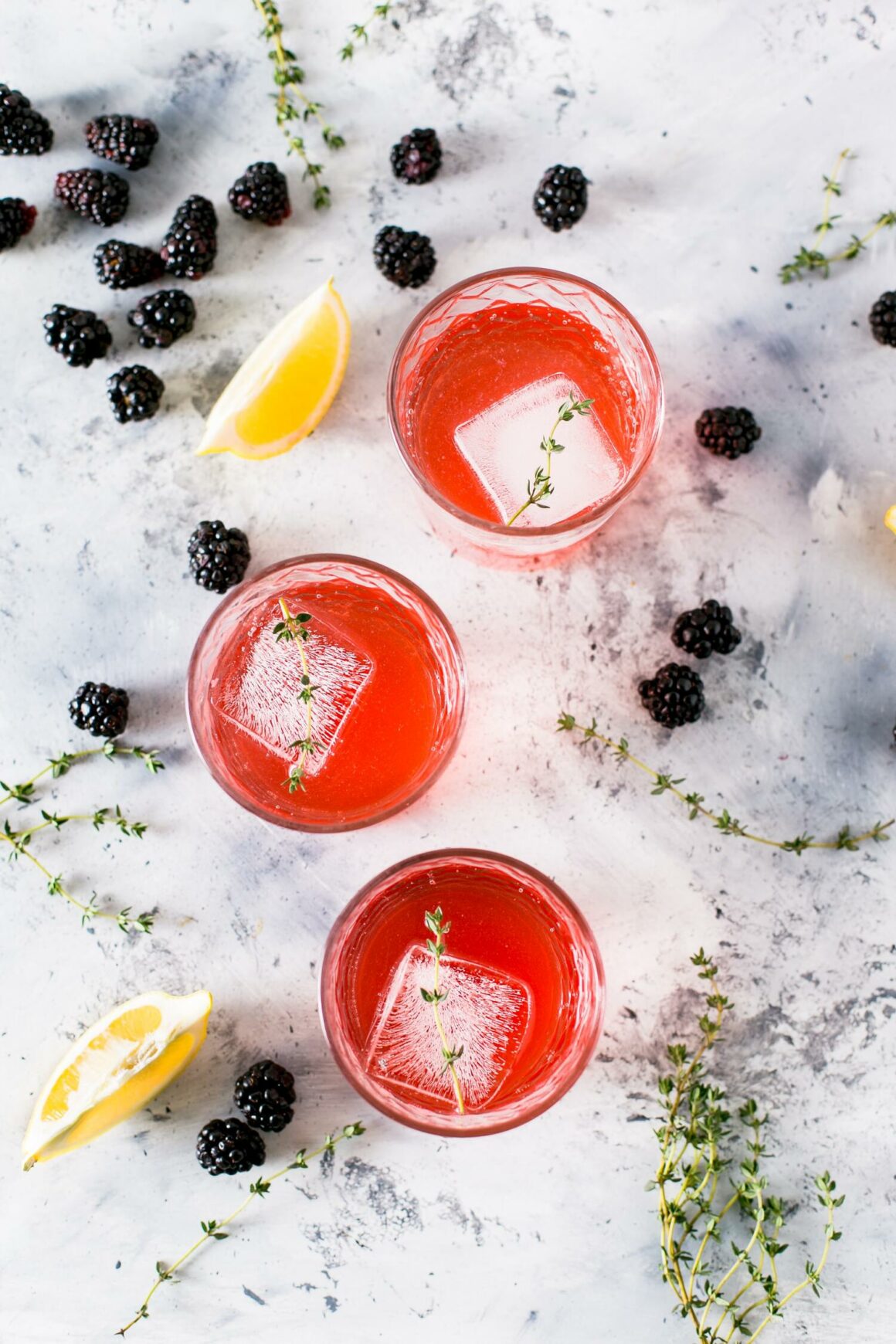 Excess drinking, over four drinks for men and three drinks for women per sitting, can lead to many health problems. It disrupts your sleep problems, which makes you more irritable. Your digestion system is out of whack, and you feel tired. It doesn't help when you have a mild or severe hangover the following morning, which affects your day.
Whatever the reason for your decision, you don't always have to miss out on the buzz and feel excluded from the party. Whether you are reaching for liquor or red wine, many companies are rethinking spirits and the way we consume them. These companies create non-alcoholic elixirs that can be great for sober celebrations or enjoying a chill night. More than sparkling waters and flavored sodas, these non-alcoholic elixirs use natural plants, herbs, fruits, and flowers to benefit you differently and make you feel healthier. Keep reading below to find 11 of the best non-alcoholic elixirs for a sober night celebration.
1. Ghia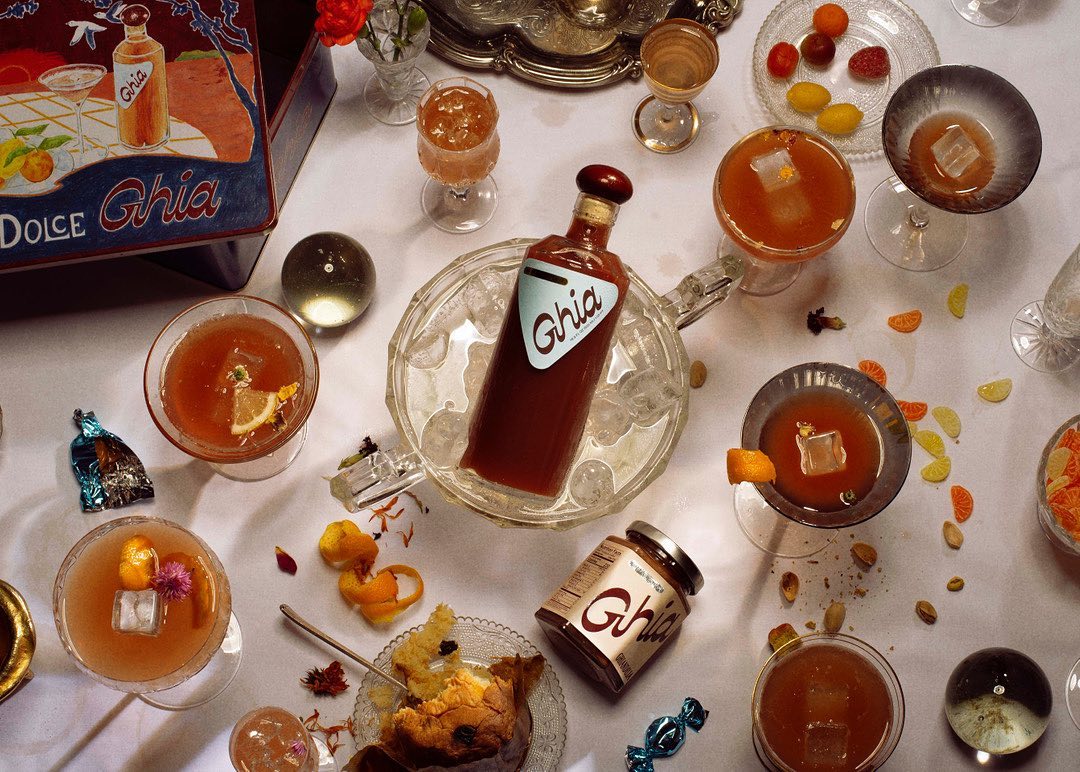 The Mediterranean tradition of apéritif inspired Ghia non-alcoholic elixir. Aperitivo is a traditional pre-meal drink intended to stimulate your appetite and prepare your stomach for food. It's made of natural and botanical extras from ginger, gentian root, rosemary, elderflower, orange peel, and lemon balm. The star ingredient is lemon balm, known as a natural nervine, which supports the nervous system. So, you can remain relaxed while celebrating!
Gaia also uses no caffeine, added sugars, or caffeine, so it's super healthy. It comes in sustainable packaging, with a super cute witchy-retro 70s branding so that you can feel good about the environment as well. It's won Esquire's Drink of the year and has sold out twice since its launch in the summer of 2020. Prices are reasonable and start at $18, and a subscription plan is available.
2. Ritual Zero Proof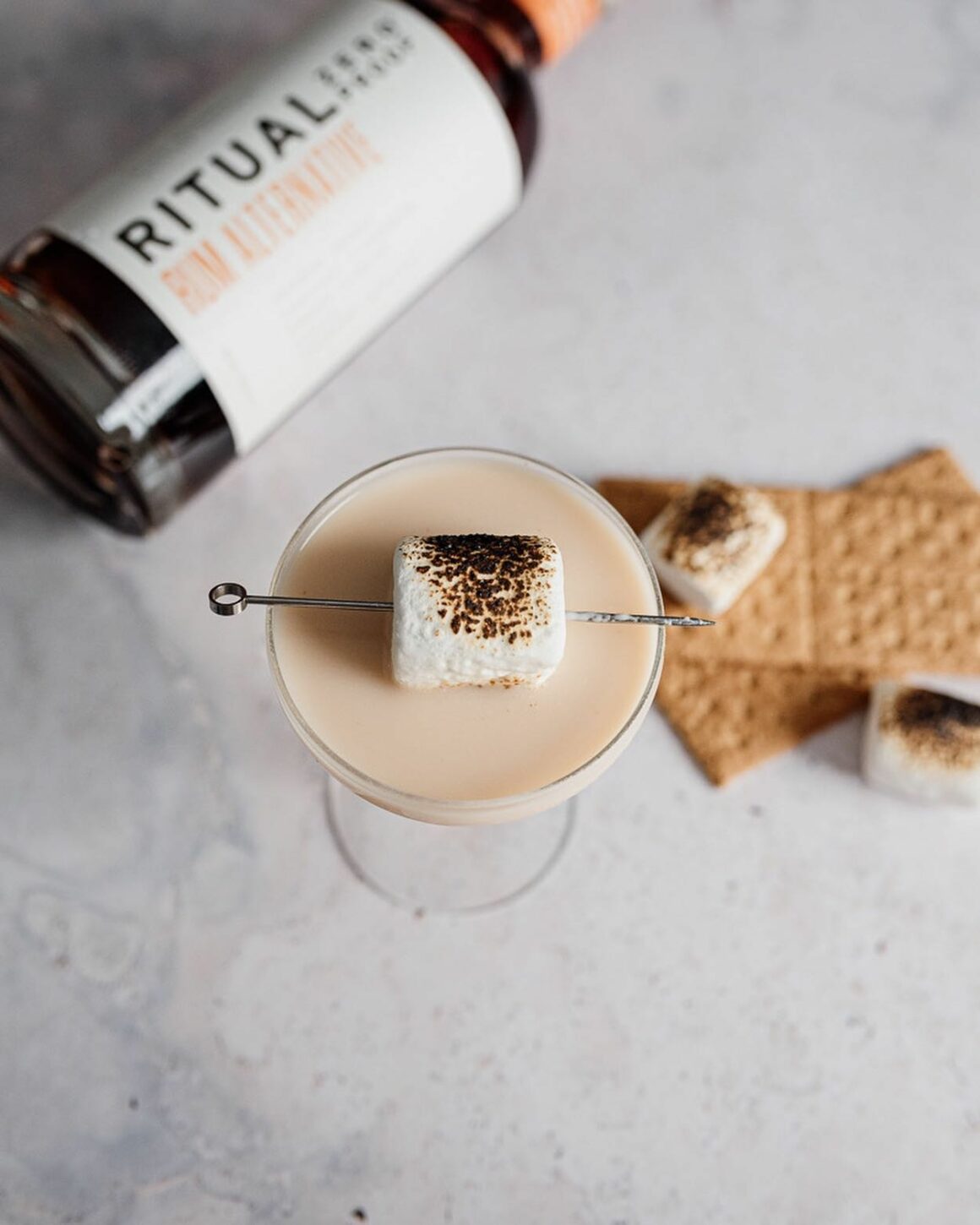 If you are looking for a budget-friendly non-alcoholic elixir, Ritual's Zero Proof is the perfect drink for you, priced at just $27 a bottle.
Ritual Zero Proof makes for a great stiff mocktail. With hints of juniper and pine, Ritual's Zero Proof elixir is bright and crisp and is known as a favorite gin and tonic replacement. Ritual Zero Proof has no added sugar, which is super healthy but lacks flavor. If you like your spirits more complex or looking for more sweetness, you can muddle fruit or add simple syrup.
Ritual's Zero Proof adds to their liquors xanthan gum, so this is something to be mindful of if you have a sensitive stomach.
3. Three Spirit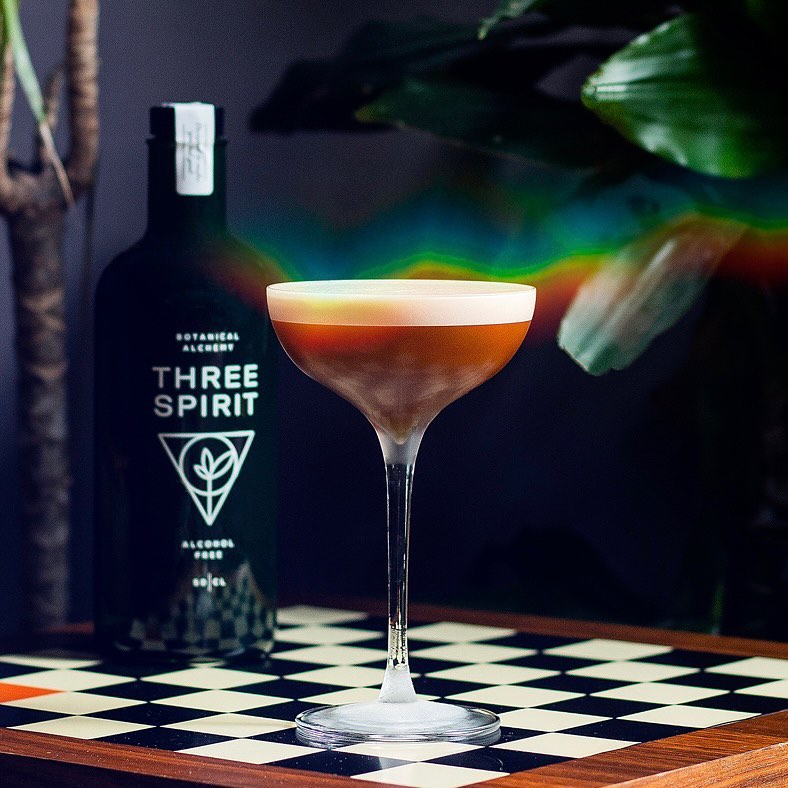 Three Spirit is a brand with a functional and lively spirit in celebrating what you put into a drink rather than what you take out. Plant scientists, bartenders, artists, and herbalists curated this UK-based brand to make plant-based, vegan non-alcoholic elixirs. It's also a great price starting at $39 for a 16.9 oz bottle.
You can choose from three flavors that each have their own distinct personality and are supplemented with healthy, natural adaptogen ingredients. Try Livener, a bright, sweet, and citrus flavor for an energizing and euphoric mood. If you are craving something more earthy, try Social Elixir, which is made with green tea, yerba mate, and lion's mane mushroom. To unwind with a nightcap, drink the flavor Nightcap, which is enhanced with relaxing valerian root and lemon balm. All three flavors are delicious enough to drink on the rocks.
Three Spirits just launched in the U.S. in November 2020 and are currently available online and come in recycled packaging, making us all feel good about the environment.
4. Jukes Cordialities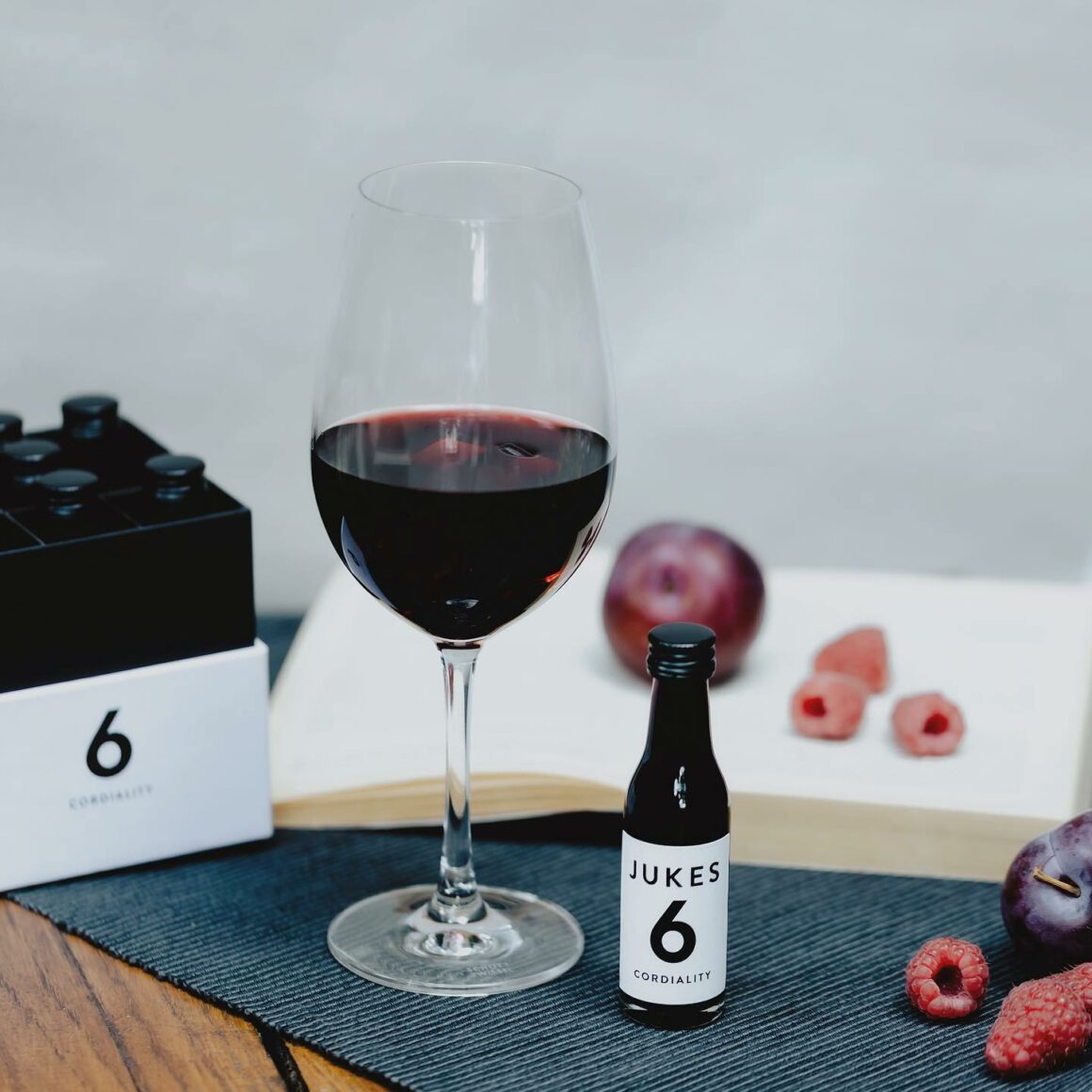 We widely know Jukes Cordialities as being some of the best non-alcoholic drinks available on the market. British award-winning wine taster and writer Matthew Jukes created it. Jukes wanted to craft a drink that paired and enhanced food flavor, as wine does typically, but without the alcohol.
In November 2020, he launched two flavors that mimicked wine and were intended to be diluted with soda or water to your taste or enjoyed on the rocks. Jukes 1 mimics a peachy white, and the popular Juke 6 mimics a deep, robust red. When mixed with soda water, it makes for an excellent spritzer drink that makes the flavors pop.
Jukes Cordialities makes both drinks from brown sugar, apple cider vinegar, and berries, making it tasty enough to drink of its own. They planned it to be paired with food so you can have the ultimate dining experience–without the alcohol.
This drink is a bit pricey as you order a box which costs you around $50. The perk is inside the box, where you'll find nine small bottles, the perfect size of one glass. You don't have to worry about opening a bottle and finishing it in 3 days before it goes stale. Another pro is that you can gift a bottle easily without sharing your entire supply.
5. Monday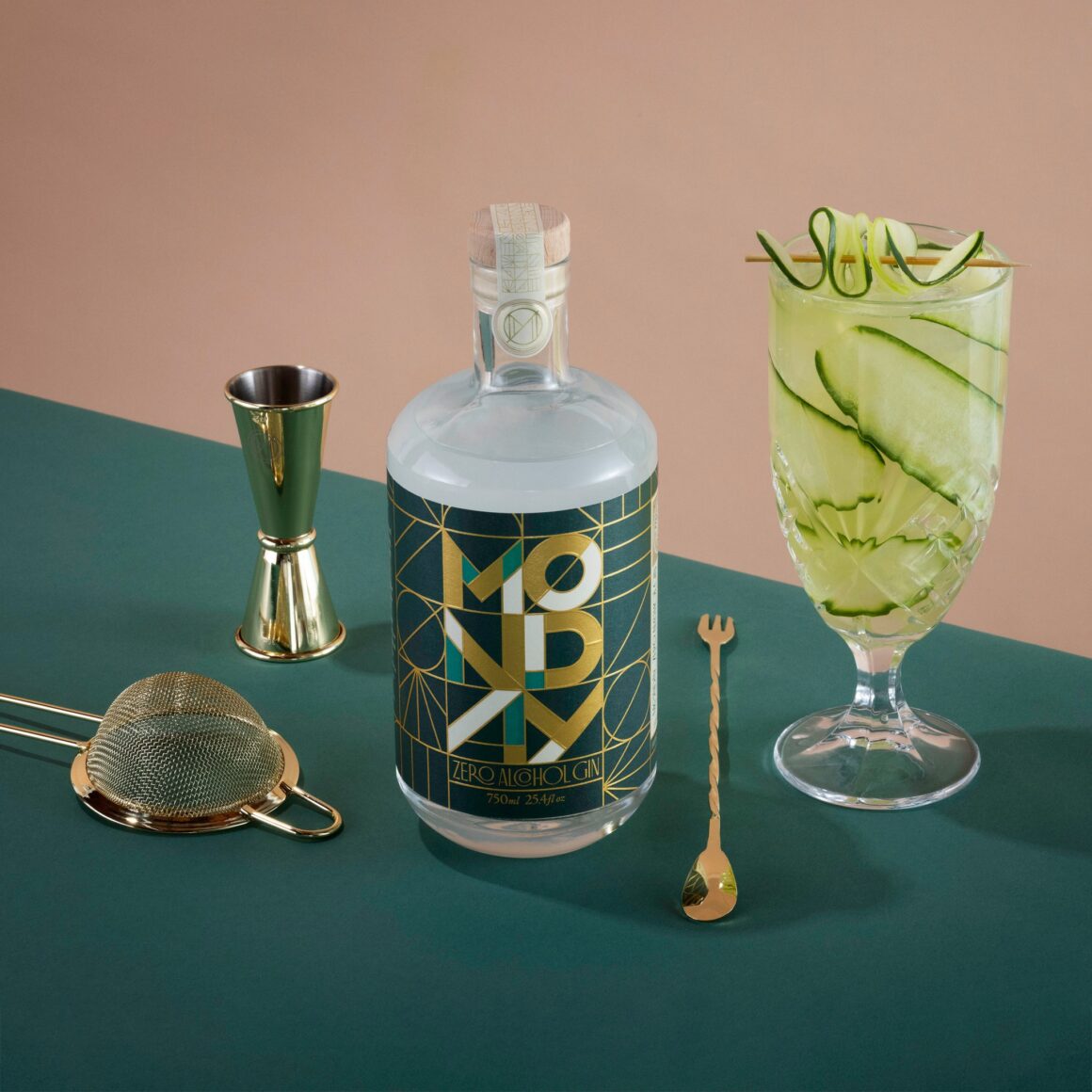 Monday Gin is one of the best non-alcoholic gins on the market, especially since it smells like gin when you open the bottle. It's classic and crisp, like traditional gin, but mixed with strong spices and botanicals.
It's an enjoyable drink on its own, or you can mix it with tonic or soda water. There is no sugar in the formula, so it's a great non-alcoholic healthy option. The bottle features a beautiful art deco label and looks fabulous on any bar cart. Price is reasonable for a 750ml bottle that runs around $40.
6. New London Light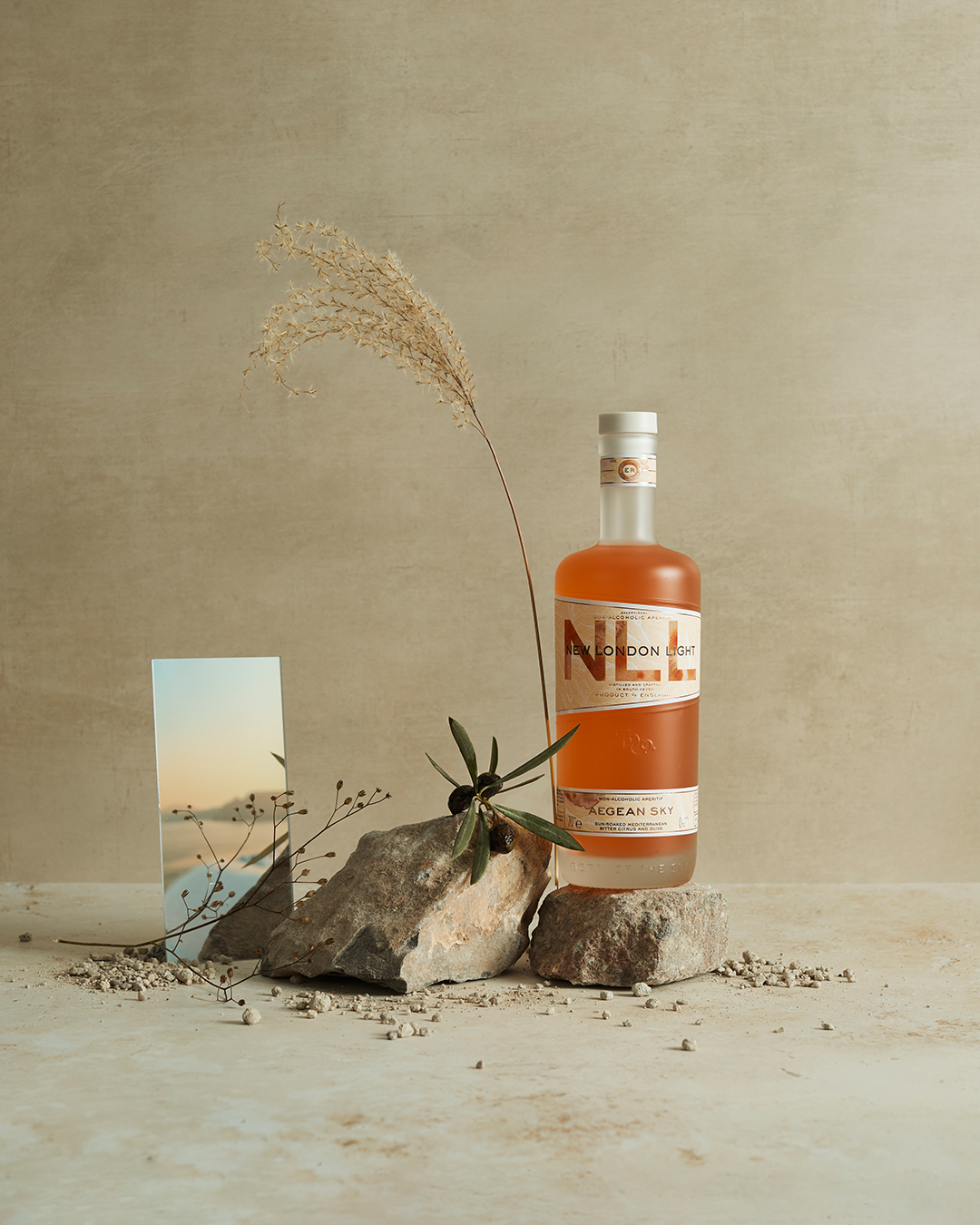 New London Light is a bold collection of contemporary non-alcoholic spirits and aperitifs crafted by Salcombe Distilling Co., challenging the process and bringing innovative flavors into a new era of taste without alcohol. They made it from a desire to produce an exceptional non-alcoholic spirit that doesn't skimp on taste.
It's named after an iconic lighthouse that marks the entrance to the best deep-water harbor in Long Island Sound. This lighthouse was a beacon for the crews of 19th century Salcombe Fruit Schooners, who sailed intending to trade exotic fruits and spices with the Americas.
New London Light has a full-bodied base using a combination of light juniper berries, warm habanero capsicum, and zesty ginger. They then blended it with selected botanicals such as orange, sage, lemongrass, and cardamon to provide a complex and layered flavor spectrum. It's available online starting at $25 and ships worldwide.
7. Curious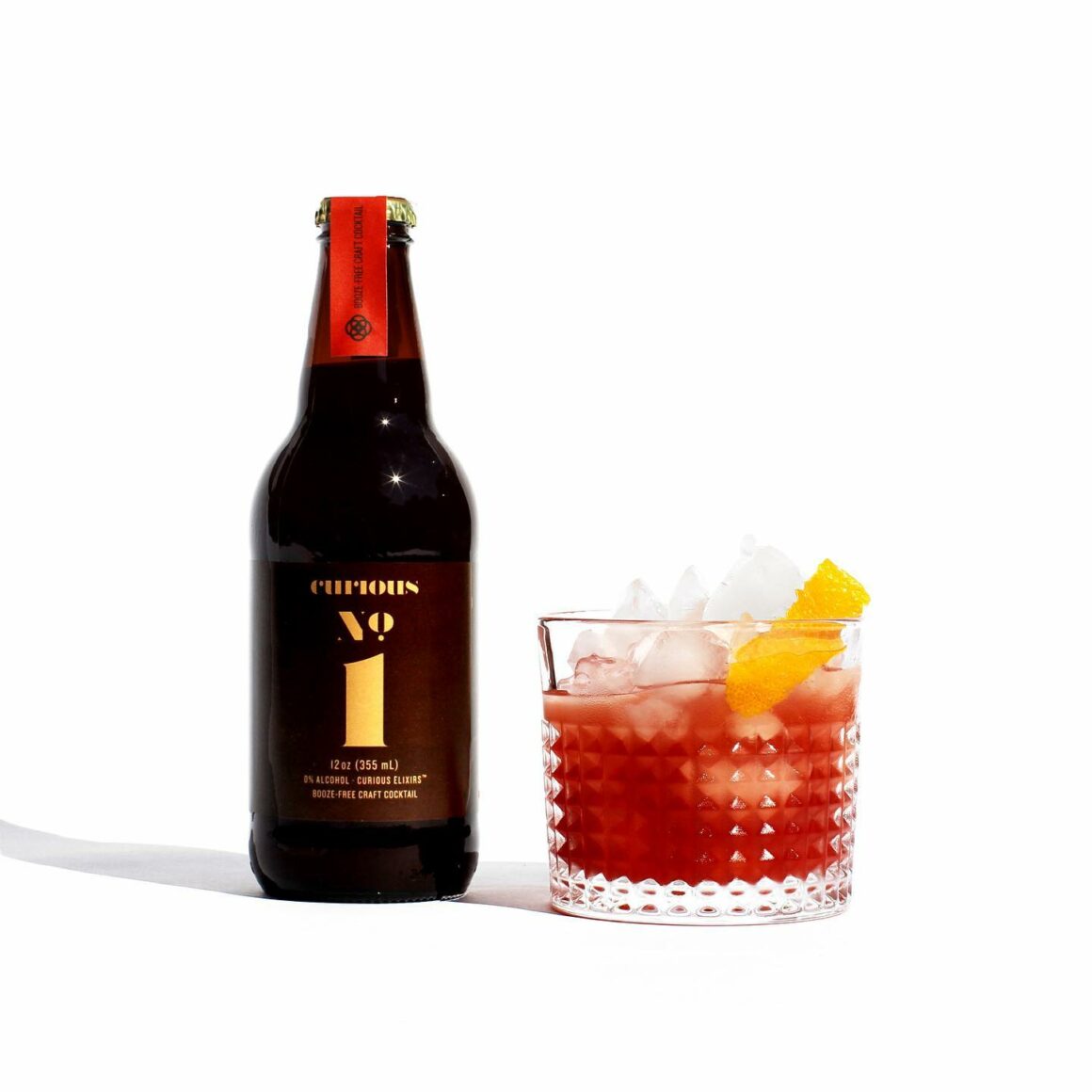 Made with organic ingredients and a catchy name that will make you curious to try this elixir out. Handcrafted in the Hudson River valley, Curious uses organic juices, spices, herbs, roots, barks, and botanicals for its elixirs, and each has that freshly made taste. It's fair trade and free of added sugar, gluten, dairy, and nuts.
Curious comes in a variety of flavors and tastes great poured over ice. All flavors are made and designed with intention, and you can see the time spent crafting these elixirs. You can opt for the floral blend boosted with ashwagandha, a carbonated option cooled with ginseng, or if you are a fan of gin, try the juniper cucumber flavor.
Curious not only tastes great but comes in cute, minimalist branding with the flavor notes printed on the paper seal over the cap, so you know what you are drinking. Prices are very budget-friendly and start at $35, and a subscription is also available.
8. Rasāsvāda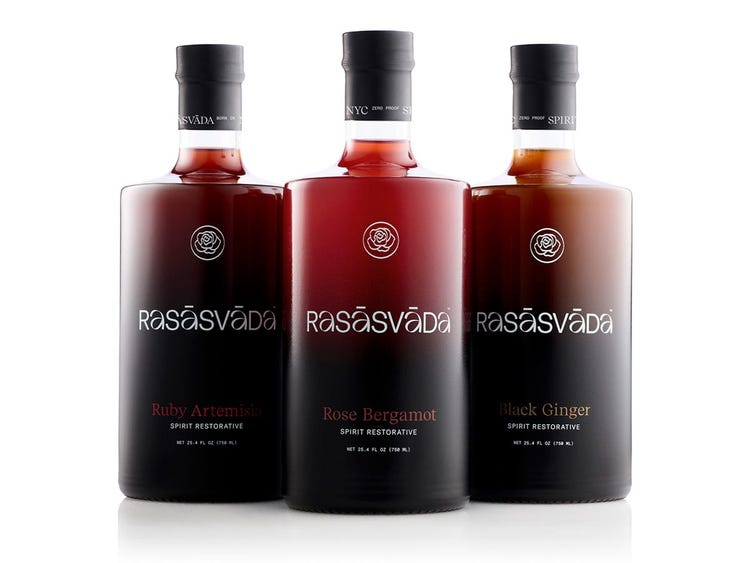 These non-alcoholic elixirs are made with teas, herbs, and adaptogens based on eastern medicine principles and mixology. The nutrition label is exceptionally clean, with no preservatives, sugars, extracts, or artificial ingredients.
What makes Rasāsvāda unique is that it uses many items not traditionally found in cocktails. Ingredients such as artichoke leaf, maqui berry, ginseng, bergamot, and burdock root, to name a few. These ingredients act like a digestive aid, libido boost, or even a hangover helper if you mix alcohol with the elixir.
The brand's website offers recipes online that include unique ingredients like the above or simple like sparkling water and lemon you want to add to the cocktail.
Rasāsvāda spirits can be complex enough on their own and great for drinking on the rocks.
The brand offers these drinks in three flavors: A tangy, floral, and citrus option called Ruby Artemisia; a classic Italian bitter called Rose Bergamont; and Black Ginger, an earthy and bitter flavor.
9. Töst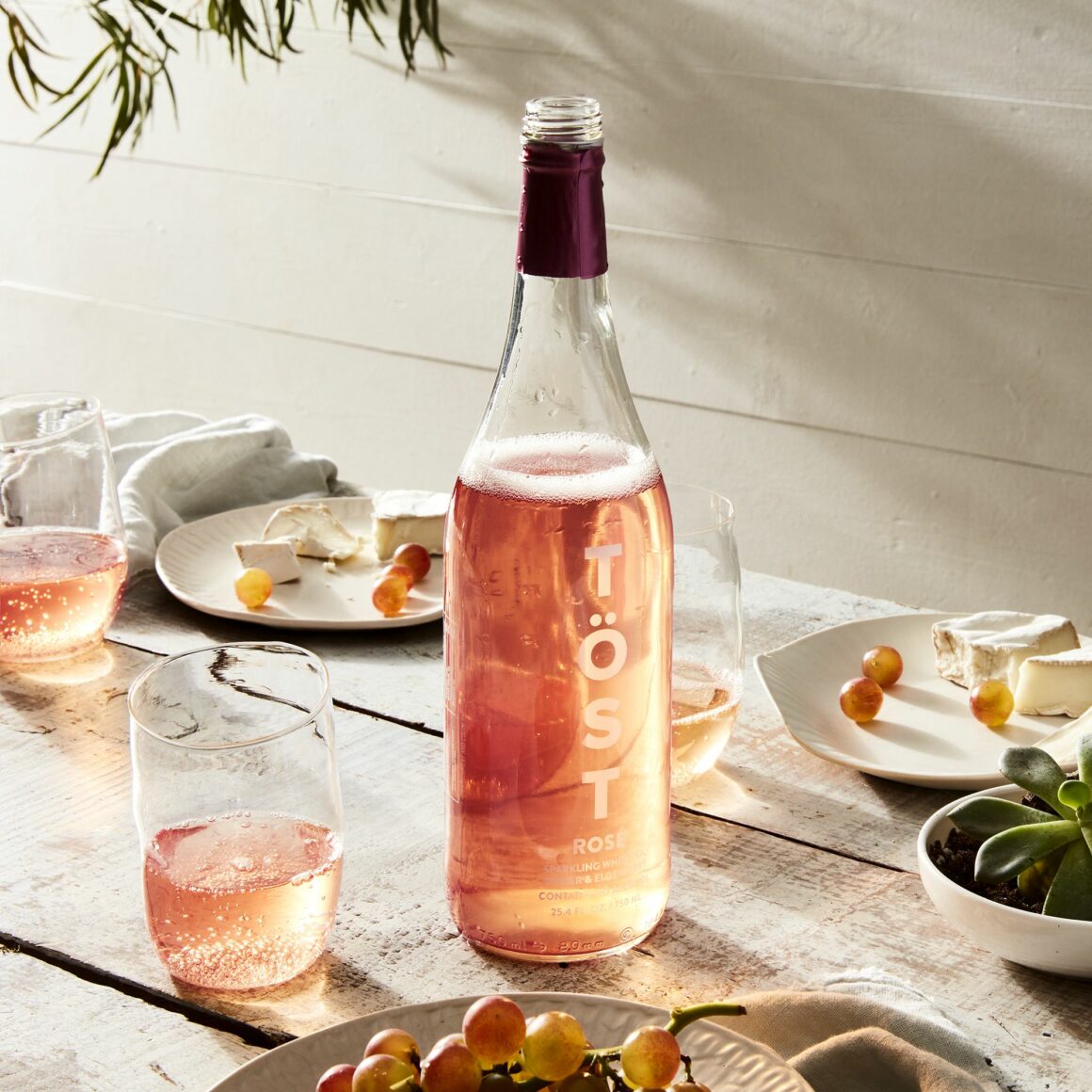 TÖST is a sparkling non-alcoholic drink made from white tea, cranberry, and ginger. It's designed to be like a cider or spritzer and has that celebratory feel of a bottle of bubbly. The brand intended to make a drink as sophisticated and meaningful as an alcoholic beverage for a dinner party but without alcohol.
TÖST is sweet and full of fizz, so it succeeds in feeling elegant and being used to celebrate. It's the perfect elixir for a sober night or day celebration. TÖST is made with blue agave and cranberry concentrate, leading to a high sugar count, so I would be mindful of how many you consume.
It's reasonably priced at around $40 a bottle and makes 12 oz singles if you want to have just one glass.
10. Kin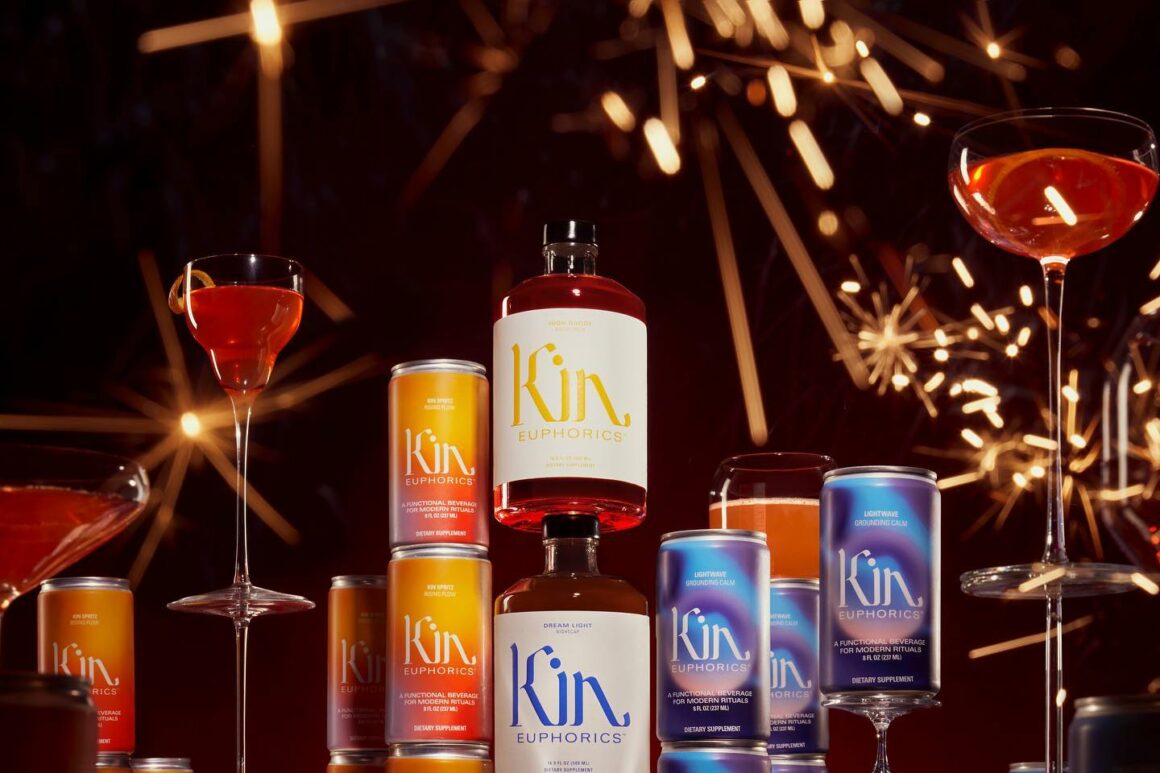 Kin is the perfect non-alcoholic option for nighttime. Whether you are socializing or enjoying a chill night in Kin is the perfect nighttime drink for you. It combines organic plant-based ingredients such as hibiscus and cinnamon with cognition supporting nootropics and natural adaptogens like melatonin and reishi mushroom.
Take your pick from the herbaceous High Rhode, spiced Dream Light, smooth Lightwave, or premixed citrus spritz that are all vegan, gluten, and nut-free.
It's $42 for an 8-pack and $39 a bottle and available subscriptions.
11. Seedlip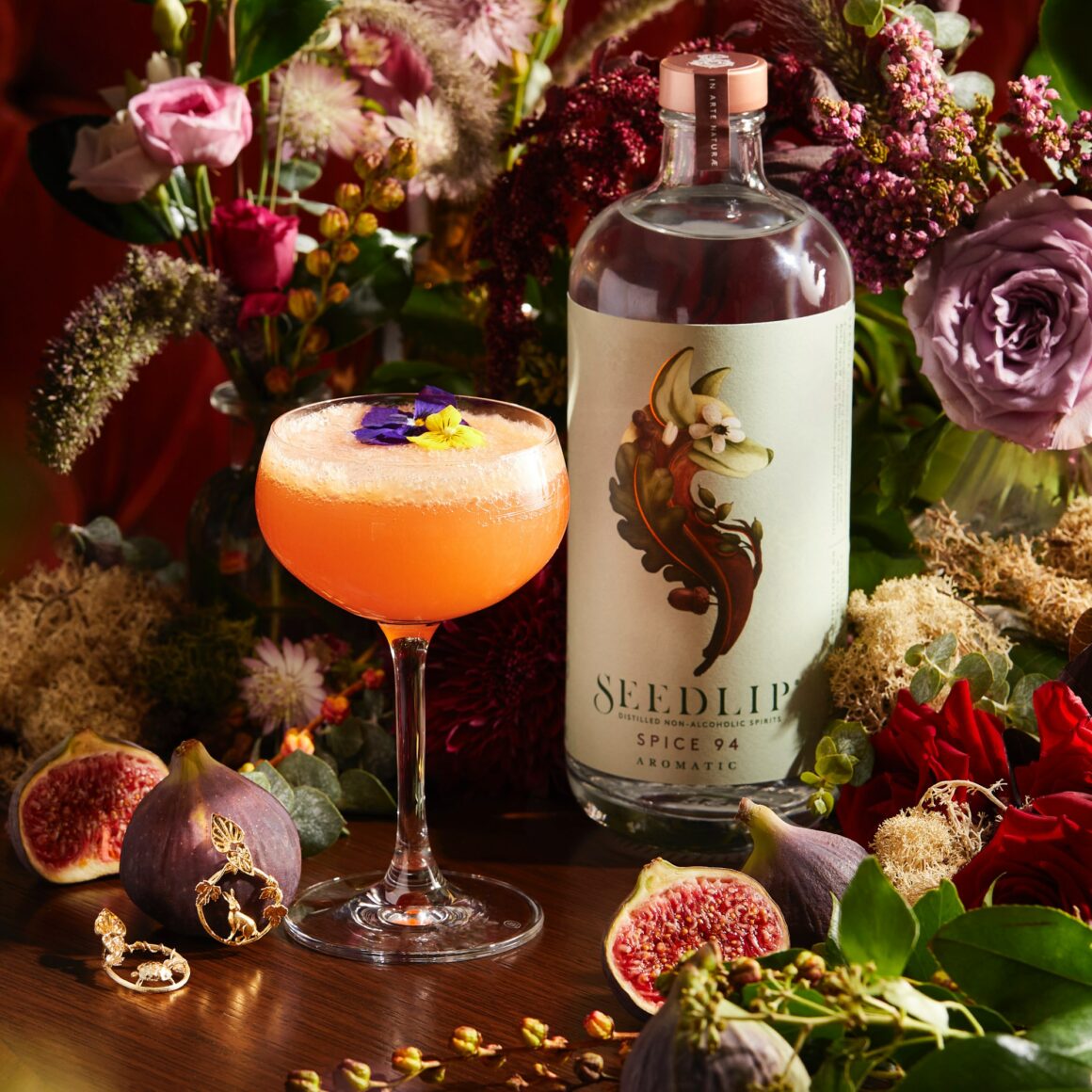 Seedlip is a great staple for any sober bar cart and one of the most popular mocktail ingredients available in restaurants today because it tastes so much like real booze.
It can do this since it's made very much like gin by combining herbs and other botanicals and distilling them using alcohol. With Seedlip, however, the alcohol is removed before bottling.
Seedlip was created after founder Ben Branson was given a "sickly sweet pink mocktail" at a restaurant one night. It inspired him to create an alternative, and he drew inspiration from his love of nature and his family's farming background.
Seedlip has blends that include lemongrass mixed with ginger, allspice berries with oak bark, and pea with spearmint. Serve with tonic or use recipes on their website to create your mocktail. These elixirs are sugar- and calorie-free, too.
Grove 42 is one of the most popular flavors and is a blend of citrus, lemongrass, and ginger, which delivers an overall summer vibe. All elixirs are sugar and calorie-free and made with natural ingredients. Besides having gorgeous and unique naturalist branding, I also liked that Seedlip is committed to sustainable packaging and zero emissions by 2022. You can buy online, and a bottle costs around $32.