This article contains affiliate links for which I may receive a small commission, at no additional cost to you, should you decide to make a purchase by using them. Learn More
Every living room has a coffee table. Though not an essential item, it has its uses and makes the room beautiful. You will find a wide range of coffee tables available in the market. But finding the right one for your minimalist and elegant living room can be exhausting. So if you are on the lookout for such a minimalist coffee table, keep on reading.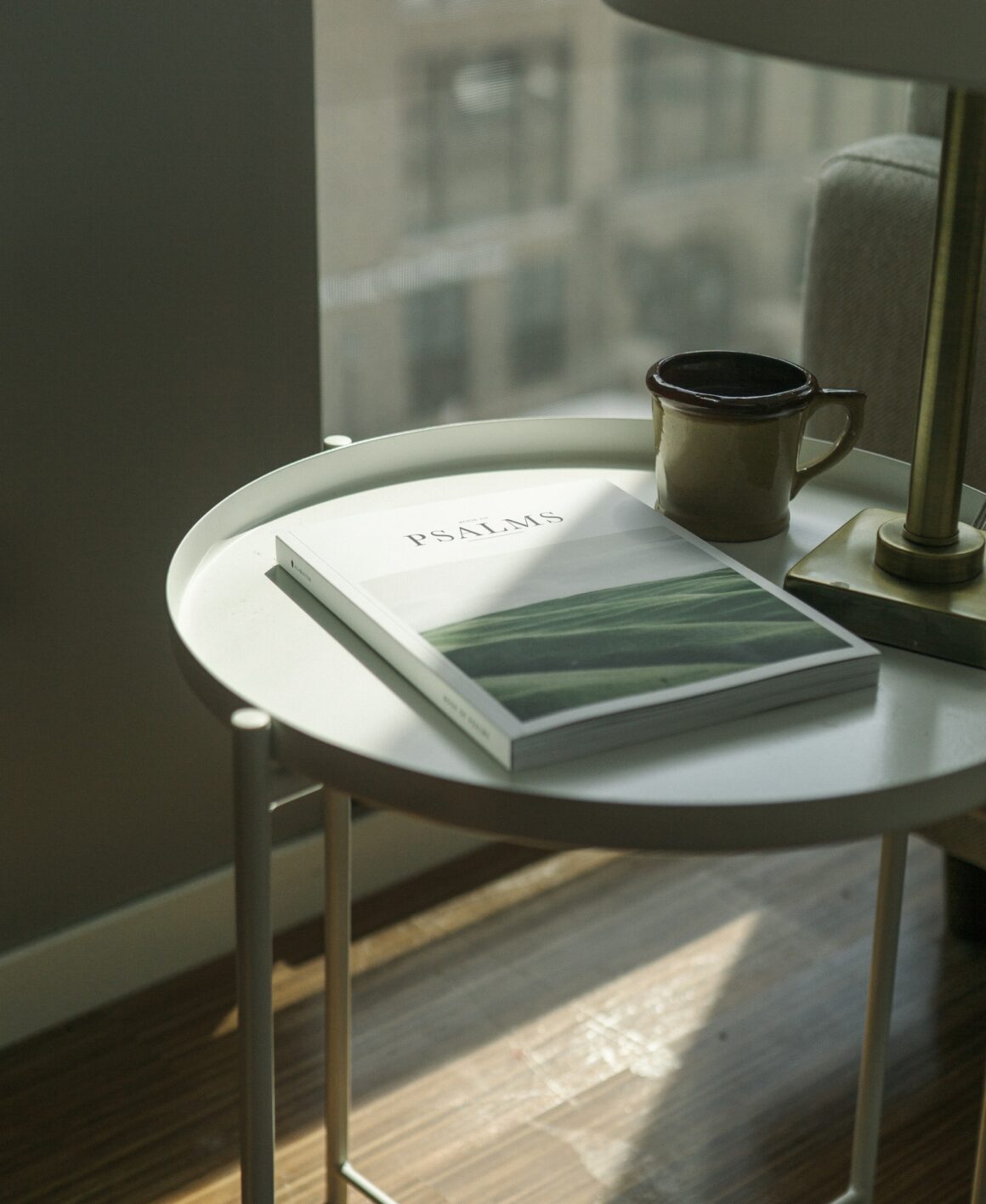 What factors to consider when purchasing a coffee table for your minimalist home?
Traditionally a coffee table is placed in the center – surrounded by other furniture. Hence finding a coffee table that complements your space is as important as finding one that appeals to you.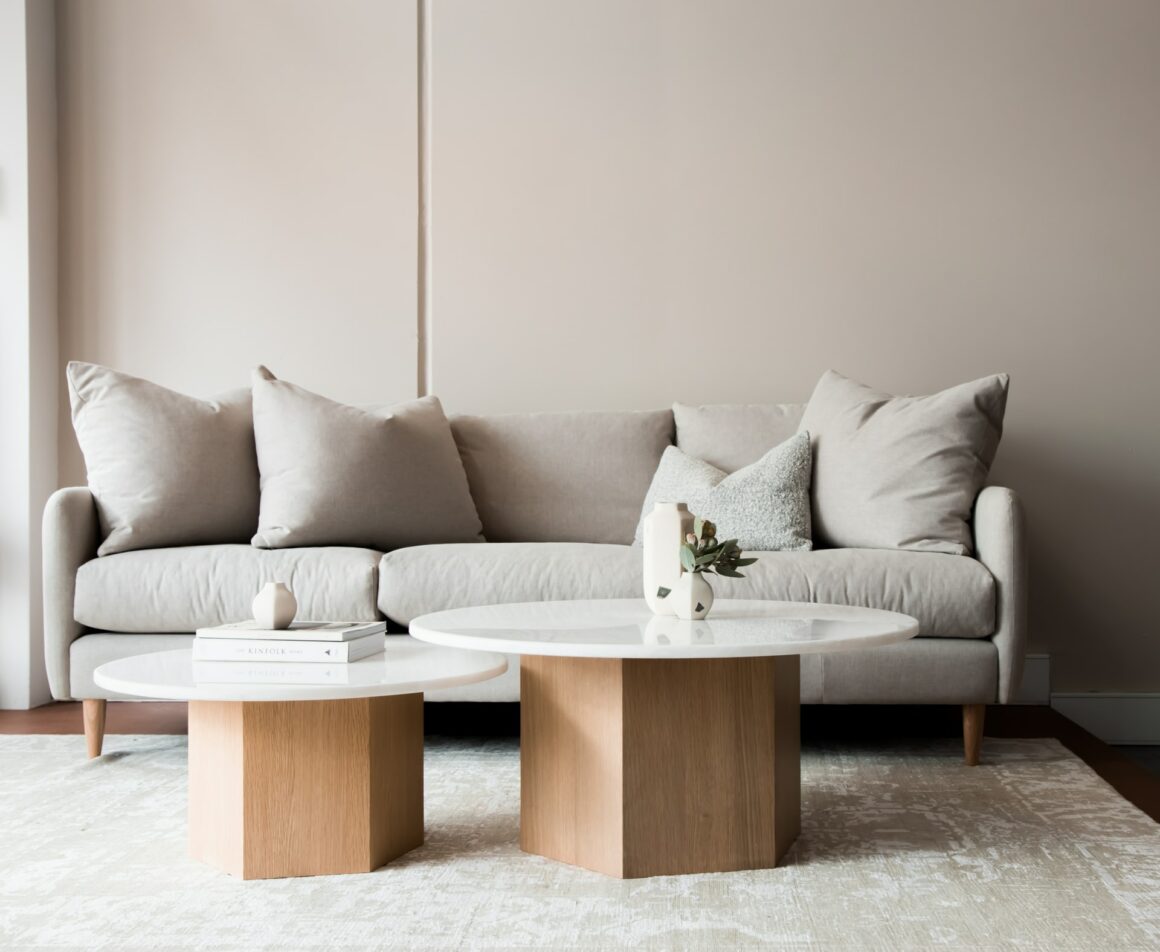 Below I have listed some of the main factors to consider to make this possible.
Space Available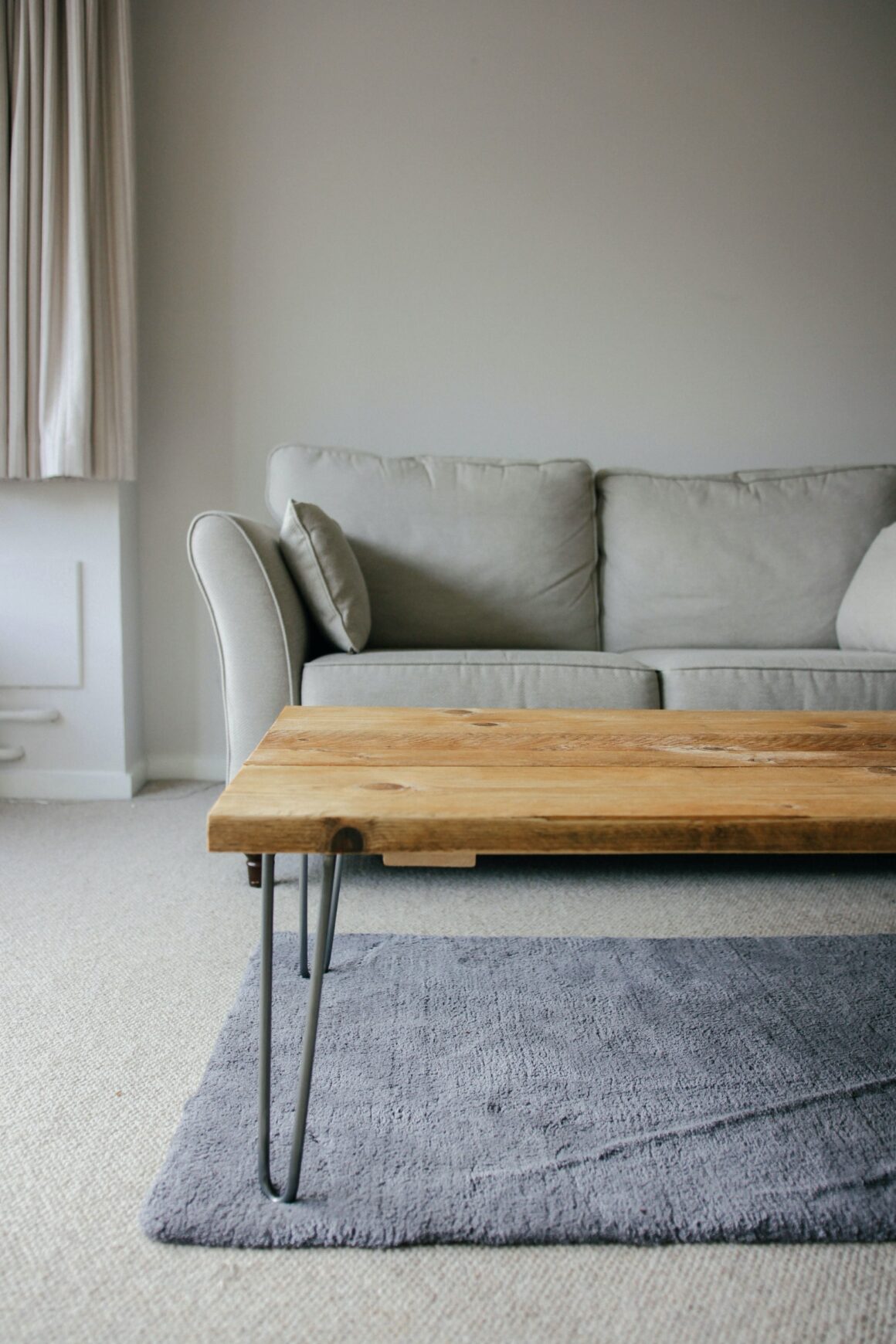 Firstly, take a look at your layout and consider the amount of open space available in your living area. Generally, a minimalist home will have a lot of empty spaces. Now you decide where you would like to place your coffee table. Once you have the location in mind, you need to understand how much room you are willing to spare around the coffee table. These steps help you narrow down how big or small your coffee table should be.
Size
Now that you have a rough table size in mind – we can look at the details and narrow it down further. The height of your coffee table should be roughly the same size as your sofa cushions. Only if you plan to sit on the floor and spend time around your coffee table – should you get a lower-height table. Ideally, your table should not be more than two-thirds of the size of your couch. But depending on your utility, you can increase or decrease this size.
Utility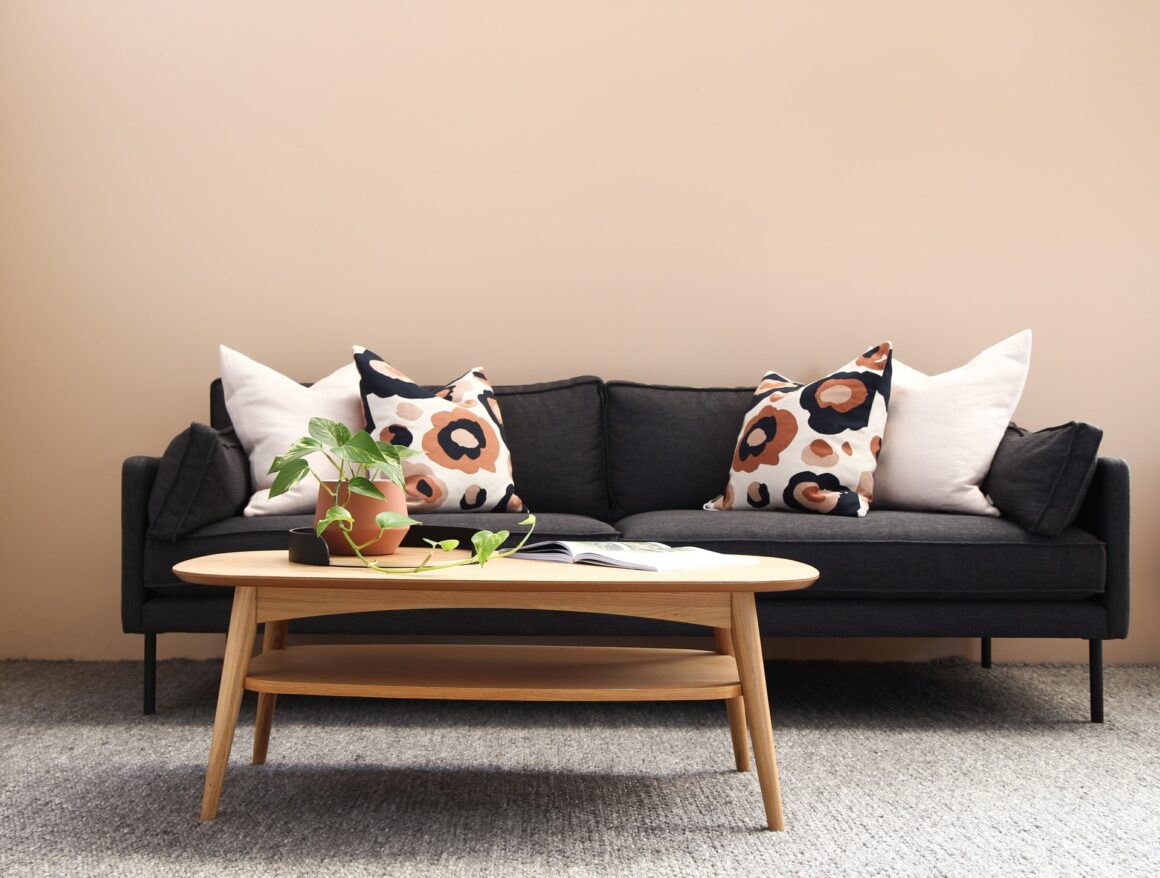 Determine the purpose of the coffee table. If it is purely meant to be an attractive furniture piece, you must consider your room's color scheme. And accordingly, purchase a table based on its color and make – this will help enhance the beauty of your space. Likewise, you could invest in a simple coffee table – and arrange a vase with fresh flowers or stack some coffee table books or a decor item. This method could also be opted to create interest in your living room.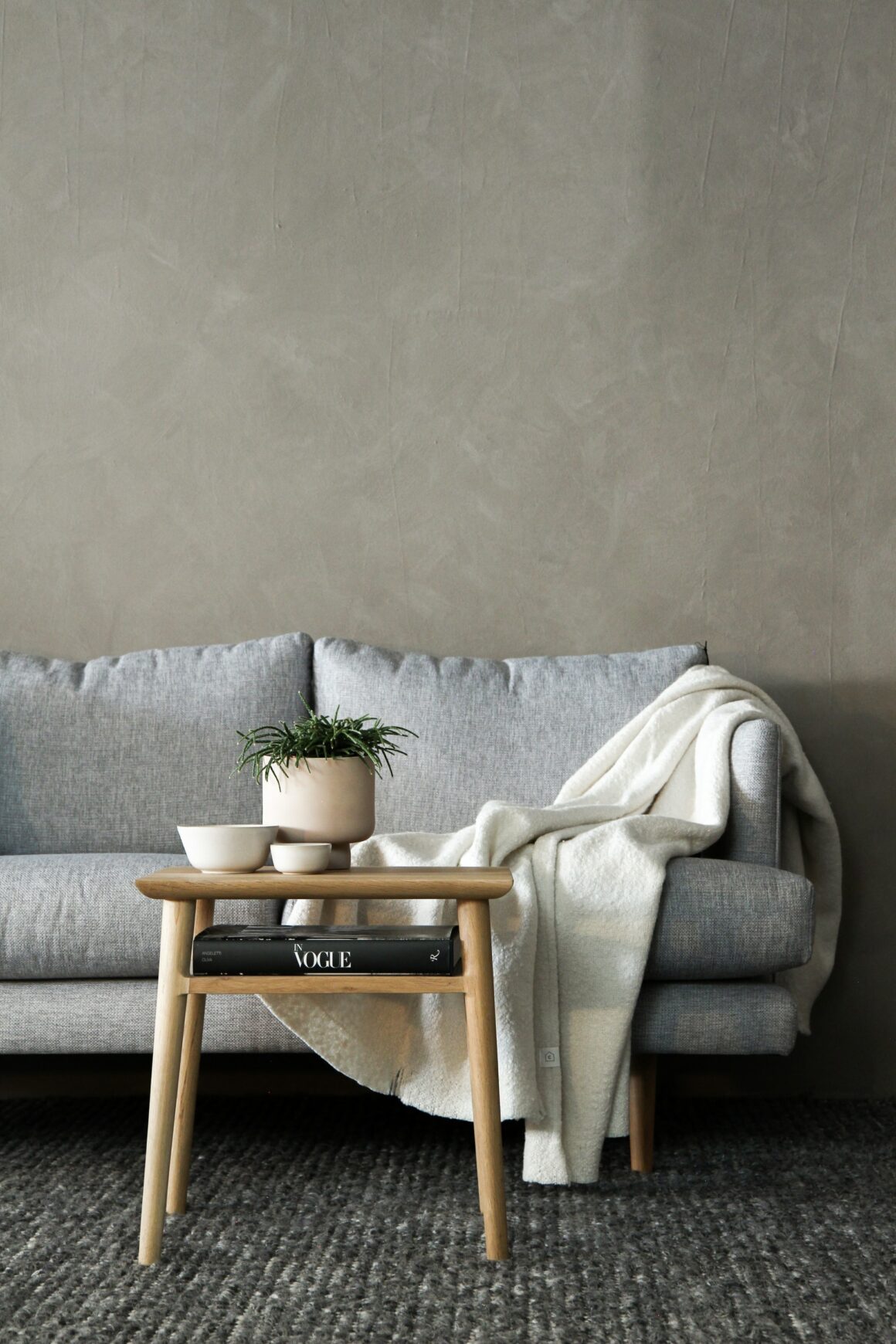 On the other hand, if you want to use your coffee table to hold your coffee mugs, dinner plates, remote controls, or simply to rest your feet. You should invest in a table where function takes precedence over form.
Shape
Coffee tables come in all shapes and sizes. A rectangular-shaped table is the most common one. I would suggest buying an oval or oblong table – if you have kids or expect a lot of traffic movement around the table. If you want to stick to the traditional rectangular or square ones – go with rounded corners instead of sharp ones.
Material
You do not have to match the material of your furniture pieces. But it is recommended to stick to a theme, especially when having a minimalist home.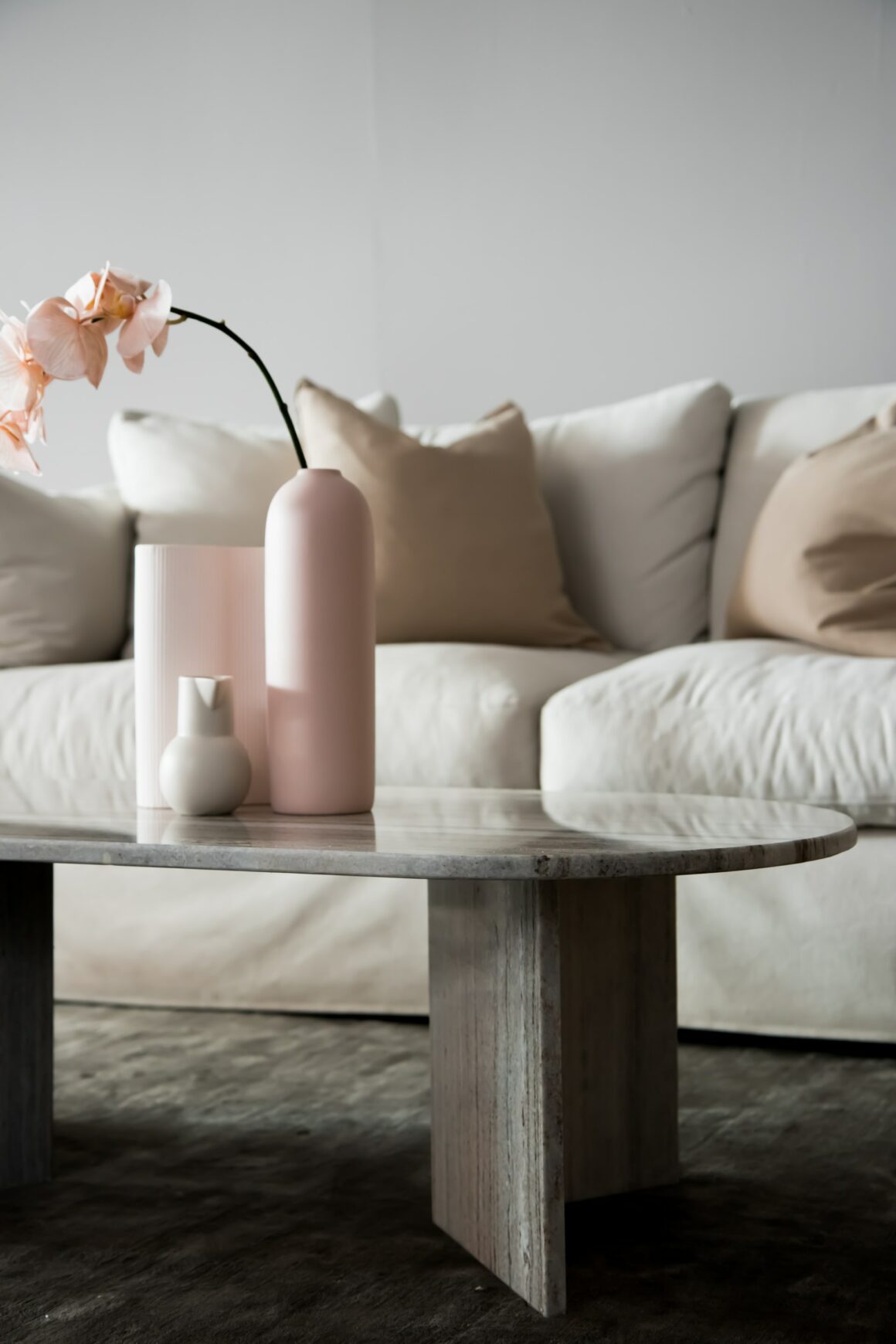 The material of your coffee table should match the theme of your interiors. For example, if you have an industrial-style room – look for a table made with wood and metal.
Below I have listed 12 minimalist coffee tables that look gorgeous in any elegant minimalist setting. Check them out and see what suits your living room the best.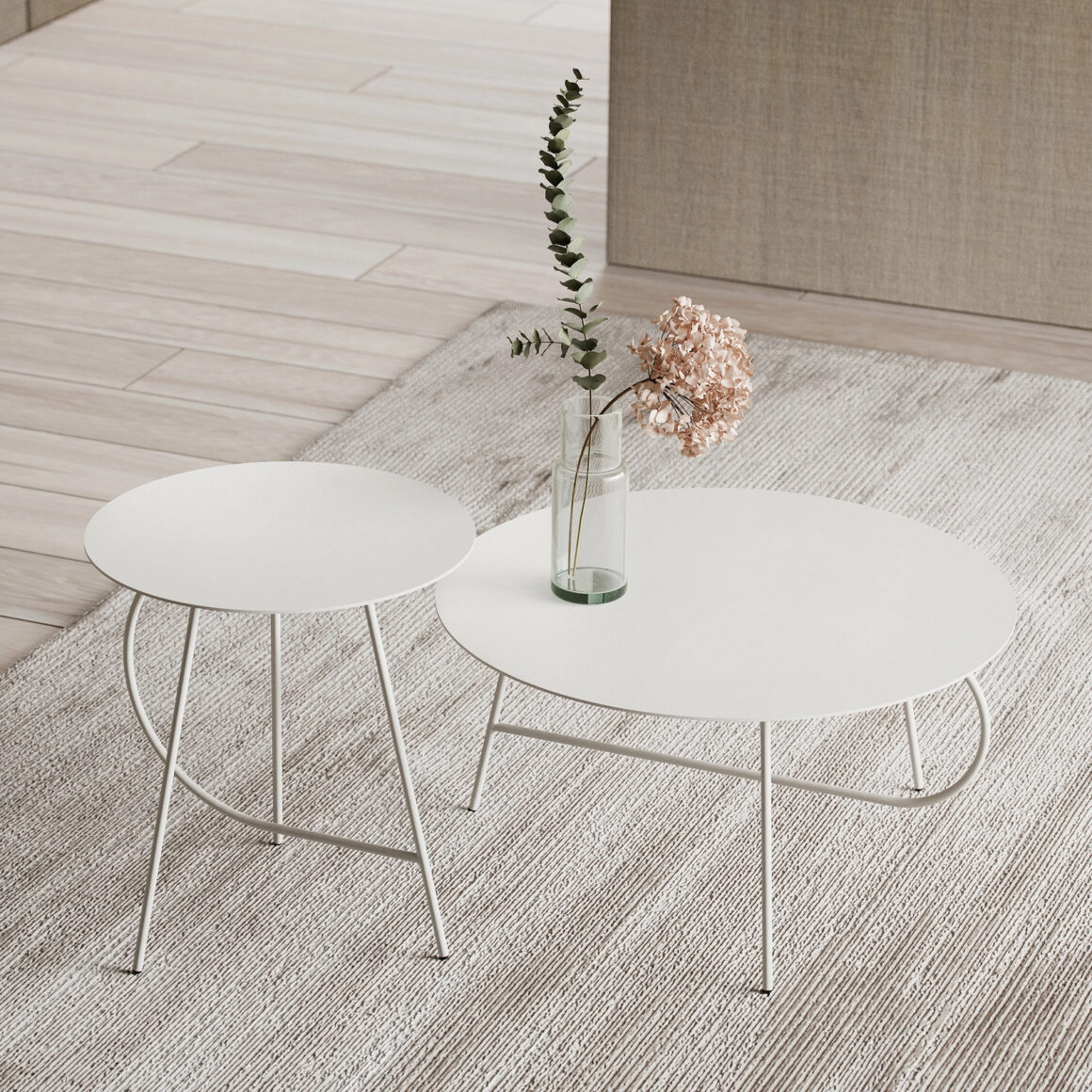 An elegant yet versatile table from Laminimal. This low side table gives importance to both form and function.
The monoblock piece consists of a single metal plate for the top and two strong steel rods for the bottom – all fused into one. The legs – when viewed from different angles – resemble the sans-serif letters. One of the legs gracefully arches into a half-circle which acts as a handle. This makes it easy to carry and move around the house.
This detail-oriented, modern table will easily fit in any living space. And will equally look good in your bedroom or patio as well.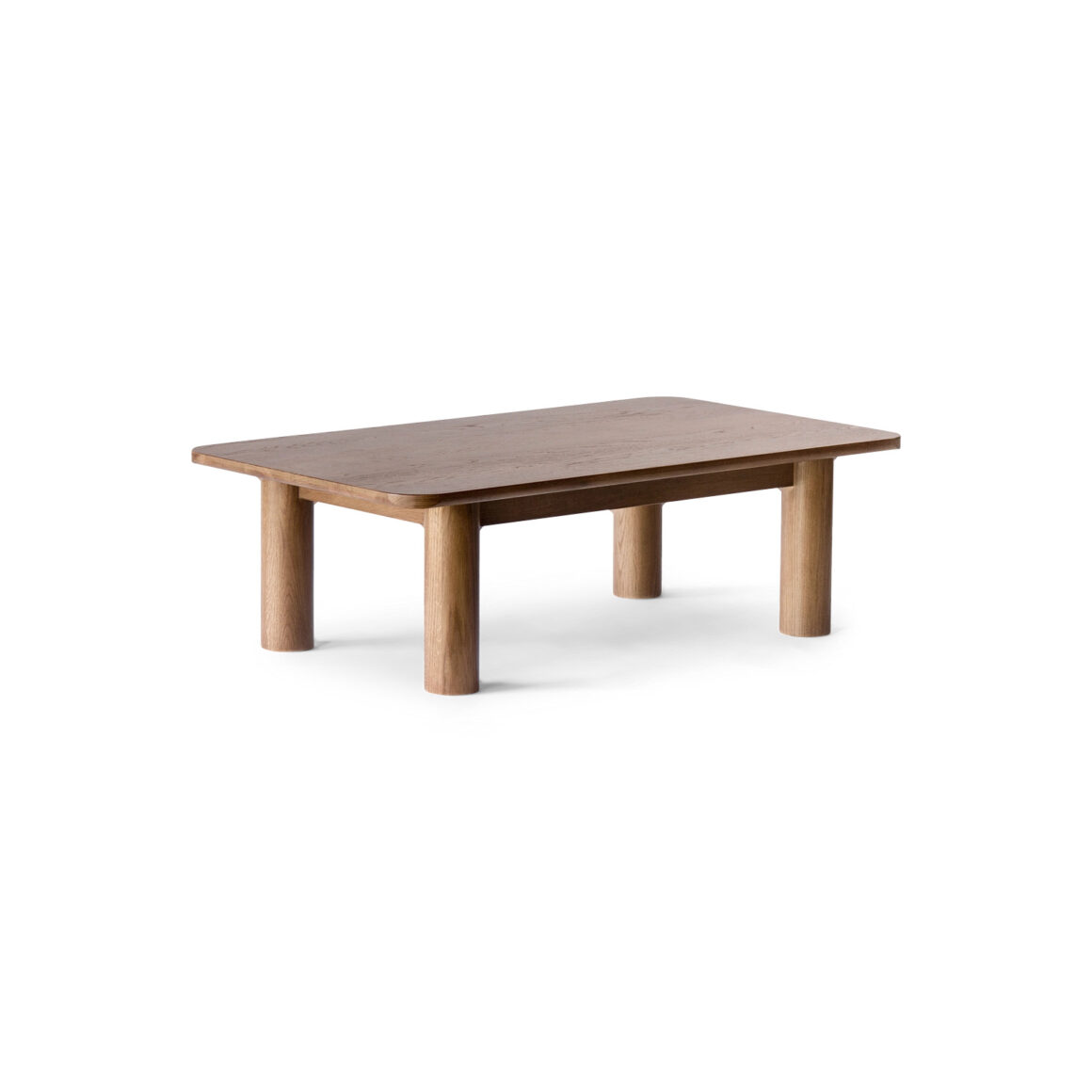 A traditionally built modern-looking coffee table. This table is made by – Sun at Six – whose belief is in creating furniture that uplifts your space and mood.
The prominent feature of this table would be its thick cylinder-shaped legs. A joinery technique used in Chinese tradition is adapted to attach the legs to the sleek tabletop. The joinery technique does not use any nails or screws to build the table – giving the table a polished look.
Also, this handcrafted table is made of sustainably sourced white oak. So if you are building a conscious yet pretty home – this table will make a fine choice for your living space.
The nesting triangle tables are stylish and compact. Perfect for those who have space constraints but do not want to compromise on style.
Durable MDF is used to build the top and eco-friendly bamboo for the legs. The sleek finish of the top comes from UV paint. The overall look is simple and will easily blend in any given space.
Display small decor items like a vase or a clock on the tables. When you need to make more room in the center, you can move the tables to the sides of your couch without any hassle.
Do you have an industrial-style home? If yes, this coffee table will fit right in. The contrast of the earthy MDF wood grain with the sophisticated matte black powder-coated steel frame – gives it a salvaged and recycled look. It will blend with both wood decor and metal furnishings.
The table boasts sharp, crisp lines that make it look refined. Leave it as a centerpiece or stack a few coffee table books with one sculptural decor item for a sophisticated look.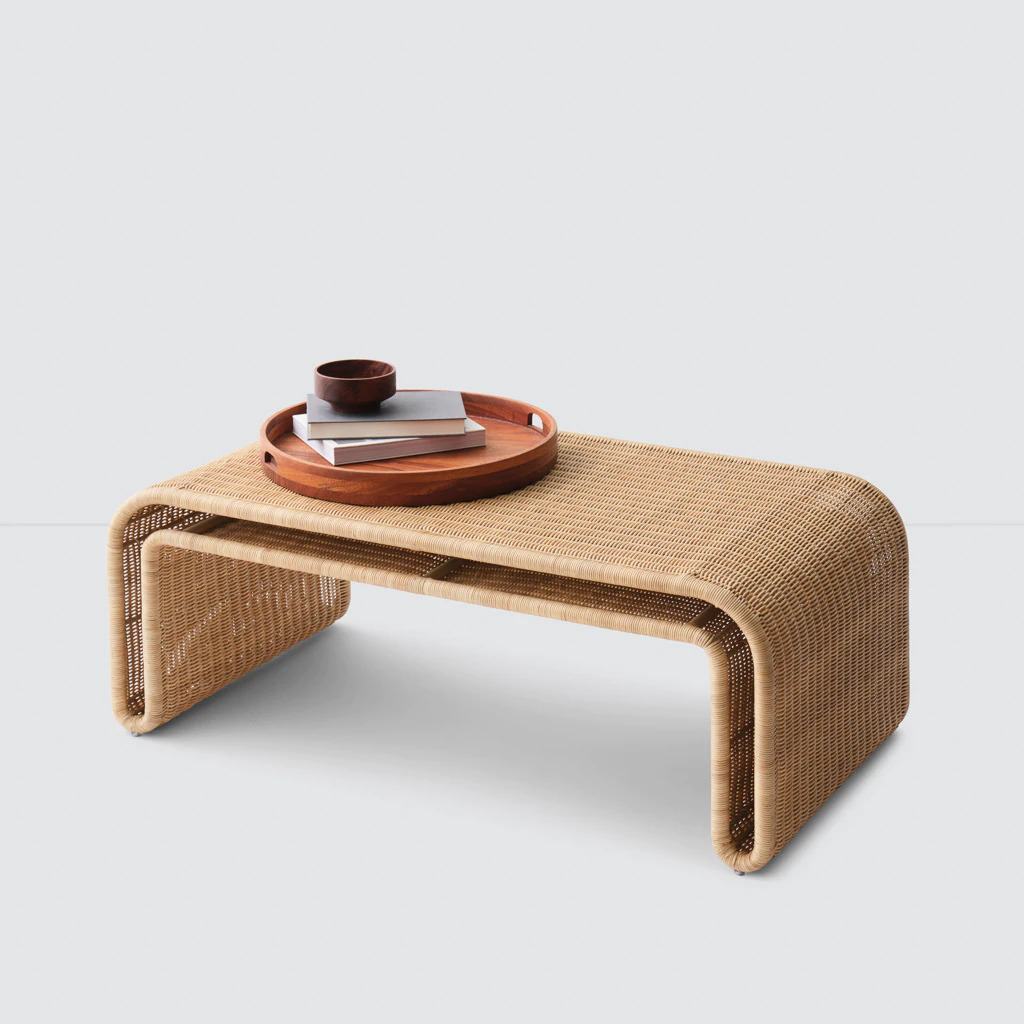 Wicker coffee tables have such an easy, laid-back vibe. The Penida wicker coffee table is beautiful and modern with traditional craftsmanship. Needless to say, it will fit right in a bohemian-style house.
The table is handwoven in Cirebon, Indonesia – from rattan that has been locally sourced. The traditional wicker table has been given a modern twist by wrapping it around a steel frame. This technique makes it sturdy and durable.
Since this table is handmade, there will be variations in weaving patterns – making your table one of a kind. You can dress them up with decor items made of natural material like terracotta vases or a wooden tray or bowl.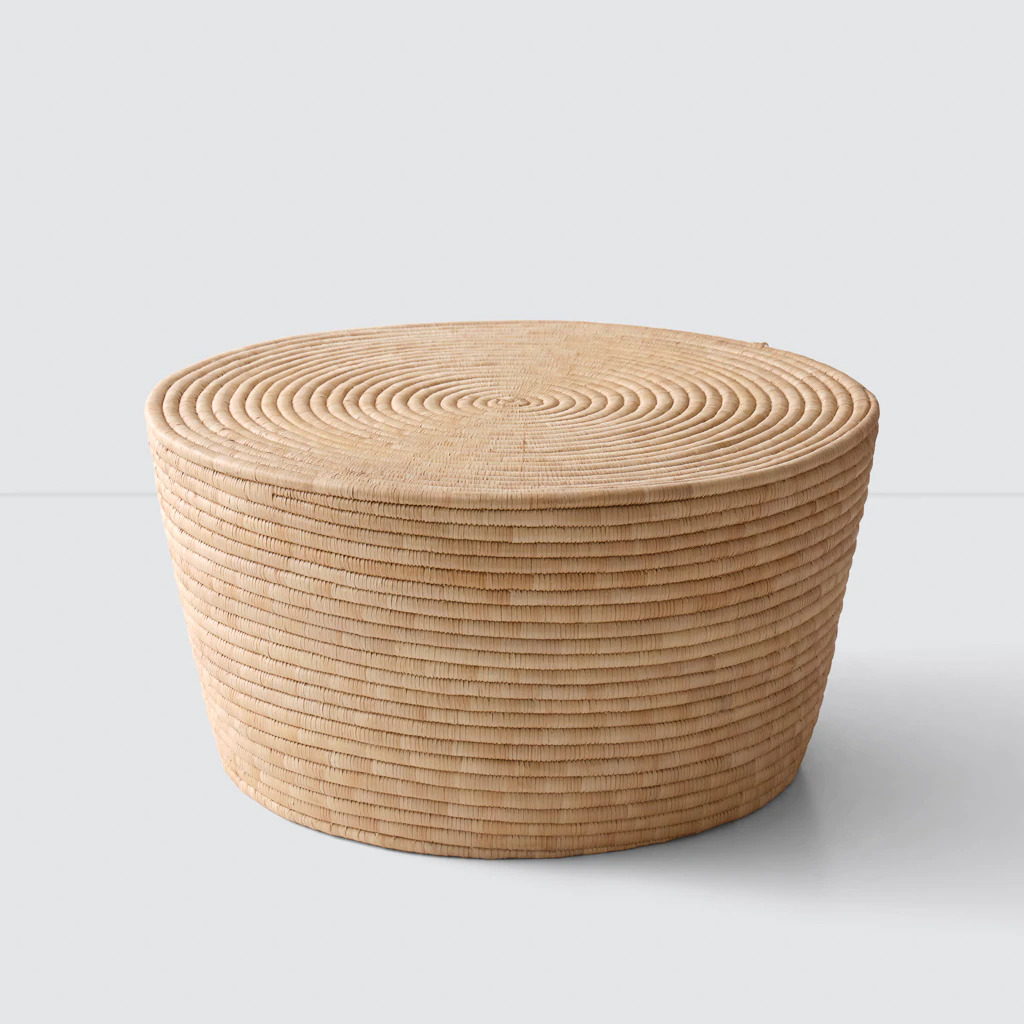 Another one-of-a-kind, handwoven coffee table for you. This modern coffee table is made of natural palm leaves. It is handwoven in Malawi in a fair trade environment similar to the Penida coffee table.
This tapered cylindrical-shaped table does not occupy a lot of space. It is double-walled with tightly braided coils – making it sturdy. Being a neutral color, it will sit well with other furniture pieces. And the natural tone will add a lot of warmth to your living space.
This coffee table will create an organic, rustic feel with a hint of contemporary.
Nesting tables are a chic way to save up on space in modern homes. These tables from Nathan James come in a set of 2. They can be arranged side by side in the center of your living. Or they could be stacked and used as one entity to save space. You could also separate them and use one of the tables as a side table in the living area or a bedroom.
The top is a nutmeg wood finish, and the metal frame acts as the legs that are powder-coated in matte black. It looks smart and works well with dark furnishings. They are sturdy and have floor protectors included – so you can rest assured your flooring will not have any scratch marks from these tables.
A sleek and contemporary design. This coffee table will surely add a lot of character to a chic minimalist living room. This mixed material piece will look good with modern or industrial-style interiors.
The frame is made of metal, while the tabletop is a smooth marble finish laminated MDF. The marble finish helps it stand out and makes it look classy.
Keep one good coffee table book on the table as a conversation starter. Preferably one with some artwork or an accent color to cut down the flatness of the white top. Try not to burden this slender table with too many decor items as it might look overcrowded.
All sides of the table are made of high gloss glass finish, and you can choose the finish in – black, white, or mirrored glass. This coffee table will match your plush interiors and be a good centerpiece because of its robust yet elegant look.
Although made of glass, this table is not fragile as the tempered safety glass used to make it is resistant to breaking at least five times more than float glass. The glass has a protective coating to avoid fingerprints or coffee mug stains. This is a sturdy center table of good quality and high functionality.
A nature-friendly choice for a coffee table. The top of the table is made of wood from mango trees. The mango tree wood is hardwood and has natural tones – that look beautiful on the table. The chevron pattern adds to the beauty of the wood. The chevron pattern also keeps it looking natural and rustic. The legs are made of solid iron and resemble hairpins. This table is quite sturdy and long-lasting because of the high-quality material used.
The concept for the table is a mix of mid-century and modern styles. This table would look beautiful in a rustic farmhouse-themed living space.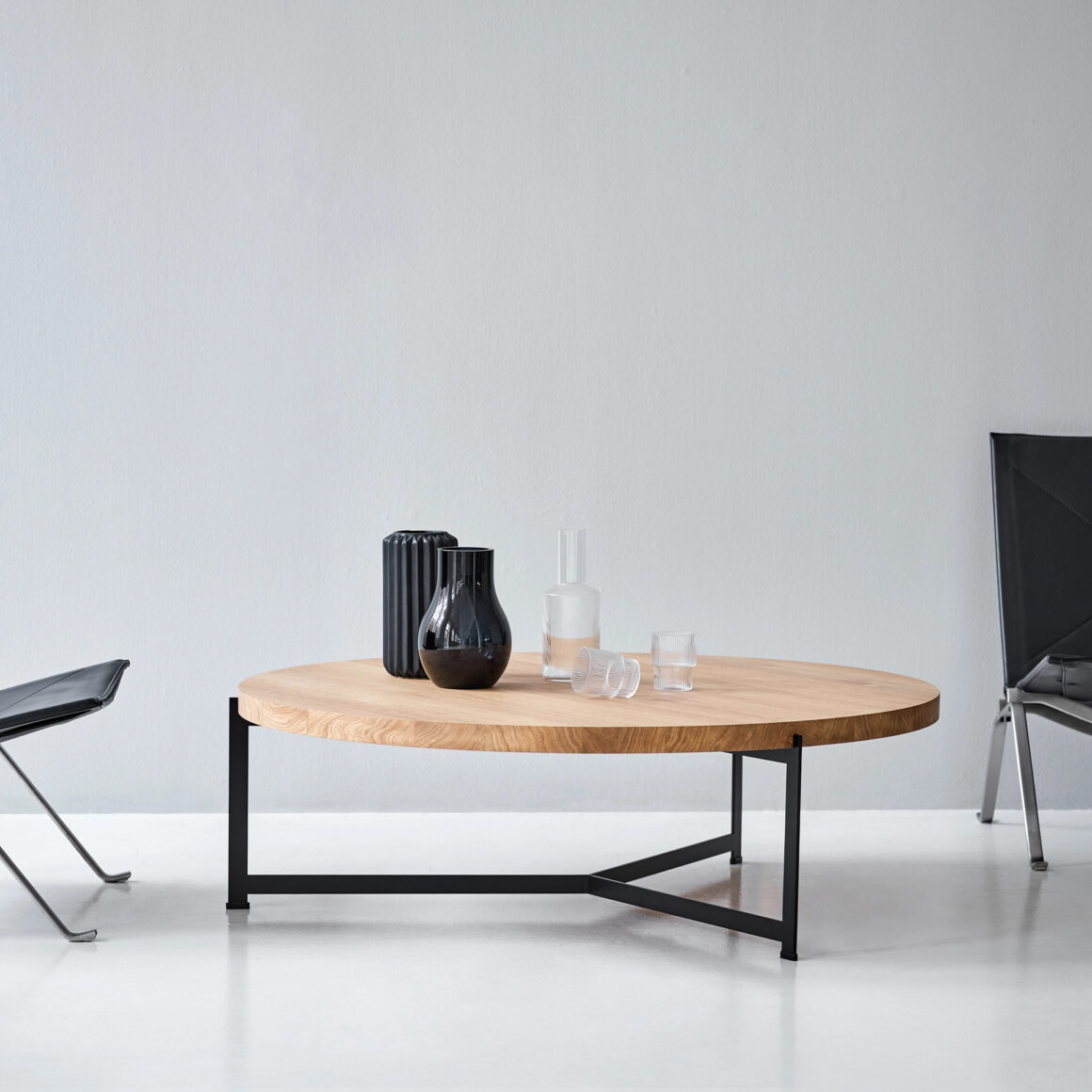 A timeless Danish coffee table to amp up the personality of your living space. The Plateau Coffee & Side Table is designed by Søren Rose Studio using Danish design fundamentals. The inspiration for the table comes from tree branches. The asymmetric tabletop resembles the branches of trees. The top is crafted from solid wood and has natural grain and texture patterns, and the legs are made of steel and powder-coated in black. The subtle color scheme of the table makes it look refined aesthetically and versatile enough to look good in any room.
The asymmetry of the plateau table is sure to draw your guest's attention and will act as the hero element of your room.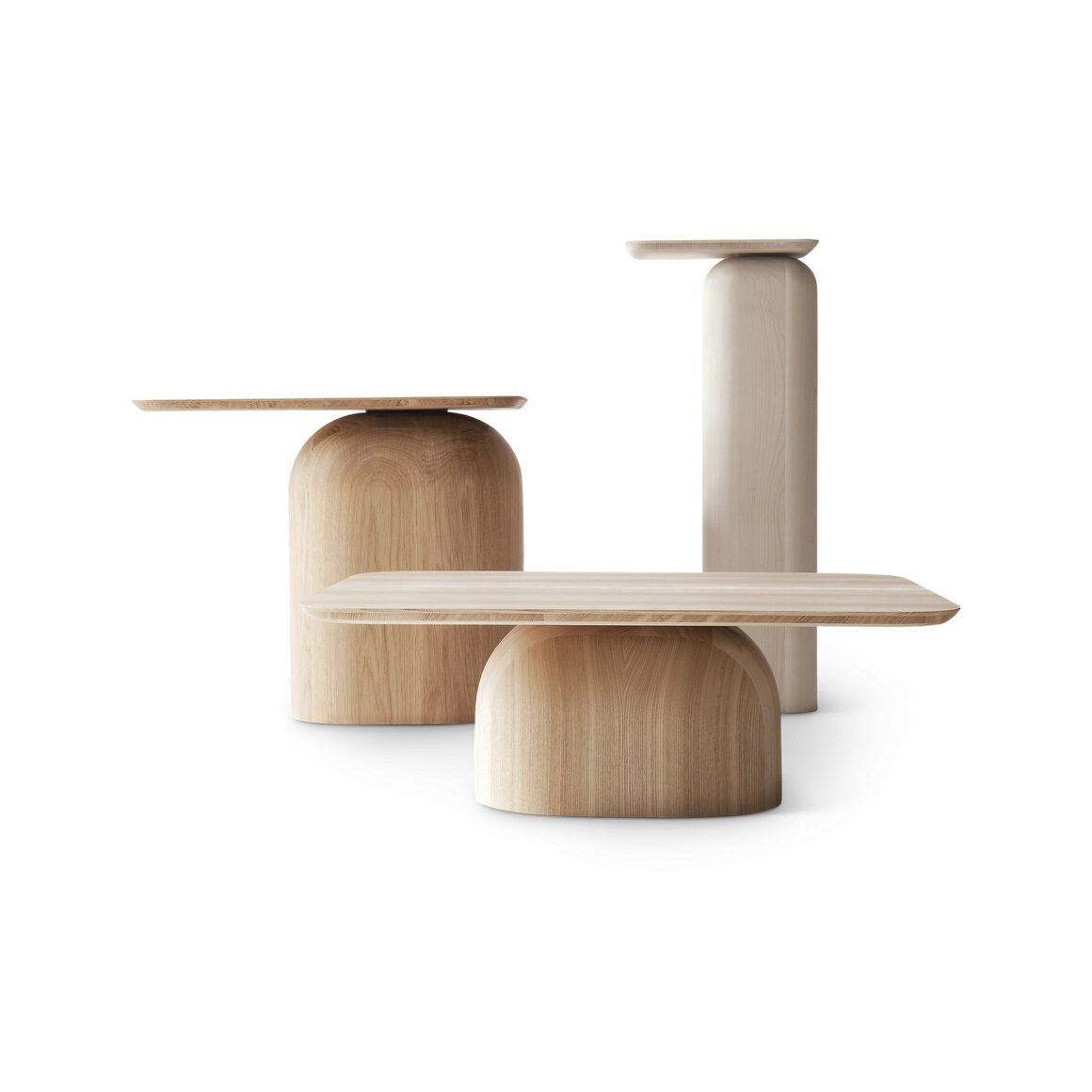 The April Tables have been designed by Alfredo Häberli and manufactured by Nikari. It is a part of the 12 Designs for Nature collection. The design celebrates the raw beauty of nature by shedding light on the beauty of the organic material used to produce the tables.
The three tables are made of different woods: Ashwood for the low table, oakwood for the mid-table, and birchwood for the high table. The subtle differences in color of the wood and textures of the grain from the different woods are showcased beautifully. The base of the tables are well rounded – and vary in width and height from each other. The tops also vary in size and have rounded corners (no sharp edges – perfect if you have kids at home).
Arrange them together as a set or use them separately. With their classic aesthetics and high-end finish, these tables will be the best centerpiece you could ask for.
Lastly, some thoughts…
Since a coffee table acts as the focal point of the living room – it can make or break the look of your room. It draws maximum attention, and guests often spend more time around the coffee table. Hence it is pivotal to pick the right coffee table.
Keep in mind the aesthetics of your room and make the purchase based on personal preference. The list above features a unique mix of coffee tables, and I am sure there is something for everyone. I hope you liked this list of minimalist coffee tables and found a coffee table that speaks your style and will suit your living room.