This article contains affiliate links for which I may receive a small commission, at no additional cost to you, should you decide to make a purchase by using them. Learn More
The easiest way to bring nature inside and add some life into your space is by incorporating plants. Plants come with a ton of benefits – for starters – clean air. And they are relatively low maintenance when you compare them to having a pet dog or a cat. Finding a decent abode for your green friends is the only tough job. And I can help you with that bit.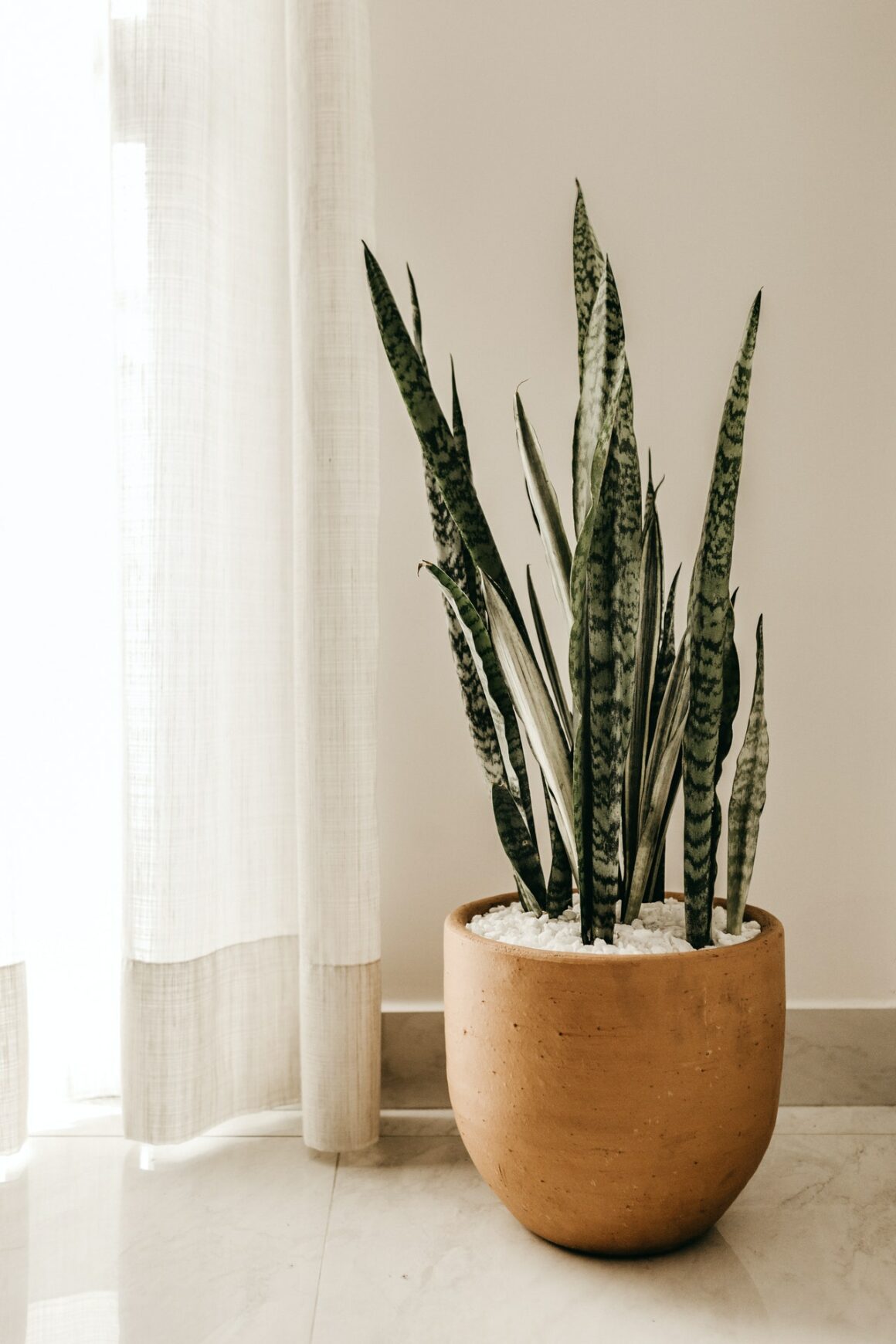 Once you have successfully potted your plants, you will have to handle your daily mundane activities of watering your plants, trimming them regularly, and providing them ample sunlight.
How do you choose the right pot or planter for your plants?
Pots and planters come in various sizes and materials. Kindly bear the following points in mind before purchasing your pot or planter.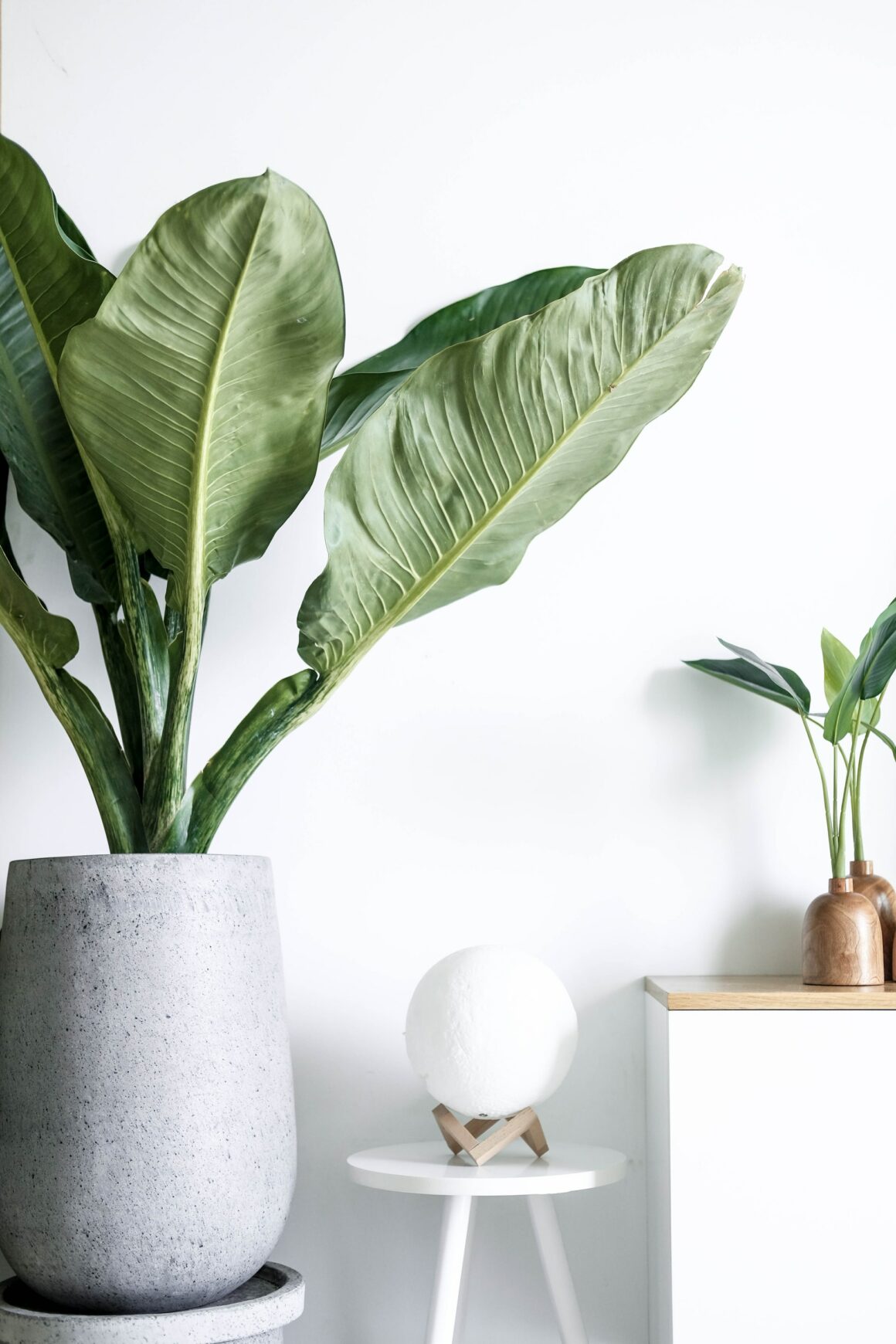 Sizing
Firstly, assess the diameter of your plant's root mass. Your pot needs to be slightly wider than that. For example, if your plant's root mass is about 3 inches, try to find a pot that is at least 4 inches in diameter. Faster growing plants might need a slightly bigger pot.
Material
Considering the material of your pot or planter is crucial – certain materials work better for certain kinds of plants. Terracotta pots, for instance, absorb the water from the soil and could dry out your plants. Plants that don't require much water will do better in this category of pots. Ceramic pots are sturdy and accommodate a wide array of plants. The downsides are that they are expensive and can crack in colder weather.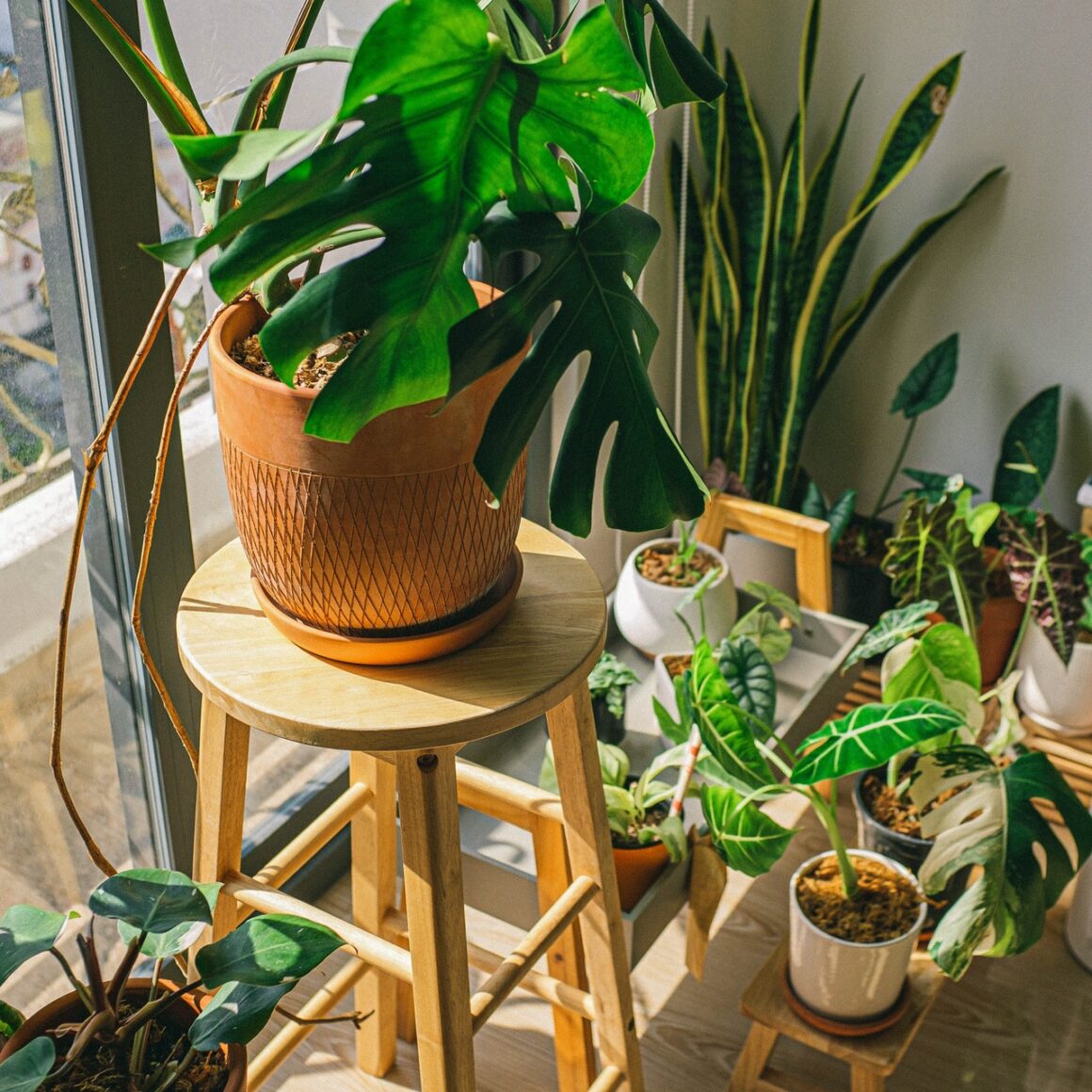 Plastic pots are inexpensive and readily available. But they are better for indoor use as they could get scorched in the sun and harm your plant. For a larger plant, a strong fiberglass pot is ideal.
Drainage
Taking care of the drainage is another important aspect when having house plants. I highly recommend buying pots with drainage holes. They help your plants grow better. Although recommended, you can help your plants survive without this drainage system. Filling up the bottom of your pot with rocks helps catch all the excess water. And not filling up your planter more than one-third with water helps keep the roots healthy.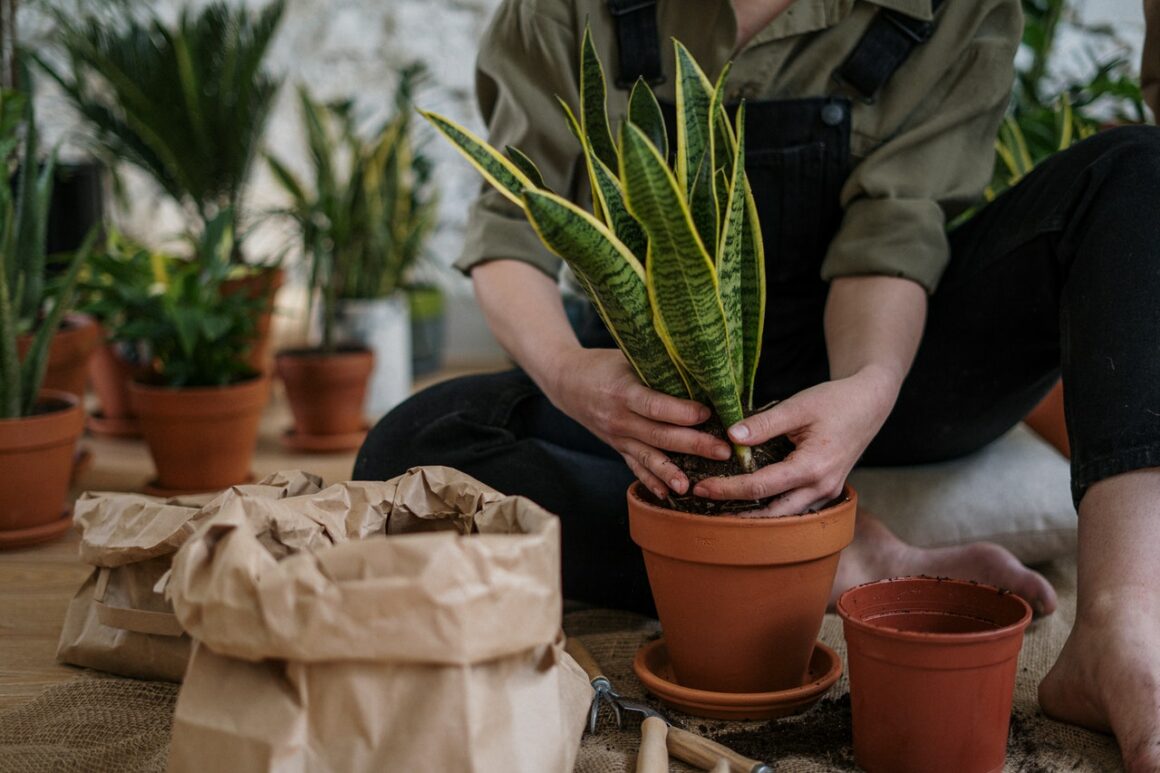 Here is a list of pots and planters that I think your plants will love. Check them out and see if you find something interesting for your space.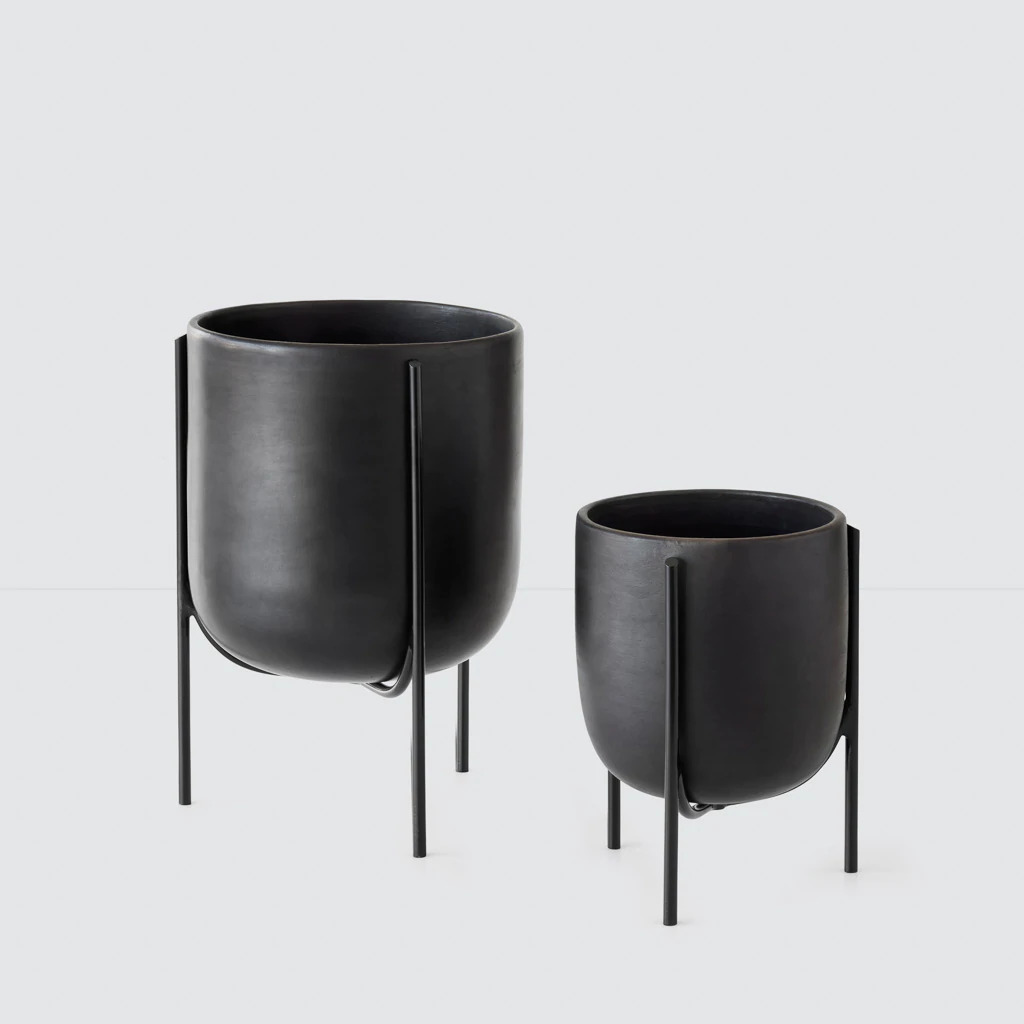 Master artisans prepare these burnished clay pots in a fair trade environment.
The minimalist pots look beautiful on their own, exhibited as sculptural decor accent pieces. The pot is available in multiple sizes and two colors: terracotta and matte black. It comes with a sleek black steel base. And are perfect for indoor or outdoor use. The finish of the pot will fade with time when exposed to sunlight and rain, which will give it a natural look and add to the beauty of the pot.
A classic floor-standing planter by Omysa.
This mid-century design, the handcrafted ceramic planter is only for indoor use.
The pot is crafted from stoneware clay and comes with a stand made from American walnut. The ceramic and walnut make the planter sturdy and last a long time. The planter is easy to use with a drainage hole and a plug at the bottom.
The white cylindrical planter is natural-looking and will fit in any room. It is the perfect pot to showcase your snake plants.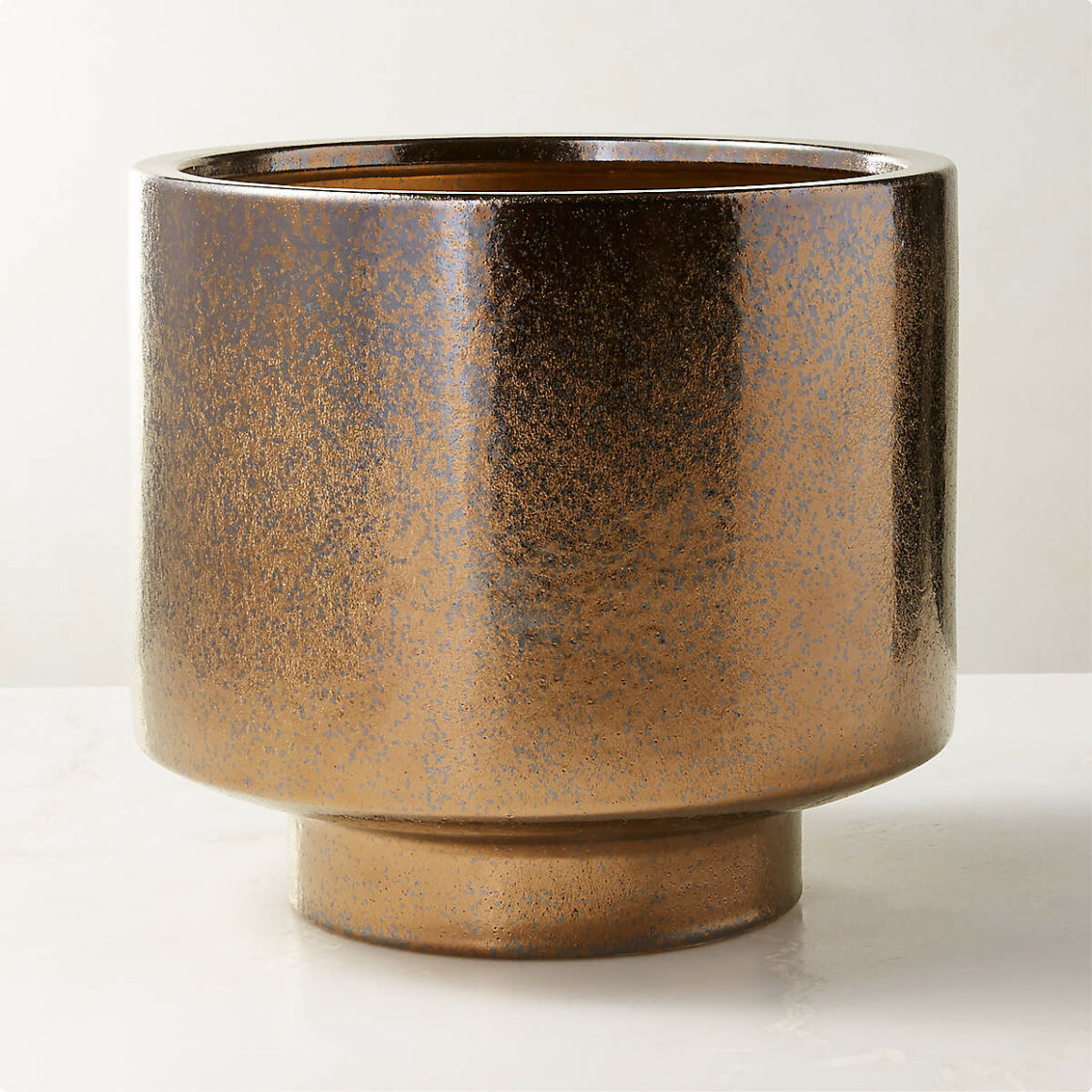 A bronze glazed earthenware – inspired by the past and yet modern.
Made in Vietnam and designed by Tracie Hervy, a New York-based ceramicist. The inspiration for this planter comes from prehistoric vessels.
This planter is the perfect blend of past and present. A metallic touch is added to the classic footed pot making it ideal for your stylish and modern abode.
The Dia planter should bring some glitter into your botanical corner.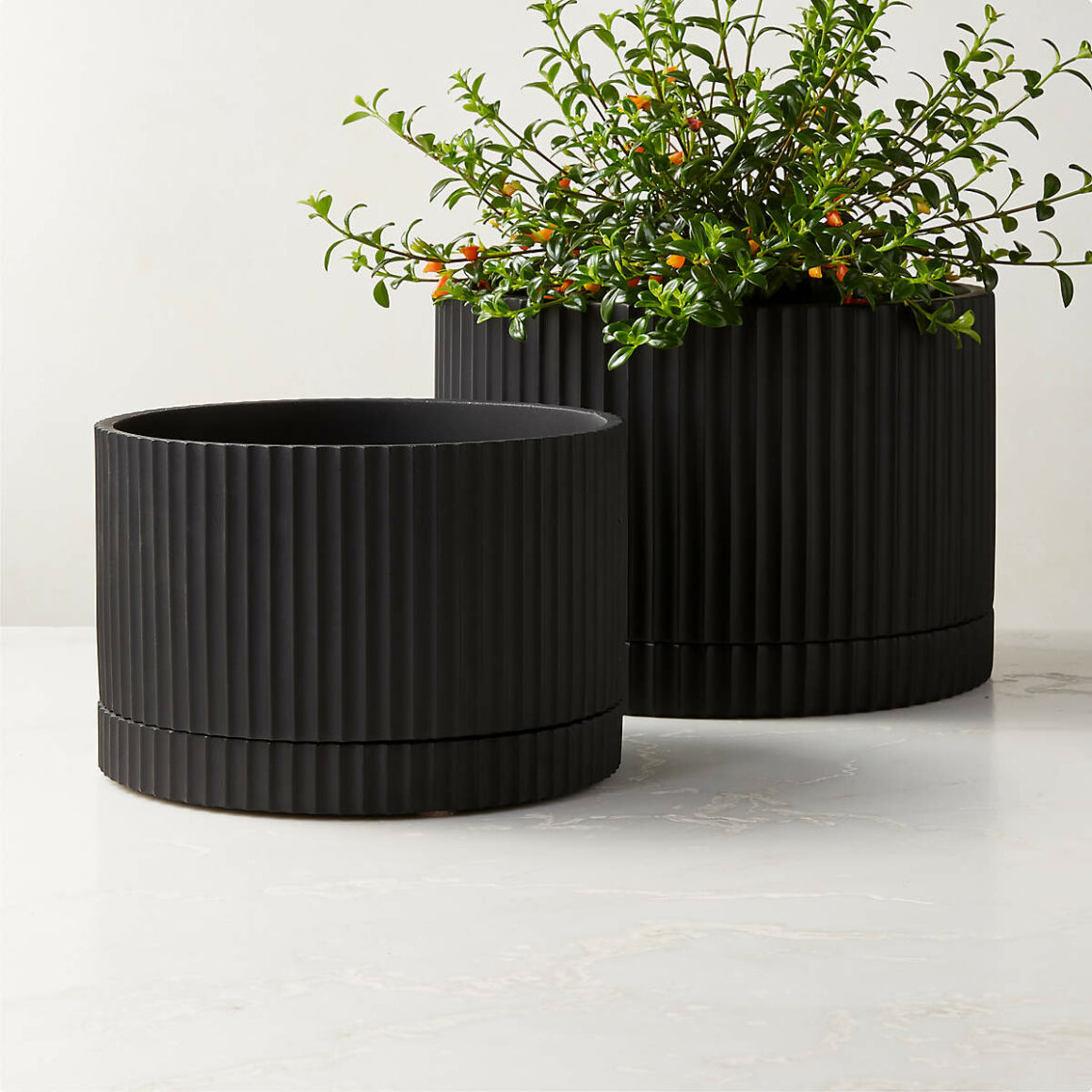 Looking for something chic yet practical?
This fold black planter will bring a lot of elegance to your floor and space. All this while managing to keep your flooring clean.
The planter is made from 100% cement and has one drainage hole. Cement is molded into a beautiful flute-shaped cylinder and washed in a matte finished black glaze. The planter has a matching tray to catch any drippings from the pot. The tray does not draw much attention and blends well with the beautiful pot.
Overall, it is a well thought and well-designed planter. And will make for a chic statement piece.
A Nordic-style planter that looks good both indoors and outdoors.
The Thwarm pots are molded from cement and boast a geometric diamond pattern. These pots are further beautifully painted and are available in a variety of colors ranging from metallic, green, white, and blue.
The sandstone finish on the outer walls of the pot gives it a natural finish. The clean lines from the geometric pattern make it look neat.
Use this pot to arrange flowers, cactus, succulents, or herbs. The Thwarm pots will look beautiful displayed on your kitchen or dining windowsill, work table, or terrace garden.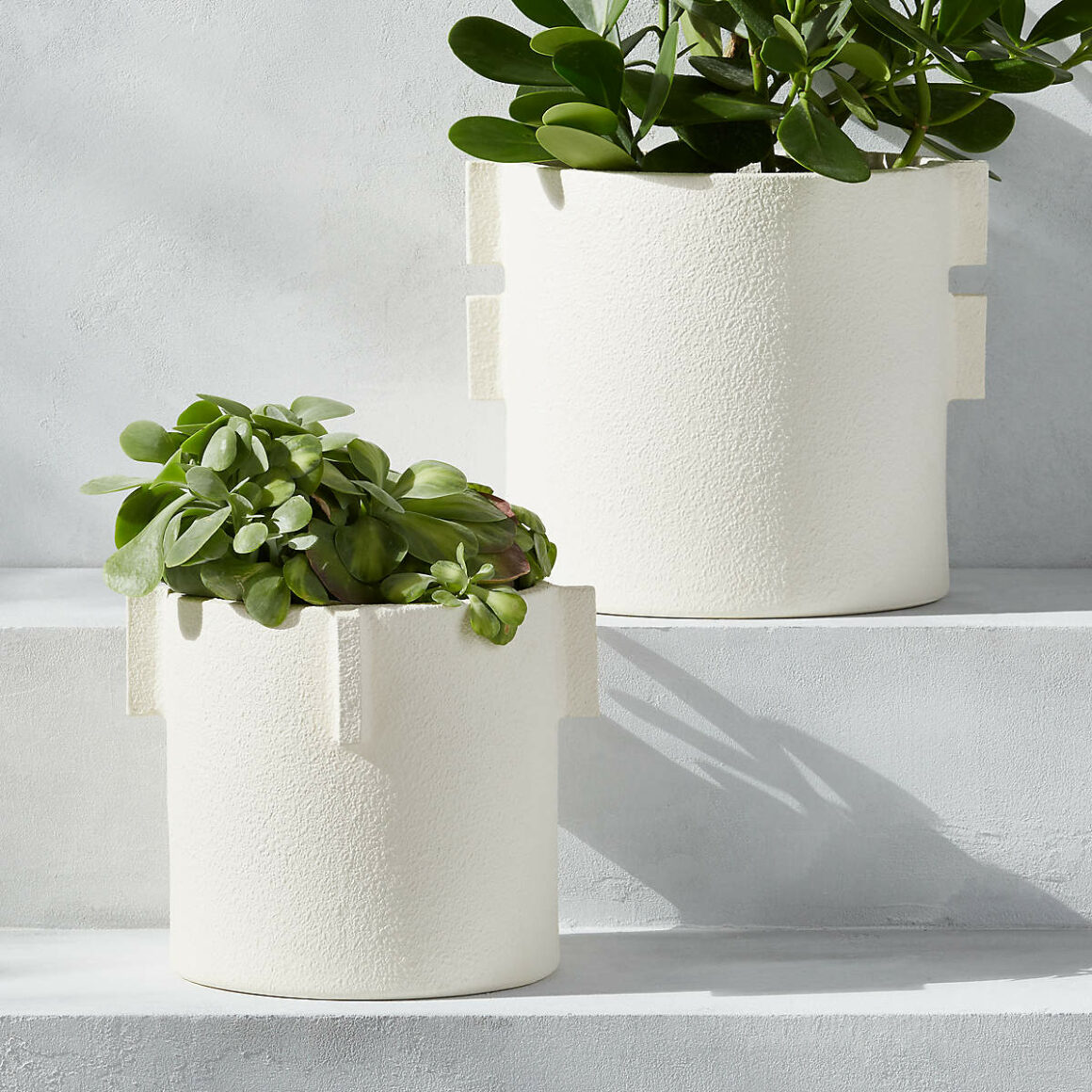 These earthenware planters are unique and will stand out in your space.
The Gaia planters are hand thrown from clay sourced in the Philippines.
The round planters are hand thrown on a potter's wheel. They are further hand-sprayed and kiln fired at 1050 degrees F. This process gives the planters a rough texture that looks raw and modern.
The planters will have no problem surviving the outdoors in warmer climates. The soft ivory planters will look equally good indoors. They will also look incredible on their own without any plants.
The Gaia planters are available in different sizes and can be displayed together. Create levels of different sizes and add various plants for a lush display.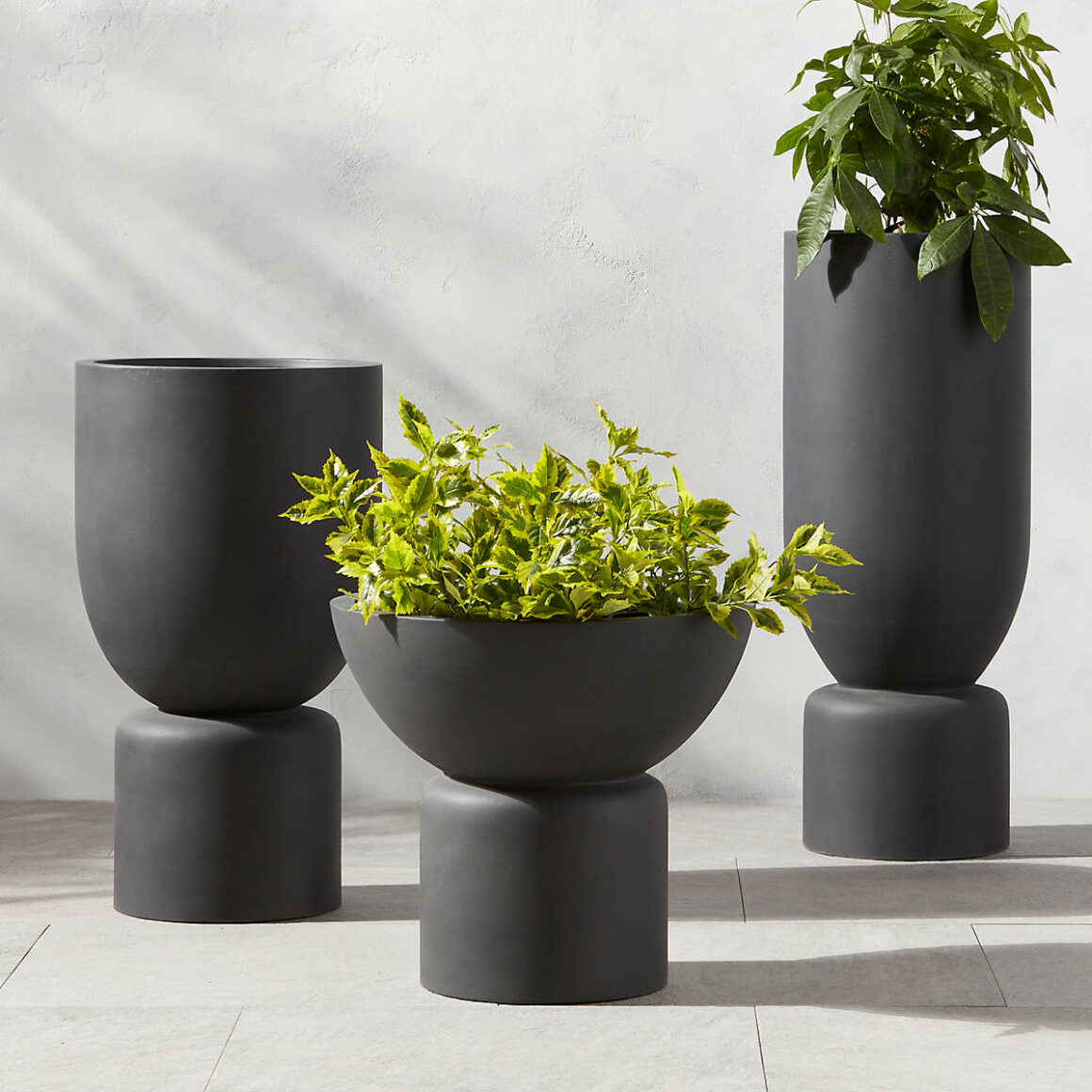 These Flatform planters will elevate your botanical nook.
Designed by Studio Anansi and made in Vietnam. The planters double up as sculptural pieces.
A mix of sand and stone is utilized to craft the flatform planters. The shape is one of a kind with a broad platform base. The top varies in shape and comes in a vast, medium, and tall-sized mouth.
The refined charcoal finish is weather-resistant and looks good indoors and outdoors.
The different sizes of the planters are ideal for layering when arranged side by side and can display many different plants.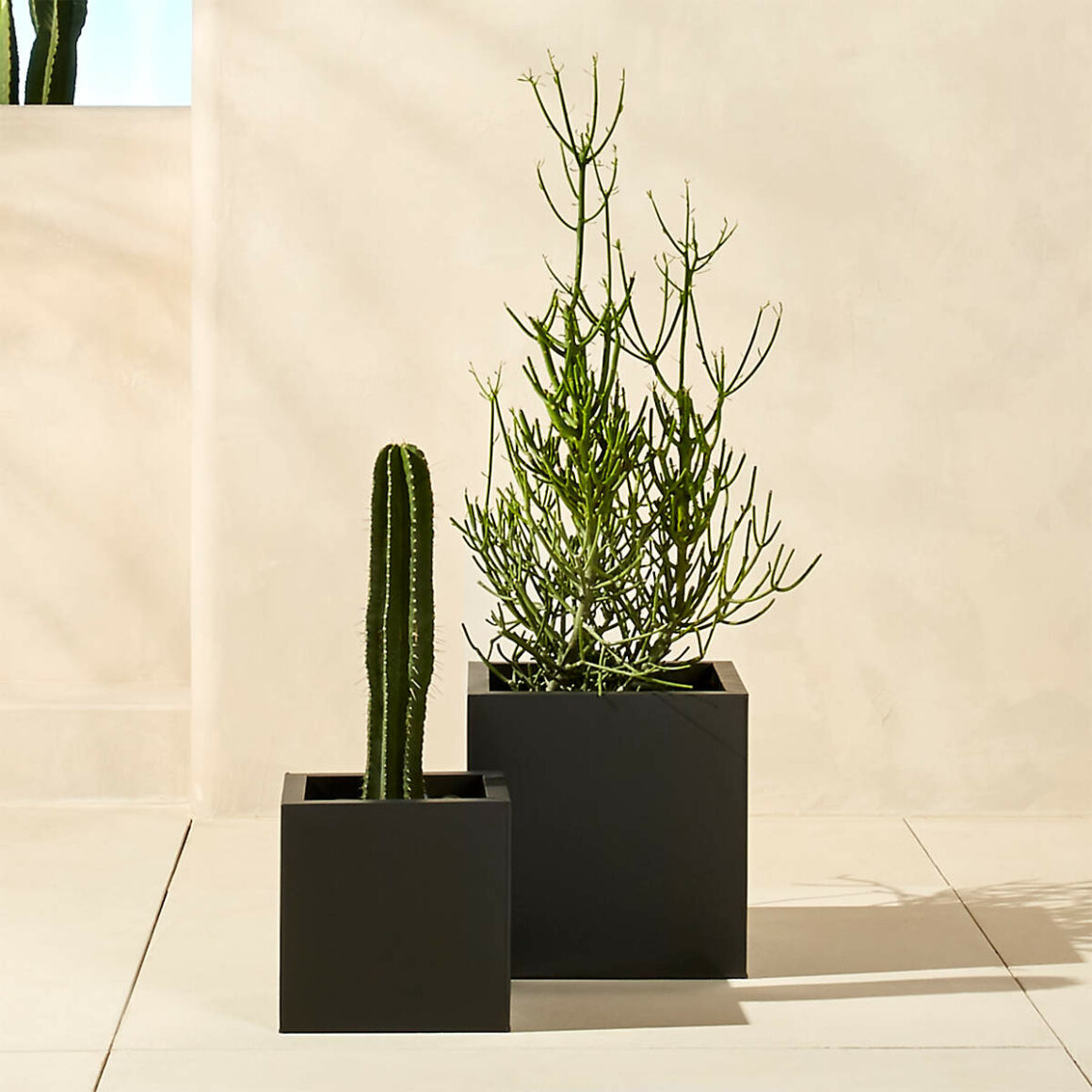 Tired of seeing the typical round and cylindrical planters? These blox planters will cheer you up.
The square-shaped, box-like planters are smart-looking and unusual. Ideal for a contemporary space that depicts elegant furnishings or decor. They will also work well in an industrial-style setting.
The planters are made of powder-coated galvanized steel and have a charcoal matte finish. They are lightweight but sturdy.
And can be displayed inside or outside.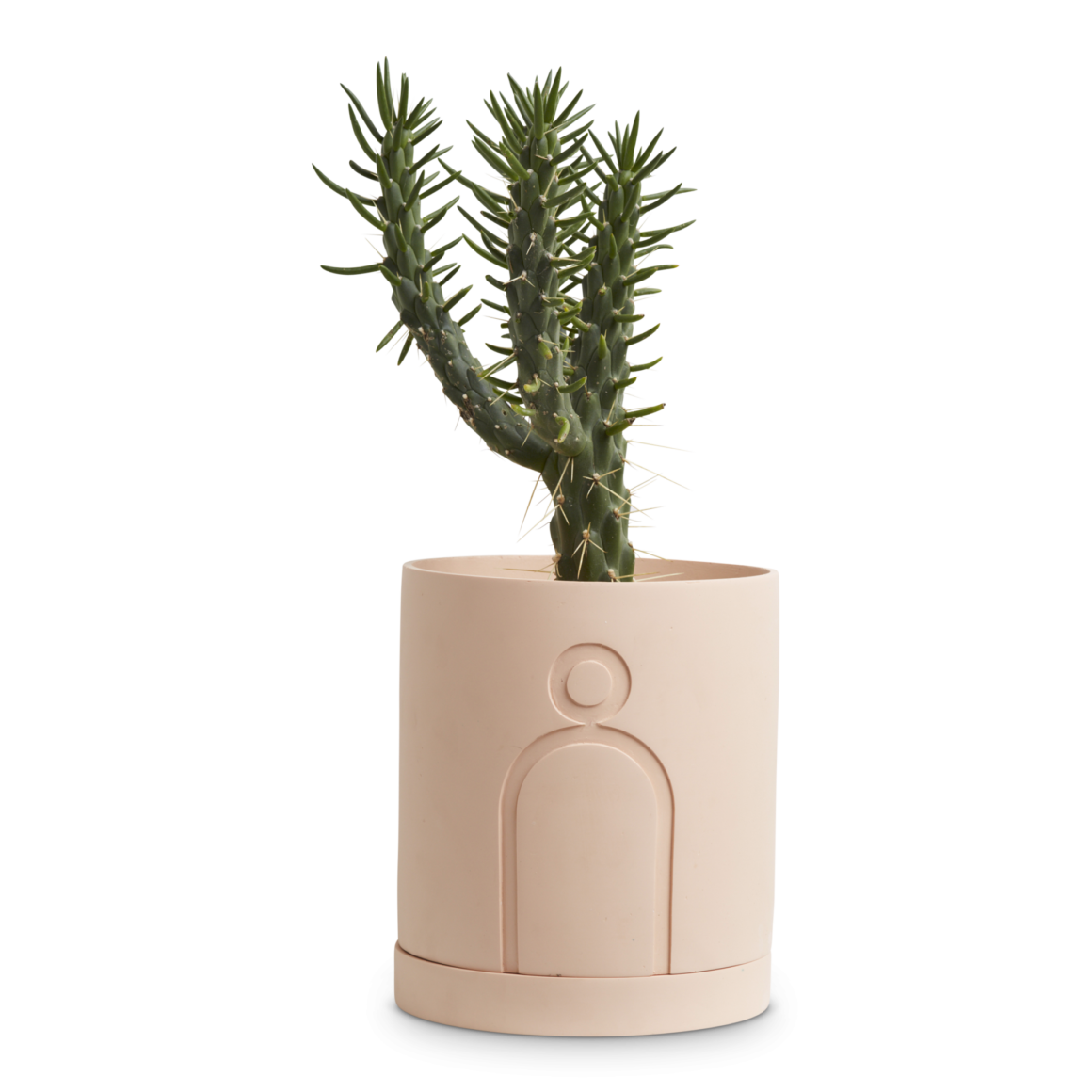 Medieval period drawings are engraved on these planters. The illustrations are hand etched and have a natural vibe.
The planter is designed by Melbourne-based Capra Designs, which creates modern designs that are ethically manufactured. The planter comes with a matching tray to catch any drippings. This makes it easier to plant your greens directly with an efficient drainage system.
The planter is light beige with a simple sketch. The neutral color and the simplicity of the design make it easy to blend in any setting.
Ceramic pots are a good choice for indoor plants. These matte-finish pots come with a gloss finished tray that adds quite a contrast. The soft pink shade of the pot looks appealing and will sit flawlessly in any given room.
The overall design and color of the pot look stylish and fresh.
Excellent for planting succulents and can be displayed on your windowsill, bedroom, or bathroom.
A classic pot with a modern twist. This is a must-have pot for every plant lover.
This matte white pot is pure and simple with its rudimentary design and sleek finish. The bottom contains a drainage hole and a rubber stopper.
Ace craftsmen produce these premium porcelain ceramic beauties using professional molds and kiln-firing techniques.
Plastic flower pots that look nothing like plastic. Here is a minimalist, modern design that can be displayed inside or outside.
These flower pots are lightweight but sturdy as they are produced from long-lasting recyclable plastic and natural stone powders. The pots can withstand harsh weather conditions while remaining frost, crack, and peel-free.
Four in-built drainage holes ensure that your plants have a healthy living environment. In these breathable planters – pothos, ferns, ivy, and spider plants will easily survive.
A charming residence for your small to medium plants.
These medium pots are ideal for beautiful Maranta plants, Orchids, or Snake plants. It's the perfect adornment for your home or office desk.
These basic ceramic planters feature simple and clean stripes pattern and are available in a variety of elegant, matte shades. You can pick from black, gray, white, coral, or turquoise.
Porcelain ceramic planters look and serve better than inexpensive plastic and fiberglass planters.
This modern take on the classic planter will draw attention to your favorite houseplant. This flower pot is popular among people and plants due to its lovely shape and eye-catching matte peach finish.
A drainage hole and a rubber stopper are included. The drainage hole helps maintain healthy root growth.
This planter provides a solid foundation for all your flowering plants. It is incredibly durable and fashionable.
The use of natural cement and no paint lends it a chic industrial look. For outdoor use, the pot includes a removable drainage plug.
Ideal for indoors or outdoors and will enhance your entrance, porches, steps, decks, rock gardens, and patios.
Modern, clean cylinder pots with drainage holes in a minimalist design. Pots are made of top-quality plastic. The walls are thick and have a matte finish, making them highly reliable, lightweight, and fragile-free. The set includes three planters. The planters are 6 Inches, 6.5 Inches, and 8 Inches in Diameter and Height.
Detachable and snugly fitting saucers are included with the pots. A mesh net is provided too. Place the net inside the pot to cover the drainage hole and keep the potting soil from falling out while allowing water to drain and ventilate the soil for plant growth.
An elegant ceramic planter for indoor plants.
The design combines geometric and unfussy elements. The bottom of the pot is built using a no-slip design technique with drain holes and clean lines.
The matte pink color is chic, and the design is elegant. The pot comes with a matching saucer.
The EtooCafe pot can be a beautiful addition to your botanical space. And can be used to house your favorite bonsai plants or succulents.
Conclusion
From low maintenance to looking fabulous, these planters are an absolute delight. You can easily upgrade your botanical game with any of these exquisite pieces. I urge you to mix and match these pots in your green space and create a lush haven.