This article contains affiliate links for which I may receive a small commission, at no additional cost to you, should you decide to make a purchase by using them. Learn More
The best interior design trends to embrace in 2022
It's been a weird last two years in the interior design world. Many of us have had to renovate and change our homes throughout the pandemic. Before, our homes served as a haven for relaxation, but now, we need a place for our work, as well as our play. As 2022 approaches, we are rediscovering the importance of transforming our homes into sanctuaries that continue to meet all our needs. Elements of post-pandemic living will remain, but I believe we will put our comfort before all else next year.
In 2022, interior design trends will center on utilizing spaces for multifunctional purposes, a renewed interest in bringing the natural world indoors, a dip into past trends, and a drive to purchase and decorate with more color. The pandemic has shifted how we want to live our lives and how we want to spend time in our homes. We are now making interior design decisions regarding these changes.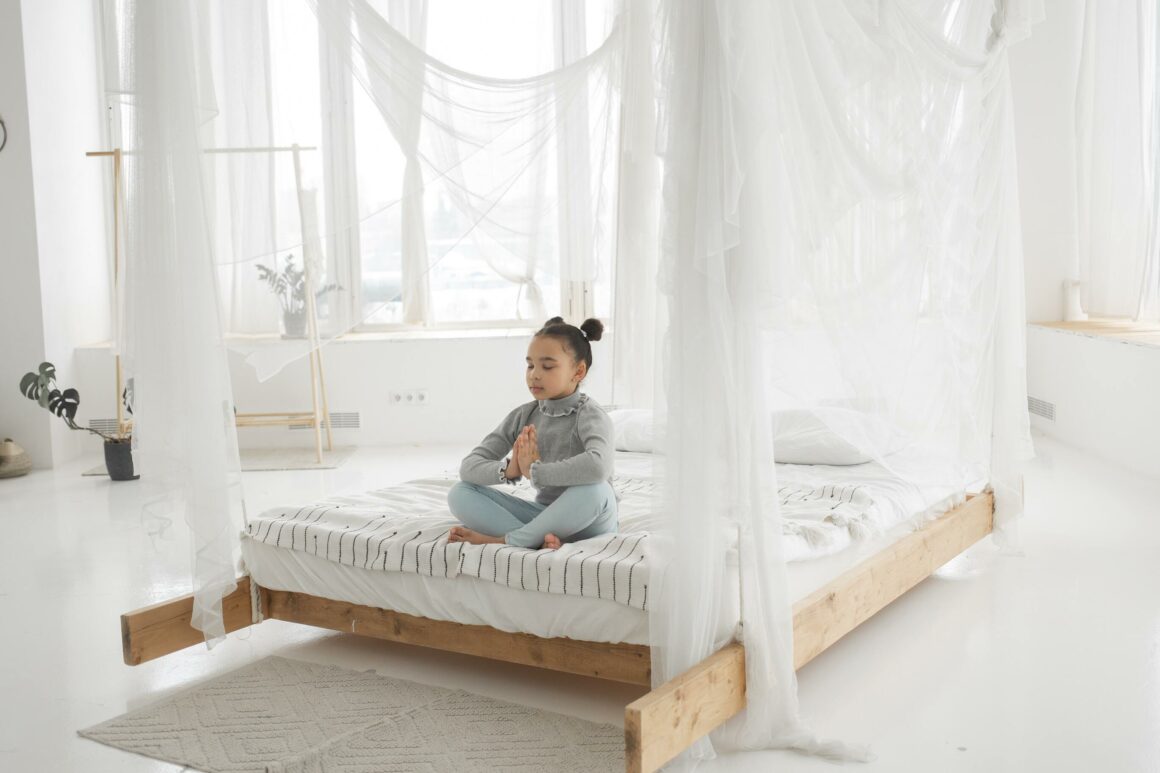 Everyone is manifesting a better outlook and maintaining an optimistic view for the year ahead. There is now a tremendous shift towards home entertaining and creating spaces in which to have friends and fun times. Also, we need to spruce up and brighten the space as we prepare for the following year. Interior design trends largely influence how we decorate and style our homes. From colors to textures, accessories to building materials, keep reading for the interior design trends for 2022.
Zen Interiors
What exactly is zen interior design? Your initial impression might be sand gardens, trickling water features, and meditation, but zen interior design is so much more than that. Originating in Japan, zen interior design is a minimalist approach that focuses on harmony, creating balance and a sense of relaxation in the home. It has seen tremendous popularity recently because of the stressful, crazy times we live in. By incorporating a zen interior design theme, your home can become an atmosphere to help you relax and maintain your inner peace.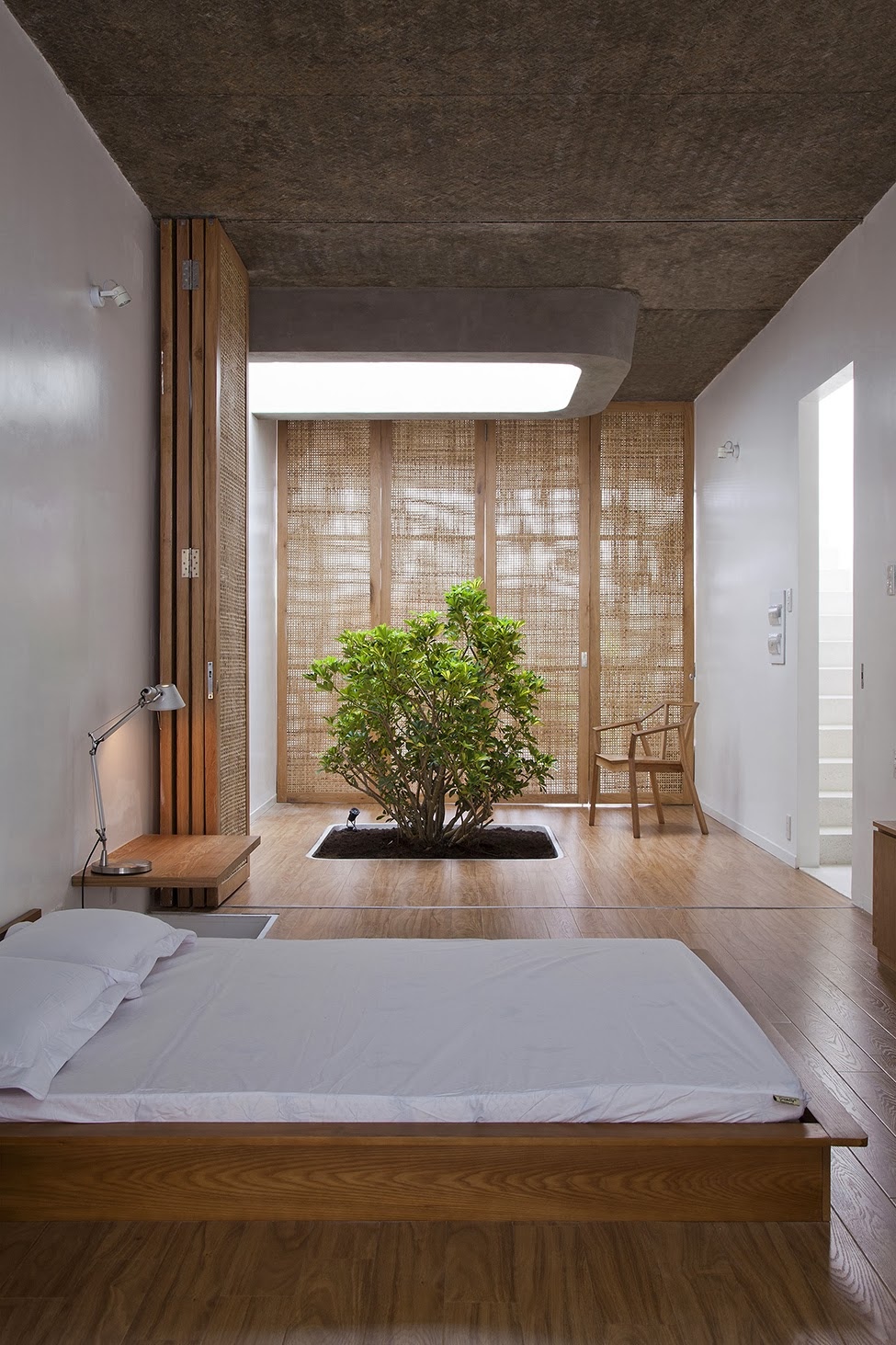 One of the hallmark aspects of zen interior design is the neutrality of the colors used. It centers on using the color and elements of nature to help brighten and relax the room. Take inspiration from the natural world by studying the places that make you feel the most relaxed. From a dreamy white sandy beach with brilliant blue ocean waves or lush green woods.
The primary focus of a zen interior design is creating a feeling of closeness and connectedness with the earth. We can achieve this by using natural fabrics like cotton and linen for pillows, bedspreads, and curtains. These natural fabrics offer a relaxed aesthetic that never looks shabby or dated, and they are super easy to clean! Every aspect of the room should feel inviting and bring warmth to the room.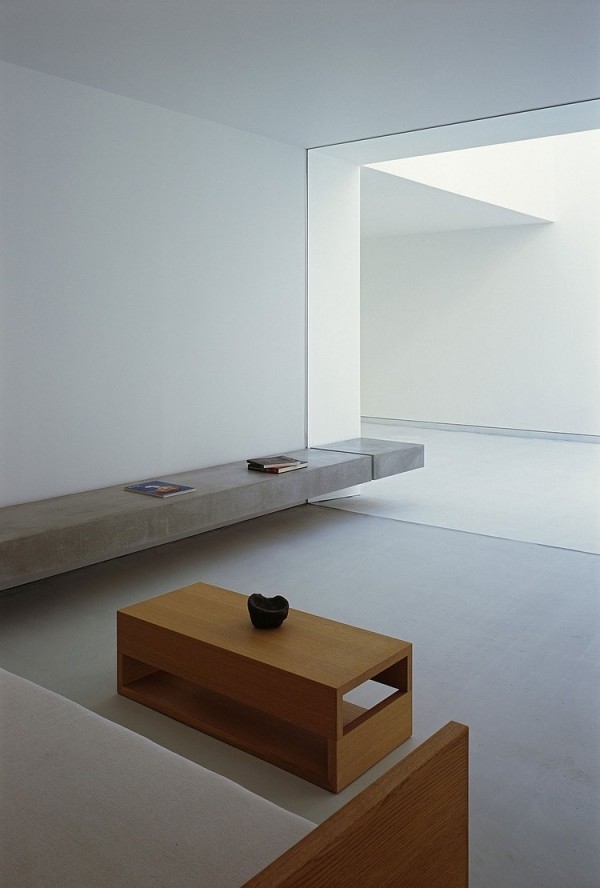 Last, the zen interior design style uses mostly dim or natural lights to create a feeling of relaxation. This is where floor lamps, scented candles, and indirect lights can work to your advantage since they're not as harsh as overhead lights, which flood a room in brightness.
Multifunctional Spaces
For the past two years, we have been forced to stay inside, which has encouraged us to consider the use of multifunctional spaces. Since the home has become your office, school, and everything else in between, you want to create an open-plan space and use each room for all the different functions you will need in your life. From getting rid of barriers and rearranging furniture, follow these tips for maximizing your space to its fullest potential, so it blends function and form.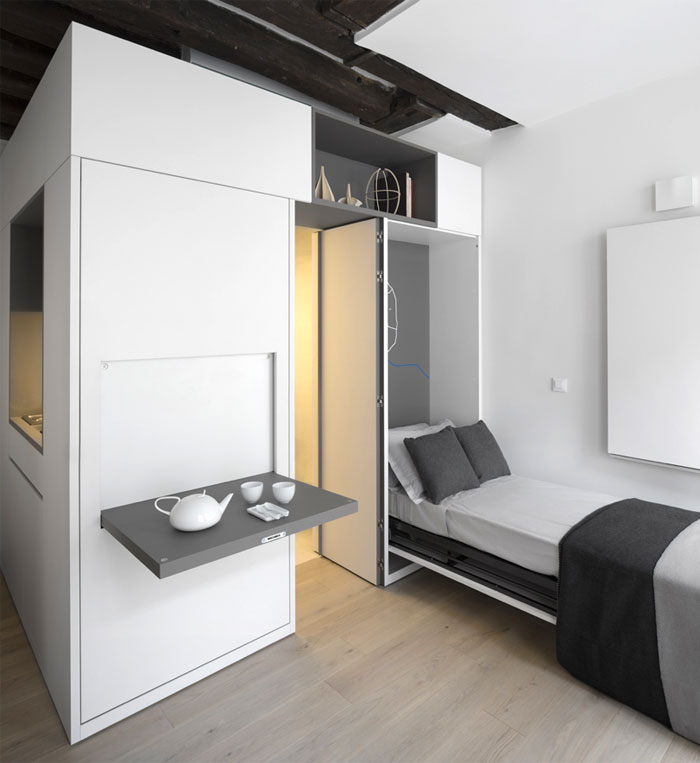 The first step you could take to create a multifunctional space is to combine the kitchen and dining area. You want to cook and socialize simultaneously, and an island in the kitchen can also become a dining table or workstation. Another idea is to use a guest bedroom and turn it into a home office. One pretty cool thing is having a home office with a fold-up bed you can easily take down when you have guests. Today's fold-up beds are pretty chic, and some even fold up into sleek-looking cabinets!
A simple approach to a multifunctional space is using side tables. Side tables are a great place to put a drink, lamp, or make for additional seating when you have guests over. Another trick is instead of having a traditional sofa try a modular lounge instead. We can pull a modular lounge apart to become end tables, footrests, or even a spare bed.
Travertine
Have you ever considered travertine? Travertine is a trendy and durable natural stone. Its neutral color works perfectly in any interior and is a typical pick for living rooms, kitchens, bathrooms and can even be used outside. It also ties in nicely to the zen interior design we mentioned above.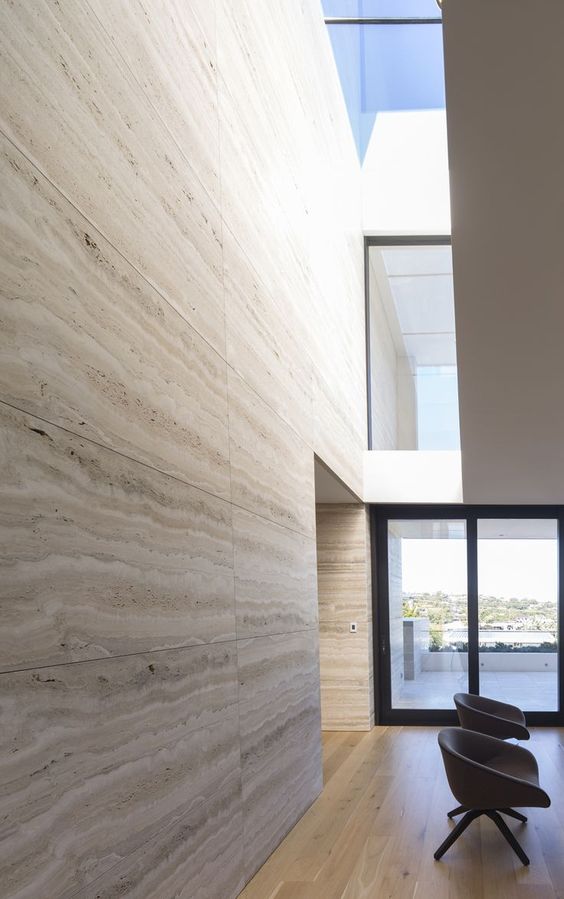 We often compare travertine to marble, but it is a sedimentary rock characteristic of its low weight, high durability, and easy maintenance. Because of its recent popularity, you can find travertine pretty much anywhere. Some common uses of travertine are kitchen countertops, wall décor, a fireplace frame, or flooring. If these are too big of a project, you could always start small by purchasing a travertine side table.
Curved Furniture
Curved furniture is all the rage as we step into 2020. In the design world, it's no longer about straight lines and shapes. Curved furniture embraces a beautiful balance of modern and feminine energies within a space. It features pieces with curved silhouettes, sloped lines, and not a harsh angle in sight. The design trend of curved furniture is about adding show-stopping pieces that add a touch of elegance and glamour to any room. The bonus of a rounded shape is it adds a softness and gives the space a more soothing ambiance.
Curved furniture first reached popularity in the 60s and 70s as an element of the mid-century modern movement, and it's now becoming a popular trend for 2022. It's a super easy trend, and you can incorporate round shapes through furniture, décor, and lighting.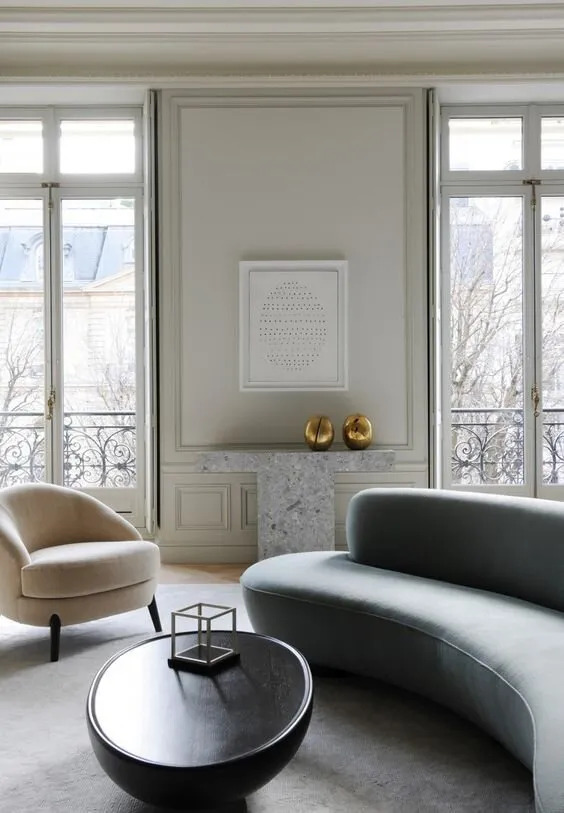 The easiest way to embody this trend is through rounded sofas and chairs. Think luxurious and pick upholstered pieces in textural fabrics, like velvet or faux furs. If you're not quite ready to invest in a faux fur accent chair or sofa, test drive the trend with a throw pillow or ottoman. If you seek a low-risk, easy way to embrace the curved furniture trend, try out a curved side or coffee table.
Embody Nature
Our next interior design trend for 2022 is to embody nature in the home. Like the zen interior design theme, we want to create a serene atmosphere in our homes. Since we can't spend 24/7 outside, we embrace the outdoor-living lifestyle and bring it into our homes. The easiest way to do this is to focus on colors inspired by nature as nature uplifts and revitalizes us.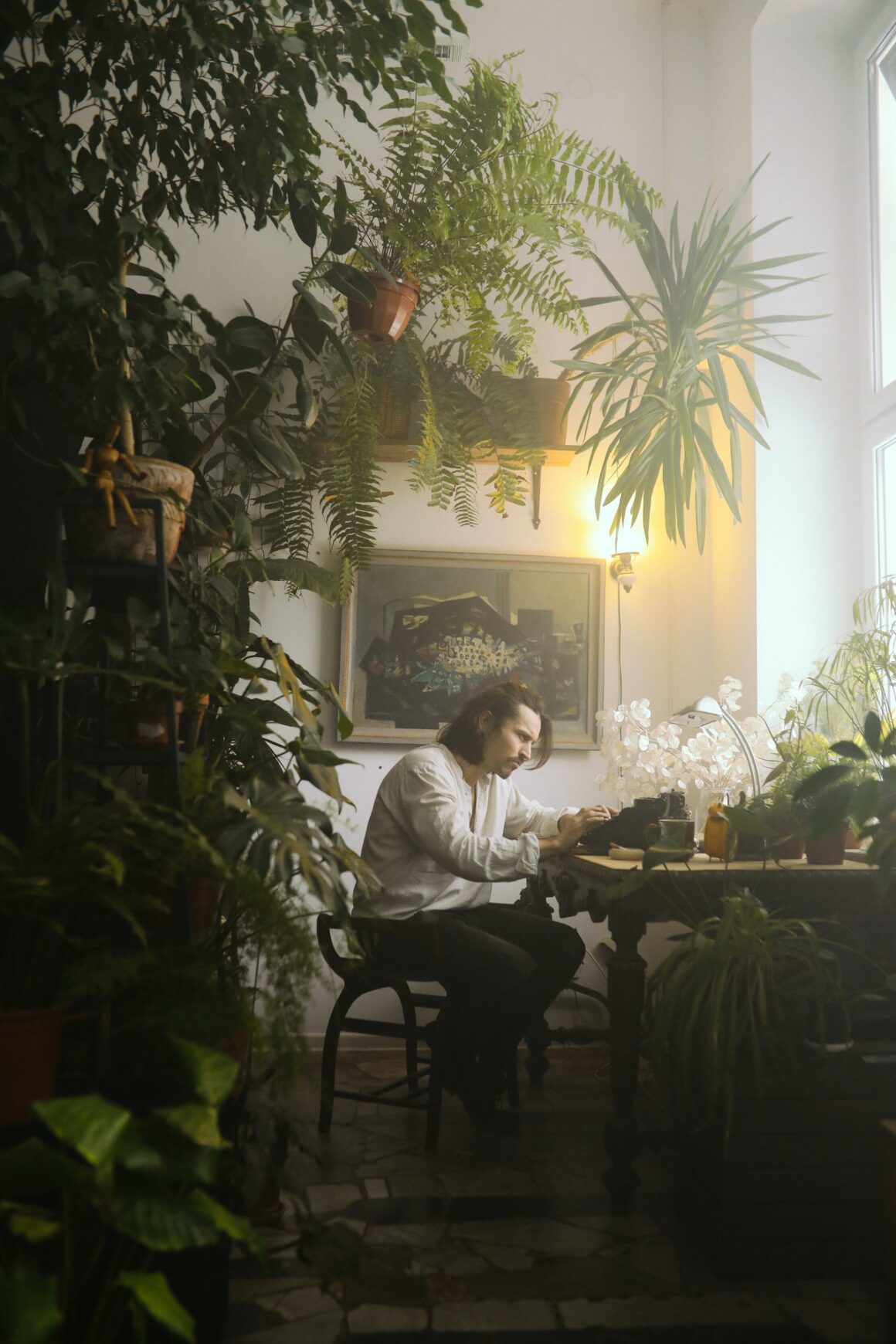 The color that comes to mind is green, which is so easy to incorporate in a room. You can have a green velvet sofa, paint the walls in a sage tone, or pick an olive textured rug. We can also achieve this through plants, which do wonders for adding life and serenity to a room. I love succulents; they are impossible to kill, and I enjoy hanging plants throughout my home. Another easy way to embody nature is adding jewel-toned greens through your cushions, throw pillows, or even vases and candlesticks. It can also be beautiful to have floral artwork throughout your home.
Statement Wall
A statement wall, or accent wall, is an interior wall designed differently from the other walls in the room. It offers a quick and easy way to liven up the space and be super budget-friendly. Statement walls also provide an opportunity to experiment with colors, shapes, textures, and patterns. They can be high impact or just a subtle pattern that can bring interest into the room without overwhelming the space.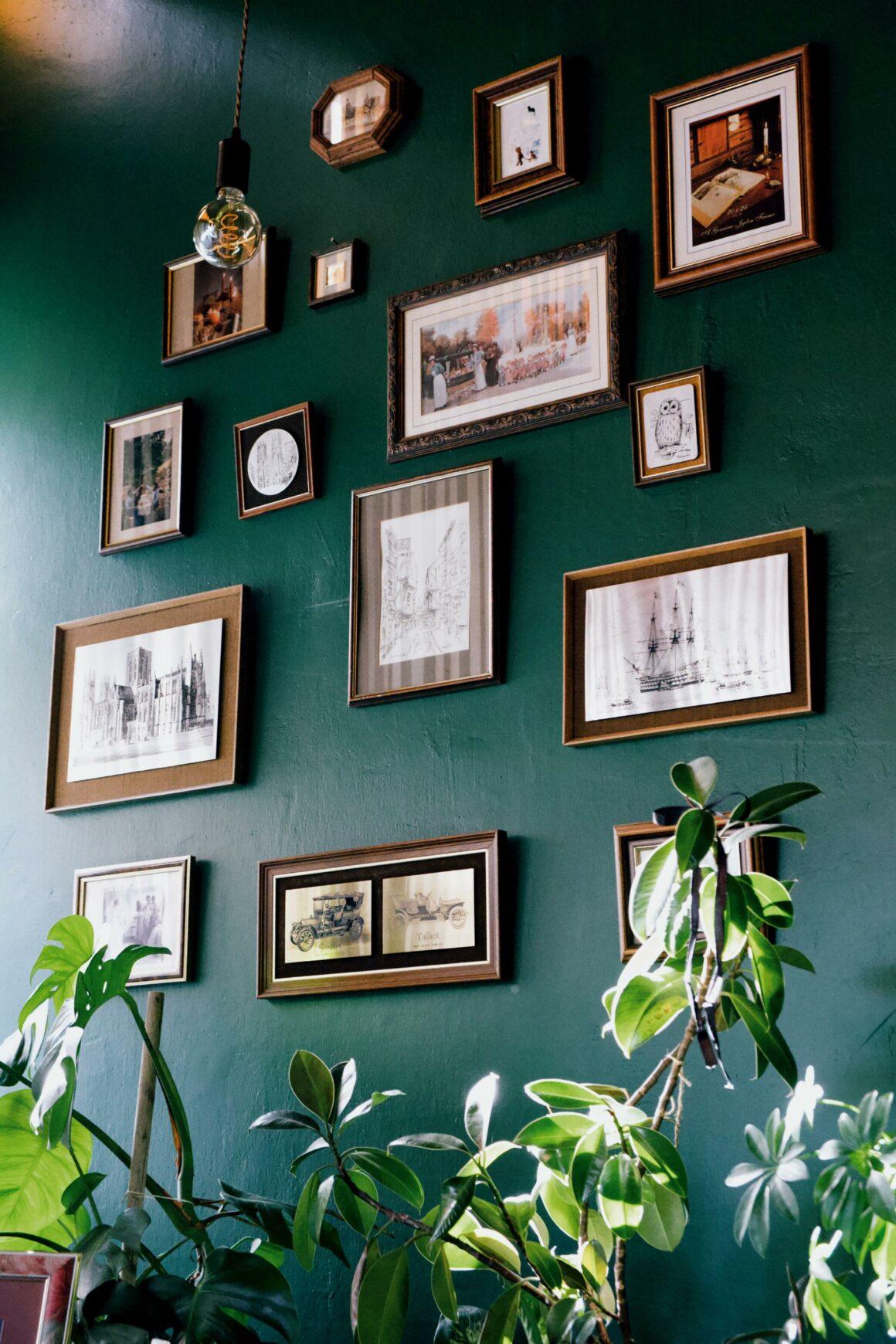 Opt for paint if you want an easy and inexpensive way to update your room without making a big commitment. It is the most accessible material to change should you decide to try something different, and there is no limit to what you can do. Pick a color or pattern that complements the rest of the room and ties everything in nicely.
Another option that is becoming popular in 2022 is using wallpaper for a statement wall. So many people are hesitant to decorate with wallpaper because they do not want to deal with eventually having to take it down, but there are plenty of peel-and-stick options that are easy to remove when the time comes. I have wallpaper in my bedroom on one wall to serve as a focal point for the room. I was stuck in Bali during 2020 and really loved the natural vibes I had in my villa, so I purchased a green, tropical wallpaper print and designed my bedroom at home around this particular wall. My bedroom has become this tropical, zen oasis and is definitely influenced by some trends on this list.
Postmodern
Postmodernism is an interior design trend that appeared in the late 1970s and is regaining popularity in the design world today. It mainly emerged as a reaction to modernism and its stigma. Postmodern interior design emphasizes eclectic, playful, and colorful design that embraces unconventional ideas. Some critical materials that are used in this design are terrazzo, brass, colored glass and plastics, and velvet.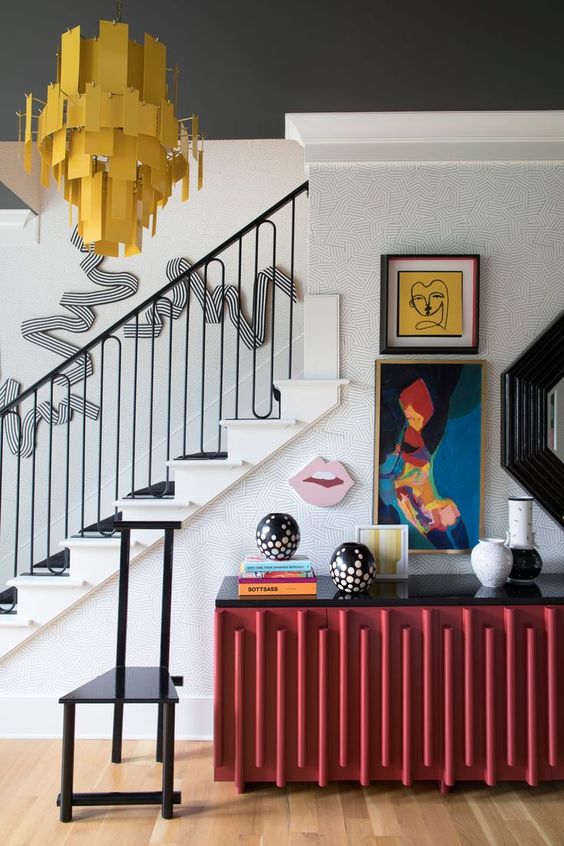 Primary colors are very prominent through the Post-Modern interior design. The color palette includes a mix of natural and retro shades like mustard, avocado green, burnt orange, metallic tones, and turquoise. Post-Modern interior design believes in transforming cheap everyday materials into luxurious objects. It's a design element that makes you think, makes you laugh, and reinterpret what you know about everyday objects. I encourage you to have fun and not think so much when you embrace this design trend. You can always start small by choosing colored glass lamps, a velvet ottoman, or an eclectic piece of artwork.
Art Deco
Ah, Art Deco, the interior design trend that makes me think about The Great Gatsby and living in the roaring 20s. Art Deco is short for Arts Décoratifs and is characterized by bold geometry, rich colors, and decadent details. They brought it to popularity in the 1920s and is a style that still brings glamour, luxury, and symmetrical designs into today's society. It's a style that will always elevate your space.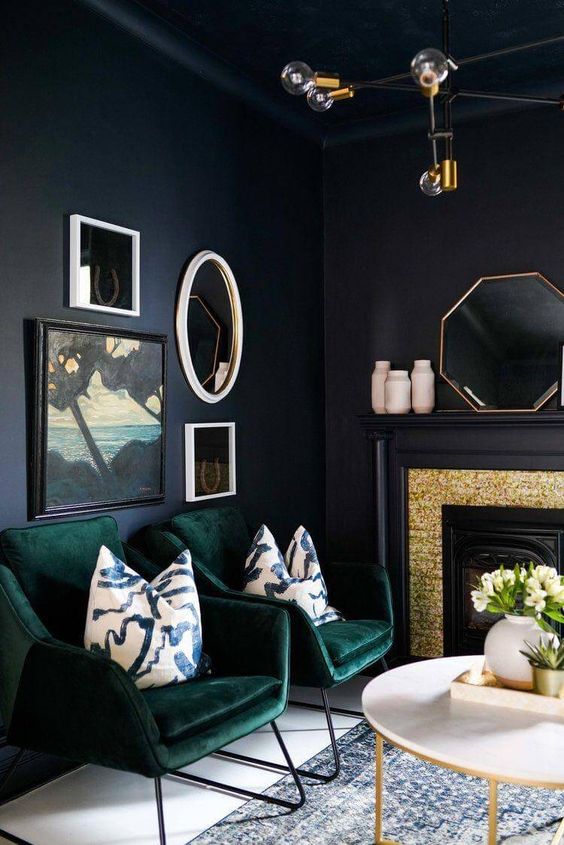 The Art Deco interior design style is bold, with no room for romance or fussiness insight. The design trend symbolized technological progress in transportation to architecture industries, which transformed the country during the 1920s. Bold and symmetrical motifs and patterns characterize it with geometric lines and shapes. When you're seeking Art Deco-inspired furniture or accessories, there are many ways you can incorporate this into your home. Go wild with animal prints, incorporate geometric shapes, and go super glam with lighting. For further inspiration, watch The Great Gatsby over the holidays and let your imagination take you anywhere!
Regardless of what interior design style you choose, always remember to design in a way that truly suits you and your lifestyle needs. I would encourage you to start small or pick just one focal piece and then build a room. Enjoy the journey, and I hope the 2022 trends for interior design excite you as much as they did me!