This article contains affiliate links for which I may receive a small commission, at no additional cost to you, should you decide to make a purchase by using them. Learn More
Nothing adds more style to your living space than spicing up a blend of lights. Adding the right lighting components can instantly transform your living space into an interior design gem. The best part is adding different lighting components, even for a minimalist home.
You can always find lights that do a great job at complementing a minimalist-styled home. Floor lamps are an excellent example of lighting components you can use to style your minimalist space. Their versatility makes them a practical lighting source, even for a vast space.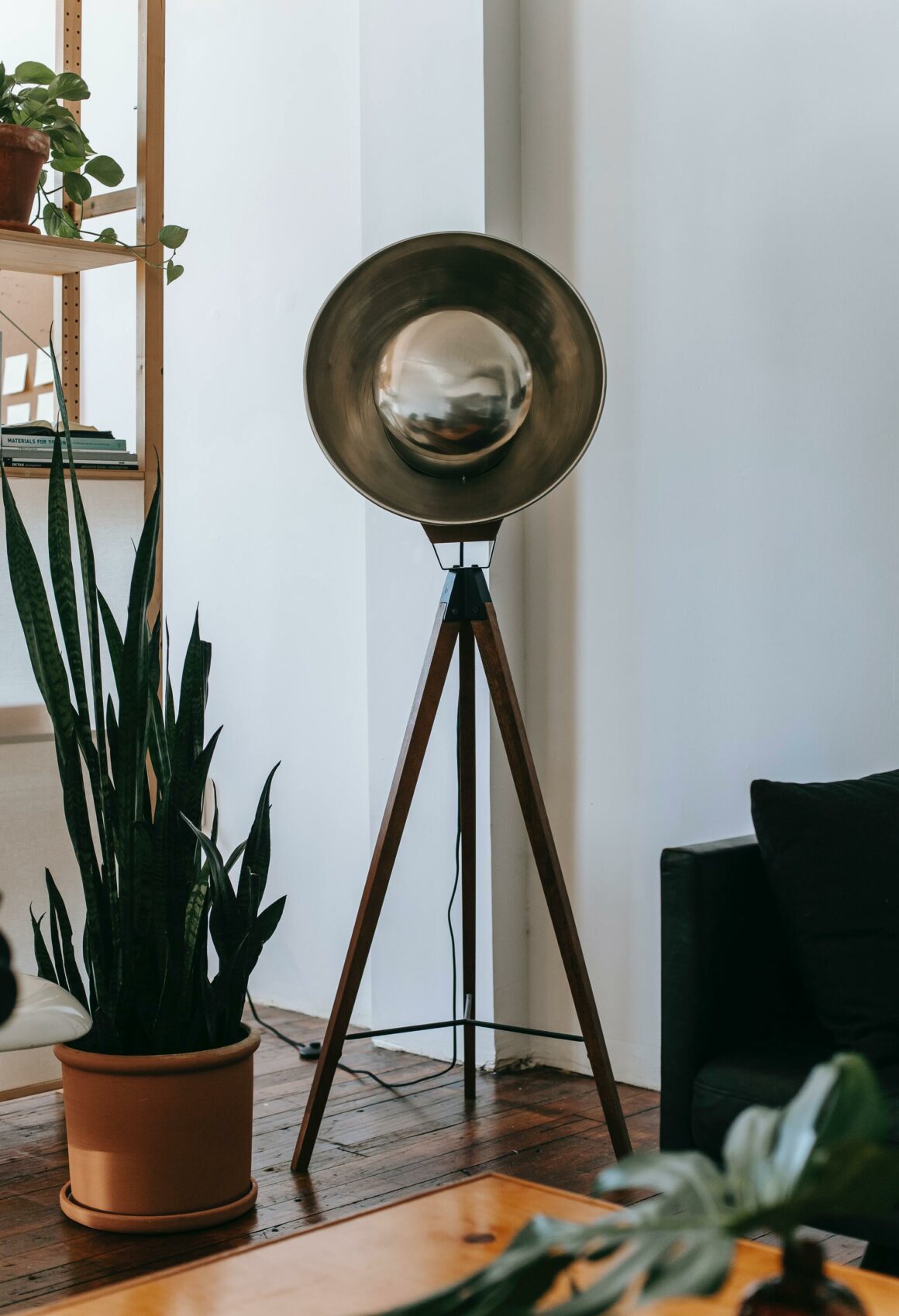 Their varied design and illuminating pattern can also complement the overall look and feel they create in your home. We've searched the market for the top-rated floor lamps to pair with your minimalist space this year. Here is the ultimate list of the top best 15 minimalist floor lamps.
1. Louis Poulsen VL Studio Table/Floor Lamp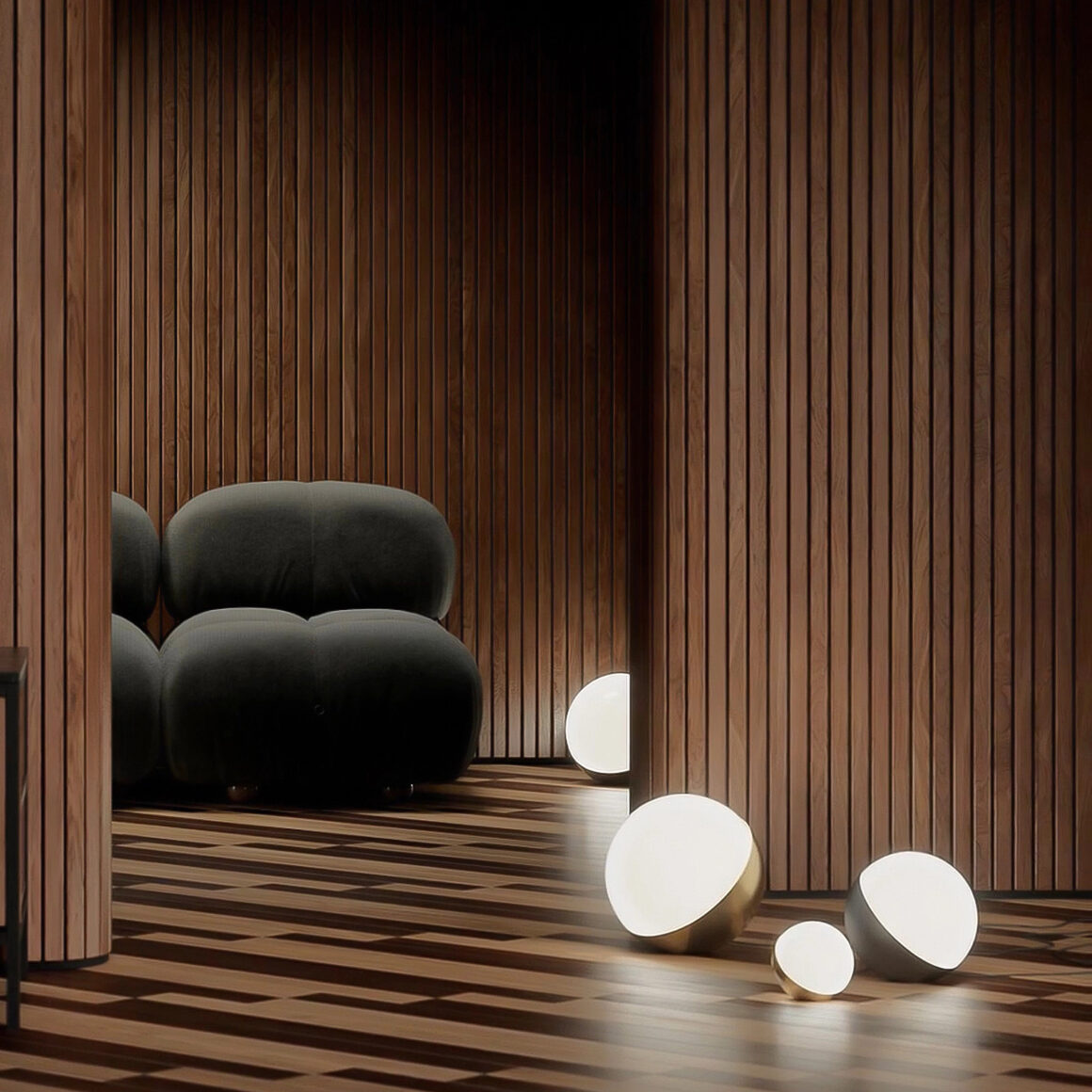 The Louis Poulsen VL Studio Floor Lamp isn't like anything you've seen before. Originally designed by Danish architect Vilhelm Lauritzen for Radiohuset (DBC) in the 1940s, the lamp features a circular-shaped design that comfortably settles on a table or floor. These lamps come in a selection of three sizes, from small to large, with the large one being appropriately built for both table and floor use.
The lamp features matte black aluminum construction with a glossy white and triple-layered white opal glass to give it a clean and modern look. Alternatively, you can opt for the lacquered brass finish version if you want a warmer look. These looks are an advanced evolution from the lamp's original 40s design. The floor lamp is perfect for any minimalist space with the clean, simple finish and zero smaller accessories.
2. Seed Design Lighting Apollo Floor Lamp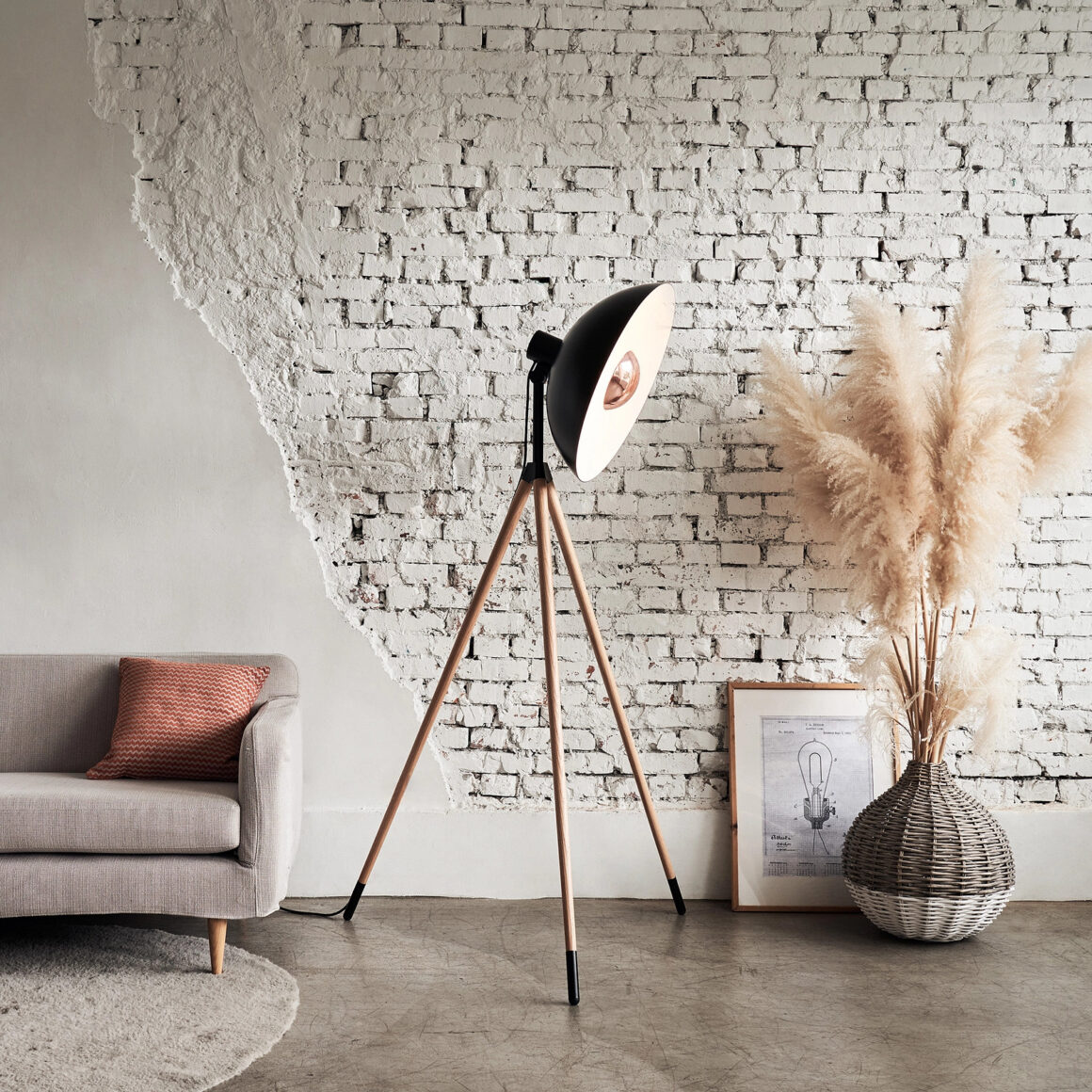 Reminiscent of a professional photographer's light, the Apollo floor Lamp brings style and edge to your living space. The stylish floor lamp is fitted with wooden tripod legs to give it that authentic studio lighting look while optimizing stability and lighting. The top of the lamp integrates a massive, lightly colored, rotatable shade that sheds light.
On the other hand, an energy-saving LED module is integrated into the metal cap underneath the shade to prevent the light from being visible and causing unbearable glares. To give you optimal control over your lighting, the floor lamp is also fitted with a dimming device.
3. Michael Anastassiades Captain Flint Floor Lam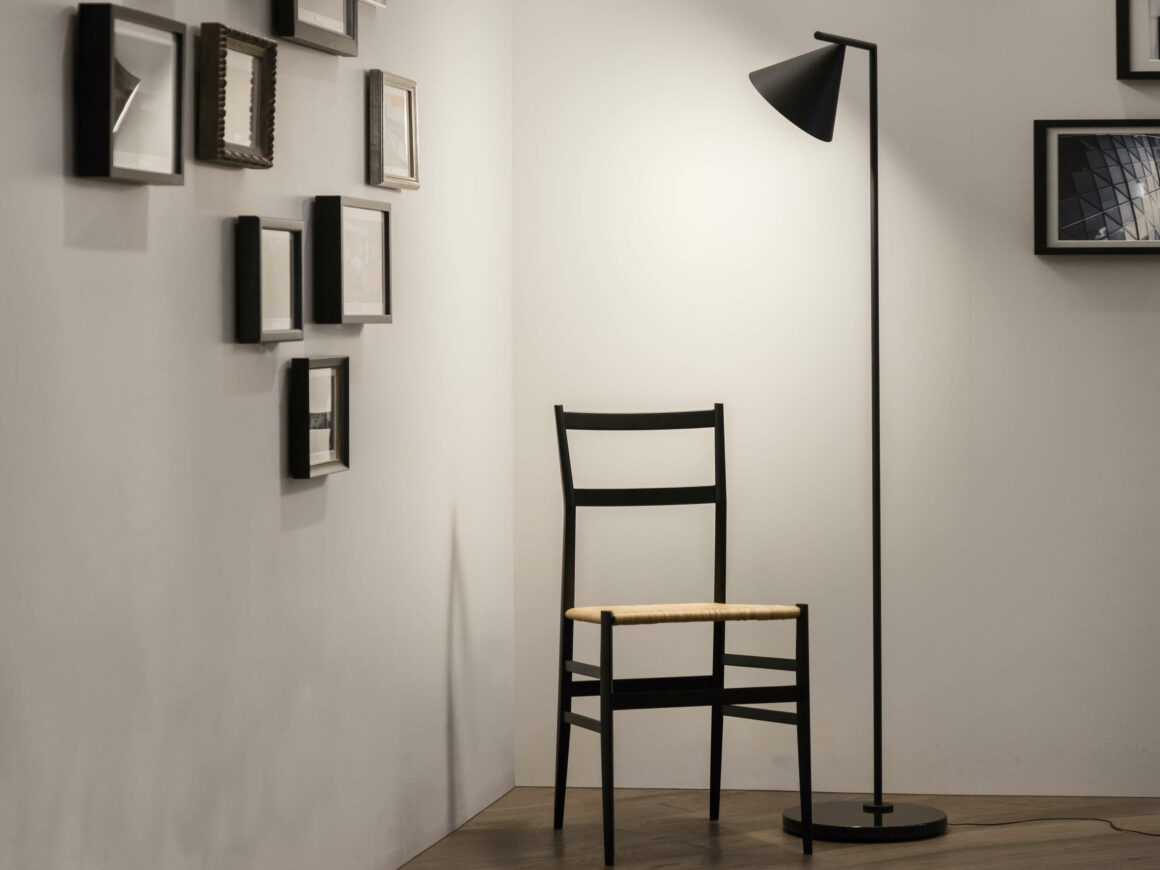 The Michael Anastassiades captain Flint brings this edgy and bold floor lamp to your home. The tall lamp features a bold matte black finish from shade to base, making it a fine addition to your home or office space. It also blends well with different settings, such as salons, clothing stores, and intimate cafes or restaurants.
When positioned strategically near your bed or lounging chair, the lamp's shade position also makes it a great reading lamp. Built from painted steel or brass, the dimmable lamp features a spinning metal cone shade with a stem that extends to the round-shaped base. The base comes in a white Carrara or black Marquina marble finish.
4. Serendipity Modern Minimal Kona Floor Lamp
The Serendipity Modern Kona Floor Lamp is an exciting option for creating a different ambiance based on the mood and activity. Built with over 16 million colors and 300+ multi-color effects, the color-changing lamp truly allows you to set up the scenery you want in your home. Plus, the lamp's multiple color blends make it perfect for gamers.
The Nordic style lamp has a minimalistic corner LED style design, measuring only 55 inches.
The RGB floor lamp comes with a smart remote with a 20-foot range for even easier operation. The remote lets you change the LED light colors, adjust effects and brightness, and even enjoy code matching with a single touch.
5. Contour Floor Lamp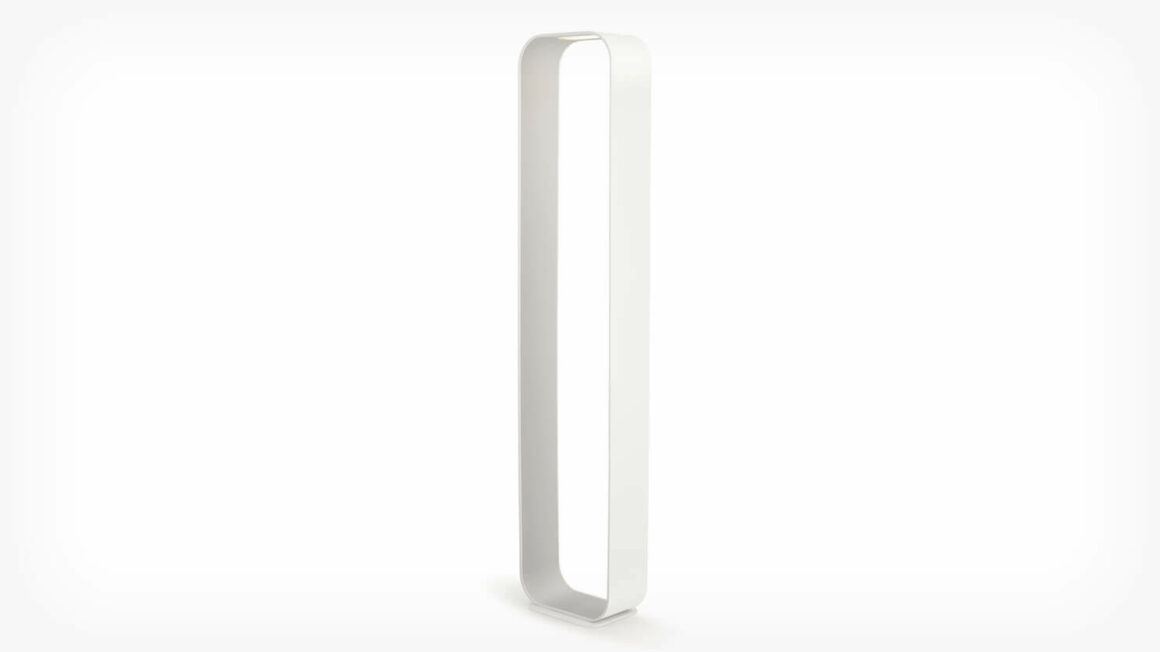 The EQ3 Contour Floor Lamp features a clean rectangular structure that stands out in any setting without causing clutter. The lamp's precision contours lead to an elegant open frame structure with an aluminum exterior. The interior is lined with warm LED illumination to give out equally clean and glare-free lighting.
To match your living space aesthetics with more accuracy, the lamp comes in a selection of three finishes, i.e., pearl fabric, walnut, and white oak. The lamp's fabric cord complements its classy and neat design further. It also comes with a dimmable function so you can achieve the ambiance you want. Plus, the floor lamp has a 50K hour lifespan to give you excellent value for investment.
6. Snowball Floor Lamp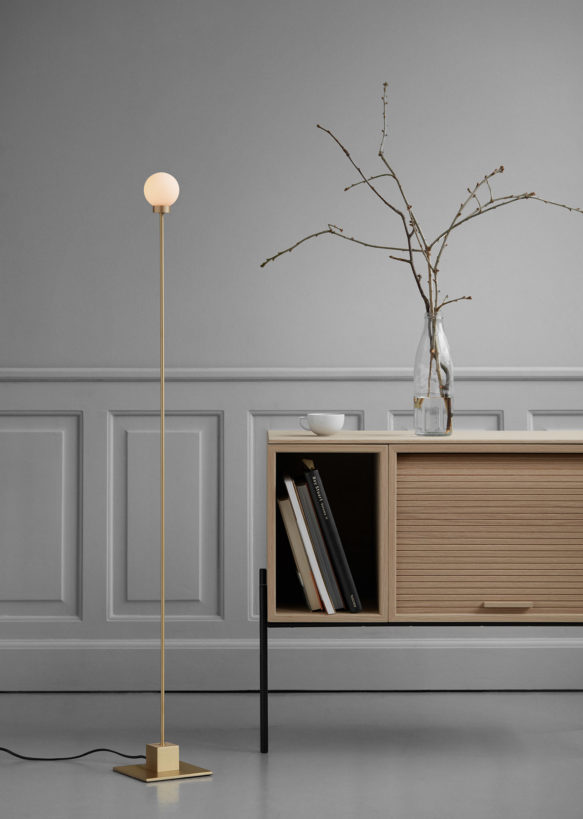 The Northern Snowball Floor Lamp creates an ingenious illusion of an upside-down suspended lamp, a modern take on the classic Bauhaus lamp. The futurist design integrates a metal stem anchored on an ergonomic base. The base incorporates rectangular shapes that extrude upwards to hold the frosted glass lampshade.
The lampshade itself completes the lamp's artistic mix of shapes, using its disc-shaped plinth, to create the perfect round "snowball" globe that disperses soft, clean light. The lamp comes in a choice of floor and table setup for a varied selection. Furthermore, the Nordic style designer-lamp comes in a choice of white, steel, black, and brass body finish to choose from, with a constant white opal mouth blown shade.
7. Mid-Century Minimalist Floor Lamp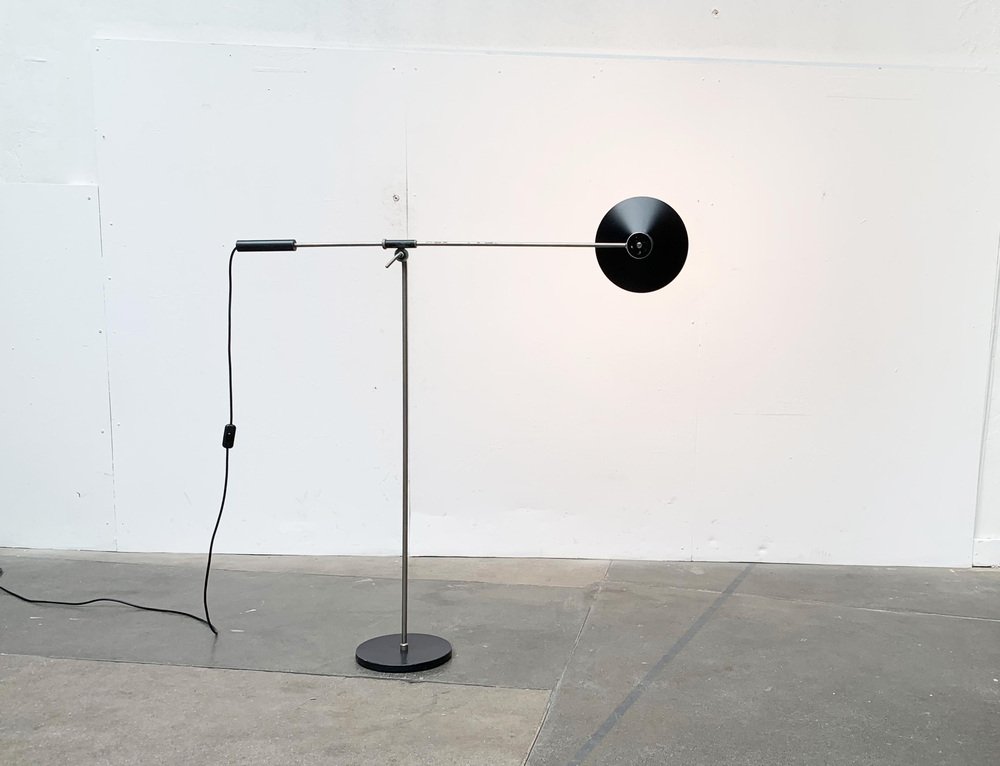 As the title suggests, the Pamono Mid-Century Minimalist Floor Lamp adds that retro-modern element to your ling space. Although it has a reasonably high price tag, the vintage piece is certainly worth the investment, adding an aura of class and sophistication to your home. The vintage lamp integrates a classic rotatable and retractable shape with a flat and angular shade.
At the bottom, the stem runs to a simple plate base. However, what truly makes the lamp stand out is the flexible joint design that allows you to position it the way you want. It also comes with a knurled screw that fixes its position, while a distinctive joint lever fixes the arm's inclination. 
8. Marset Theia Floor Lamp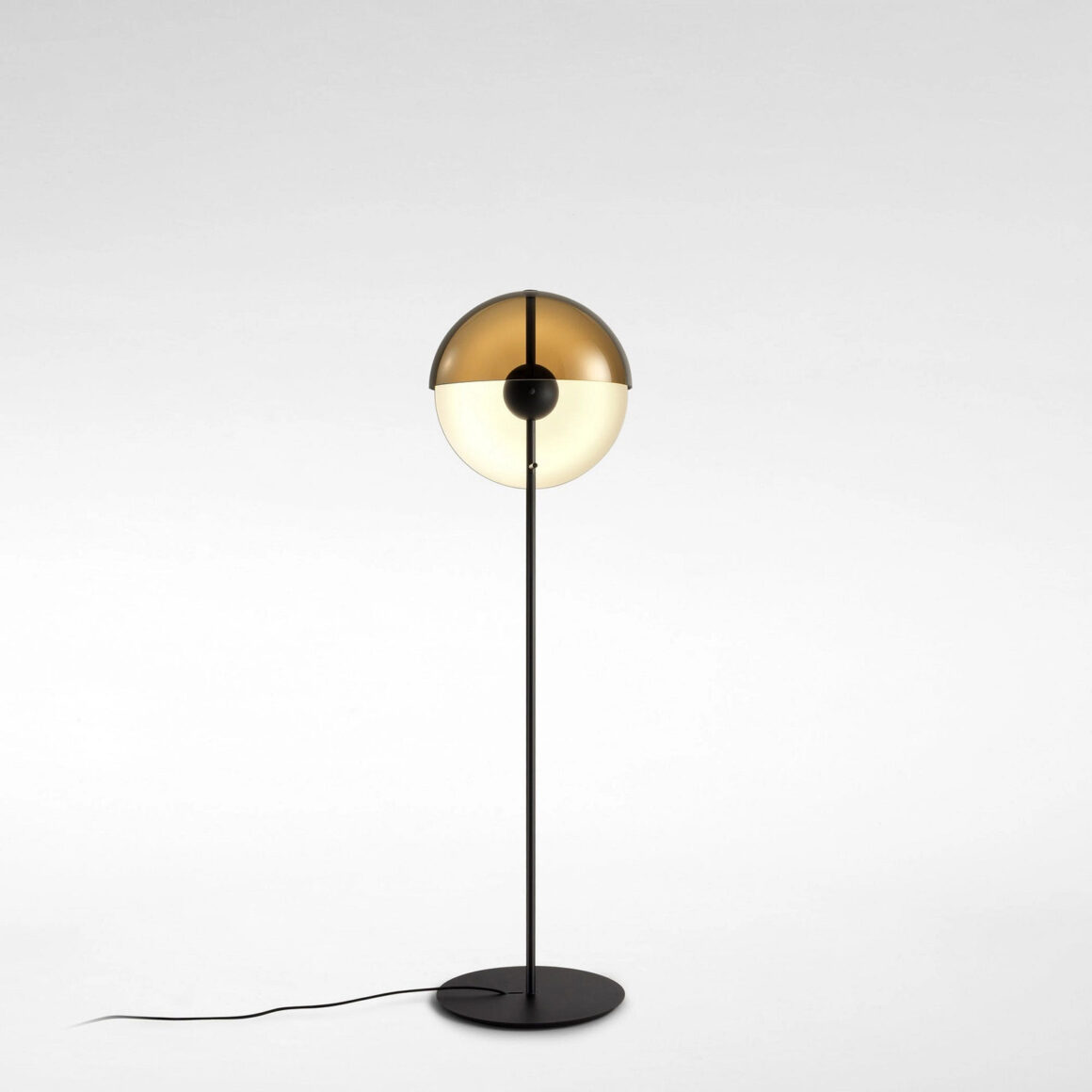 According to the Marset brand, their Floor lamp draws inspiration from the Greek goddess Theia – mother of the sun, moon, and dawn. Incepted by German-born designer Mathias Hahn, the floor lamp integrates an intelligent combination of light and shadow to establish its stylish and majestic finish.
The semi-spheres are joined with a metal shade that rotates vertically while creating an opaque surface. A transparent smoke-finished shade that swivels on the horizontal axis to seal the design. Combining the different shades curates a musical motion for a theatrical change in light brightness while optimizing and softening the light.
9. O'Bright Moon – Dimmable LED Floor Lamp
The O'Bright Moon – Dimmable LED Floor Lamp adds elegance and functionality to your home and office space. While serving as a decorative piece in your interior space, the floor lamp exudes enough light for reading and working function. But, its dimmable function also lets you set the ambiance you want, whether reading, watching a movie, or lounging about with friends.
The lamp features a built-in dimming memory function to adjust lighting from warm white (read), natural white (relax on the bed), to cool white (craft) without constant fumbling with the button. A single press on the power butte is all you need! For even better functionality, the lamp integrates a 360-degree rotating lamp head with a sturdy golden gooseneck you can tilt upwards and downwards for direct and indirect lighting.
10. Minimalist Leaves Floor Lamp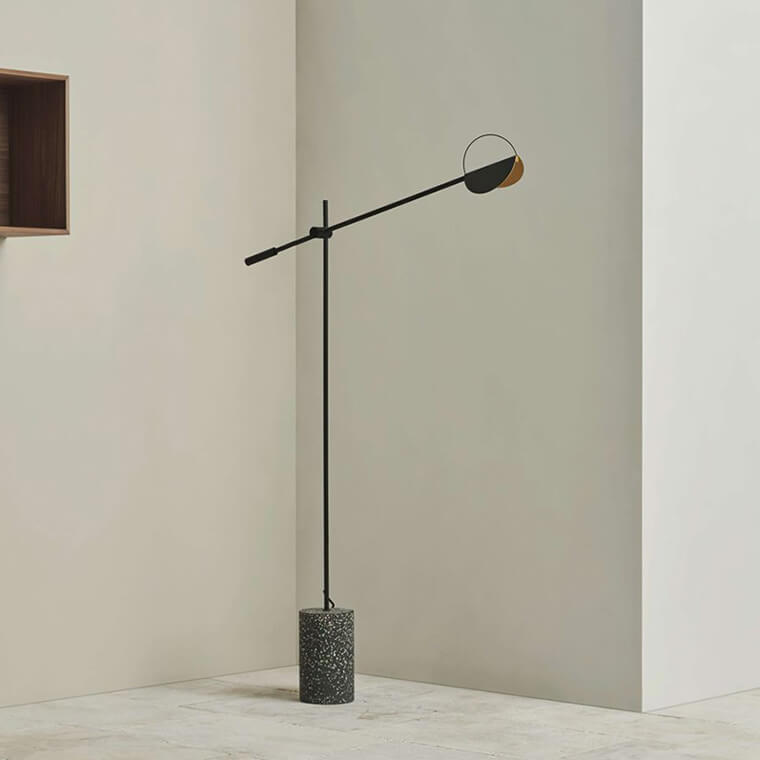 The Gohomme Minimalist Leaves Floor Lamp features a beautiful leaf-shaped shade with a jointed stem that leads down to a dense, stable base. The joint's stem design allows the arm holding the light and shadow to retract downwards and upwards from opposing illuminations and brightness.
Each side of the lamp's flipped-out leaf shade help to concentrate the light for a characteristic lit-up appearance. The minimalist light offers two distinct color temperatures, i.e., cool white and warm white. Thus, you can use the lamp for everything from reading and working to relaxing as you doze off in bed.
11. Metro Floor Lamp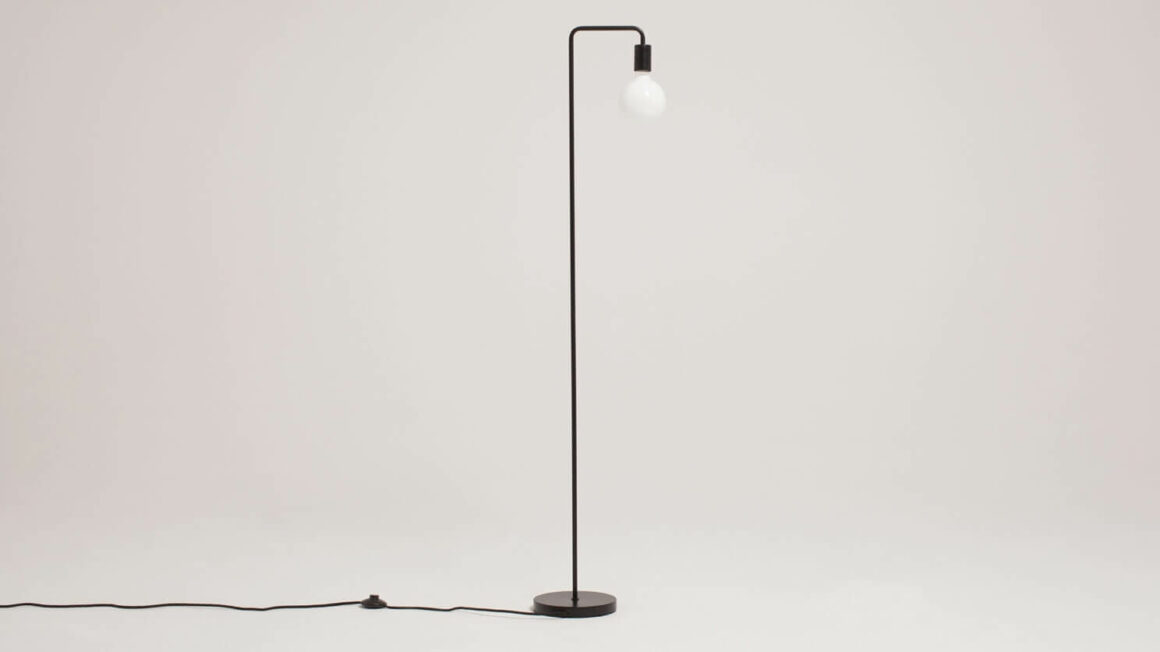 The EQ3 Metro Floor Lamp resembles a typical metro, and street-style lamp like the name suggests. However, the floor lamp features a more modern spin with a clean, neat look. Nonetheless, this is not all that makes this floor lamp stand out. It comes with excellent affordability to give you great value for your money.
The stripped-down floor lamp is built with a slim matte black metal stem with a broad black base. Measuring 60 inches tall, the floor lamp fits any setting, whether your bedroom, living room, or office. Moreover, the metro floor lamp features a globe-style bulb that complements the lamp's design while delivering clean light.
12. Frama 90 Degrees Floor Light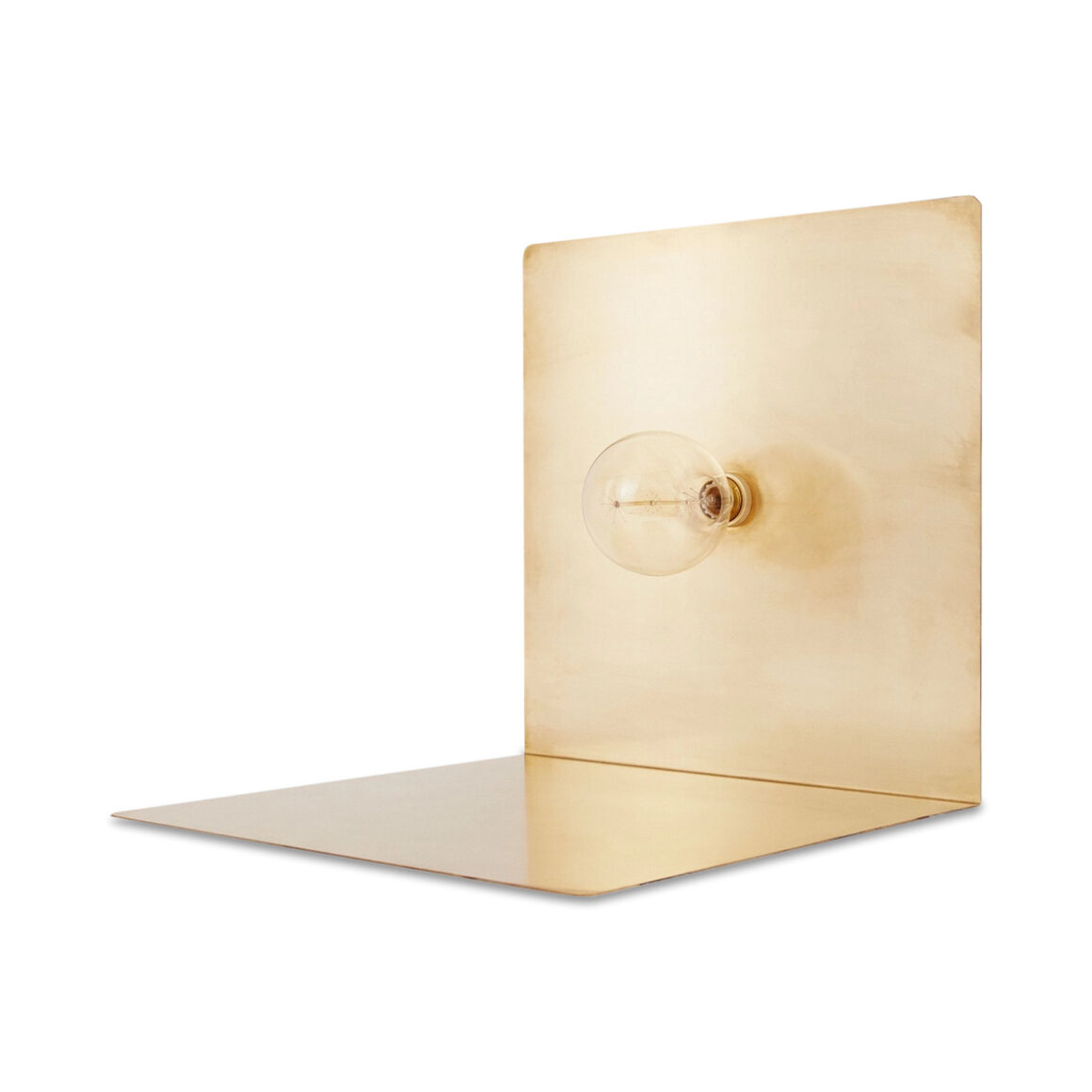 The Frama 90 degrees Floor Light was created for minimalists who are artistic at heart, giving you a unique design experience. The floor lamp features a clean solid base at a 90-degree angle, finished with an elegant golden hue. When paired with a lit-up light bulb, the base's finish gives off a striking bright glow that instantly transforms your home into an interior design Mecca.
While still boasting its characteristic minimalist style, the handmade floor light can be an attractive focal point anywhere in your home.
13. Tube Floor Lamp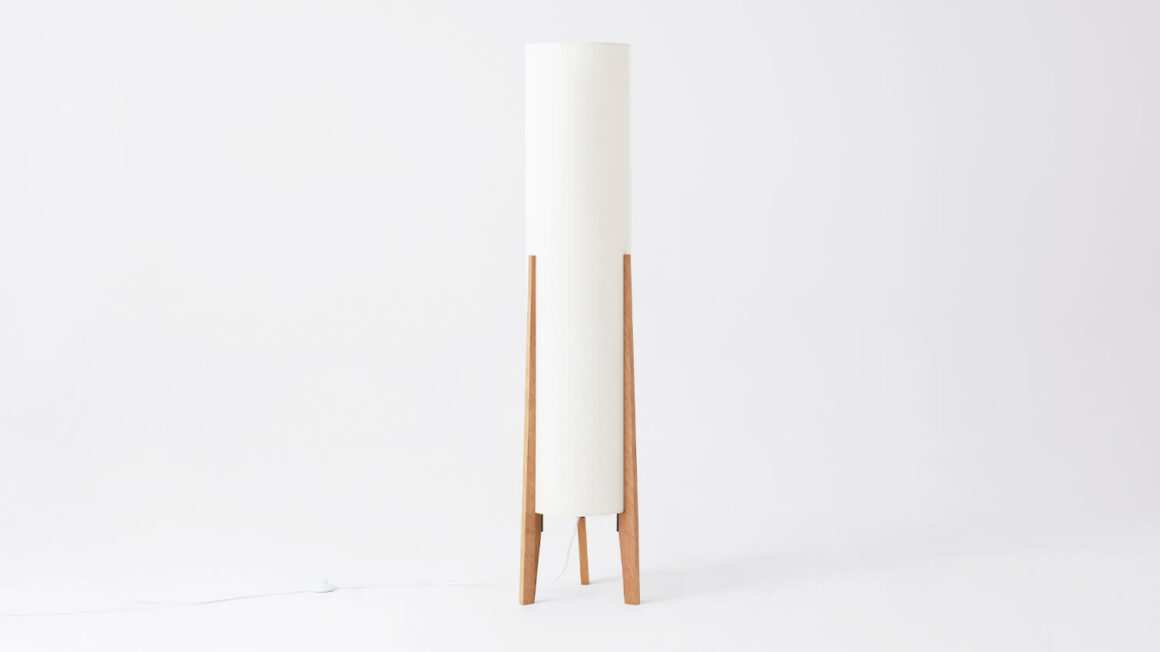 The EQ3 Tube Floor Lamp features a pristine white fabric tube shade supported by light wooden tripod legs, giving it a refined, tasteful homely appearance. Thanks to its cream linen fabric shade, this mid-century-inspired lamp offers a subtle glow that emanates evenly through the shade. Thanks to this soft illumination, the lamp is an excellent addition to your lounge space, perfect for when you want to relax.
The soft lighting curates the perfect relaxing ambiance so that the lamp lacks a dimmable function. So, it may not be the best option for those looking for a working lamp. At the bottom, its solid walnut tripod-style base gives it a stable and natural finish. But, if walnut doesn't work for you, you can replace it with the solid oak base version.
14. Fabbian Pivot TE LED Floor Lamp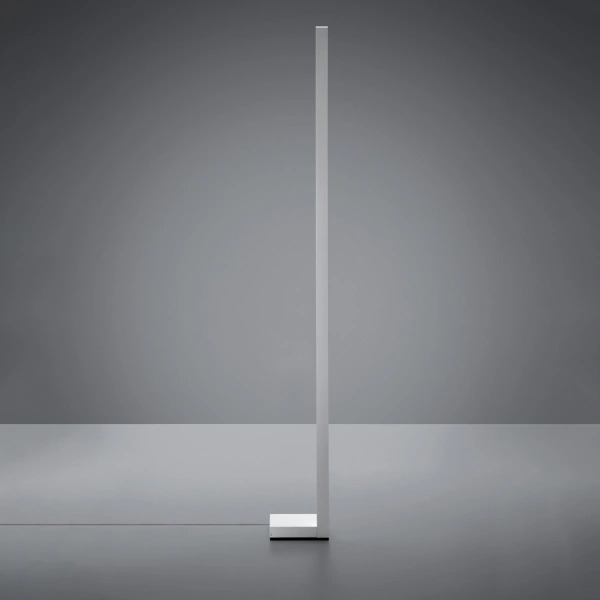 The Pivot TE LED Floor Lamp is the epitome of minimalism. The floor lamp integrates a refined shape & optimal lighting while taking up very little space. The floor lamp features a clean white L-shaped body that measures about 80 inches tall and 9.4 inches wide. You can choose the L-shaped aluminum structure in white, light gray, bronze, or anthracite finish.
The L-shaped lamp produces warm white light in diffused optics, making it perfect for the workspace. Furthermore, its glare-free, clean light output facilitates technical lighting requirements. The L-shaped lamp also comes with a simple push-button dimmer to suit your lighting needs.
Conclusion
As a minimalist, you can always choose to decorate your living space or office with functional components you already have in your home, whether furniture or lighting. Doing so doesn't only save you a buck on ornamental decorative pieces; it also enhances your home's functional setup without the place feeling cluttered.
With the right floor lamp, you can instantly revamp your home's interior aesthetics through the actual lighting and the lamp's physical design. The list above features an extensive, varied list of floor lamps to fit your needs, budget, design, and lighting-wise.