This article contains affiliate links for which I may receive a small commission, at no additional cost to you, should you decide to make a purchase by using them. Learn More
Shower standing handles are an accessible item that can help you or your loved one with disabilities or conditions that make balance a challenge to maintain.
These handles or grab bars are designed to be easy-to-install, durable and provide a safe grip that makes it easier to stay upright while showering.
Does anyone in your home need support while bathing? Probably, an elderly, a child, or someone who has poor balance or fear of falling.
If yes, then you may need a shower handle/grab bar to ensure safety.
There is a wide range of shower standing handles in the market, so finding the best one can be challenging.
To help you narrow down the options, we've put together a list of the some of the best shower standing handles based on quality, durability, and user experience.
What is a shower standing handle and its benefits?
The shower standing handle is usually an iron bar constructed from 304 stainless steel that is a handrail. The shower standing handle acts as a support to those who have difficulty standing or moving in a shower tub.
These shower handles can support up to 500 lbs, and the material its made of is durable and corrosion-resistant.
This handrail can be extremely. It's a great help in preventing bathroom accidents, which are quite common. According to 2008 CDC studies, there were numerous non-fatal bathroom injury cases, and 81.1% of them were caused by falls that mainly occurred for the elderly.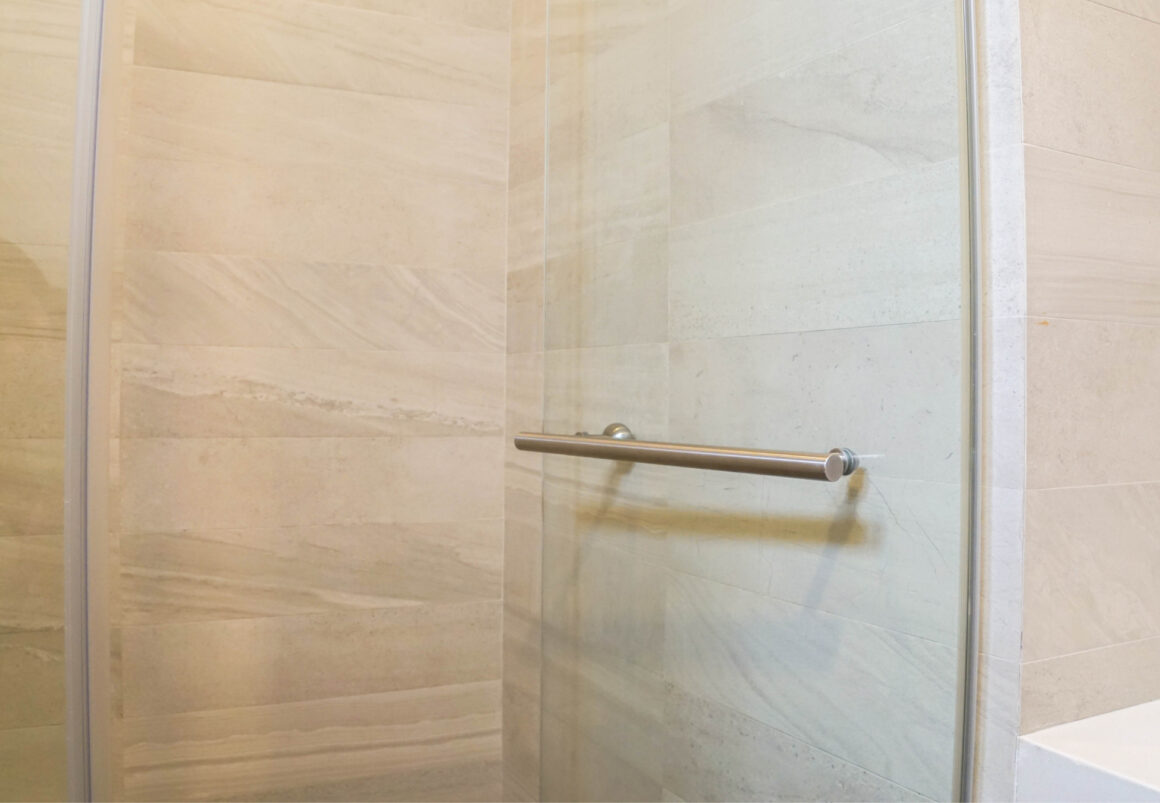 In another CDC study, about 230,000 non-fatal bathroom injuries affecting more than 15 years of age were treated in emergency rooms annually. CDC advises, "Injuries might be reduced through environmental modifications, such as putting non-slip strips in the tub or shower, adding grab bars inside and outside the tub or shower to reduce falls, and installing grab bars next to the toilet for added support if needed."
Hence, you can prevent bathroom accidents and injuries when installing the shower standing handles. Also, it can provide security and comfort, especially to the elderly, pregnant women, people with disabilities, and children.
What is the right size and height of the shower standing handle?
The American Disabilities Act (ADA) Standards for Accessible Design require a height for horizontal grab bars such as the shower handrails between 33 and 36 inches from the shower/bathroom floor.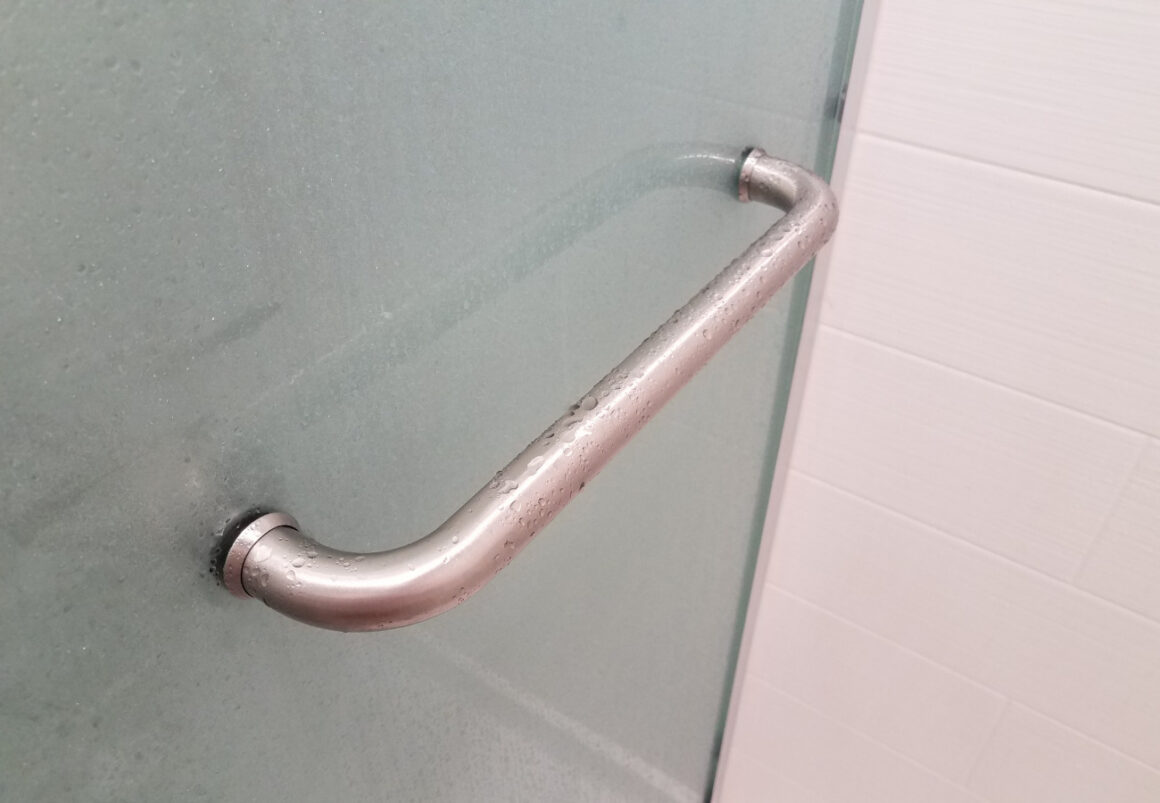 You may apply the above mentioned recommended height, or you may also use a comfortable height for the user – before installing the shower handle, let the user try it out and determine what height is comfortable for them when he reaches or grabs the handrail. This way you can have an idea of the ideal height and the location of the shower handle.
Shower standing handles range from 9 inches to 42 inches. When installed on the wall, the recommended size of the shower handle must be between 12 inches and 24 inches long.
This size is ideal for people of various heights and can be used for seating and standing positions.
If the shower handle is for balance support, it should be less than 12 inches in size.
Things to Consider in Choosing a Shower Standing Handle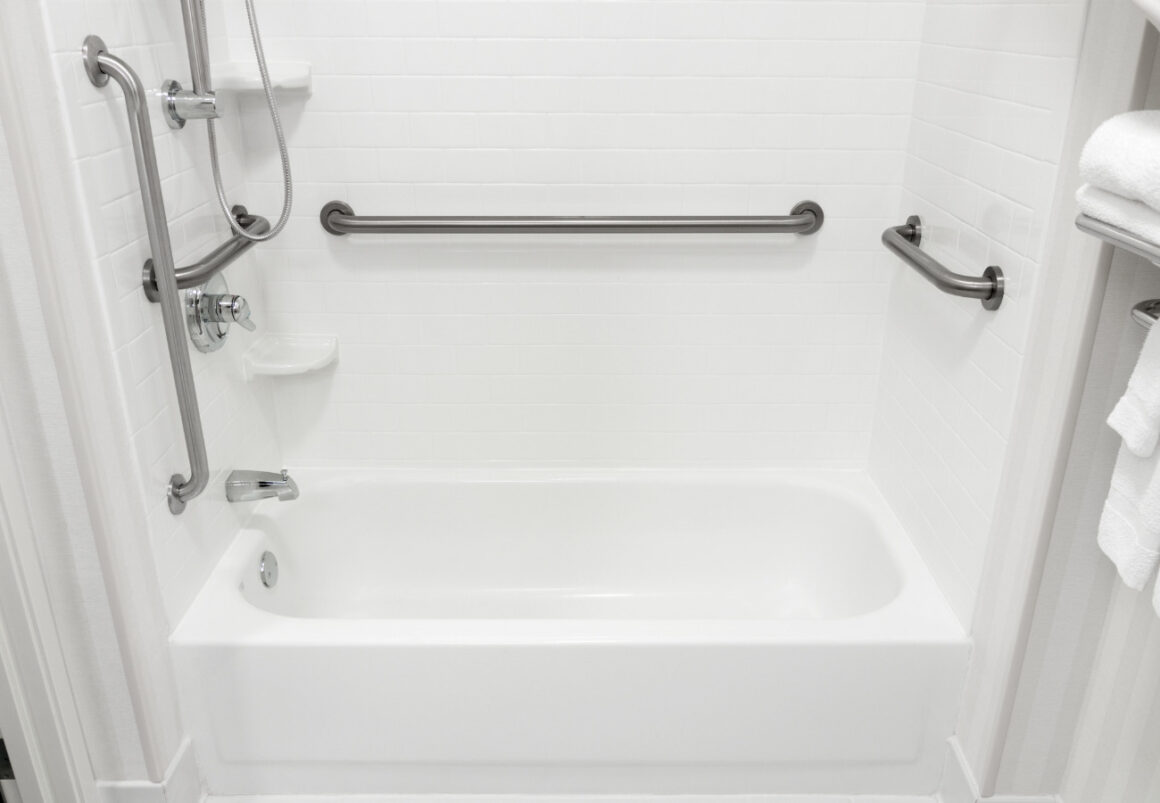 People who need shower standing handles can use them for many different purposes. Some people use them to improve balance, others to prevent falls. The important thing is that all users benefit from the support that these handles provide.
When choosing a shower standing handle you should consider the following features.
Weight Limit
Check out the weight limit of the handle. As mentioned above, most handles can support about 500 lbs. It would help if you considered a bar that can support at least 250 lbs. The weight limit is significant as you can tell if it can support the user and if it is durable.
Size of the Shower Area
You should know the size of your bathroom and choose the shower standing handle that can fit your shower area. There are bars fit for large bathrooms and smaller shower areas. 
Materials
Shower standing handles are usually made from hard plastics or metal. You may consider opting for a metal that is made from 304 stainless steel, which is known for its toughness and durability. Besides, it is corrosion-resistant and may last for a more extended period.
Installation
If you prefer to move the shower handle around the bathroom, you may choose bars installed on the wall with suction cups, which are easier to uninstall. On the other hand, if you want it to be permanent, you may choose bars with hardware for installation. Besides, this may look strong and can be used for many years.
Price
The prices of shower standing handles may come in various ranges. You may opt for a handrail with a reasonable price and quality material. Most will probably meet your needs. 
11 Best Shower Standing Handles in 2022
To provide you insights about the best shower standing handles in the market, we've compiled a list of the top 11 products for you. After a thorough study, we've concluded that the following are some of the best shower standing handles on the market. 
The solidness and design of the Ameriluck shower standing handle make it just right on top of our list. This shower handrail is made from 100% SUS and premium 304 stainless steel tubes. So, you can tell how solid and durable this bar is. Besides, it conforms to the requirements of ADA and ANSI, which makes it safe to use.
Also, it features an anti-skid grip, which is a plus factor for the user. It has a loading capacity of 500 lbs and is about 1 inch thick. It also comes in various finishes that can match your bathroom walls. These include rustic matte black finish, brushed nickel, ORB, and white finish. Indeed, a quality shower bar that can surely keep you safe.
If you are looking for an appealing yet functional shower handle, then this iMomwee bar is the right one for you. It is another premium shower bar constructed from 304 stainless steel. What also caught my eye is the bronze, rose gold, and black finishes that can make your bathroom wall look stylish.
It comes in 12 inches and 16 inches sizes and is about 1 inch thick. The sizes are decent and can equip the user well. Also, it has a non-slip grip which is safe to use. Screw holes are also hidden because of the concealed secure mount design for an easy and clean installation. Another good thing about iMomwee is that you will have a 3-year free replacement warranty.
This anti-slip Outivity shower standing handle is undoubtedly a contender in our best shower standing handles. Besides its non-slip knurling design, it uses screw installation and not the suction cup design. With this, it is more durable and effective in keeping you safe.
Also, it can support 500 lbs. No need to worry if it can carry you. It will make you more secure. The handle comes in an ideal 16 inches size, which is not too long or short. Also, it is strong as it is constructed from stainless steel. We also like Outivity because it includes two grab bars, which are perfect for your bathroom and can make the user more secure.
The Raemnaky shower standing handle is ADA and ANSI compliant and constructed from premium stainless steel. The bar is about 1.25 inches in diameter and 12 inches long. Although it is quite shorter, it can meet your safety needs. What we also like about this bar is the clean design in which screw holes are hidden.
It has an easy installation in which screws are mounted to studs. You have everything that you need to install it. These include 6 stainless steel screws and 6 expansion screws. The handle looks sturdy and chic on the bathroom wall. Also, it has 500 lbs loading capacity that improves the bathroom security.
The Vive shower standing handle is a popular product because of its durability and clean finish. It is made from high-quality stainless steel, which is firm and corrosion-resistant. Also, it has a white satin finish that can blend with your bathroom wall and may look stylish.
The hardware, such as screws, is hidden under the decorative steel flanges for a more clean appearance. It works perfectly for the disabled and elderly. If you are looking for independence, the Vive shower standing handle is the ideal one for you.
Are you looking for a designer and stylish shower standing handle that can make your bathroom safe and beautiful? If yes, then opt for the Ameriluck designer shower bar. It has a Wow factor once you enter your bathroom.
Another thing that we love about this shower bar is the anti-slip grip that can surely hold you and avoid any fall or slip. The unique and big round flanges add to its decorative design too. This shower handle is also ADA compliant and indeed safe to use.
The ZUEXT shower standing handle is one of the stable and sturdy bars on the market now. It is made from high-quality stainless steel and is about 12 inches long. It comes in two shower grab bars, making your bathroom more secure.
It is ideal for the elderly that can support them while bathing. They can also maneuver easily with this handle. Also, what you need for the installation is included in the package, such as screws. There are also good instructions for easy installation.
The Safety + Beauty standing handles are another beautiful bar with functionality. It has a unique design from the other handrails. You will notice the difference once you keep an eye on it. Besides the beauty, this bar is also safe to use. It conforms to the ADA requirements.
Also, it is constructed from SUS304 premium stainless steel, which is long-lasting and durable. It is also high-rated because it can really meet your needs in the bathroom. It works well with the pregnant, children, elderly, and disabled.
The long size of the Supregear shower standing handle is what makes it on our top list. Besides, it is made from 30 stainless steel, which is strong and durable. It is quite simple in design but can support up to 300 lbs.
This bar is about 24 inches long and 1-inch diameter. It has a glossy silvery finish that makes it appealing. It is easy to install with eight screws mounted on the wall. It can be placed vertically, horizontally, or obliquely.
The FChome shower standing handle is quite angled and is made from high-quality brushed nickel. This material is known for its corrosion-resistant, making the bar long-lasting and durable.
Also, it has a loading capacity of up to 300lbs and is also reliable. This handle adds beauty to your bathroom. It has a decent size of about 17.3 inches long, and the mount hole's diameter is 2.28 inches.
Texinpress shower standing handle is quite different from the rest. This is because it is constructed from hard plastic. However, it is tough too and can support your needs in the bathroom. It works well on non-porous surfaces like ceramic tiles, acrylics, or glass.
This bar is stable and steady. It is useful for pregnant women, the elderly, and children. It uses suction cups for installation. Hence, you can remove it easily and locate it in another place in your bathroom.
In Conclusion
After thorough research, we believe that the above products are the best shower standing handles on the market now. These bathroom bars are used and tested by many users. And they find them high-quality, useful, steady, and reliable.
Take time to go over these shower standing handles and get the handrail suitable for your needs. Choosing the right shower standing handle can make you and your bathroom secure and safe.