This article contains affiliate links for which I may receive a small commission, at no additional cost to you, should you decide to make a purchase by using them. Learn More
Minimalism involves owning the things that add value and meaning to your life. It allows you to remove the rest of the things you don't need, eliminating clutter and creating a more relaxing and neat environment. Nonetheless, this doesn't mean getting rid of just about anything in your home. You can still invest in and add your favorite pieces to your home.
Among the essential pieces to keep in your home is a french press. As much as you are a minimalist, you still need that fresh cup of coffee before you start your morning. As a minimalist, the best practice should be to maximize every item's usability.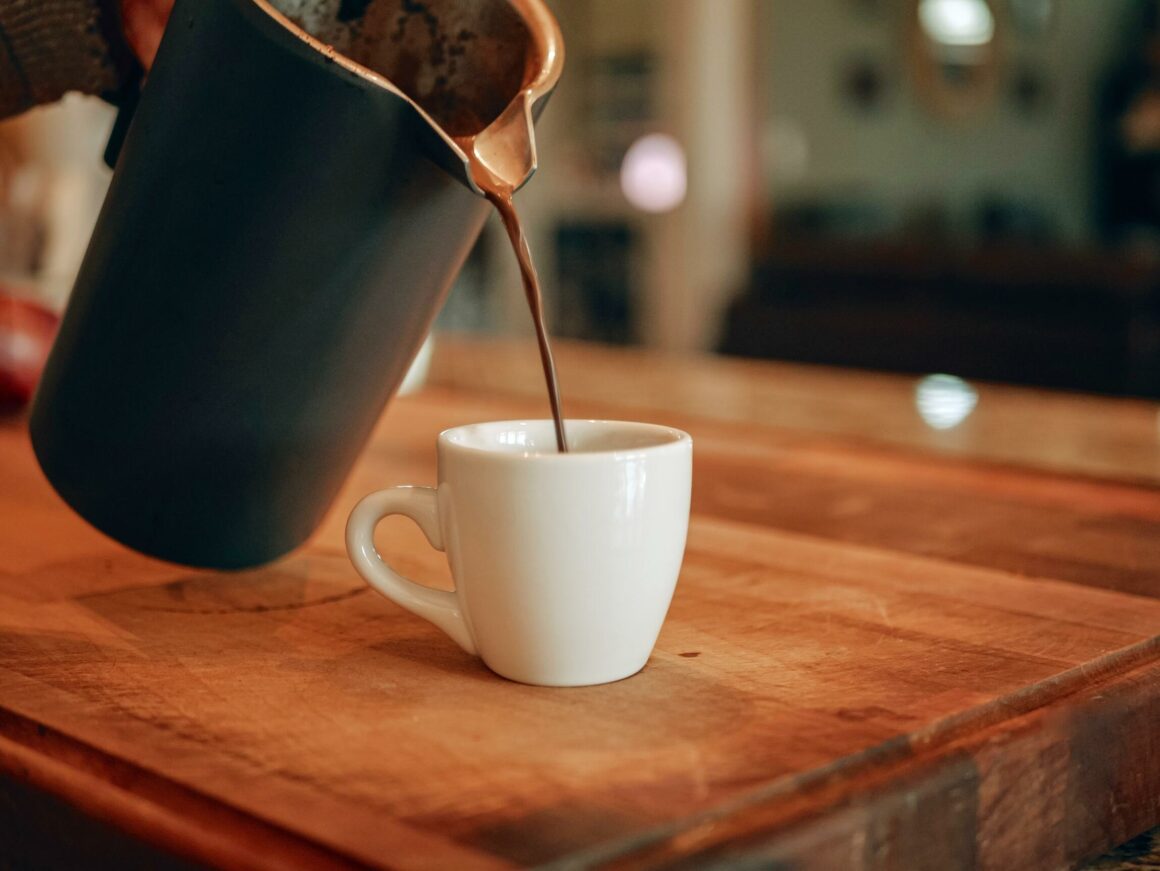 For example, you can use the french press for brewing coffee and as décor to complement your kitchen space with the right design. So, to help you find the perfect piece to complete your kitchen space, we've selected the most aesthetically pleasing minimalist french presses.
1. Yield Ceramic French Press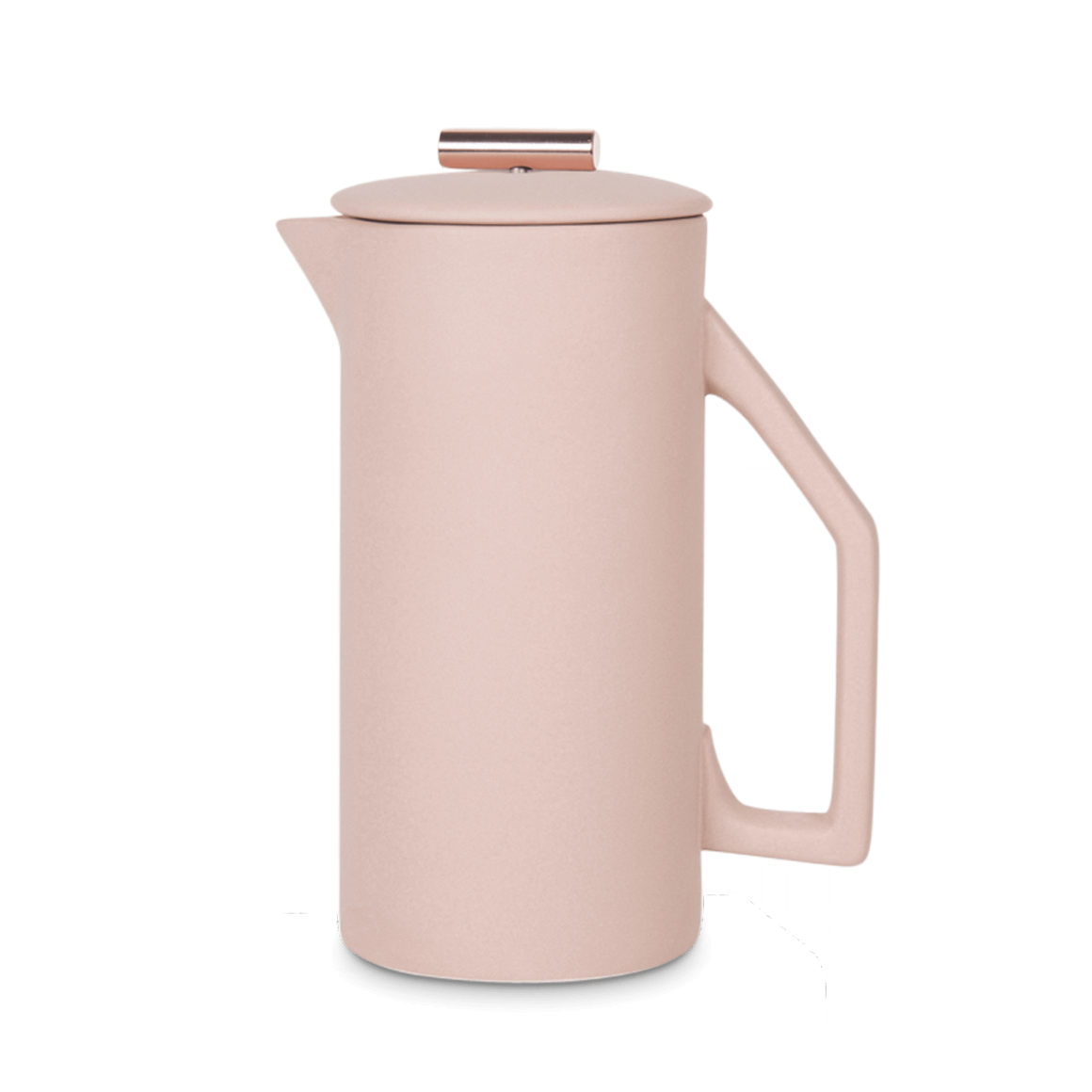 The ceramic French press from Yield is an excellent addition to any elegant and chic kitchen setting. However, it's not only the design and aesthetics that Yield focuses on when fabricating this french press pot. The french coffee plunger is also designed with high quality and great functionality in mind.
It features a matte pink ceramic body and lid with a glossy copper pull handle that brings out the lighter pink shade, thanks to its distinctive rose gold hue. You will notice a high polished finish complementing a clean, corrosion-free steel mesh when you expose the interior.
Its upside-down handle on the exterior adds character to the french press without affecting its ergonomic function. When it comes to the french press's functionality, its thick and heavy-walled construction doesn't only reduce the risks of breaking and shattering.
It also helps maintain a consistent temperature during the brewing process, helping to achieve the perfect flavor profile. The SGS food-safe french press has a 28.74 fluid ounce capacity, enough to make 3 to 4 cups per brew.
2. Clara French Press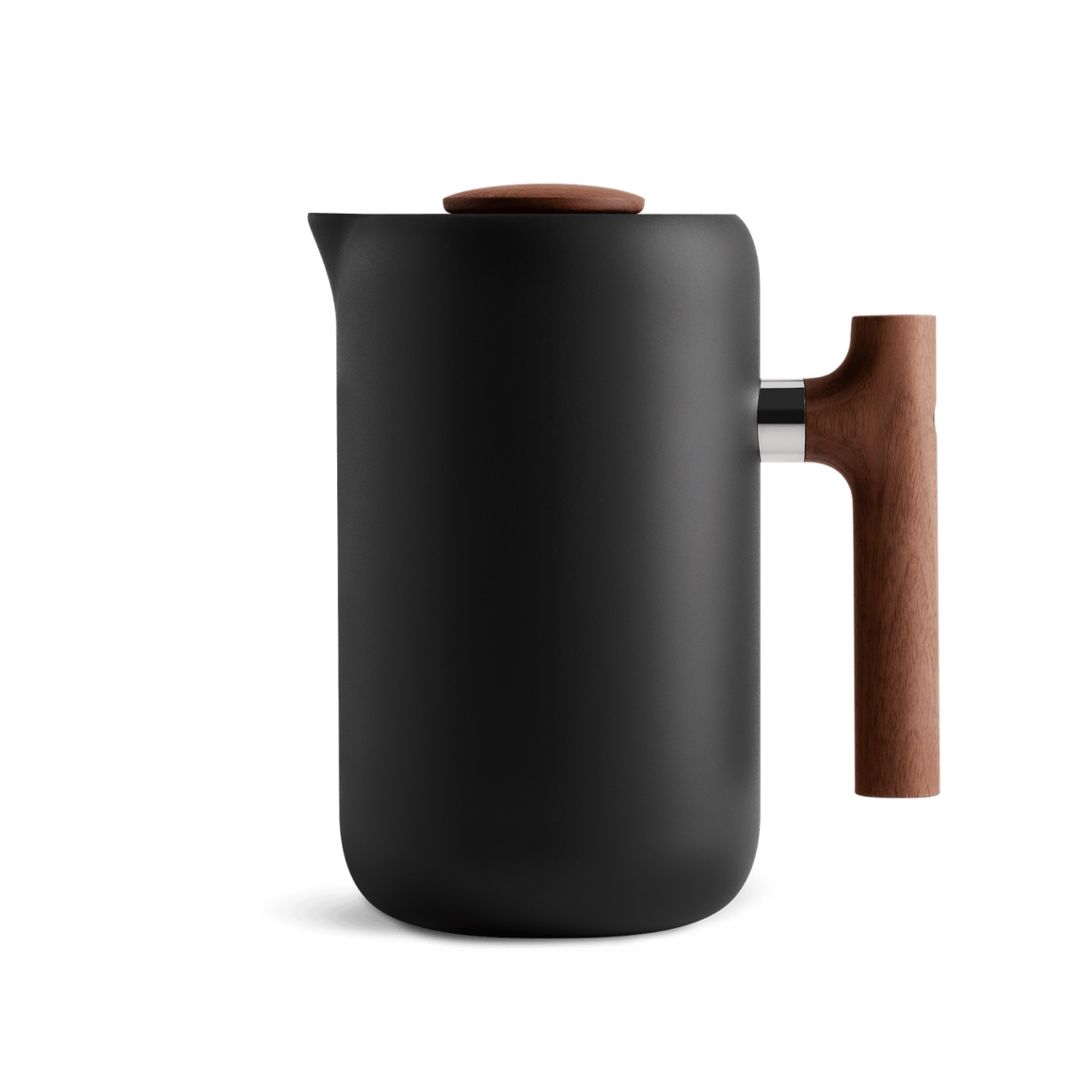 The Clara French Press features a modern everyday matte black jar with a walnut lid press and handle details for an overall sophisticated look. Its design looks more like a fancy teapot than a designed french press.
Designed by Clara, the french press reflects the excellent craftsmanship that the San Francisco-based brand fellow possesses. But, the Clara french press mainly stands out for its functional design. The french press integrates a stainless steel body that holds a stainless steel filter in a non-stick PTFE-coated interior to tackle any elements.
Thanks to this high-quality construction, you can rest assured that you will enjoy a constant coffee flavor with zero leeching even after long-term use.
Furthermore, the french press is outlined with easy-to-read water and coffee lines, so you always get the right brewing proportions.
Its all-directional spout allows for easy and mess-free pouring, while an agitation stick lets you stir coffee grounds and release flavors evenly. Moreover, unlike other french presses, this Clara piece features a double-walled construction for consistent temperature and an enhanced filtration system for clean coffee.
3. Yield Glass French Press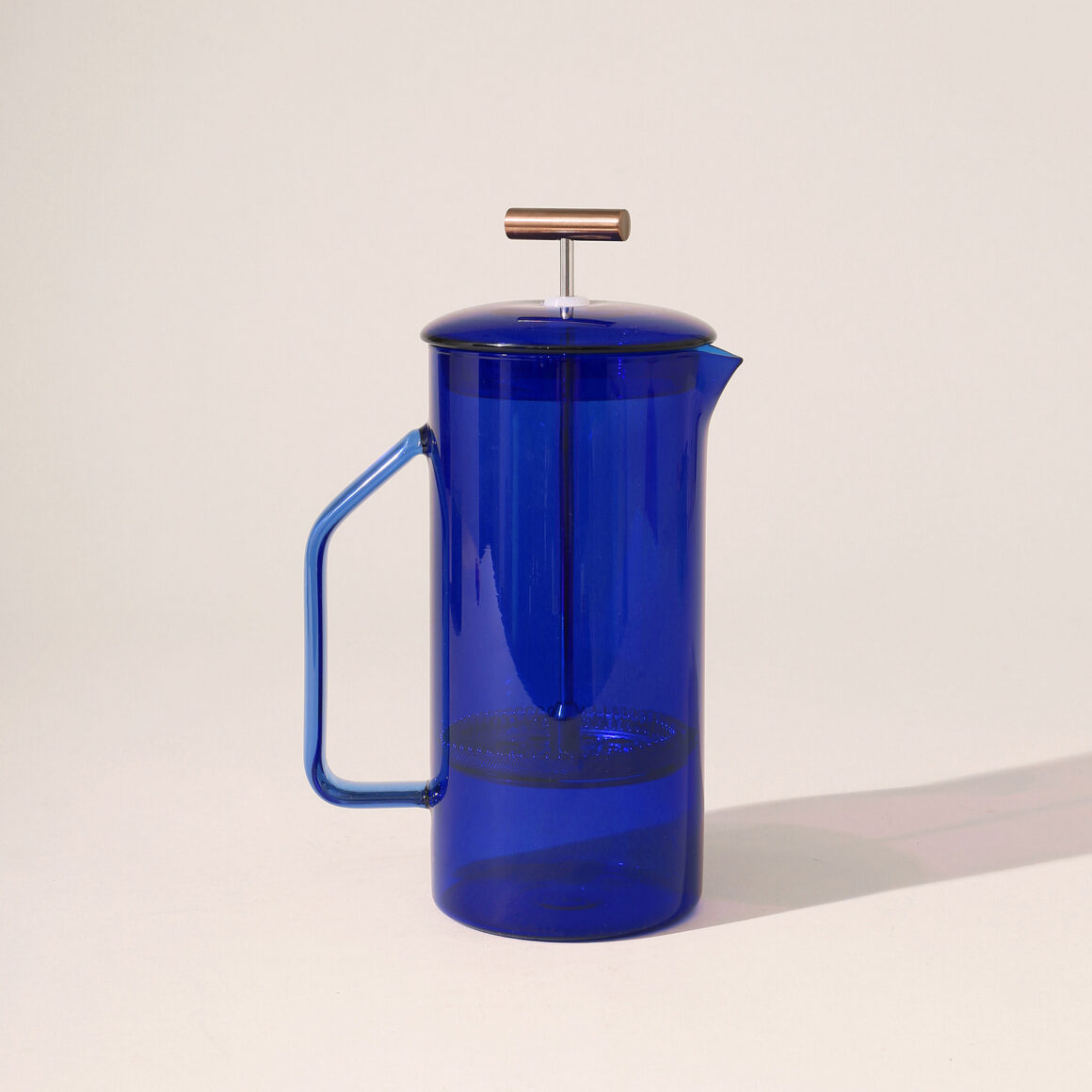 The Yield Glass French Press features a traditional french press design with elevated vibrancy. While maintaining a fantastic coffee brewing performance, the french press's unique glass finish gives your kitchen a clean and elegant look.
However, this is not all you will enjoy from the high-quality fresh glass french press. It comes with great affordability, allowing you to enjoy immense functionality and aesthetics, even on a budget. The 28 fluid ounce french press coffee pot features a premium borosilicate heat-proof glass pitcher and handle.
Thanks to the premium glass pitcher, the french press can handle extremely high heat without shattering, letting you enjoy your coffee how you want it. The french press pot also integrates a copper pull and fine steel mesh to let you brew the perfect and full-bodied coffee – every time.
4. Erik Magnussen French Press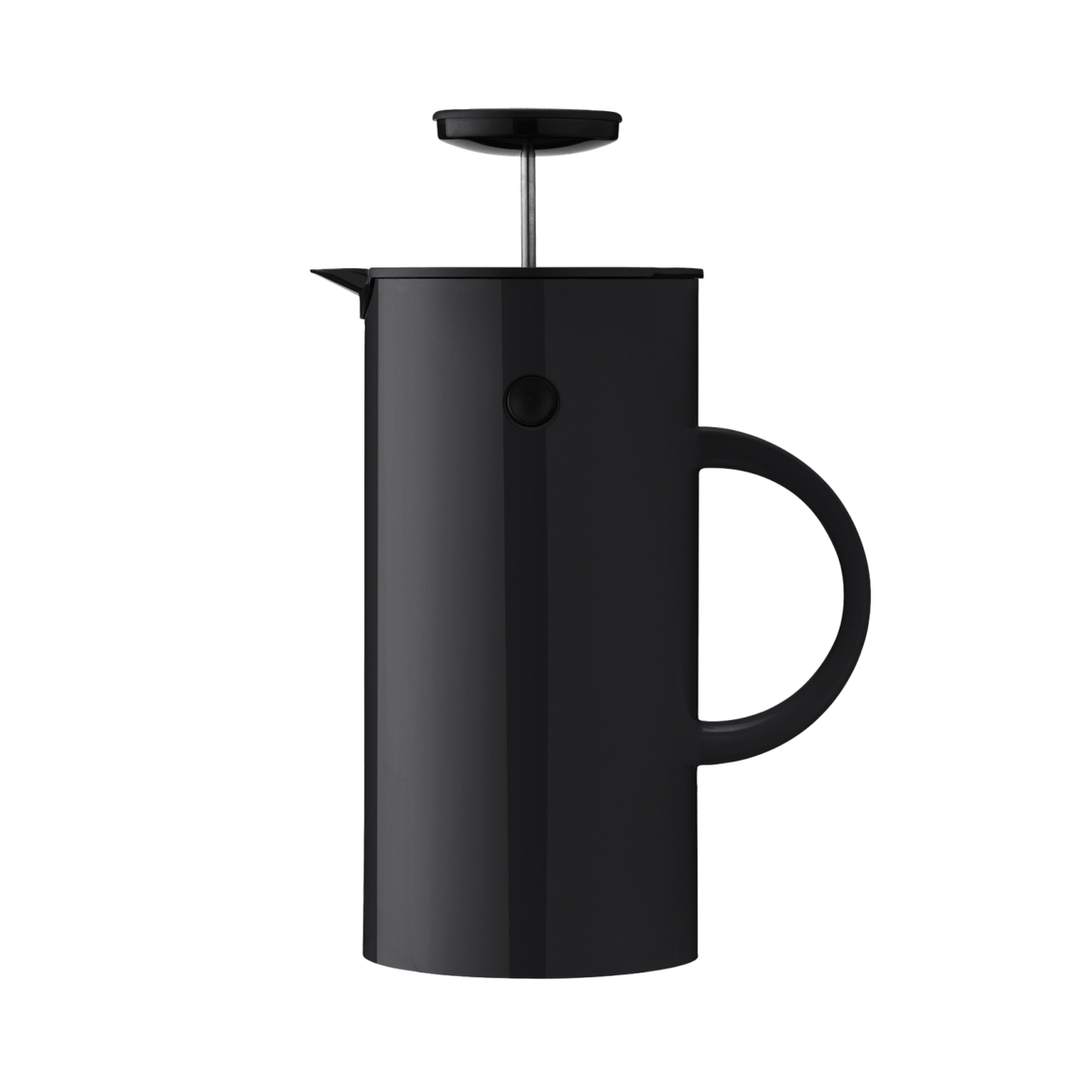 If you are on an ultra-strict budget, the Erik Magnussen French Press is the perfect option to go for. Designed by famed Danish designer Erik Magnussen, the french press brings excellent value, affordability, style, and functionality. This timeless award-winning piece was created in 1977 for Stelton as a jug. However, it has been transformed into a french press today with a few innovative details.
It even comes in a selection of four finishes to truly compliment your kitchen space. You can opt for the bolder black finish, playful red finish, clean white plastic finish, or a modern stainless steel finish. While maintaining its aura of style and sophistication, this french press is designed with a generous capacity of up to 1 quart to cater to an individual or a family's needs.
A single pot will make between 4 and 6 cups with every fresh brew. On the other hand, the coffee pot's double-walled construction is complemented with a unique but simple open and close function to keep your coffee hot for a long time. The french press comes with a precision measuring spoon for your coffee grounds so you can improve your brewing experience.
5. MIRA 12 oz Stainless Steel French Press
The affordability of the Mira 12 oz stainless Steel French Press makes it the perfect choice for college students and singles. It is also an excellent piece for people looking for an affordable option for their home kitchen or office desk. The mini french press features a bright-colored exterior with stainless steel details for that modern look to fit in any space.
Depending on your space, you can choose between stainless steel, gray, or pearl blue finish. The coffee pot's stainless steel pitcher and lid design also mean break-and-shatterproof, unlike traditional french presses. Nonetheless, the stainless steel construction and the double wall insulation complement each other to keep your coffee hot for a long time.
On the other hand, its 12-ounce capacity allows the personal french press to brew between one and two cups of coffee at a time. For the ultimate coffee brewing experience, the pot comprises an ultra-fine mesh filter to produce clean coffee with zero metallic or paper taste.
6. Tom Dixon Brew Cafetiere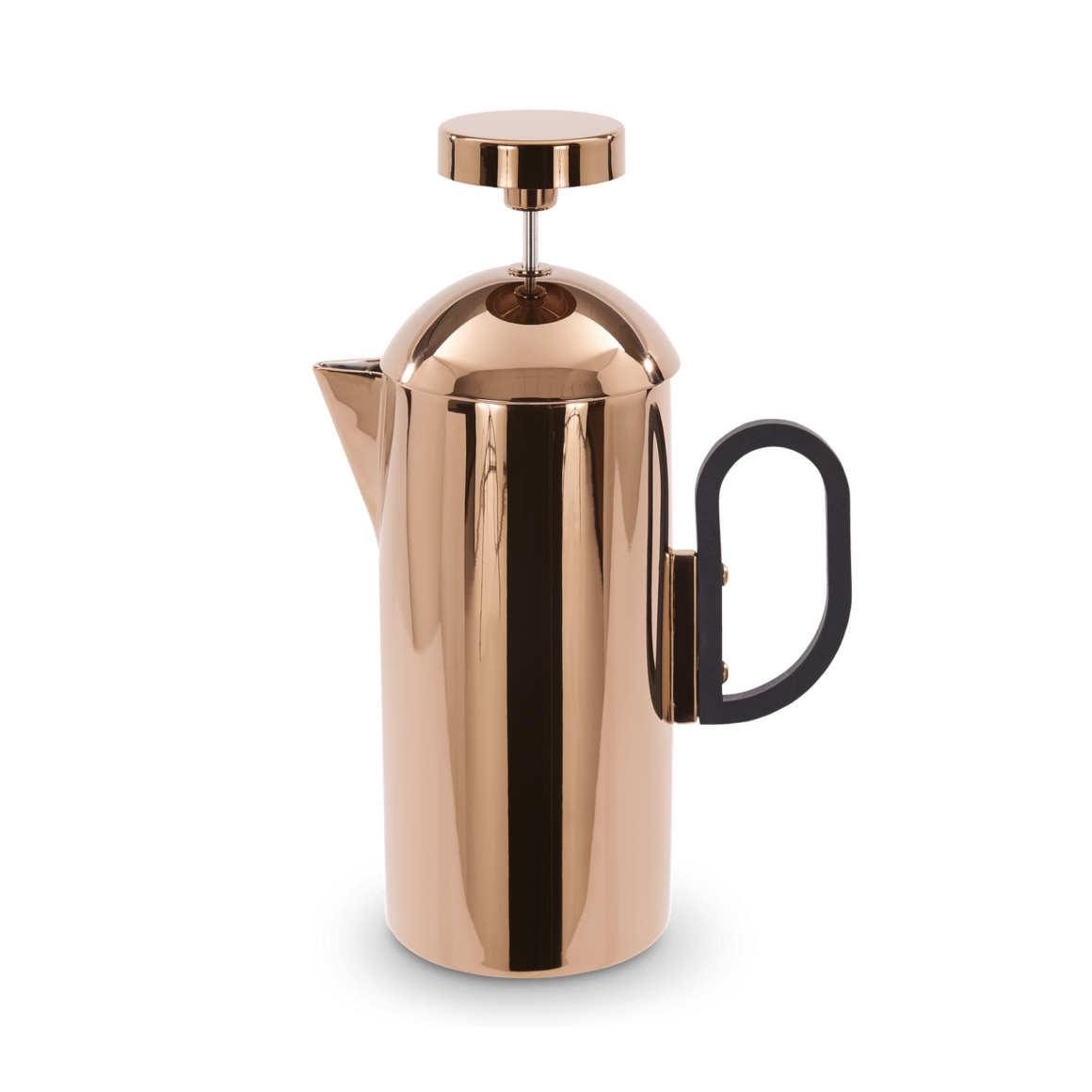 The Tom Dixon Brew Cafetiere is a true work of art, reflected even in the tiniest details. The distinctive style of the french press makes it the perfect piece to break out and show it off when you have guests over. Crafted by Tunisian British artist Tim Dixon, the aristocratic coffee pot is reminiscent of a dallah (a traditional Arab coffee pot) while maintaining elegant elements of a modern plunger.
It integrates an elegant curvature with clean lines and a glossy copper polish to stand out, no matter where you place it. The french press also features a glossy copper-colored stainless steel pitcher and lid. The lid is inserted with a specially designed wide round copper plunger, requiring very little push and pull effort during the brewing process. 
Furthermore, the french press is finished with a comfortable black handle, and a matte brushed silver interior surface. For the complete look, you can pair the 24-ounce french press with other pieces, like cups, scoop, tray, and a coffee caddy, for a complete tea/coffee set from the same collection.
7. CasaWare Stainless Steel French Press
In addition to its stylistic design, the CasaWare Thermal French Press comes with a 2-in-1 coffee and tea maker function. The cafetiere features a bold and subtle finish at the exterior, consisting of a matte black pitcher and lid with a walnut ergonomic handle. However, you will be more impressed with the interior's detailed construction and functional design of the coffee and tea maker.
For one, it's premium 304 stainless steel construction and double wall insulation facilitate an incredible vacuum vessel to keep your beverage hot for up to 6 hours. The double-wall insulation also works for cold brews, maintaining their temperature for up to 12 hours. The top lid integrates locking clasps for even better thermal protection, which doubles as spill-proof protection.
On the other hand, its heavy/light flow control button and spout alignment mark paired with the streamlined handle allow for clean and controlled pouring. For the perfect and full-flavored clean coffee, the coffee plunger comes with an ultra-fine stainless steel mesh. Its 32-ounce capacity allows you to serve two to four people at a time.
8. Stelton Theo French Press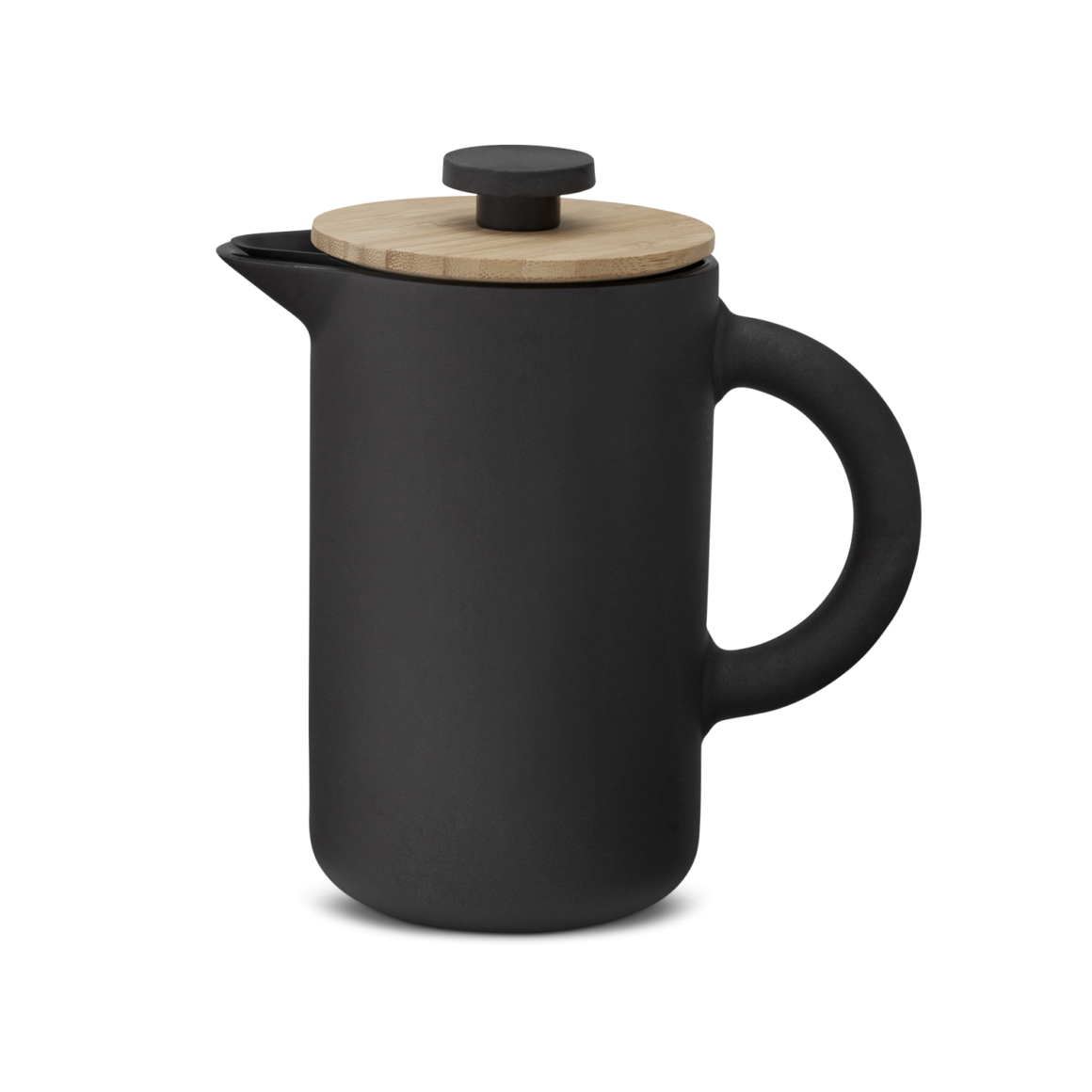 Combining Japanese and Scandinavian influences, the Stelton Theo French Press features a sophisticated but subtle finish, perfect for any minimalist space. In fact, the coffee press jar and lid are reminiscent of a premium-designed salt or sugar pot. Part of the award-winning Theo collection designed by Francis Cayouette, cafetiere combines a mix of contrasting materials, sculptural silhouettes, and minimalist lines.
In turn, the design gives the coffee pot stellar attention to detail. The pitcher features a black stoneware construction with a matte exterior and shiny glazed finish in the interior. This design doesn't need to be paired with a double wall installation to retain the temperature of coffee for long, thanks to the thickness and heat-retaining abilities of stoneware.
Furthermore, the heat conductive nature of stoneware allows even temperature distribution to help you brew the perfect, full-bodied coffee. On the other hand, the lid is crafted from wood to give it a rustic accent, while the round stoneware plunger establishes a smart color contrasting finish. The stoneware coffee pot has a 27-ounce capacity to cater to about three to four people at a time.
9. Secura French Press Coffee Maker
If you want to go for that traditional kitchen aesthetic, you can go wrong with the Secura French Press Coffee Maker. Integrating a full stainless steel construction, the french press doesn't only complement your kitchen space. It also remains dust and rust-free for a germ-free kitchen environment.
The premium 304 stainless steel french press features a clean, shiny stainless steel finish. While maintaining a full stainless steel construction, the coffee maker's ergonomic cool-to-touch handle helps to maintain its usability. The budget-friendly stainless steel french press features double-wall construction to keep a longer-lasting heat preservation effect.
This effect is further optimized by an entire heat-retaining stainless steel interior and exterior. But, the coffee maker isn't only impressive for its distinct stainless steel finish or double-wall construction. It also integrates a pretty elaborative interior design to add to its functionality. The three-layered stainless steel filter structure traps in the tiniest coffee grounds to ensure you enjoy a full-bodied cup of coffee.
You can even use the filter structure to make the type of coffee you want without the need to invest in a bigger coffee maker to take up your space. For example, you can stack one or more of the three provided filter screens to brew an espresso cup with a more refined taste. The mini french press has a 17-ounce capacity to cater to about two to three people in every brew batch.
Final Verdict
Our top 9 recommendations for the most aesthetically pleasing minimalist french presses include an option for everyone. When it comes to finding the fitting addition to your kitchen, you don't have to worry about your budget, design limitations, or functionality. You can still find a stylish and highly functional french press at the faction of the price of a high-end one.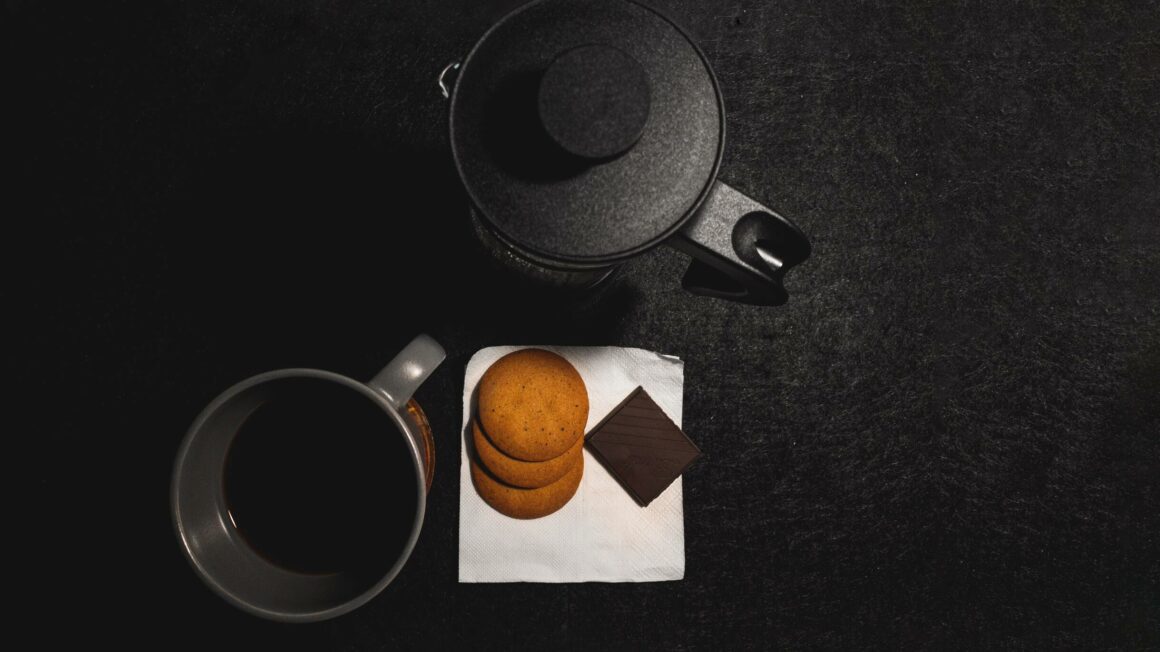 Similarly, you don't need a bulky piece of a coffee machine if brewing versatility is what you want. You can still find options such as the Secura or Tom Dixon Brew Cafetiere that let you explore different coffee flavors intensities and even make a cup of tea, respectively. With this list, you can rest assured that you will find the right match for your home or office.