This article contains affiliate links for which I may receive a small commission, at no additional cost to you, should you decide to make a purchase by using them. Learn More
Some of us have been dreaming about moving out to start college for a long time. However, the initial joy of starting fresh can eventually (and sometimes very quickly) be hampered by the challenges of sharing your personal space with virtual strangers, stressing over the crippling workload of college, and virtually fending for yourself.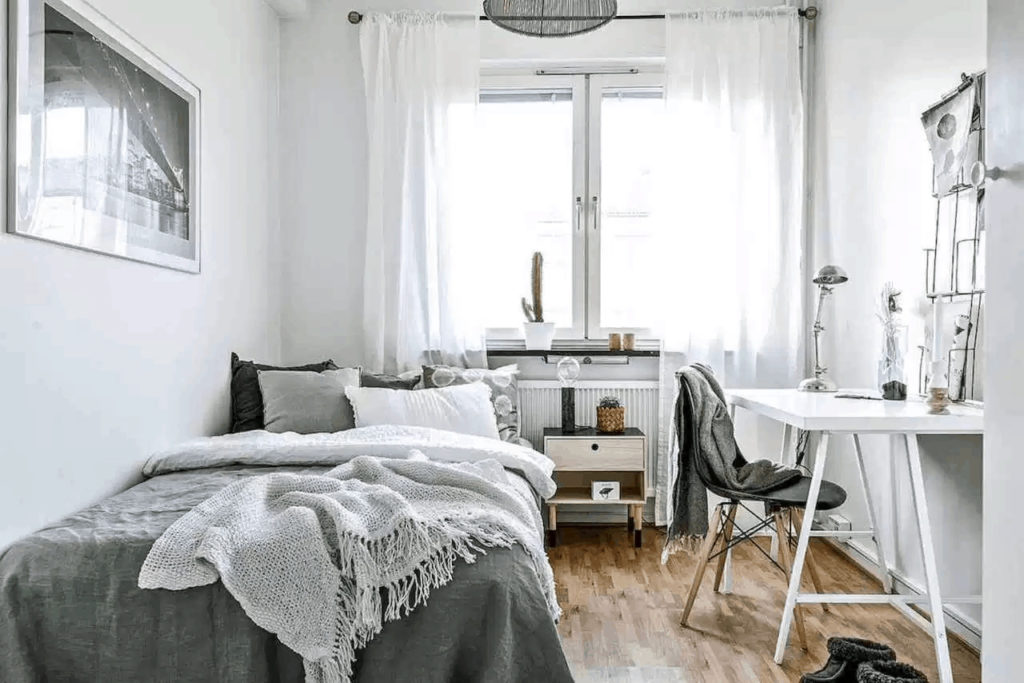 Add to that the constant pressure of living in a small, constrained space for nine months out of 12 for the next four years of your life, and things may start to feel a bit daunting.
You can easily go overboard with packing and end up with more stuff than you need. For many, it becomes challenging to take control of their budget.
But don't let any of that put you off! Everything is perfectly manageable – yes, even the easy clutter that can make a tiny dorm feel positively claustrophobic at times!
You must be wondering how, and the answer is quite simple: adopt minimalism.
Small lifestyle changes can go a long way in helping you better manage your time, resources, and, most importantly: your space when you start becoming a minimalist. Living with less clutter (physical and mental) can help your college life become more mindful, easy-going, independent, and less stressful.
Going minimal can help you rediscover yourself and reinvent your dorm room to make the next four years of your life decidedly easier. If you want to know how, here are some great ideas to plan and make use of basic minimalist principles
What is minimalism?
To plan ahead, you first need to understand the basic concept of what minimalism offers and the essence of this lifestyle.
While initially an art movement that came about in the 1950s, minimalism quickly took a life of permeating architecture, interior design, and even the way people live.
It dictates that you get rid of every extra and frou-frou object in your life so that every purpose you own can be more meaningful. It dictates that you live with the bare necessities and only the things that you well and truly need. This includes clothes, accessories, and even furniture.
Most importantly, minimalism is not only rooted in the physical aspect of things, but it can also be applied to your mental health.
The gist is, the less cluttery your physical space has, the more open and relaxed your mind will become.
Now that you understand what minimal means being, let's look at all the things you can do to incorporate this lifestyle in your college dorm room:
How to Plan and Pack for a Minimalist Dorm Room
The first thing you need to do is call the Housing Department of your college and get as much information about your dorm as possible. This may include the size, the layout, the common areas, and even the bathrooms (are they shared or not).
You can also inquire about the appliances and what kind of items may not be allowed on the dorm list. If you can manage to set up a visit to your dorm before moving day, that'd be great. It can help you get an appraisal of what kind of furniture, carpet, and other accessories are already available (and in what condition).
Once you've got all this information, you need to create a packing list. Remember: pick smartly. Just because you're heading out on your own does not mean you pack your entire room to bring with you.
After that, you can get in contact with your dorm mates. Get to know them and cross-check what they're bringing so that you won't move any unnecessary items.
Once you've got a handle on all these things, you can start planning the layout of your dorm. It can also help you determine what small appliances you should bring with you. For example, many dorm RAs and supervisors occasionally do a bust-check to see if anyone brought high-voltage appliances.
Other than that, you just need to figure out the bare necessities, i.e., what kind of stuff you need to make your new space feel like a home away from home. These should include clothes, toiletries, medicine, cleaning products, gadgets, your college education essentials (such as books, stationery, etc.), relevant documents, and maybe bed covers. Note that all of these things are absolute must-haves. If you've got them, there's nothing else that you should need.
Pro Tip:
The items you do not need include random décor and accessories (yes, even wall posters, because of visual clutter). Keep things clean and decluttered.
Minimalist Dorm Room Must Haves
When you're moving in with a roommate, it's a given that both of you are going to have their own furniture. Basically, the small space of your dorm will contain as many desks, beds, and dressers as the people sharing it.
If your dorm isn't already furnished, to begin with, then your first job here is to pick out ergonomic and minimalist furniture. Here are some suggestions:
Beds with Storage
If you're shopping for a bed, you can make sure that it's a foldable design or storage underneath. 
Compact Dressers
You can opt for a small compact dresser instead of the full-scale old-school shebang. You can also go for a standing mirror with built-in storage. These are super trendy and always turn out to be colossal space-saving, accessory arranging lifesavers.
Minimalist Desk
There are lots of minimalist desk designs that you can opt for these days. Some of them can even be mounted on the wall and be folded closed when not in use.
Once you've gotten yourself smart furniture (and you should suggest it to your dorm mates also), it's time to rearrange the layout.
Note:
It's okay if the dorm is already furnished. You can always optimize the plan with the existing pieces of furniture.
Many shared dorm rooms feature loft beds, which frees up so much space. The area underneath can be utilized to affix your desk and dresser, freeing up a lot of circulation in the middle.
If your dorm ceilings aren't high enough, then try going for a wall-to-wall layout. Typically, you'll have your own side of the room, where the bed will be against the wall. A compact dresser can be added instead of a nightstand, and the desk can be fixed at the front.
Your goal here is to create as much circulation space as you possibly can in the middle.
Minimalist Dorm Room Storage & Organizing
While minimalism is all about letting go of the physical objects in life. It can be pretty impossible to give away your educational and everyday necessities when you're living in a cramped dorm room where you have to get ready, create assignments, and even host if the situation calls for it. Here are a few ways that you can optimize your storage to suit the minimalist lifestyle:
Under the Bed Storage
You can find many multi-compartment racks that will easily slip under your bed and provide tremendous organizational opportunities. You can find many innovative storage solutions for your dorm at the containerstore website. Although primarily providing innovative office organization tools, many of these pieces can also be used to design a large under-bed storage arena for yourself.
Wall Hooks
You must know that most dorms do not allow their residents to hammer nails within the walls. This is where removable stick hooks come in. They're very easy to put up and don't peel off the paint when you take them off.
You can put them on the back of your door so that the hanging clutter on the hooks doesn't directly affect your space's ambient quality.
These hooks can also be used to hang stuff on your walls. From prettily adorned curtains to decorative poles, mirrors, and more, there's a lot of you do with them!
Floating Shelves
If your desk feels too cluttered, you can always go for floating shelves to make the best of your space. However, instead of going for typical vertical files and flat wooden slats, the Perch Magnetic Modular System Components provides an excellent variety of floating containers where you can organize your workspace.
Pro Tip:
If you've got even a tiny bit of standing room or a narrow wall-space in your room, you can furnish it with IKEA's smartly designed LACK Shelf to make the best of your college dorm organization.
Essential Minimalist Dorm Room Necessities
If you're embracing the minimalist lifestyle, you need to know that decorating comes with a functional handicap. Everything must have some ergonomic characteristics, but some visual hacks can also help you out.
Here are some of our suggestions for accessorizing your dorm room with a minimalist flair:
Artificial Plants
It may be impossible to practice your green thumb in the constrained environment of a dorm room, but you can always rely on beautiful fakes. Tiny artificial planters (especially succulents) can go a long way in making your dorm feel welcoming without adding to the visual clutter. 
If that's not something that attracts you, try going for artificial sunflowers, because the bright yellow of their synthetic petals will be a total game-changer. Not only will it effuse a splash of brightness within your small space, but it will also be a very brief and to-the-point addition that can be placed on your desk, dresser, or even the window sill.
Letter Boards
Felt letter-boards are also an excellent way to accessorize your minimalist dorm room space. The main reason for this is that they're very minimalist, to begin with.
Their achromatic color scheme, straight-laced form, and ability to feature customized reminders and quotes will make it a fun addition to any dorm space. You can feature it on your desk and arranged inspirational messages on it to keep yourself feeling inspired.
Desk Lamps
The desk lamp will provide precisely the double-whammy of functionality and accessorization that is so characteristic of the minimalist style. You can select beautiful metal accented ones or swing-arm ones or even wall-mount ones (whatever suits your desk) so that you can have some excellent task lighting whenever you're pulling off all-nighters with a lot of flairs!
Clipboards & Wall Grids
Attaching clipboards and wall grids to your headboard can save you from all that dreaded paper clutter. Both of these accessories are very minimal, frugal, and to the point. They help you add a personal flair to the space without adding anything frou-frou to the ambiance.
Printers & Staplers
Another ergonomic and fully functional item to add to your dorm room is to put a mini-portable printer and stapler on your desk. Not only will it save you a ton of time and hassle during tight assignment season, but will also contribute to the minimalist vibe of the dorm!
Power Strips
Since there are very few power outlets available in a dorm, and there are tons of devices that need to plug in these days simultaneously, you can artfully arrange power strips with outlets and ports near your desk.
This will help reduce having to plug/unplug your devices all the time, and also help you manage your cable clutter.
Trash Cans
Another handy but visually pleasant accessory to your space can be a trash can. Yes, many dorm rooms provide you with a trash can, but you can find a stylish one of your own that suits the overall theme of your space.
Area Rug
A great way to pull together your entire minimalist theme is to furnish the floor with a beautiful area rug. Of course, you cannot go with a bright, splashy color because that would go against the principles of the minimalist style.
So, look for light alternative hues like beige, white, and grey. If you want a bit of contrast, try searching for something resembling a Moroccan beni ourin style rug. You'll easily be able to find similar designs in affordable synthetic options. 
Bedding and mattresses
Another absolute essential that your dorm room must-have is the mattress. You need to match it with your bed (probably twin) and buy bed covers that go well with it.
Bedding can have a lot of impact on the overall vibe and aura of your room. That's why you need to make simple choices when you're shopping for such things for a minimalist dorm room.
It's best to go with achromatic colors (for example, white, black, grey, taupe, earthy brown, sandy, etc.). Solid colors are the way to go, and "restraint" should be your go-to word while selecting any hues.
Also, make a note to take the material and breathability into account. You're probably going to spend a lot of time on your bed, so the functionality of the stuff matters.
Your sheets don't need to have a high thread count, but they should have an aura of clean simplicity.
Bamboo made sheets are the right choice, as they tend to be eco-friendly as well as breathable. But if that's not your most affordable choice, then you can opt for cotton as well.
Pro Tip 1:
If you want to go for patterns, you need to search for bedding with very subtle, light-hued, and linear/geometric patterns. Make sure that the design you pick complements the minimalist integrity of your space.
Pro Tip 2:
You should also invest in a good mattress topper. Since dorm room beds are probably not the best, and an uncomfortable bed will take its toll over time on how you sleep or your body.
Snack containers
Healthy snacking is part of the college experience, and the munchies tend to hit at odd hours, so you need to stock up on your snacks whenever that happens.
But the main point here is, where should you keep them? A fridge is an obvious option for perishables, but if your dorm doesn't have one and you usually get dry, unperishable snacks, you'll need a separate space.
You can check out some fantastic wall-mount snack storage options right here. The Elfa Storage Rack can be the perfect place to keep your chips, popcorns, dried jerky, etc. You can also opt for a Utility Wire Door Rack that can be mounted on the back of your dorm door. It can become a shared snack pantry with your roommates!
Lighting
Designing the perfect lighting for your minimalist dorm room can be challenging because, at the core of it all, you still want your space to have a personality – but without the added constraint of going for visually cluttered options.
Here are a few lighting ideas that can help you get a tasteful, clean, and graceful aura within your dorm while sticking to minimalism:
Tiny accent lamps
Small 4″ or 5″ tall accent lamps are an excellent way to accessorize your dorm, but they'll provide dim nightlight when the primary source is switched off. You can find some unique designs in the salt lamp genre. Small metal lamps are also exceptional. Place them at a corner of your dresser or desk, so they'll make a subtle visual impact.
Task lighting
Your desk is going to require task lighting, and once again, desk lamps are the best suggestion.
Pro Tip:
If you're going for a desk lamp, it's best to skip the accent one. Two of them are just going to seem overkill.
String lights
This is both decorative and accent lighting related. String lights can emulate instant personality within a space, and they'll help embellish your dorm rooms for the better.
They're also very trendy and tend to provide some fantastic customization opportunities. The only thing that you need to keep in mind while hanging them up is that you're going to want to compliment the minimalist theme.
A good suggestion is to affix them in taut lines over your headboard (or any bare wall that you've got). This way, the strings will complement the clean aesthetic of your minimalist space.
LED strip lights
A great Reddit-approved hack that everyone will love involves buying cheap LED strip lights and putting them underneath your beds, dressers, or desks with the help of magnets.
When you switch them on, your space will have a beautiful ambient backlighting that will highlight the cleanliness of the rest of your dorm, making it feel expensive and stylish.
Cleanliness / Self-Care / Toiletries
Cleanliness is part of the minimalist lifestyle, so try to keep your dorm clean at all times. Not only will it make it feel more delightful, but it will also contribute to your space's simple aesthetic. A good vacuum cleaner can help with this venture. You can even get a cheap, refurbished one off Amazon!
Another aspect of cleanliness relates to the bathroom. Whether you have a communal suite-style bath area in your dorm or a tiny single-person one, there's a high chance that you won't have enough room to store all your bath essentials.
That's is why you need to get a cute portable shower caddy. Note that the right kind of shower caddies for dorms are the ones with holes in them so that the water quickly drains out if they get wet.
Pro Tip:
Regarding the hanging of clothes, you can buy the hangers after you move in, instead of stuffing them in the suitcase where they'd take up a ton of space. If you're the kind of person who inadvertently ends up creating a mess of their clothes, you can even get a compact capsule hanger or a coat rack to contain all this clutter.
You can find a bunch of new college dorm room minimalism tips right here. They'll help you reduce the clutter while keeping up a clean front.
We hope this thread helps you find the best of this genre to apply to your college dorm experience!