This article contains affiliate links for which I may receive a small commission, at no additional cost to you, should you decide to make a purchase by using them. Learn More
Interior design is like fashion for spaces. Just like there's always a new line of fashion craze ready to be walked on the runway every season, there are constantly brand new trends waiting to replace the old ones in interior design.
Since 2020 has been such an unconventional year (no one has ever indulged in so many home improvement projects just out of boredom or cabin fever before), you can bet that 2021 is leaning to be an interesting follow-up.
There are many trends to look out for, especially now that we're standing on this year's last legs. Let's take a look at some of the most popular ones you can expect to blow up in 2021.
1. Canopy Beds
This old-school classic is always a timeless addition to most bedroom interiors, and 2021 seems to be the year that it's making another comeback.
Canopy beds are iconic for a reason. Their distinct aesthetics, bold frames, and gorgeous variety have made them quite a coveted furniture piece.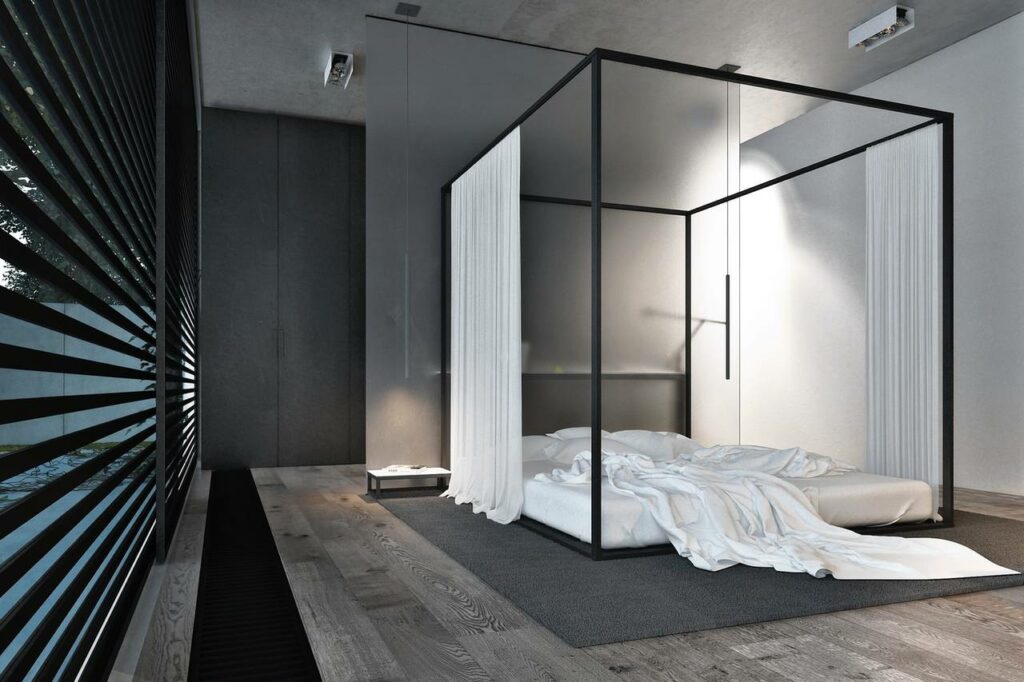 They also cover many themes. For example, you can find canopies that are simple four posters with zero embellishments. Then there are the ones with slightly traditional carvings. Some are entirely decadent – even leaning into the Victorian genre. And some are distinctly rustic while others are sleek, cutting-edge, and modern, especially those made out of stainless steel or brass.
You can even find platform canopy beds that look like they're floating off the floor, and you can also find storage-oriented designs with built-in drawers in the footboard.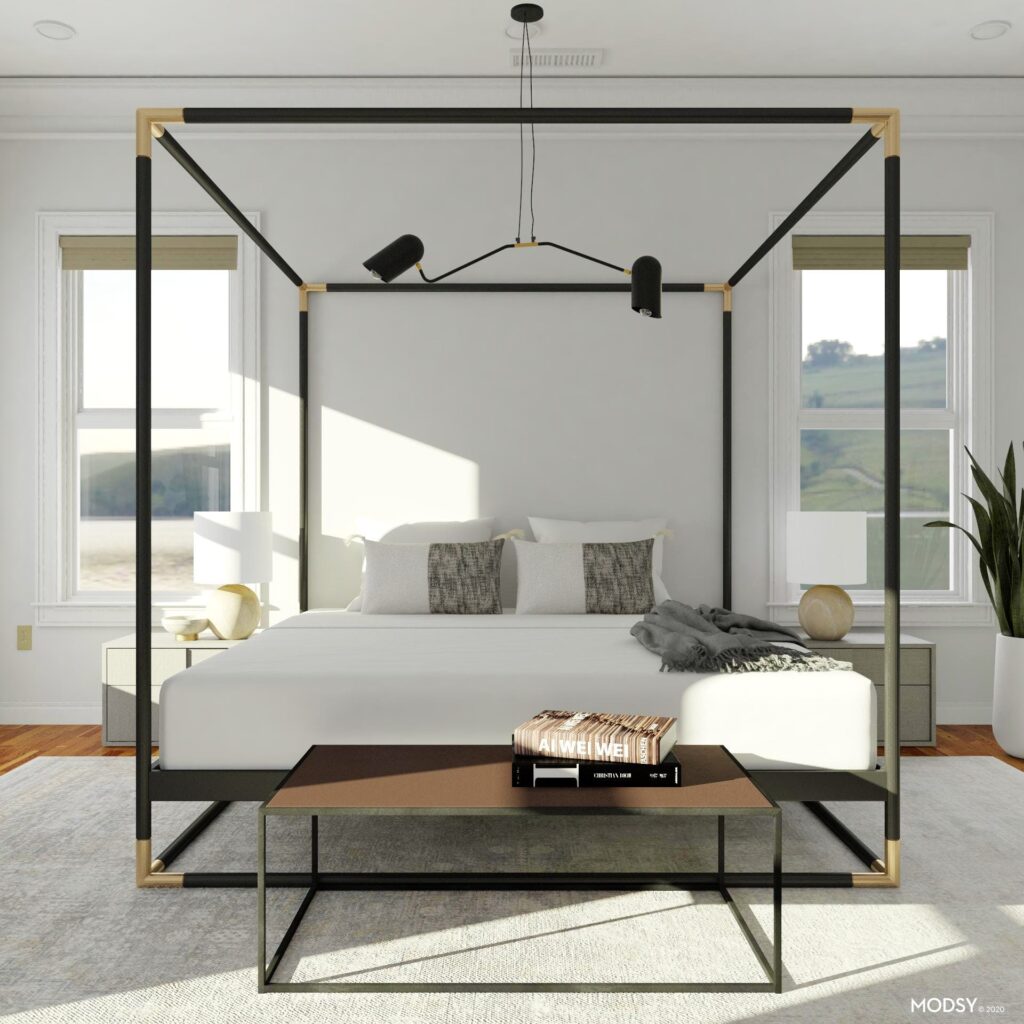 The ones that will be making a big splash in 2021 are the ones that feature a contemporary edge. Of course, there will be four posters, but the canopy design can vary depending on the user's aesthetics and personal preference.
And since DIY-ing has become such a big part of our lifestyle now, homeowners might prefer canopy beds that they see lots of customization potential in.
For example, hanging sheer/net curtains along the top frame edges can be a hit with some, while others might prefer stringing fairy lights along the four-posters. People also like styling this type of bed with small ottomans or a statement chest usually placed at the foot of the bed.
2. Classic blue
Bold, cool, and timeless, the classic blue color will be a big contender for the top 10 interior décor trends in 2021. It's a rich yet sophisticated color understated yet impactful, eclectic, and anchored at the same time. All of this makes it a wholesome choice for styling spaces.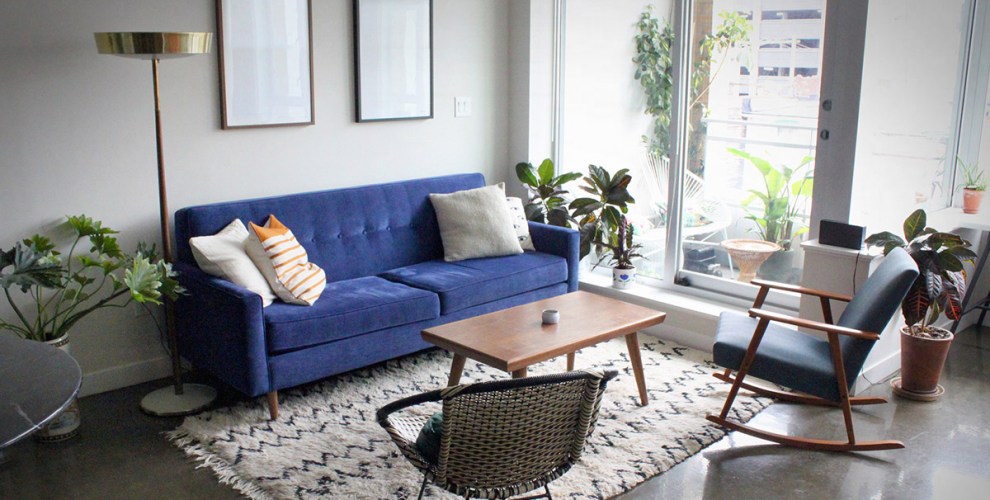 The great thing about knowing the top dog in color trends is that you can apply it anywhere – there are zero to no constraints at all. For example, you can design a gorgeous classic blue statement wall in your living rooms and embellish it with beautiful lighting, stylish furniture, etc. But if that feels like too much, then you can choose your sofa upholstery in a classic blue shade of your desired fabric, and it will look just as impressive.
If you need more ideas, then you can take the transitional approach and simply choose changeable bed sheets in this color for your bedroom. And if you want to be more permanent but use the classic blue in small doses, then accenting is always a viable option – a statement wall art in the center of the room. This stunning area rug becomes the focal point of the space, or even just an accent chair in the corner can also be used to emulate this color in your rooms.
3. Colored Glass Screens
Another trend that will become a significant stakeholder in 2021 is the use of colored glass screens. Inspired by the iconic rose windows a la Gothic architecture, this trend features a more contemporary take on this age-old aesthetic.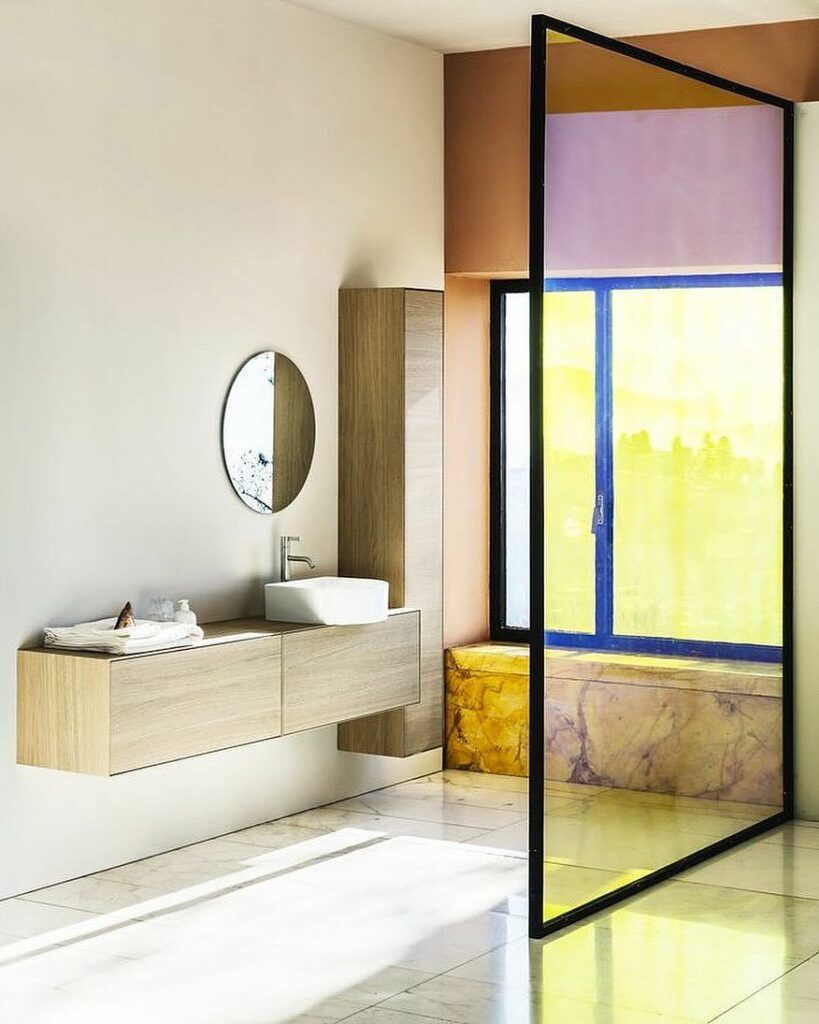 Instead of the original stained glass's round decadence, these new screens present a much more modernistic flair. They're understated, altered to suit contemporary tastes, and perfect for those who want an eclectic separation to become the statement piece of their interior designs.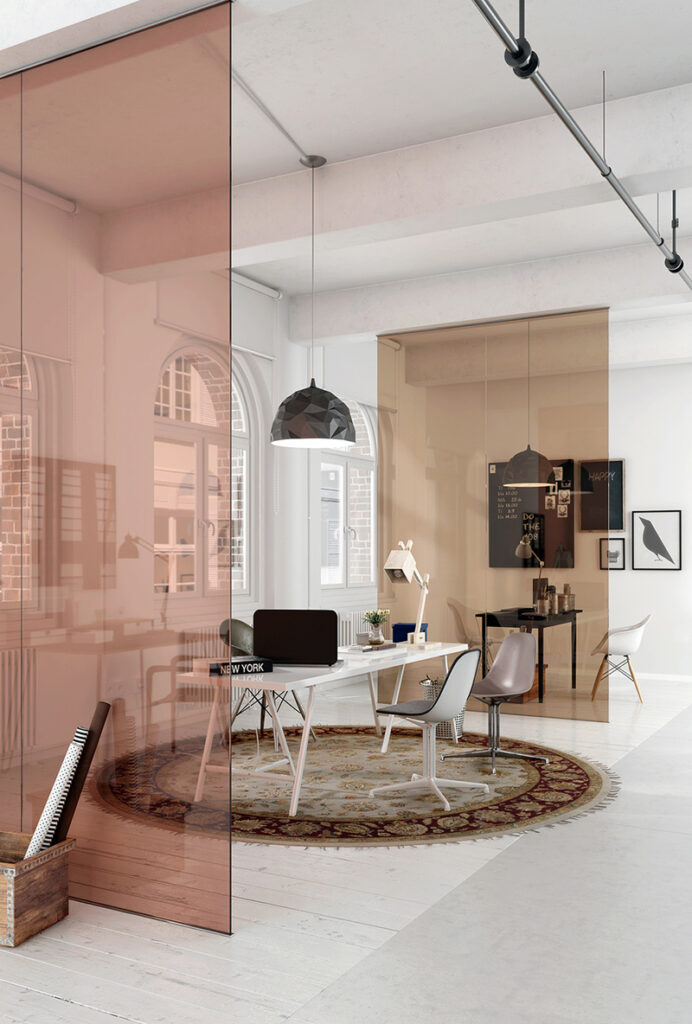 There are many ways that you can incorporate these glass screens into your homes. Some are genuinely artistic and imitate the whimsy of their original predecessors. Some of these screens feature designs made of frosted or sand-blasted glass mixed with plain colors and basic geometric shapes.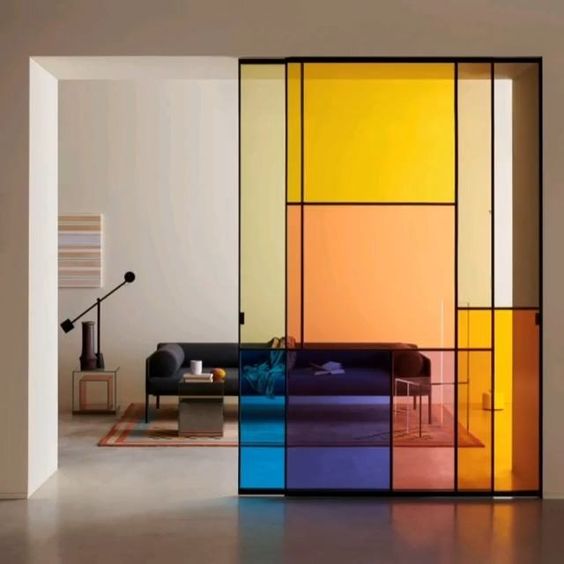 You can use these screens as proper partitions in-between your spaces. Since most homes have at least a partial open-floor layout, these screens can be used as separators. Depending on the overall theme of your home interior, you can pick a design that suits the ambiance and have it fitted where you require a little bit of privacy.
4. Curved Shapes
2021 might be the year where all things eclectic take center stage, and curved shapes are definitely at the top of the list here.
This interior design trend is more on the generic side because there are lots of ways that you can emulate curved shapes in your rooms. It could be through hardcore layout, wall designs, staircases, arched windows, the form of your furniture, rugs, elliptical accessories like wall mirrors, or even just unique patterns on an accent wall.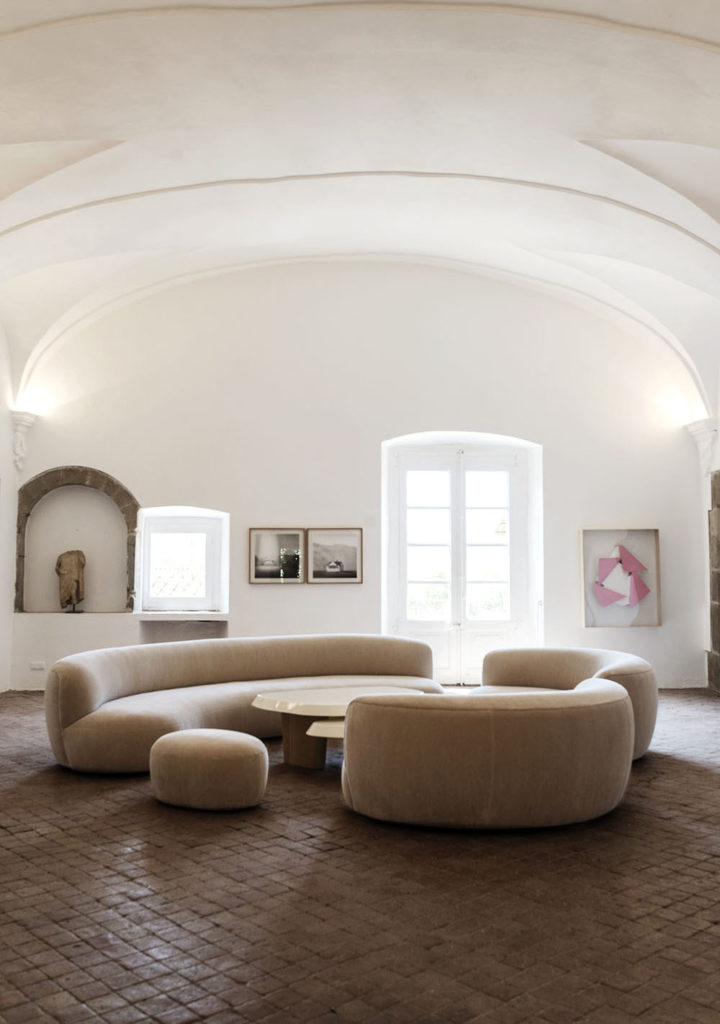 If you're going for a curved wall layout, you need to ensure that your structure is just as artistically managed. The furniture needs to complement the walls' arc, so a curved sofa sectional or bed headboard would be a must. Other than that, you could also go for curved customized carpentry to design credenza partitions – or to match the existing circle of the walls.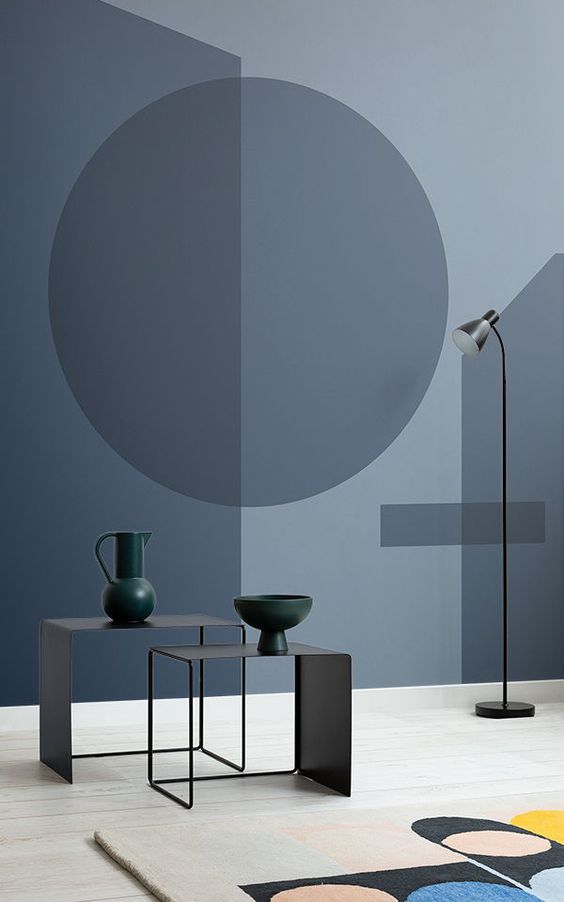 If you're going for the curved pattern effect, there are many things that you can take inspiration from. Round rugs are the most blatant in this genre. Even the solid colored ones can have a considerable impact, and you can always layer different sized round rugs on top of one another to create a wholesome, inviting ambiance.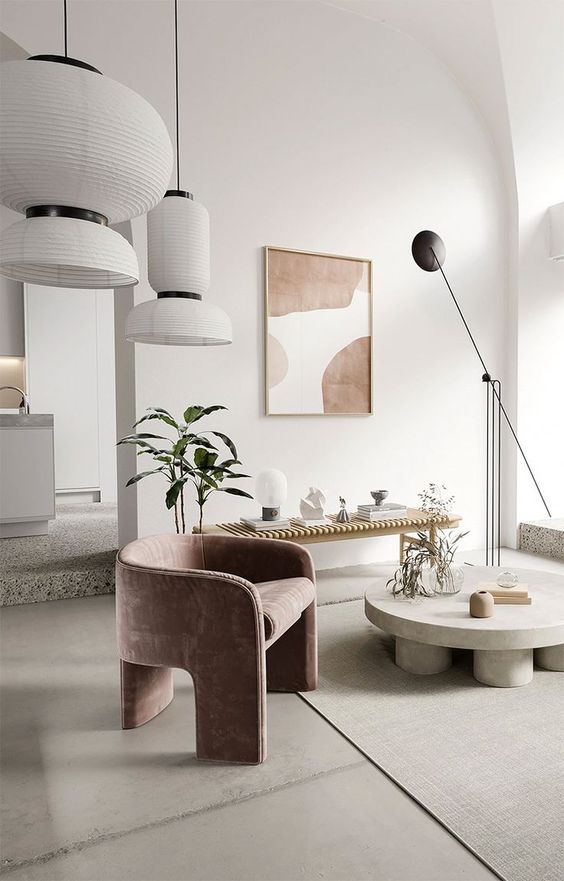 Other than that, you can look at wallpapers that feature fun curved patterns and use them as an eclectic accent piece to add visual contrast in your spaces.
You can also use curved statement light fixtures as a centerpiece of your ambiance. They'd make an artistic focal point as well.
5. Luxury Minimal Design
Luxury minimalism is the kind of timeless aesthetic that never gets old, and you can see it bleeding into the top 10 interior décor trends of 2021.
Characterized by swanky, understated simplicity, this aesthetic can be evoked in several different ways.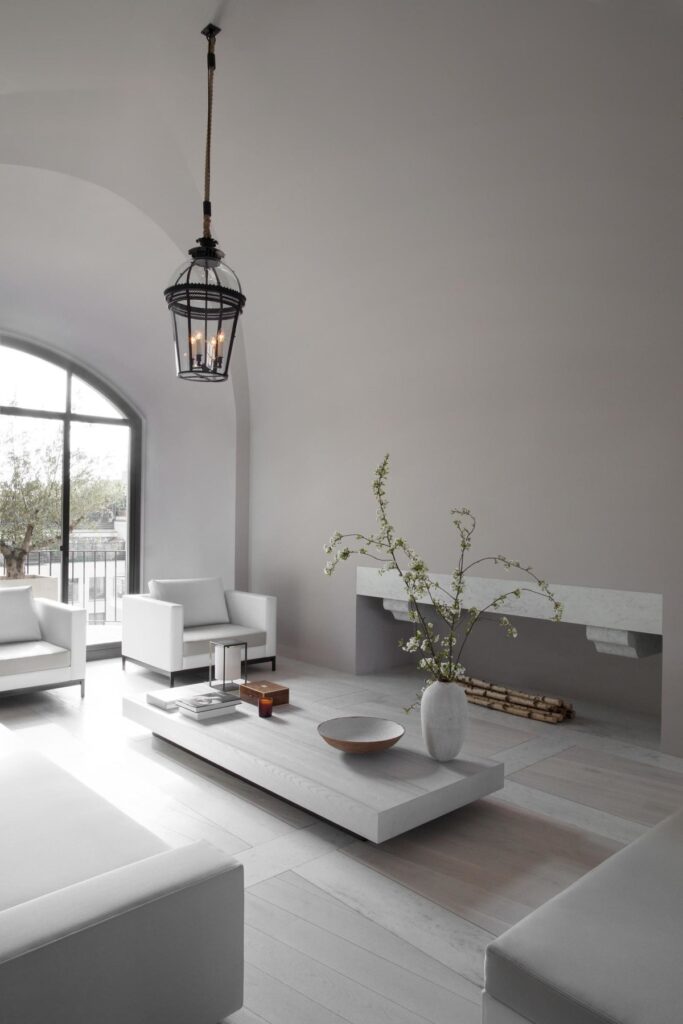 The use of matt and high-gloss laminates on walls is one of them. The furniture and built-in credenza are always effortlessly simple. Sleek fabrics like leather and suede emulate a sense of casual luxury within the space. Tiled floors, bare glass partitions, and metal accents make things visually attractive. And lastly, soft gold lighting makes the overall ambiance feel the epitome of welcoming and ritzy.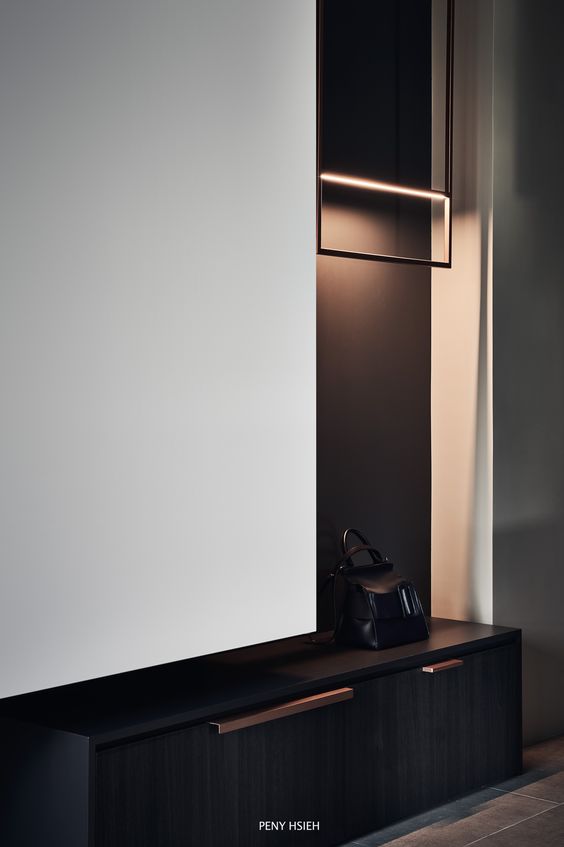 Note: The one thing that's very selectively used in a luxurious minimalist aesthetic is décor. There are some metal accessories used as highlights, but nothing excessive. Everything is just tasteful, graceful, and refined.
6. Modern 80's
Vintage/retro is always stylish, but you need to be pretty savvy about how you incorporate such elements in your interior designs, and this is another trend that you'll see soaring in 2021. Modern 80's is a real theme, and it features some of the major highlights of what was high-fashion in 1980 itself.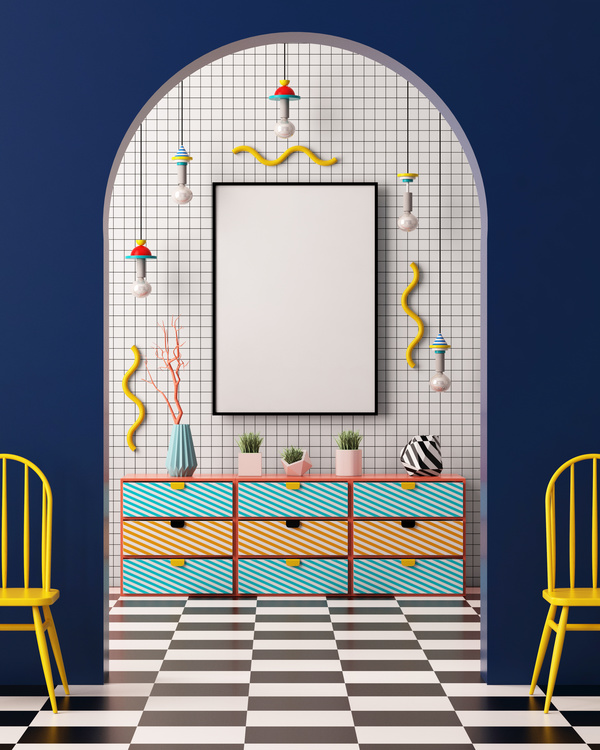 Suppose you're interested in this particular thread. In that case, you need to make yourself familiar with glass block walls, honey oak carpentry, Laura Ashley florals, chintz, lots of mauves, and of course, the Memphis style of the asymmetric and colorful geometry.
Now, the thought of using all these elements singularly seems a little overwhelming, right? That's is why blending them with modern aspects is where our 2021 trend comes in!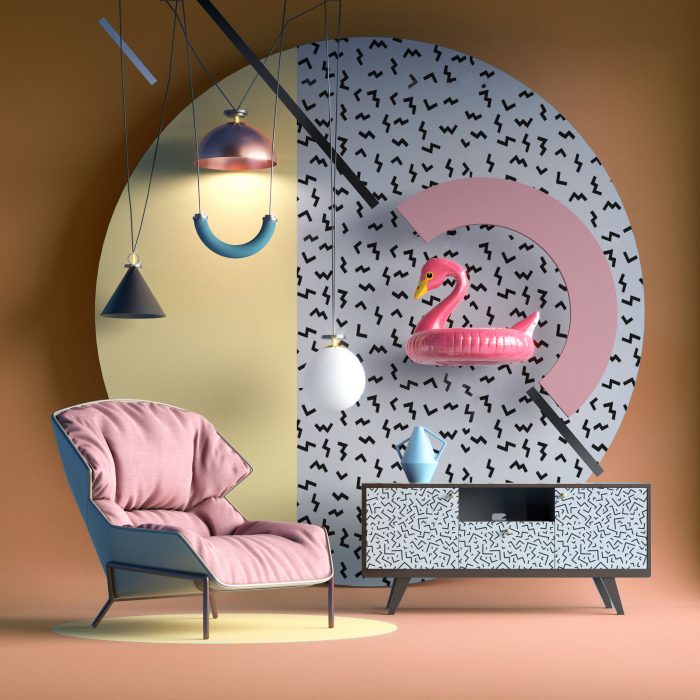 Just think how wonderful a mauve statement wall will look against an austere white ambiance. Or how brilliant a glass block wall might look with a stark Carrera marble floor with soft gold overhead lighting. Or how some Laura Ashley-inspired florals might bring a sense of delight to your rooms against a backdrop of sheer minimalism!
It's all in the balance and detail. Just remember to use the 80's elements in moderation, or they might end up overwhelming the understated vibe of the modern half!
7. Neutrals
Here's another trend that never goes out of style: neutrals!
Yes, it's a color scheme, but since it can be articulated through anything and everything in interior design, you can say that it's as wholesome a design element as they some. Plus, this palette's understated, grounded beauty always evokes a soothing effect on anyone experiencing the space.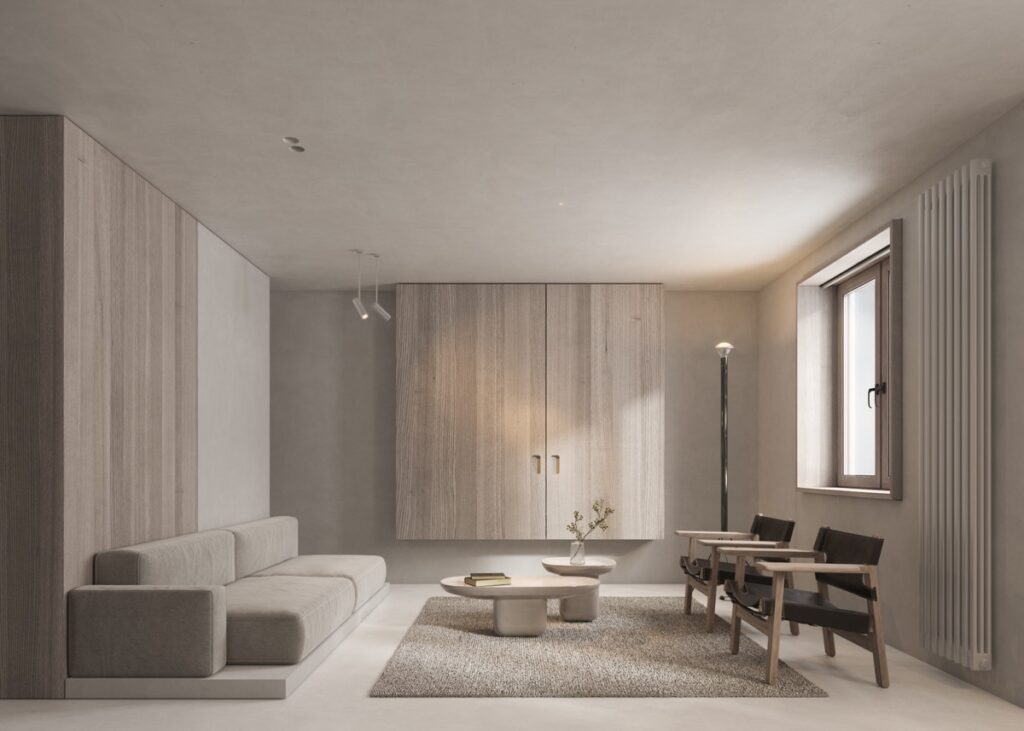 If you'd like to put a face to the neutral color palette, then it can be best described through colors like chocolate brown, tan, dove grey, sand, cinnamon, and more. The sheer elegance and refined beauty of these colors have made them such an ageless trend with most people.
The best way to introduce neutrals in your spaces is through a mixture of floor surfaces, wall accents, and furniture upholstery. The main goal is to create contrast. If your floor and furniture are articulated in light colors, the wall can feature a darker shade and vice versa.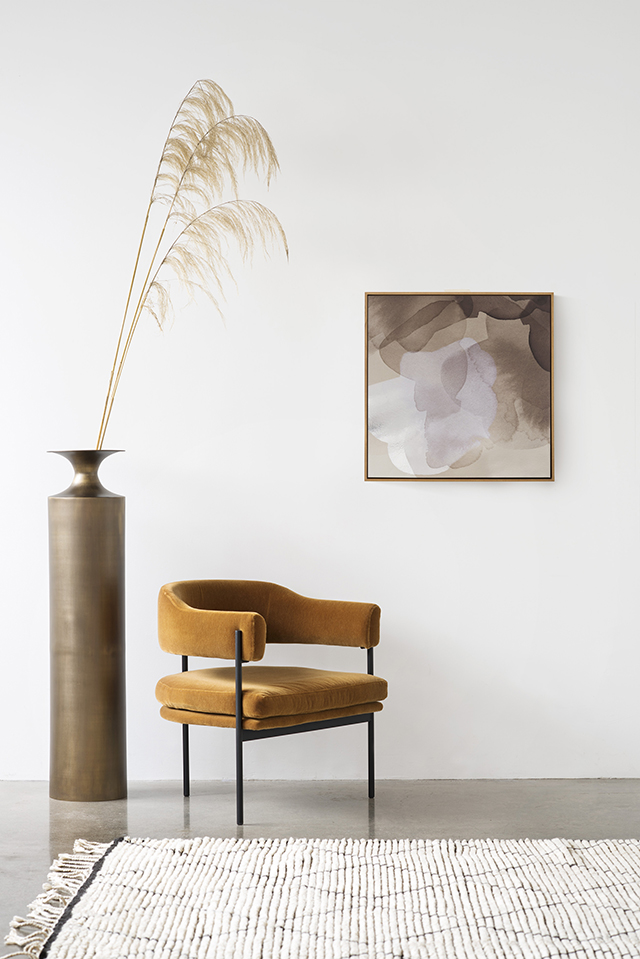 Neutral colors generally pair stunningly with gold lighting. You can also introduce them through textured design elements like shag rugs, braided cotton baskets, tapestry style wall hangings, artwork, fabric throws, and more.
8. Interior Gardens
Since we've spent so much time indoors this year, the concrete jungles that we call homes are starting to feel a little soulless. This is one of the significant reasons why 2021 will see a massive spike in interior gardens.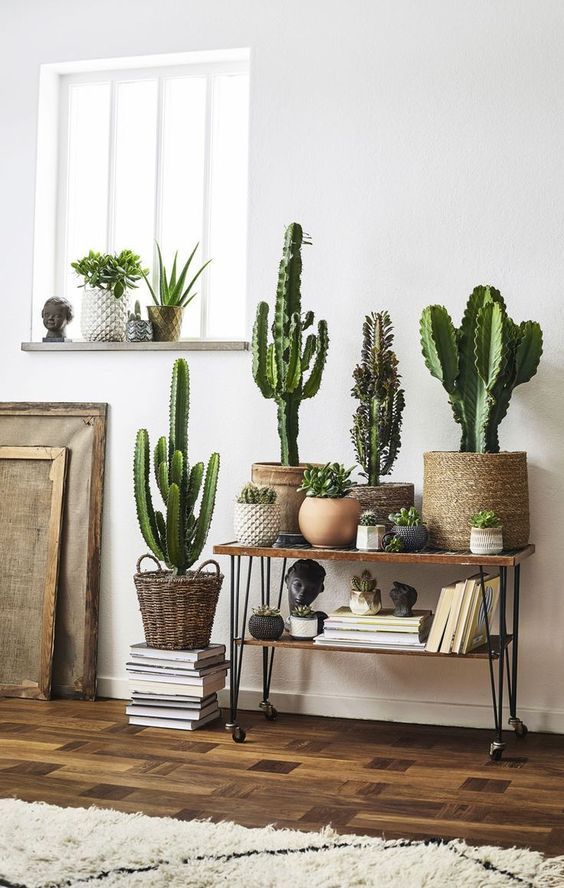 This is one of those trends that help integrate vast amounts of nature in the bland brick and mortar spaces. It also requires a lot of thought about how the indoor landscaping could be maintained on such a large scale.
Typically, Zen gardens are a much more feasible alternative as they feature lots of dry perennials and gravel. But if you want to emulate more greenery, then hydroponic walls are also an excellent option. It's a type of a vertical garden that helps you grow and maintain real plants in a limited amount of space. They can be easily managed and look fabulous as an interior design accessory.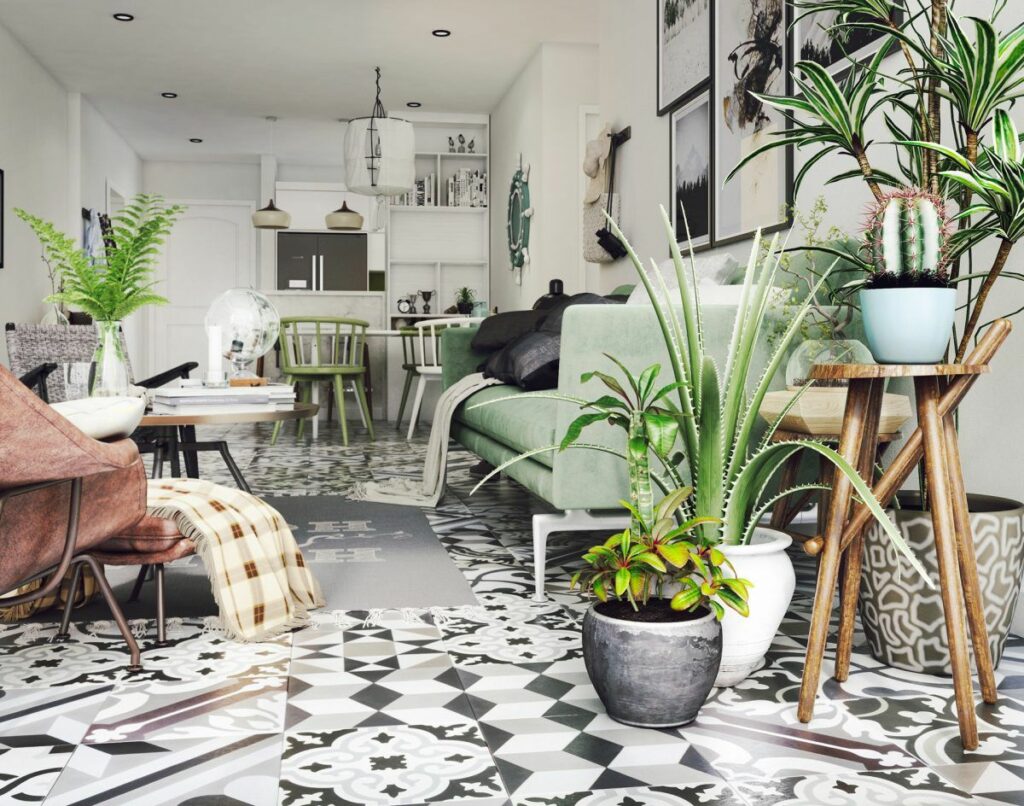 Another way to stylishly incorporate interior gardens in your interiors is through ceilings. Yes, hanging planters are a great way to do that, but mesh wire hangers with leafy indoor vines have a pretty stunning effect as well!
Besides that, tall statement planters like ferns and small indoor patios are all excellent alternatives.
The best part about having such massive amounts of greenery in our homes is that it helps us feel connected with nature, so if you need to pick and choose, then this is the trend that you should invest in!
9. Mixed-use spaces
Mixed-use spaces refer to how an open floor plan can help converge many zones of a home. Since there are no boundaries between the areas, they're all significantly merged. Designing these is going to be another big interior design trend in 2021.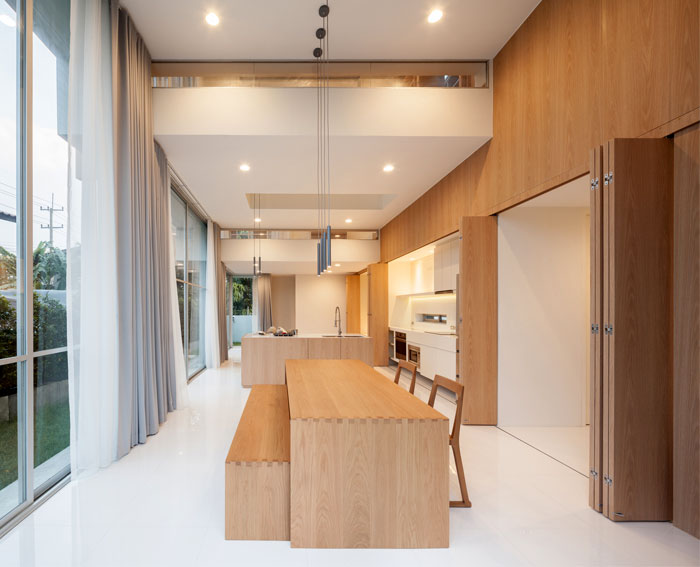 This particular point is all about the layout – especially relating to the furniture. Generally, three significant public spaces are inherently connected visually and physically: the kitchen, the living room, and the dining area.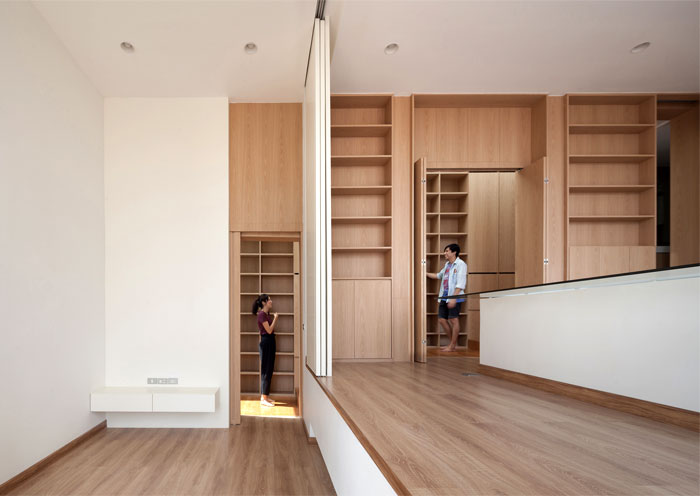 With mixed-use spaces, you need to design them in a way that makes them feel connected yet individualistic at the same time. Of course, they all function differently, which is why aesthetics matter a lot here. How you make sense of the open floor layout, and their visual connectors will be the real challenge.
10. Nature Green
Here's another colour that's going to be at the top of all 2021 design charts.
The healing aura of 'nature green' can be used in many ways throughout your interior designs. It's definitely accented worthy, but at the same time, you can also use it in moderation – whatever floats your boat.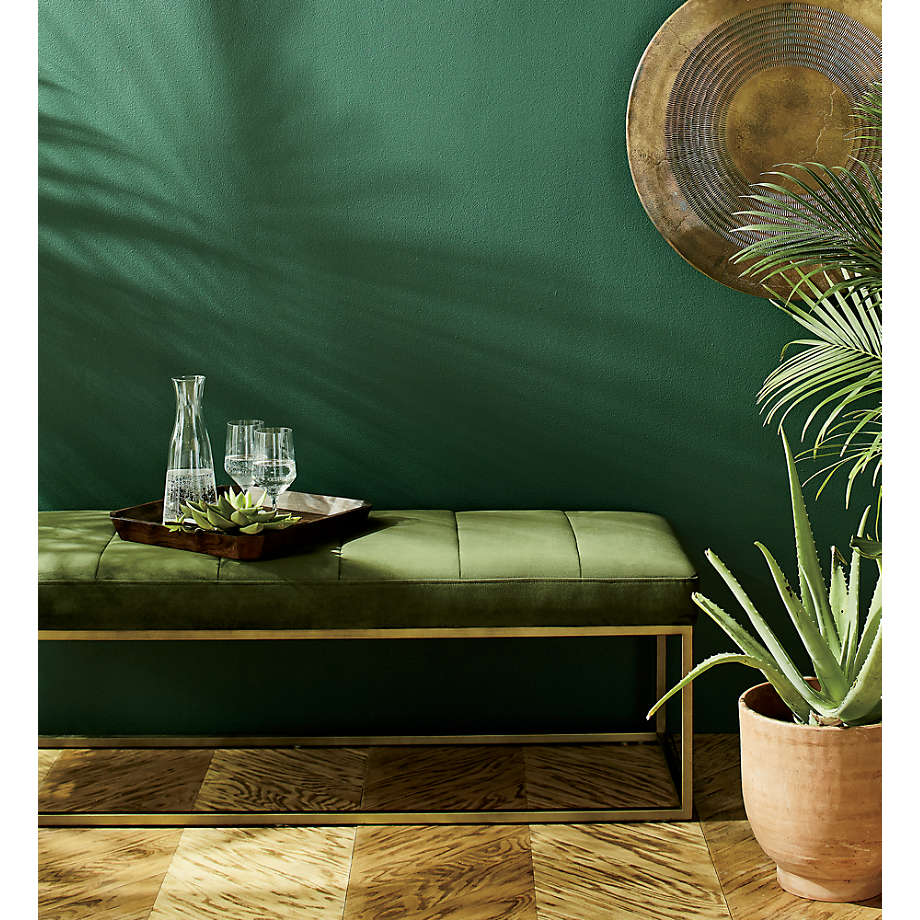 The best way would be to introduce it through your furniture upholstery and décor. The trick here is to keep the background as neutral-hued as possible so that the green pops against it.
If you want to be minimalistic with this color, try using it in only your space's focal objects. For example, nature green bar stools in a kitchen and adjoining breakfast area designed in neutral shades would look stunning.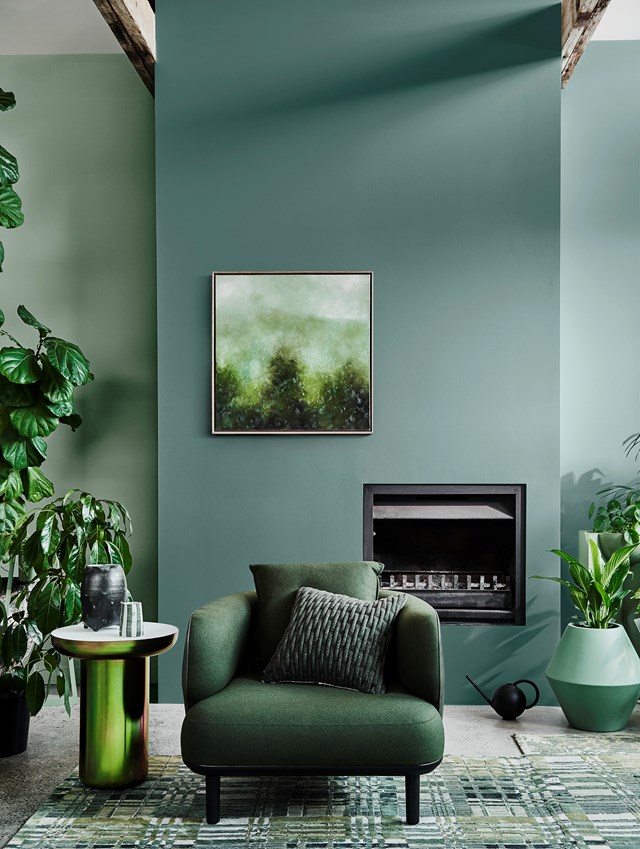 Similarly, you can also use it amply. A whole statement wall in green while the furniture and the rest of the ambiance are articulated in contrasting understated colors is also a good option.
So, these are some of the top trends that you will see rising in 2021. We hope this head start gives you ample time and ideas to best feature them in your home interiors!