This article contains affiliate links for which I may receive a small commission, at no additional cost to you, should you decide to make a purchase by using them. Learn More
The industrial minimalist style is a combination of industrial and minimalistic aesthetics. Both forms are combined into a single space and feature the best of all worlds. There is a natural balance between how these styles are amalgamated, which has resulted in a brand new theme that is edgy, raw, and sumptuous in its simplicity.
To understand this look, let's take a look at what the individual styles have to offer: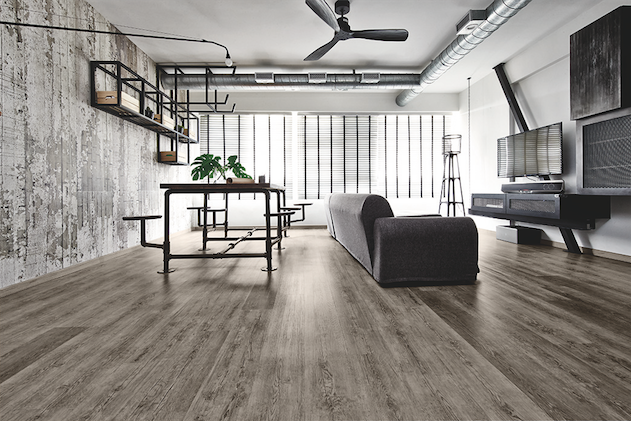 Interior Industrial Style
The modern Industrial style is inspired by abandoned factories and warehouses. It culminated in the form of distressed textures, raw materials (like concrete, corrugated sheets, exposed bricks, etc.), exposed pipes, and an understated, rugged material scheme. It's a qualitative, urban-chic interior design style that always brims with dark charisma.
Interior Minimalist Style
The core of the minimalist style is to embrace 'less is more.' It depends on quality over quantity, so minimalist interiors are usually very bare and furnished with the bare necessities. There is an emphasis on clean designing, simple, unadorned forms, and distancing yourself from the purchase of physical objects. It's a very relaxing style that leans towards a light and breezy ambiance.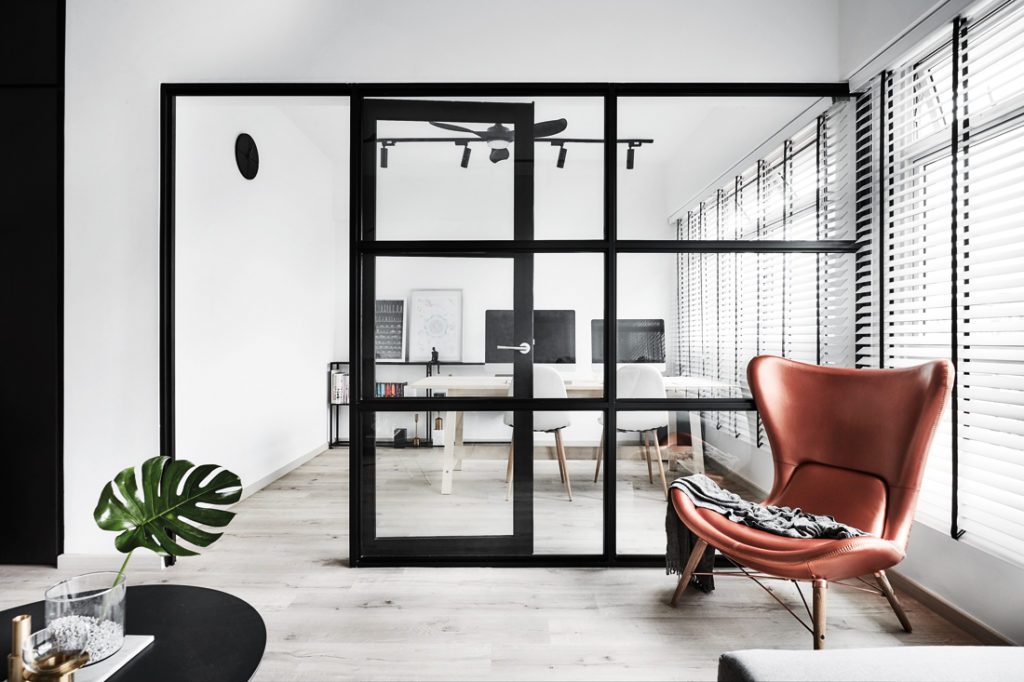 Now, what do you get when you combine both of these looks:
Interior Industrial minimalist Style
This hybrid style combines the light and neutral color scheme of the minimalist theme with the dark, charismatic hues of the industrial concept. There is an undercurrent of a warehouse appeal within it. It's highly dramatized with bold accessories, yet the furniture style is always sleek, clean, and comfortable.
Metal and plant accenting are introduced to improve the quality of the visuals. The overall presence and theatrics of this style feature understated elegance and sophistication that is unique and highly distinguished.
What makes this Industrial Minimalist so interesting?
The thing that makes industrial minimalism so interesting is that it is a very different style. On the one hand, it is comprised of the sleek understatement of the minimalist look. On the other, it also features chic darkness that belies the industrial style.
Lastly, there's accessorizing. This requires a keen mixing and matching so that both styles can be represented without overshadowing the core concepts and ideologies of one another.
Characteristics of Industrial Minimalist Interiors
Let's take a look at some of the industrial minimalist styles' essential features and how each one captures the essence of both counterparts:
Cleanliness with an edgy appeal
Mixing sleek and cleanly designed elements with rough-hewn ones is a classic characteristic of the industrial minimalist. How exactly is that accomplished? It's a challenging aspect that requires a lot of eye-balling and a keen understanding of mixing and matching.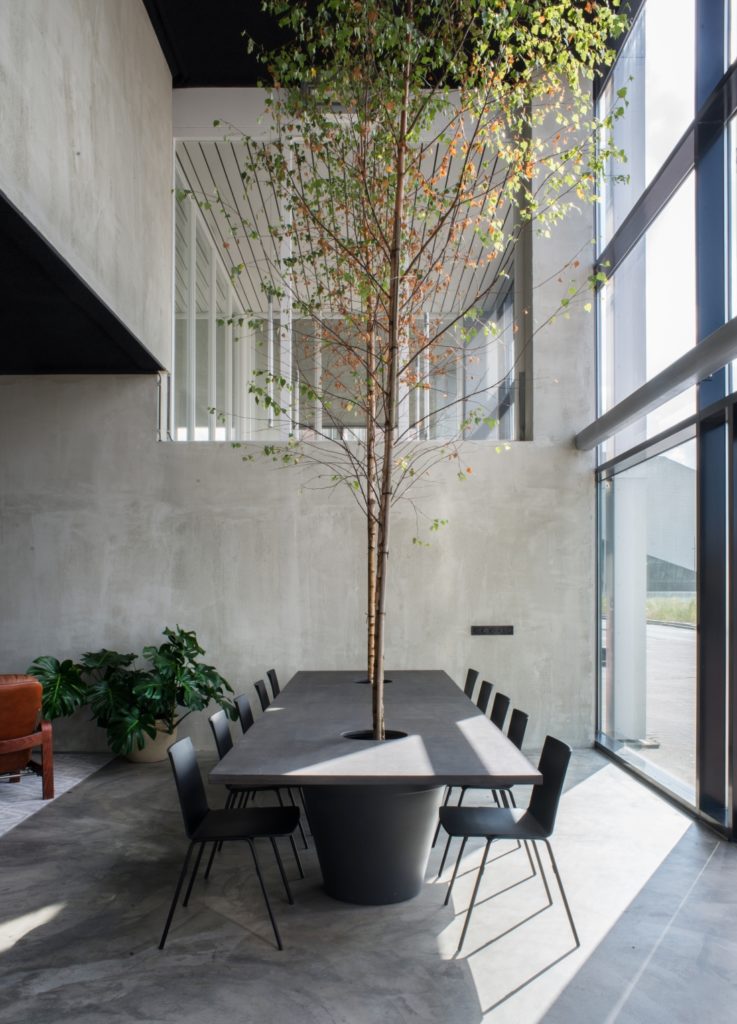 For example, the iconic exposed brick texture of the industrial style is revamped to suit this look by going for subway tiles and sleek brick facades to accommodate the minimalist aura. Similarly, rough concrete textures are alleviated with the help of glass (and even simple mirror accessories, sometimes). Other times, a combination of textured and glossy wall tiles is used in tandem to capture both styles' core. This is how the clean, sharply designed aura of the minimalist look is doused with an edgy industrial style appeal.
Tall bare windows and lots of light
Another characteristic of the industrial minimalist style is that it features statement windows. What sets these windows apart is their oversized countenance and their gothic-warehouse style frames. Most of them are finished in black and are slender.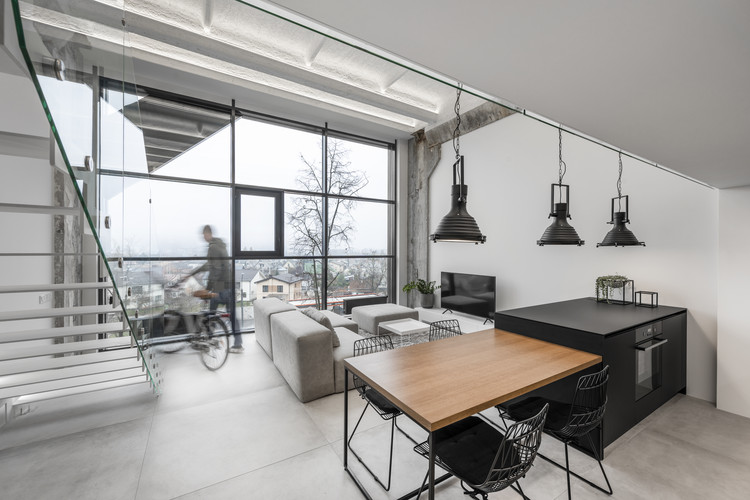 So, in this manner, the minimalist aspect is covered by letting in lots of sunlight through the massive portals. The industrialist aspect is articulated through the design of the frame.
Note that the openings don't need to be in the form of traditional windows. Many industrial minimalist interior designs feature stylish skylights and partial ceiling-wall openings that have a similar effect.
Stark, to-the-point accessorizing
Accessorizing may not be within the core values of the minimalist style, but encompasses the industrialist ideology. Finding a balance between these two contradictory philosophies can be quite challenging. The basic rule that you need to keep in mind is that every accessory must have at least a small functional purpose.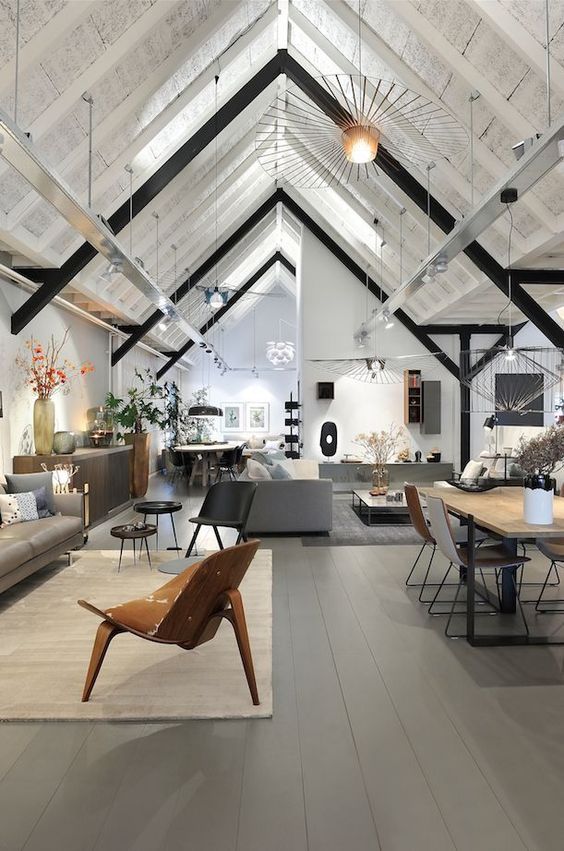 This is why light fixtures, mirrors, and essential bookcases are the most common design elements that you'll find in industrial minimalist interior designs. There are very few other options, and if you want to stretch the edge of these limits, then maybe you can go for a freestanding statement floor lamp. Anything else would be considered redundant based on minimalist standards.
Raw ceiling designs
The ceilings of industrial minimalist interior designs have a very natural, unmitigated aura. Most of them are either stark white or designed with an artfully rough concrete texture. Some such ceilings are also installed with exposed pipes through which wiring and other electrical elements throughout the space are connected. These pipes are very thin (usually just 1-2 inches thick). Still, the asymmetric network that they create on the ceiling is like a very functional design element in its own right.
Track light fixtures
The industrial minimalist interior design doesn't feature LED ceiling lights. Instead, the ambient lighting of this theme is usually built around edgy track lights. The spot-style aesthetic of this particular light fixture consists of a linear track on which multiple spotlights are arranged in a neat row.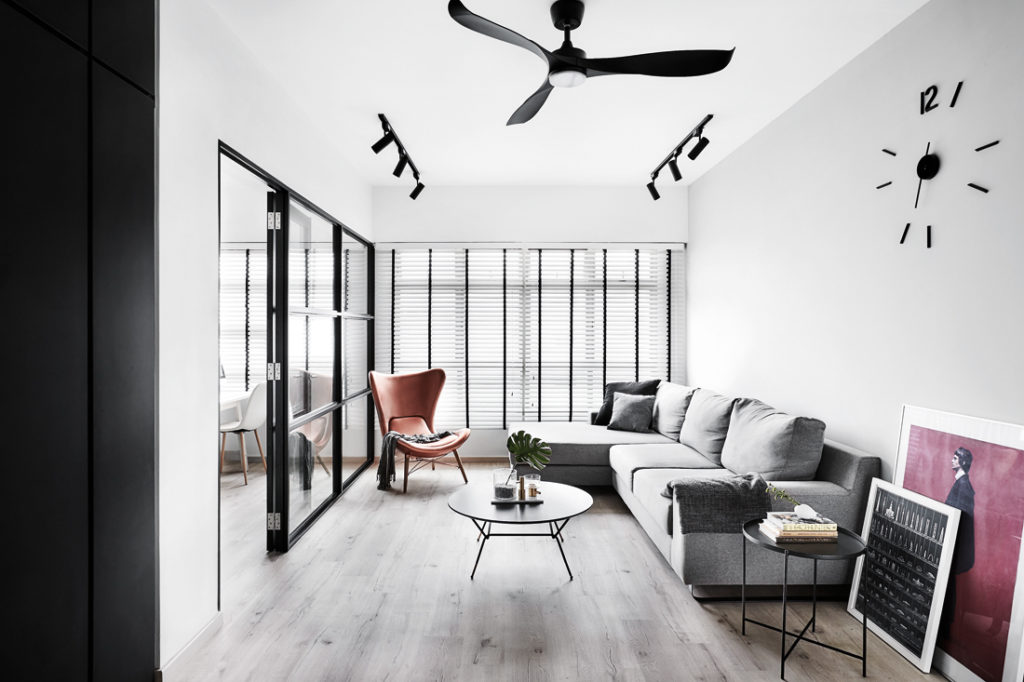 The direction of these spotlights can be changed according to your needs. They also help create subtle visual accenting on bare or textured walls. When the beams of multiple, evenly spaced spotlights are thrown on an empty wall, it automatically starts to feel ornamental without any physical accessorization. This is another reason why track lights are so dominantly used in this style.
A dash of green
The color and material scheme of the industrial minimalist space is on the very neutral and sometimes even dark side. This is why it needs a bit of bright levity. However, since you cannot use jewel tones like bright reds, cerulean, yellows, etc., you should feature a dash of green through planters.
A single statement planter in a highly visible corner of a room can leech away the gloominess of the space. You can also experiment with various types of plants since each has a unique leaf color – some being dark, some multi-colored, and others light. You can pick a plant-based on which shade of green suits your overall ambiance.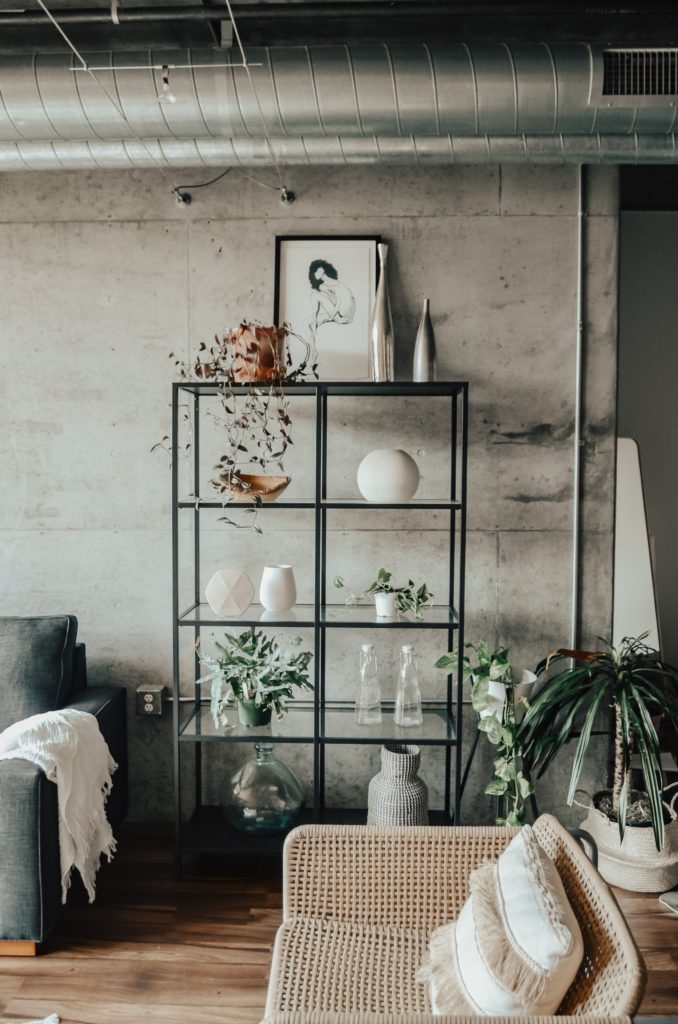 You can also pick plants depending on where you're going to place them. Some planters need direct sunshine, in contrast with others, is okay, even in filtered lighting. Another deciding factor can be size – for example, some grow a lot in size and require the occasional repotting while others (especially succulents) are just one-stop acquirements.
Metals to break the gloom
Sometimes, the natural and urban-chic color scheme of such interior designs needs a little visual break, which is where metal accents come in.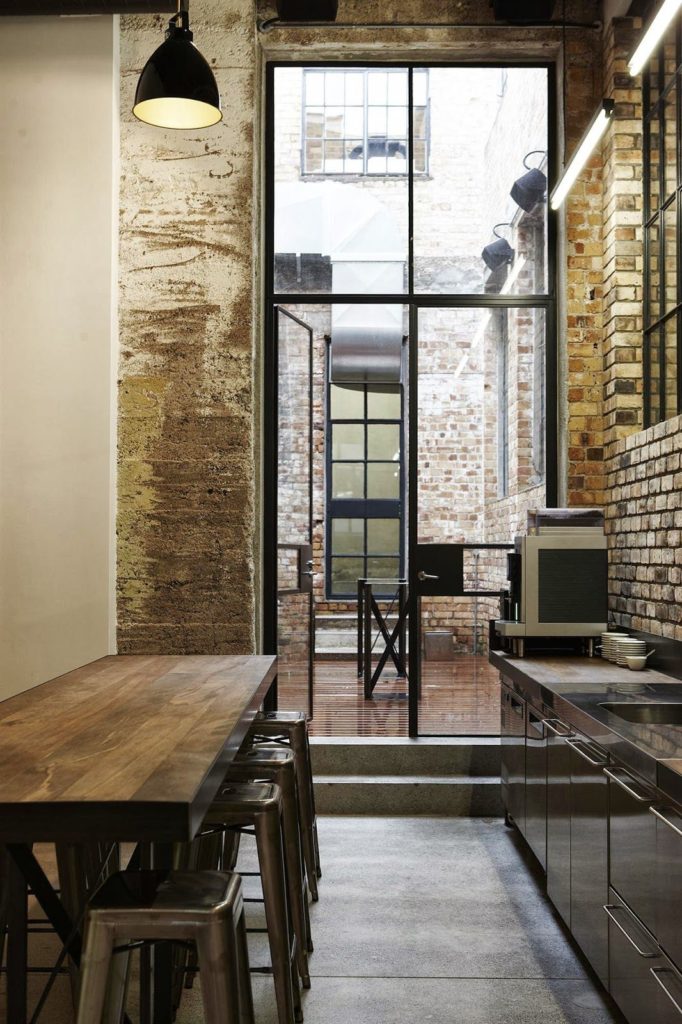 They're usually introduced in the form of accessories. Still, since the minimalist aspect of this theme dictates that everything has functional value, you should go for meal accented light fixtures. Wall lights and pendant lights are a good option.
An industrial style statement light fixture in a central location is also the right choice, as its glinting form would become the real centerpiece for your spaces.
Mixing and matching furniture
The furniture used in an industrial minimalist space also has to pass the dichotomy of contradictions that come with the individuality of both these styles. However, if we were to find a common denominator between the two, it would be a clean aesthetic, and neutral colors.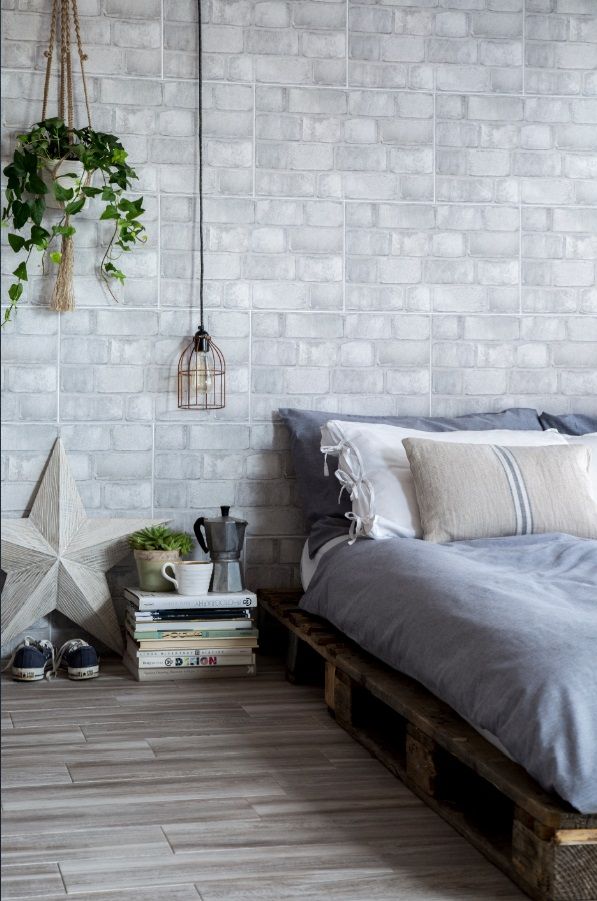 So, these are the two things that you'll have to add at the top of your furniture selection checklist for the industrial minimalist style.
The sofa, notably, needs to be comfortable and ergonomic, aside from being streamlined for comfort. Emphasize materials such as raw, rugged aniline leather upholstery can capture the lived-in aspect of the minimalist style, while also holding fast to the raw edginess of the industrial look.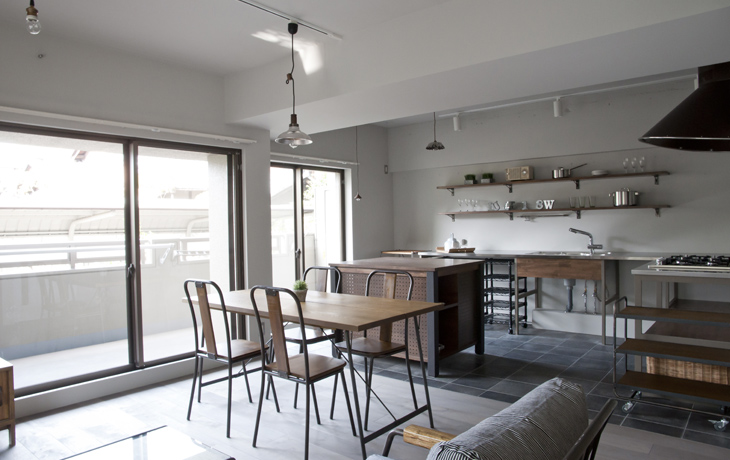 Other than that, choose the rest of your furnishings in natural wood textures. They could be classic oak or hardy walnut. You can even go for stylish distressed finishes so that the industrial look can be artfully emulated through your furniture choice.
The bed and accent furniture should be clean yet sculpturally crafted (as is the norm with minimalist styling), and if there's any upholstery to be added, make sure it's either dark or earthy or neutral shades.
Industrial Minimalist Walls
The walls of an industrial minimalist interior design can be divided into two major parts according to which the materials are applied. Here they are:
Accent walls
The accent wall is always bold, which is why it's also designed in a noteworthy material. Typically, the sleeker version of the exposed brick is used. Other times, subway tiles and dark, cloudy oversized concrete tiles are installed on the wall with metal studs at all four corners.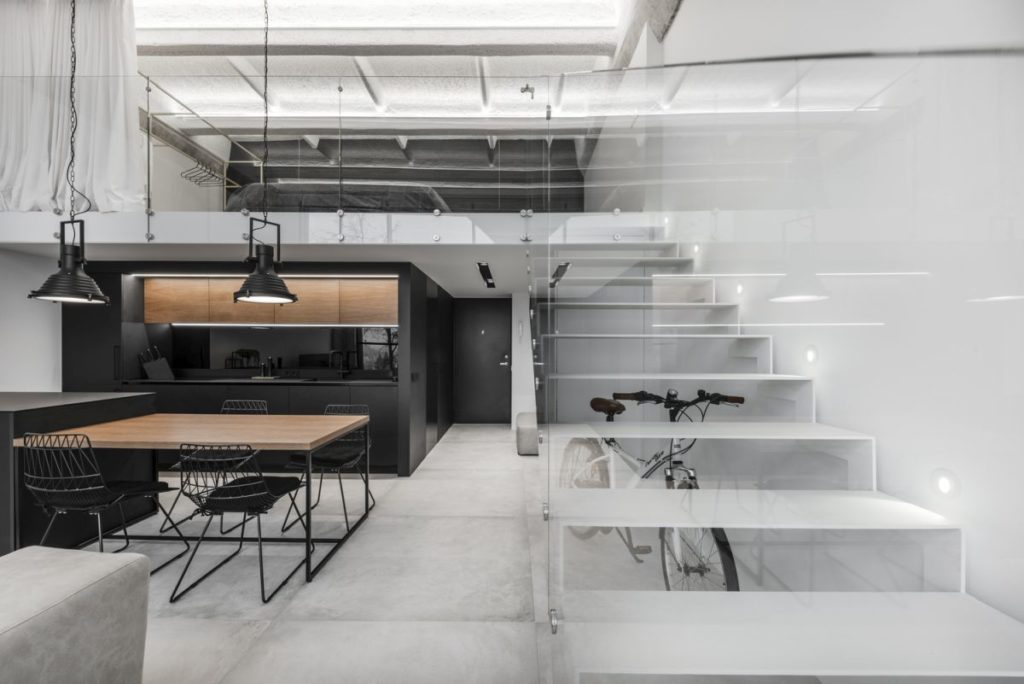 Peripheral walls
The outer walls are supposed to be understated, so they're mostly designed in stark white colors. If you want to add a little bit of movement to them, you can finish them with the lightest, subtlest concrete textures you can find.
Floor finishes
There are a total of 3 kinds of floor finishes that can be applied within an industrial minimalist interior design. Let's take a look at all of them:
Wood
Wooden floors with a higher apparent texture are an excellent recommendation for this interior design style. You could either go for simple installations or even go for stylistic herringbone and parquet style textures. Wooden floors should be complemented with uncomplicated white walls, but the ceiling can be distressed if you require it.
Tiles
Simple 2'x 2′ tiles are the most commonly used floor finish within minimalist industrial spaces. However, you can only pick ones that are in simple neutral colors like grey, white, etc. The great thing about tiles is that they're not textured, which means that your walls and ceilings can be embellished with an inconsistent industrial style finish. Whereas, if the floor is boldly finished, you can only go for stark white walls.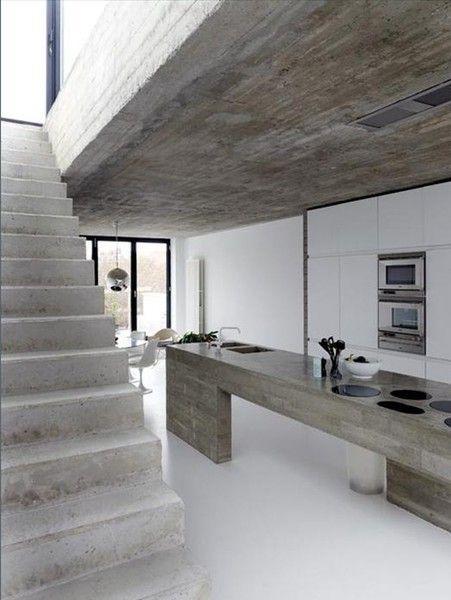 Concrete
Homogenous concrete floors are the last finish that you can opt for. They're usually very raw, dark, and unfinished. If you go for such floors, make sure the rest of your surroundings are finished in white (especially the walls and the ceilings) so that the darkness of the floor doesn't overwhelm the minimalist part of this style.
Popular material choices for Industrial Minimalist Spaces
The industrial minimalist style is nothing without an excellent, well-balanced material palette. If you can't pick the right finishes to decorate your spaces, you'll never be able to articulate this style with the confidence and charisma that it deserves. So following is a list of some popular material choices and where they are most commonly applied:
Subway tiles
White-colored subway tiles are usually used to emulate some visual diversity within industrial minimalist spaces. This material is used for accent, so it's used in a very moderate amount and is usually applied on a small part of the statement wall. It is most extensively used in kitchens as a backsplash.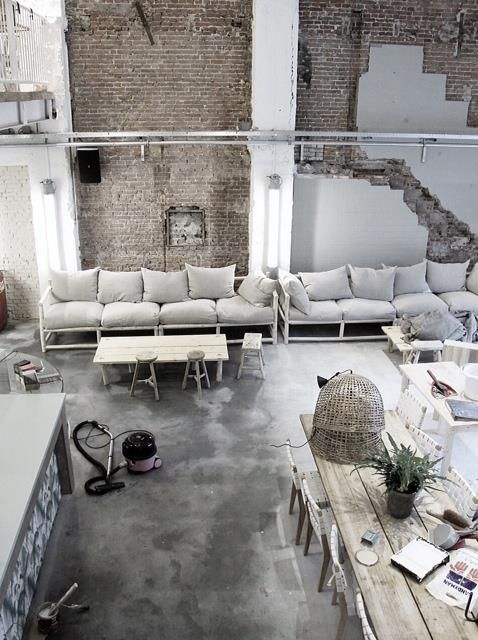 Exposed brick
Exposed brick in a sleek, un-distressed format is the tour de force of industrial minimalist interior designs. Usually, entire walls are finished and clad within this texture, sometimes in the form of a laminate, and sometimes in the sort of wallpaper. The color of this wall also varies. When it is translated in a wall-tile way, it can also be selected in shades of grey.
Matt achromatic laminates
Matt finished achromatic laminates are another material finish that is a staple of the industrial minimalist theme. You can apply them to your kitchen carpentry, wardrobes, built-in bookcases, and more. Since these colors are fully understated, tasteful, ad graceful, their impact on this theme is always on-point.
Distressed wood textures
The simple wood and distressed wood textures are also a must-have accent material in industrial minimalist spaces. They're either emulated through a moderate application on furniture, built-in carpentry, or floor finishes.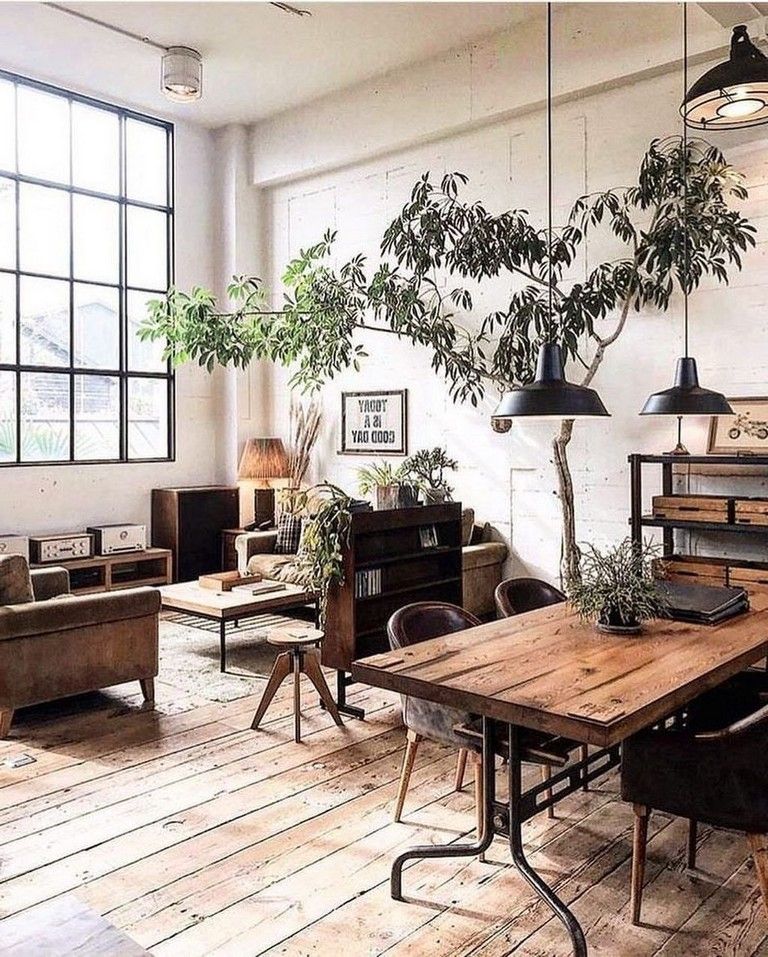 Concrete finishes
Both light and dark concrete finishes are used in industrial minimalist spaces. It's how you balance them out determines their overall impact within the area. Note that concrete textures are applicable for walls, ceilings, and floors alike. How they look depends on the lightness and darkness of your final choice.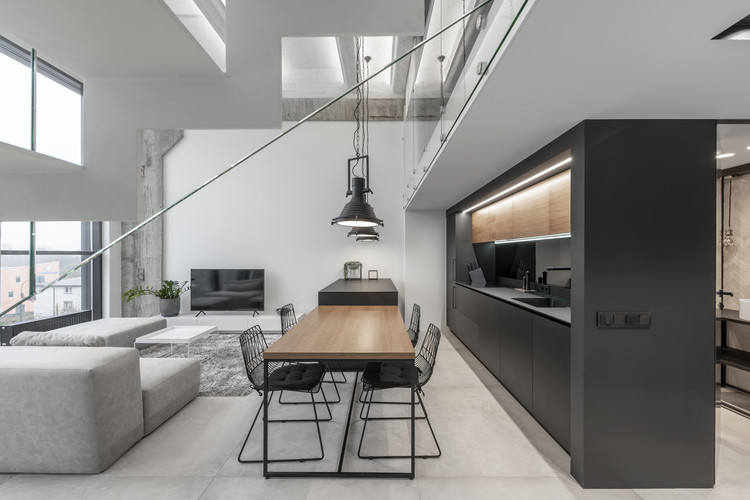 Stark white walls
Stark white walls encompass the minimalist aspect of the industrial minimalist theme. There's not much to them, but you should always pick a bright shade of white. It's also best to leave these walls largely unadorned with any décor, because only when left unembellished can they truly shine to their full potential.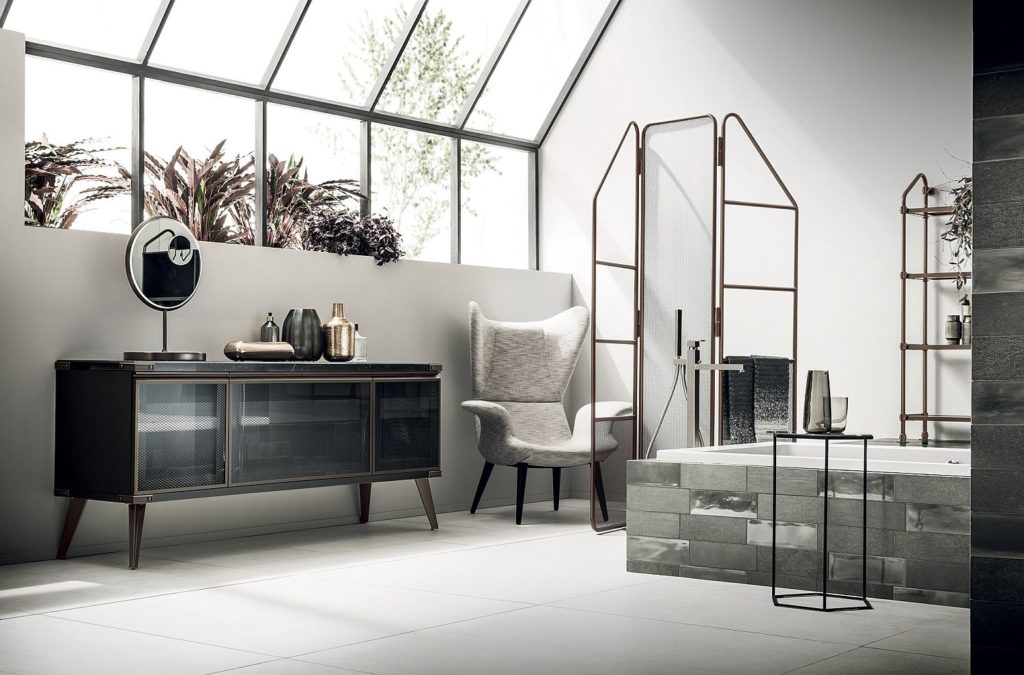 So this is everything that you need to know about the industrial minimalist theme. It's stylish, unpretentious, and very trendy. We hope this guide helps you better emulate it in your home interiors.