This article contains affiliate links for which I may receive a small commission, at no additional cost to you, should you decide to make a purchase by using them. Learn More
Comfort, style, and working with the bare necessities – that's the motto of the minimalist style.
It's a universally accessible theme that has redefined entire lifestyles. You can design any part of your home in a minimalistic way, be it the living room, dining space, bedroom – and yes, even the office.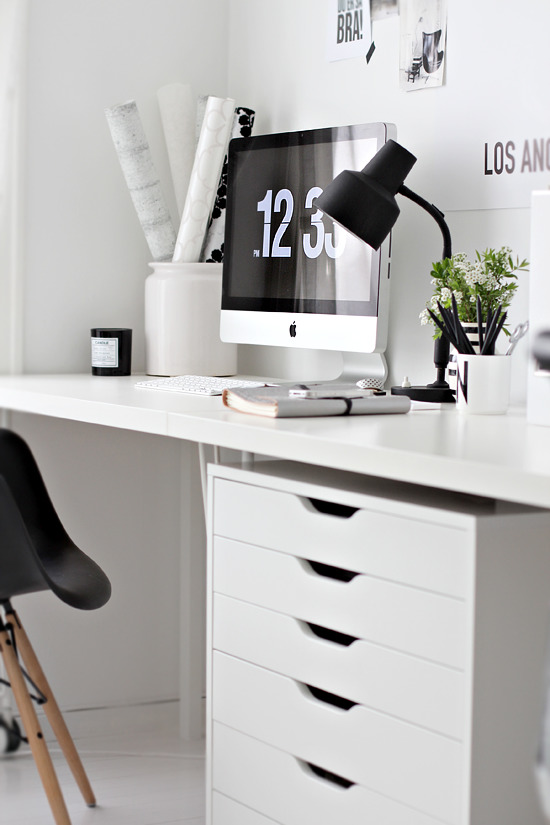 So, what exactly does a minimalist workspace look like? In short, it's organized, very bare, and propels you to focus on your work by taking all distractions out of the picture. However, that does not mean that minimalist offices are entirely void of comfort. It's how you manage to make the work area both ergonomic and officious is where lies the real magic of the minimalistic theme.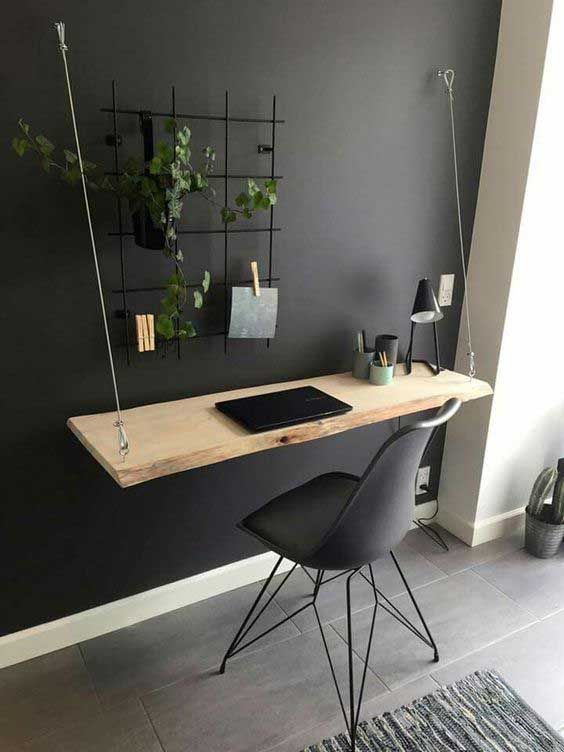 Further, let's look at every essential element of minimalist workspaces and how you can get the best of this style in many other related themes:
Basics of a minimalist office design
The ambiance always matters whenever you're designing an interior, and the ambiance is always made up of small things. So, if you want to create a minimalist workspace, here are some essential elements that you must make a checklist of:
A completely organized look
The main characteristic of any minimalist workspace is how utterly organized it looks. For that, you need to declutter, declutter, and declutter. You might not even be aware, but your office consists of several things that you're probably never going to use or need. So, you need to own the Marie Kondo philosophy: if it doesn't give you joy and if it hasn't been used in a certain amount of time, then say thank you and goodbye.
If you really, truly want to emulate the minimalist lifestyle, then you need to think beyond the physical as well. For example, the desktop of your computer, the files in every folder – they should also be neatly and thoroughly organized. Wean away and delete anything excess, and you'll feel the peace of mind right on the heels of it.
A gentle, neutral color scheme
A minimalist workspace is all about emulating an understated calm and tranquility within the room. This helps you focus better. A lot of it comes from choosing the right color scheme. All the hues are deliberately calm, serene, and grounded. They're mostly derived from the neutral color palette and consist of deep, earthy browns that anchor you and light greys that emulate elegant sophistication. Most minimalist workspaces are an artful combination of grey and brown tints. While the choice is minimal, it's how you translate these colors in a beautiful material palette that genuinely defines the final ambiance of your office.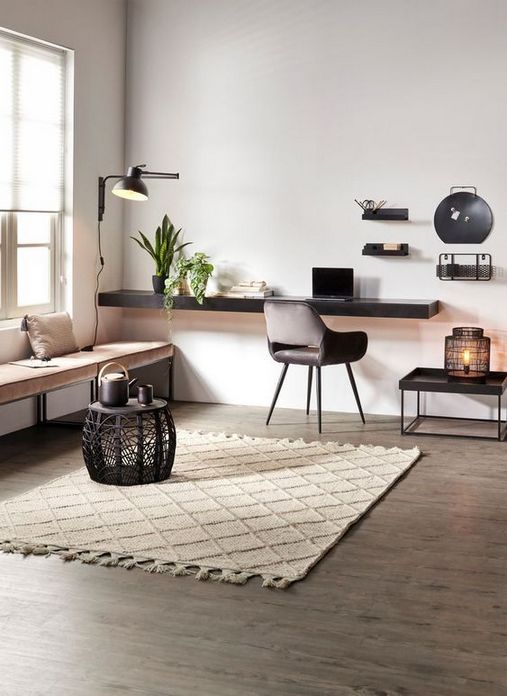 Understated materials and textures
There are two primary materials and textures that you'll always note in a minimalist workspace. They're wood and concrete. However, they're not always incorporated in their true material essence. For example, the concrete can be emulated through various wall paint techniques while the wood can be emulated through vinyl, PVC panels, laminates, etc.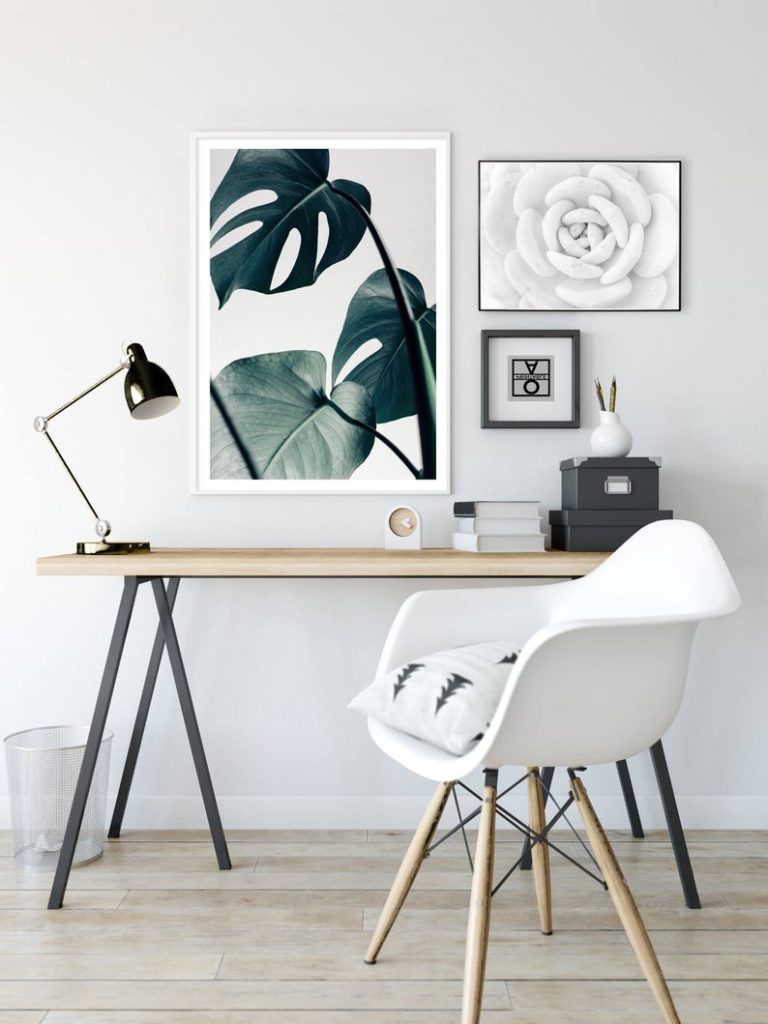 Then there are the accent materials, which are either wholly black or distressed or shiny metal. The former can be incorporated in the form of furniture – such as black aluminum desk legs, tinted glass top, etc. – while the latter can be emulated through artistic light fixtures – such as bronze finished desk lamps, chrome finished wall lights, etc.
Accessorize with the essentials
One of the reasons why the minimalist style is always so neat and clean is because the accessorization is always carried out with essentials. Therefore, you should never incorporate any frou-frou décor in a minimalist workspace. If you're wondering what exactly can be used to uplift the space, you can always use vertical files, desk lamps, stylistic furniture, and maybe even a planter or two. Remember: it's not supposed to look homey. It's supposed to be bare and functional.
Simple but comfortable furniture
The furniture takes up the most visual space within a minimalist workspace. The reason for this is that since there are very little physical clutter and décor objects used in such offices, the furniture always ends up taking center stage.
But that does not mean that you can feature unnecessary items. It's the exact opposite, meaning you must furnish the workspace with only the essential pieces. If you feel like a desk and chair is all you're ever going to need, then there is no use in picking anything else. If you want something to organize your books, files, and paperwork, then you can opt for sleek filing systems or simple bookcases. But anything else? Cross it off. That's the beauty of the minimalist look: it just doesn't allow you to clutter your spaces.
Never skip on the lighting
Bright and comfortable light is a staple of the minimalist workspace. First and foremost, you always need to incorporate as much natural lighting in such offices as you can manage. This means designing large window portals with streamlined frames. Secondly, as far as artificial lighting is concerned, you can go for warm LEDs. Dim to bright gold lights – 2200-2700 K (Kelvin) – is what you should be aiming for. If that's too low for you to work, then you can pick any temperature that falls behind 4100-5500k, as that is considered cool lighting.
As far as styles are concerned, you should opt for cordless lamps and LEDs. This helps reduce the clutter and falls more neatly into the minimalist niche. Metal and sleek finishes on these fixtures are always a great way to emulate some accentuation within the space. You can also install cove lights inside shelves, toe-kicks at the bottom of your work desk, or even just under-cabinet lights in a multi-purpose, multi-tiered work surface that is shared by other people in your household.
Theme recommendations for a minimalist workspace
If you want to think beyond essential minimalism, then there are several styles that you can look into that have the same clean, sophisticated appeal. They're all distinctly organized but still have their unique flavors. If you want some recommendations, then here are a few minimalist workspace themes that can help you add more personality to your spaces: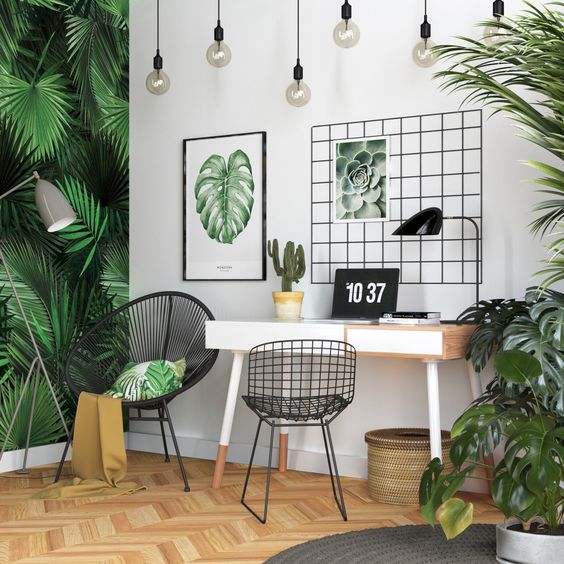 Radical Modernism
Radical modernism is all about sticking to the barest essentials. If you don't need it, it's got no place in the room. There is a stark understated elegance and chic sophistication to these spaces that can rarely ever be found in any other style.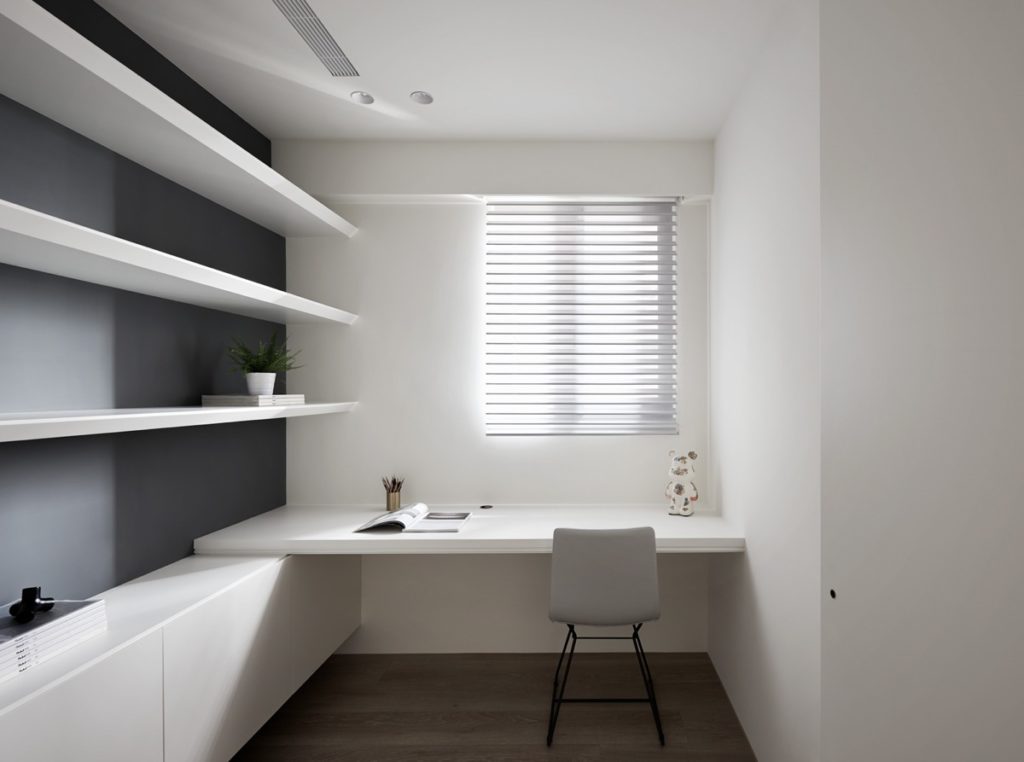 Radical modernist workspaces consist of coolly dark color schemes. They're mostly interpreted in the form of sleek materials such as high-gloss laminates, colored glass surfaces, dark aluminum furniture. There are also matt and metal accents that are usually introduced in the form of chrome furniture arms/legs along with a metallic desk or floor lamps. There are no cords or anything unnecessary within such spaces. They are stark, practical, and extremely austere.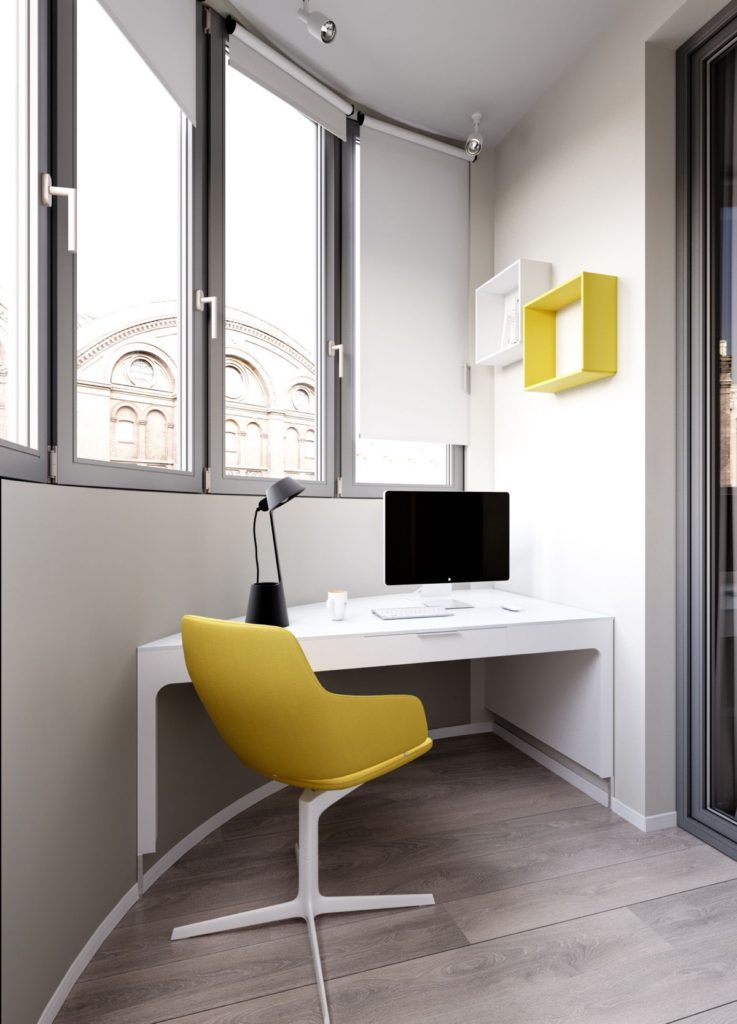 This type of minimalist workspace is all about pragmatics. They usually consist of large windows with smart treatments. There are little to no shelves or filing systems at all. The desk and chair designs are chosen for function before aesthetics. If you want to accessorize such workspaces, then you can use intangible devices such as hidden cove lights and toe-kicks. Since they don't have a physical presence, they don't deter the crisp, cool edginess of the space.
Sleek Contemporary
The contemporary style may consist of mix-and-match elements, but it always has an undercurrent of sleekness. This is why it fits the bill when you're researching inspiration for a minimalist workspace with a personality.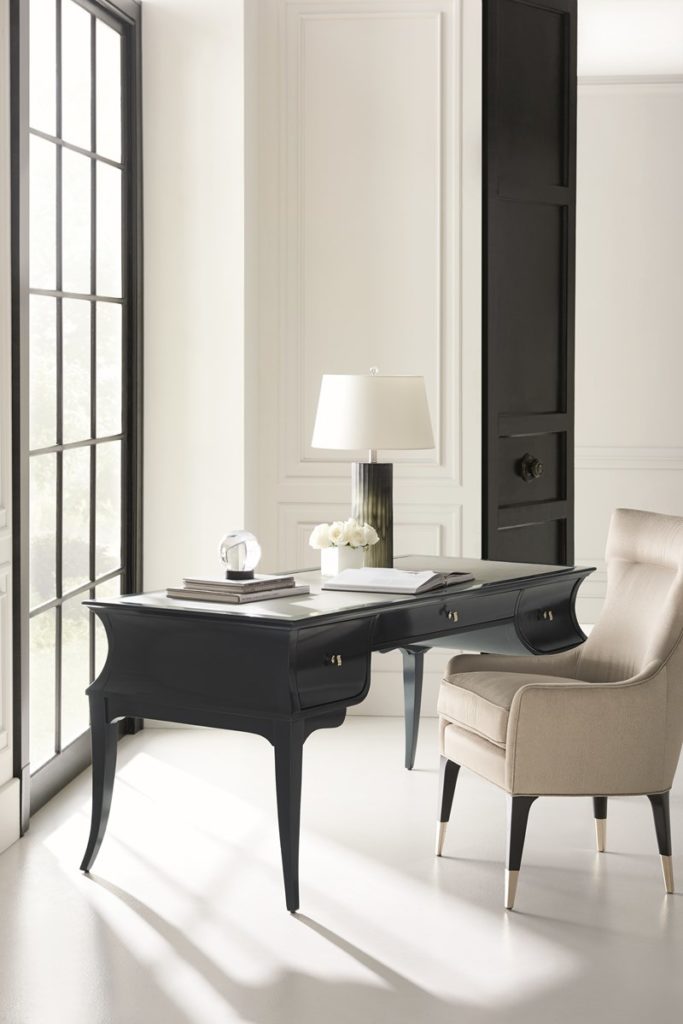 This type of workspace looks best when it is articulated in understated colors. The neutral palette is always a welcome choice, but you can also dabble in some pastels to make the room feel a little more vibrant. Plush fabrics and light woods can be used for accentuation. Just make sure that they're not too brightly colored, or your workspace might leave the bounds of a minimalist theme.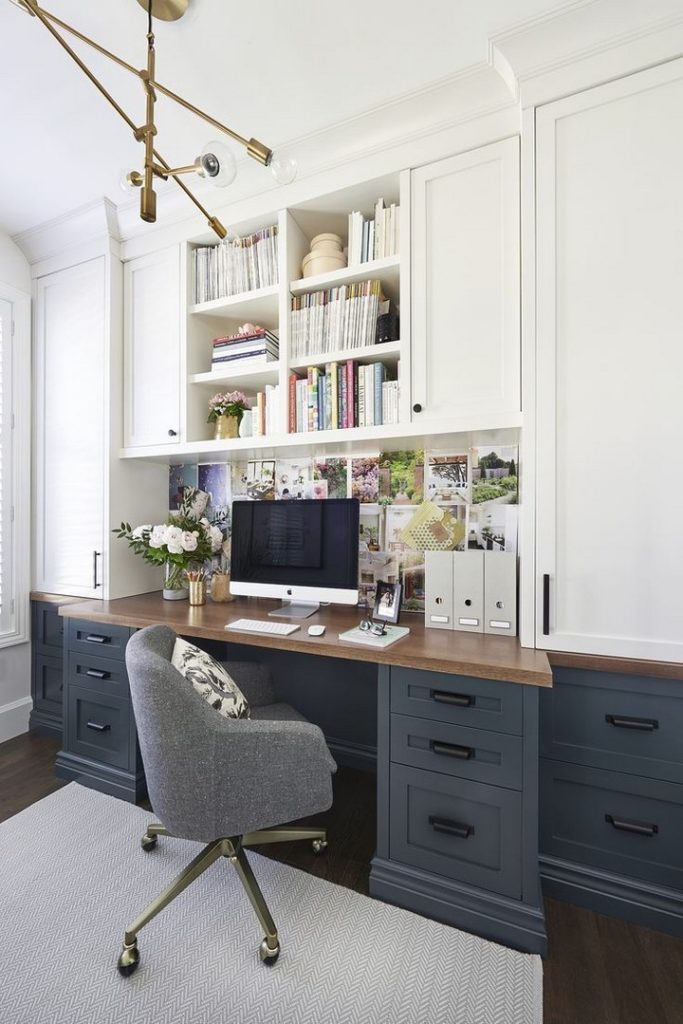 Your contemporary minimalist workspace can feature a classy clawfoot style Queen Anne inspired work desk. You can find modern interpretations of this table that can complement the minimalist workspace theme quite well. You can pair it with a cozy suede upholstered executive chair. You can add customizable pole-style bookshelves for files and other paperwork. Customized Venetian window treatments or breezy sheer curtains along with functional accent pieces such as floor/desk lamps, etc. can cap off the whole look prettily.
Cozy Scandi-Modern
The Scandi-modern look is all about balancing coziness with minimalist styling. It's characterized by its bright, airy spaces with natural hues and cozy accents.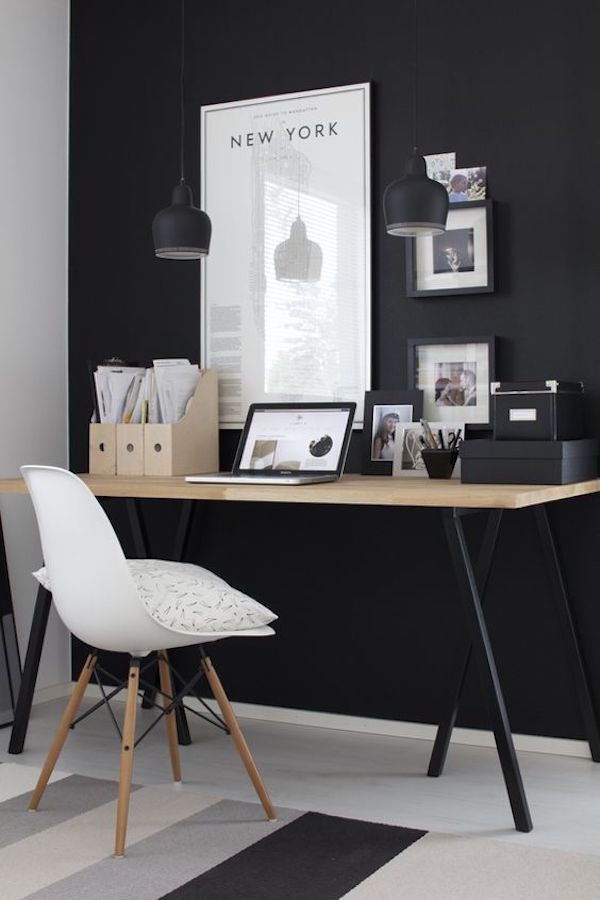 You can design your Scandi-modern minimalist workspace by featuring light and understated colors in the backdrop that are complemented with natural materials. Only light-hued woods like oak and beech are featured in this style. You can accessorize your offices with indoor planters placed in strategic nooks and alcoves that will keep the eye moving from one point to the other.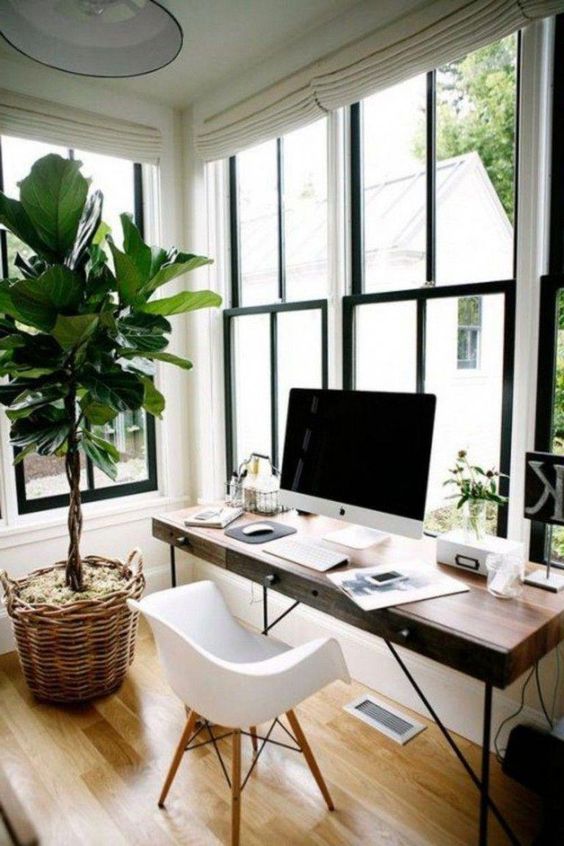 You can furnish your Scandi-modern minimalist workspace with a sleek desk with either trestle or splayed legs. The Kyo lounge chair or the Eames Eiffel chair can make a great accent piece and an excellent desk chair. You can highlight the main area with a neutral colored rug. You can also create a cozy reading nook in a corner with a stylish Saarinen womb chair and ottoman. The Arco floor lamp or the Grasshopper floor lamp would provide great accentuation to this little nook.
Zen Japandi
The mixture of the Japanese Zen and Scandinavian styles is the perfect choice for designing a comfortable, minimalist workspace. You need to focus on featuring clean lines while using cozy design elements to emulate contrast.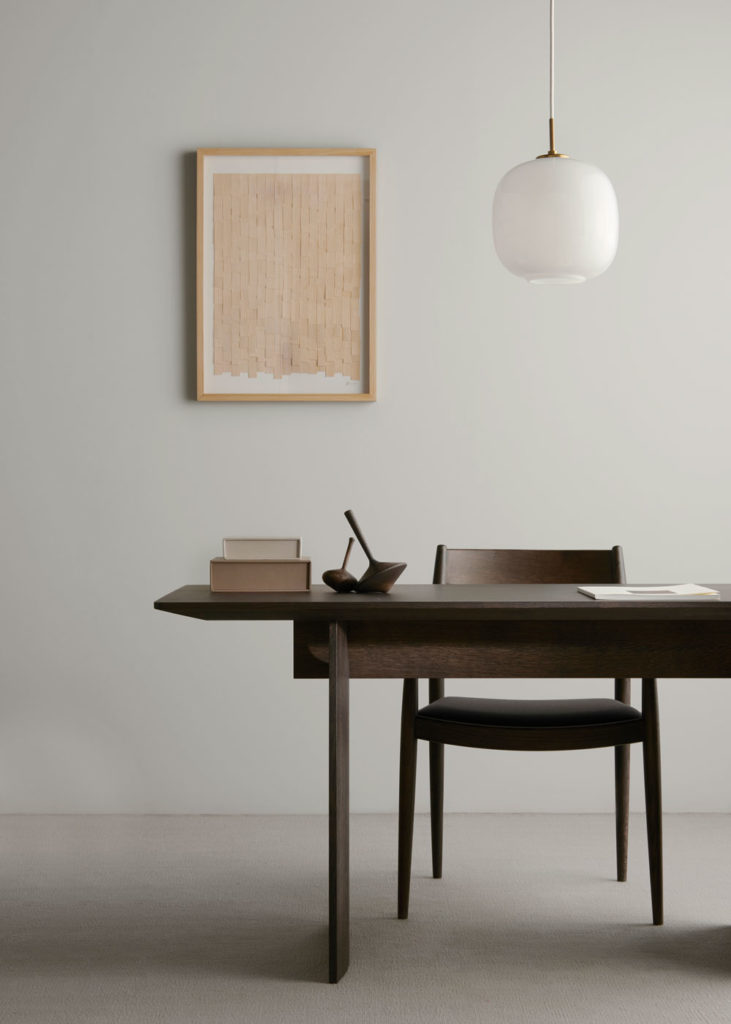 The use of clean lines and a decluttered aesthetic remains a focal point in Japandi interior design, so that's precisely how you must design your workspace as well. The color scheme is cool, calm, and a mixture of light and earthy hues. Accent colors mostly consist of sleek ebony and elegant greys. The material palette mostly consists of natural materials. The wood used in Japandi style workspaces is on the darker and subdued side. Ash and teak are popular choices.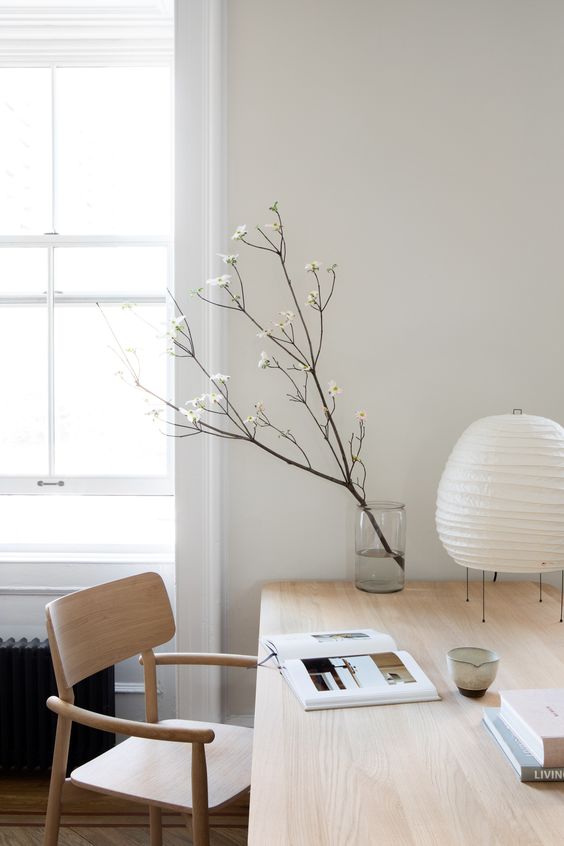 You can decorate your Japandi style workspace with a simple, sophisticated desk. It has to be light in countenance. Heavyset furniture is the opposite of Zen. You can accentuate the whole look with pastel-colored fabrics such as mint green and powder blue. Planters can imitate a refreshingly organic vibe within the space, and your desk chair can be a midcentury modern style icon. A stylish Hans Wegner piece would look stunning. Natural fiber rugs and dry arrangements in a porcelain vase will cap off the look quite nicely.
Easygoing Wabi-Sabi
Embracing imperfections and decorating with the things that bring you joy is the motto of the wabi-sabi style. However, that doesn't take away from its understated, minimalist charm. This style can be used to design a very homely, comfortable, and personal home office.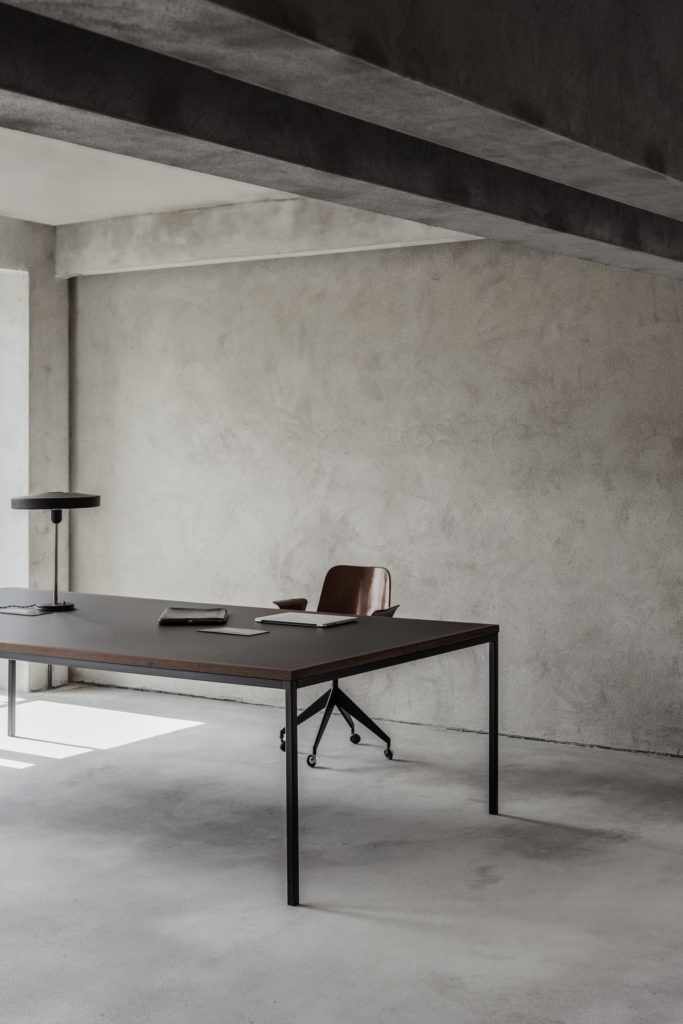 The use of light, natural, and understated colors is a must. You can choose your pick from the neutral palette. However, avoid rich tints such as taupe, chocolate brown, etc.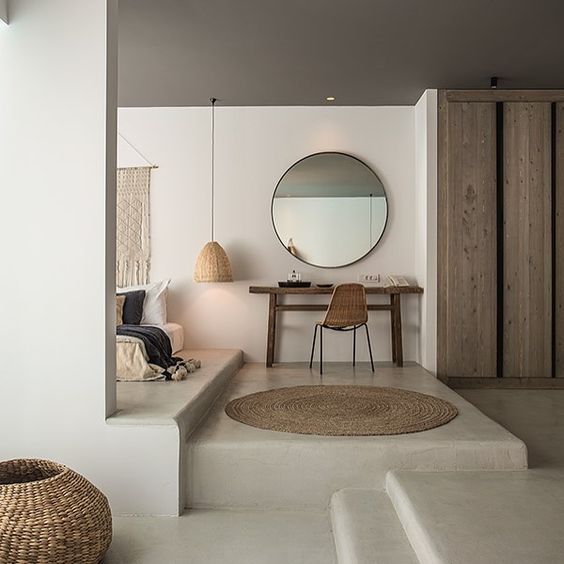 The furniture, on the other hand, can be chosen in dark and distressed finishes to accentuate the light background better. You need to pick a desk that is simple but stylish. Something with needle-point legs and a slim top will look amazing. You can pair it with a cozy desk chair. You can even feature a relaxing rattan chair in a corner with a mismatched footstool as a rest area.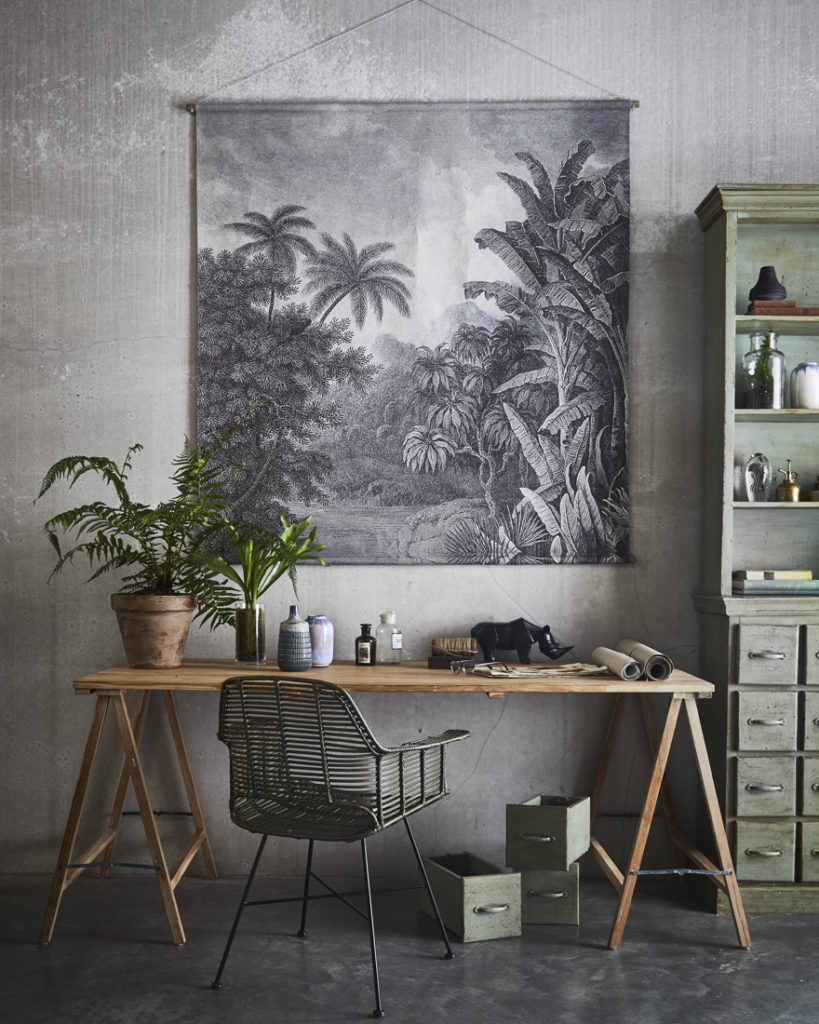 You can have a lot of fun with accessorizing the wabi-sabi style. The bare statement wall can be uplifted with an artwork that you love. You can feature a desk lamp with a unique design that you fell simply couldn't part with. Cozy area rugs with long piles and understated colors can be used to anchor the whole aesthetic.
Elegant Industrial Chic
The industrial style may seem like an intimidating extension of the minimalist theme, but it's not. It's highly clean and understated. You can easily use it to design a very organized and trendy home office space. However, you need to clearly understand all the basics of this style to create a clean, fashionable workspace out of it.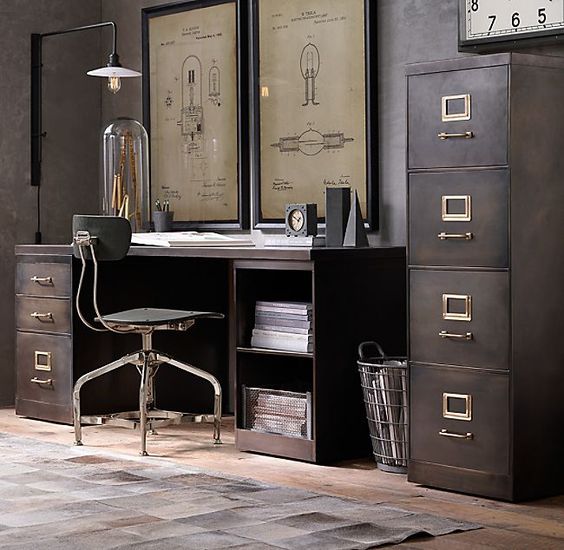 First off, you need to use as many crisp, straight lines in your space as possible. Whether it's the ceiling, the walls, or even the furniture, everything must be clean. You don't have to avoid curves – just make sure that they fluidly merge with the rest of the space. You can present them in a chic, sophisticated way by using understated finishes that highlight the sharp corners and edges. Concrete is an absolute must. You can design an entire feature wall out of this texture.
Modern Industrial Home Office
Distressing wood furniture with a stylish, imaginative form can be used as the statement piece. The chair can be large and cozy with a lived-in vibe. You can choose either suede or leather as the upholstery. Since the décor is minimal, you can feature a simple dry arrangement or an oversized statement artwork in a corner. Make sure that its colors are understated enough not to overshadow the elegant neutral color scheme of the space. Lastly, you can introduce metal accents in the form of a classy desk or floor lamp.
So, these are all the essentials of a minimalist workspace and some other related themes that you can use instead of pure minimalism. I hope this guide helps you come up with new and improved ideas on how to uplift, spruce up, and reinvent your minimalist home offices with a lot of personality and flair.