This article contains affiliate links for which I may receive a small commission, at no additional cost to you, should you decide to make a purchase by using them. Learn More
It shouldn't surprise us that the Japandi style has taken the world by storm. After all, minimalism has become a lifestyle for so many across the globe in all shapes and forms.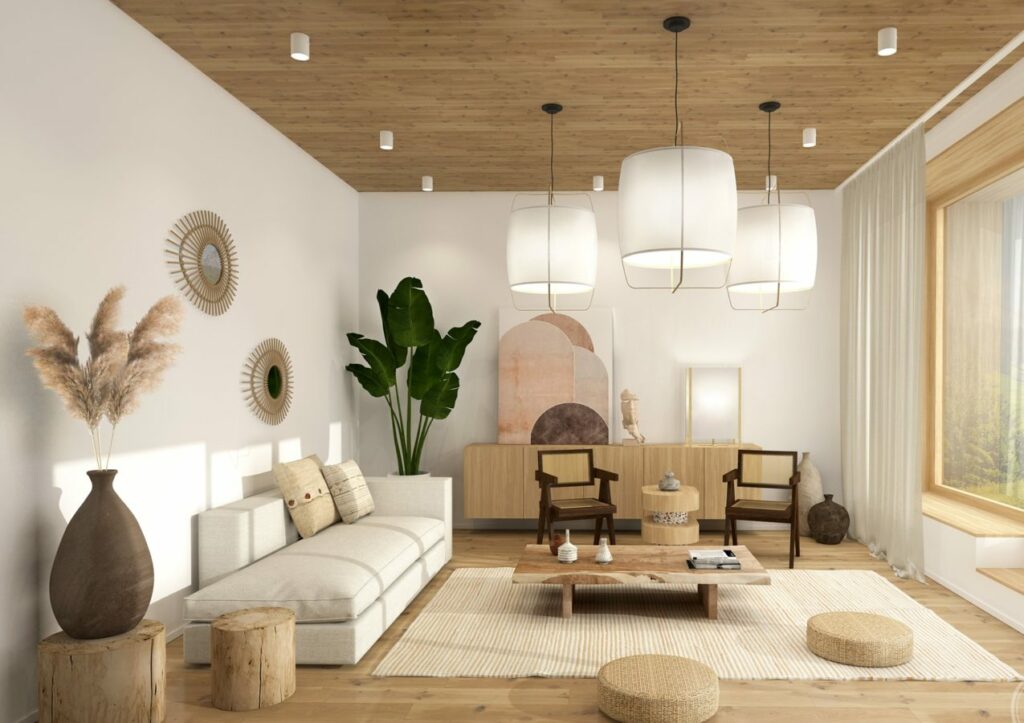 Only with the Japandi style of interior design, the basis of minimalism doesn't stem from the same source as you may think. With two cultures so far apart, it is intriguing how at the root of it all, both have the same sense of value and simplicity that guides them through life.
Japanese style and Scandinavian style both share attributes that make them so compatible. Clean lines, clean aesthetics, a subtleness in hue, a calm aura, and a love for all-natural elements—minimalism for both the Japanese and the Scandinavians, are essential in guiding them on the right path in life.
It encourages us to let go of all material things and instead convert our homes into clean, calming ecospheres where we can unwind, relax, and truly feel like we are away from the world. Both highlight the best points of minimalism, which is why it shouldn't come as a surprise that both have become a force of nature in the world of interior and exterior aesthetics, coming together to form the Japandi style.
The Origin of the Japandi Style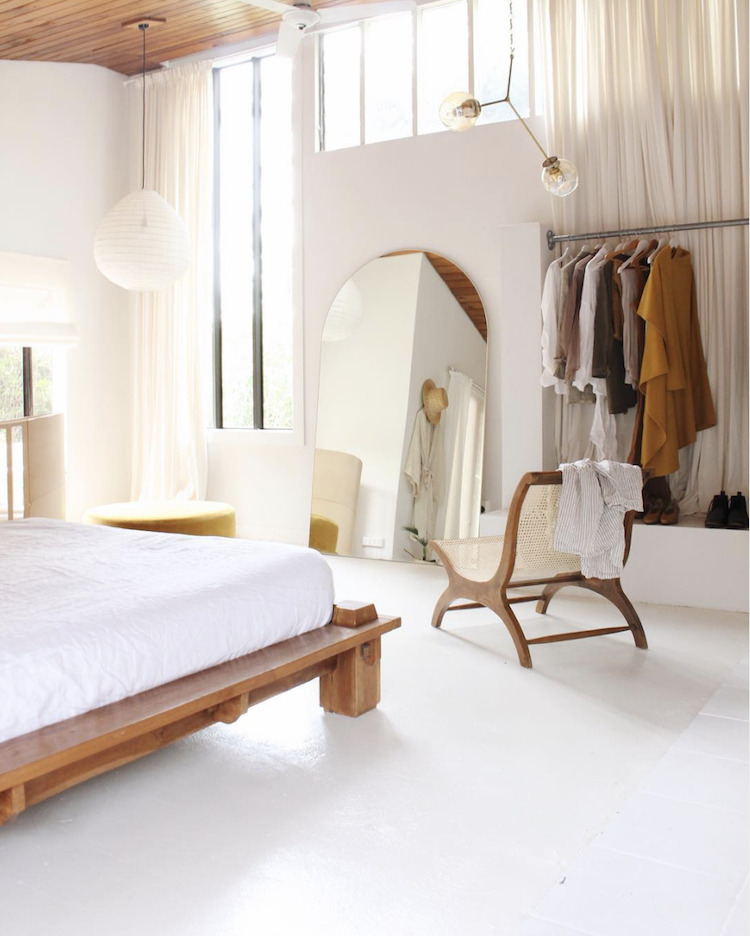 You could say that simplicity and minimalism have always been at the forefront in many cultures worldwide.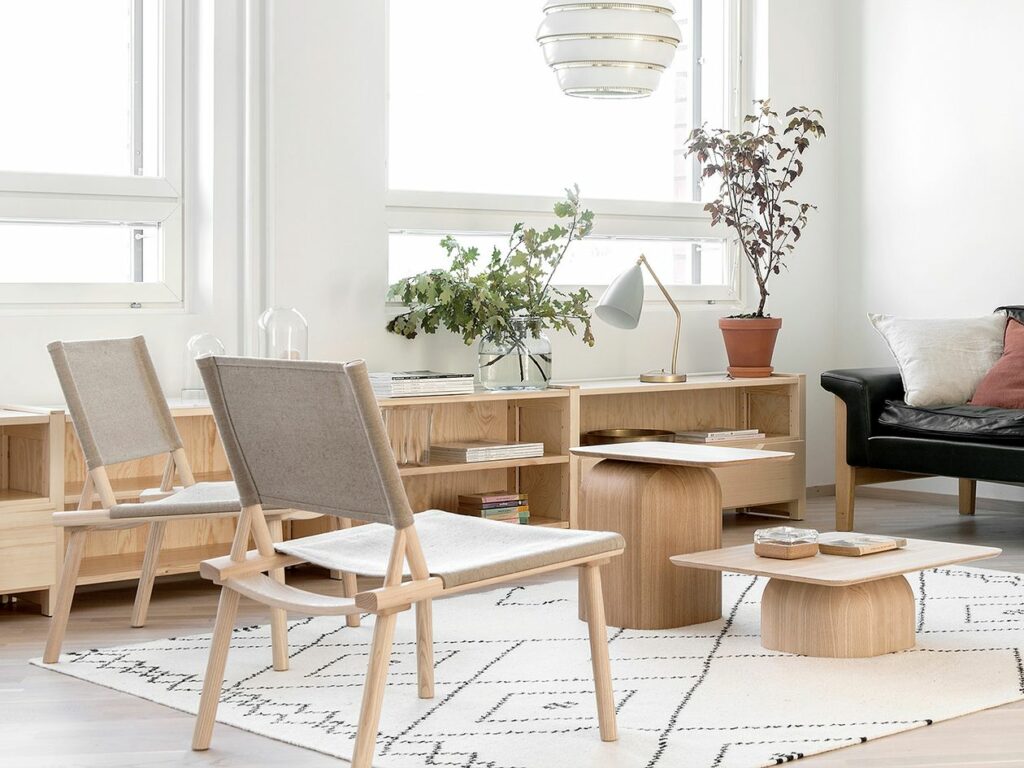 About 150 years ago, the Japandi style came into being because Japan's cultural ties with Denmark allowed both countries to take advantage of the designs, art, and architecture each had. It was a source of inspiration for many, and as artists from both countries continued to seek guidance from the craftsmanship both presented, we began seeing a new wave in the design world begin to take hold.
Denmark's Hygge philosophy showed a deep appreciation for the concept of simplicity and comfort, whereas Japan's Wabi-Sabi philosophy encouraged appreciating beauty in incomplete and imperfect forms of nature.
Eventually, both combined to form an aesthetic style that we know today as Japandi Style. An art form that focuses on creating a warm, cozy atmosphere (from Hygge philosophy) while utilizing a functional home design that brought you comfort (from Japan's Wabi-Sabi style).
However imperfect it may be, the Japandi style accomplished perfection by finding happiness in the most minimalist design.
What are the Elements of Japandi Style?
While minimalist in nature, the Japandi style focuses more on a simplistic home design that incorporates touches, textures, shapes, and more to make the home look more beautiful and personal.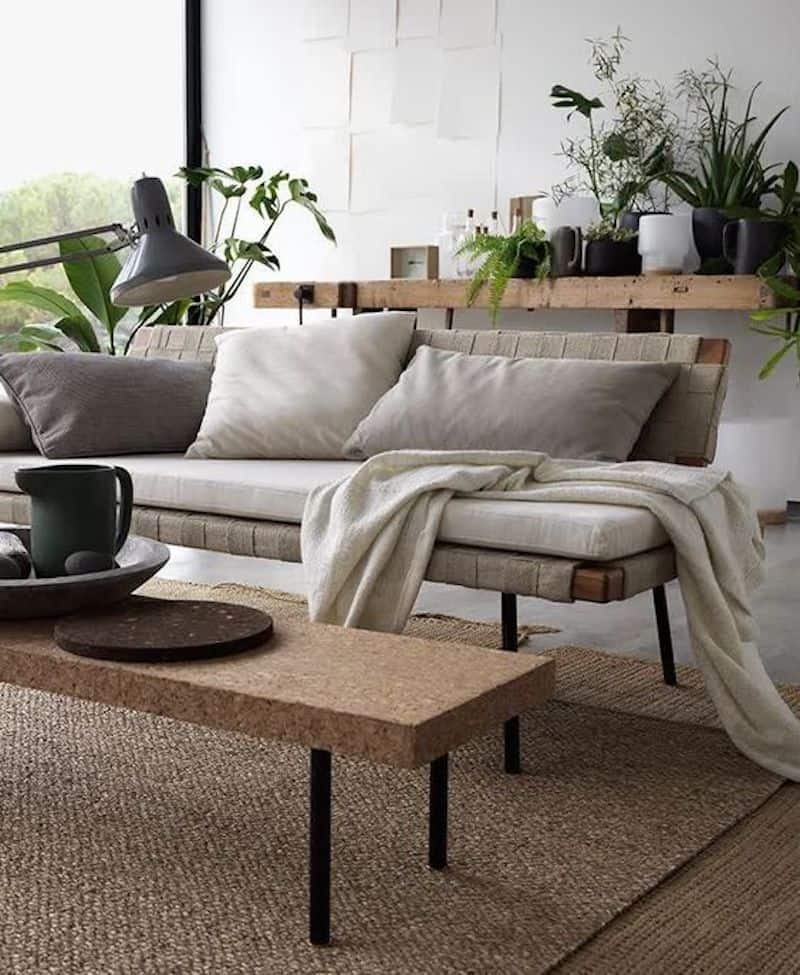 Japandi style depends on using clean lines, muted colors, natural elements, and sleek furnishings. But it also emphasizes craftsmanship above all else.
It enshrines quality and beauty over a cheap price tag and encourages all followers to take advantage of color and design in a way that brings them comfort. You can use bright colors as well, but those are meant to be used subtly.
Besides, the Japandi style focuses more on sustainability. Natural products and eco-friendly elements are the cornerstones for this home design aesthetic. As such, it's easy to see how the Japandi style has become more prevalent during a time when everyone is concerned about the impact we've had on Mother Nature.
How to Achieve a Japandi Style at Home?
If you understand the rules of minimalism, the Japandi style may not give you as much trouble. However, it will encourage you to experiment. And for someone who may not have an eye for aesthetics, this may be a challenge.
Nevertheless, this doesn't mean you don't have a chance at getting the ideal Japandi home. Here are some details on achieving a Japandi style for your home that will make things easy: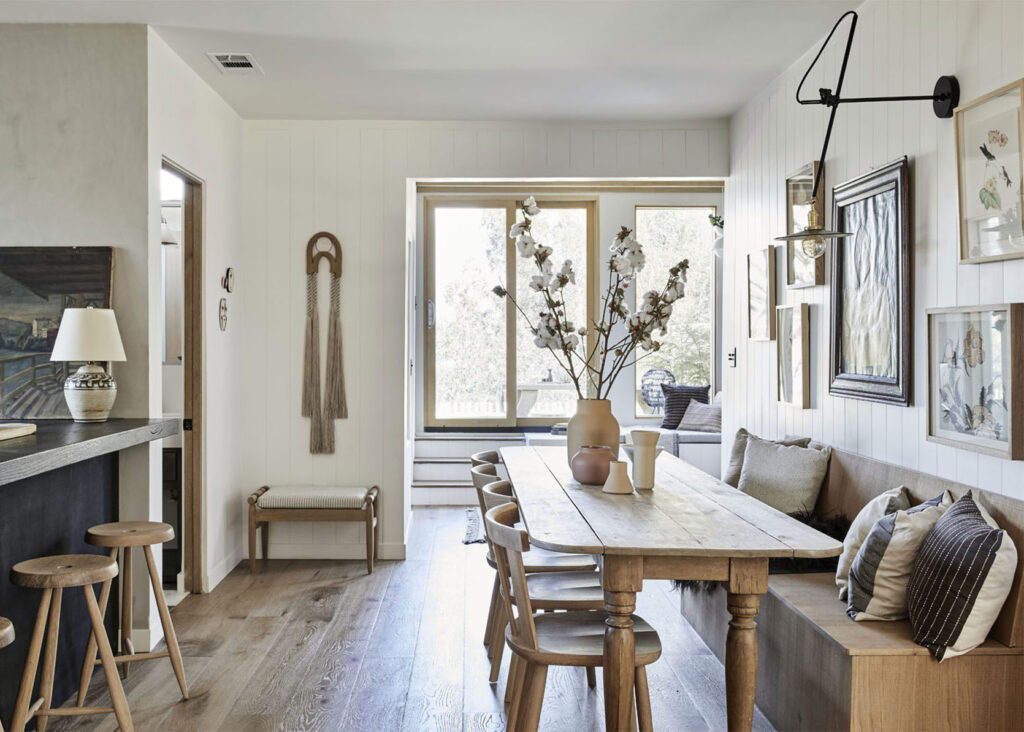 Keep Things Clean
Minimalism dictates that your home should be clean and free of any clutter you don't need. Start by following that rule.
It doesn't mean that you should sell off all of your worldly possessions. But items like newspapers, unnecessary furniture, dead plants, unwashed mugs, old rugs and carpets, tarnished lamps—all of these will need to go.
The Japandi style asks for a clean slate, so you can get in touch with your innate style and turn your home into a perfect example. So, be brave and clean. Donate what you can and let go.
Make it Simple and Clean
The Japandi style favors simplicity.
So, while you may be tempted to purchase an intricate lamp or a marble imitation coffee table that looks like it costs a thousand bucks, it's better not to go down that path. Instead, focus on creating a more straightforward, less-cluttered space. Your home shouldn't force your guests to think about the price tag of everything you have in a room.
Your home is for you, not the rest of the world. Make it comfy, not magazine-cover-worthy.
Keep it Clutter-Free
No one wants to live in a stuffy house.
Clutter does add character to a room. But you can accomplish that same character by adding flowers or art that expresses your true nature. There's no reason to have piles of books, clothes, or other personal things strewn about. That only comes off looking messy, not homey.
Keep a storage box near the door in every main room of the house, and place your items in it whenever you have to. It'll keep everything in one place and will eliminate the mess too.
Use Natural Elements
Take advantage of every source of natural energy you have.
Don't flock your living room with lamps. Instead, change your drapes to curtains, and have the windows cleaned from the outside. Also, switch the color scheme to lighter shades in your home, so the dark color doesn't absorb the light.
Adding natural elements to a home can do wonders for your overall aesthetic. Switch bulky couches for wood chairs. If you have natural wood flooring, add a light-colored rug that complements the floor's dark hue. Add indoor plants and light-hued wood elements to the room. Add timer for your curtain tracks, so they open with the sunrise.
Your home aesthetic should have a connection with all elements of the earth; light, air, fire, sky, nature, and more.
Add Wood
The Scandinavian region and Japan experience rough weather conditions and have done so for a long time. Because of their history, both cultures have a sense of awareness for the power nature has and how it can destroy what we build. However, these cultures also respect how nature protects us.
In that sense, wood is regarded as one of the most potent materials we have because it keeps us protected from danger and damage and keeps us warm through its strength. That is why the Japandi style utilizes wood so much.
In terms of design, light oak is a favorite amongst followers. But you can also use different hues if the aesthetic calls for it.
Stick to Warm, Natural Textures and Colors
All-natural elements bring a sense of warmth and coziness to the room. So, why not use their textures to create a happy atmosphere?
Thatch-work, wicker, and wood grain are just some of the textures you can go with. Combined with the right colors, you can create a truly magical environment that's comforting and warm.
Japandi style mostly utilizes neutral palettes, with contrasting colors from that Scandinavian touch added in to create a sense of balance. But, if you want to use pastel hues, there's no reason why you can't do so. Use contrasting dark hues to break through the softness and neutrality of your home design. And add metallic touches through decoration to give the room some character and personality.
Use Eco-Friendly Alternatives
Sustainable furniture made from bamboo, indoor plants for decoration, curtains made from sustainable cotton, even using secondhand furniture works for this clause.
Using natural elements in all matters is a significant concept in Japandi style and design. Advocate for local materials and use eco-friendly materials for all things, whether it's a work table or the face wash you use every day. And if it's possible, sell your existing furniture for options that would serve you well in the future.
While it may seem like a big hassle now, you'll thank your past self when your solid wood bed lasts decades when you know your wrought iron bed would have not.
Value Craftsmanship and Quality
Price is never a factor in Japandi style.
That doesn't mean you should buy the most expensive piece of furniture there is because it's beautifully made. But it does allow you to give a chance to some older pieces of furniture that you know deserve to be revered in all their glory.
Search for old furniture or secondhand furniture online or in flea markets. Look for designs that speak of their age and products that have retained their quality. You'll feel much happier knowing you're giving a beautiful piece of furniture a second home.
Exercise Your Green Thumb
As stated before, the Japandi style cherishes natural and all related elements, and that, of course, includes plants.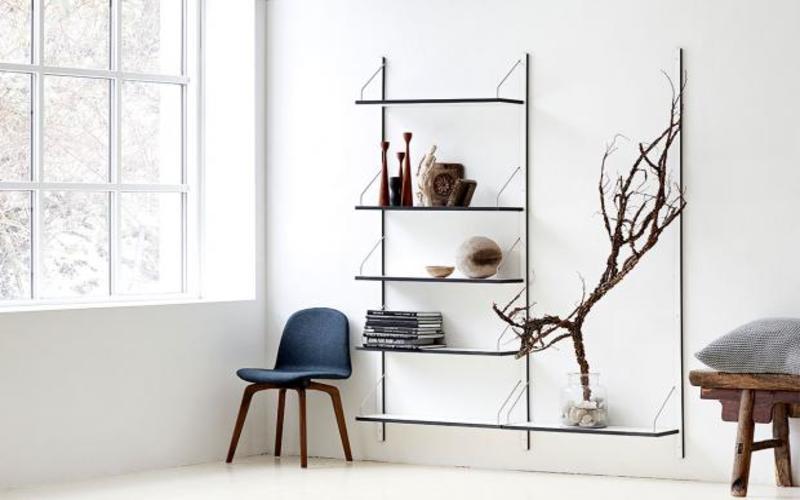 But before you head to your local nursery, check which plants would look best with your indoor aesthetic. You'll find many available such as the snake plant, monstera, ficus, and succulents. However, if you're going for a more elegant aesthetic, hanging plants such as English ivy, spider plant, the string of pearls or string of nickels, bonsai trees, and bamboo would add the perfect touch of serenity.
Nevertheless, if you can't handle plants, the best option would be to invest in sustainable artificial plants and flowers and dot them around the house to add a bit of color to the mood.
Get Down and Low
This is the minimalist touch in the Japandi style that Japanese Zen design is so famous for.
By lowering your furniture's height, you create a sense of flow and symmetry. Other items such as planters and lamps allow the eye to travel to different heights, but with all the furniture at one level, the room looks less cluttered and more organized.
Pair that with the right source of light and open windows, which adds a touch of harmony that you won't achieve with your average Edison bulb.
Choose Functional Accessories
True minimalism takes away all design elements and decoration, allowing you to focus only on your surroundings' symmetry and neutrality.
With Japandi style, you get to add a touch of personality to your home by adding accessories, décor, and color that speaks to you. But this does not mean you can buy that herd of ceramic elephants you had your eye on.
The Japandi design celebrates the art of practicality through design. So, stay true to it. Only keep or buy things that serve a purpose. For decorative ideas, use ceramic planters and patterned rugs or throws to create a contrast of texture. And experiment with deep tone hues with neutral hues to add that kick of color.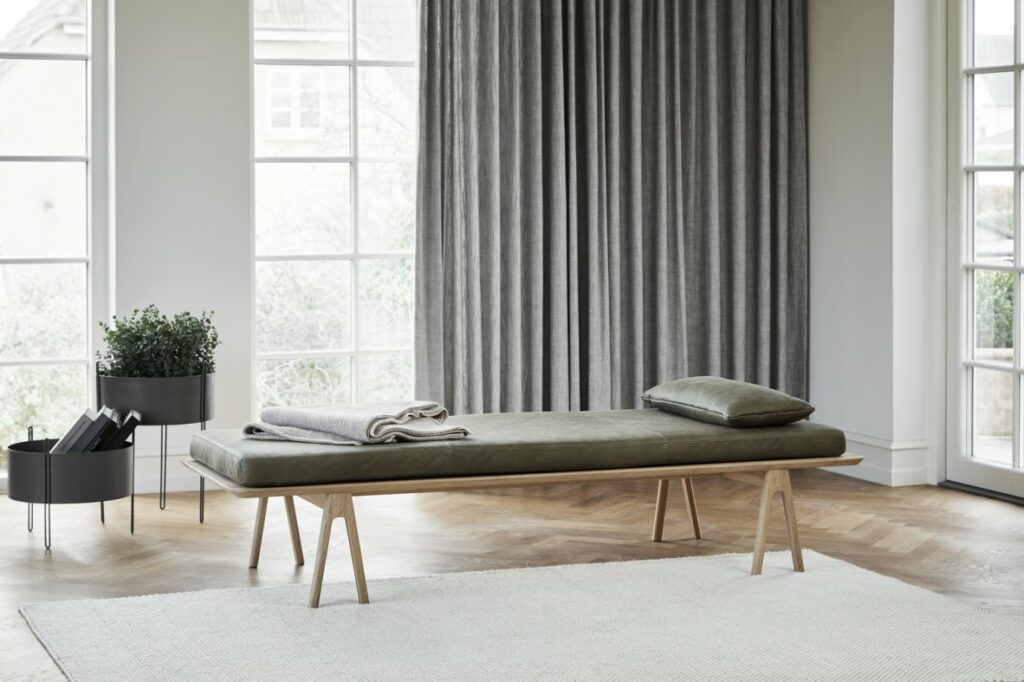 Conclusion
The Japandi design trend is new to the world. But it is showing real potential at becoming a staple in the industry.
Combining two of the most excellent design aesthetics, the Japandi style has delivered us a hybrid minimalist look that satisfies all design lovers. There's no more harshness that some associate with minimalism. On the other hand, Japandi allows Hygge lovers to forego creating cushy, cozy home styles by only using what they want.
The Japandi style honors imperfection and authenticity. It celebrates simplicity and encourages us to seek beauty in craftsmanship. Furthermore, it enables us to seek the beauty within ourselves. The whole point of Wabi-Sabi and the Hygge philosophy is to search for inspiration through our creativity. And to throw away anything that clutters our home and our mind.
As such, you could consider this design style to be cleansing for the body and the soul. With a cleaner environment that envelops you in warmth, you not only feel cherished and loved, you understand that it's your creativity, aided by the Japandi style that allows you to live in a place you would be honored to call home.