This article contains affiliate links for which I may receive a small commission, at no additional cost to you, should you decide to make a purchase by using them. Learn More
A small planter can completely transform the impact of your interior designs. The sheer natural beauty and freshness of indoor planters are a great way to create a Zen atmosphere. If you've been wanting to try out your green thumb, but don't know where to start, here's a list of some easy houseplants to grow:
1. Rubber Tree
Rubber plants have big, waxy, lush green leaves and are one of the easiest indoor plants to grow. They look great in metal, porcelain, and even terra cotta planters. They're medium-sized and make beautiful statement pieces in most interior designs.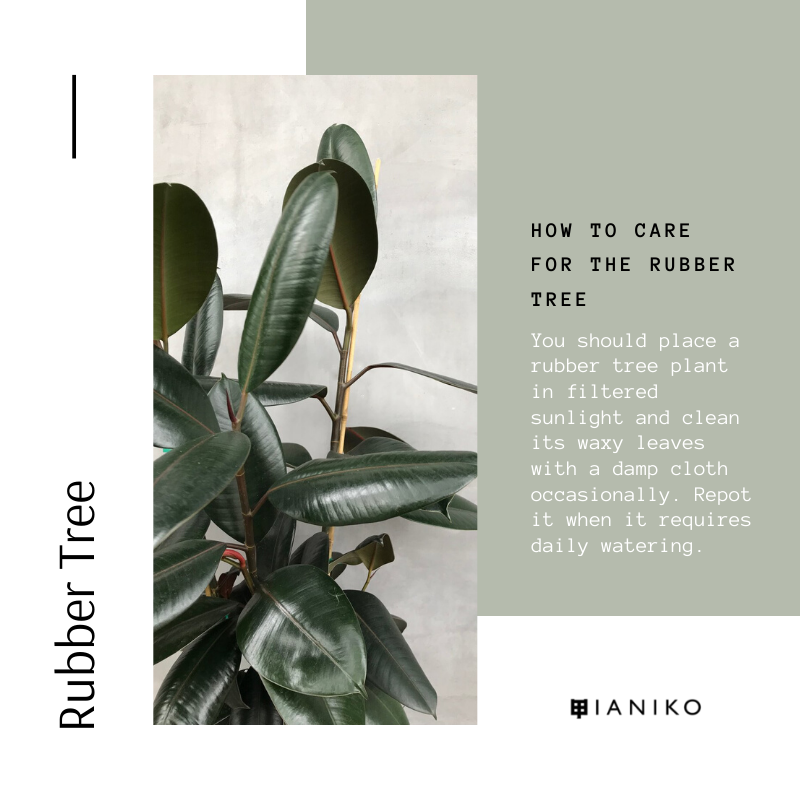 Why you want it
The most prominent reason to go for a rubber plant is that they are renowned for improving the air quality inside the house. This quality has actually been studied by NASA. The oversized leaves of this plant can absorb airborne chemicals and break them down. They also intake the breathed out carbon dioxide and convert it into oxygen.
How to care for it
You should place a rubber tree plant in filtered sunlight and clean its waxy leaves with a damp cloth occasionally. Repot it when it requires daily watering.
2. Jade Plant
Jade plant is a beautiful succulent that is also very easy to care for indoors. It's got beautiful jade-colored leaves and blooms with gorgeous pink/white-hued flowers in the spring. This plant would look stunning as a statement piece in the center of your coffee table or window sill.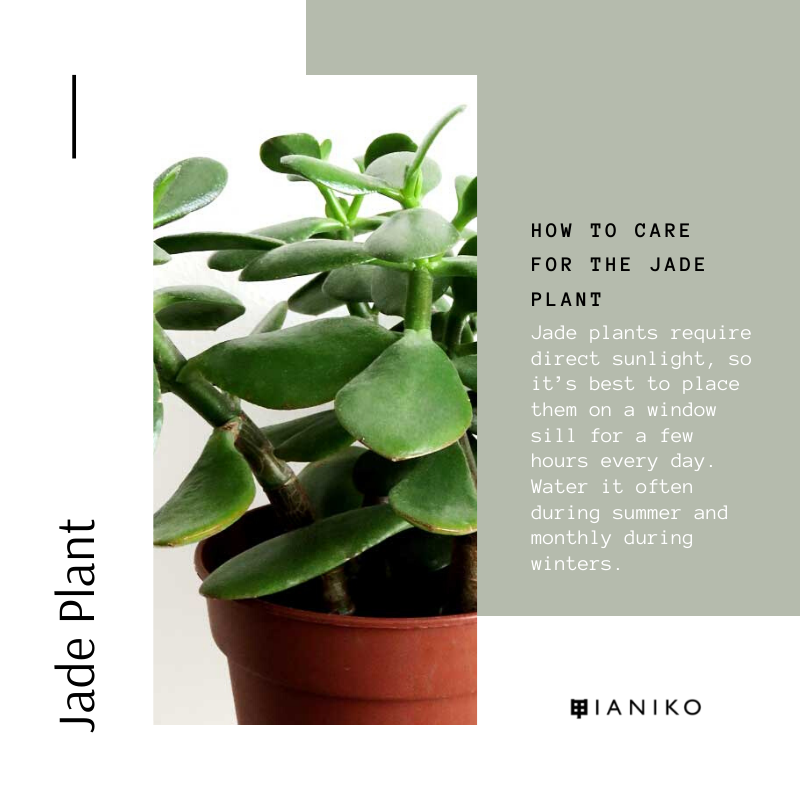 Why you want it
Feng Shui aficionados believe that the jade plant is excellent for enhancing the positive energy of a house. In more practical terms, this plant is famous for its healing aspects. It is known to help with nausea and warts, among other things.
How to care for it
Jade plants require direct sunlight, so it's best to place them on a window sill for a few hours every day. Water it often during summer and monthly during winters.
3. Dieffenbachia
This statement planter, with its oversized foliage, has stunning leaves that feature multiple hues of green. It immediately catches the eye and emulates a refreshing look in most interior designs. It will look the best if you place it in a classy Midcentury Modern style planter.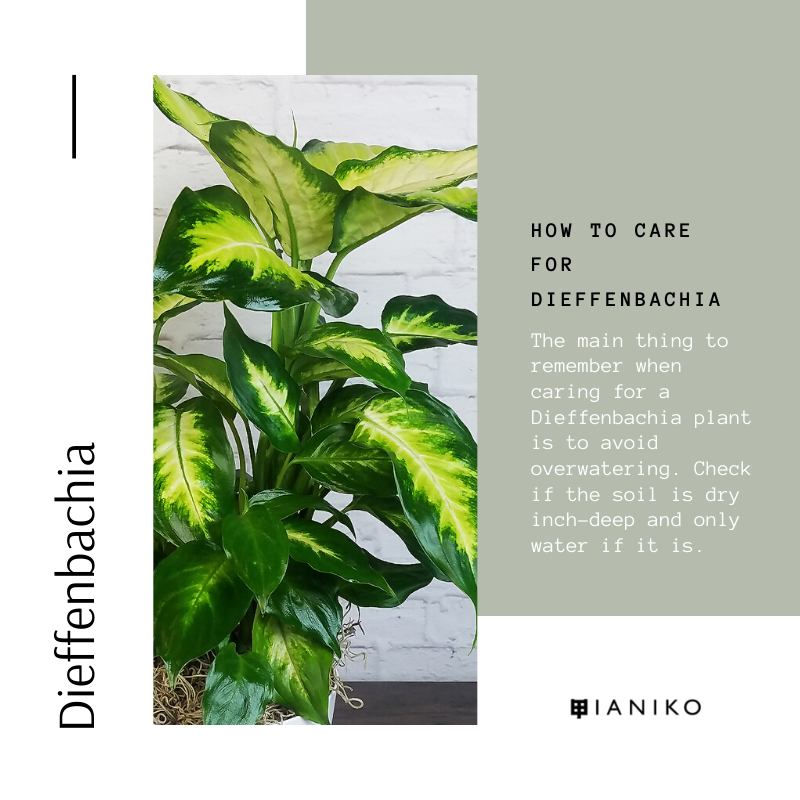 Why you want it
Aside from its gorgeous aesthetics, this plant is also an excellent carbon dioxide absorbent. It's a low-light plant, so it doesn't need extra maintenance via sunlight absorption. It can thrive in indirect lighting. It evokes a lush, tropical vibe and is perfect for improving indoor air quality.
How to care for it
The main thing to remember when caring for a Dieffenbachia plant is to avoid overwatering. Check if the soil is dry inch-deep and only water if it is. Place it in moderate and filtered lighting while making sure you continuously rotate it so that all of the leaves get an equal amount.
4. Asparagus Fern
This mossy green planter can become the highlight of your room, thanks to its beautiful texture. It's ephemerally green and would pair well with jewel-colored accent planters.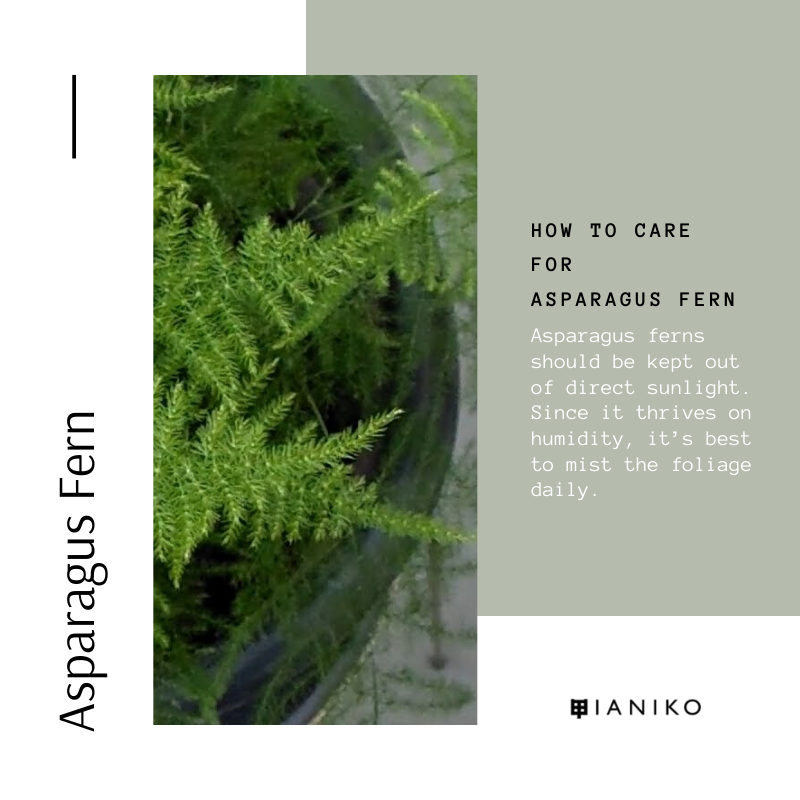 Why you want it
This plant's low-maintenance is its most attractive quality, closely followed by its robust foliage and lace-like leaves. Like all plants, it's good with improving air quality while providing an excellent aesthetic look.
How to care for it
Asparagus ferns should be kept out of direct sunlight. Since it thrives on humidity, it's best to mist the foliage daily.
5. Spider Plant
Nature has rendered the spider plant most gorgeously. Its long leaves have a parrot green edge while the middle is yellow-white. These plants would make an excellent focal point for your window sill.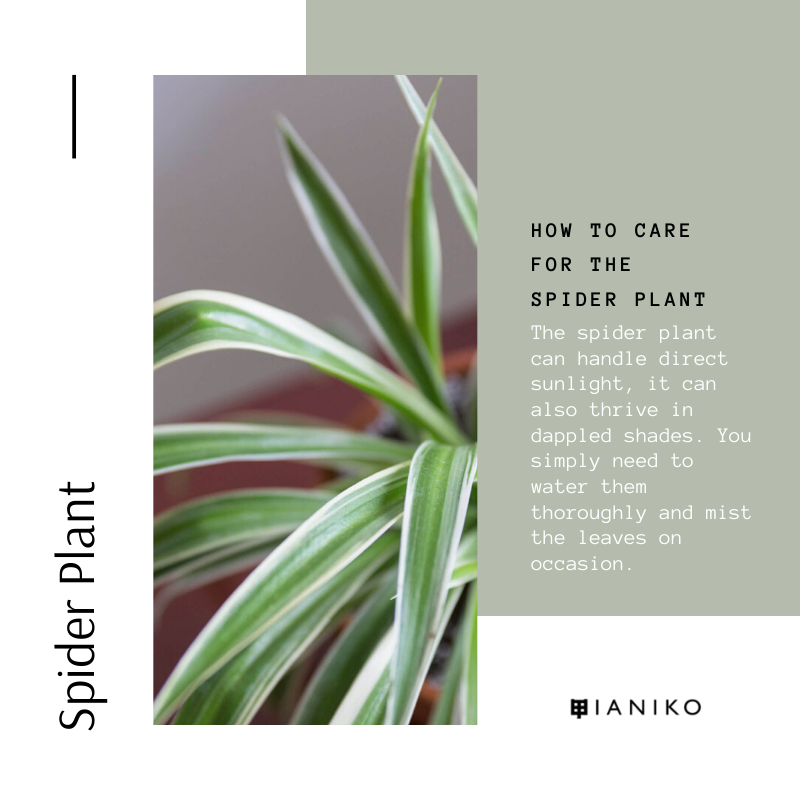 Why you want it
This plant is edible and non-toxic – perfect for homes with pets and children. But most importantly, it is excellent for purifying indoor air by absorbing harmful gases like carbon monoxide, formaldehyde, and xylene.
How to care for it
While the spider plant can handle direct sunlight, it can also thrive in dappled shades. You simply need to water them thoroughly and mist the leaves on occasion to maintain their sunny lushness.
6. Snake Plant
Snake plants have vertical leaves and are perfect for ramping up the drama of your room. You can place them on your window sill or use them as essential focal interior design elements by placing them on your coffee table, nightstands, or artfully arranged bookshelves.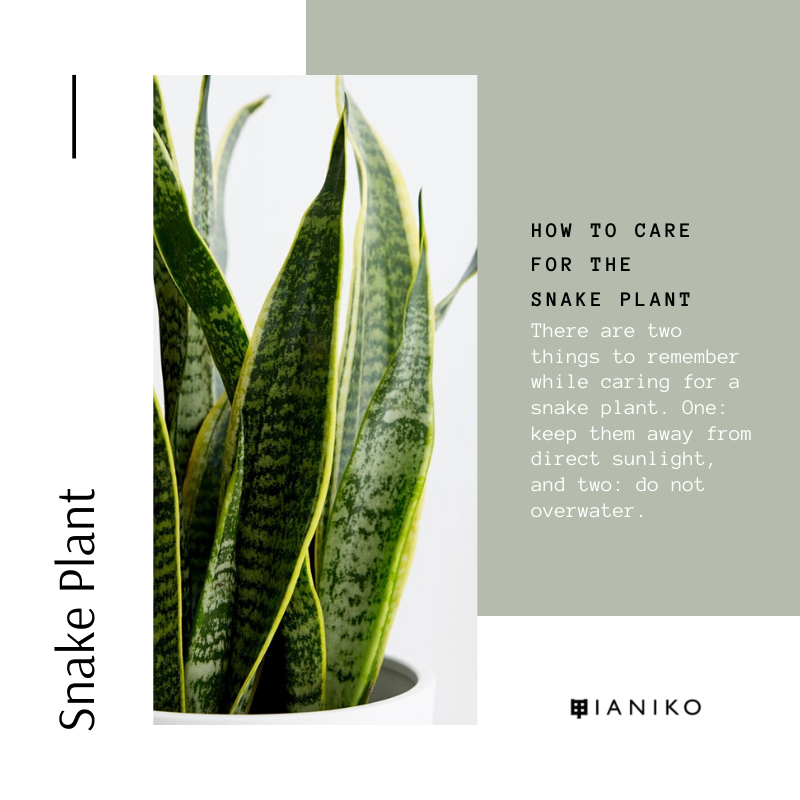 Why you want it
This plant emits oxygen and absorbs toxins from the air, so it's a great way to filter indoor air. It's one of the few plants that are known to convert carbon dioxide into oxygen at night, instead of the other way around.
How to care for it
There are only two things to remember while caring for a snake plant. One: keep them away from direct sunlight, and two: do not overwater. This plant is hardy, so it mostly takes care of itself.
7. Peperomia
The stylistic leaves of this plant are perfect for emulating a trendy, refreshing vibe in your home interiors. You can place them in tiny statement planters and feature them on coffee, dining, or end tables for maximum visual impact.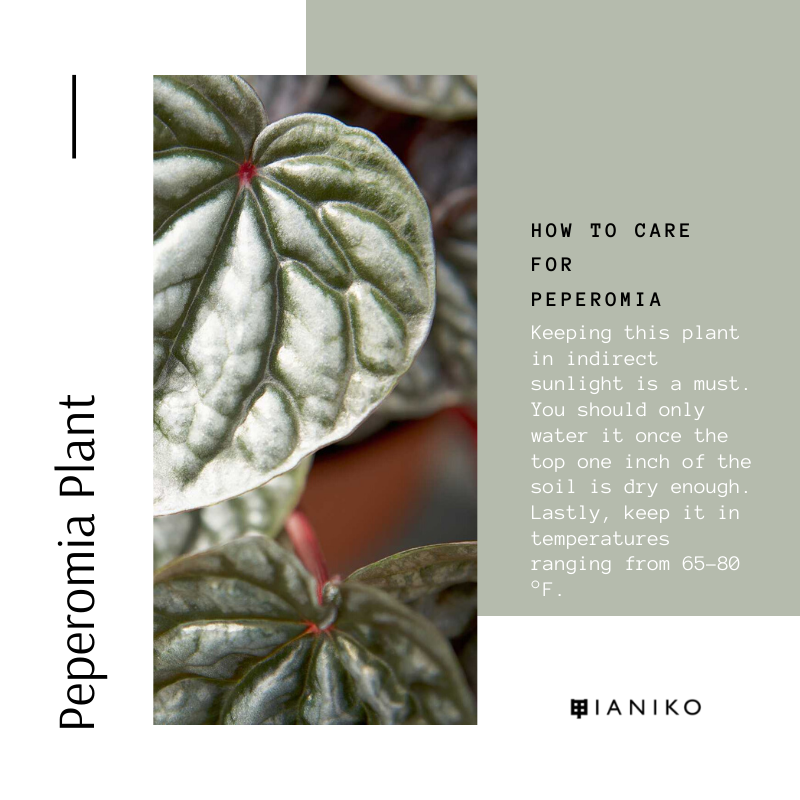 Why you want it
Aside from its amazing air-purifying qualities (that include reducing the amount of formaldehyde indoors by 47%). The peperomia plant also has several medicinal advantages, which include treating headaches, acne, and joint pains.
How to care for it
Keeping this plant in indirect sunlight is a must. You should only water it once the top one inch of the soil is dry enough. Lastly, keep it in temperatures ranging from 65-80 °F.
8. Areca Palm
This indoor statement palm will make your interiors feel inherently tropical. The tall fronds, gorgeous green, and absolute lushness will transform your dry spaces into something beautiful.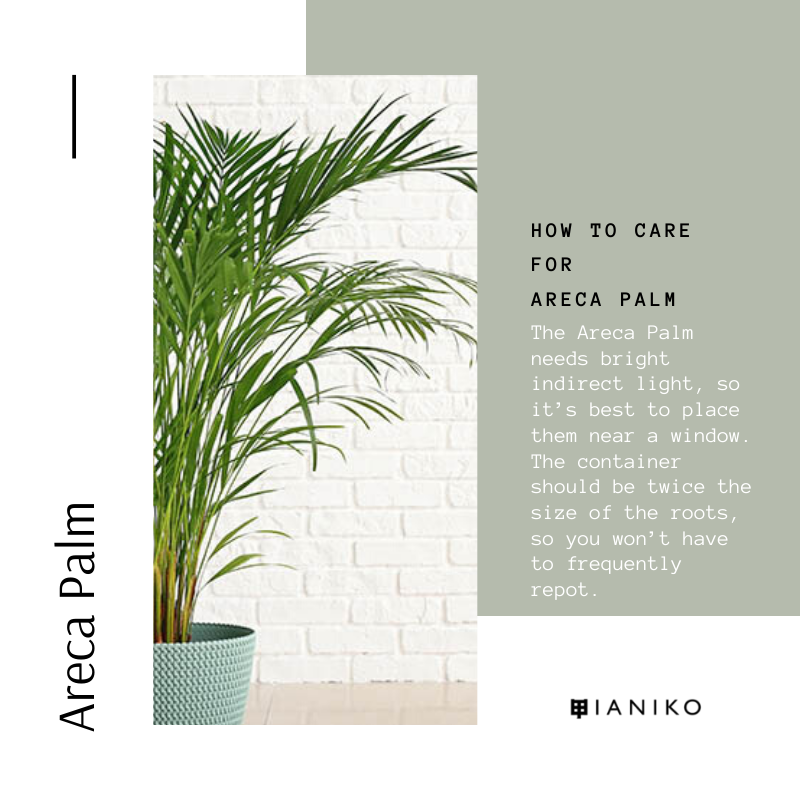 Why you want it
This plant is excellent with cleaning the air and removes toxins like acetone, xylene, and toluene, which are emitted by wood furniture and petroleum items. It is also known for strengthening the nervous system.
How to care for it
The areca palm needs bright indirect light, so it's best to place them near a window. Note that your container should be twice the size of the roots of this plant, so you won't have to frequently repot.
9. ZZ Plant
This beautiful indoor plant is a great way to emulate some fresh greens in your space. It's stylish, trendy, and makes an excellent focal point.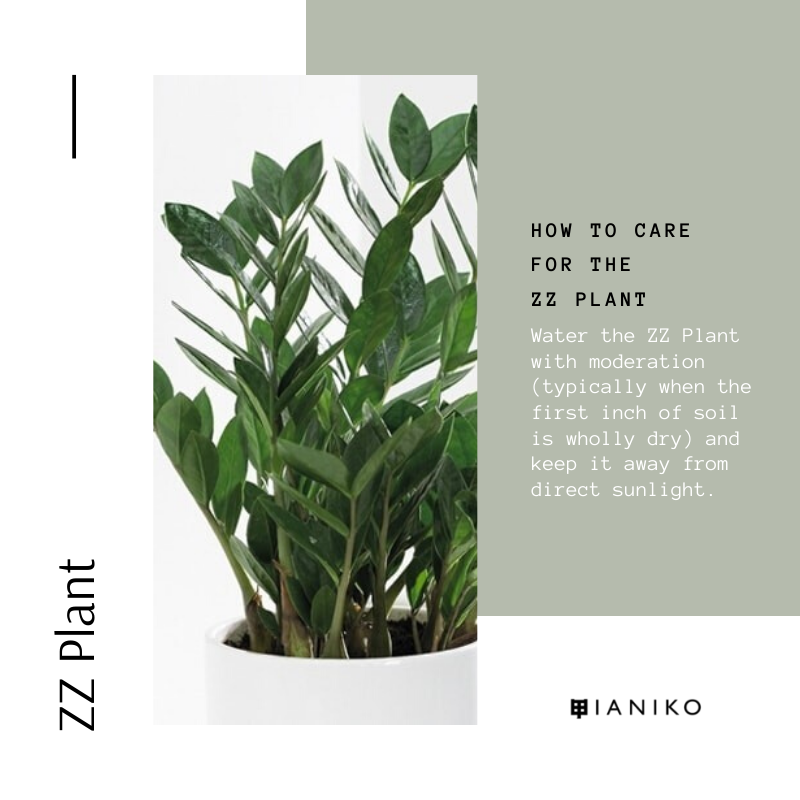 Why you want it
The ZZ plant is known for improving air quality by increasing oxygen levels and removing airborne bacteria. It also improves cognitive function, so it's excellent for decorating offices and work areas.
How to care for it
It's best to water the ZZ plant with moderation (typically when the first inch of soil is wholly dry) and keep it away from direct sunlight.
10. Ficus Plant
This mini-tree like indoor planter has a beautiful foliage, a tall stature, and looks great when put in a statement corner of an interior design.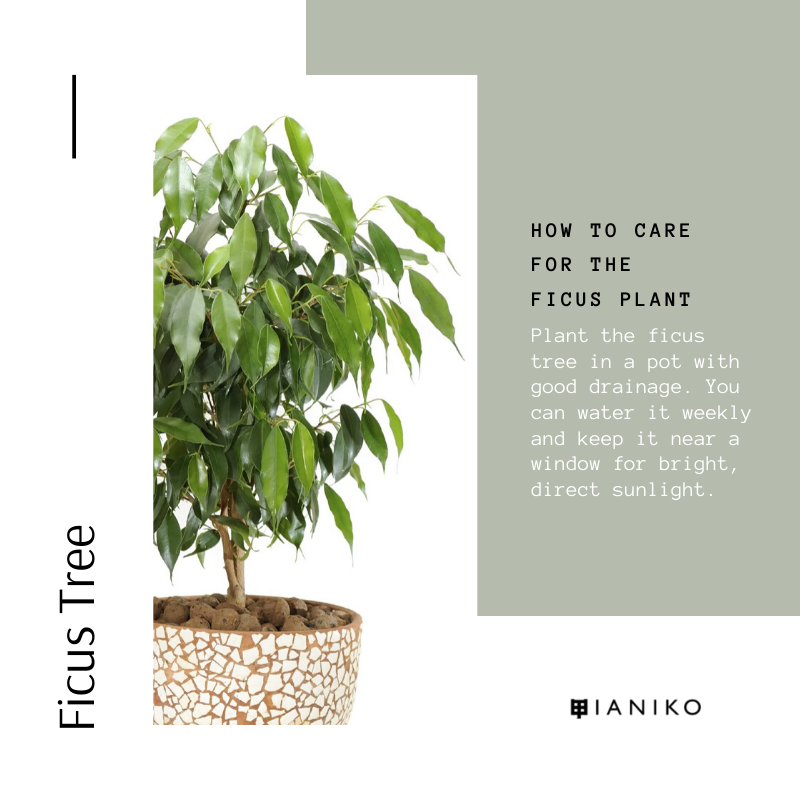 Why you want it
The ficus plant is excellent for filtering the indoor air as it is great for getting rid of formaldehyde, benzene, and trichloroethylene, which come with carpeting and treated furniture.
How to care for it
It's best to put the ficus plant in a pot with good drainage. You can water it weekly and keep it near a window for bright, direct sunlight.
We hope this little guide helps you select the perfect planter to spruce up your home interior!