This article contains affiliate links for which I may receive a small commission, at no additional cost to you, should you decide to make a purchase by using them. Learn More
Modern industrial interior design is a returning trend of 2020.
Brash, rough, ruthless, stark—if that's what comes to your mind when you think about modern industrial style, brush those thoughts away and think again.
Think about a distant future, perhaps in your living space!
~ Exposed brick walls, brass fittings in the kitchen, and a grey softly gleaming soapstone countertop. Shiny copper pipes run across the ceiling across the exposed ash hardwood beams. A deep red leather couch sits opposite a widescreen TV, fitted on an exposed brick wall. The fire burns bright underneath in an old-style fireplace, the metallic living room table sits prettily, adorned with a beautiful single rose in a geometric vase, flanked by succulents. ~
This interior design doesn't seem so unappealing now.
That is what industrial interior design is; a perfect marriage of practical minimalist interior design and a touch of beauty that only manifests when you turn a house into a home.
What is Industrial Interior Design
Even before Albert Kahn took the classic industrial design and turned it into one of the most influential and popular interior choices of the era, industrial design was typically seen in… well, industries.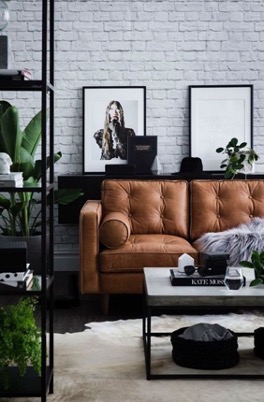 Factories were designed to provide as much safety and practicality as possible. And for that, a utilitarian design was born.
Gone were the small windows, frills, bells, and whistles. Instead, factories housed large windows, the bigger to let the natural light in. Flat roofs and attics were pushed out, and open plans were incorporated, stairwells sat at the buildings' side. Decorative details were pushed aside.
In short, buildings sported an unfinished look, but not so ugly that it would put off anyone with an eye for aesthetics.
During the early 1900s, Kahn streamlined steel and reinforced concrete into the designs for warehouses, factories, and industrial spaces. He made better designs for more efficiency and enough space so all the factory operations could be housed under one roof. The design starting becoming more pristine, cleaner.
As time moved on, and these factories made way for residents to take over in the 1960s and 1970s, the practical design that once made production so efficient started making life easier for everyday people.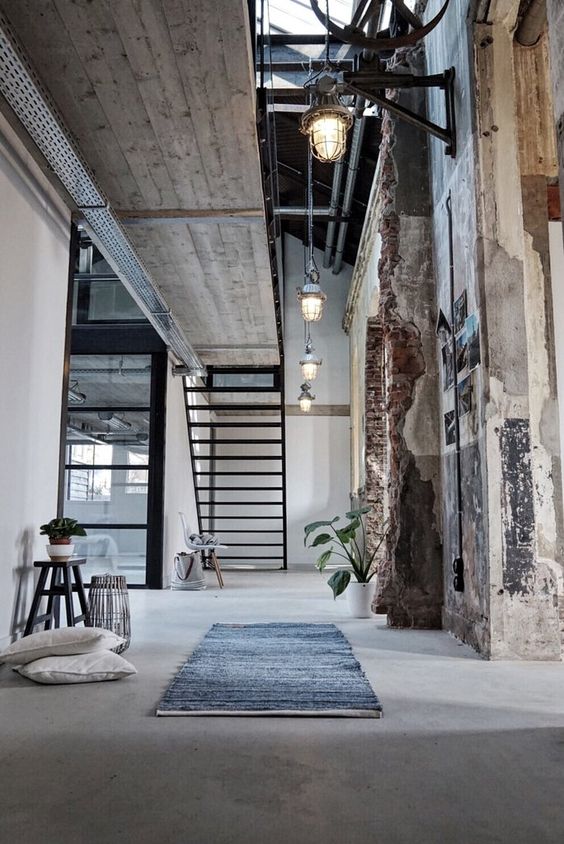 Pretty soon, people started incorporating design choices from the industrial style in a basic home interior. Recycling and using vintage furniture started trending among home designers. Geometric and clunky industrial piping became industrial chic.
And as people began adding their touches to the otherwise almost clinical interior style, the industrial interior design started making waves internationally, thus cementing its position as one of the most influential styles of the 20th century.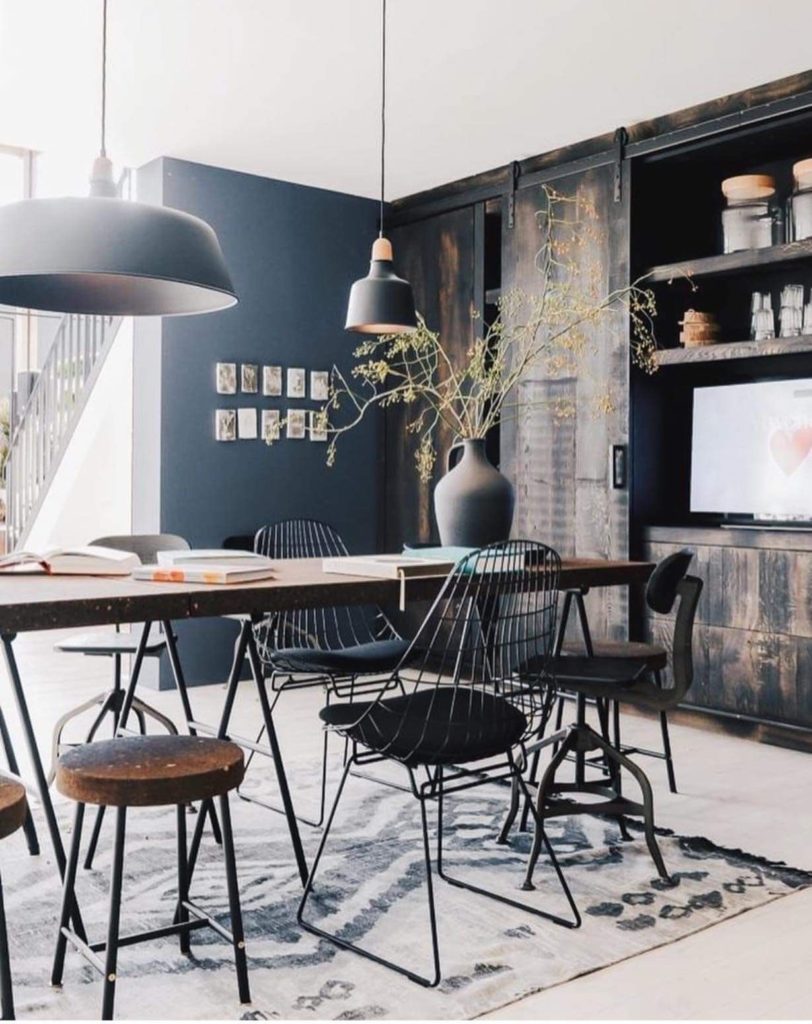 How Do You Achieve the Industrial Design Look?
Industrial interior design may seem intimidating to some. But it's far easier to achieve the look than you think.
Industrial chic combines feminine elements with masculine design features. That is how it achieves such stability in terms of interior design.
There's no exposed brick wall without the warm color of terracotta. There's no real balance to a minimalist living room's stark greyness unless you throw in a few reds, blues, greens, and pinks. And there's no way you can truly enjoy the beauty of an industrial-style room until you flood it with light from some Edison-style light bulbs hung from geometric, delicate lampshades.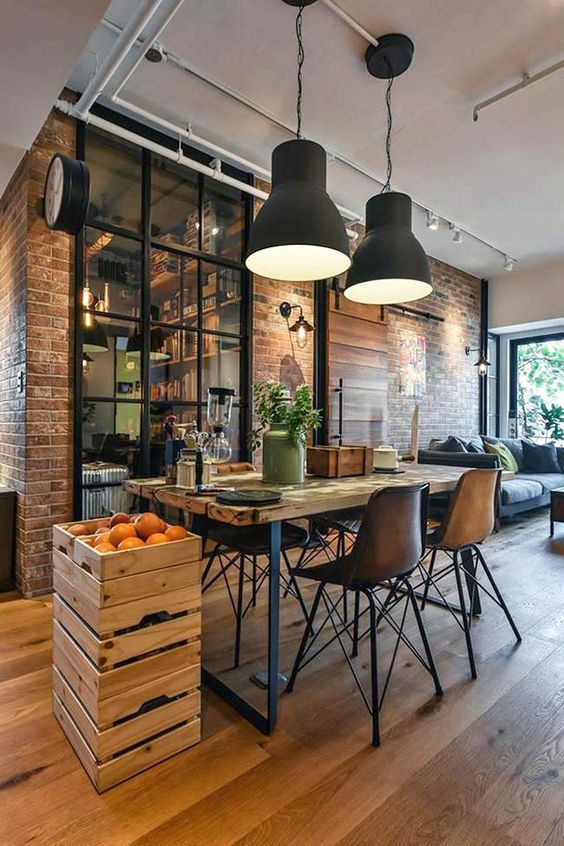 The industrial style offers enough leeway, so even if you don't have the slightest clue about industrial design rules, you still achieve an excellent result anyway.
Be Practical in Practice
The industrial style is all about creating functionality through design. That's what gives industrial interiors their distinct look. So, how you choose to accomplish that look is pretty simple; you downsize.
The industrial interior design encourages you to seek comfort in symmetry, uncomplicated lines, and simplicity. Follow that process. Discard any fussy elements like plush ottomans and statues. Donate any useless shelves, furniture, or trinkets that don't add character to the room. And switch rich colors and patterns for cool, neutral shades.
That doesn't mean throwing away prized possessions and homey touches. Industrial design prides itself on showing off splashes of color in the best way. So, if you have a couch throw or a teddy bear from your childhood, display it as you'd like. But keep the surroundings as minimal in texture as possible.
Use neutral design choices and colors for the overall look and present those splashes of color by offsetting them against the right background. Think of your home as a blank palette. Your personal belongings should jump out at you, not blend in. Present those items as the stars of the show.
Whether it's a couch from your dorm room or a precious find from a thrift store, make it stand out. If this means painting your walls a lovely duck egg blue shade, or even adding wallpaper, so be it. Remember to make a choice that would stand the test of time. It won't be convenient for you to change the wall color every few years because you aren't satisfied.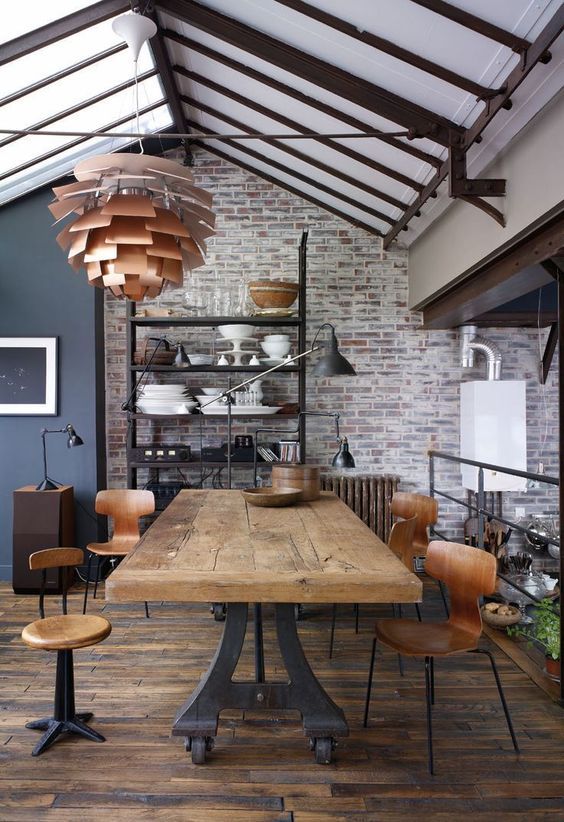 Experiment with Metals
Metal shades are vital components in modern industrial style.
Brass, pewter, and copper are particular favorites because they add character to the environment. However, if you don't have the budget to rip out that ceiling to show off your pipes, do not worry. Like it's stated before, you gain an industrial look by adding simple features. Instead of investing in any expensive expenditures, search for authentic vintage pieces instead.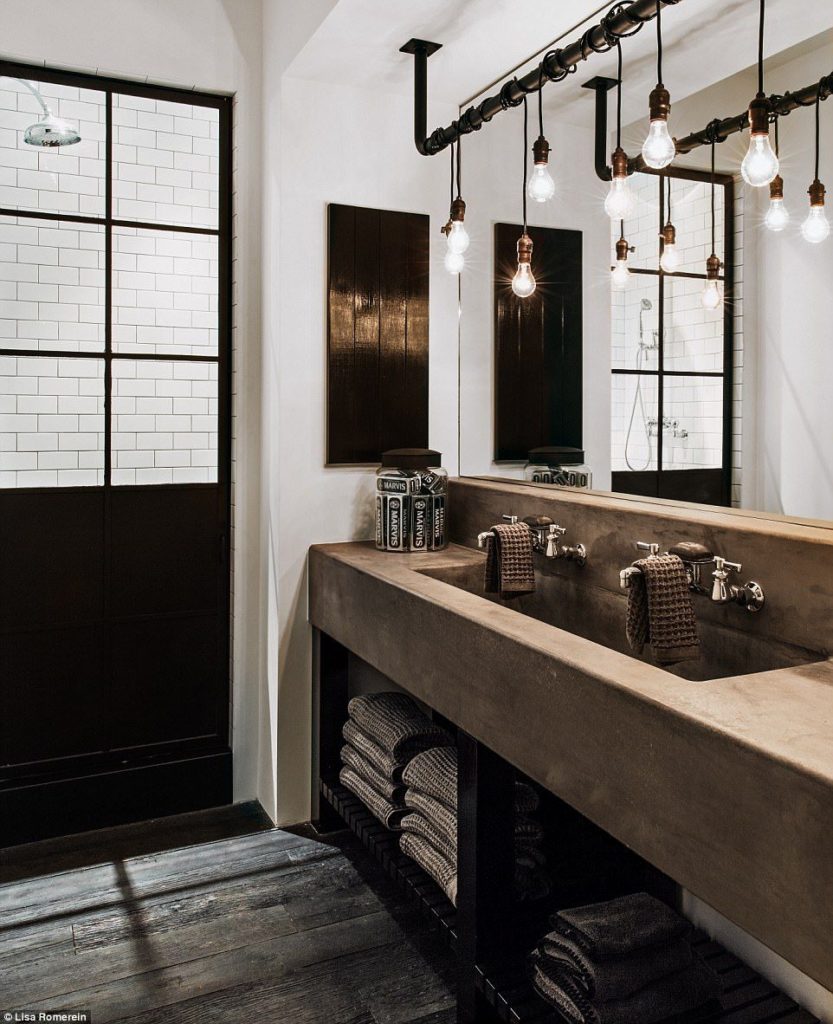 Vintage furniture, minimalist window dressings, old-style candle holders—even if this means painting your old, dingy furniture with a coat of copper, so be it. You can still have the comforts of home you already have. All that'll change is the exterior color.
Look for waterproof metallic paint cans, or better, buy small pots and brushes and try your artistic ability at upgrading something that already needs a facelift. If you succeed, you'll have the confidence to make other elements of your home more artistic and edgy.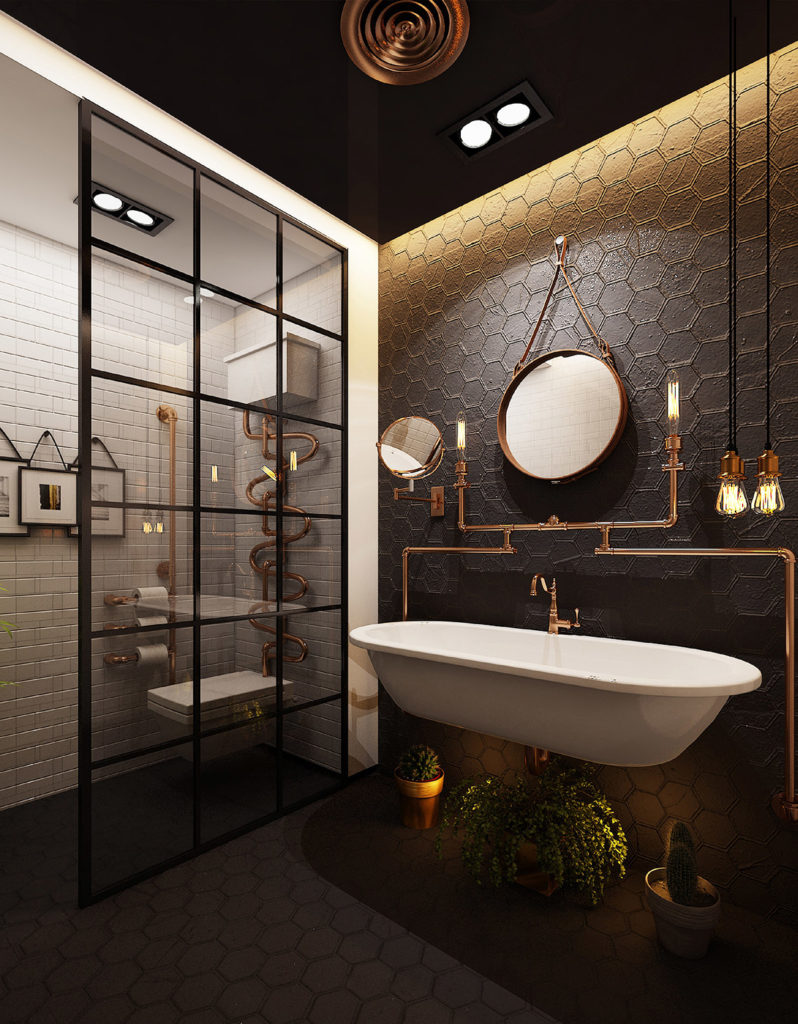 On top of which, every time you'll look at those pieces, you'll feel proud at having played a part in achieving the ideal industrial style look.
Go Au Naturel
Keep in mind; the industrial style depends mostly on natural elements.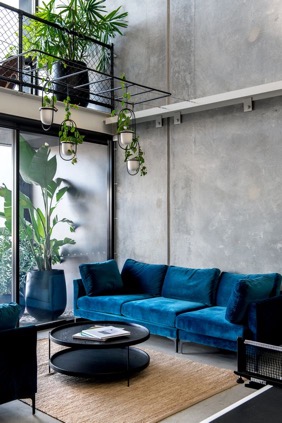 Large windows, open spaces—it's all about bringing the outdoor in and taking advantage. So, follow suit.
If you're one for the lighter look, remove all window treatments and let the sunshine in. In combination with wood and metal, use earthy tones and textures to give your space a more modern industrial look.
Potted plants, a vegetable garden, or an indoor greenhouse are just some of the examples you can go with. If you don't have a green thumb, though, there's no reason why you can't rely on artificial plants or brighten up the place.
Use floral vines and artificial succulents to add some color to the tables and the far corners of the house. Use flame- and heat-resistant artificial plants to wrap around any light fixtures that may seem a little empty.
There are plenty of ways through which you can take advantage of the natural elements. All you have to do is find the right resources.
Besides, if possible, swap your faux fur rug for a rattan rug, reuse older furniture and items and try to restore their beauty. Think twice before bringing anything new to the scene.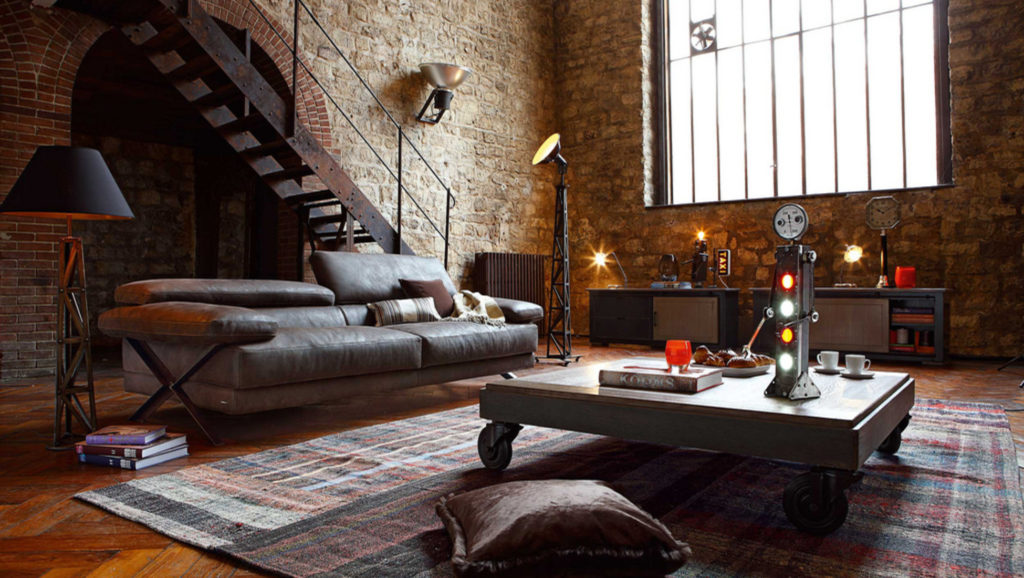 Embrace the Edginess of Industrial Style
When indulging in industrial style, it can be a little overwhelming at first to strip your home of all its plush comforts so that you can get to the bare bones. But that should not force you to give up.
Simplifying your home's design is almost purifying and cleansing in nature. It gives you the chance to throw away any element of mass-produced designs so that you can add your style to your home. Embrace that feeling. Once you strip your home bare, start by adding individual touches to add character to the room.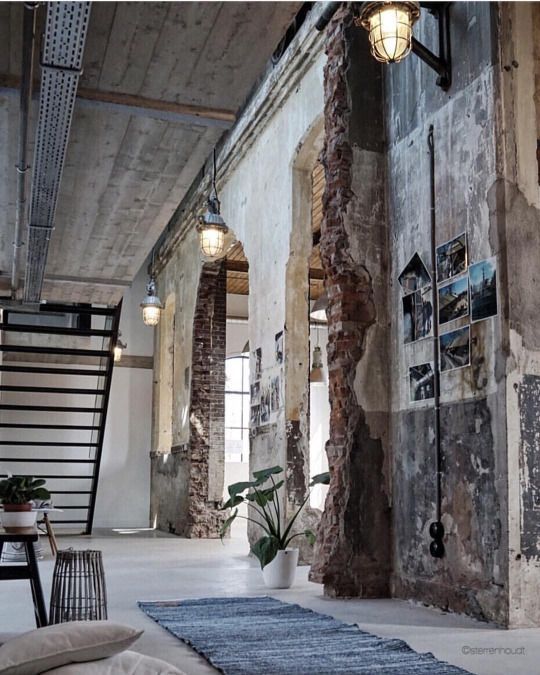 A great fact about industrial design is that it allows you to do away with conventional design choices. So, for example, if you don't want to hang the same floral drapes in your room as your mom did, there's no reason why you should. If you're going to hang long, gauzy curtains, go right ahead.
Industrial design allows you to accept and present your original style in the best way. The more unique your styling is, the better your home will look. Not to mention that whoever theme you go for—abstract, industrial, Scandinavian, vintage—this interior style will showcase it beautifully.
Add Character with a Statement
This is a simplification of adding a cherry on top of a perfect cake!
With industrial interior design, you get the chance to utilize it however you want. However, this style requires a statement piece that takes your home's interior to the next level. And that statement piece is vintage lighting.
Edison bulbs, industrial hanging lights, modern pendant chandeliers, AirGlass, and bamboo light shades—industrial light fixtures encompass a whole series of designs made with different materials. So, be adventurous with your choice. For example, add a magnificent statement chandelier that coincides in color with your metallic furnishings. Or a collection of small AirGlass shades with soft lighting to give the room a casual look.
However you choose to go about it, industrial style dictates that you take inspiration from vintage home décor rather than the modern contemporary look. After all, you want to have a sense of balance in your home's look. You can't have an ultra-modern light fixture and a wood-burning stove in the distance.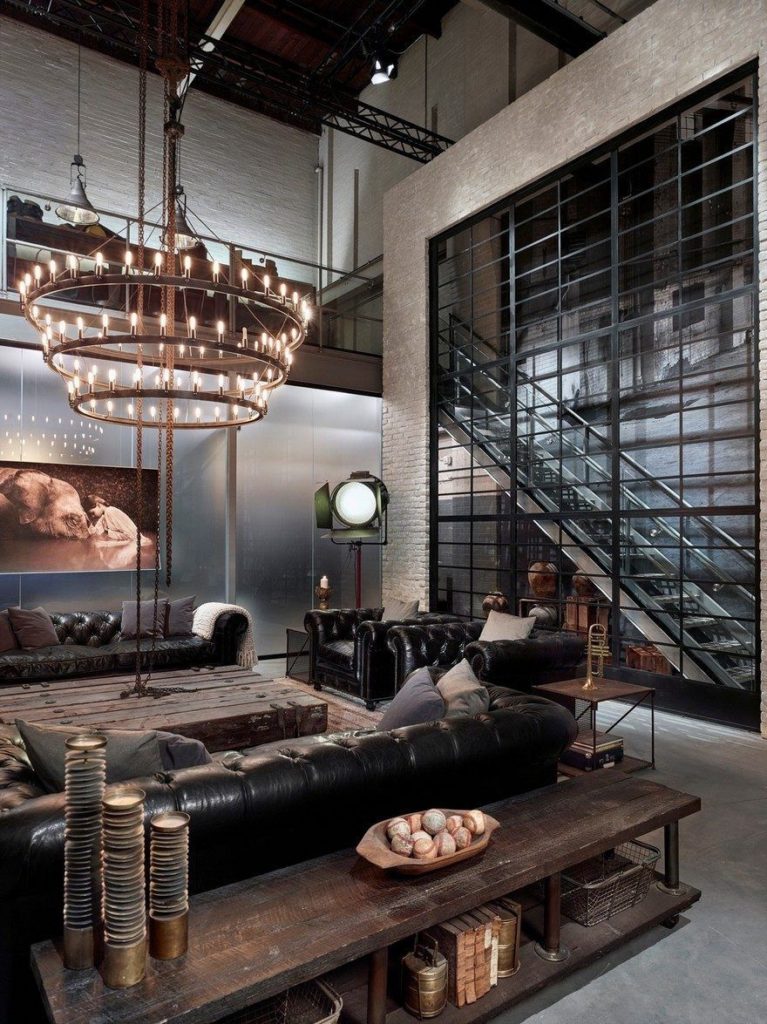 Don't Be Afraid to Use Color
By the name, you'd think that the industrial design would only permit earthy, warm, and cool tone colors like brown, black, grey, mauve, teal, and other watered-down versions of their brighter counterparts.
However, if there's one thing we know now, the industrial interior style does not dismiss the use of color to glamorize the space. Whether you're using brick, wood, or metal, there's no reason why you can't use bold colors to set the right tone for your home. The only thing here is that industrial design requires minimalism, even with color. So, while you're allowed to use scarlet pillows or an emerald couch, you shouldn't overdo the theme by adding gold throws and gold light fixtures, and bright blue planters.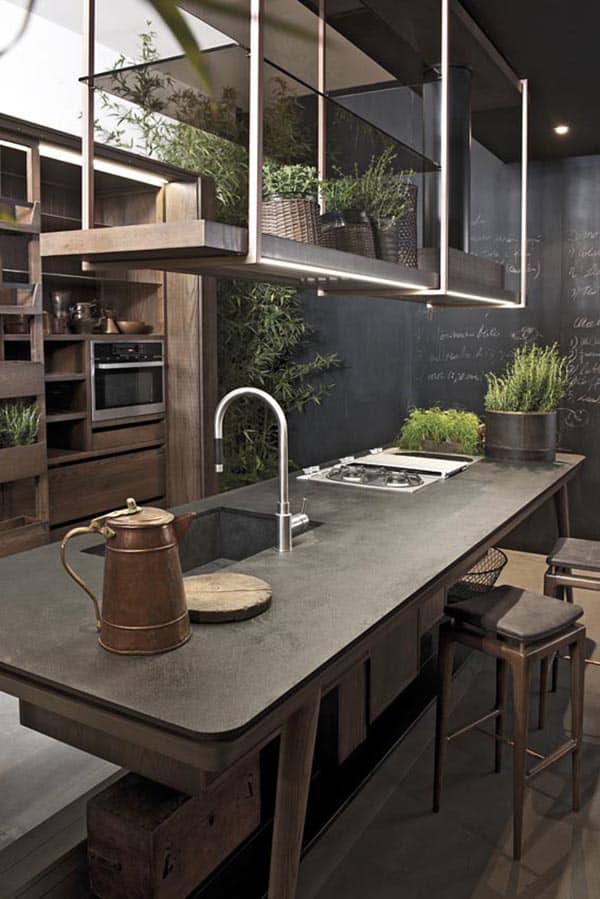 Industrial chic combines traditional interior style with modern, elegant elements. Its use of clean lines and features cannot be undone because you can't help but add more color to the look. Instead, limit your palette to 2-3 contrasting harmonious colors and use different shades to complement the metallic features' hue.
Utilize Exposed Brickwork
If you've ever been to New York, you know that exposed brickwork is all the rage in the city's interior design look. Exposed brickwork evokes images of warehouses and factories. It takes away from the luxury of textured wallpaper. Instead, it inspires the mind by showing the history of the place and how the bricks' strength has kept their home alive and well.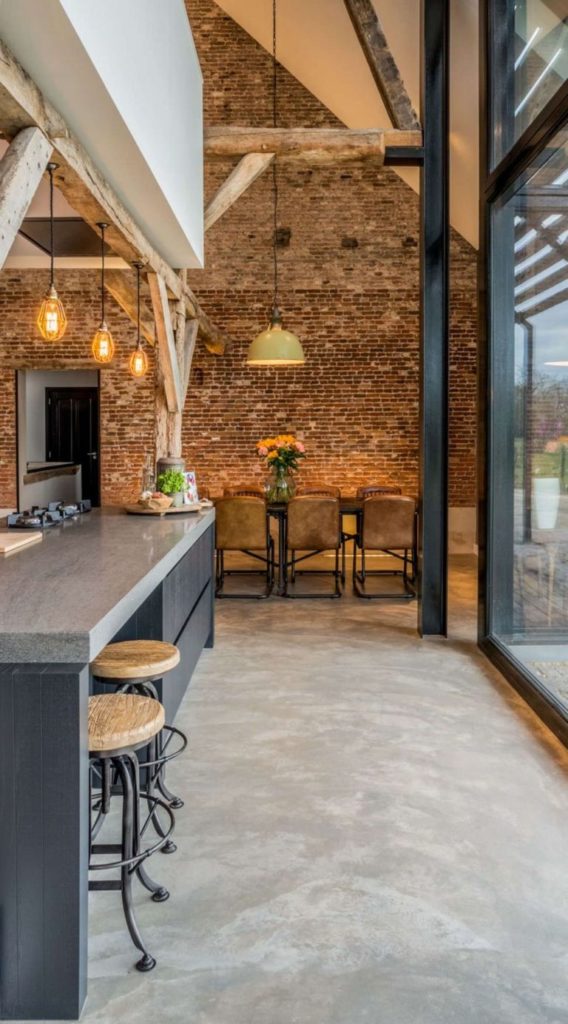 If you have exposed brick in your home, show it off by keeping it bare. While most would want to upgrade the piece by adding an art design or a satisfying painting, these additions remove the brick pattern's existing artistic energy. So, leave it be.
And if you're not fortunate enough to have a brick wall, don't go hammering the drywall in search of it. Instead, either use brick wallpaper to add the design or paint the bricks on yourself. It's easy enough to do. With the right touch and texture, it might just do the trick.
Reduce, Reuse, Recycle
We've already covered the reduction part of this three-step strategy. As for reuse, adding to your existing furniture is the best way to utilize what you have and save money alongside.
However, when recycling, do what you can to make most of the resources you have. For example, if you've thrown away a rusted wrought-iron bed, don't go around looking for an alternative that carries a hefty price tag.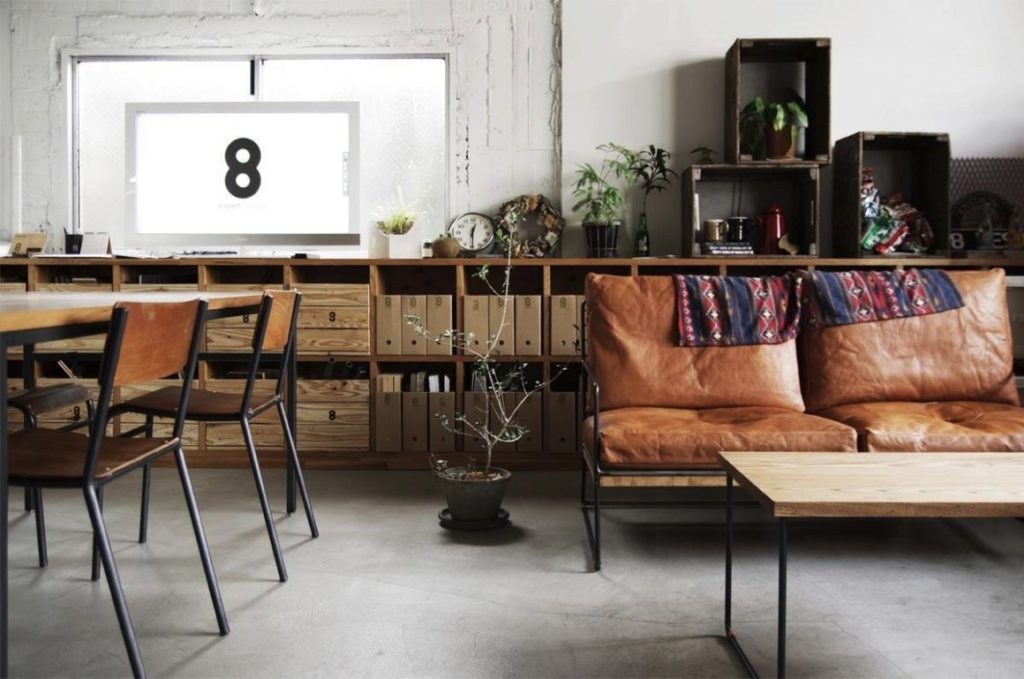 One man's trash is another man's treasure. So, take a deep breath, and start rummaging through second-hand stores and online stores for second-hand furniture that needs a home. Search for sustainable furniture or things that need a bit of touching up. Alongside, use your imagination and put cast-aside objects to better use. See a bicycle that's seen better days? Take out any components that may rot, like tires, and plant a climbing plant alongside it, so it twines around the bike's frame.
The idea here is to find value in things that others might discard. Even a faded, distressed leather sofa can look beautiful if you put it in the right setting.
Open it Up
As we know, the idea behind the industrial design was to open up the place and add all industry operations in one place. Follow the same strategy and bring those walls down.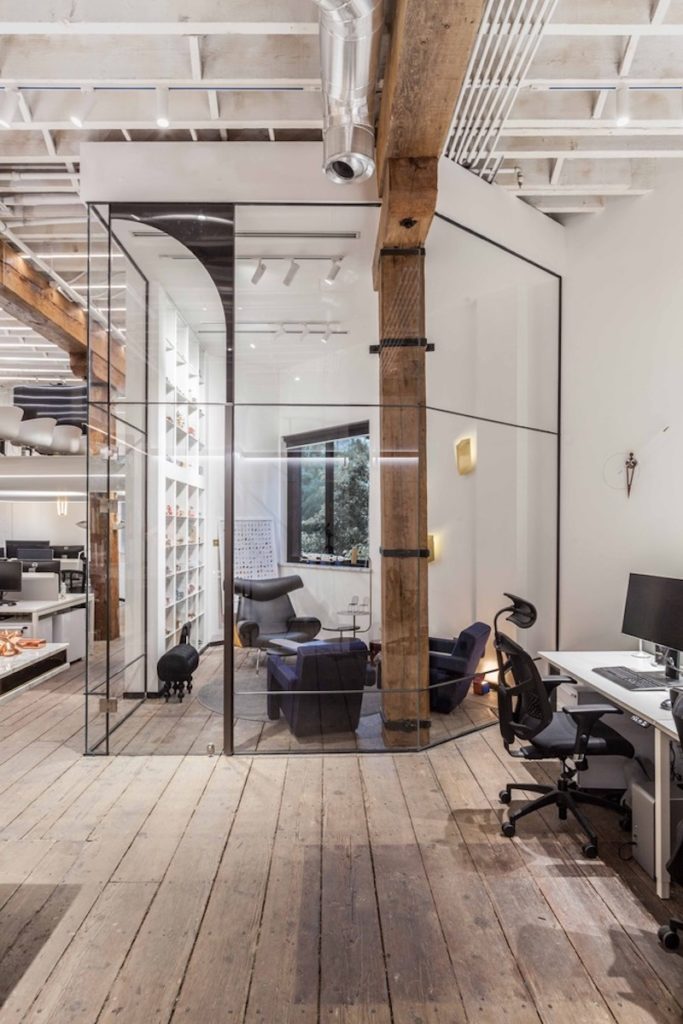 Industrial design takes advantage of larger spaces and allows free movement. With an expanse of flooring and an open layout, you get the chance to create zones in what was otherwise a restricted area. But remember that clutter is a big no-no. So instead of adding trellises or creating fake walls by hanging artificial vines, be practical.
Each zone needs to have a personality of its own. Use the bolder elements you already have, and add them to each area to create an illusion of a room. Squeeze in open shelving units to add privacy or a double-sided fireplace for a modern element. Sliding glass partitions are also a great choice if you want to divide the open-plan layout into different rooms. However, if the budget doesn't allow for any major renovations, zoning each room by styling it differently goes a long way in adding symmetry and character to the area.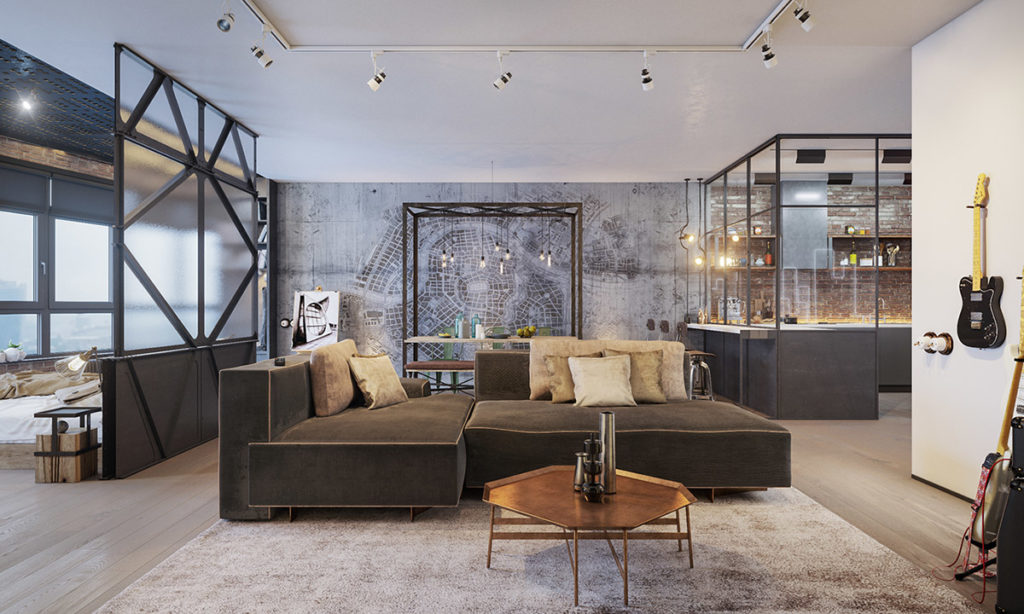 Style Ideas for a Basic Home Space—Starting from Scratch
If you're fortunate to have found a property with enough space to experiment, don't waste the opportunity.
Add a Modern Industrial Look
One of the most remarkable trends we've had in the past decade is stacked container rooms. Using recycled discontinued storage containers, architects and interior designers connect these storage containers and take out the sides, swapping them for glass to create open livable spaces.
If the space is large enough to place the containers inside, you can incorporate exposed piping to add the classic industrial feel. Pair it with concrete, exposed brick, bead lighting, and leather seating, and your home gains a life of its own. Throw in a jumble of plants to space, and you have yourself a magazine-cover-worthy living space.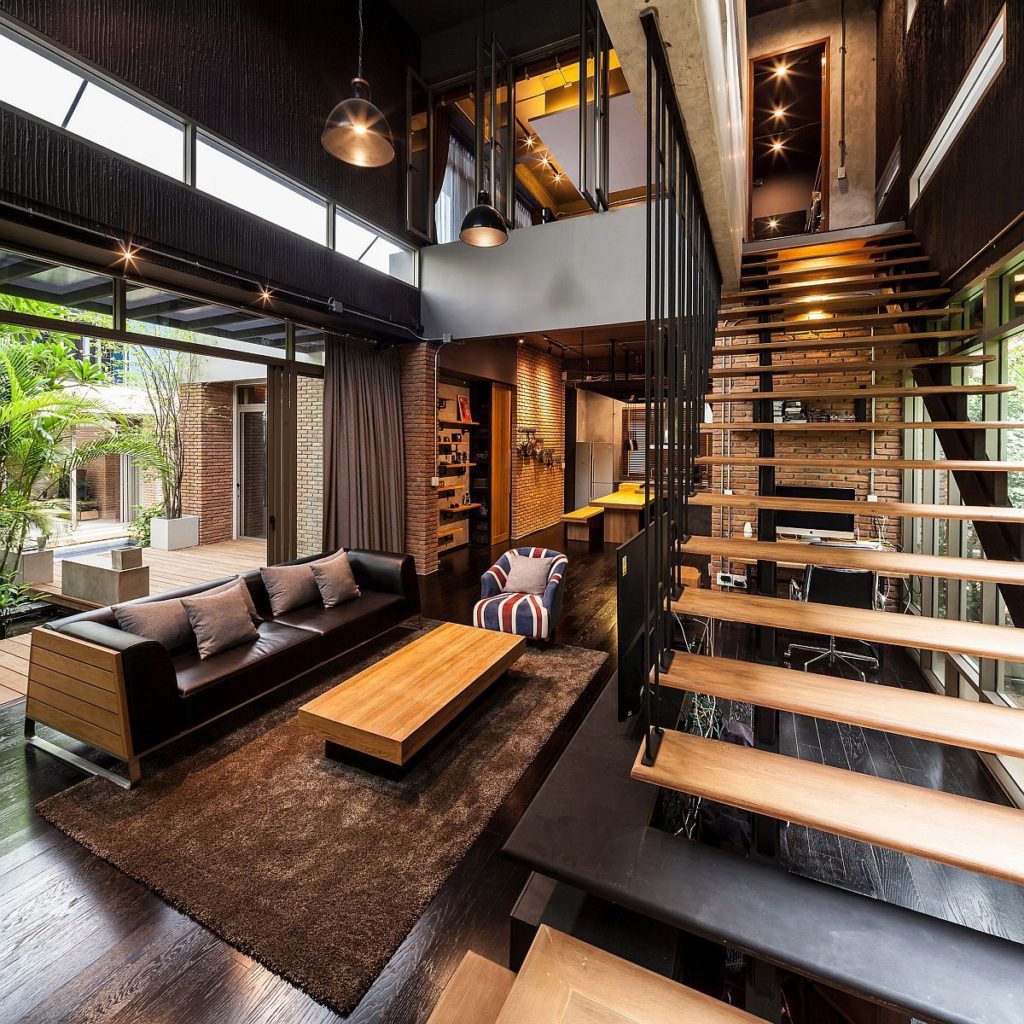 Most industrial spaces tend to be more vertically aligned. With recycled storage containers, you get the chance to have a double-level home instead of a single-level house. Use ladders and winding staircases to give the area a touch of Victorian design. If the piping is in the way, move the rooms to the far corners of the space. Create a center space that works as the living room, kitchen, study room, and more. Move the more intimate spaces upstairs, away from view.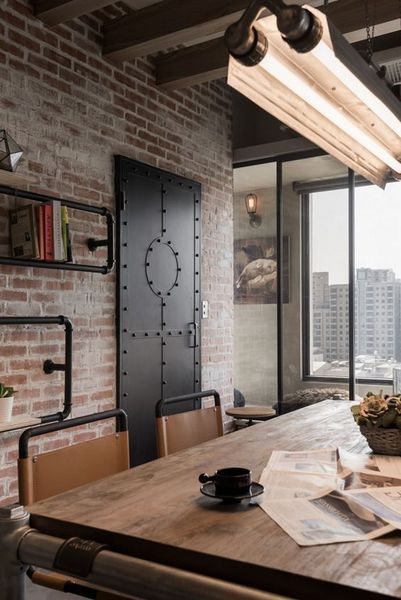 If possible, attach a floating library with access to a balcony. Not only will that add to the experience of industrial-style functionality, but it'll also add to your property value in more ways than you know.
Celebrate the Brick Façade
If you've planned to follow the industrial chic look fully, take this chance to turn your home into a love letter for the ages.
For your living room, pair the tall ceilings with bare brick walls and a center panel to bring the look together. With something like bricks, remember that not all colors will go well with this overwhelming source of oranges, browns, and white. So, embrace the theme. Add brown distressed leather couches, wood shelves, metallic floor lamps, and pendant lighting to spread the light source.
If the room requires partitioning, add an L-shaped couch to create an illusion of boundary. Drenched in warm colors, the room will appear cozier than a stark white room and white walls.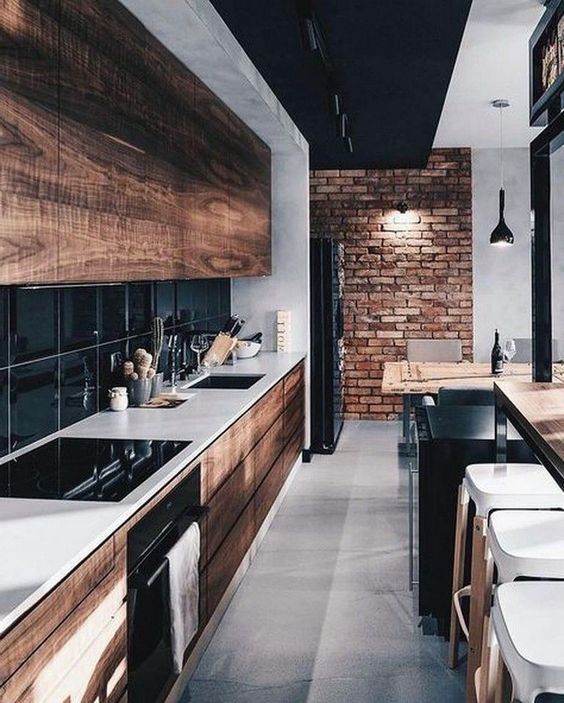 Show Off Your Reading Habits
There's nothing like a wall full of books to get the conversation started about your love of industrial interior. Books add a wonderful touch of warmth and character to the room. So, if you're ever in need of a focal point in the living room, think about adding a wall full of shelves to add texture.
In contrast with the lounge theme you have, incorporate a colorful shelf that sets itself apart from the rest. For example, if you have a grey lounge set with white furnishings and a hint of wood, add light brown shelving to bring a sense of balance to the room. Don't worry about color-coordinating books. A rainbow of colors will make the living room look homier.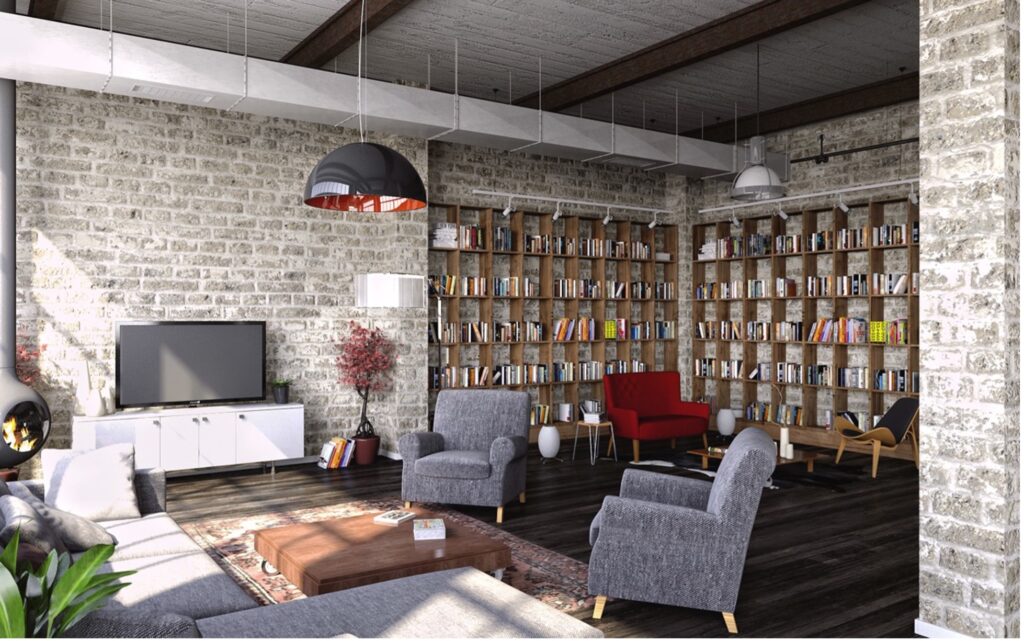 Add in a brightly colored piece of furniture like a reading chair and floor lamp to add a quirky feature to that corner. That will tie the room together in the best way.
Simplify
Even though industrial design emphasizes the importance of simplicity, features like brick walls and Edison bulbs with wire lighting fixtures become overwhelming for those wanting a simple abode.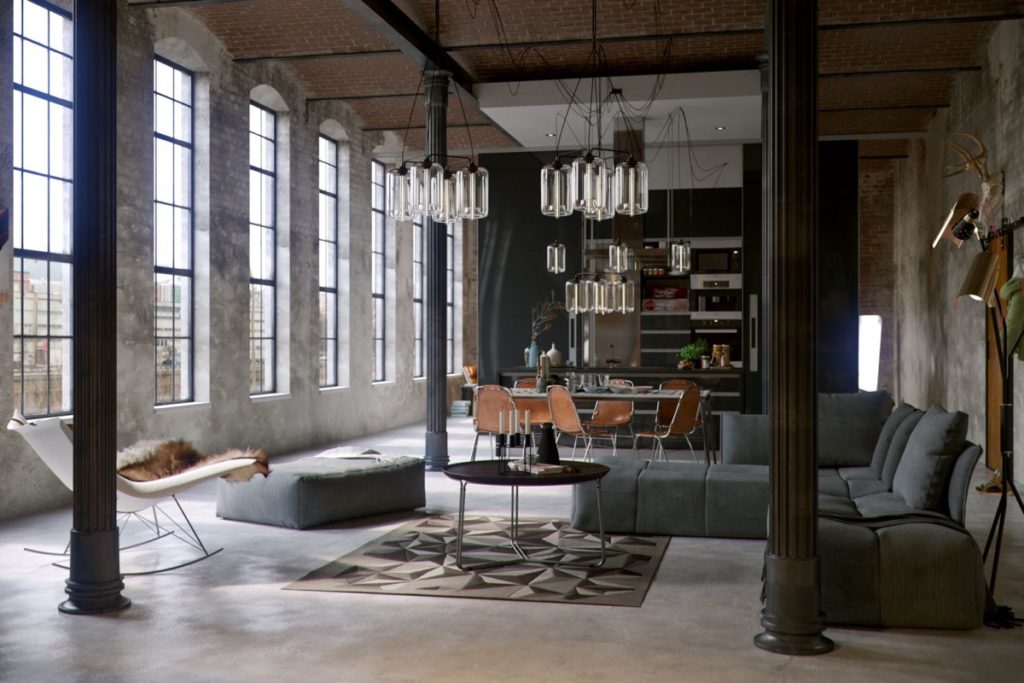 If that's your case, go for an understated, sleek look for your home. Instead of choosing metallic or eclectic features, convert your home into a cool white and grey bubble. Swap your sharp, edgy light fixtures and chandelier for bauble-style fixtures. Add some comfort elements to the bare concrete floors by incorporating a shag rug pile. Stick to the monochrome color scheme by adding paintings and artwork that reflect your style, and keep your furniture collection as minimal as possible.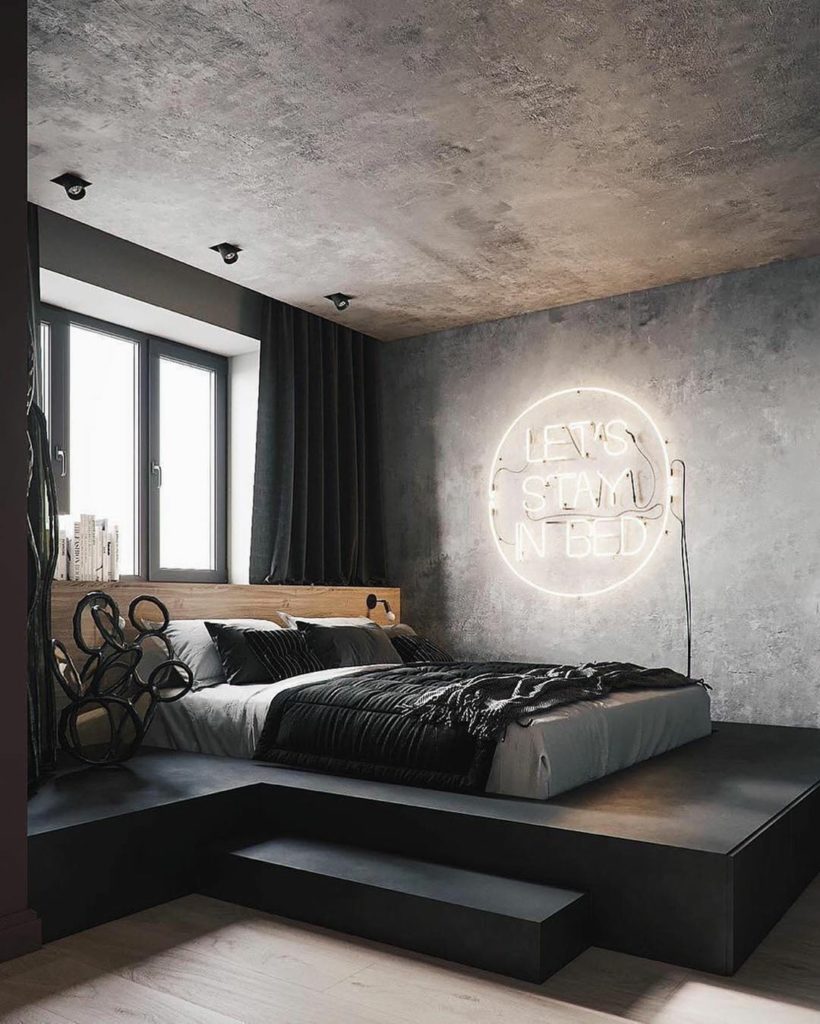 With features like exposed piping and brickwork, not a lot of people favor additional dramatic elements. So, keep your space as clean as possible, with low-level furniture if the asymmetry bothers you. If you think the monochromatic look is a touch too dull, there's no reason why you can't add scarlet or black to the mix and upgrade it.
Conclusion
The above is just the tip of the iceberg!
Industrial interior design encompasses style elements from numerous interior design aesthetics. All you have to do is be up to the challenge. There are some serious DIY skills involved in giving your home an industrial makeover.
So, start with something small—a touch of metal here, some spring cleaning there to clear out the less-needed trinkets. Very soon, with some hard work and determination, you will be able to have stylish interiors that will reflect the current trends of industrial interior design perfectly!