This article contains affiliate links for which I may receive a small commission, at no additional cost to you, should you decide to make a purchase by using them. Learn More
The picturesque beauty of horizons covered in sand sure seems glorious every time we repeatedly encounter them on social media platforms like Instagram. Who had ever thought that the dry sparkling desert sand would turn out to be an inspiration for the hottest (pun intended) trend in interior decoration?
This decor style comes with the promise of a warm, sunny and cozy atmosphere that you can cherish alongside your friends and family. It plays with beautiful warm tones while also incorporating natural elements and textures. Such decor is a stylish blend of elegance, minimalism, bohemia, and modernism.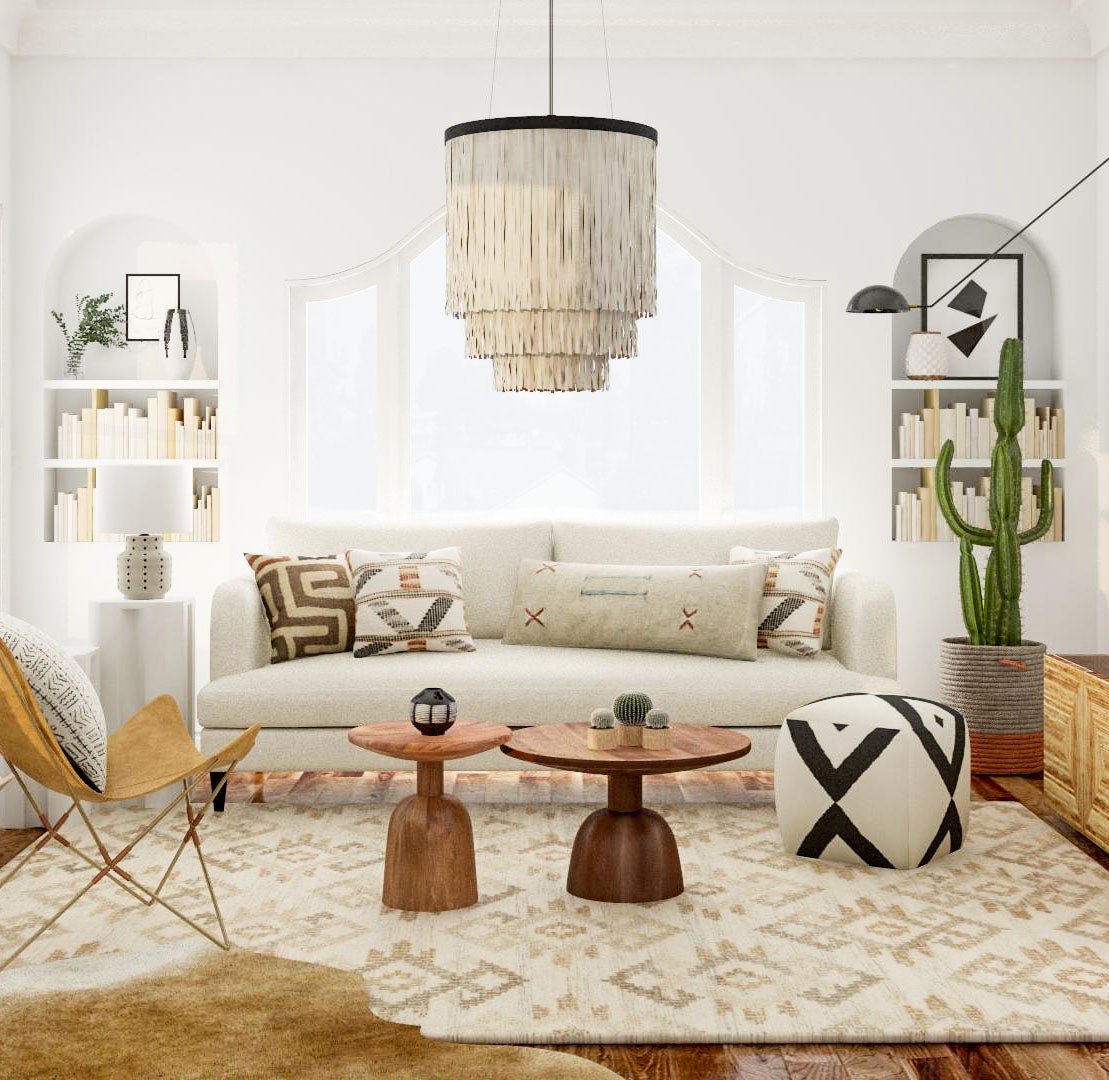 Sounds interesting, right?
Let's get to know more about this hot new trend in interior designing and how to create it for our home sweet home.
The Origins Of Desert-Inspired Decor
When you marvel at the beautiful play of warm colors on your favorite interior decor platforms and pages next time, relish the fact that this style made its way into existence a century ago!
During the roaring 20s, modernist architects were inspired by the sunny ambiance of Southern California to create this trend of desert-inspired decor, which is also known as desert modernism and southwestern decor.
It found its origins in the golf capital of the world – Palm Springs. This Californian desert resort city experimented with interior styles that would suit their warm climate and blend in with a modern aesthetic.
Those efforts eventually led to such desert-inspired decor, which combines the cozy warm ambiance with a chic color palette and unique art pieces. Frank Sinatra's single-story house at his Twin Palms Estate is among the earliest famous homes following the desert-inspired trend.
Desert modernism also believes in keeping the decoration minimal and prioritizing practicality over appearance. This is where it shares some similarities with the Japandi style, which combines Japanese and Scandinavian designing philosophies. They both rely heavily on keeping the space clean and only opting for functional pieces which uphold its homely natural atmosphere.
Which Elements Are Crucial for Desert-Inspired Decor?
White Walls Backdrop
One of the staples in desert-inspired decor is keeping white walls in the backdrop so that whatever you add later can shine on its own. This wall functions as a canvas where all your carefully curated pieces will be showcased against.
With white color, any other hue will pop out and tie in the entire interior together. Since most of the desert palette consists of lighter shades, a white background will help others notice the range of colors you got going in that space. Thus the meticulously planned layers of hues or textures will not go unnoticed.
Last update on 2021-12-05 at 06:20 UTC / Affiliate links / Images from Amazon Product Advertising API
Moreover, having white color in the background makes the entire room look more spacious than it is. This falls in line with the desert theme since large open spaces are the predominant characteristics of such places.
Warm Colors
We immediately visualize endless horizons where the golden sand meets the blue sky when we think of the desert. In reality, the desert sand comes in various shades, including caramel, brown, pale cream, and even black!
However, for the translation of desert vibes into the interior decor, we mostly stick to the neutral palette, which includes several shades of tan, beige, brown, and similar colors. You can also add corals, oranges, and blush pinks to bring some variation to this muted spectrum. Doing so will brighten up the space and bring it to life.
Plants And Pottery
You don't have to restrict your color palette only to furniture pieces and fabrics. Desert-inspired plants and pottery can also add to the naturally cozy appearance.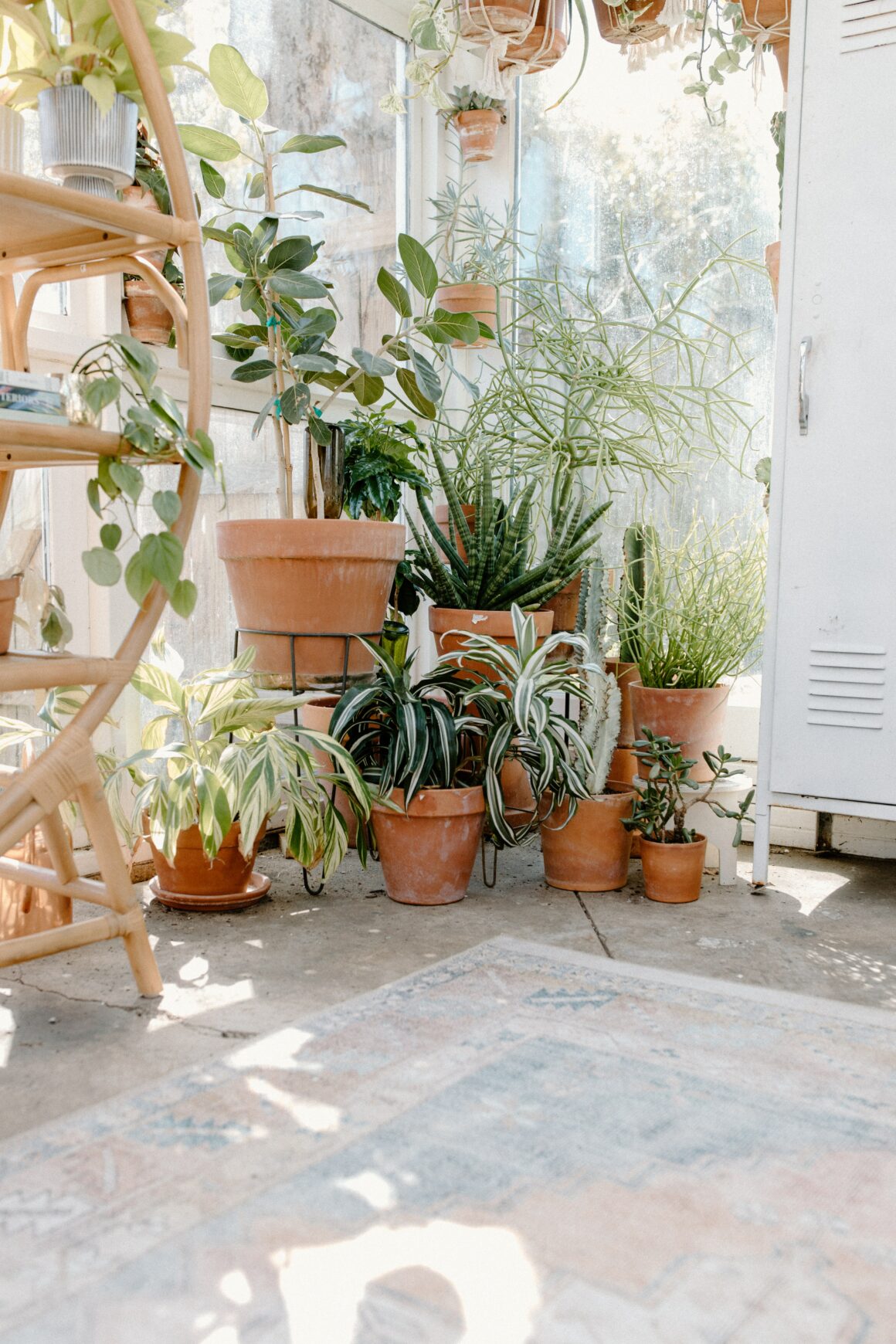 Since the focus of our inspiration here is desert and its natural elements, the plants used for this style are usually dominated by varieties of cactus. They don't have to be real. Many opt for ceramic cactus showpieces since these don't require any maintenance like natural plants.
Last update on 2021-12-05 at 13:28 UTC / Affiliate links / Images from Amazon Product Advertising API
You can add pots, vases, and votives in different shapes, colors, and textures for pottery pieces. Additionally, you can find some amorphous pieces made from crystals, fossils, or minerals to promote the beauty of natural artistic shapes.
The kind of pottery which blends in desert decor the best often has large urns and bulb bottoms. They bring in more elegance and enhance the landscape while placed next to the cactus or your house plants.
Natural Materials and Textures
Since the desert-inspired decor is all about keeping your home cozy and close to nature, including natural materials in your interior design is vital. This applies to more significant and more permanent components like your furniture and smaller and more easily replaceable pieces like lamps and bedsheets.
Unsurprisingly, the favorite material in this regard among lovers of such aesthetics is wood. Its natural motifs and varieties in textures give designers a lot to play with. They can be either slick or rustic and also be cut into creative shapes. Additionally, wooden pieces look great with the element of plants. So they can play off each other and make you feel at peace every day.
Going for sofas and chairs adorned with leather covers is also quite popular. However, make sure that it is not overwhelming for the room and comes with lighter tones of the desert palette.
Last update on 2021-12-05 at 14:19 UTC / Affiliate links / Images from Amazon Product Advertising API
When it comes to fabrics, you should also look for materials and textures that further take the natural aspect of your interior. This essentially involves rustic fabrics like wool, jute, burlap, and coir. However, you can also include some smooth ones like silk, cotton, and rayon.
Vintage-style Furniture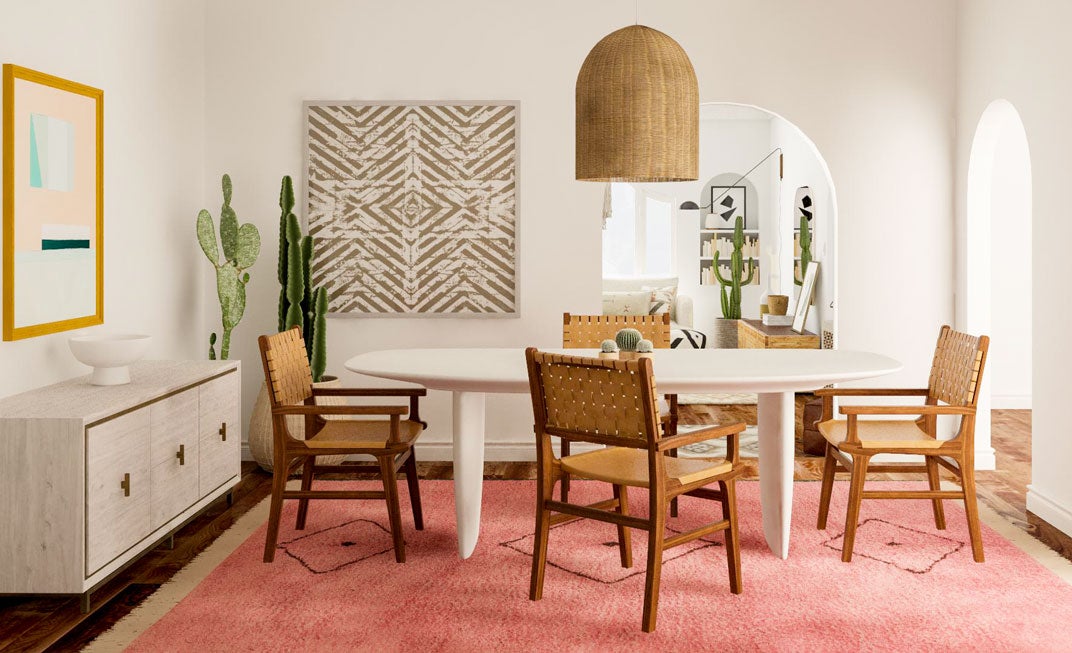 Since the trend of desert modernism began in the 1920s and blended with the Scandinavian styles during the 70s, incorporating vintage furniture into your interior elevates the desert-inspired aesthetic even further.
Last update on 2021-12-05 at 14:19 UTC / Affiliate links / Images from Amazon Product Advertising API
Having minimalism as one of its other core concepts, this kind of decor motivates you to pick a handful of unique furniture pieces to adorn your space. The most common features of such furniture include curves and clean designs with sleek silhouettes. An excellent place to start is a sculptural side table or a curved headboard. Suspended beds or benches are also a favorite in this style.
Bohemia
Even though the Californian lifestyle of today is automatically associated with glamor and large parties, the Californian desert-inspired interior has its roots in bohemian lifestyles. That is why you may often observe native patterns in the decorative pieces used in this aesthetic, such as cushions, rugs, and wall arts.
You can also craft some of your own decor items to accentuate the relaxed ambiance and add a touch of personalization to the space.
Last update on 2021-12-05 at 14:19 UTC / Affiliate links / Images from Amazon Product Advertising API
As spirituality is an integral part of Bohemia, incense burners and smudge sticks are often used to lift the relaxed mood of such interiors.
How To Create Your Desert-Inspired Decor?
Neutral Palette
As we discussed before, a muted color palette is essential in the desert-inspired decor since it represents the shades we often see in deserts. It mainly consists of neutral shades like tan, beige, copper, terracotta, and brown. Combining them with green or white can take the monotony away.
Sunset Hues and Olive
Watching the sun rising or going down on the desert horizon is always a sight to cherish. Being inspired by that majestic view, many add some brighter hues to the neutral palette. Such pops of vibrant hues bring more life to the interior. These colors often include orange, rust, and pale blue.
Another prominent bright color in southwestern decor is olive – the color of most desert plants. It breaks the monotonous palette of warm tints and introduces a refreshing splash of another natural color often observed in deserts. It is most often used for smaller pieces like cushion covers and wall arts.
Wood Accents
The wood itself is an ideal material for warmer climates like the desert. So it comes as no surprise that it often tops the list of must-haves for a desert-inspired interior. This includes wood and wooden textures and patterns that can be artificially created for some decorative pieces.
Last update on 2021-12-05 at 14:19 UTC / Affiliate links / Images from Amazon Product Advertising API
There are also walls built with such wood accents on the forefront, which go well with adjacent white walls. Some even opt for rooms constructed entirely of wood, including flooring, fixtures, cupboards, and built-in shelves. Because of the wide variety of patterns available in wood, you can incorporate it into almost anything.
Textures
Blending in different textures is what makes the modern desert decor a perfect blend of comfort, elegance, and artistry. You will surely have fun playing with the surfaces of fabrics, accessories, and furniture pieces while planning your interior.
The common players in this regard include natural fabrics like jute, wool, coir, and burlap. Their intricate tapestry helps to create a cozy bohemian atmosphere while not compromising with sophistication.
Last update on 2021-12-05 at 14:19 UTC / Affiliate links / Images from Amazon Product Advertising API
Adding woven fiber rugs will make the ambiance even more soothing and relaxing since they bring coolness to a hot climate.
Large leather sofas or chairs in lighter colors like white, beige, and tan are often found in the southwestern decor style. Their texture adds to the vintage look while still keeping up the contemporary feel. Weathered wood is another texture that adds authenticity to such interiors.
Greenery
What comes first to your mind when you think of desert plants?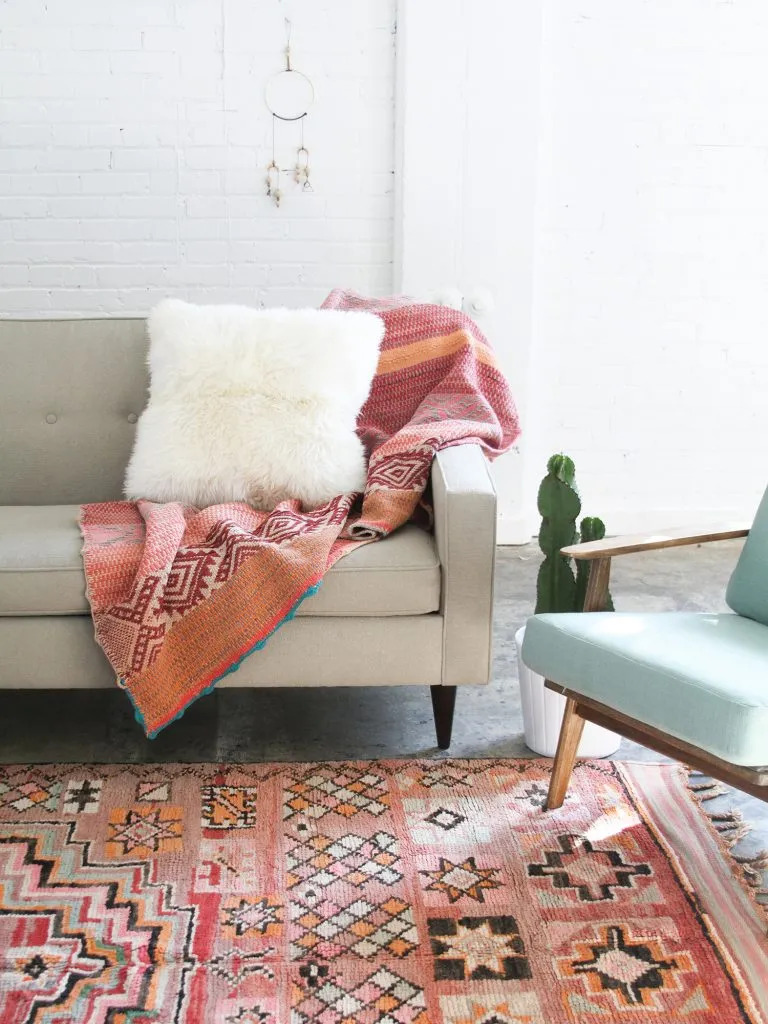 Of course, it is a cactus.
Keeping cacti in your home can elevate your desert decor and also let you breathe in some fresh air indoors since plants are known to clean the air in closed spaces.
Last update on 2021-12-05 at 14:19 UTC / Affiliate links / Images from Amazon Product Advertising API
If you cannot afford to spend time or effort on taking care of real plants, you can always opt for ceramic or plastic succulents instead. They will still look great with all the other colors and pieces of your decor. However, we would recommend choosing ceramic ones since plastic can affect our environment negatively.
Open Spaces To Mimic The Desert's Spanning Horizon
Another thing we all love about deserts is the immeasurable open space under the blue sky we can't help but marvel at. Modern desert decor can make it possible for you to get that same feeling at home by making your rooms look more spacious with some tricks.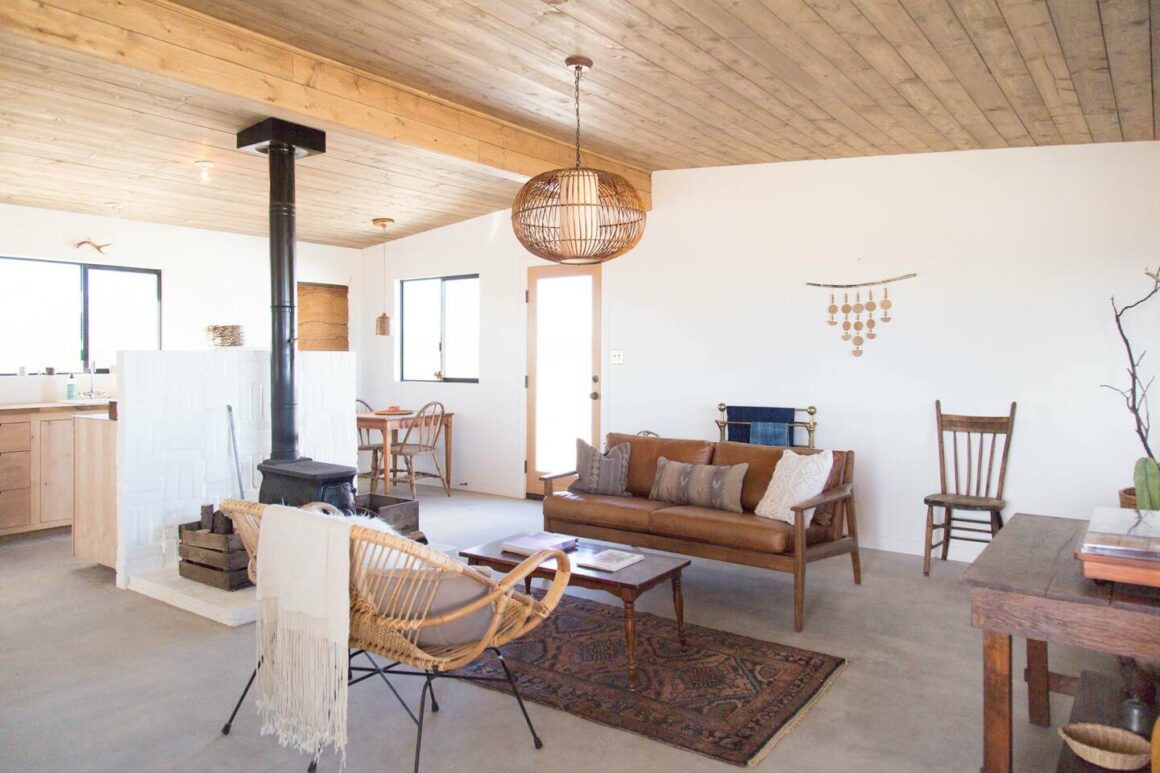 The primary one among them is painting most walls white or off-white, both indoor and outdoor. Having the lightest shade on your background will help create an illusion that that room has more area than it does.
You can paint one or two adjacent walls warm colors like beige, caramel, or light terracotta to add more bright colors to the interior.
Accessorize With Natural Elements Like Stone Or Rocks
The natural theme of desert decor can be enhanced by including some naturally occurring elements like stones and rocks in the interior. These are best used as accessories that accentuate the overall neutral palette with some gray and some naturally occurring patterns.
Open Shelving In The Kitchen
While most of us are used to having cabinets in the kitchen to store the utensils and cooking essentials, desert-inspired decor encourages us to use open shelving. This trend makes the kitchen appear more spacious.
Last update on 2021-12-05 at 14:19 UTC / Affiliate links / Images from Amazon Product Advertising API
Besides, it lets you play with the colors even more since you can pick kitchen tools and containers, which add to the desert decorating palette.
Ceramic Details
Ceramic details add to the natural theme of the southwestern decor with their beautifully crafted patterns. They are primarily used in the tiles of flooring and pottery pieces like vases. Especially with a lighter shade of the neutral palette, such details make for an aesthetically pleasing contrast against green plants or white walls.
Maximize Natural Light
Remember how the sunlight makes the sand sparkle in a desert? The interior style inspired by it also tries to mimic that sunny environment by maximizing natural light indoors.
Last update on 2021-12-05 at 13:28 UTC / Affiliate links / Images from Amazon Product Advertising API
The most obvious option is to settle for a home with bigger windows, but you can still bask in the sunlight if that is not possible for you. One way to do it is by putting mirrors in key corners so that the light gets reflected in other parts of the room.
Conclusion
With the desert-inspired decor, you can enjoy feeling chic, cozy, and hippie all at the same time. It is a refreshing new trend that allows us to maintain warmth indoors throughout the changing seasons.
Combining rich rustic textures, natural materials, and some exotic green plants with a desert-inspired palette comprising of neutral and sunset colors is already a vision to cherish. By adding some bohemian vibes to it while maximizing the space and the sunlight, it gets even closer to bringing the relaxing spirit of vacations right to your home.
And who wouldn't want that to be their first sight after waking up or after a long day at work? With a clean and warm decor like this, you will feel rejuvenated every day and be motivated to go after your goals with a positive mindset.