This article contains affiliate links for which I may receive a small commission, at no additional cost to you, should you decide to make a purchase by using them. Learn More
Back in the day, the best cleaning product was a dust rag and warm water with a dash of Dawn dish soap added in!
But times change. Dawn has been relegated to the back of the cleaning cupboard with so many cleaning products readily available. Is that the right decision?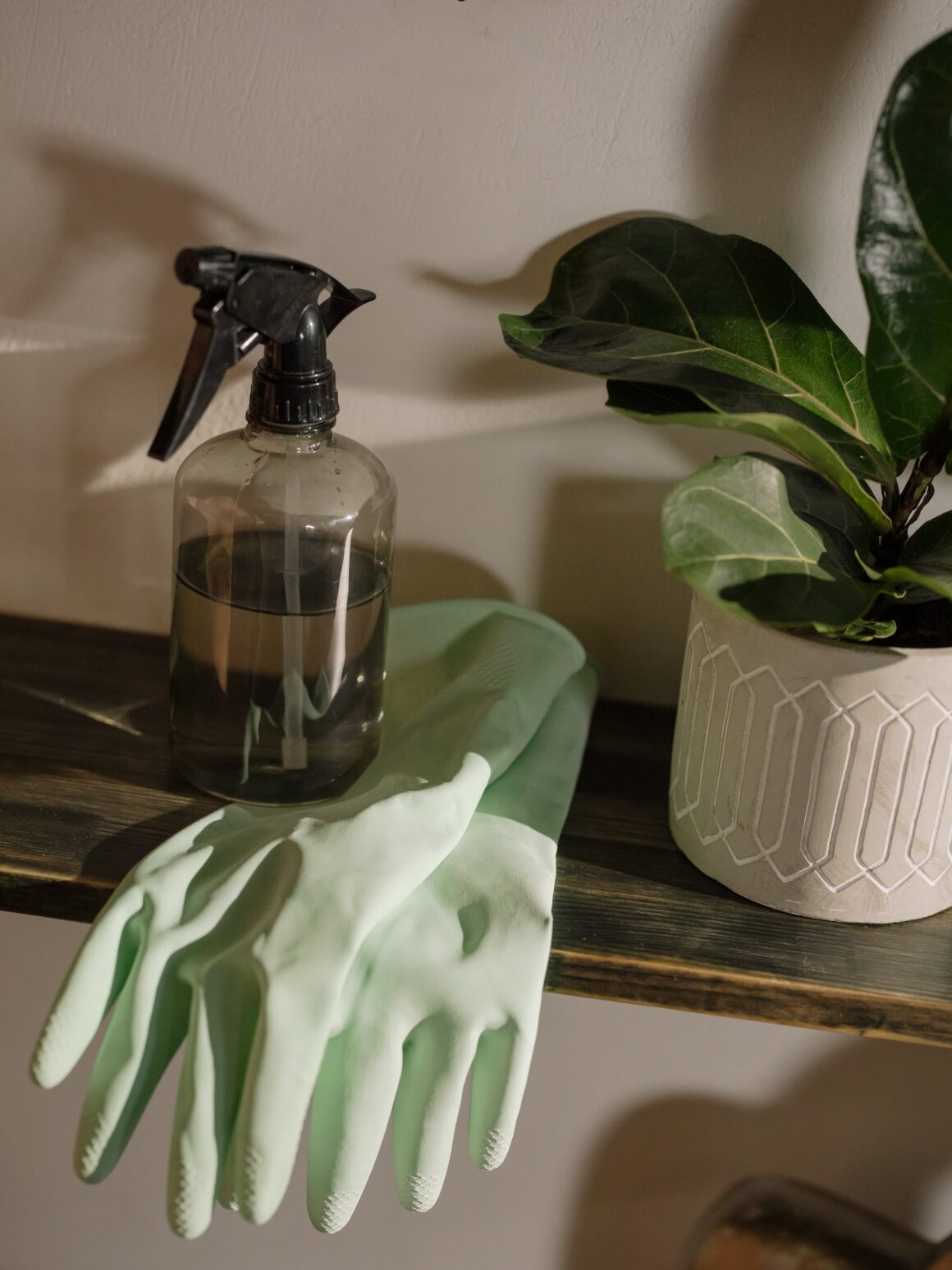 While there is a surplus of cleaning products available for every price range, we don't know whether they are worth it, especially when considering the ingredient list.
According to the American Lung Association, the biggest culprit in most cleaning supplies are volatile organic compounds that develop due to the chemicals in those products. Even something like a natural fragrance causes terrible reactions because they become pollutants when used indoors.
Cleaning products have been linked to increased headaches, asthma, chronic respiratory illnesses, allergic reactions, and more. Toxic cleaning products include:
Dry cleaning chemicals
Detergents
Dishwashing liquids
Air fresheners
Rug cleaners
Floor and furniture polish
Aerosol sprays
Oven cleaners
But that's not all. Even products such as nail polishes, nail polish removers, and hair dyes all use ingredients commonly used in cleaning products. In fact, hairdressers and nail artists are more at risk of developing lung conditions because such dangerous fumes surround them.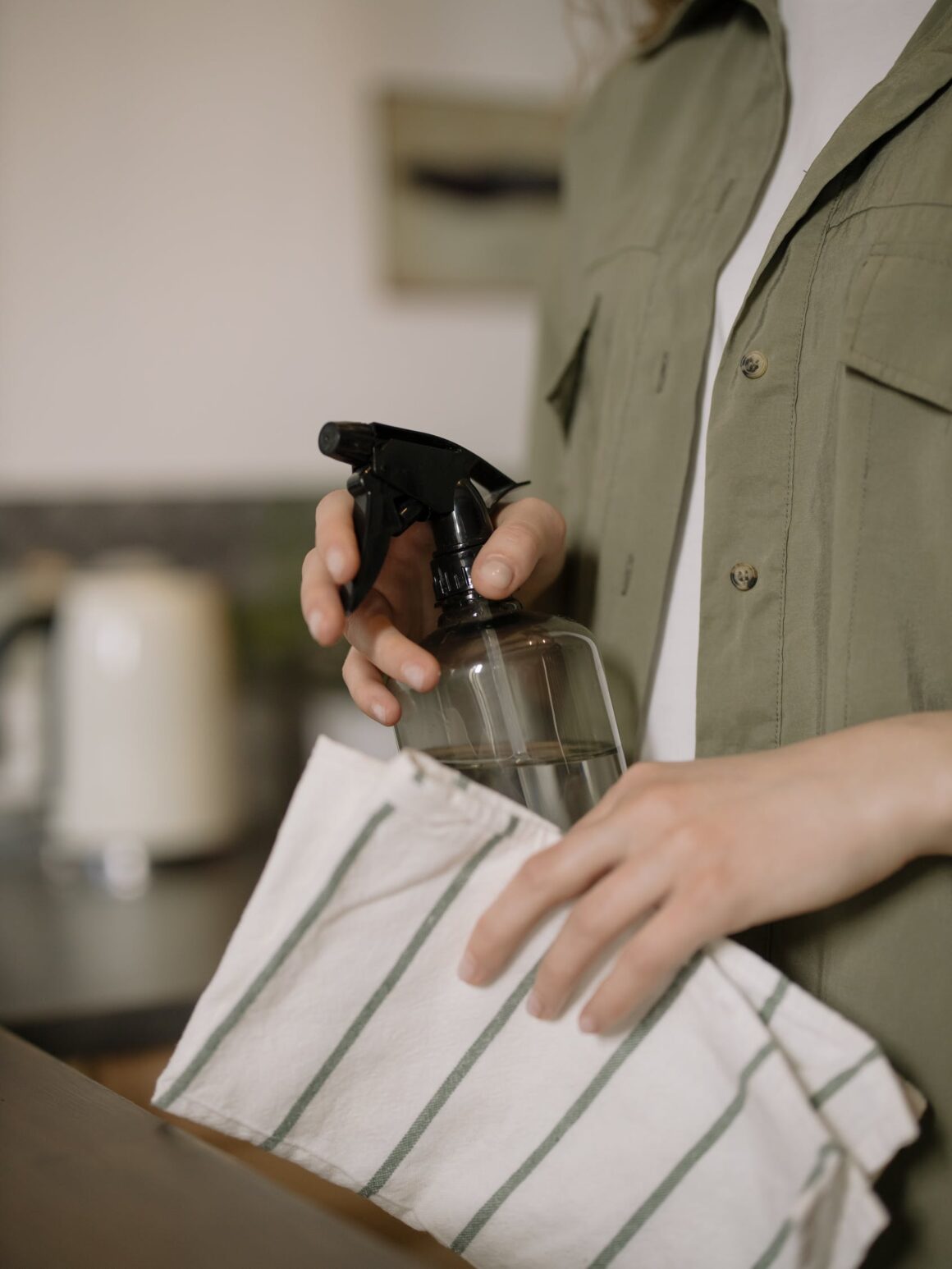 We can only imagine how bad the situation is if we surround ourselves with such products at home, 24/7.
This is where non-toxic cleaning products come in handy. Below are my personal choices of the best non-toxic cleaning products in the market!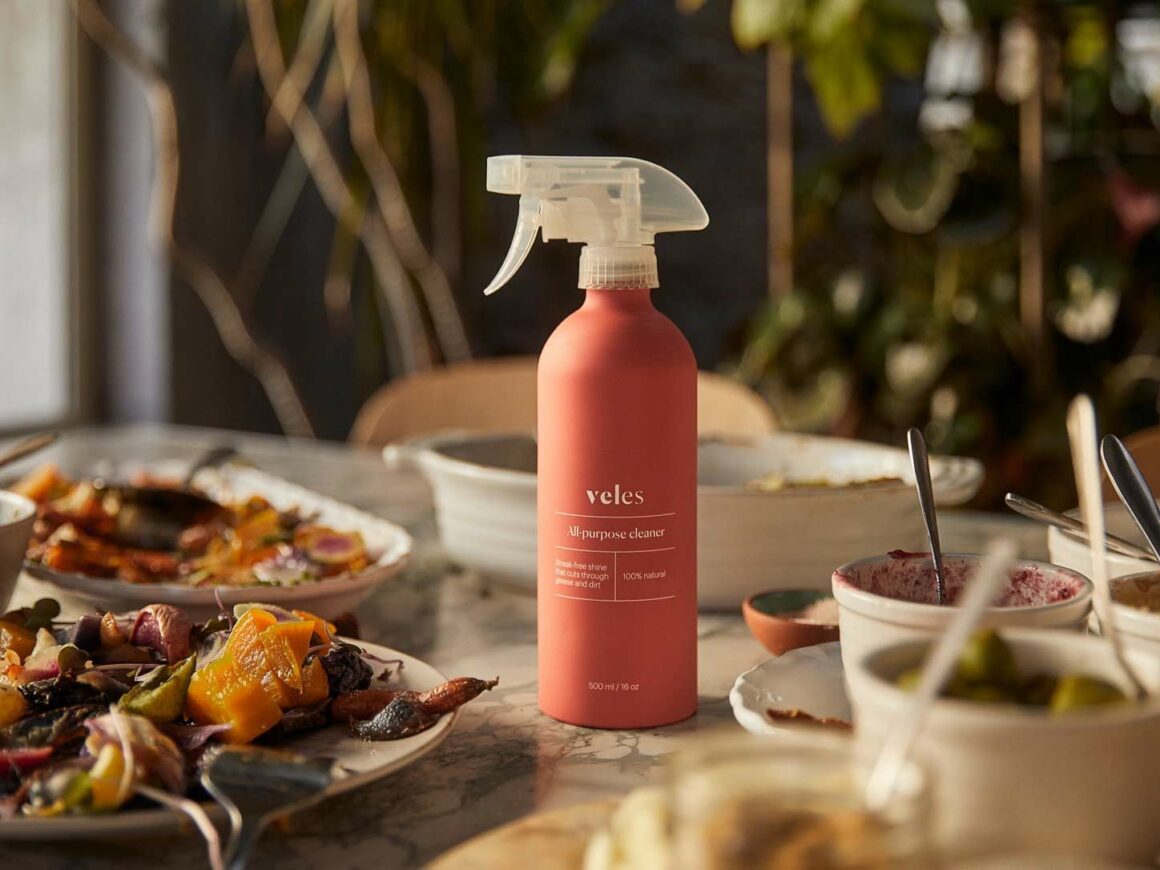 Eco-Friendly | Sustainable aluminum bottle, natural ingredients, no petrochemicals, renewable active ingredients, made locally with minimal outsourcing, reduces greenhouse gas emissions, cruelty-free.
Best For | All-purpose cleaning, best for removing grease and grime.
This all-purpose household cleaner may seem too good to be accurate at first glance, but it's truly a miracle worker.
The product is made using water and a few active ingredients that you'll find in other cleaners. But what's excellent about Veles is that these active ingredients are derived from food waste. To make the product smell nice, Veles uses essential oils and a non-petroleum fragrance stabilizer.
Overall, Veles is a handy, straightforward cleaning product that does what it says on the tin. This cleaner wipes away tough grime and stains and is perfect if you want one cleaner for all your home surfaces. What's even better is that you don't need to throw it away once you buy the bottle once the product is all used up. Veles offers affordable refills in 32 oz. amber bottles.
You can fill the original Veles bottle with the product or separate it into different bottles for different areas. However, you use it is up to you. But one thing's for sure; you won't have to spend a substantial sum on different cleaners each month anymore!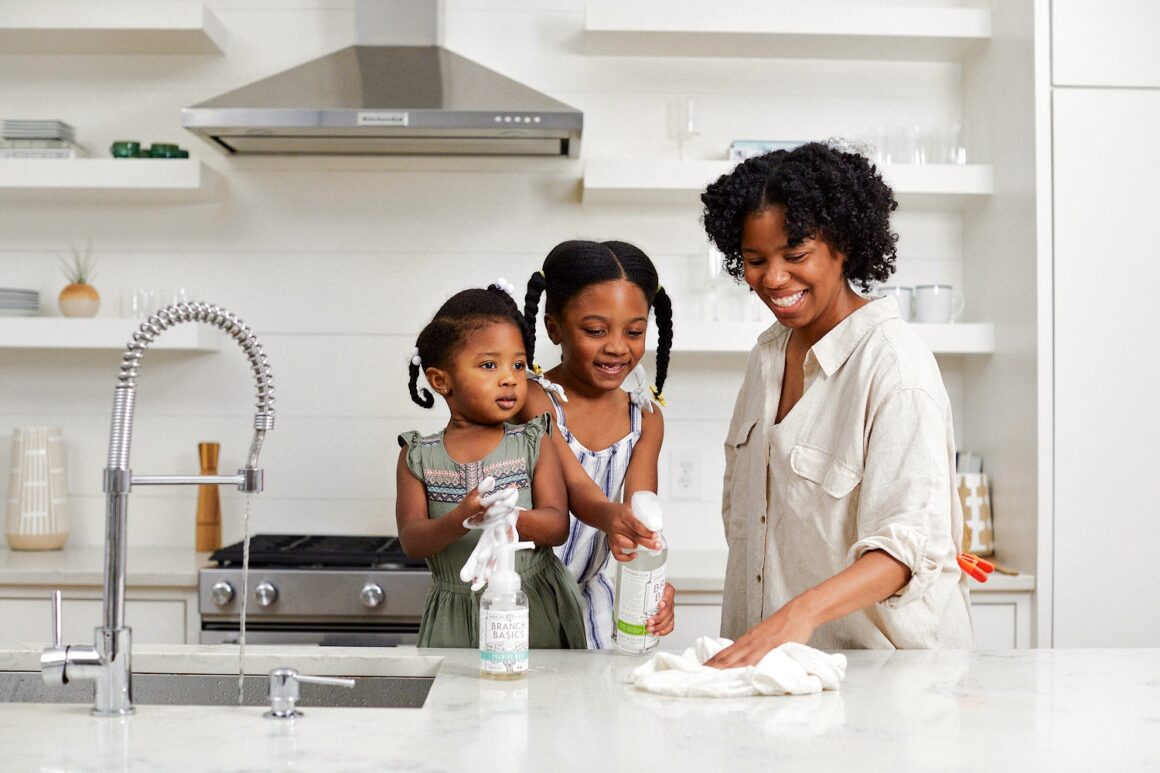 Eco-Friendly | Biodegradable formula, non-GMO, fragrance-free, no harmful preservatives, plant and mineral-based, human-safe.
Best For | All-purpose cleaning.
If you haven't heard about Branch Basics, you are in for a treat!
Branch Basics is the love child of three women who wanted to allow the world to live life as you should; without being surrounded by toxic ingredients in our diet and environment.
Branch Basics does not provide a bottled product ready to be used. Instead, they provide ingredients that allow you to use as much as you need per bottle. When you order your product, you get several empty bottles and a concentrate mix with water. But that's about it. Once you mix the concentrate and water, you can use the cleaner on all surfaces without a hitch.
Their reason for sending a separate bottle of concentrate is to replace all the other cleaning products you have. The concentrate by Branch Basics does not just work as a surface cleaner. From laundry soaks to streak-free products, this concentrate can be used for multiple purposes. In a way, the Branch Basics cleaner stays true to its promise of being an all-purpose cleaner.
Branch Basics is also certified MADE SAFE®. So, if you have an allergy or skin sensitivity, that's an even better reason to try the non-toxic cleaning brand.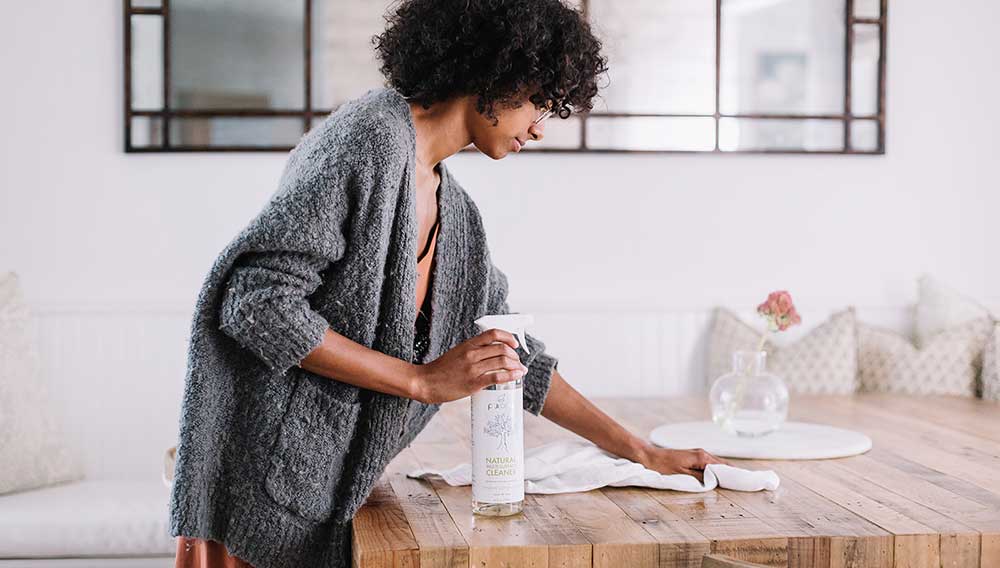 Eco-Friendly | Biodegradable, plant-based, made using renewable products, free from perfumes, parabens, dyes, caustics, sulfates.
Best For | Natural home cleaning, sanitization, body care, pet cleaner, laundry, baby care.
Puracy offers so much more than home cleaning products.
This all-inclusive brand is perhaps one of the most reliable names in the home care market, mainly because of its plant-based ingredient list, affordable prices, and list of products for every cleaning problem.
From laundry to stain removal to dander removal and multiple-purpose cleaning, Puracy offers something for everything.
Last update on 2023-03-28 at 20:00 UTC / Affiliate links / Images from Amazon Product Advertising API / DetailsProduct prices and availability are accurate as of the date/time indicated and are subject to change. Any price and availability information displayed on [relevant Amazon Site(s), as applicable] at the time of purchase will apply to the purchase of this product.)
The products are very lightweight, so if you're sensitive to smells, this is the product for you. Puracy products are also popular among new parents because the brand's formula suits a baby's skin well. With natural and organic ingredients to back the product's worth, there's never any worry that the child may have an adverse reaction.
As for house cleaning, this non-toxic brand offers multiple products for dishwashing and laundry, as well as soaps and sanitizers. You can buy their products individually or as a part of a set. Either way, Puracy is a surefire investment in your home health that gives back so much in return.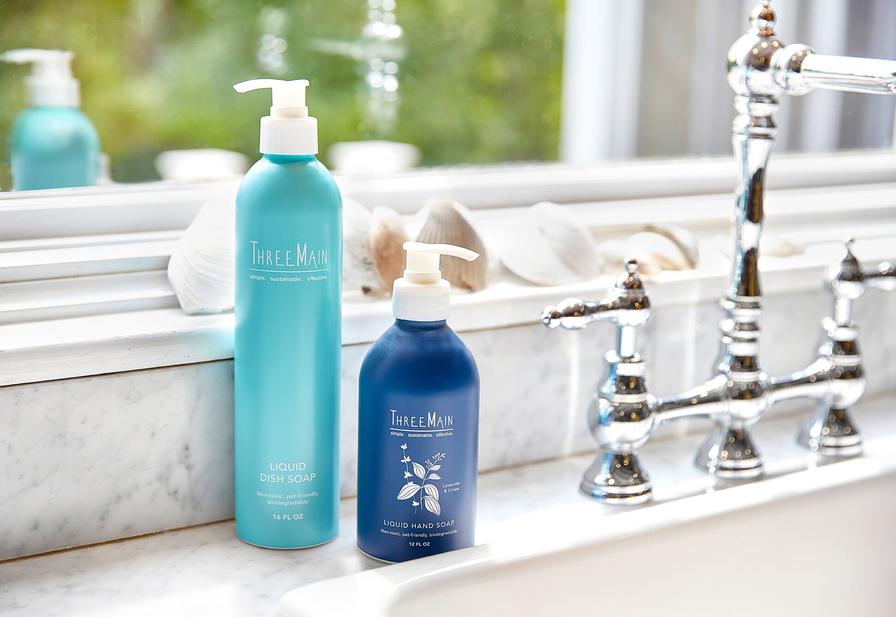 Eco-Friendly | Non-toxic, cruelty-free, planet-friendly, carbon-neutral, zero-waste aluminum, include disinfecting ingredients.
Best For | All-purpose cleaning, dishwashing, self-care
ThreeMain offers multiple dishwashing and body care products, including hand soaps, dryer balls, laundry soap, sponges, and dish brushes. But it's their all-purpose cleaner that receives the most praise from all customers.
Boasting a tried-and-tested formula that's effective against all bacteria and viruses, ThreeMain's cleaner is a great product to have if you have a weak immune system or have multiple people in the house. The product comes in a refillable, recyclable bottle and is far more sustainable too. But that's not the only benefit. ThreeMain's cleaner comes in a 16 oz. bottle, so you can be sure the product will last for a few months if used properly.
The cleaner's ingredient list mainly includes all-natural ingredients such as water, citric acid, essential oils, and more. However, if you want to know more, the brand's website is highly transparent about what they use to make their product line. If you've been betrayed by "organic" mainstream products that didn't deliver on their promise, this transparency is definitely a welcome gesture.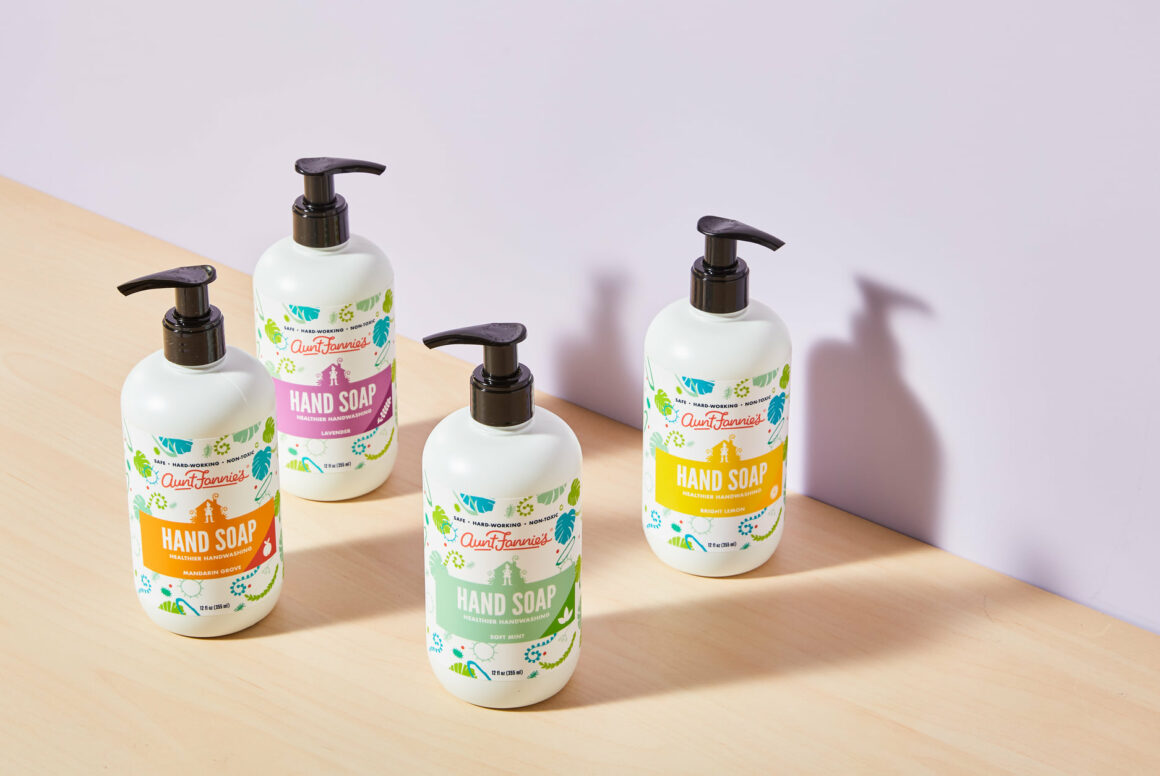 Eco-Friendly | Plant-based ingredients, clean formula, cruelty-free, includes functional essential oils, pet-friendly, vegan.
Best For | All-purpose cleaner & pet cleaners, hand and dishwashing, pest control.
Aunt Fannie's products are top-of-the-line and based on natural ingredients, many of which you may have even used in a pinch. Only, this time around, the cleaner is well-balanced and offers quick results.
Last update on 2023-03-28 at 20:00 UTC / Affiliate links / Images from Amazon Product Advertising API / DetailsProduct prices and availability are accurate as of the date/time indicated and are subject to change. Any price and availability information displayed on [relevant Amazon Site(s), as applicable] at the time of purchase will apply to the purchase of this product.)
Aunt Fannie's product line includes mosquito repellents, vinegar cleaners, probiotic dish soaps, and pest control products. But their vinegar cleaning products have an almost cult-like following. The product line includes carpet refreshers, glass and window vinegar cleaners, wood surface and hardwood cleaners, floor cleaners, cleaning wipes, all-purpose sprays, and produce washes. All of these products use vinegar as the main component, which makes them not only effective but also baby- and pet-friendly.
It also helps that each product comes in a variety of fragrances. So, if you're worried about the vinegar smell, don't be. Aunt Fannie's beautiful-smelling products will have your home smelling and looking fresh and clean, from sweet citrus to lavender, while removing every speck of dirt from all surfaces.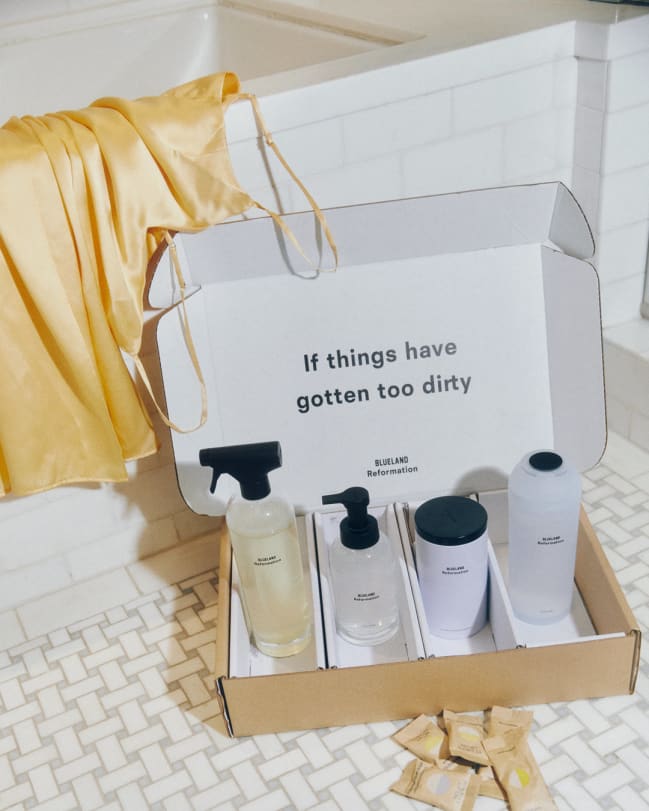 Eco-Friendly | 100 percent carbon neutral company, earth-friendly, reusable containers, free from chlorine, dyes, parabens, and phthalates.
Best For | All-purpose cleaner and body care.
Reformation is a well-known sustainable clothing brand located in Los Angeles that's making waves in the clothing industry. Reformation opened the first sustainable factory in the United States in October 2013. Further on, they also introduced the RefScale, which tracks their environmental footprint.
Having upgraded their collection to include sustainable bridal lines, water-saving denim, chrome-free leather and jute, and more, it wasn't long before they'd branch out and try to offer an eco-friendly solution for another environmental problem. By partnering with Blueland, Reformation was able to release their Routine Clean Kit. This kit includes laundry tablets, dish soap, a multi-purpose cleaner, and foaming hand soap.
Using natural ingredients and reusable vessels, Reformation provided us with a simple, efficient product line that ticked all the boxes in the cleaning house. Each product has a purpose and is substantial enough, so you don't run out within a month. Reformation's collaboration with Blueland has only just started, so it will be a while before getting more products from this union. Until then, their Routine Clean Kit is enough to whet your appetite for a better, more eco-friendly product.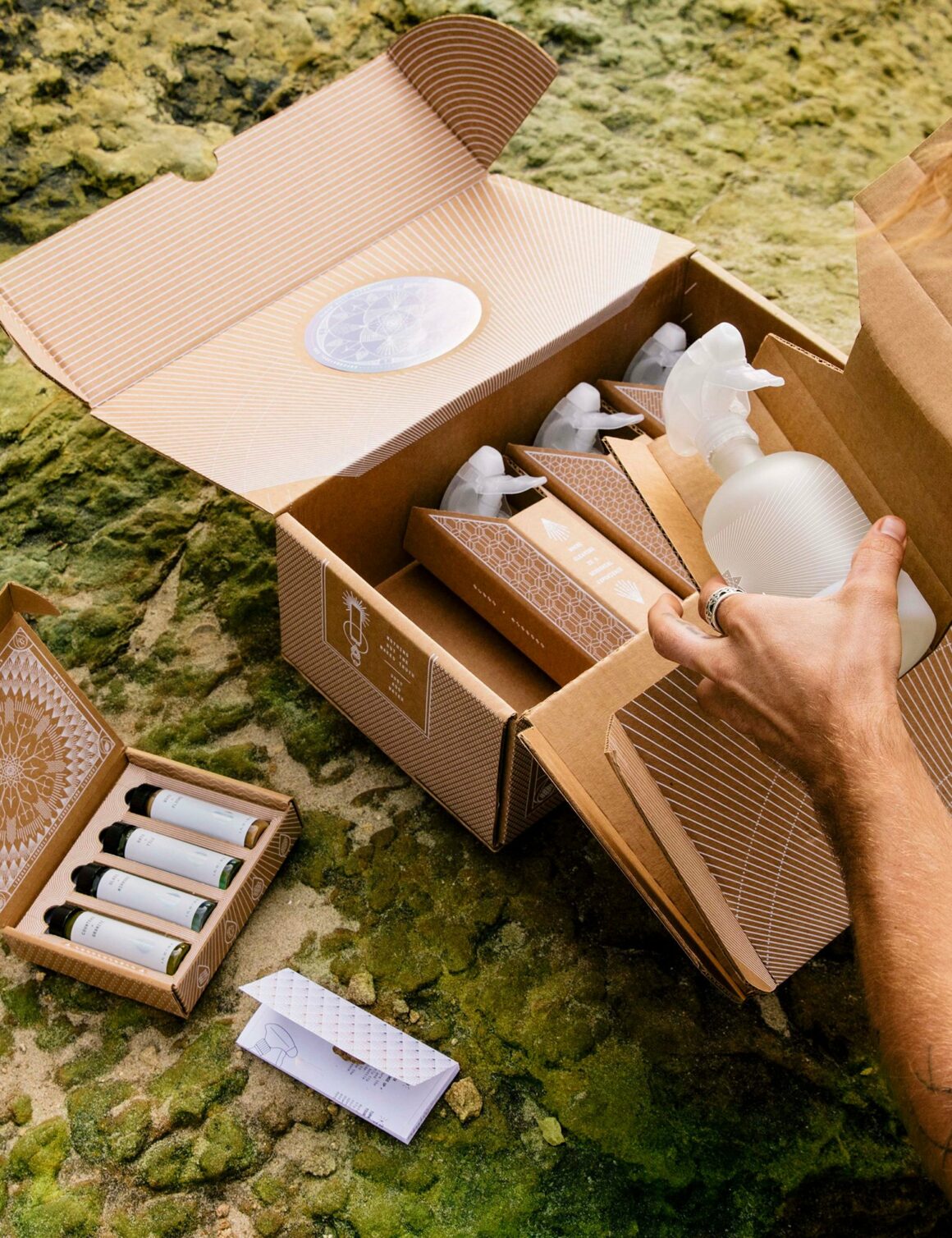 Eco-Friendly | Reusable, sustainable, eco-friendly ingredients, ethically-harvested, essential-oil based, plant-based, cruelty-free.
Best For | Multi-purpose cleaning.
Supernatural promotes the eco-friendly aspect of using plant-based ingredients. However, their focus leans more toward treating your home and planet with love and respect. All products designed by Supernatural contain a potent blend of botanicals that effectively clean and purify your home and energy. The products are made using essential oils, and each product serves a specific purpose.
For example, their Cleaning Kit includes multiple products, including:
Glass + Mirror cleaner
Counters + Granite Cleaner
Wood + Floor Cleaner
Bath + Tile Cleaner
All products are natural and eco-friendly and packaged in eco glass spray bottles and custom spray nozzles. The kit also includes vials that create these products once they're combined with water. All products by Supernatural use a non-toxic blend that breaks down even the toughest stains and leaves your home looking new and fresh. And though these products come with a more expensive price tag, using them at least assures you that your money is going toward improving and cleansing your home of all negative vibes.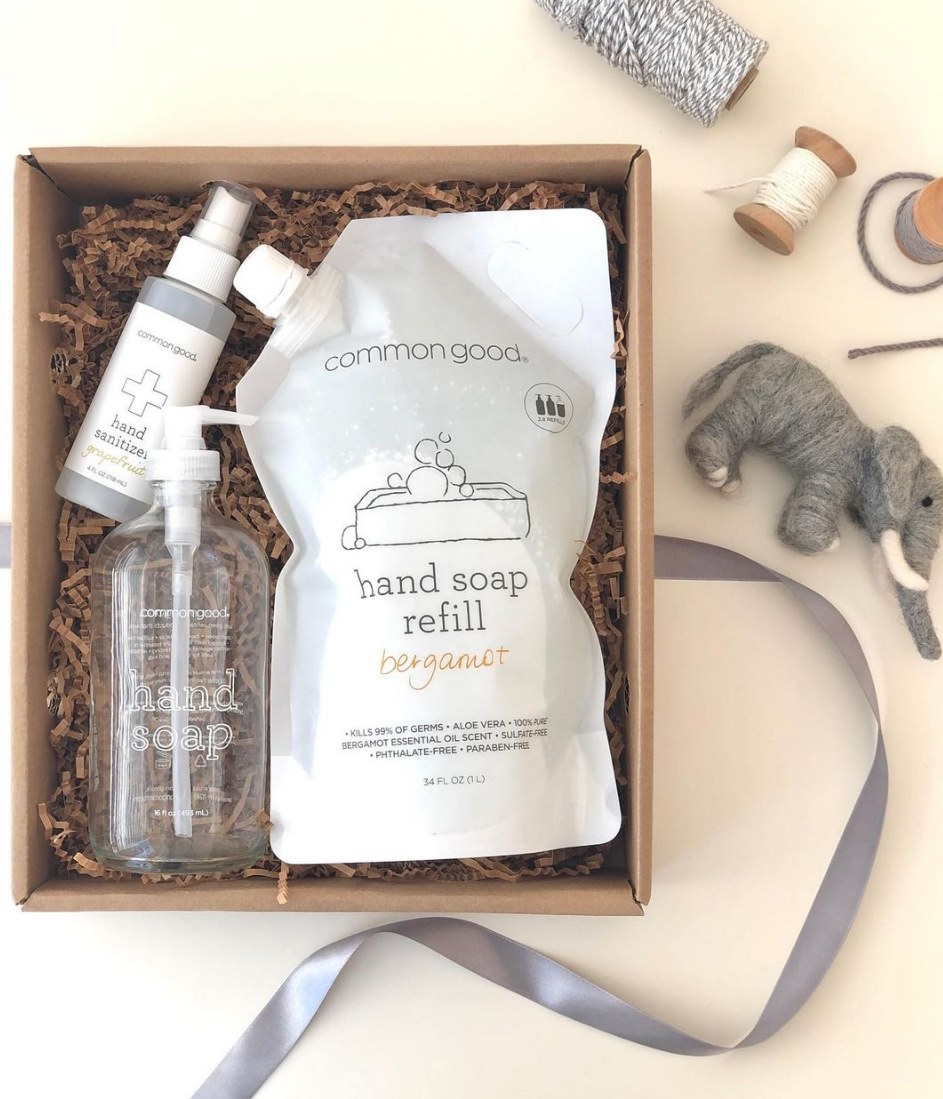 Eco-Friendly | Plant-based, eco-friendly, free from ammonia, chlorine, and other ingredients, refillable packaging, cruelty-free.
Best For | Homecare, kitchen cleaning, body care, laundry, and hygiene.
Common Good is a well-rounded brand designed to target all the environmental issues we're facing due to our global ignorance.
Established in 2010, Common Good has evolved in the past decade to include a wide range of cleaning products, from body care to home care. All Common Good products are made using plant-based, biodegradable formulations, concentrated to give better results. However, none of them use any chemicals to get that perfect shine. These products depend solely on natural ingredients and 100 percent pure essential oil scents.
Last update on 2023-03-28 at 20:00 UTC / Affiliate links / Images from Amazon Product Advertising API / DetailsProduct prices and availability are accurate as of the date/time indicated and are subject to change. Any price and availability information displayed on [relevant Amazon Site(s), as applicable] at the time of purchase will apply to the purchase of this product.)
Common Good also offers refills, starter sets, and more, so you don't have to keep stockpiling the packaging. Yet, even if you get more packaging than needed, there's no need to worry because their packaging is also recyclable and low-plastic. Common Good offers comprehensive information on their products and formulation and even guides clients on recycling the refill pouches.
So, if you have any questions or want to gain some education on eco-friendly practices and products, Common Good has your back!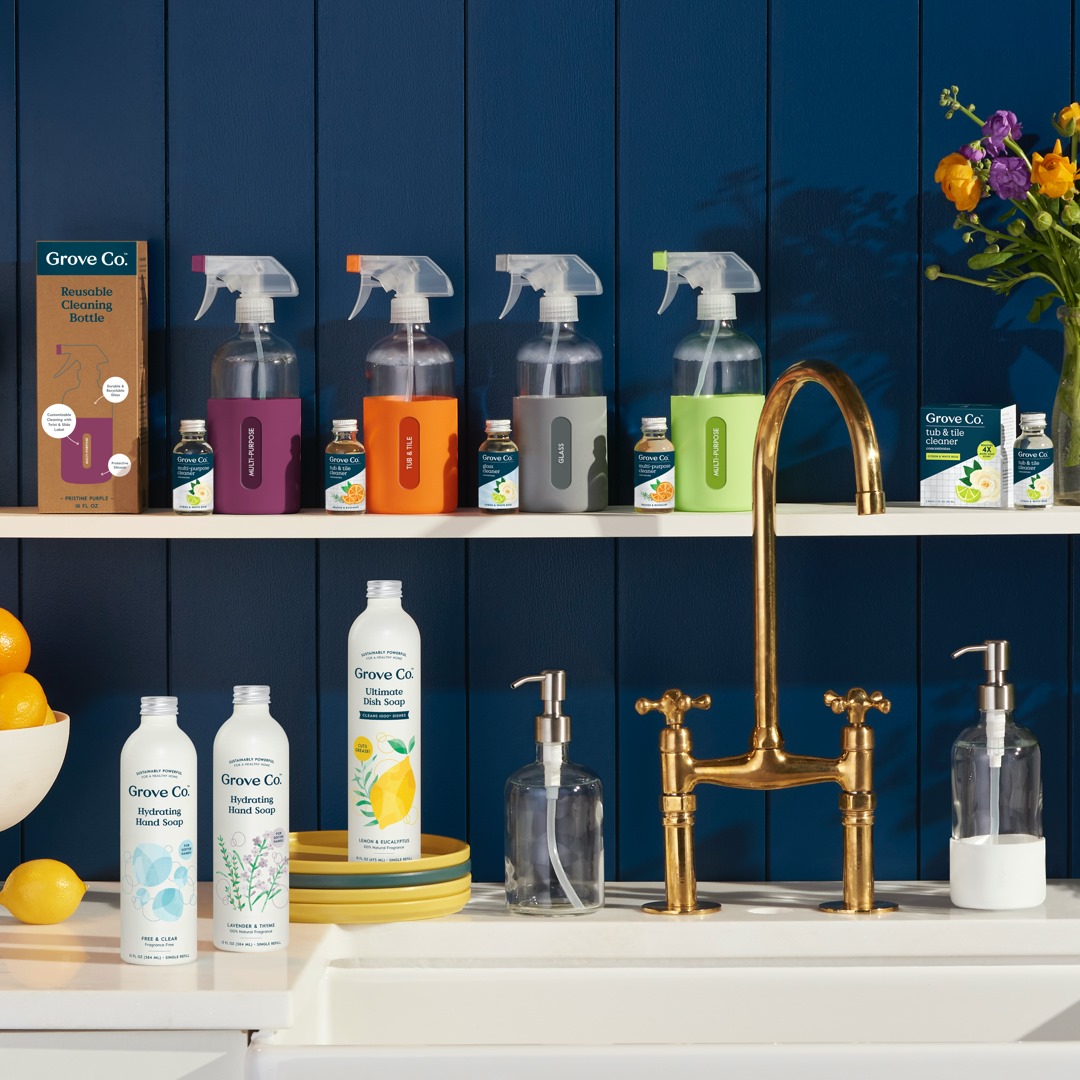 Eco-Friendly | First plastic neutral retailer in the world, naturally-derived, Certified B corporation, cruelty-free.
Best For | Homecare, hygiene, general cleaning.
Grove is a leading sustainable cleaning brand in the market. The company offers just about the product you'll need for home and personal care, all of which are plastic-free, and is made using sustainable, natural ingredients that work effectively in keeping your home clean and safe.
From laundry detergent to multi-purpose cleaner, Grove's collection includes a wide array of products, including walnut scrubber sponges, toilet cleaners, toilet sprays, kitchen wipes, and even dishcloths. Grove is also far more affordable and comes with reusable packaging options and refills. Even for someone on a budget, that's enough to keep them in the green.
Aside from cleaning products, Grove also provides other items like an ultrasonic aromatherapy diffuser, specialty cleaners, air fresheners, candles, toilet paper, and microfiber cleaning cloths, all of which are plastic-free.
If you want to save money on supplies and get the best in the market, Grove has everything you could ever want.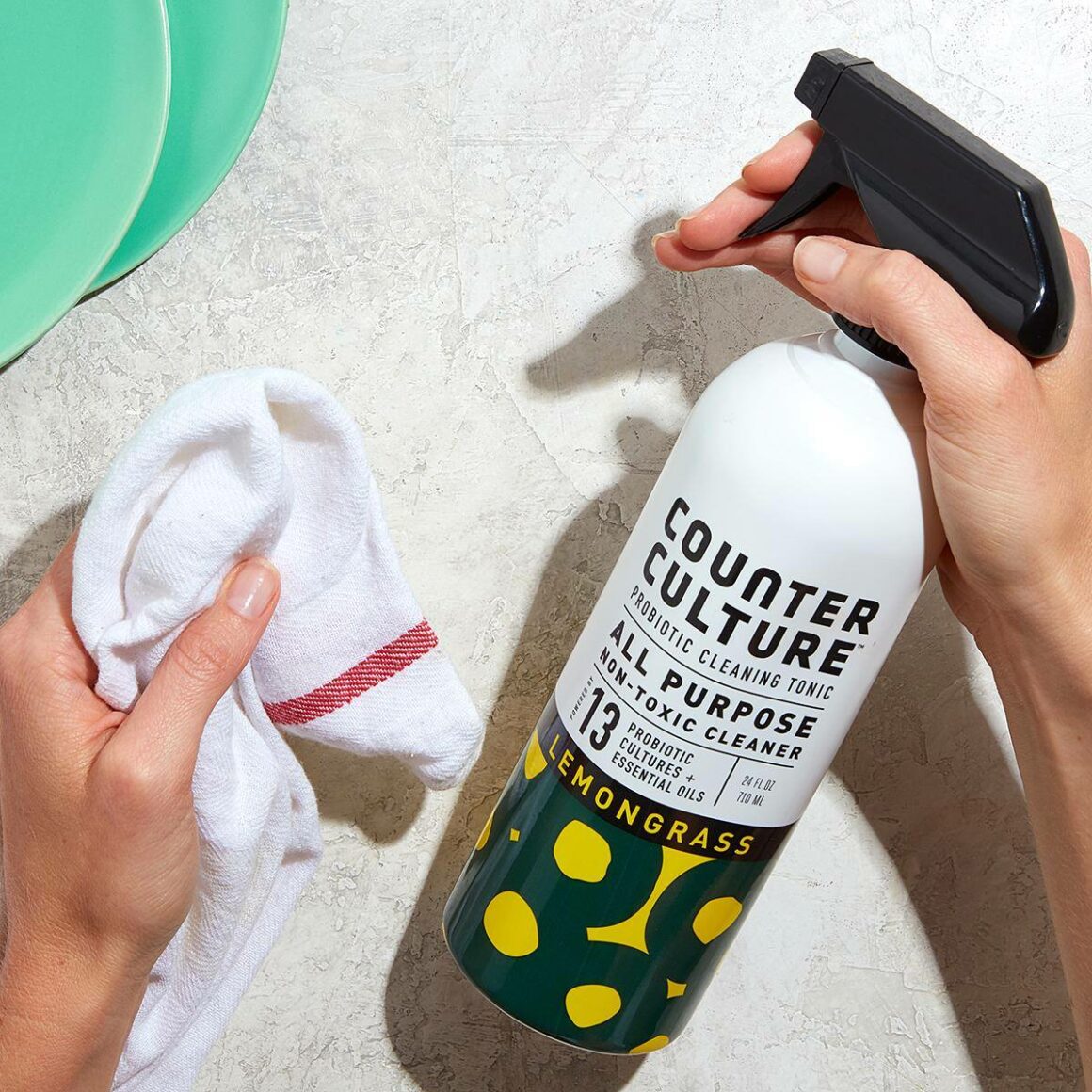 Eco-Friendly | Biodegradable formulas, gluten-free, free from CFC, dye, color additives, chlorine, parabens, vegan, vegetarian, are made using essential oils.
Best For | Home Care.
Thrive Market made its mark by providing customers with a reliable service that delivers clean, organic food products right to their doorstep. Having evolved in the eco-friendly industry, it's no surprise that Thrive Market would branch out and become involved with home care.
Considering the brand quality, it's also no surprise that all cleaning products provided by Thrive Market are biodegradable, clean, and all-natural. But, what is exciting is that Thrive Market does not limit their customer market to just its product line. If needed, customers can buy cleaning products from other brands on the website as well.
Thrive Market offers access to the best brands from within the industry, whether you need household cleaners, fruit and vegetable washes, dish soap, or cleaning tools and accessories. And to top it off, Thrive Market even provides excellent discounts, so get your money's worth and then some.
Conclusion
When searching for non-toxic cleaning products, it all comes down to the effort we make in looking for one.
All of the products mentioned above are readily available, affordable, and delivered to your doorstep. So, why not take the right step for our home, health, and environment?
Look for the best non-toxic cleaning products and make a purchase. You'll be doing what's best for your future and the planet!