This article contains affiliate links for which I may receive a small commission, at no additional cost to you, should you decide to make a purchase by using them. Learn More
Choosing to decorate your home in a minimalist style is perhaps the easiest decision you've ever made. With so many designs and choices for inspiration, how can anything go wrong!
Even for the novices in the interior design game, minimalism isn't usually a difficult task. You downgrade your home to just the bare essentials, stick to monochrome colors, and become functional in your lifestyle. That starts you off well on the right path. But do you know where to go further?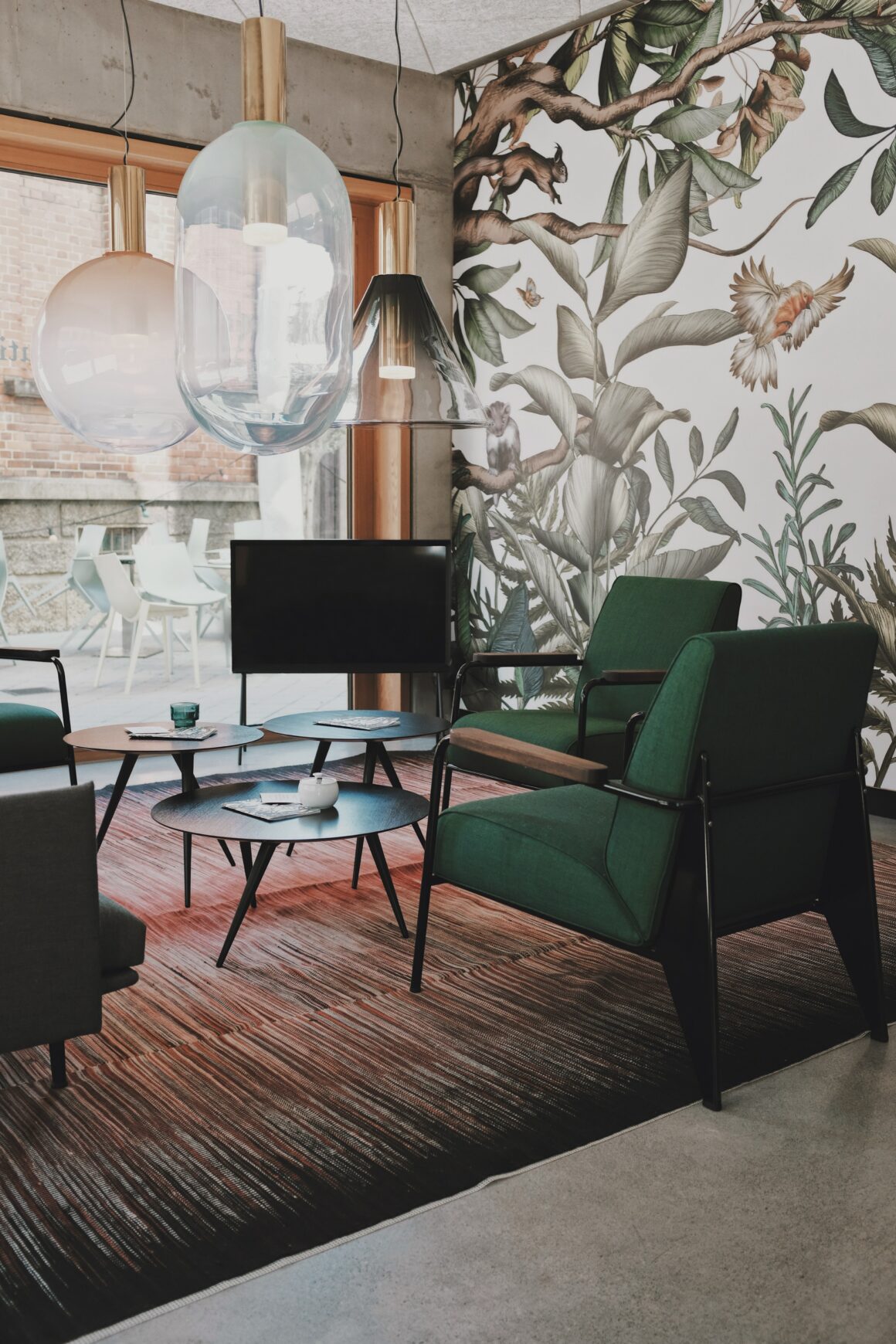 The details mentioned above are simplified definitions of minimalism, ones you should not depend on every home design decision you make.
If you want to design your home in a genuinely minimal style, here are all the tips and tricks you need to turn your home into a practical, functional, minimalist Garden of Eden!
Minimalist Wallpaper Ideas You'll Love
Keep in mind that the ideas given below are simply for your inspiration. You can choose from a variety of colors, textures, and patterns. Minimalism is not dull, neither does it promote a clinical way of living. If you want to create a little slice of heaven on earth, but stay within the boundaries of minimalism, do it with gusto, and with the right combination of color, so you're surrounded by positivity and calm.
Abstract Minimalist Wallpapers
Abstract wallpapers for minimalist homes depend solely on different patterns that provide a soft statement and an almost whimsical look.
These types of wallpapers add an extra layer of aesthetic to your home design. The look is crisp and in neutral tones and contrasts the general decoration of your home, creating a sort of color story.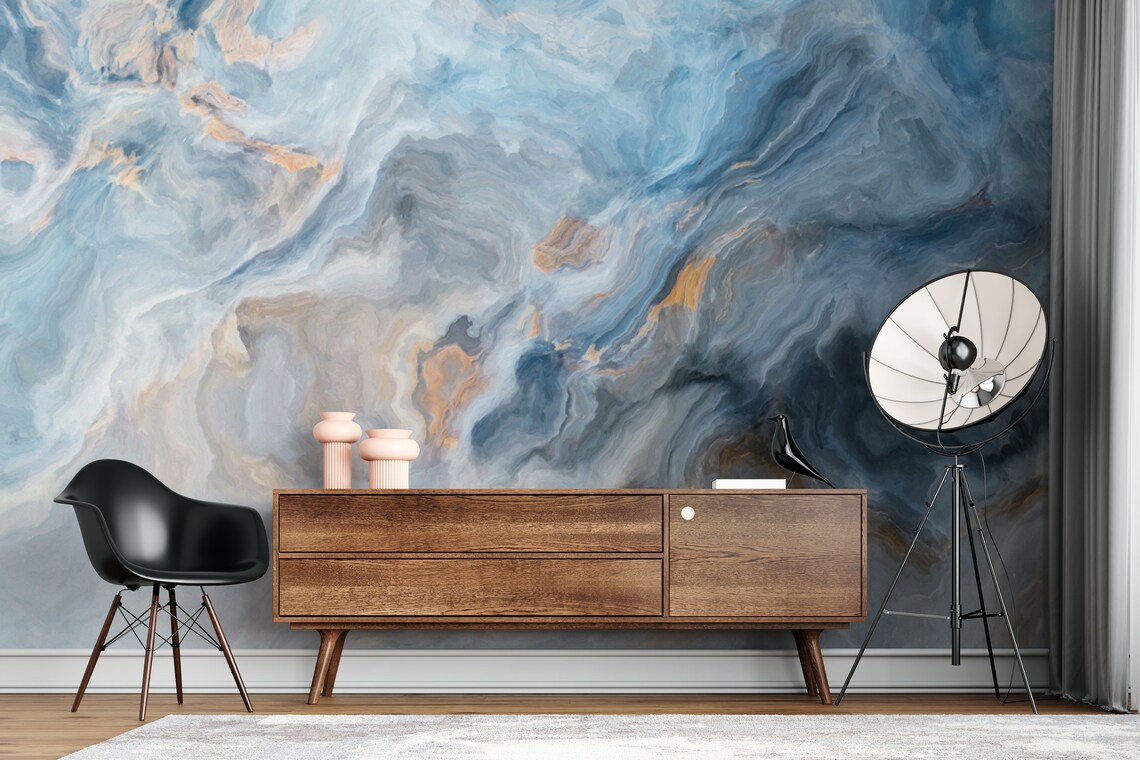 If you've followed minimalism, you know that we often use texture and furniture in our homes to create a story for the eye to follow. Plants and paintings, textured and abstract wallpapers—all of this gives the seer a story to follow.
No products found.
For example, looking at the rose and beige wallpaper set against the beige and wicker plant holder, softwood hues, and splashes of green to offset the abundance of pink, you get the idea that the person who loves this look is romantic. They like a sense of whimsy, love soft lines, and are creative enough to use their home décor to show their style.
That's what a basic minimalist abstract wallpaper can do.
Geometric Minimalist Wallpaper
Moving away from the softer textures, you can use something unique, clean-cut, and unfussy. Geometric wallpapers and facades are a classic choice and come in various colors, designs, and shapes. From the basic square tiles and wallpapers, you get the hexagonal wallpapers in clean black-and-white, as we see above.
No products found.
But, this doesn't mean that you're only limited to basic geometric shapes. You'll find plenty of wallpaper options in a modernistic, geometric texture, with 3D tiling on wallpaper to give the walls a bumpy effect. You'll also find artistic renditions of geometric designs, contrasting colors, and metallic hues. If you go with textured wallpaper, you'll also get shiny, sleek wallpaper options for particular rooms, like the home gym or the office.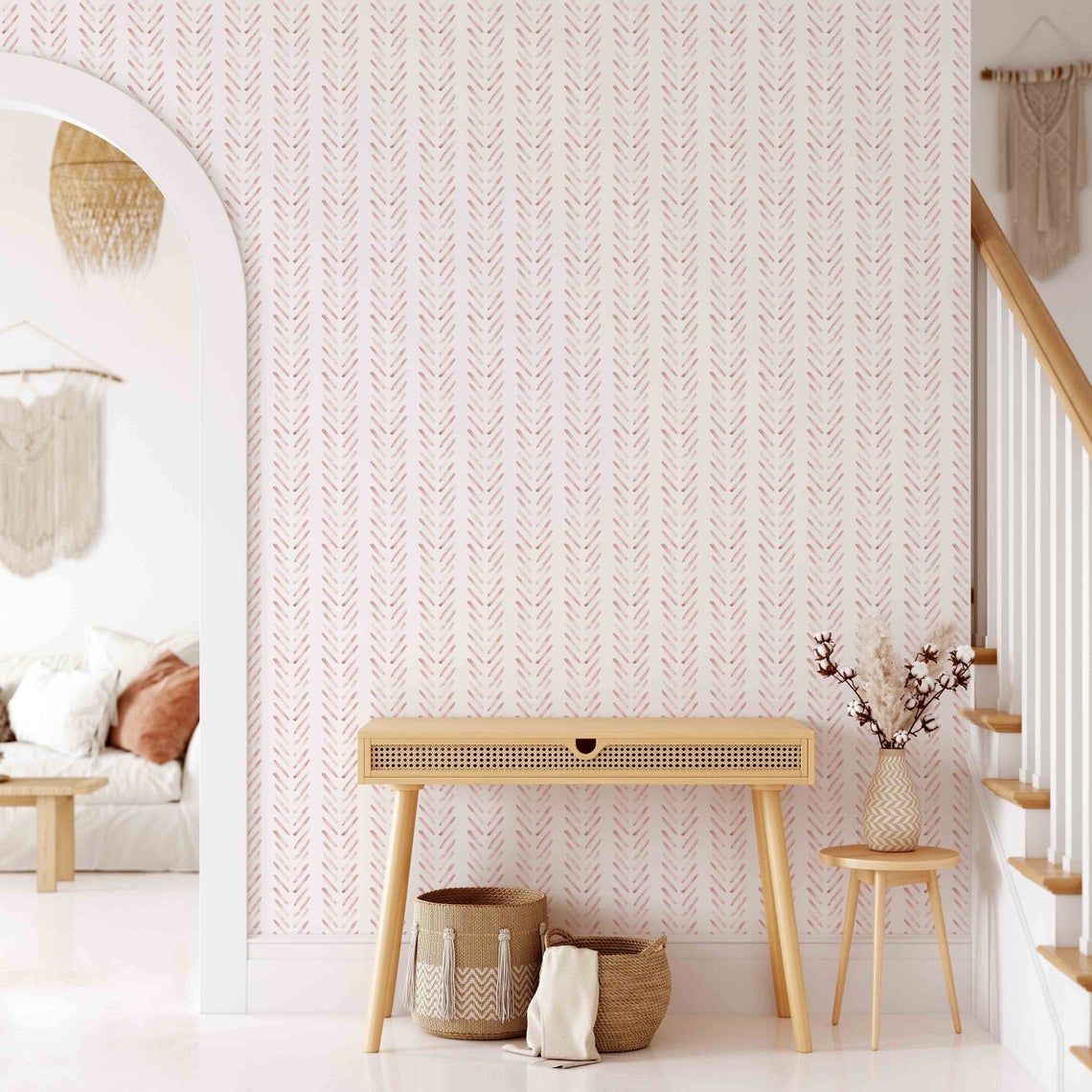 Geometric wallpapers work well for almost every room. But with more personal spaces like the bedroom, wardrobe, or bathroom, softer textures and designs come in handy.
No products found.
With geometric patterns, you'll find circles and other softer shapes dominating the wallpaper selection, with either deeper hues or pastel shades. If that suits your mood, get a hue that suits the hues of the other rooms. This will connect the design to the overall house's aesthetic.
Artsy Minimalist Wallpaper
Minimalist does not limit creative with home's design. Minimalism thrives through creativity. If you want to be imaginative with less, an artsy wallpaper would be right up your alley.
Artsy minimalist wallpapers allow you to tap into your well and dig out what identifies with you. This option allows you to choose a wallpaper that's a conversation starter and an intriguing piece of work, all without overwhelming the room's general design.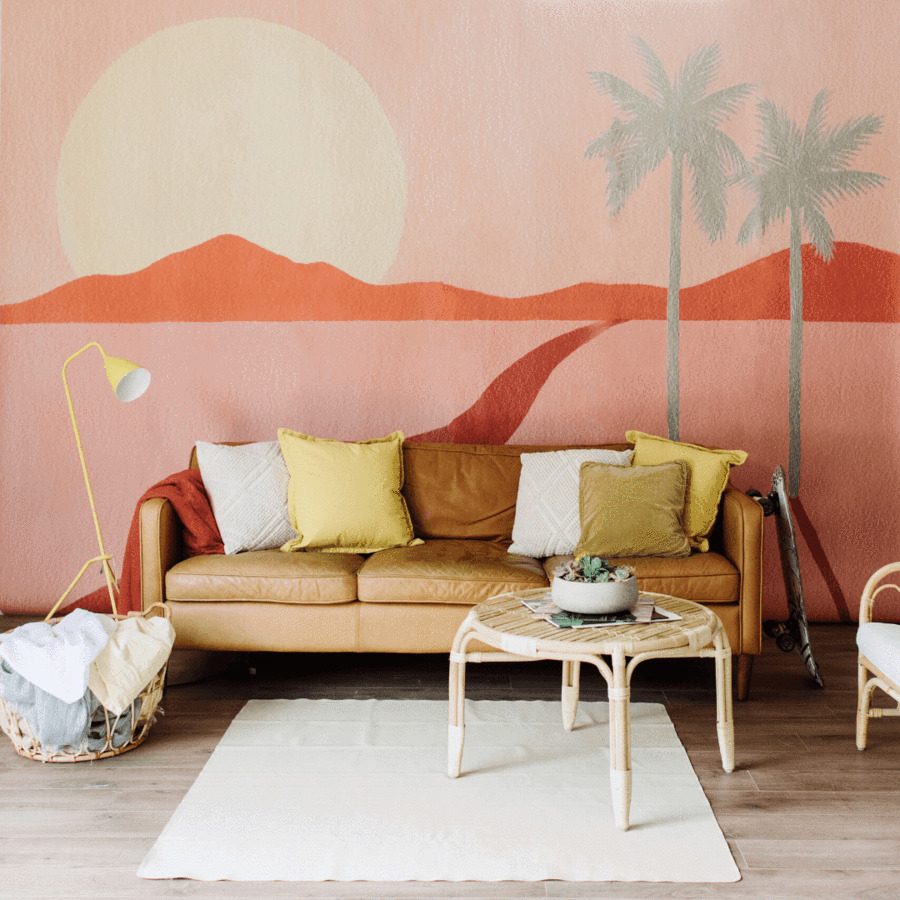 Artsy wallpapers come in an extensive range of options. And it all depends on how you want to go by it. For example, you can choose a monochrome work of art, perhaps stamp art wallpaper or tribal elements as a mix of maximalism and minimalism. It all depends on your form of self-expression and how you'd like to present your home.
No products found.
Typically, artsy wallpapers have no limit when it comes to a color range. But for those who want to stay true to minimalism guidelines, using pastel colors and creating a mural with cream as the background choice, surrounded by soft whites, greys, and pastel colors, works like a dream, especially if you choose to have a textured artsy wallpaper.
Industrial Minimalist Wallpaper
The industrial look often reminds us of plain gray walls, steel and chrome fittings, and an overall clinical vibe. But that's an oversimplified version of an industrial home design.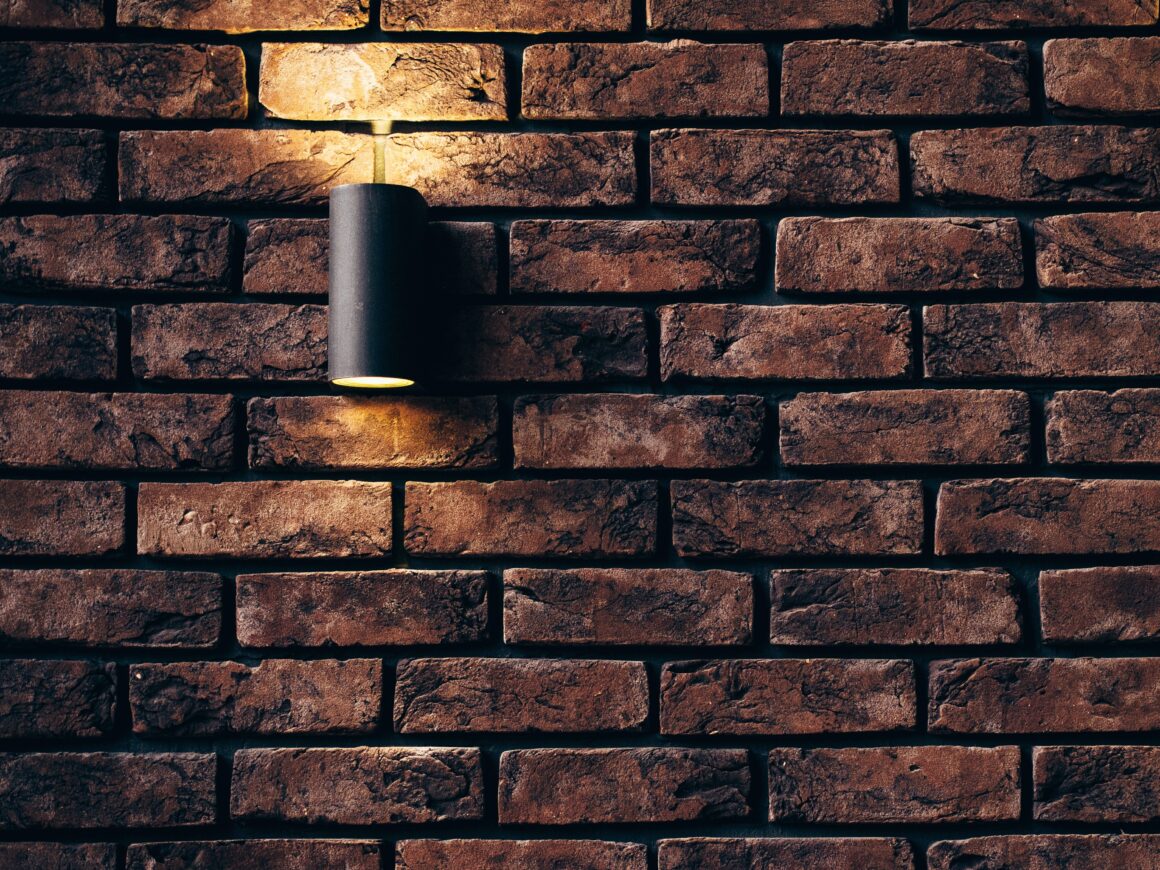 When you mix minimalism and industrialism, you get the groundwork of a comfortable, practical, and cozy home to live in. Minimalist wallpapers for industrial homes do not limit you with red brick facades and concrete walls with a few swipes of a brush thrown in.
Industrial minimalist wallpapers use multiple decorations to complete your home design. A combination of industrial luxe features—soft golden touches and hues, powerful paint strokes, combined with textured brick walls—gives you so much to play with that you forget you only have wallpaper plastered on the walls.
No products found.
Industrial wallpapers give your home a very sleek contemporary finish. Paired with the right furniture, these wallpapers add the touch of drama and pizazz that you wouldn't usually get with a basic one-color wallpaper.
A Note on Stone Texture Wallpaper
Industrialist wallpaper isn't limited to concrete, brick, and mortar. Stone textures such as marble have taken over the industrial design industry. Marble murals and textures typically go with a range of interior design choices, from contemporary to cozy to Scandinavian.
No products found.
If you want to create a well-balanced minimalist home design, you'll want to choose a marble wallpaper with an additional metallic touch, i.e., it shouldn't be completely white with strands of black. Otherwise, this look will get old very quickly.
Upgrading Your Home's Interior Design
Let's say you've chosen a gorgeous minimalist wallpaper for your home. Next on the list is the task of creating a space that would complement your wallpaper.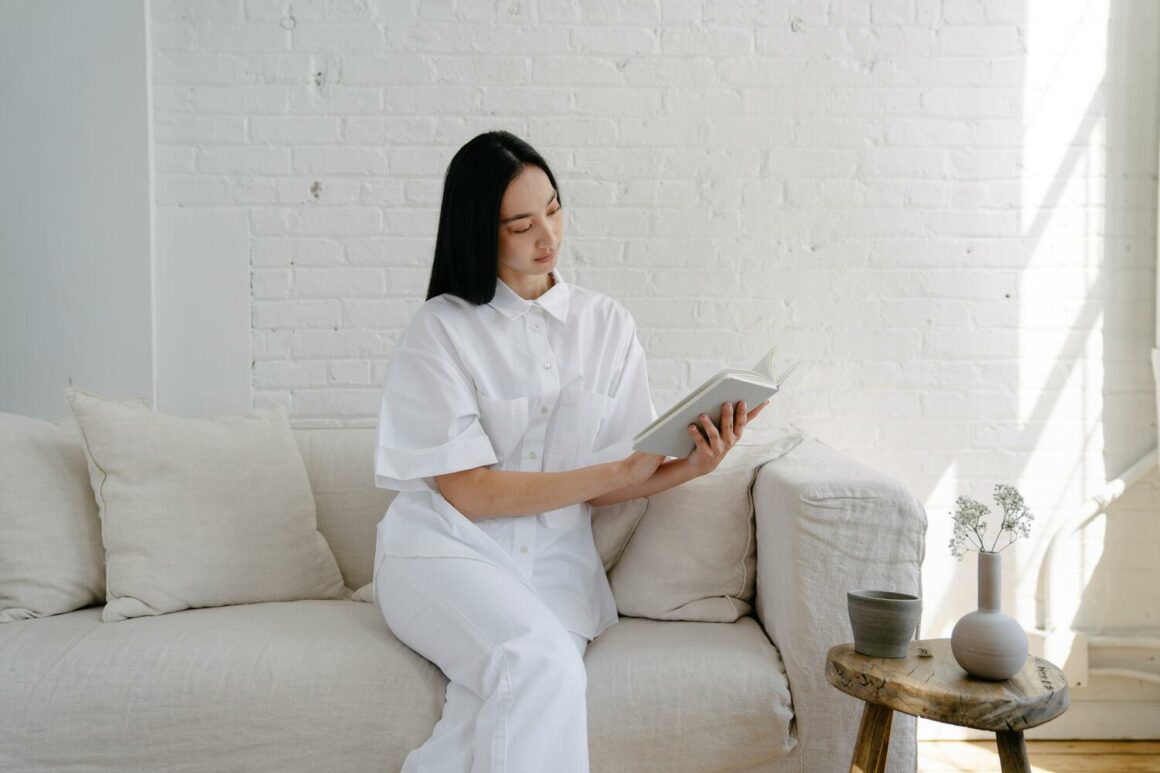 For that, you'll want to follow a set of rules to upgrade your home's interior design. Keep in mind; these rules are not steadfast. You can waver, but if your home starts becoming crowded, that should be the first clue that you're straying away from achieving a minimalist home design.
Choose Functionality over Aesthetic
Think along the lines of choosing furniture that keeps you comfy and looks good to boot.
For example, if you're in the mood to buy a Kyoto-style Japanese bed, but don't want to because of the lower base, don't push yourself. Buy a sleigh bed or a different style that suits your mood and taste.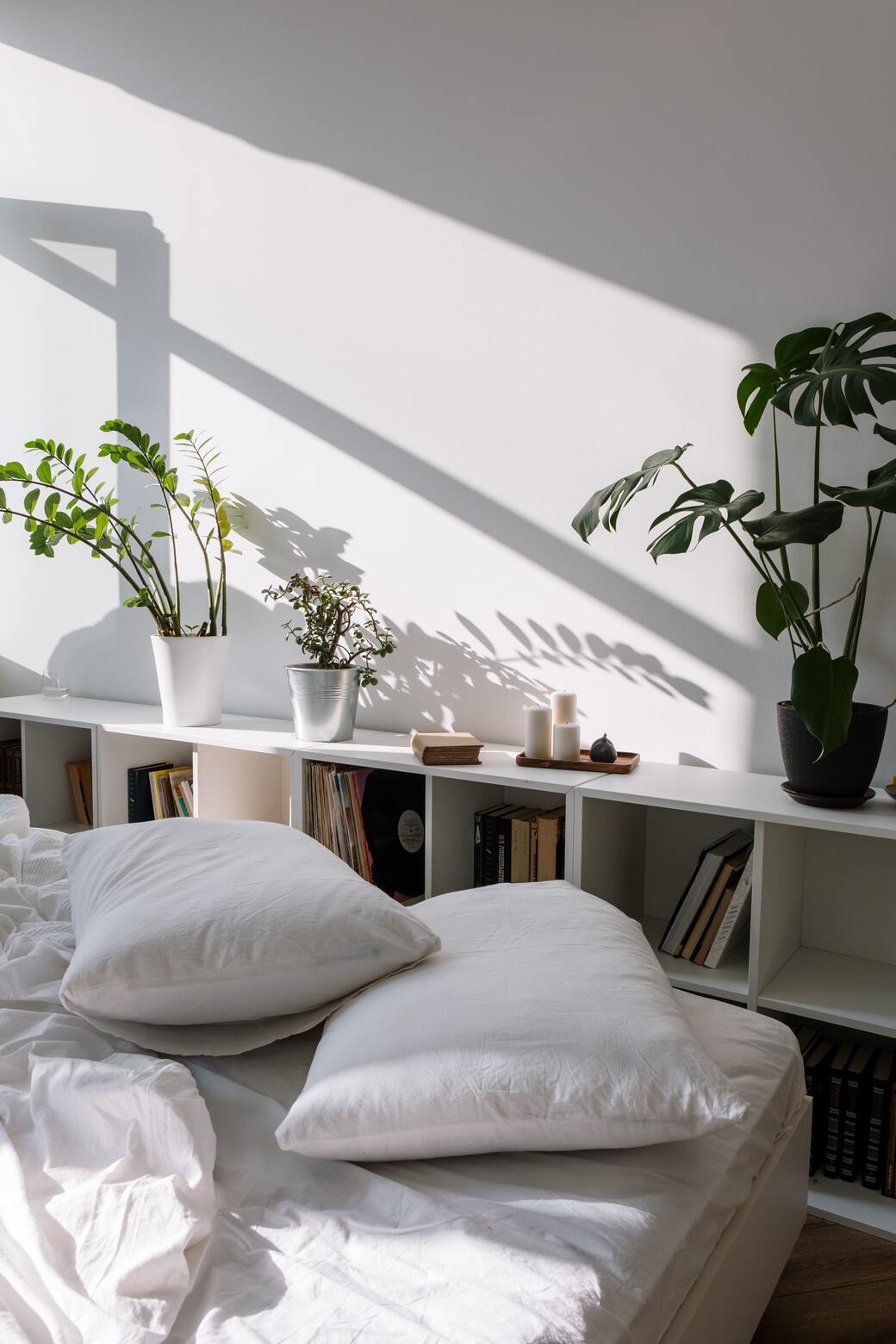 Choose a smaller, less ornate dressing table and side tables with plenty of storage space to keep your items. Find an ottoman for a dressing table stool so that you can keep your things in the right place.
No products found.
Every piece of furniture in your home should have a purpose and a function. You are allowed to have personal things like picture frames and plants. Yet again, every possession should have a purpose.
Incorporate Natural Elements for Accessorizing
Let's say you have a white and black home with touches of beige and hues of red. This color story is very cool, calm, and peaceful. But it's not complete without a splash of green and other natural colors thrown in.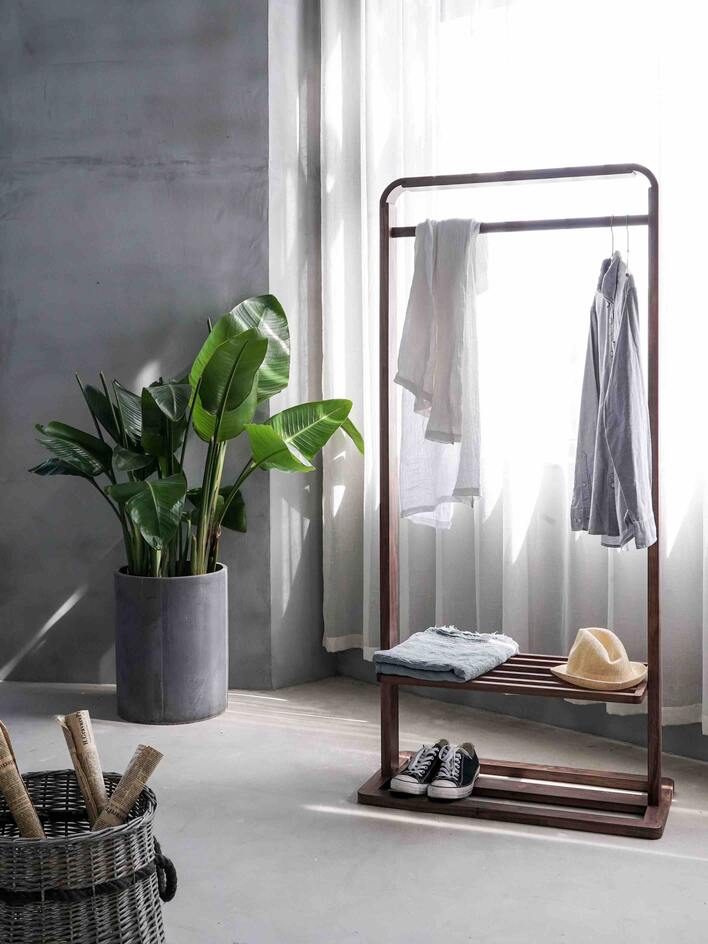 If you want to decorate your home, use succulents, woven baskets, and natural terracotta planters to brighten up the area. Add a rustic-style runner near the main door, for your kitchen, plant microgreens, and small herbs for that added touch. And use flowering plants for the living room and bedroom. You'll find plenty of plants that will support the design point for each room.
No products found.
It all depends on who you ask. A professional gardener will have all the information you need on which indoor plants belong in which room. And who knows, you'll even be able to find some for the bathroom that thrives on moisture.
Go Vertical
Do you have a small real estate that can't fit in everything you have? Go up.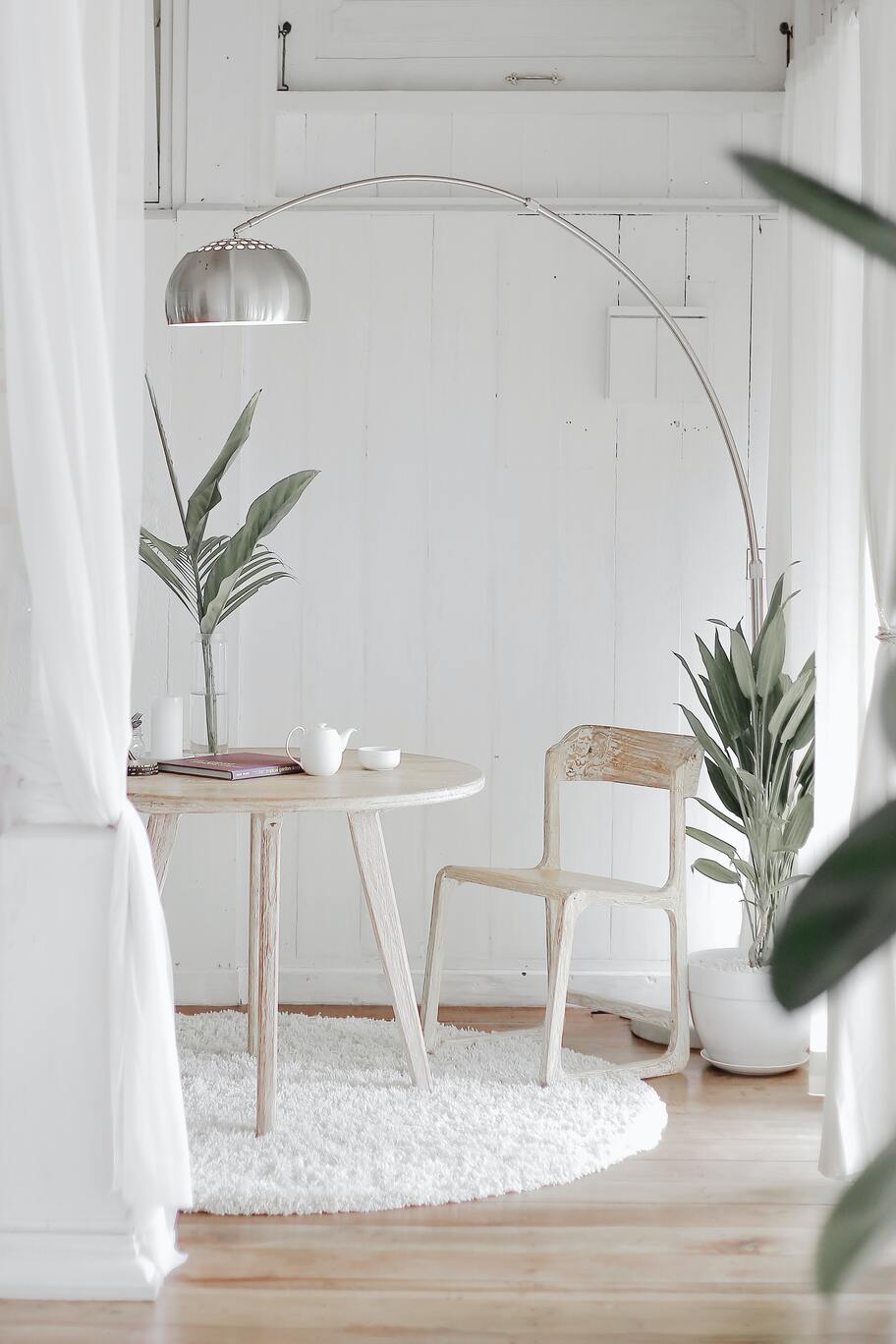 Walls and ceilings rarely get used to their full potential. For example, if you don't have space in the kitchen to store your bits and bobs, use a hook and hanging baskets to hang the things in the corner of the room. If you want to add plants and flowers, hang them on the wall.
No products found.
As for storage options, you'll find plenty of narrow cabinets and tallboys that'll give you all the space you need. If you own your home, create storage space up by the ceiling instead of around the floor. Use your creativity.
Be Sustainable With Your Furniture Choices
In other words, go second-hand.
If you're decorating your home from scratch, you'll want to choose your furniture from vintage stores or second-hand stores. Giving old furniture new life not only saves money, but it also gives your home a classic edge. You value those items more. But there's less sadness when you do have to throw them away or recycle them.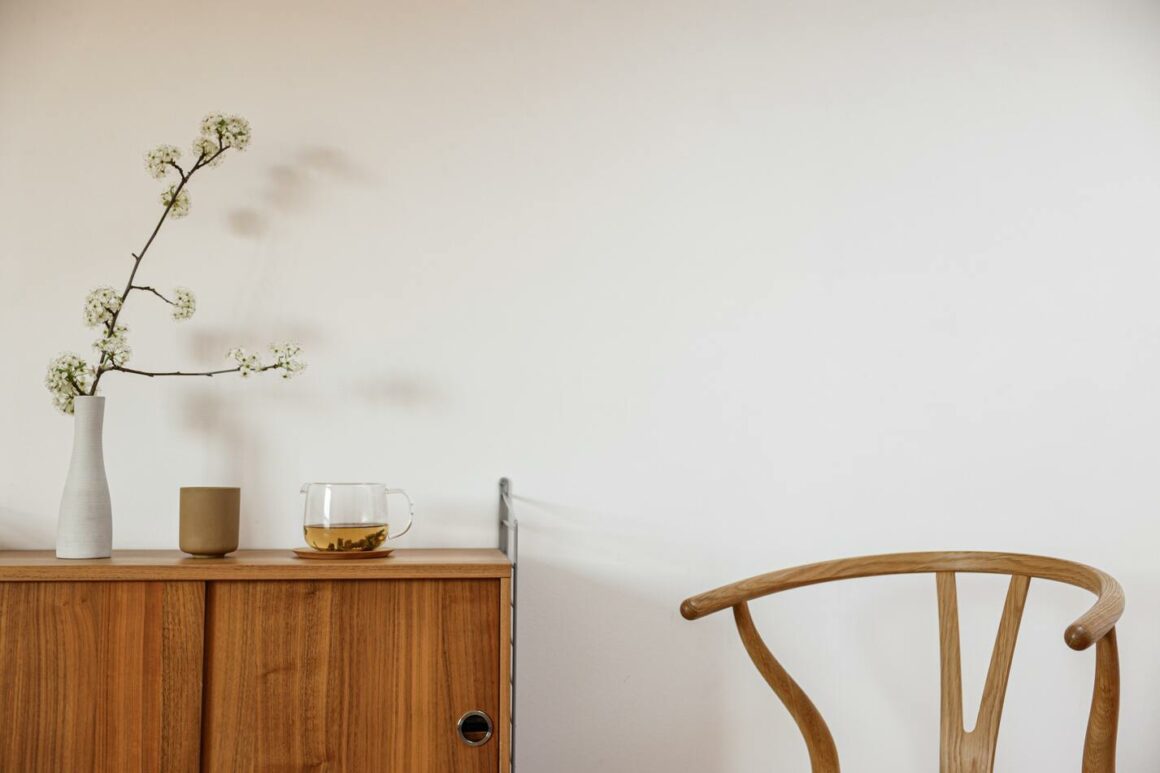 Minimalism also promotes sustainability, so if possible, look for the most eco-friendly furniture and vendors who sell furniture. You'll save more money and do your part in supporting an industry trying to create a dent in the furniture market.
Also, when choosing pre-loved furniture, look around for reliable vendors, those who have a record for selling furniture or have a dependable record. You don't want to get duped into spending money on something that's not worth it.
Leave Some Empty Spaces
When it comes to creating an ideal minimalist interior design, simple empty spaces are your best friend. Minimalism focuses on clean and accessible spaces to give your home a nice, airy feel. If possible, add empty spaces if you can.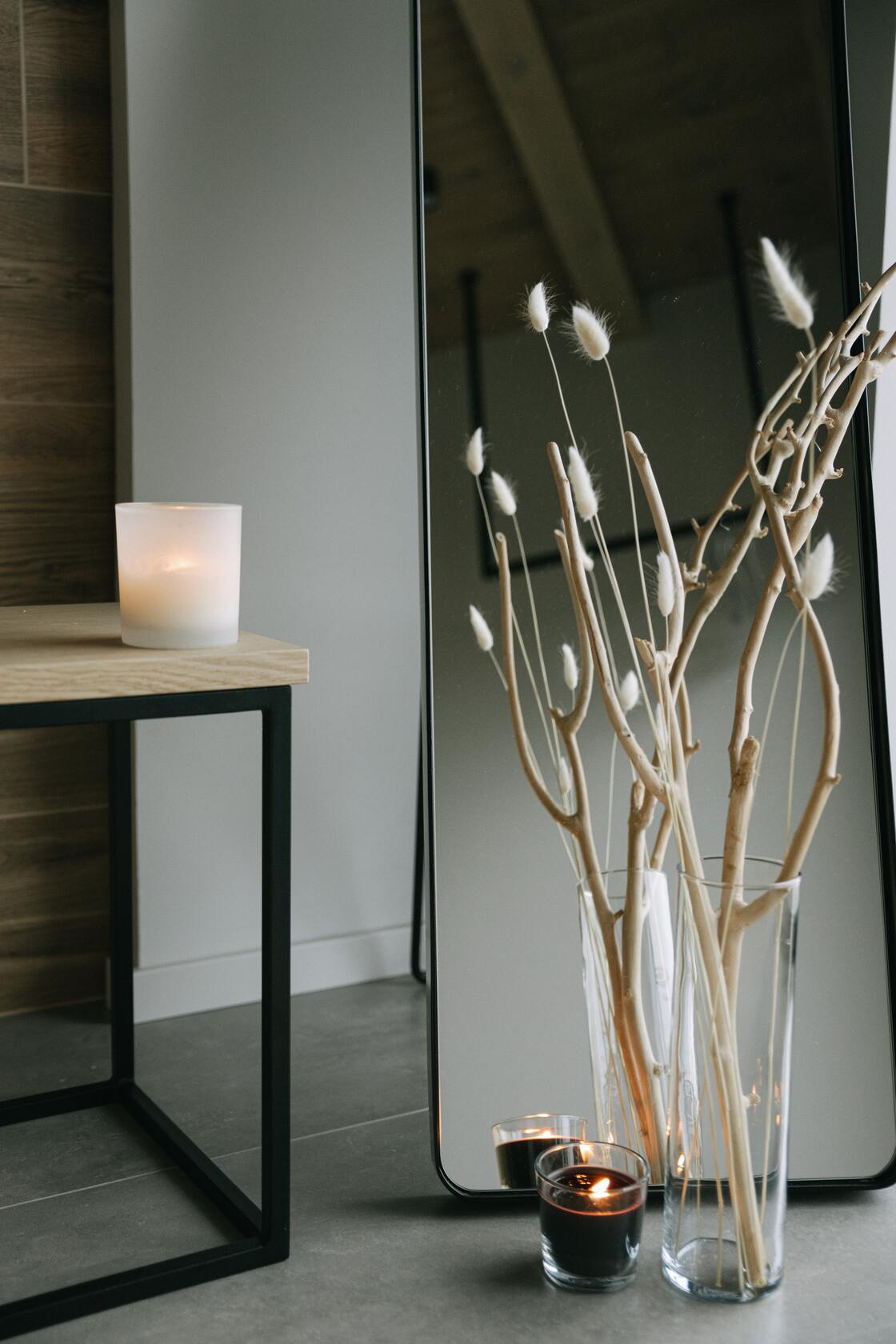 This doesn't mean you should get rid of your beloved couch and grandma's favorite chair. Instead, incorporate your furniture in a way that you have free walking space, potential storage spaces, and clear areas on the shelves. In short, simplify your home's aesthetic. You'll be surprised by how beautiful and light your home looks just by removing your old candle collection!
Combine Different Elements of Minimalism
As stated before, functionality is one of the main factors in minimalism.
If ever possible, try to find furniture and various decorative elements that are multi-purpose. Tables with storage space, hangings that also serve as shelves, convertible beds—there's plenty you can find online. It's all a matter of doing the best research. It also helps that with sustainable living becoming more popular, more home design brands are churning out better products.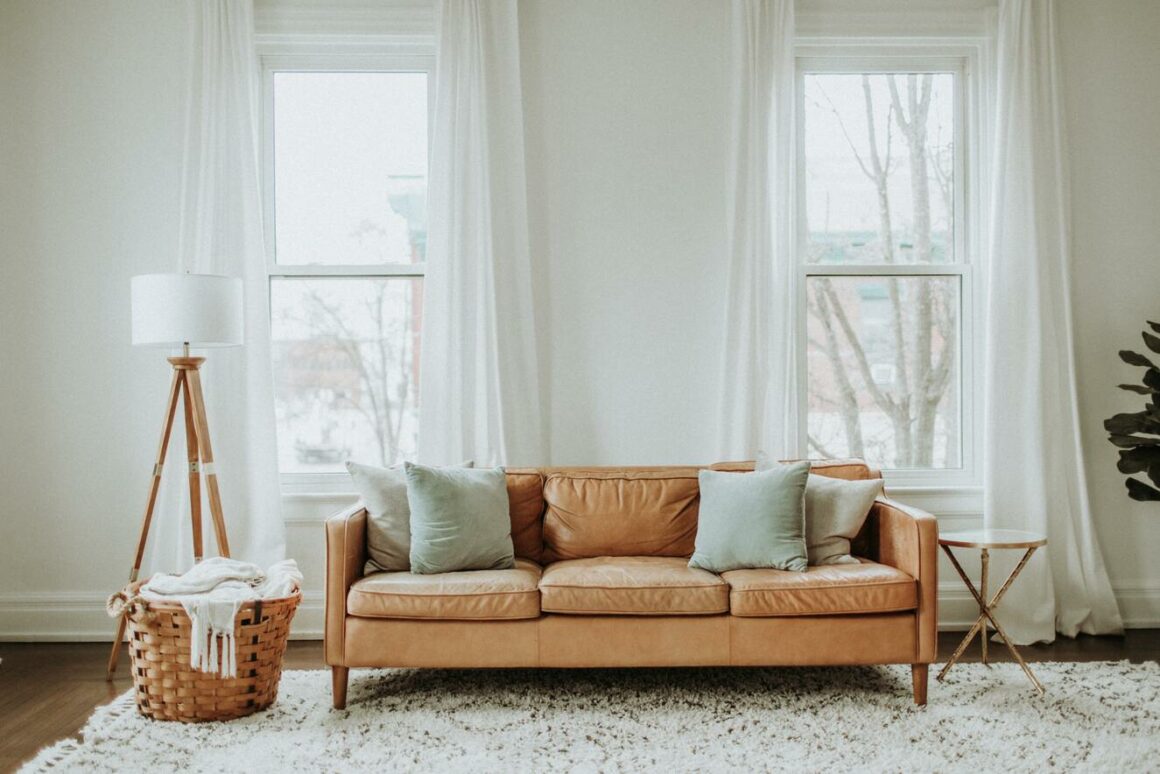 So, climb onto that bandwagon. Remove any unnecessary clutter and replace it with a better option. And if it's something that's unique in design and has a hefty price tag, consider it an investment in your home. You're de-cluttering your space, but you're also investing money into making it the best home you can have.
Do your best to find the best options for your money.
Conclusion
Minimalism in home design is a beautiful concept. All it requires is a little creativity and some inspiration to get started.
With all the above information, you'll have no problem designing a home that not only supports your lifestyle but does its part in removing all the mental clutter you experience, giving you a better, freer space to live and thrive in!