This article contains affiliate links for which I may receive a small commission, at no additional cost to you, should you decide to make a purchase by using them. Learn More
Transforming your home into a minimalist space doesn't necessarily mean you can't enjoy luxury and the finer things in life. A fireplace or pit goes a long way in a cool to cold climate. A fireplace or pit is an excellent tool for communal warming during the nights you host your tribe.
Moreover, it also facilitates a selection of activities to keep you and your loved ones entertained, whether roasting s'mores or giving your garden space more intimate lighting.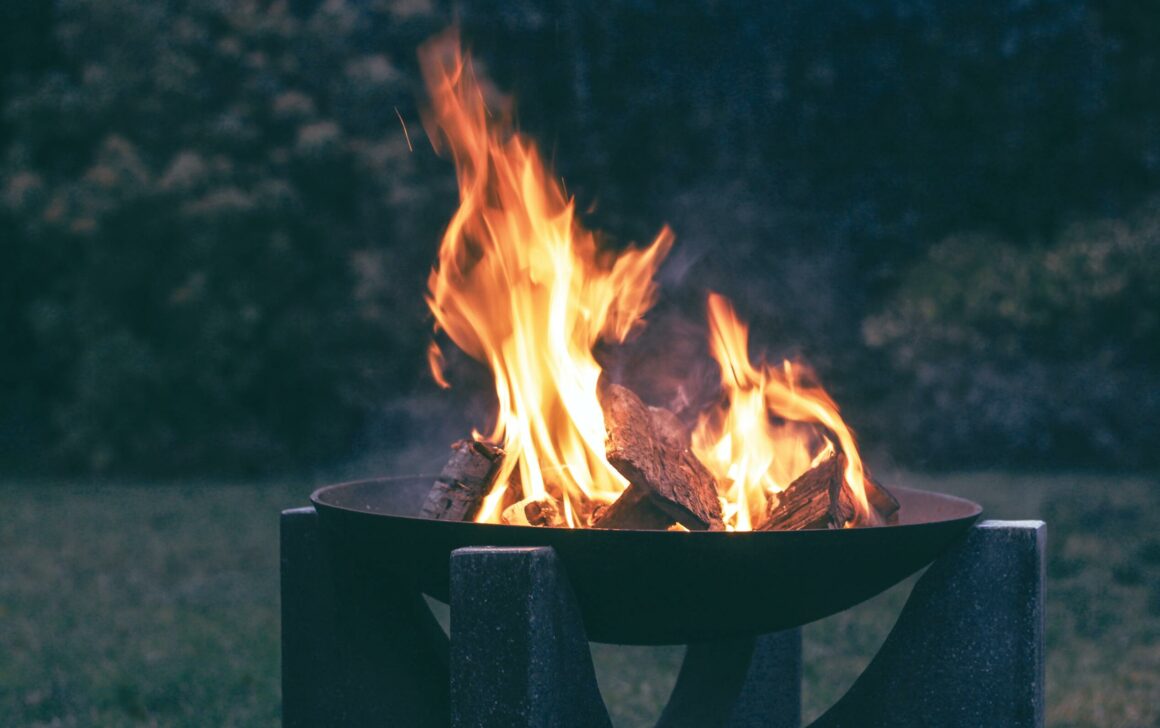 A well-designed fireplace or fire pit can also double as a functional backyard piece in a minimalist space. You can use it to store logs when not in use or as a mini buffet table during special occasions. Additionally, when set up in the right place, a fireplace or pit can complement the overall look of your outdoor space, emulating its landscaping design.
The best part is that you can find a wide selection of grand minimalist outdoor fireplaces and fire pits on the market. To help you find the ultimate choice for your minimalist space, here are our top 14 picks for the best minimalist outdoor fireplaces & fire pits this year.
1. Focus GyroFocus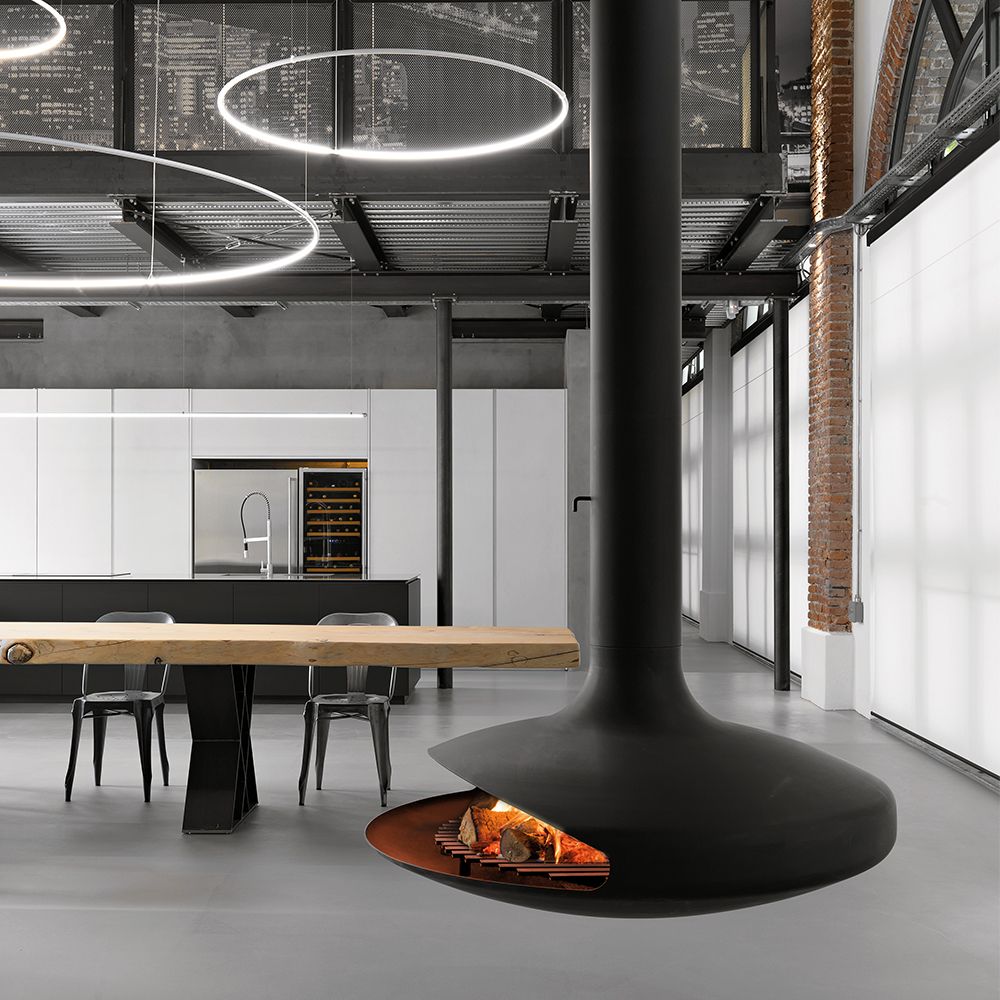 If you want to transform your home into a chic-modern haven instantly, the Focus GyroFocus fireplace is the ultimate option. The fireplace's appearance and functionality can be articulately described in three words, i.e., central, suspended, and rotating.
The retro-modern, chic fireplace traces its design back to 1968 as the first suspended 360 degrees pivoting fireplace. The award-winning design integrates a long suspended metal-like pole that opens up into a wooden loading space to load up your wood.
While facilitating its fireplace functions, this seminally designed piece effortlessly blends with your outdoor design. The wood-fueled fireplace comes in a selection of white or black matte finishes to truly complement your space.
2. CB2 Form Cement Pit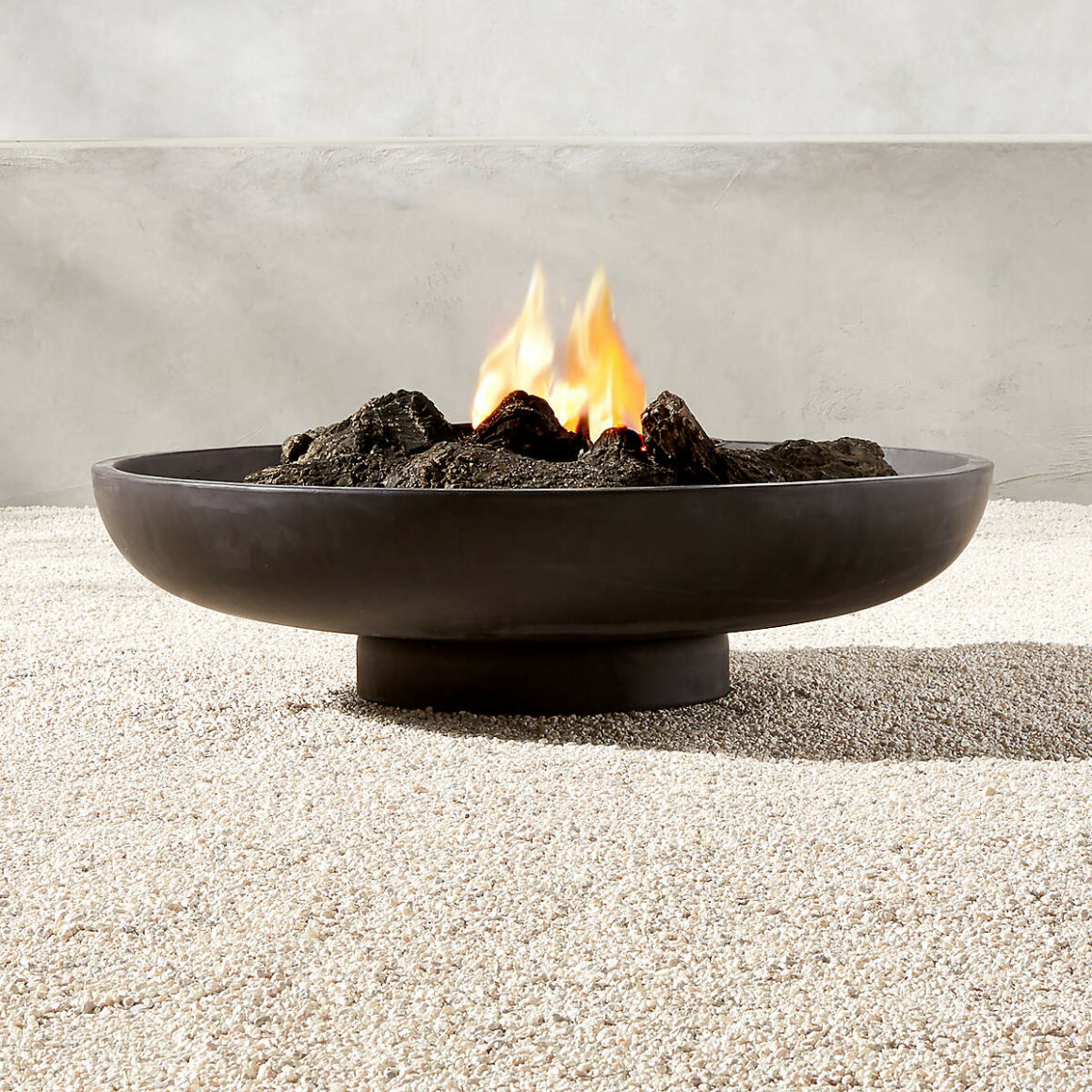 The CB2 Form Cement Pit features a uniquely sculptured dish-shaped pit that enhances its appearance and functionality. Designed by Studio Anansi, the dish-style pit integrates a modern charcoal finish to add a bold statement to any setting.
On the other hand, its deep-dish design harnesses the perfect fire pit platform. It helps hold the heat and flame much longer, offering excellent heating and heat-retaining performance.
The sculptors use an intelligent construction mix of cement, sand, and fiberglass composite for even better functionality. The 38-inch wide dish-style fire pit is wide enough to complement any standard outdoor home space.
3. Terrazzo Square Outdoor Fire Pit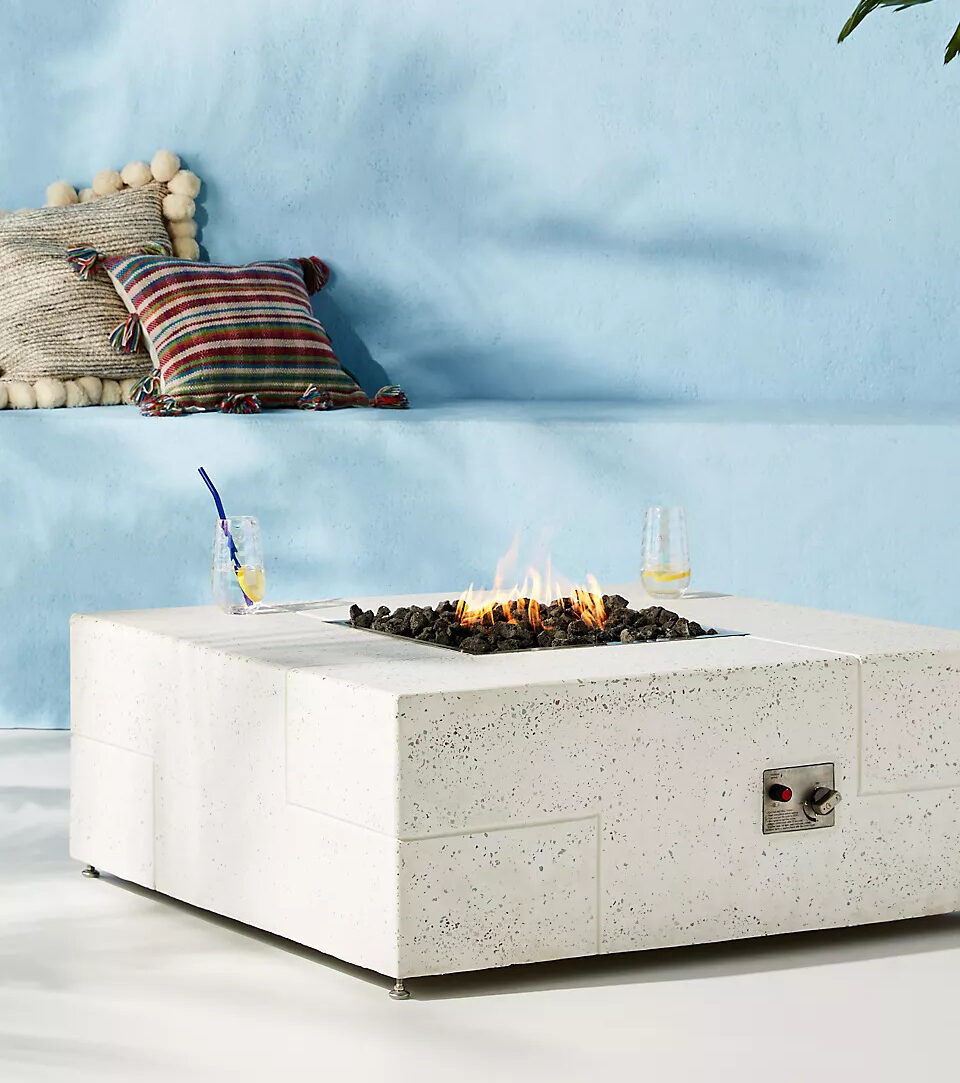 The Terrazzo Square Outdoor Fire Pit is the perfect option if you want to make a statement in your garden. While the fire pit has a simple and minimalist design, it's still quite a sophisticated piece to add character to your outdoor space.
It features a square-shaped body made from terrazzo and concrete. Its design is reminiscent of a classy Mediterranean sculpture piece. With the burning pit at the center, the outer sides of the pit double as a platform for your drinks or snacks during those chilling and relaxing evenings with family or friends.
The outdoor fire pit also promotes a smokeless heating experience. The 55,000 BTU fire pit features a fully gas-powered design for added convenience.
4. MFP Bora Outdoor Wood Burning Fireplace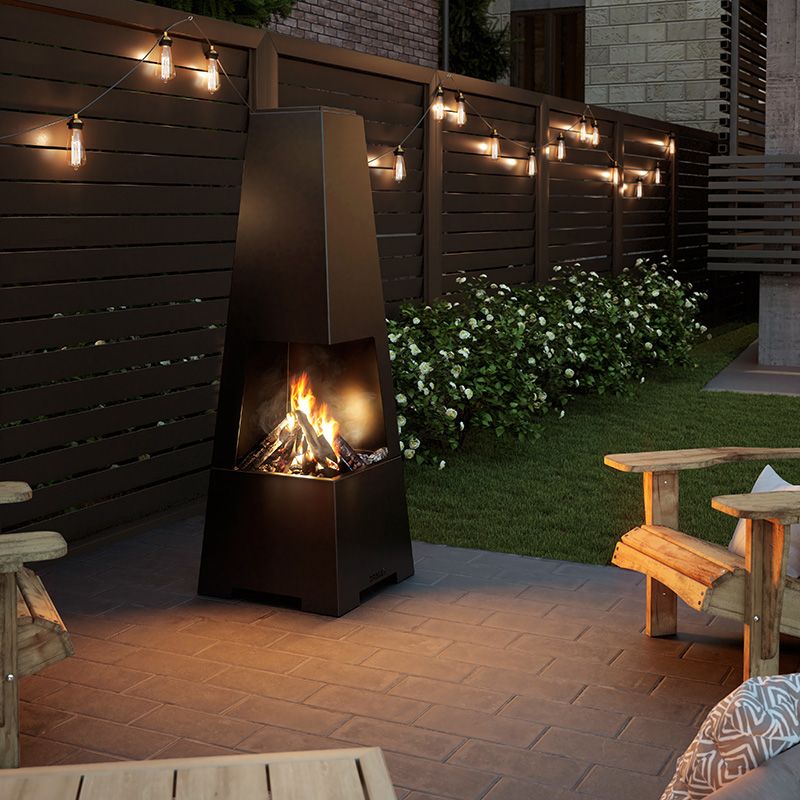 The MFP Bora Outdoor Wood Burning Fireplace is a great companion to your backyard setup. It blends well with any backyard furniture, whether wicker, wooden, or metal set up. You will also be impressed with its innovative design, geared towards curbing increased fire-burning smoke.
It has a dual-sided opening at the optimum viewing flame height in a semi-pyramid style. The design facilitates a chimney draft effect while limiting annoying smoke. Moreover, the Quebec-made fireplace integrates a patio heater to optimize heat across the fireplace body.
The stainless steel food-grade fireplace features a high heat-resistant black powder paint to withstand up to 1400 degrees Fahrenheit. You can also opt for a fire screen if you want one.
5. Element Metropolis Table Cast Fire Table
The Element Metropolis Table Cast Fire Table features a beautiful and compact tabletop design to complement any setting. You can set it anywhere, whether your backyard, patio, deck, or poolside. The fire table features lightweight glass fiber reinforced concrete, allowing it to survive the harsh outdoors.
It is also designed to mitigate smoke for clean burning. To complement its smokeless design, the fire pit table is fitted with an auto-ignition system. Additionally, it has a 304 stainless steel burner with a burning pan, pre-attached 10-foot hose, and regulator.
The 45,000 BTU propane-operated fire table allows easy lighting and flame height adjustments. The fire table comes with a free canvas cover and lava rock to add value to your purchase.
6. Eva Solo FireBox Garden Wood Burner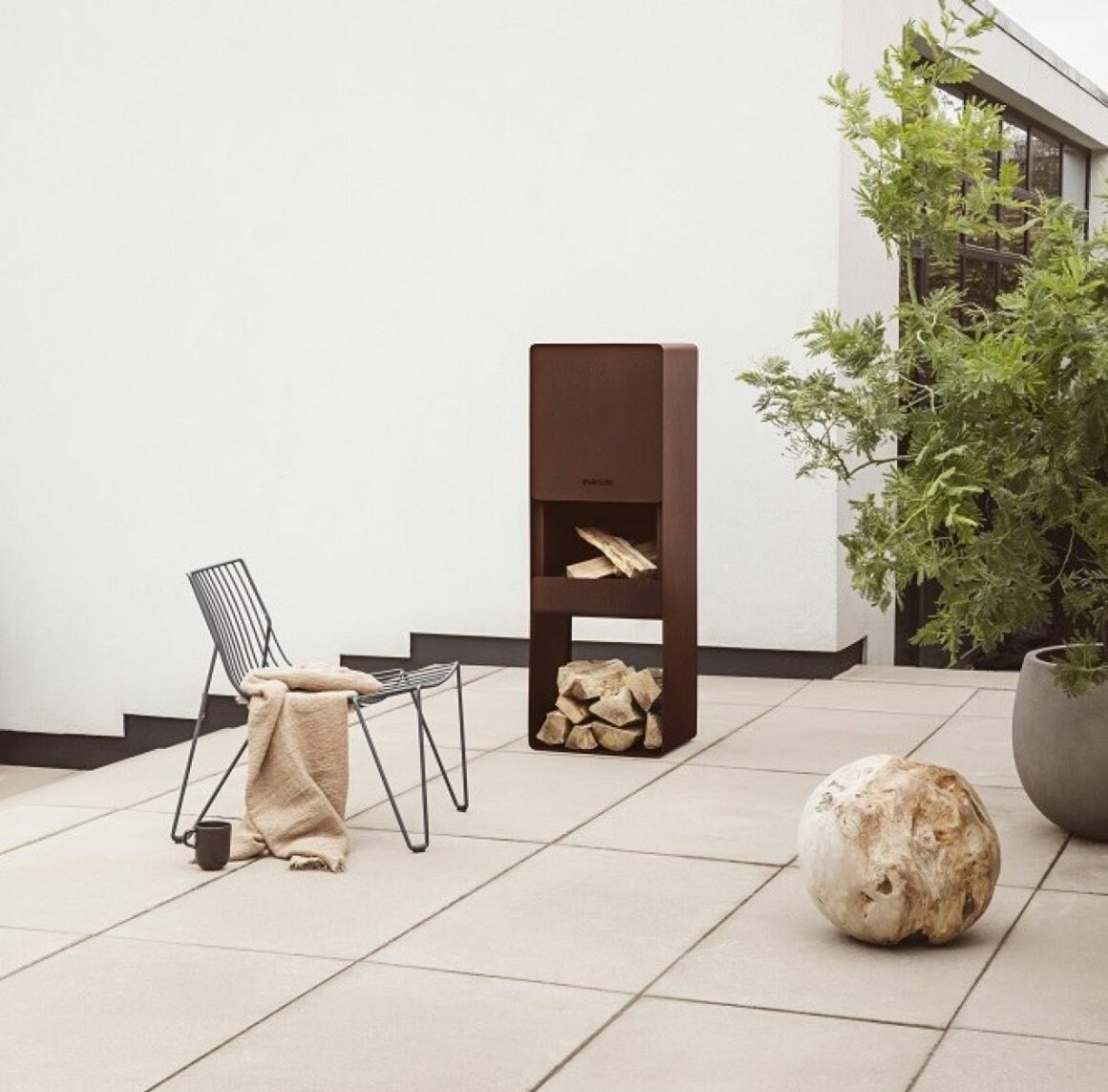 The Eva Solo FireBox Garden Wood Burner features a more modern and clear design to complement any outdoor space. The fireplace integrates a firewood holder and a large backside opening to escape the smoke.
It's made from Corten steel which gives it all year round ruggedness without affecting its luxurious look. Moreover, the wood burner also features a tall, straight-lined profile, measuring about 49 inches.
Thanks to this design, the wood burner doesn't feel like clutter. The height also allows adequate heat dissipation and air circulation for clean, smokeless burning.
7. Vermontica Contemporary Minimalist Steel Patio Fire Pit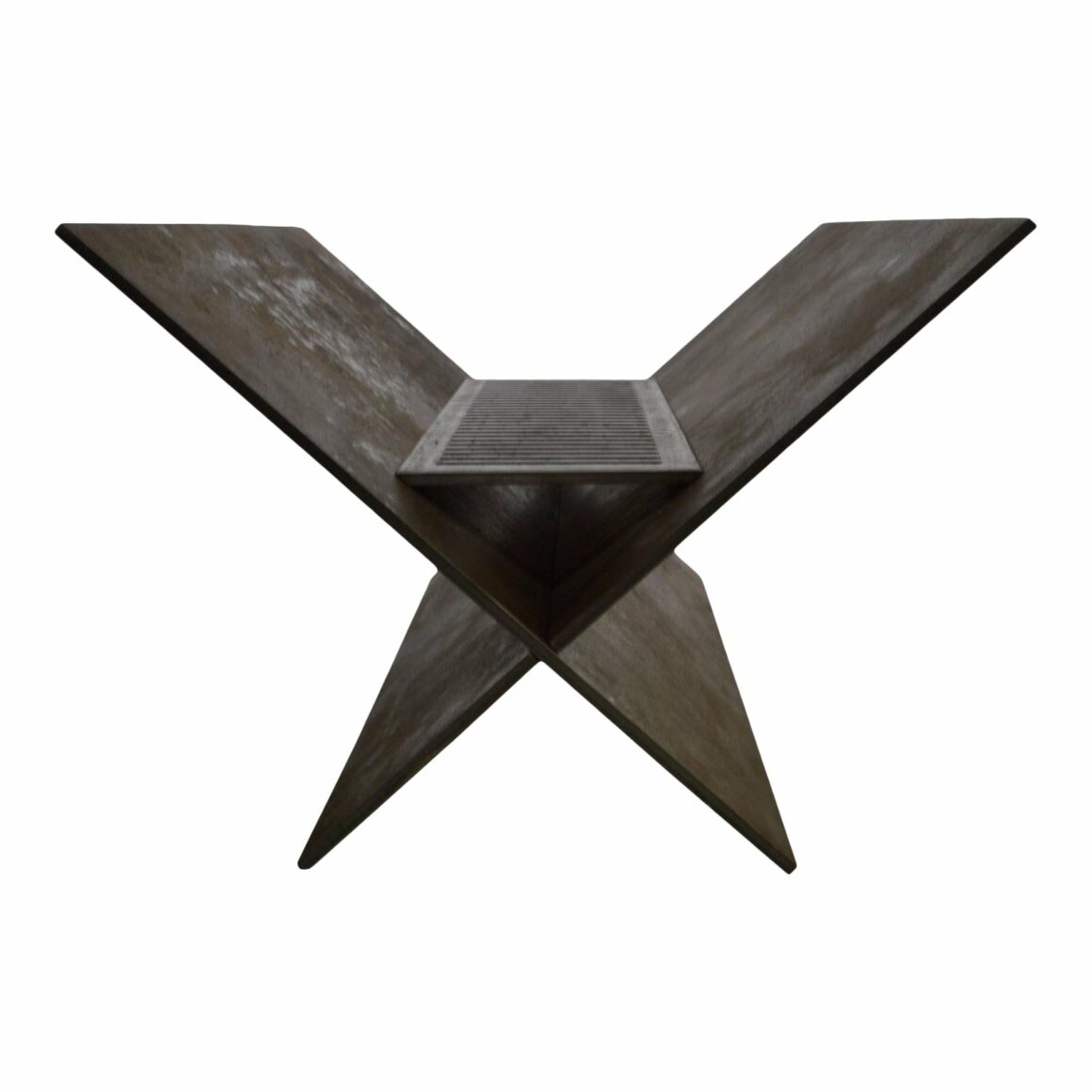 The designer-made Vermontica Contemporary Steel Patio Fire Pit is a minimalist's golden token. Scott Gordon exclusively designs the Fire Cradle fire pit for Vermontica in Vermont.
The minimalist fire pit features a compact design, allowing you to fit it anywhere within your garden. Yet, its bold design effortlessly blends in with any garden setup. The fire pit is made from weather steel and features an intersecting Corten steel plate sheet to give it a unique appearance.
The robust steel-made fire pit only requires a single log of wood to light up and warm you up during those chilly evenings. Maintaining its clean design, on the log platform is a steel grate to hold the log and allow ash to escape to the bottom smoothly.
8. Aegean 70-inch Rectangular LP Fire Table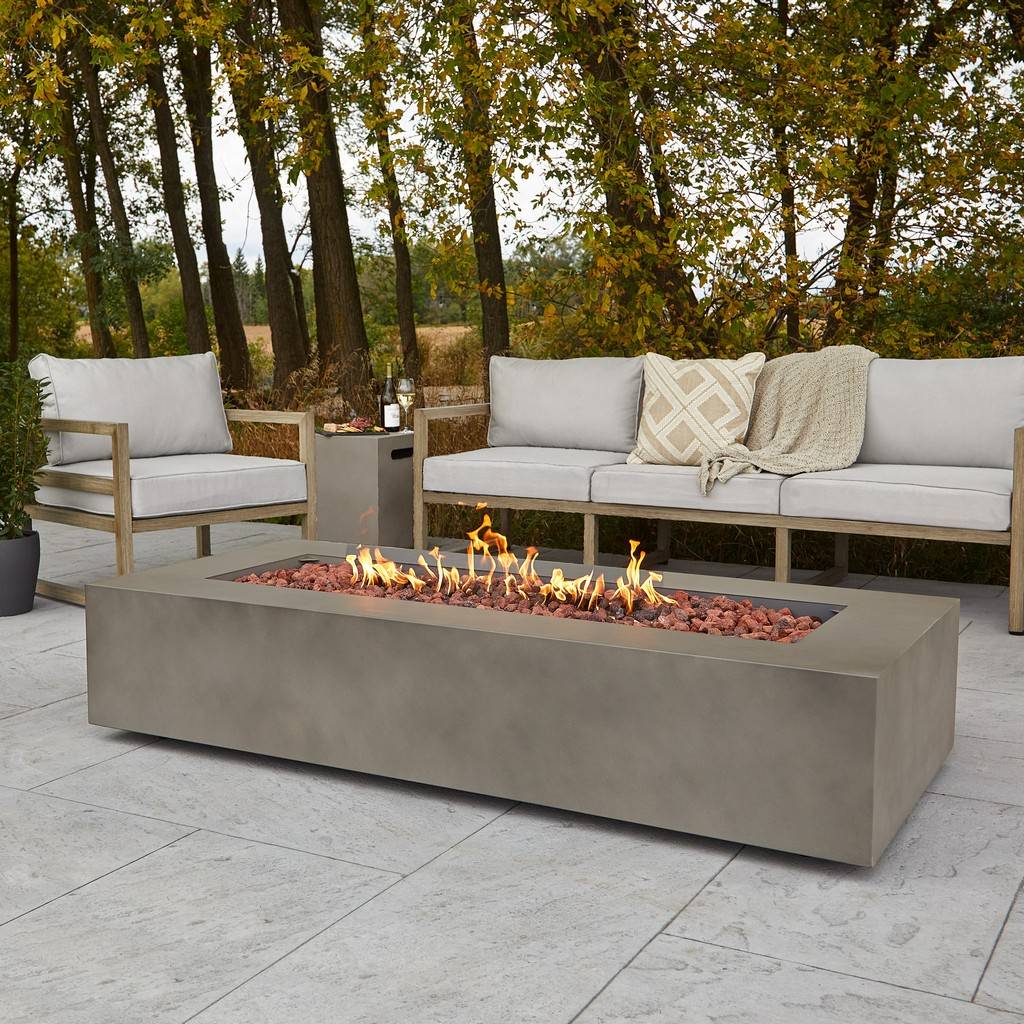 The Aegean 70-inch Rectangular LP Fire Table features a traditional mist gray-colored Mediterranean style construction for the ultimate outdoor setting.
The fire table measures about 70 inches long and 31.75 inches wide, enough to allow it to double as a fire pit and coffee table – perfect functionality for a minimalist! In fact, it even comes with a lid to cover the pit area when not in use, giving it full functionality as a coffee table.
The main fire pit is made from powder-coated steel with a weather slate finish, while the cover is made from polyester and PU coating. The fire table is gas-operated and features a push-button ignition and adjustable burning setting for a clean and smokeless function.
9. Century Modern Outdoor Rectangular Gas Fire Pit
The Century Modern Outdoor Rectangular Gas Fire Pit comes in a selection of natural concrete or white stone finish to fit your outdoor design needs. The fire pit is 100% propane-fueled for added convenience.
Yet, it maintains a traditional-style pit filled with lava rocks for the complete look. The gas-powered fire pit features a handy push-button ignition with an adjustable flame setting.
Additionally, the 50,000 BTU fire pit has a fuel burn time of up to 8 hours. To give you value for your money, its concrete finish features a heat-resistant coating and is rust-proof and weatherproof.
10. Palo Form Kodo Outdoor Fireplace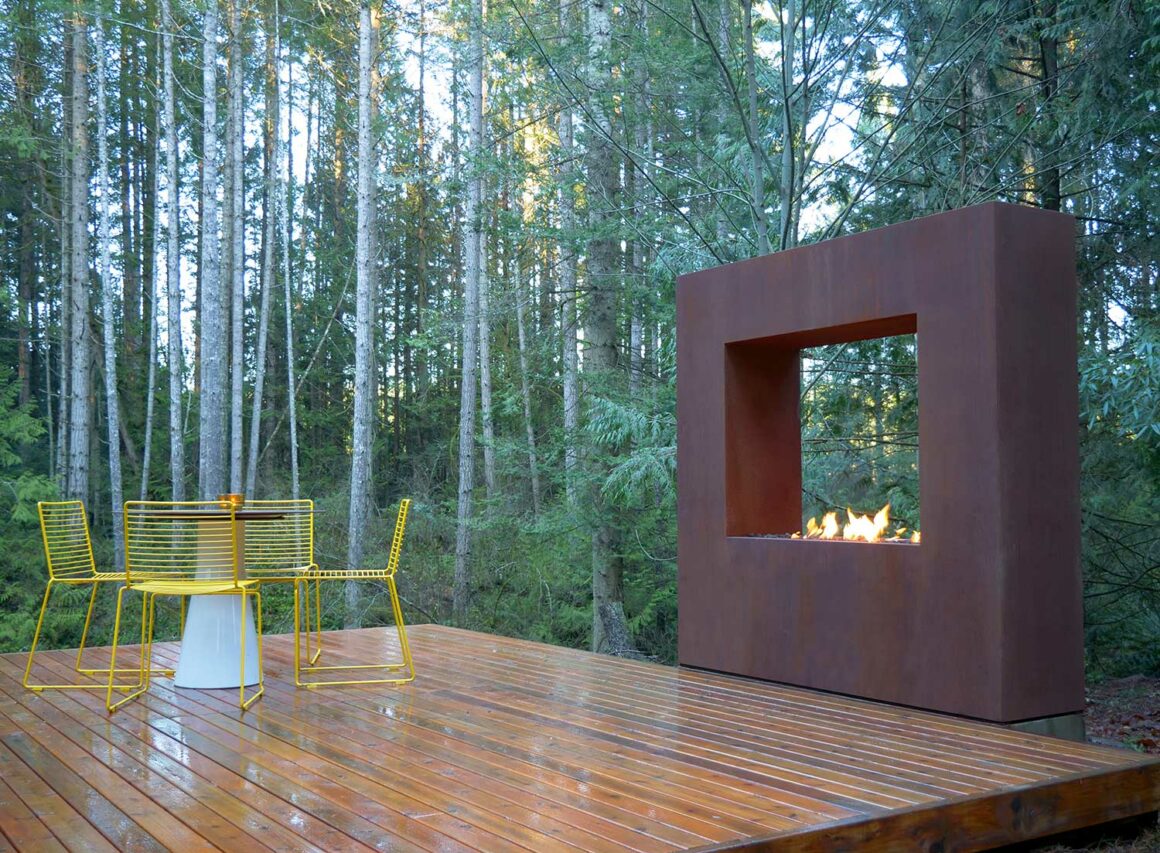 The Kodo Outdoor Fireplace features a large, distinctively sculptured design to add that regal look to your backyard or garden. The modern-designed fireplace features a 3-inch linear fire-framed design.
The framed fireplace measures about 72 inches long and wide, allowing you to use it as a space divider or definer. Yet, its design is still substantially minimalistic. The dual natural gas or propane burner offers a 60,000 BTU output and can be operated via electronic ignition or match lit.
It produces an adjustable wide flame strip to add more character to your garden through its illumination. The fireplace offers a wide range of finishes and toppings, including Corten steel, black lava pebble, and crushed black glass.
11. Eva Solo FireGlobe Fireplace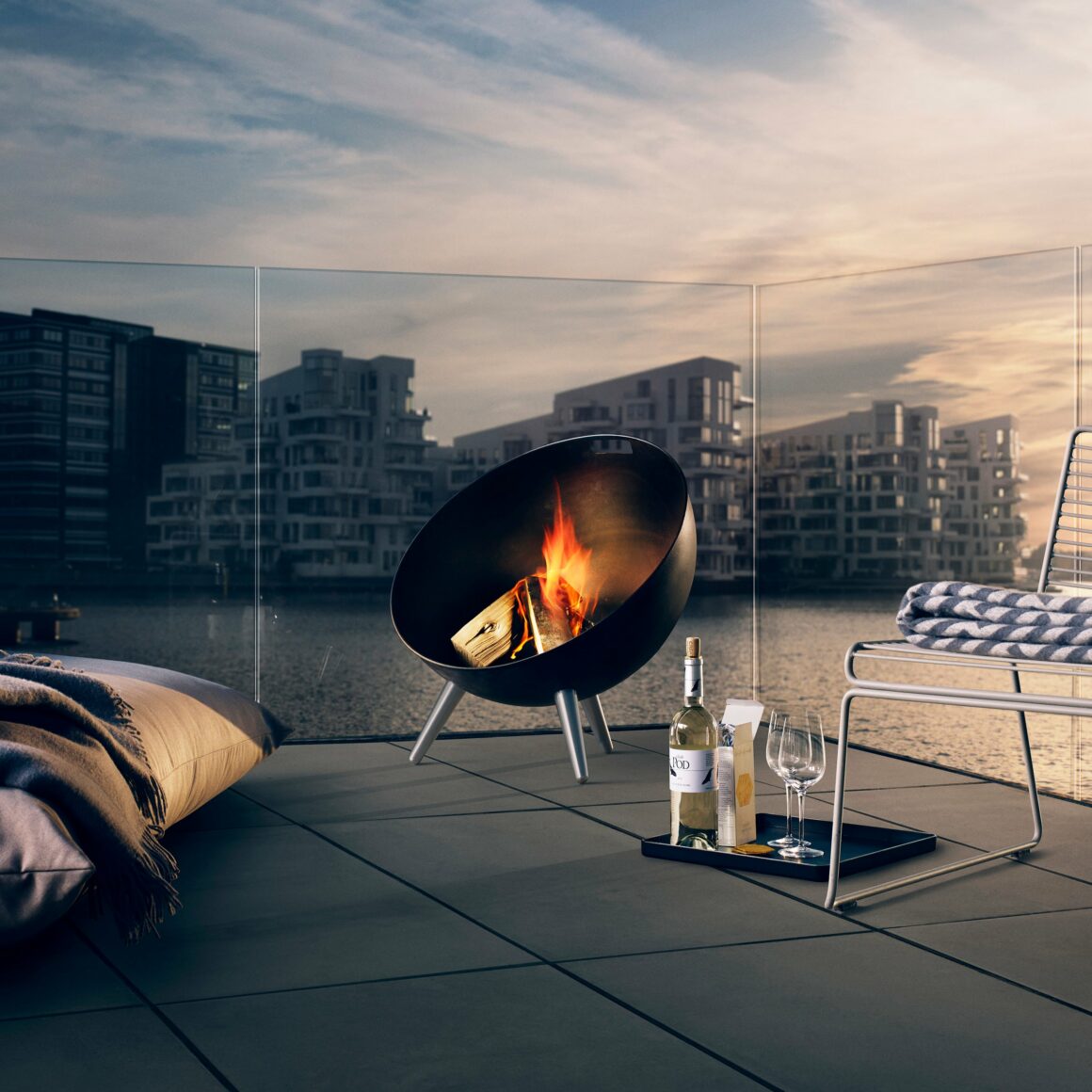 The Eva Solo FireGlobe Fireplace features a sophisticated chic design that mimics an egg chair. It features a hemispherical shape intended to protect the flames from the wind while giving it its decorative element. A molded hole at the top of the fireplace's body makes it easy to move it around your garden.
It features a medium build to make it a good option for more intimate hangouts with friends or family. The wood burner fireplace features a clean powder coated aluminum matte black finish with its interior protected by the minimalist designed black log holder to support the wood logs.
On the other hand, its three-legged design keeps it sufficiently high above the ground to prevent burning or scorching the pavement or grass in your backyard.
12. Aeries Contemporary Fireplace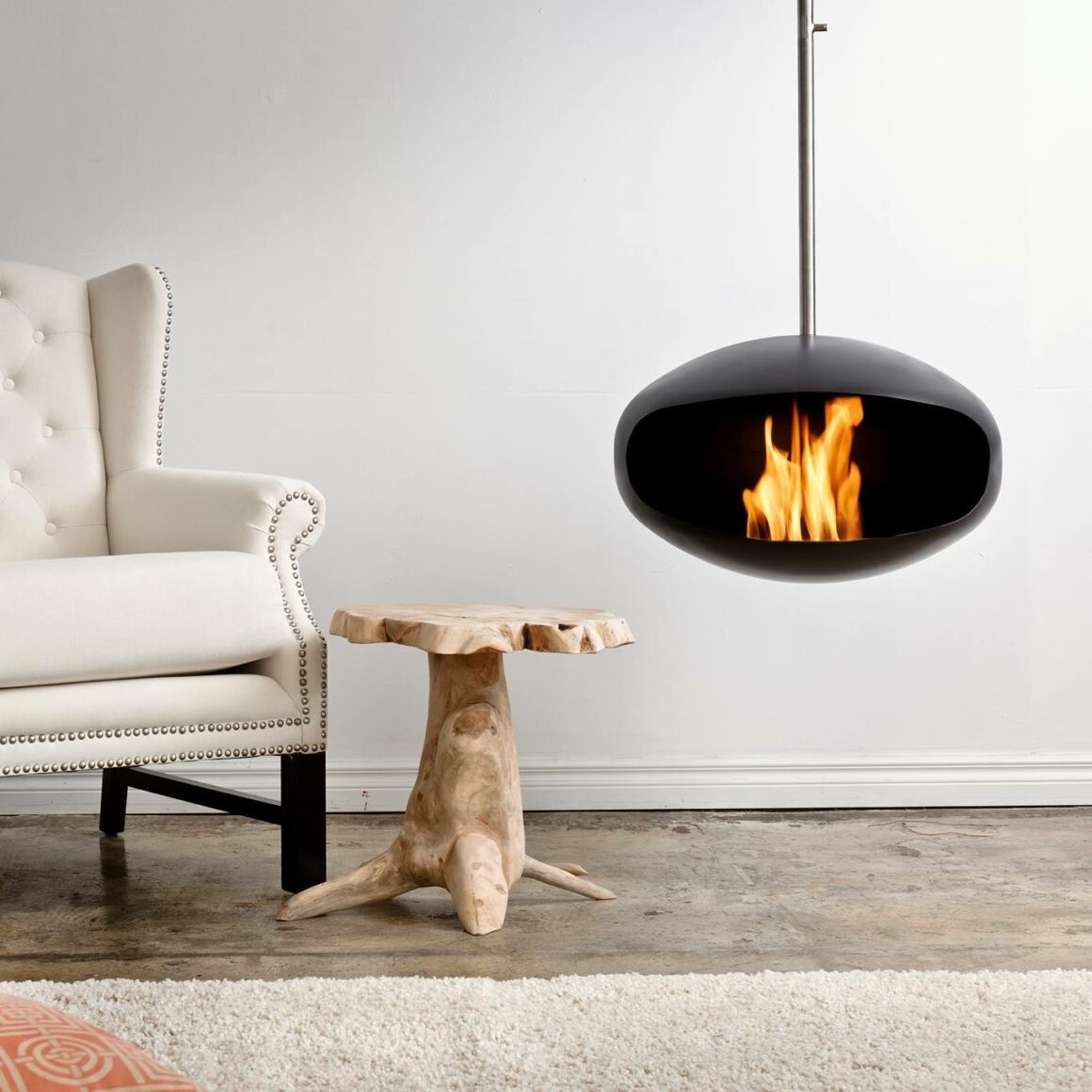 The Aeris Contemporary Fireplace features a beautiful suspended design with adjustable features to match your needs. It features a hanging pole that leads to a large pod opening where you find the burning pit. The hanging pole is also adjustable to six different heights and can rotate a full 360 degrees.
However, this is not all that makes the fireplace a truly worthy investment. Its ingenious design gives it superior usability all year round. You can transform it into the perfect cooler during those hot sunny summers when you don't need the fireplace.
Add ice to the log burning pit and choose your drinks for instant cooling. Alternatively, the suspendable piece can also be converted into a decorative pedestal. The fireplace comes with full installation accessories, allowing you to fit it on straight and angled ceilings.
13. Anson Steel Wood Burning Fire Pit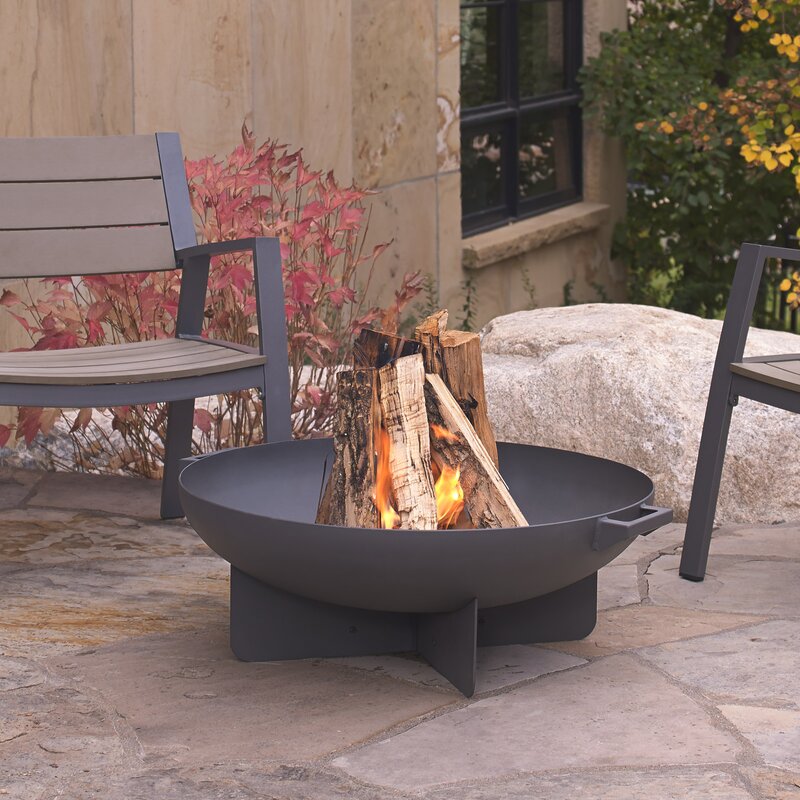 The Anson Steel Wood Burning Fire Pit features a low-profile heavy gauge steel bowl and base for a simple yet bold finish. The choice of heavy gauge steel for the fire pit helps retain the flames and heat while promoting adequate heating.
The fire pit is fueled by wood and has the necessary accessories, including a log grate, spark screen, and fire poker. When done, you can cover it with a black steel cover to give it a solid black sculpture-like decorative piece. At the bottom, the wood-burning fire pit is fitted with stable and slightly raised footing to prevent scorching the surface.
Conclusion
A fireplace or fire pit is an excellent versatile investment for a minimalist. When set upright, you can easily take advantage of these tools all year round. You can use a fireplace or pit to set up an ambiance, keep warm, and even as a serving station.
Now, this is just a portion of the list of things you can do with a fireplace or fire pit! Plus, it can be a great addition to your overall minimalist exterior space. With our 14 best minimalist fireplaces & fire pits above, you can rest assured that you'll find the perfect fit for your home!