This article contains affiliate links for which I may receive a small commission, at no additional cost to you, should you decide to make a purchase by using them. Learn More
Japanese interior design is a study in warmth, coziness, and austerity.
It's Zen. It's classy. It's a lifestyle choice that will change the way you live.
The quiet simplicity and understated aura of Japanese style interiors are evocative in an understated way. There is a meditative vibe to these spaces that inherently makes you feel calm and relaxed. There's also a minimalist undercurrent to the Japanese aesthetic that encourages you to let go of all physical and mental set-backs of the world out there.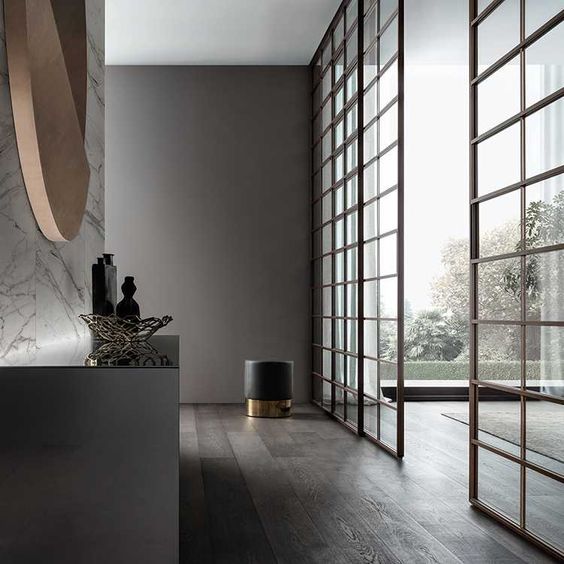 The main attraction of Japanese interior designs is their tranquility. The style evokes incredible serenity by design, so if you're wondering how you can incorporate this theme in your home, here are ten tips and ideas that will help you out for sure. Let's take a look:
1. Natural elements
You cannot design a Japanese style interior without natural components. It's this theme's connection with nature that makes it so immediately likable and peaceful. There are many ways that you can incorporate nature within such interiors, and we've listed a few of them below:
Bamboo elements
Bamboo elements can be an idyllic part of Japanese interiors. You can incorporate them in several ways. The most readily used method is by designing accent walls out of them. Typically, a cluster of bamboo stalks are arranged side by side on top of the wall and are sometimes complemented by plants, calligraphy, or some other design element to present a holistic picture. You can also design a bamboo partition wall or use them as screens to create a sense of privacy in an alcove or nook.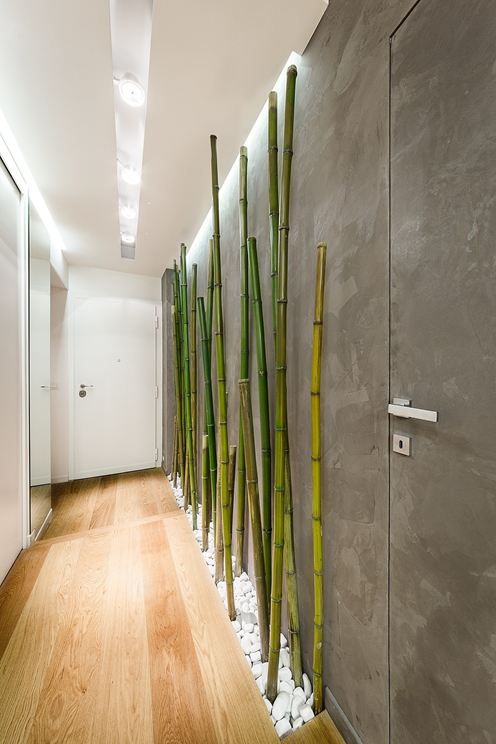 Bonsai Trees
Bonsai plants have a very positive symbolic message. They're mostly representative of peace, harmony, balance, and order. Therefore, it's only right that they are incorporated in the ever-serene Japanese interior design style.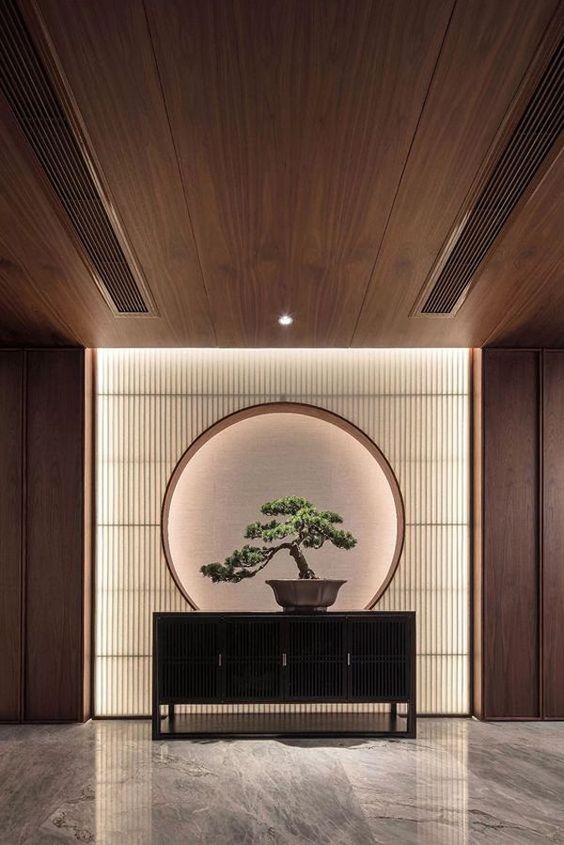 You can feature them in many ways. If you've got a mini bonsai tree, then you can use it as the focal point of your interior. Placing it in a central, high-mounted space will help its lush green aura to break the monotony of the wooden theme that's prevalent in the Japanese style. You can also put then inside planters and create a statement corner with their help.
Simple Planters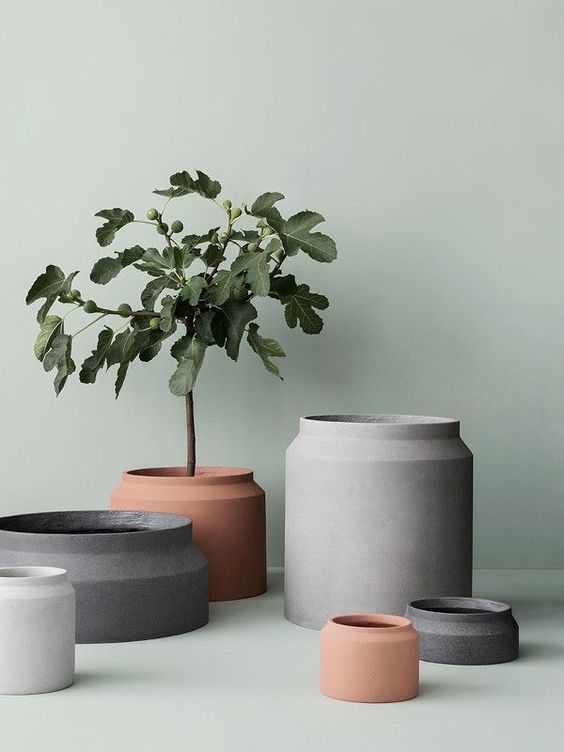 Aside from symbolic bonsai plants and mini-trees, you can also use simple indoor plants to add a refreshing vibe to your Japanese interiors. They can be potted in earthy terracotta planters or can be furnished in wooden or metal accented casings. You can use them in statement capacity as well as in clusters.
If you're featuring a statement planter in your Japanese interior, make sure that it's oversized and easily visible from all parts of the space. A fern or a money plant is a good option for this purpose. You can also use small indoor plants like succulents, snake plants, etc. to feature on your window sills. You can also use hanging planters like English vine and String Of Pearls if you want to be a little more stylistic.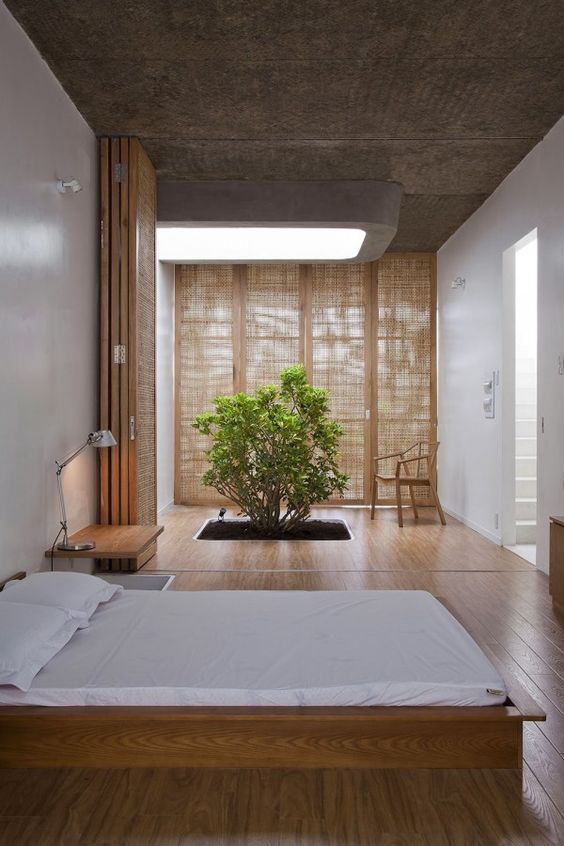 Water bodies
It's not necessary to incorporate a full water body directly into your Japanese interior design, but if you can inevitably emulate a koi pond in the landscape and present a gorgeous view of it within the interior design. Another way to bridge this distance is by designing an indoor patio with glass walls inside your interior. You can plant an artificial waterfall, ornamental grasses, and perennials in there that would provide an excellent view within your interiors.
Indoor fountains
A Japanese shishi odoshi – also known as a bamboo Zen fountain – can be installed in your indoor and outdoor spaces to get that tranquil effect. It consists of a stone basin in which the water flows through a spout of thin, hollow, bamboo shoot. The sound of running water is distinctly calming so that this fountain will add to the peacefulness of the overall ambiance.
Stones
Stones are another essential Japanese interior design element. You can create an indoor rock garden to strengthen the space's connection with nature. You can place them right next to your planters or bonsai trees to create an earthy visual contrast. You can also pour gravel stones into large transparent glass jars and bottles to create a stunning design element with a personality of your own.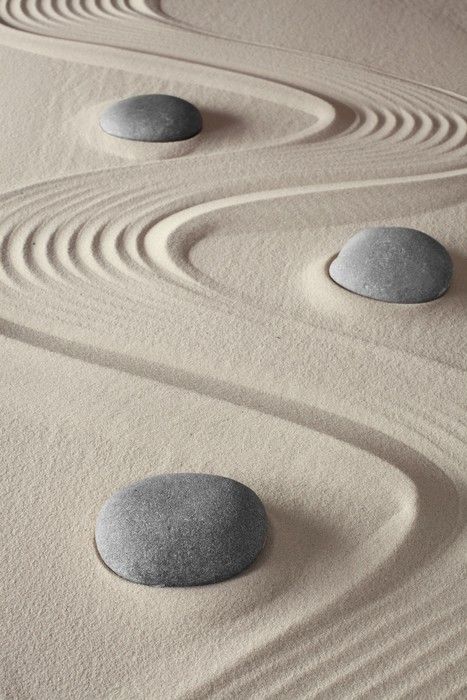 2. Home Décor
Japanese style home décor has a very traditional and artisanal aura. There's nothing commercial about these pieces, and each one brings a distinct flavor/texture to the ambiance. Here are some major décor elements that you can use in your Japanese interior design:
Porcelain pots
Large and small porcelain pots are a staple of Japanese style interior designs. Their flawless white countenance acts as an amazingly simple accent piece with a subtle traditional flair. You can feature them on your furniture or pair them with your planters. Authentic porcelain pots are quite expensive, so they should be kept out of dangerous places.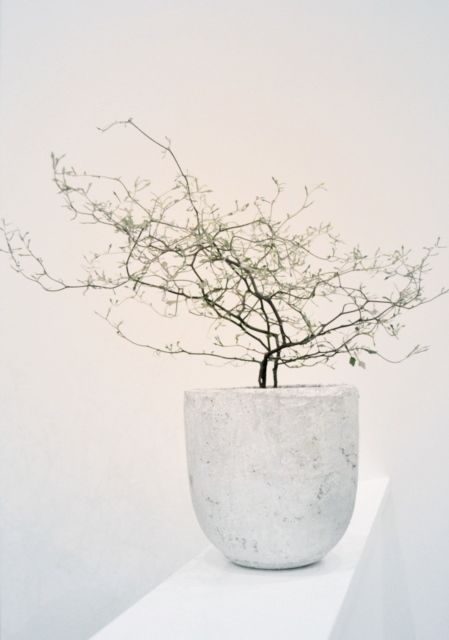 Rice Paper Floor Lamps
Traditional Japanese rice paper floor lamps are an excellent home décor accessory. These are tall, functional, and provide a nice aesthetic punch within the spaces as well. They usually come in dark wood finishes so that the opaqueness of the rice paper appears more incandescent with the backlighting. You can feature them as freestanding design elements in the corner of your room.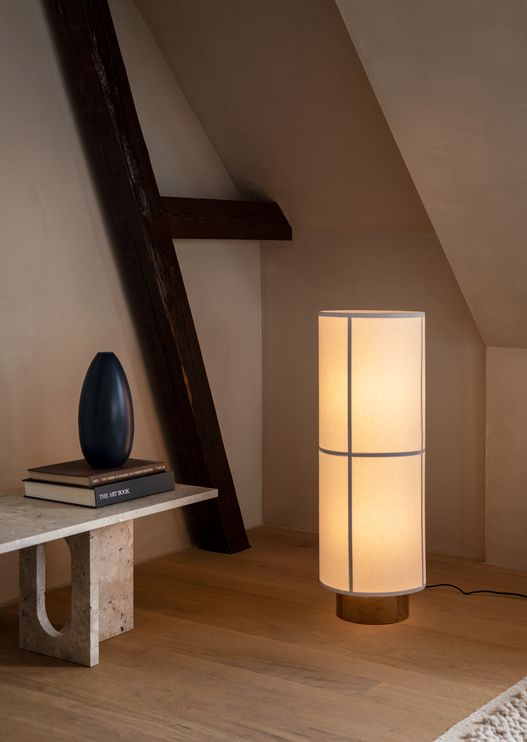 Kanji Calligraphy Artwork
Japanese kanji calligraphy is another home décor element that can emulate a sense of authenticity and tradition within such interior designs. You can find beautiful statement art pieces that feature kanji calligraphy interlaced with cherry blossom graphics. You can even find them in triptych style artwork that can be hung on a feature wall.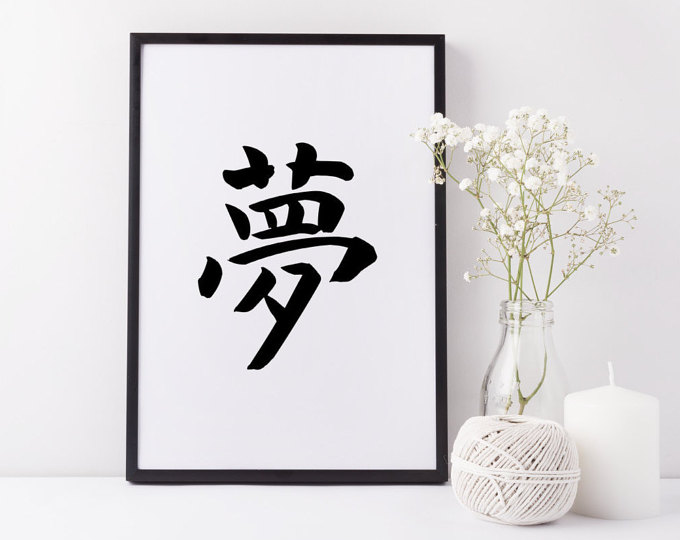 Shouji Screens
The most common decorative element of Japanese style interior designs is shoji screens, which are wooden screens featuring rice paper panes. They're usually incorporated in the form of sliding doors. Still, you can also find them as freestanding partitions called ima that can be used as dividers between the open floor layouts of your interior design.
Kintsugi Style Artwork
Another popular home décor accessory that you can emulate in your Japanese style interior design is kintsugi art. Kintsugi is the practice of repairing broken vases, plates, and other such items with gilded raisins to highlight their imperfection. While this art form is most dominant in the wabi-sabi style, it can also be incorporated into Japanese interior designs.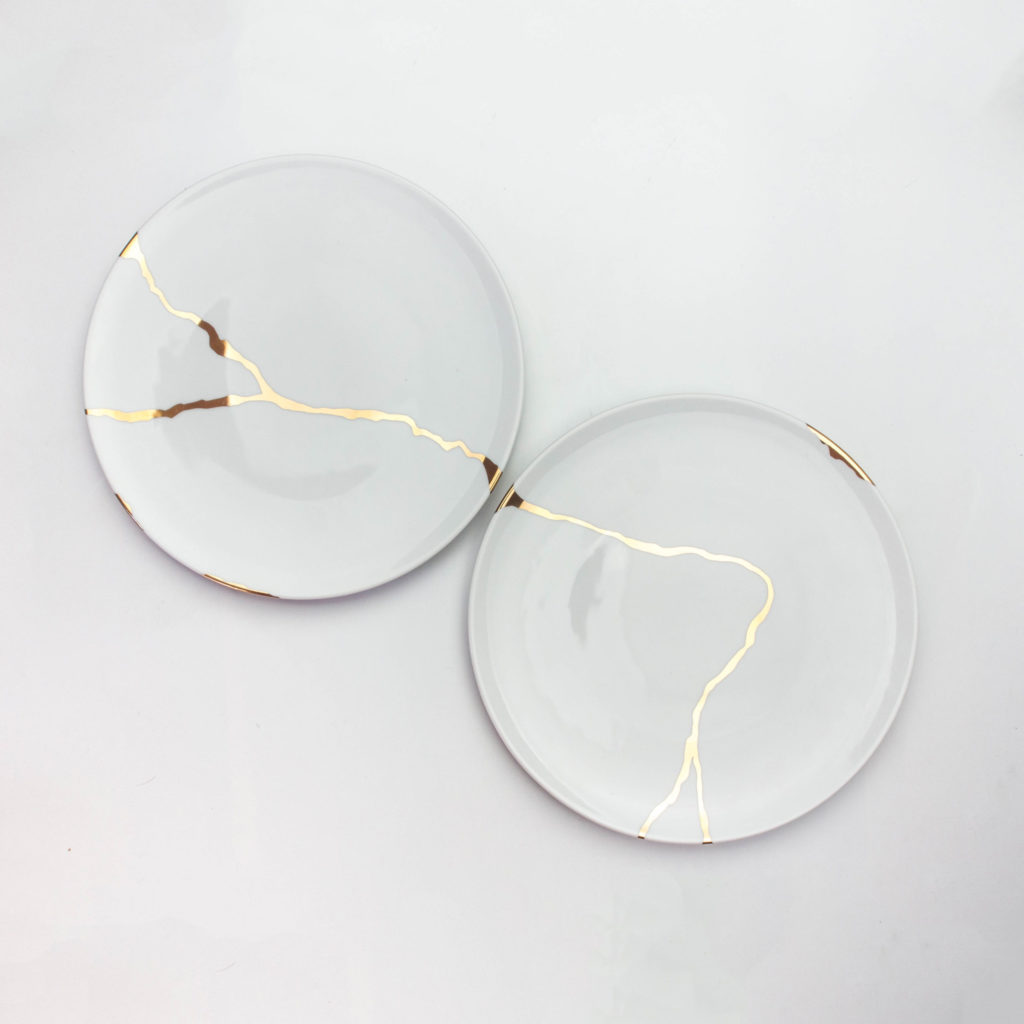 Tatami Mats
Tatami mats are an alternative area rug that is made from straw and bordered with cotton fabric to keep the edges from fraying. However, modern tatami mats are also made from compressed wood chip boards or polystyrene foam cores. They have a khaki color scheme and a natural texture that befits the minimalist vibe of the Japanese interior design style. If you cannot find authentic tatami mats, then you can also go for seagrass area rugs as they have a similar aesthetic.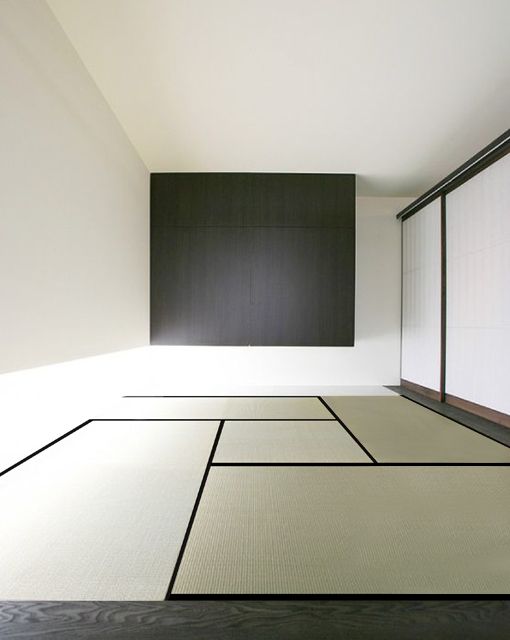 Bamboo chick blinds
You cannot put curtains or any other contemporary window treatments in a Japanese style interior design. That's because they don't go well with the overall aesthetic of this theme. Instead, you can opt for bamboo chick blinds. Their natural texture goes well with the minimalist vibe of this style.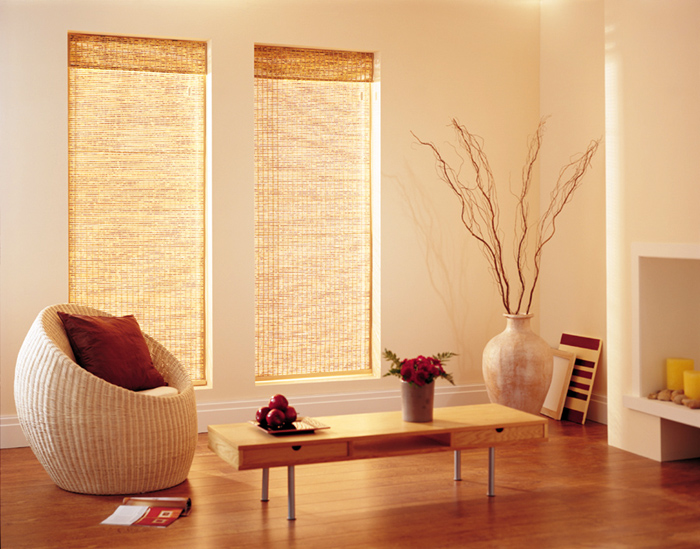 3. Sliding Doors & Screens
One of the most distinct characteristics of the Japanese interior design style is that it only features sliding shoji doors. There are no regular doors in this style. The sliding versions fit in seamlessly with the rest of the ambiance, and opening them doesn't cause any substantial visual disruptions within the overall aesthetic of the space.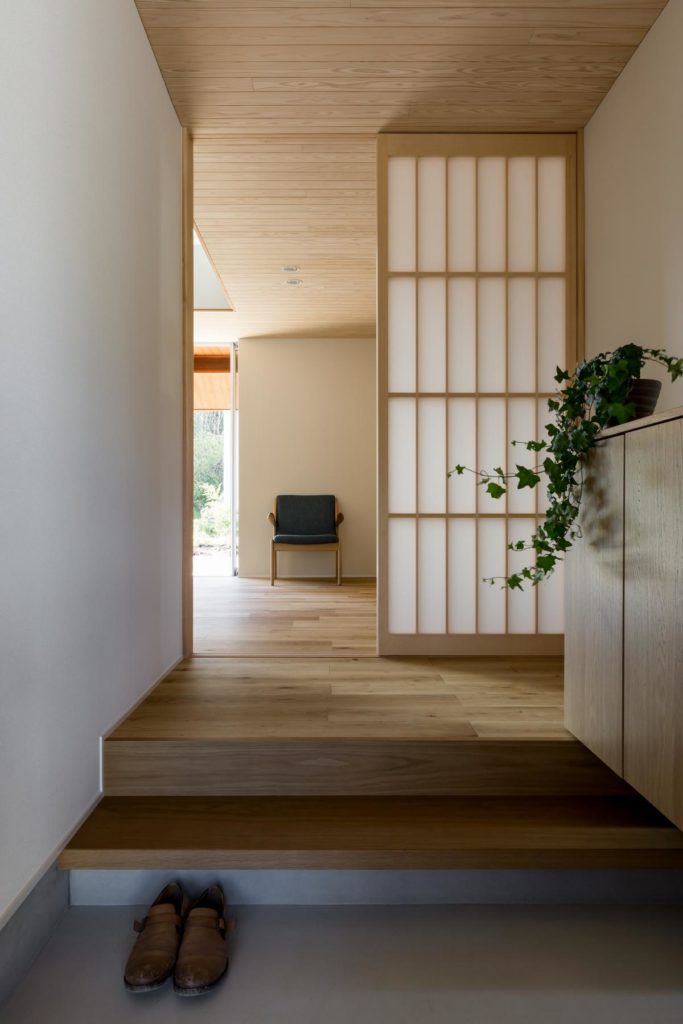 4. Wood Elements
The Japanese style features stunning wooden accents throughout the ambiance. These can be divided into the following aspects: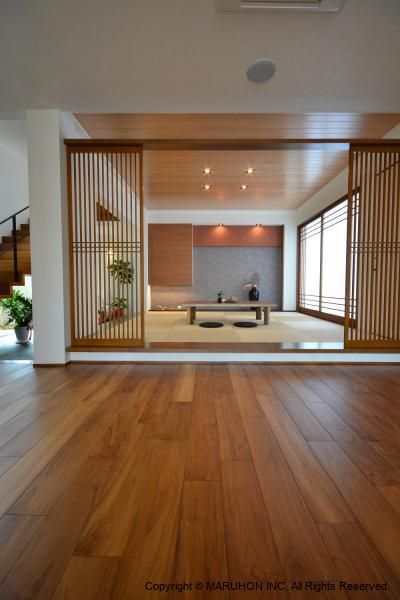 Walls
The walls are largely finished in wood and while. Sometimes, only the lower half is finished with simple wainscoting. Other times, entire walls are laminated with stunning wooden textured PVC laminates. If you want something stylistic, then accentuating the wooden cladding with dried bamboo sticks is also an excellent way to highlight this element.
Roof/Ceiling
Walls are not the only aspect of a Japanese interior design where wooden texture reigns supreme. You can see a lot of innovative roof and ceiling designs that feature a gorgeous combination of wood, whites, and even rice paper accents. Many Japanese style interiors feature in-built LEDs that have been finished with kanji calligraphy so that it stands out through the incandescence of the backlighting. However, this is not functionally viable, so you should mostly avoid it. You can also find traditional beamed ceilings where wooden beams are used as a decorative element to complement the pure white of the ceiling.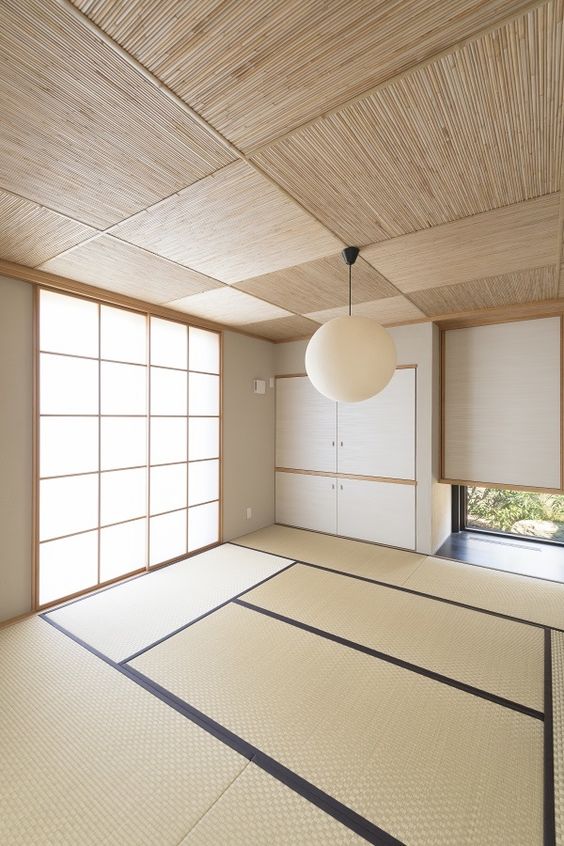 Floors
Wood floors are the only finish that you can use in Japanese style interior designs unless you want to emulate a contemporary aura within the tradition of this style. If that is the case, then you can furnish your floors with simple white tiles. Note that no other texture can ever look good in a classic Japanese style interior, so keep the tile finish matt.
Note: the wooden elements used in Japanese interior designs are very sleek. They are not distressed at all, which enhances the smooth, peaceful, tranquility that this style has to offer.
5. Furniture
The Japanese style is all about emulating an inherent spaciousness within the ambiance, and nothing helps evoke a breezier aura than low-height furniture.
Kotatsu and flat zabuton cushions are a popular furnishing trend in such interior designs. In more modern furniture like dining tables, an 18″ to 24″ pit is designed within the floor where the table is placed, and the edges of the pit are used as seats. Sometimes legless chairs are also paired with such dining tables.
As far as bedrooms are concerned, futon mattresses are typically placed on tatami mats as a bed. They can be neatly folded up and put aside when not in use. All of these aspects help maximize the minimalist aura of this interior design style.
6. Colors, Materials & Textures
The color palette of the Japanese interior design style runs the gamut from earthy to warm neutral. Not a lot of bright colors can be found in such spaces, which ultimately enhances their peaceful aspect. Bold colors like red or jewel blue or green can end up exciting a person, which is why such vibrancy is thoroughly avoided.
Instead, accent furniture in dove grey, eggshell white, and slate hued upholstery is emulated. Mint green and stone grey accents are always a welcome addition. Very subtle gold accents and black highlights are also used in Japanese style interior designs. Of course, the planters also provide a calming and refreshing green vibe to complement the warmth of such interiors.
However, the dominant color scheme is always wood and white – a combination of warm and cool that never fails to create an entirely tranquil ambiance. Subdued brown tones are articulated through wooden textures to emulate comfort within the atmosphere. The white parts are usually painted walls and ceilings that are also primarily accented by wooden elements like beams and wainscoting, etc.
7. Design principles
Three major design principles are used in Japanese interior design. Let's take a look at them:
Minimalism
Japanese style interiors are sleek and seamless. There's nothing chunky about them. This is because minimalism is a core principle behind the design philosophy of this theme. The overall ambiance is always clutter-free. There are no frou-frou elements that might get in the way. All the carpentry is in-built. Every piece of furniture must have functional value and is low-height. And the décor also has a minimalist vibe to it.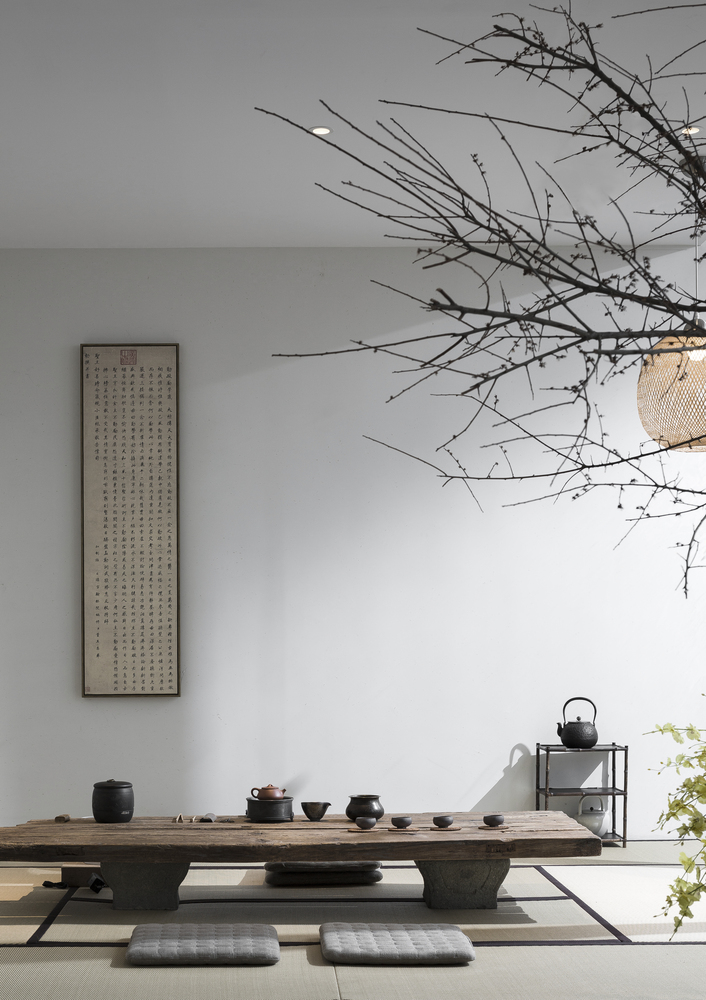 Open spaces and symmetry
Japanese interior designs are known for their symmetrical open floor layouts. They are uninterrupted and sparsely furnished with low-height furniture that is arranged in highly uniform and congruous layouts.
Highlighting transitional spaces
The Japanese style highlights the transitional areas. These include hallways, the entrance foyer (genkan), or any other passageway. They usually have a clean, minimal aesthetic with zero décor that makes the destination point feel more inviting. These spaces are also often a step-down or up to highlight the shift in activity.
Framed views
Another highlight of Japanese interiors is that they feature perfectly framed views of the outdoors. Sometimes, it can be a far-reaching horizon view that you see from a perfectly placed window, while other times, it's a closer view of an indoor patio or Zen garden.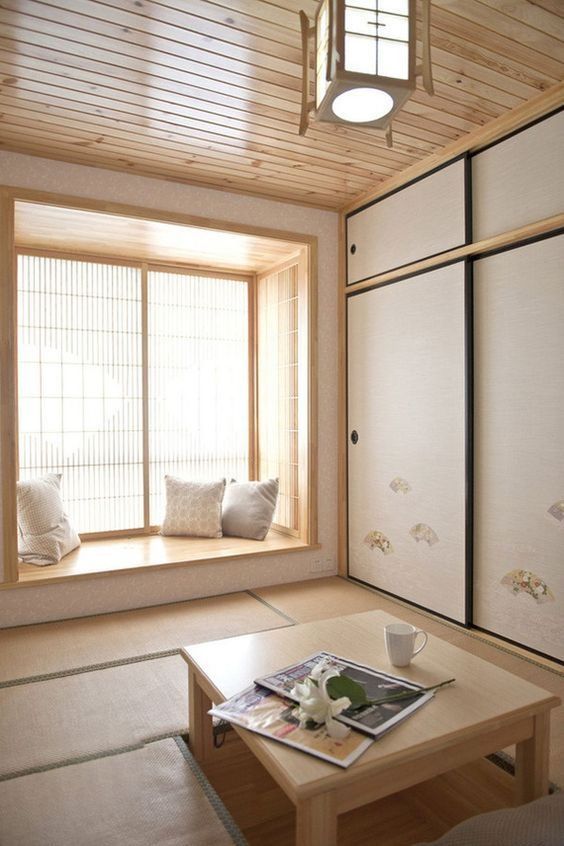 8. Lighting
The lighting of a Japanese style interior design is always on the warm side of the spectrum. This temperature highlights the warmth of the wooden textures and emulates an inherent coziness within the ambiance.
Natural light is also a dominantly used force in Japanese interiors. It's usually emulated through large openings guarded by shoji screens and sliding doors. Other times, natural light is let in through oversized windows that feature gorgeous views of the outdoors.
So, this is your extensive guide to designing a Japanese style interior. We hope you now have a better idea on how to emulate this aesthetic within your spaces!