This article contains affiliate links for which I may receive a small commission, at no additional cost to you, should you decide to make a purchase by using them. Learn More
Minimalism is a lifestyle choice. By taking away all unnecessary trinkets and belongings, you create space in your minimalist apartment that impacts your comfort and positively boosts your inspiration.
Nothing is blocking your vision; there are no longer any pieces of furniture dragging down your home's overall aesthetic. You feel free, light, and happy. And that leads to a free, light, and happy mindset. Overall, minimalism improves you, fully and completely.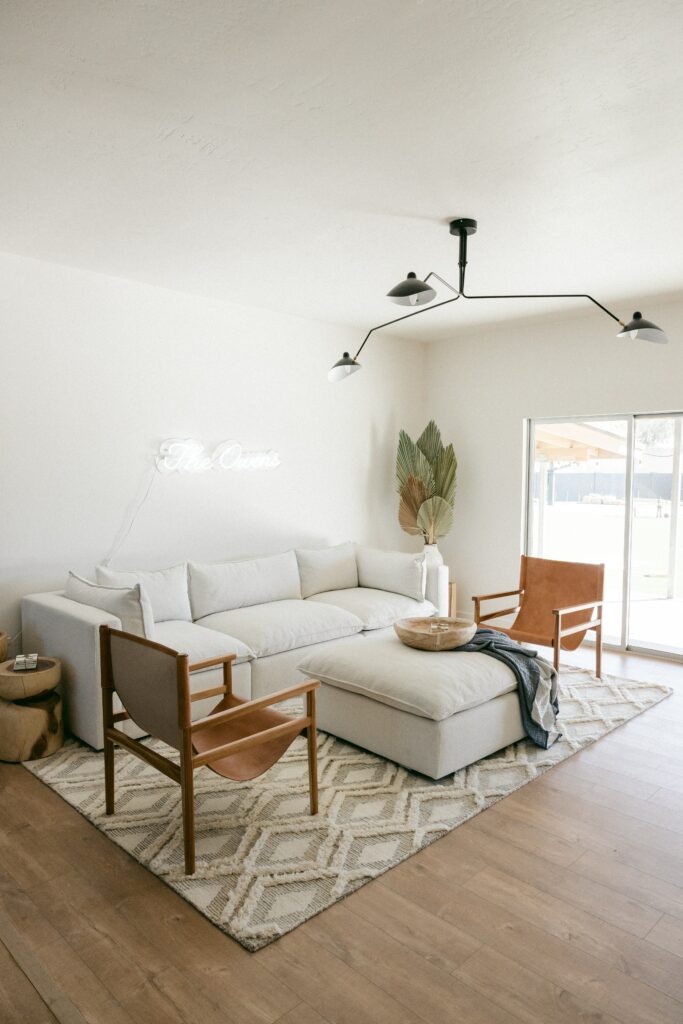 So, if you've decided to follow the minimalist lifestyle and change your apartment's aesthetic, you're headed down the right path. On the one hand, you'll realize just how much useless clutter you've had lying around. On the other hand, you'll feel a little overwhelmed when you realize just how much you have to move. Yet, move, you must. Minimalism calls for an open space that only includes essential belongings you have.
But, how do you decide what exactly you should have in a minimalist space?
After much research, here is the ultimate guide to achieving a minimalist apartment.
Understanding the Minimalist Mindset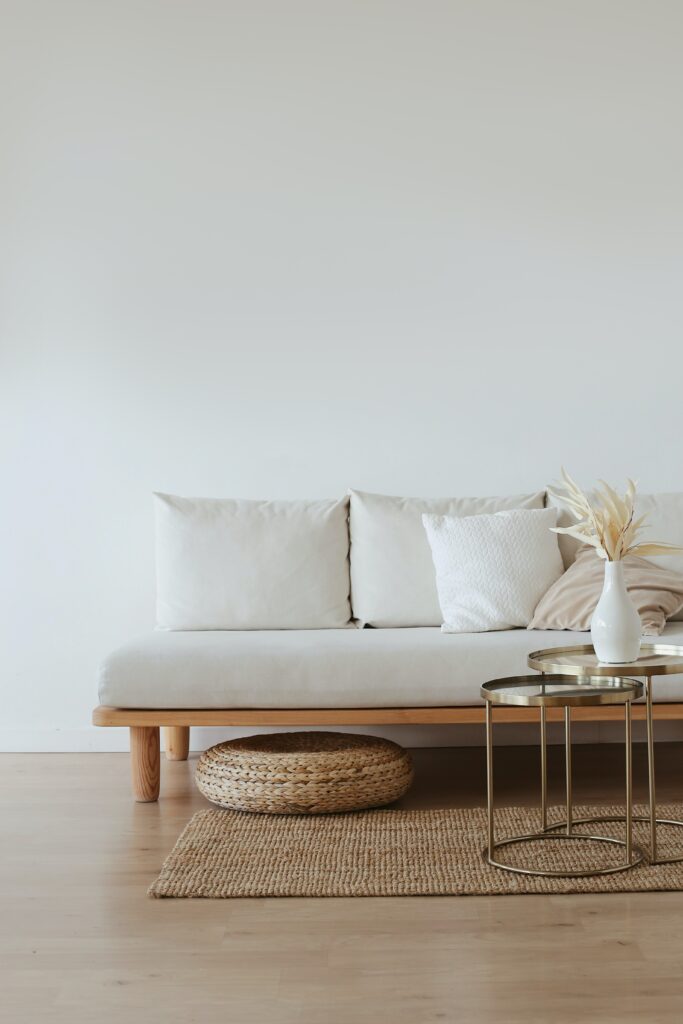 Minimalism is a very abstract idea for those who've lived in full houses and colorful rooms. If minimalism is new to you, you will be taken back by how stark and straightforward your home will look post-makeover.
That's why you should be aware, mentally, of the framework that constitutes a minimalist apartment. The concept of a minimalist apartment follows a simple rule, "less is more." While your apartment will have color and texture, it'll be less cluttered, with clear lines and a sense of simplicity. The colors you'll have will follow a monochromatic structure. Think of it as a scenery set against a cool white backdrop.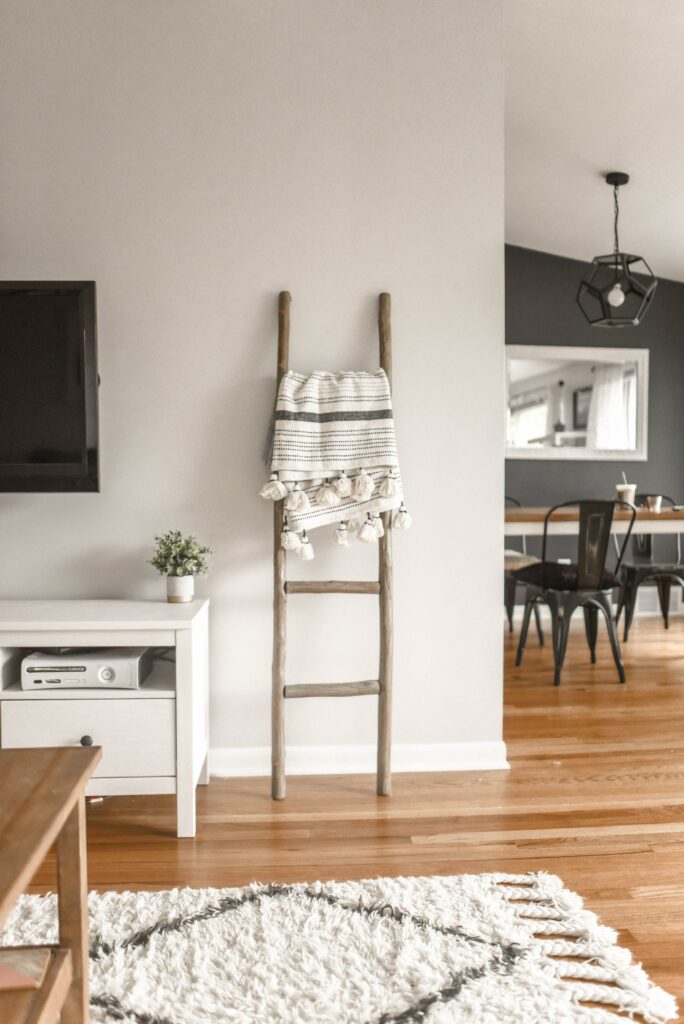 You will be hesitant that this idea will leave your home looking too sparse, cold, and unlivable. However, that's where the texture comes in. Minimalism encourages the use of soft colors and natural light. So, while you will have an open floor plan and basic furniture, you can accentuate the overall design by adding plants in basic pottery, a small shag rug, perhaps to tie the place together.
But, your home's concept has to be functional. Everything should have some purpose. Chairs to sit in, a table for your things, window dressing for privacy, rugs for a comfort element underneath the table. There should be no need for any ornamentation.
In short, you have to create an impeccable balance between form and materials. Shapes must be uncomplicated, and textures and colors should blend in harmony. If that's something you can accomplish at home, that would be one of your most outstanding achievements.
Minimalist Apartment Ideas by Room—A Guide
Living Room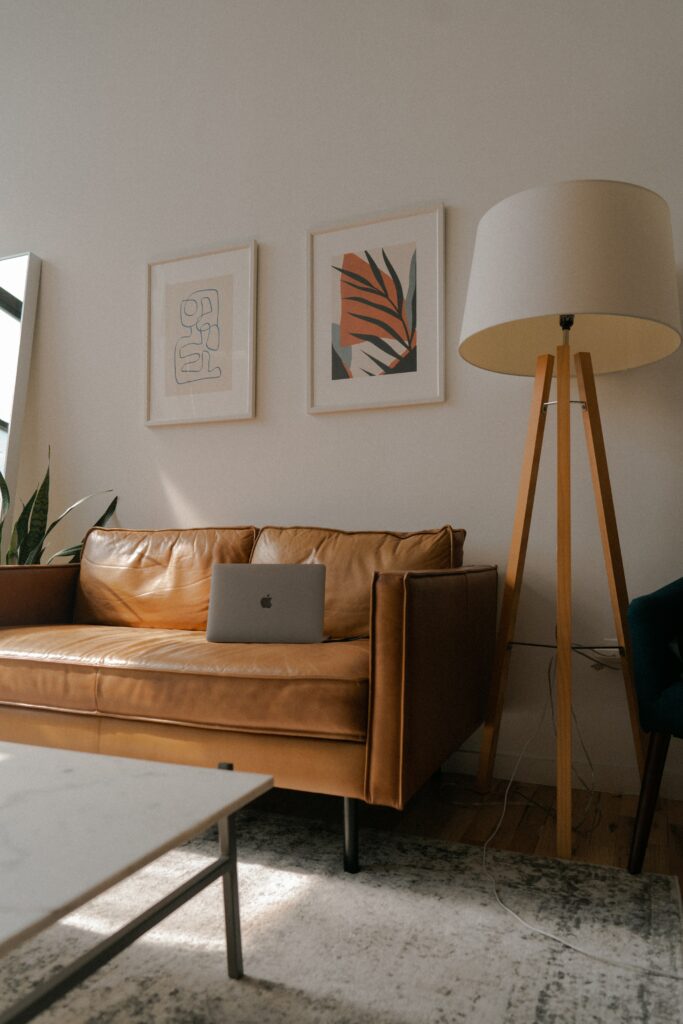 With minimalist apartments, living rooms are the first place where you should start. It's a place where you relax and hang out. You'll want this room to be as comfortable and clutter-free as possible. But, you will want to maintain a personal touch throughout.
Start by removing any item that promotes clutter, like boxes, newspapers, coffee mugs, dead plants—anything that you won't need for a while, but you feel like you might. If you know this clutter is useless, don't try to justify keeping it. Either clean up the place or clear it out. You have two options.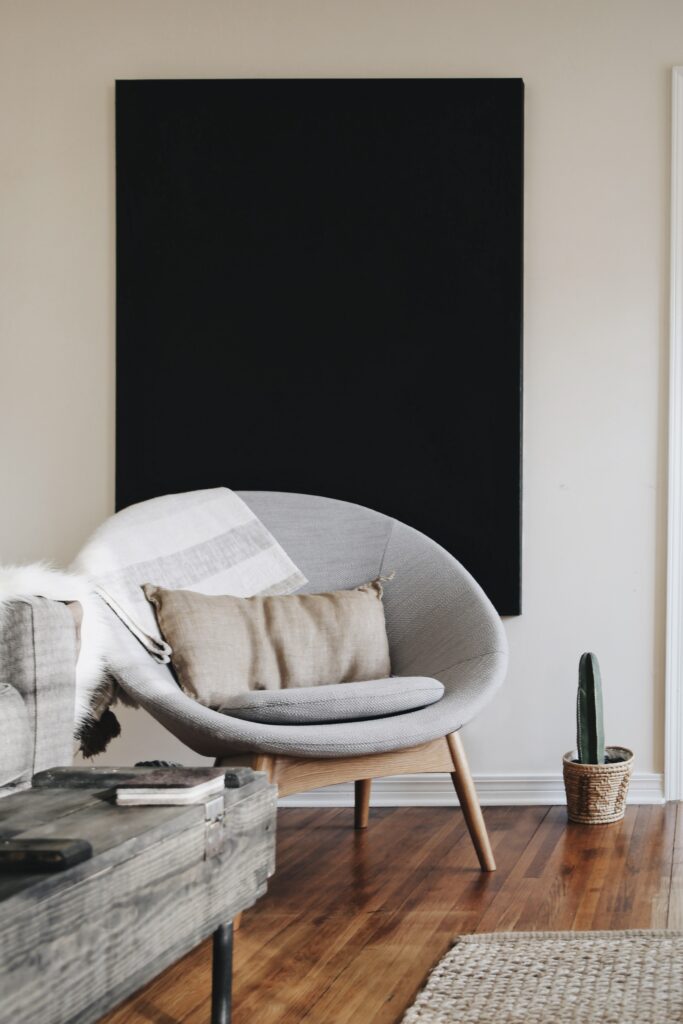 Once that's done, look around and start moving your furniture, so you only have the few pieces you need:
Couch: Considering how many people you receive or have at home, keep a large sofa that won't cause cay seating problems.
TV stand and TV: A simple, minimalist TV stand with the TV attached will clear any wire problems you may have. You can also use cable trunking to keep the wires out of view.
Coffee table: Low-level coffee tables with storage options are your best bet if you regularly have to deal with the paperwork and dislike leaving them strewn about.
Chairs: A chair or two completes the overall look of your living room. You may choose to have an ottoman or a pair of folding chairs if you have a small space. But if you do not need the extra seating, you can skip this.
Lamps: Having a pair of lamps will offer enough light to keep the space from looking too cold or dark. Although, if your living room has enough natural light, you could add a minimalist-style floor lamp to brighten the place up.
Household Essentials:
One or two photo frames of your family or friends
A coaster for the table
A room spray
A throw for your couch or chairs to tie the whole place together
Bedroom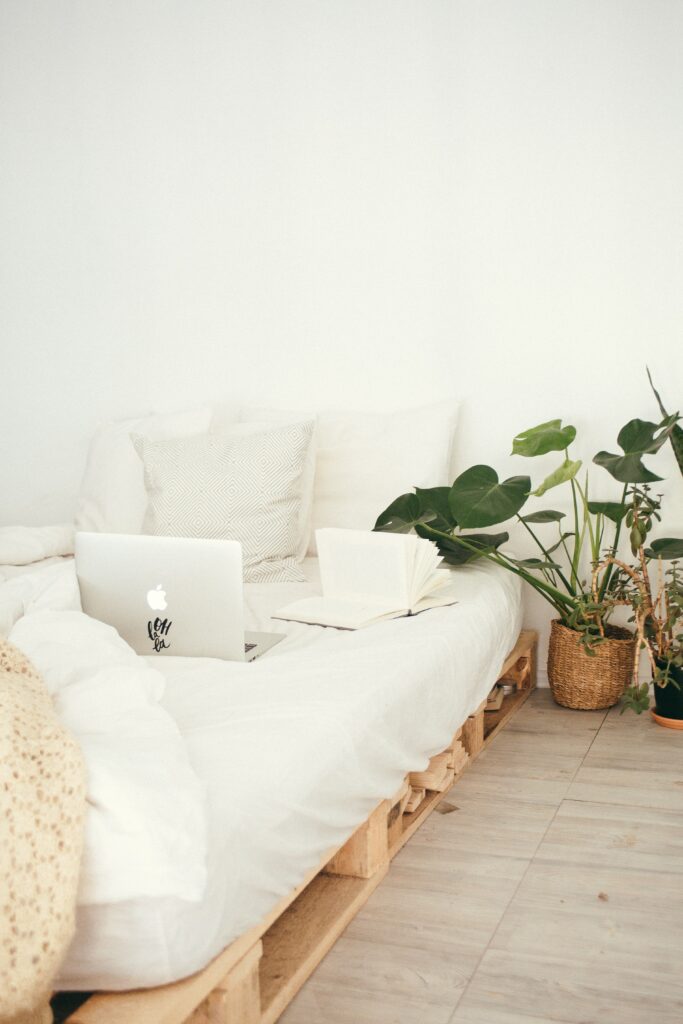 While you will be tempted to leave your bedroom as is, you will feel liberated once you start putting away things you know you didn't need.
Your bedroom is the most important room in your house. After all, you spend about half your life lying in bed. It stands to reason that your bedroom should be aptly decorated and organized.
A minimalist design for a bedroom dictates that you only keep the most necessary furniture you have so that the room serves its purpose:
Bed: In keeping with the minimalist mindset, if you want to embrace the concept, switch your bulky bed for a Japanese futon bed, or if you want to be strictly minimal, sleep on the floor if that suits you. Either way, switching your bed choice will add extra space to your room and open it up more.
Bedside tables: If you're on board with the plan for a Japanese futon bed, you'll find plenty of style of bedside tables for it. However, if you're sticking to your regular bed, look for basic tables that don't take too much space. Ideally, your bedside table should have just enough top space for lamps, your phone or watch, and little things like a clock or a bottle of water. But if you get your heart set on a slightly bigger table, no one is going to tell you to return it. The heart wants what the heart wants.
Lamps: A lamp on either bedside is convenient in keeping that cozy feeling alive. It'll add enough lamination and will make your bedroom look and feel more comfortable.
Dresser: If a dresser feels too chunky for your taste, you could just as well replace your closet with a valet stand. It's functional, minimal, and gives your room a clean look. Otherwise, a small dresser will do just fine.
Mirror: Store your necessities in an open storage box and place it under a full-length mirror. Having a full dressing table only takes up space. If you require more storage space though, opt for a pair of shelves under a square mirror to give your room that open, free feel.
Household Essentials:
Bedding
Blankets and pillows (no more than 2–3, as needed for comfort)
Foldable laundry hamper
Curtains
Alarm clock
Covered trash can
Bathroom
Your bathroom has the greatest potential to become the ultimate place of Zen. Removing any chunky drawers, faded tiles, grout-heavy bathtubs, small, stuffy windows, and paint would make a world of difference and open up your bathroom to a range of possibilities.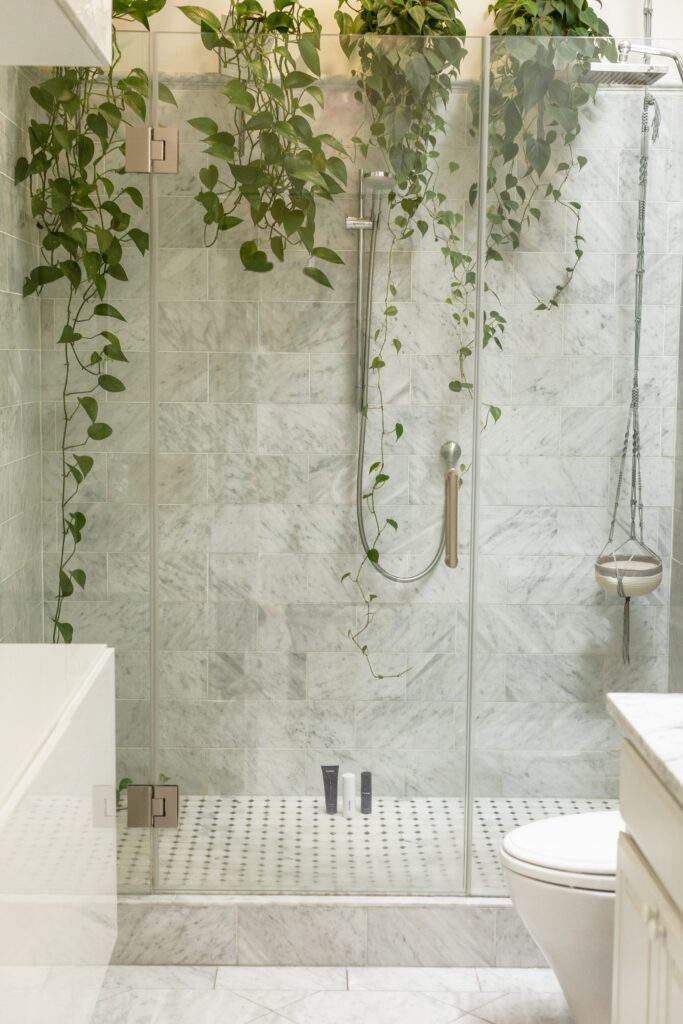 But, if you can't make any changes, there's still so much you'll be able to do to give your bathroom a minimalist edge.
Organizing smaller things like cleaning supplies, personal hygiene products, a trash can, toilet brush, scrubber, plunger, toilet paper, floor mats, shower supplies, and laundry supplies will open a lot of space for you.
Keep the flooring simple, no carpeting. Instead, add sustainable vinyl flooring and self-adhesive wallpaper to brighten up the room. Remove chairs, benches, or anything that you don't need out of the way. And keep it clean. A regular sweep and dusting will go a long way.
Kitchen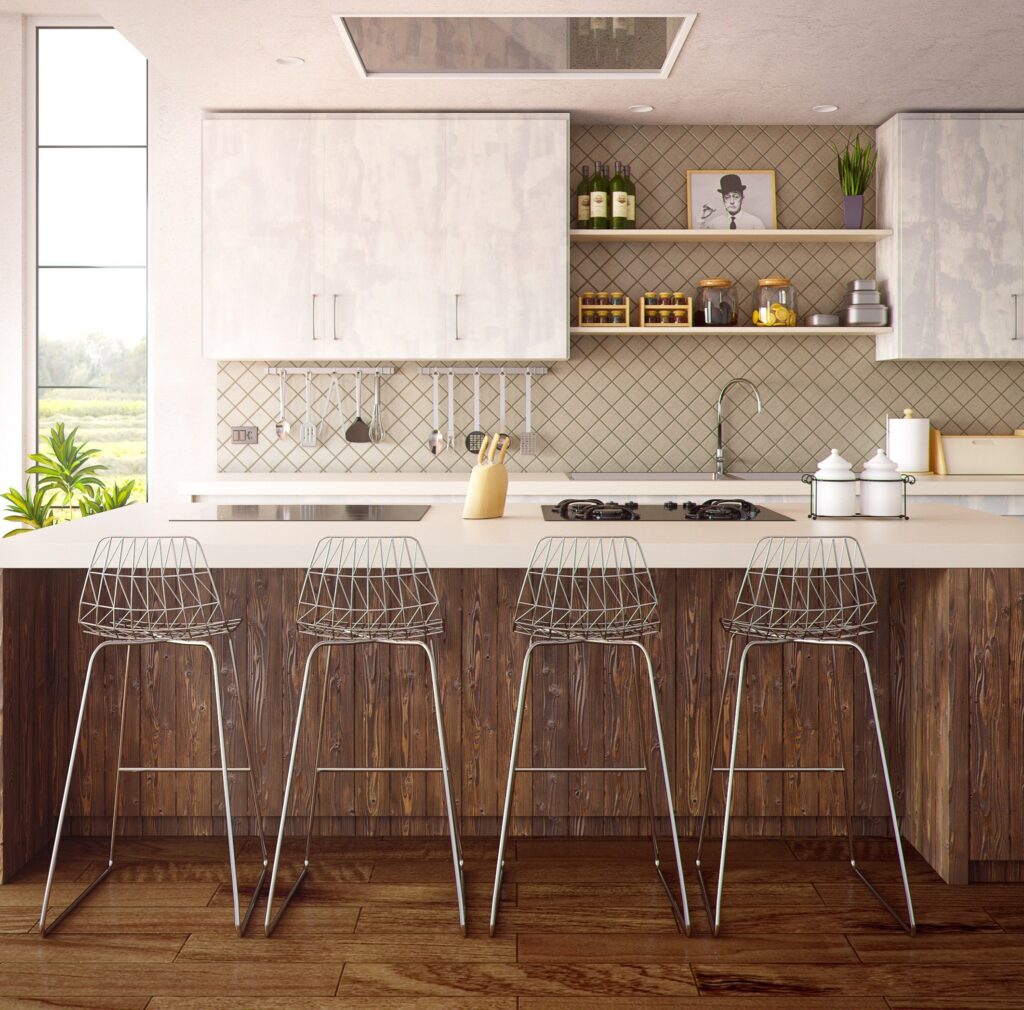 A minimalist apartment kitchen requires having all clutter out of the way and stored in the cabinets and drawers. But remember, organization is the key. You'll want everything organized in a way that eases your work if you reach into a cabinet for something. You don't want your bowls stored in the back of the cupboard while your pasta waits to be served.
If you have the dining table in the kitchen, only keep the number of chairs you need with the table, and keep it to the side of the kitchen instead of in the middle. As for any countertop appliances, keep the kettle, coffee maker, toaster, and microwave spread through the kitchen to clutter one area. Other appliances should be kept out of sight.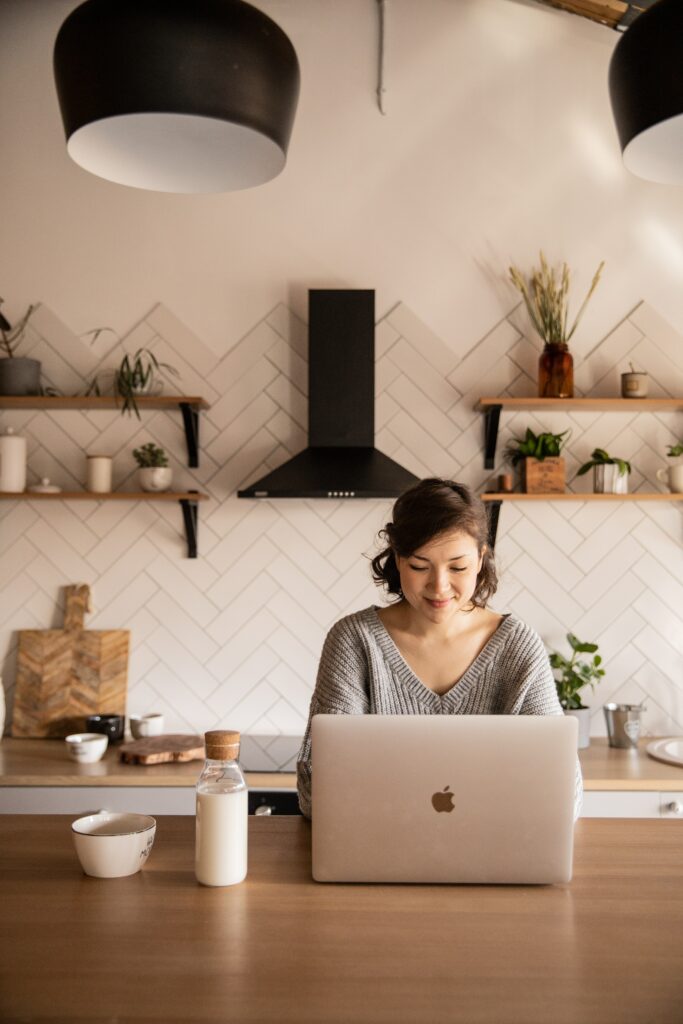 Household Essentials:
Dinnerware: Glasses, bowls, and plates (no more than necessary)
Flatware: Spoons, knives, forks, and small spoons
Basic kitchen knife set
A cutting board
Cookware: oven mitts, pots, and pans
Bottle and can opener
Kitchen towels
Measuring spoons and cups
Dish soap, sponge
Cooking utensils
Tupperware
No more than 2–3 coffee mugs
Minimalist Apartment Ideas—How to Personalize Your Home
Incorporating a minimalist apartment design is easy enough.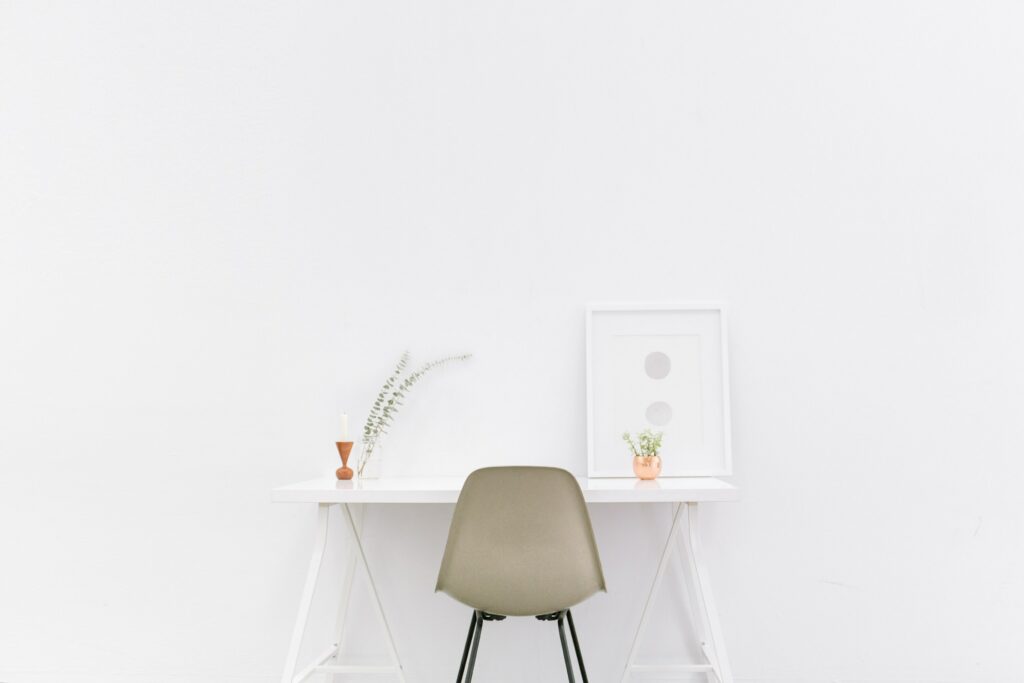 But it becomes problematic once you start to realize that by removing almost everything unessential, you've removed every touch of you from your home.
It does not have to be that way.
A minimalist apartment design does not require you to keep your home stark and white. It simply encourages you to incorporate newer touches of yourself. Rather than depending on conventional tools for decoration, the minimalist mindset prompts you to use your creativity to add that touch of you.
Add Basic Personal Touches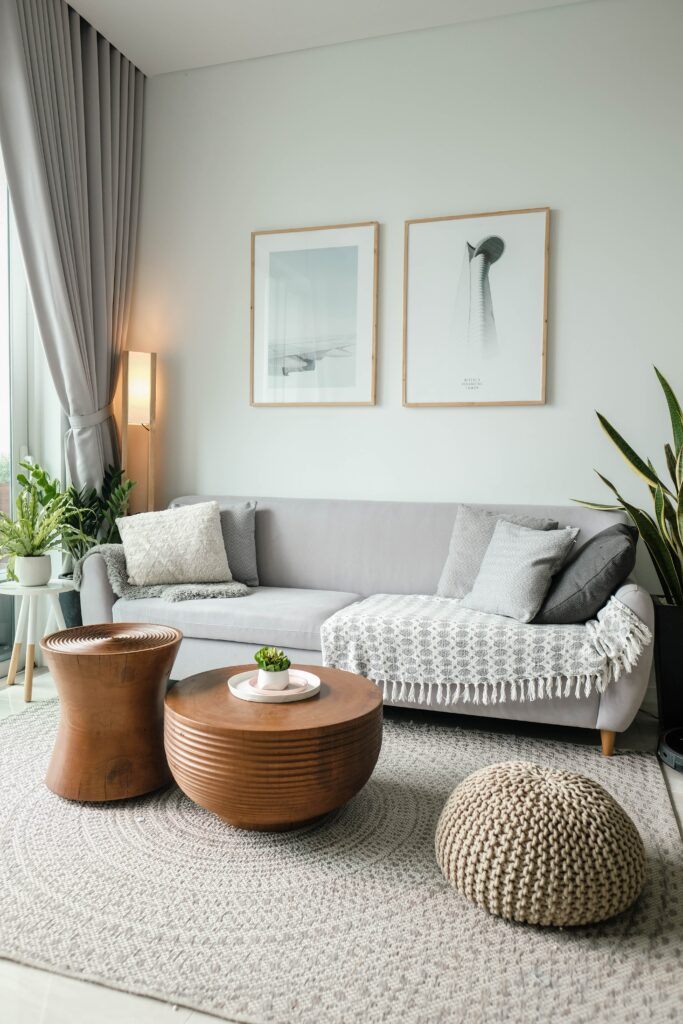 So, let's say you have a neutral-colored living room. The easiest way you can add some personal touches to it is by exaggerating some of the hues in your existing home palette. With minimalism, it's all about creating texture without crowding the space.
Some touches of green, a pair of bronzed tables to offset the gray and white colors, a crocheted throw—it gives life to an otherwise simple room.
Incorporate Warm, Artsy Tones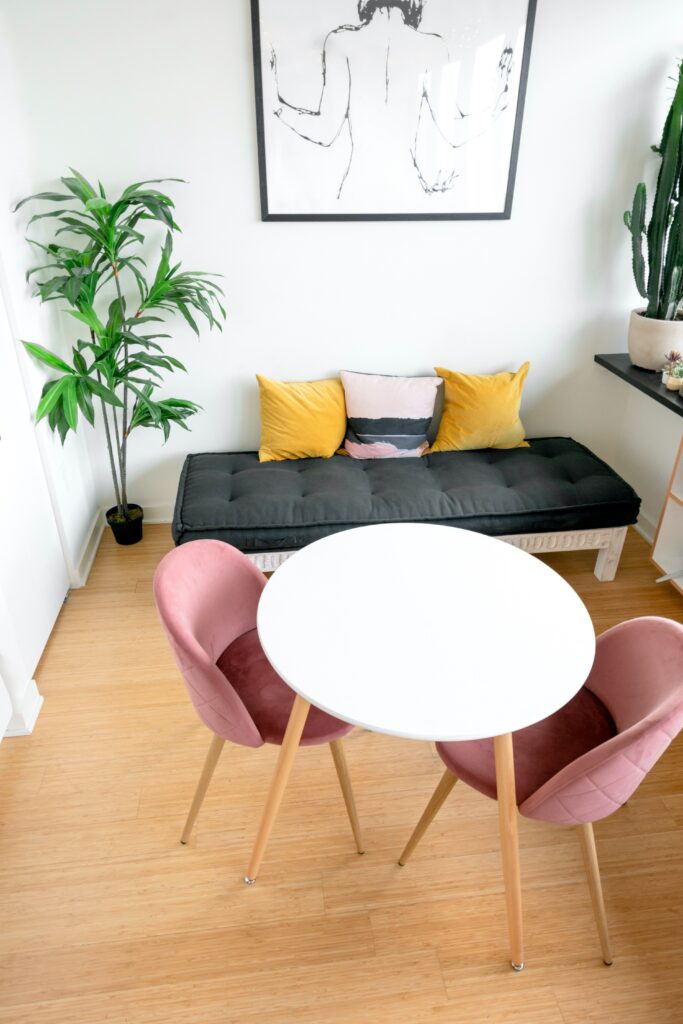 Pops of color are all you need.
Simple palettes like white and grey with black can be a little monotonous for some. There's no reason why you can't add a spot of color or two to bring some life into your home.
Pastel colors work well with minimalist styles. You can also add more elegant, darker colors like navy blue, greens, and browns if the overall apartment design calls for it. If not, you can utilize the black-and-white elegant theme to make a checkerboard home that's sharp and sleek in style. It's up to you.
Make it Ultra Tidy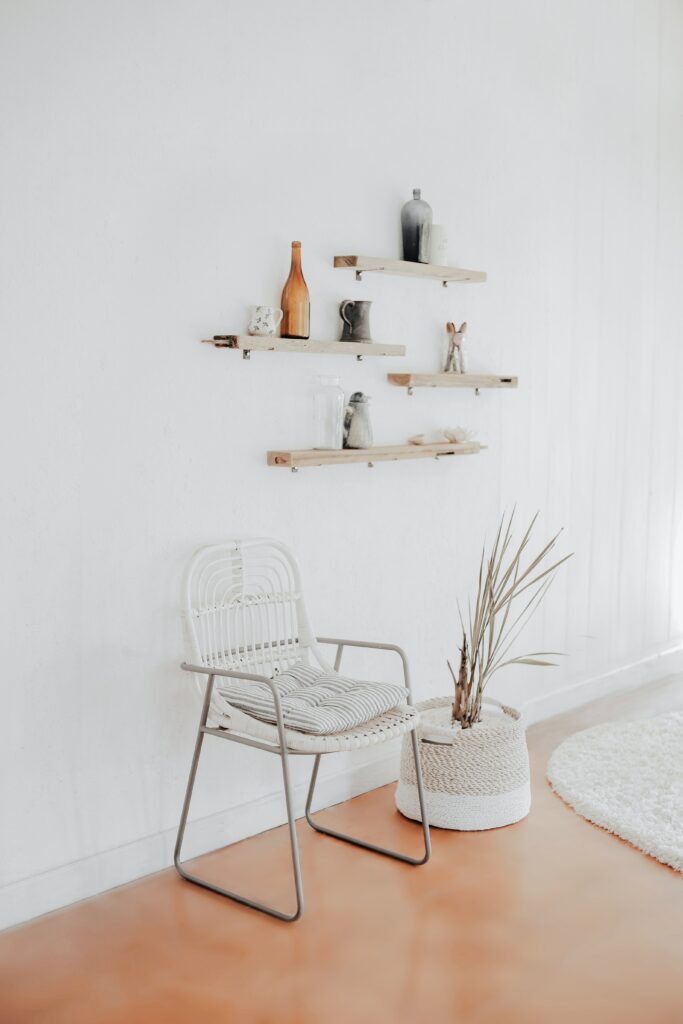 If you want to strictly follow minimalism rules, you can keep your home free of anything that doesn't belong.
But even within the confines of a clean, clear space, you can add art or even a fun looking chair and floating shelves to give your home new life. Colors in minimalism aren't as bold, but that doesn't mean you can't experiment.
Stay within the lines and keep it tidy, but be brave with what you do leave once you get rid of the clutter. It's up to you to decide just how your home should look like. It can be blatantly white, or cute as a daisy with yellows, beiges and greens here and there.
Get in Touch with Nature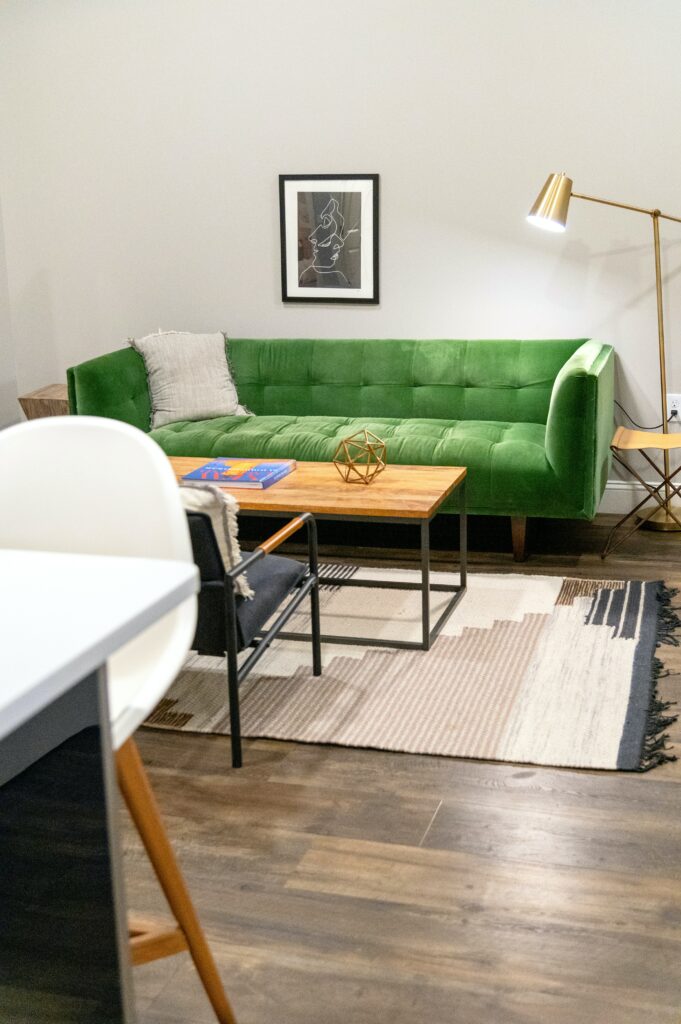 While we may credit Frank Stella for introducing minimalism in the 1950s in the United States, this lifestyle's roots go way back and far.
Japanese tradition honors Zen philosophy in aesthetics and architecture. It treasures the essence of freedom and living and getting in touch with what made us who we are; Mother Nature. As such, you'll find plenty of greenery in almost all minimalist apartment ideas and designs.
However, if your black thumb does not allow for any greenery, adding a load of textures and deep colors in earthen tones would turn your simple space into a place of intrigue. But if you have your heart set on plants, their artificial counterparts are always a good option.
Play with Tones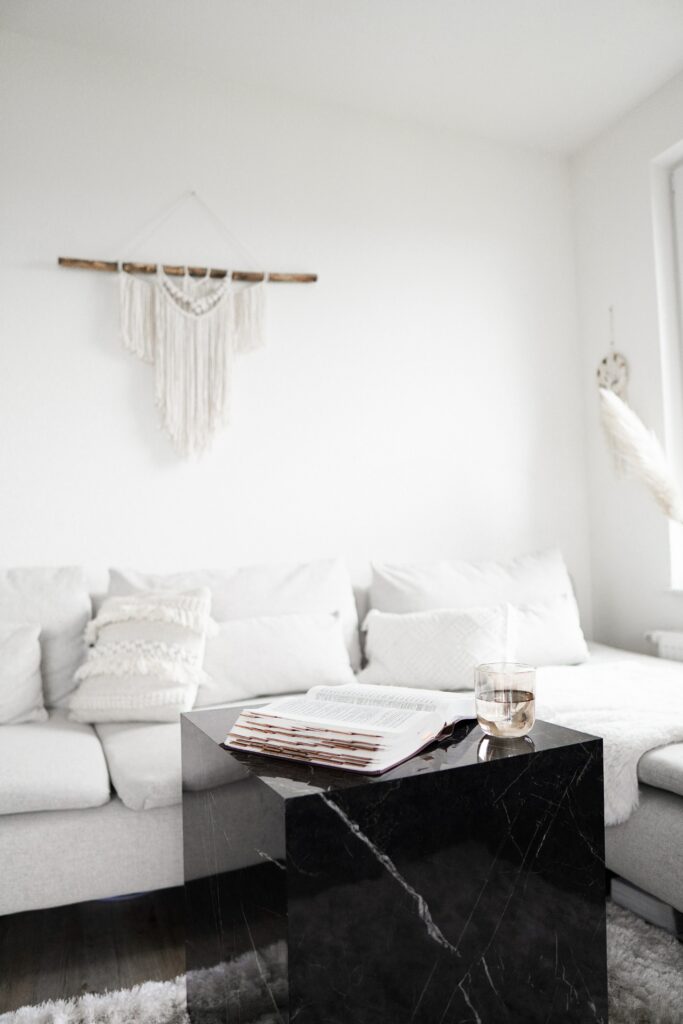 This is the epitome of elegance in architecture and design. Minimalism takes away a million things going on in the background and around you.
It directs the eye to the more intricate, bold pieces of art in the room with a neutral interior design. You're always engaged in the balance you create with the least amount of color and texture. Though that's not an easy design plan to accomplish, it comes out looking breathtaking when done right. If you're intimidated to do so, only play with tones closest to the palette you have. Your home will pulse with energy.
Conclusion
When it comes to converting your home design into a minimalist apartment design, it takes more than finding ideas on Pinterest for minimalist apartments for you to gain inspiration. It requires a plan and the right amount of preparation before you take the first brave step.
Decide on the right time for you. Before making any significant changes, find out what you need to bring to the table. An extra hand, some special orders for your furniture, hooks, and hangers, trash bags, and donation boxes—this will shorten your time and will give you everything you need to have your home design changed quickly.
As an enthusiast, you will want to put everything right the very first day. But take your time, and try to figure out the flow of design and color throughout your apartment. This is especially crucial if you live in a rented apartment.
You won't be able to change the overall design or the colors of the wall. Not to mention you won't have any control over the design choices of your pre-existing furniture. But you will be able to change the interior elements of your home.
So, take it easy and try to fix things as you go along.
Minimalism dictates that as a clutter-free, clean zone, your home should be practical and comfortable. It should be a place that inspires you, but it should also be a place of Zen. Do your best to follow suit.
Your home is your personal Eden. It should look as beautiful as you want, but it should not give you any trouble. With the above details, you should have no problem changing your home design into one that will make even the staunchest minimalist proud.