This article contains affiliate links for which I may receive a small commission, at no additional cost to you, should you decide to make a purchase by using them. Learn More
Finding the best selection of minimalist rugs out there could be as easy as searching online for a rug within your budget and clicking "buy." But, we all know it won't be so satisfying.
For a true lover of minimalist home design, you want a rug that embodies the spirit of minimalism. It must be simple in design but engaging. It should have textural beauty, but it shouldn't be over-the-top embellished. And most importantly, it should possess a beautiful hue. There's nothing worse than a rug that looks cheap when spread out in the light.
So, how do you search for such a find?
As said before, you could search online for a minimalist rug. However, with more than 23 billion search results, that won't narrow down your choices. Instead, cut down on the options by understanding what you want in the first place. In other words, what qualities should your minimalist rug possess?
Let's have a quick lesson.
Qualities Your Minimalist Rug Should Have
Neutral in Color
If plain, one-tone rugs aren't your thing, not to worry.
Even Persian rugs come in a distressed vintage-style texture. As long as your rug is neutral in shade to almost being one-color, you're good to go. You need a rug that complements your modern home design. If your furniture and surroundings are straightforward and monochromatic, the rug design may add the touch of character that would tie the room together perfectly.
Minimal Texture
We all love shaggy rugs. But, if you find other rugs with some texture to them, that would help give your home a comfy ambiance too. Textures accentuate sharpness in minimalism where your fluffy pillows and white paint won't. So, don't be afraid to add some texture to your clean-cut home.
Cozy Comfy
Many people mistake minimalist interior design for something austere, cold. It's anything but.
The minimalist style allows you to remove any additional touches that distract from home comforts. So, for example, if you want a thick shag rug that your feet sink into, there's no reason why you can't buy one for your home. Hand-tufted rugs and woolen rugs are other great options. If these styles make you happy, they should have space in your home.
Warmth
Warmth in minimalist design is not limited to color.
Considering that you've taken away many things that typically added to the warmth factor, like additional throws, pillows, a fake fireplace maybe (?), you'll want to replace them with something that keeps you happy and toasty. A thick carpet with long piles would suffice.
Best Minimalist Rugs for a Modern Home
Patterned Rugs
For anyone who has voyaged on Pinterest, you all know how beautiful a patterned rug can look in a minimalist style home.
Patterned rugs work perfectly for homes that possess a simple design and not much decoration. The pattern adds vivacity and fullness to the room design and does so without costing an arm and a leg. Whether you buy a natural fiber or synthetic rug, these rugs last decades if well taken care of, so you get a wonderful touch of beauty that adds to your home aesthetic for the years to come.
If you're furnishing a larger area like a living room or a bedroom with a rug, we'd suggest a uniform design of a neutral color, perhaps a white design on a camel, grey, white, or black background. For smaller rooms, though, skip the patterned rugs.
As said before, patterns add fullness. Adding oversized, textured rugs to a small room will overwhelm the design.
My Recommendation:
This minimalist style trellis rug is the Goldilocks choice for a patterned rug!
Wool Rugs
Wool rugs are durable, sustainable, naturally resistant to stains, and just overall, an excellent choice for any homeowner.
Cowhide and Sheepskin Rugs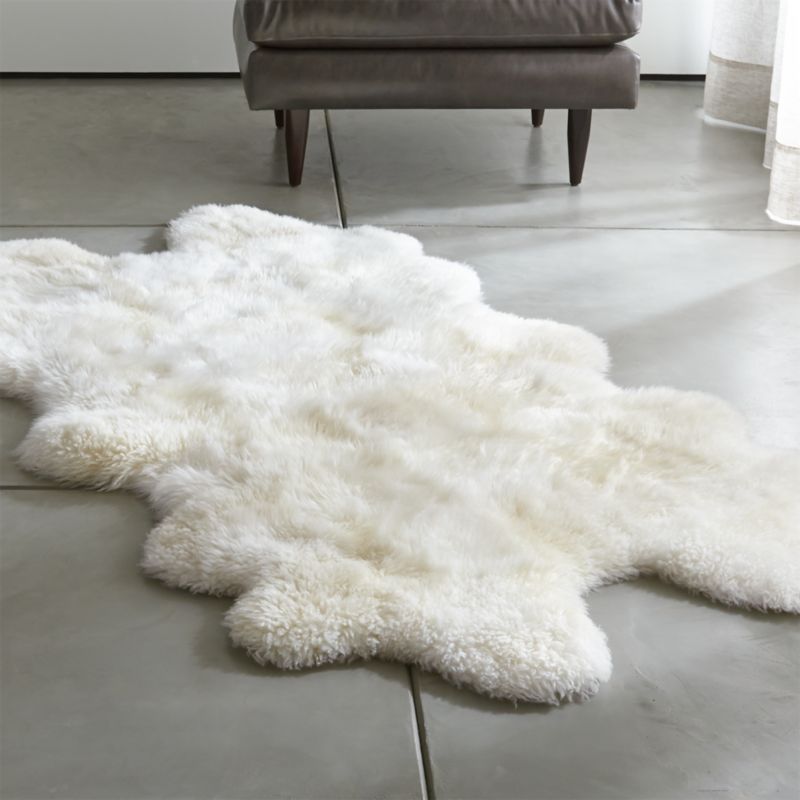 If you cannot agree to a sheepskin or cowhide rug for ethical reasons, there's always the faux option on offer.
Sheepskin and cowhide rugs offer a unique and distinctive look. You'll find them in the signature skin-style design, but you'll also have the typical square rugs available. Whatever you need, these soft, fluffy rugs will look perfect in your home. But keep in mind, these rugs require love, so don't toss it in the washing machine, especially if it's dyed. To prevent fading, the rugs will need to be cleaned by a professional dry cleaning service. Otherwise, you will have a mess on your hands.
Sheepskin or cowhide rugs work well in bedrooms or other cozy areas. But, if you have a small living room, it might suit the aesthetic there as well.
Antique or Traditional Rugs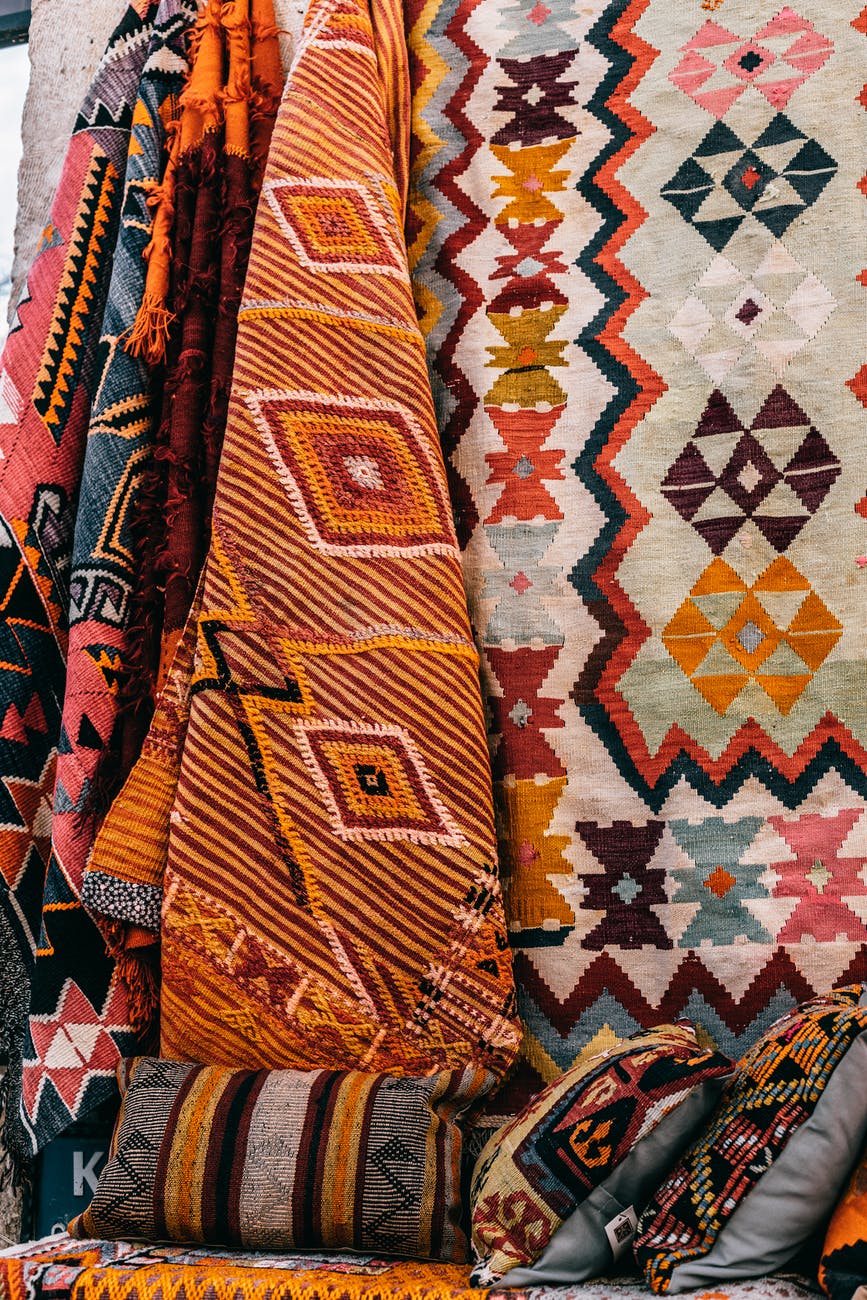 If you have a genuine faded Persian or Turkish rug, you may be one of the luckiest ducks out there. Considering that most genuine rugs are passed down generation after generation, getting an authentic rug may not be likely.
Not to worry, though. You'll find plenty of imitation antique rugs out there that would look just as beautiful and intricate.
Inspired by the ancient Oriental carpet designs from Turkey and Persia, these imitation carpets combine modern technology with old aesthetics, providing us with sustainable, beautiful, durable rugs that last decades if taken care of.
These rugs are usually low-pile and come in a variety of styles. Though, if you're looking for a minimalist rug for a modern home, going with white or faded blue rugs would be just the ticket to achieving that perfect look.
These rugs are usually low-pile and come in a variety of styles. Though, if you're looking for a minimalist rug for a modern home, going with white or faded blue rugs would be just the ticket to achieving that perfect look.
Faded or Overly Dyed Rugs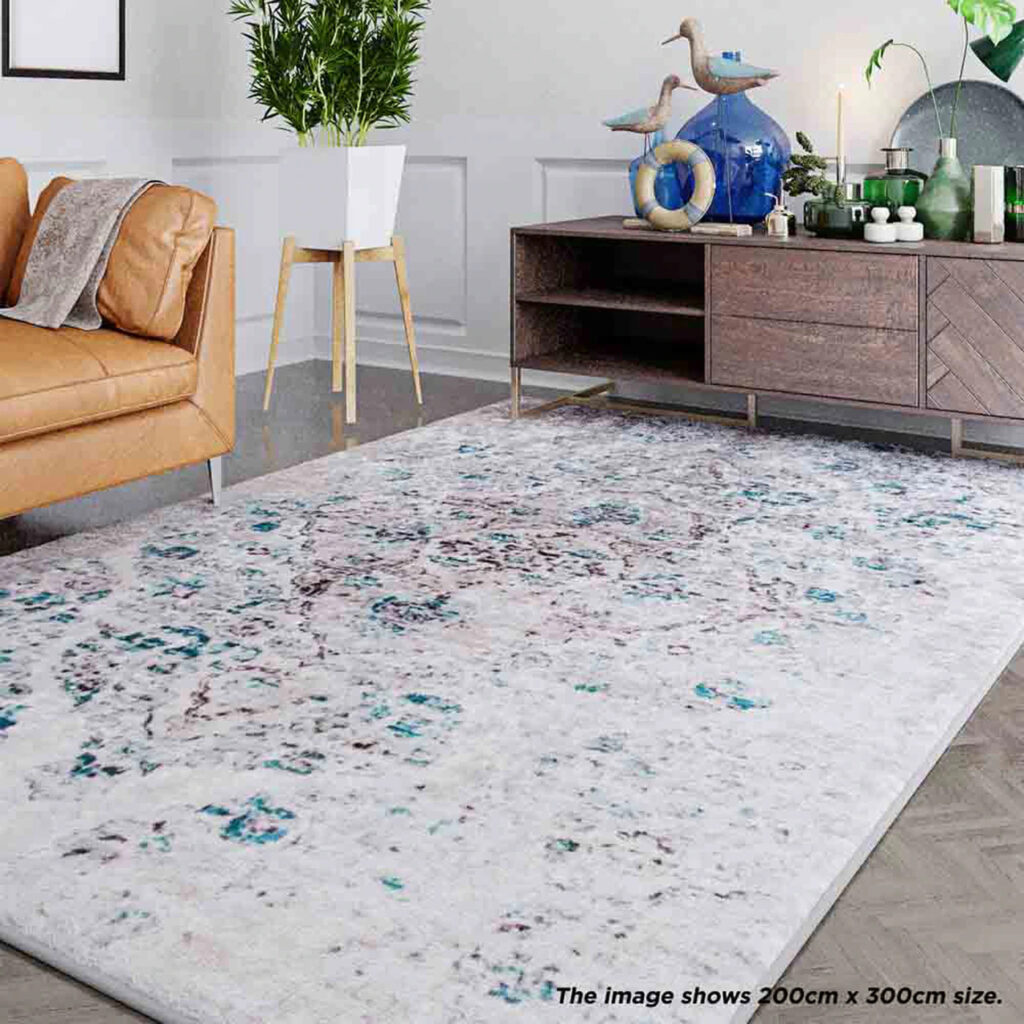 This is a relatively new trend taking over the minimalist world, and we are here for it.
The idea is to take an old rug, clean it, and apply such a strong dye that the rug becomes heavily saturated. With the rug's existing design, you get something that resembles a color block. With the rich-hued color and the existing pattern, the result comes out looking beautiful and unique.
Over-dyed old rugs are available online. If you have DIY skills, you could transform a regular rug you have by using a dye solution. However, it can be a hassle if you don't have the DIY gene. If you can't be bothered to dye your old rugs, either find a service that can or buy a professionally dyed rug online.
Jute Rugs
Jute rugs are affordable, fantastic, and durable. So, if you have a home that has heavy foot traffic and not a small number of spills (thanks, kids!), the jute rug is the one for you.
Jute rugs offer an earthy touch of color and are available in a neutral color, making them ideal for a minimalist modern home. Luckily, jute rugs come in a variety of sizes, colors, and styles. If you need a contemporary rug, a minimalist round rug, or a large rectangular rug for the living room, you'll find the right fit within your budget.
Jute rugs aren't as soft as your average shag rug, though. But on its own, the jute rug is soft enough that it'll last decades without causing any comfort issues. It's also non-slip, which will make it the right choice for a home with kids who like to run around.
Rag Rugs
Want a rug that reminds you of home?
This rug is every mom's favorite rug, so it'll fit your home aesthetic. The rag rug is stylish and contemporary. With its soft tassels and cottony feel, the rag rug gives your interiors that homey touch it so desperately needs. Rag rugs are also affordable and come in various styles, colors, design combinations, and patterns, not to mention sizes.
Rag rugs can be used in bedrooms, bathrooms, kitchens, living rooms, and even your home's entrance. With the right color combo and a quality seller, these rag rugs will serve you for the years to come.
Sisal Rugs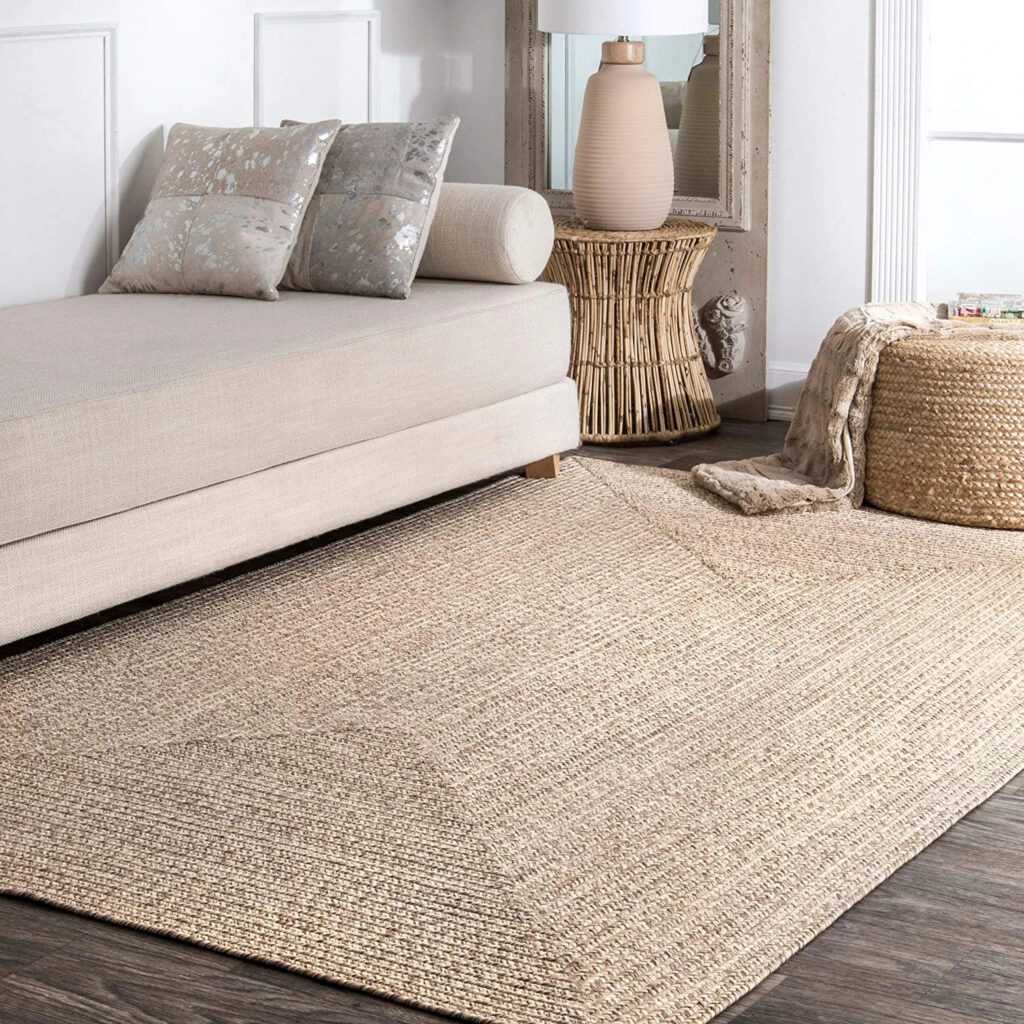 Sisal rugs are warm, durable, tough, and just about the best option you can find if you want to invest in your home décor.
Sisal rugs are made from the leaves of the sisal plant. These fibers are obtained after the leaves are crushed between rollers, the pulp scraped, and the fiber washed and dried. That fiber comes out healthier and cleaner than any fiber you could choose for a carpet or rug.
Sisal is biodegradable and isn't exposed to fertilizers or pesticides. As a natural fiber, sisal is the best choice, better than jute if you want a tough but soft fiber that can withstand heavy traffic.
Conclusion
For a minimalist modern home, it's not just about finding a budget-friendly, pretty rug. Whatever flooring you choose has to be sustainable and eco-friendly. Given that rugs and carpets are a long-term investment, you want to be sure that your actions or your purchases don't affect the environment and its creatures in any negative way.
With faux rugs, synthetic rugs, or rugs made with natural fibers, you can make a world of difference for your home design.
My recommendations are here to guide you in the right way. But even if my choices don't appeal to you, it's not a problem. You now know which style you want; this will make getting the ideal rug for your home all the easier. But make sure that you search for a reliable vendor that provides the real deal.
We don't want to get tricked at the very end because you forgot to pay your due diligence!