This article contains affiliate links for which I may receive a small commission, at no additional cost to you, should you decide to make a purchase by using them. Learn More
What's the true nature of a minimalist?
Simple; they live life based on experiences rather than possessions.
So how can you pick the perfect gift for a minimalist?
A minimalist person doesn't really appreciate material objects. They live the kind of lifestyle where every aspect of their lives is based on bare necessities. The spaces they live in are immaculate, austere, and comprise of just the things they need. Their wardrobes are the pinnacle of minimalist fashion. The food that they eat is very measured as well. Everything about them exudes sustainability.
So, how do you decide on the perfect gift for a person who's so restrained and careful about the way they spend their life?
The answer is; either you give them something that they need or give them something "experiential."
This can be incredibly challenging, especially now that Christmas is right around the corner. The truth is that minimalist gifting requires a lot of thought and effort. So, if you're fretting about what to give your loved ones this Holiday Season, here's a helpful list that can be a total lifesaver!
Let's take a look:
1. Eco Tooth Brush
A toothbrush is something that everyone needs. There's no alternative to brushing your teeth, but regular old toothbrushes are a canvas of plastic just waiting to be thrown away in the ocean or a landfill. It's something that contradicts the healthy minimalist philosophy.
This is why an eco toothbrush would be an excellent gift for minimalists. It's a product that strikes the perfect balance between oral health and environmental care. These toothbrushes are 100% biodegradable, and their bristles are made out of nylon. If you buy from the right source, then you'll even get organic packaging. Rest assured, this is the kind of gift that your minimalist loved ones will appreciate a lot.
2. Reusable Water Bottle
Another great Christmas gift idea for your minimalist loved one is a reusable water bottle! Anything is better than plastic alternatives, but if you want to go the extra mile to show your friends or family that you support their lifestyle, then you can get them a LARQ bottle!
It's an excellent choice for anyone, but mostly a minimalist who also wants to cut down on unnecessary water usage that comes with relentlessly cleaning other types of water bottles – mostly cheap glass ones. The LARQ bottle has self-cleaning and water purification features. It also used UV-C LED light to terminate 99.999% of the biodegradable contaminants.
Its simple design and outstanding functionality will make your minimalist loved one's day!
3. French Press
Minimalist lifestyle or not, no one can survive without coffee. This is why another excellent minimalist gifting idea is a great French Press – and if you want to make it even more special, go for a smart French Press.
The GINA is an award-winning coffee-brewing instrument. It's smart, compact, and highly ergonomic! It's got a precision valve that controls the drip and a dedicated brewing app that gives you lots of options for your brewing method – be it through pour-over immersion or cold dripping! It also makes tea, so that's a bonus!
If you want something simpler, then you can also opt for a traditional Ceramic French Press! This one is heavy-walled and would make the perfect addition to your countertops and kitchen tables. It's very easy to handle and can maintain a consistent brewing temperature throughout the endeavor.
4. Minimalist Wallets
Even a hard-core minimalist can't survive without a good wallet, which is why it'll make an excellent gift this Christmas. But the thing is, that wallets these days are so showy. They don't respect the essence of minimalism at all. So it's tough finding a suitable design that would make a great gift when you're trying to be minimal.
To save you a lot of hassle, we'll suggest something. Hawbuck's minimal ultra-light wallets are the best option. They're lean, smart, and made from long-lasting materials. Choose the right color/texture/pattern, and it'll make a timeless, evergreen gift for your minimalist loved one.
You can also find lots of useful options at SlimFold Wallets. Their MICRO-soft shell wallets are a real bestseller that's made out of highly resilient waterproof material. Its functional features are a total standout. It doesn't have any excess bulk and can hold anywhere between 8 to 10 cards!
5. Kindle
One of the hardest parts about being a minimalist is getting rid of everything that clutters your space. This can be an incredibly painful task for someone who loves books. So, if your minimalist loved one is fond of books, then a Kindle will make the perfect Christmas gift for them this year!
As Amazon's finest device, one can store thousands of ebooks in a simple, compact little electric body without having to sort through paper alternatives. It's purpose-built and has a glare-free display that can read like actual paper even in bright sunlight.
6. Coffee
A timeless but straightforward minimalist gift can be a bag of organic coffee. As an everyday essential, this beverage will make a great present. However, you'll have to be careful about choosing the right brand. We'll share two options for your convenience.
The first one is the Death Wish Coffee, which is lauded as one of the world's best whole bean coffees. Everyone instantly falls in love with its bold flavor, and its USDA Certified Organic rating is the cherry on top.
The other coffee that we suggest is Stumptown's Coffee Roasters Hair Bender Whole Bean Coffee! It's got an explosion of flavors that will take you from Indonesia's exotic richness to Latin America's classic flavors. It's also fresh, sustainably curated, and packaged. You can be sure that it will make a great minimalist gift!
7. Minimalist Phone Case
Another useful gift for a minimalist is a simple phone case. This is especially recommended for people whose loved ones have bought a new phone and still haven't accessorized it. It's best if you look for something that is understated, straightforward, and doesn't have any glittery or frou-frou things attached to it.
You can find tons of options on Amazon. Some are very compact and sleek with in-built wallets and a protective grip. Some are magnetic and made out of long-lasting materials. You can find shockproof series produced out of translucent material, and there are even anti-scratch options to pick from. You can select the perfect one based on your loved one's phone usage habits – i.e., whether they are prone to dropping their phones, need some extra compartments in their case, etc.
8. Minimalist Watches
If you want to gift a minimalist fashion accessory to your loved ones this Christmas, then watches are a great option! They're functional, can be paired with all types of clothes, and are an evergreen gift choice. You can also easily find minimalist watches, but we'll suggest two if you want a reliable source.
MVMT has a superb collection of minimalist watches. They're smart, sleekly designed, and aren't showy or extra at all. You can find a lot of simple designs for both men and women. You can even go through their gifting guide and gift boxes if you want to make a conscious and beautiful choice.
The other option is Skagen, where you can find lots of timeless watch pieces for men and women. Their signature designs boast Danish values, and you'll find their pieces very focused, simple, and effortlessly beautiful.
9. Facial Cleansing Brush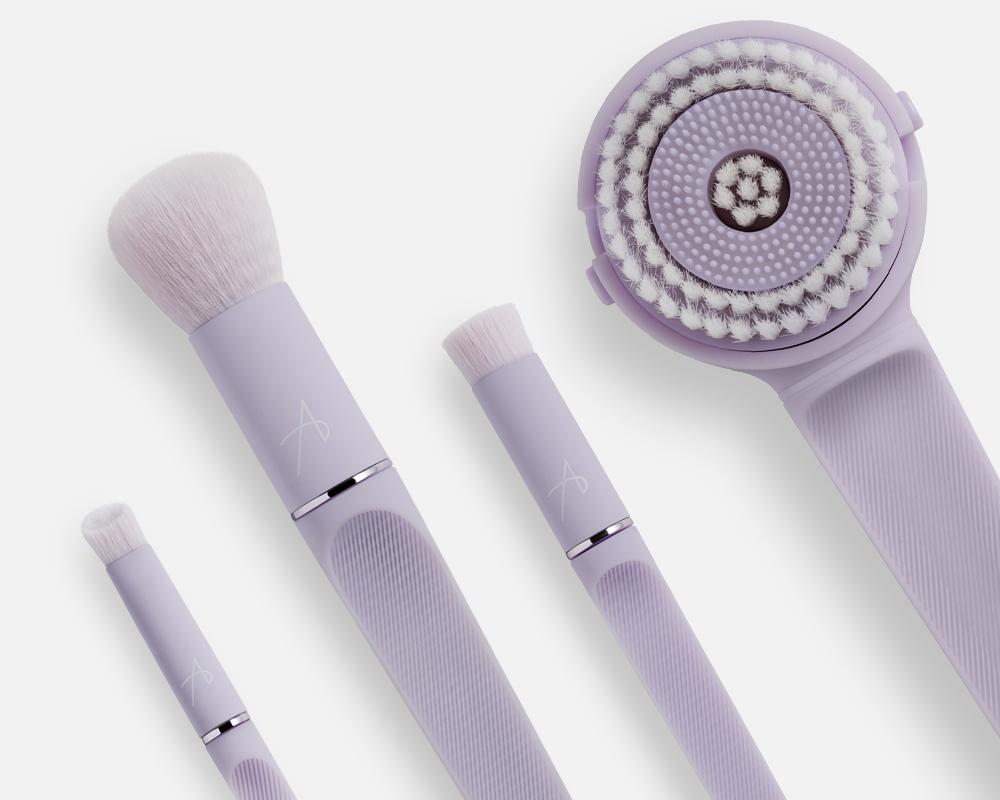 Skincare is not just a fad – it's a routine that's here to stay, and it's not just for overspending maximalists. If your loved one is into self-care, then you can give them a facial cleaning brush this Christmas. You can bet that it'll be an excellent minimalist gift.
If you're looking for a more detailed range of minimalist skincare products, feel free to check our Best 13 Minimalist Skincare Brands article.
If you're overwhelmed by all the options available in the market, then we suggest looking at Anisa Beauty's one-of-a-kind facial cleansing brush. It's a very holistic product that suits all types of skins and gently exfoliates all the dead cells away. It's very ergonomic, and the brush can even be detached from the handle. Plus, it has a long lifespan – if maintained nicely, it can last up to two years. That's the part that will attract your minimalist gift recipient the most!
10. Minimalist Planter
What's the one home décor accessory that is suitable for a minimalist abode? A planter! So if you're struggling with your minimalist gifting, then this is an evergreen solution for everyone. After all, you can never go wrong with a planter.
Just like phone cases, you can find tons of designs in this particular genre, especially on Amazon. If your loved one doesn't like floor clutter, you can gift them a hanging design. If they need to embellish a table or countertop, you can give them a tray planter. If they need to spruce up a bare corner, then an oversized statement planter could be a perfect choice!
11. Linen Blankets
The key to curating the perfect minimalist gift is to focus on basic life essentials. One of these bare necessities is blankets, so you can bet that it'll make a great Christmas gift for a minimalist. Linen blankets are soft, comfy, and great for adding a pop of color to your surroundings.
If you're searching for the perfect one, then you'll seldom find anything better than what's on Magic Linen. The blankets here are simple, available in gorgeous natural hues, and stonewashed to provide minimal softness. The linen-cotton blend is super sturdy and made to last. Your minimalist friends and family would appreciate its detailed countenance!
12. Backpacks
Another evergreen gift idea for a minimalist is backpacks. Bags are an every-lifestyle essential, but finding one for a hard-core minimalist can be truly hard. You'll need to look for something smart but spacious – something that can carry many things with grace and panache.
Luckily, backpacks are one such item. They're super sophisticated, can carry anything for any occasion in their spacious internal compartments, and are incredibly comfortable to carry as the straps are padded with memory foam. You can easily find a color and size that suits your preference. Most importantly: it's an item of need, so rest assured that your minimalist friend will find pt an excellent idea for a gift.
13. Minimalist Corner Floor Lamp
Good lighting is the epitome of minimalist essentials, which is why it would make an excellent Christmas gift for a minimalist. However, it can be challenging to find good designs in this genre, so we're here to suggest the best option.
Minimalist Decora's 'Warm White Corner Floor Lamp' is one of the best options that you'll find in the market. It's not just sleek, slim, and smart, but it's also got a no-fuss style that can be put flush against your room's corner. The LED light emits like a halo, which makes for a nice ambiance. Additionally, it's a space-saver and a mood-maker, so your minimalist loved one would appreciate it!
14. Soy Candles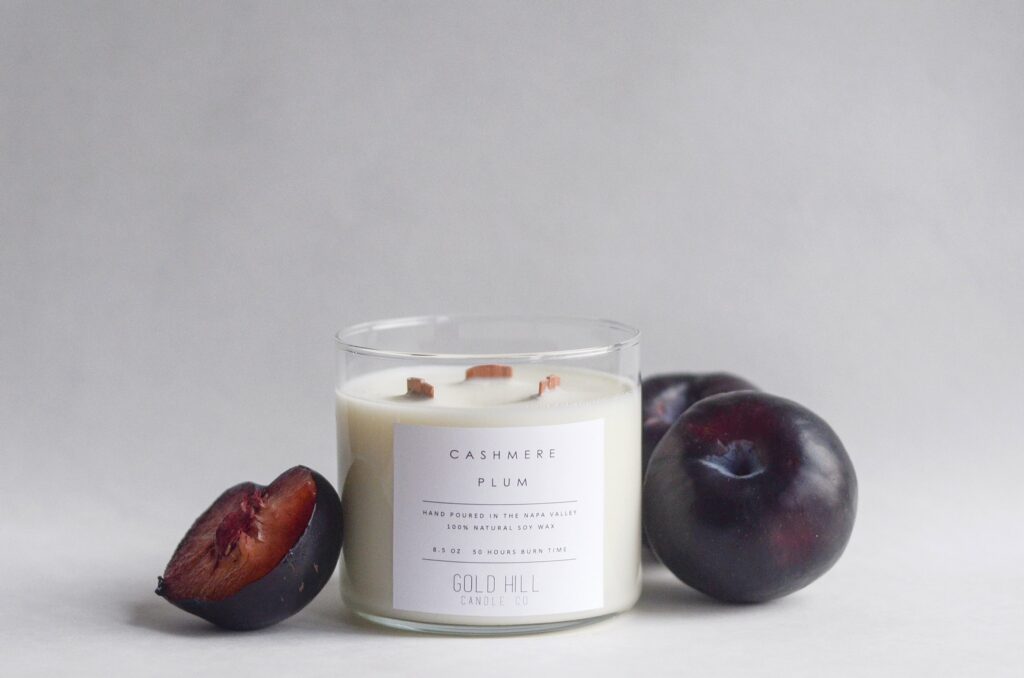 This entirely organic winter indulgence might as well be one of the best gifts for a minimalist. The best thing about this particular gift is that it has a very long burn time. Soy candles come with even a wooden wick, making them incredibly long-lasting compared to regular candles.
Soy candles can burn anywhere from 50 to 100 hours per candle and make a great functional accessory for someone who wishes to use less electricity or chemical batteries. Add in the perfect scent and the availability of various designs, and you've got a winner on your hands!
15. Reusable straws
The minimalist life is all about doing away with anything that causes physical clutter. This applies to macro, meso, and micro levels. Ask your minimalist friend about what strikes their conscience the most, and they'll have plastic straws on that list.
Therefore, the last gift idea we have on our list is reusable straws. Now, there are two types of these that you can find in the market. Option number one is purely, totally organic, and handcrafted out of natural materials like coconut fiber. They're biodegradable, so you can also throw them away with your organic trash once they complete their given lifespan.
Option number two is the stainless steel one. The good ones are made out of food-grade BPA-free materials that are dishwasher safe and easy to clean. You can bet that either one of these straws would make a fantastic gift for a minimalist!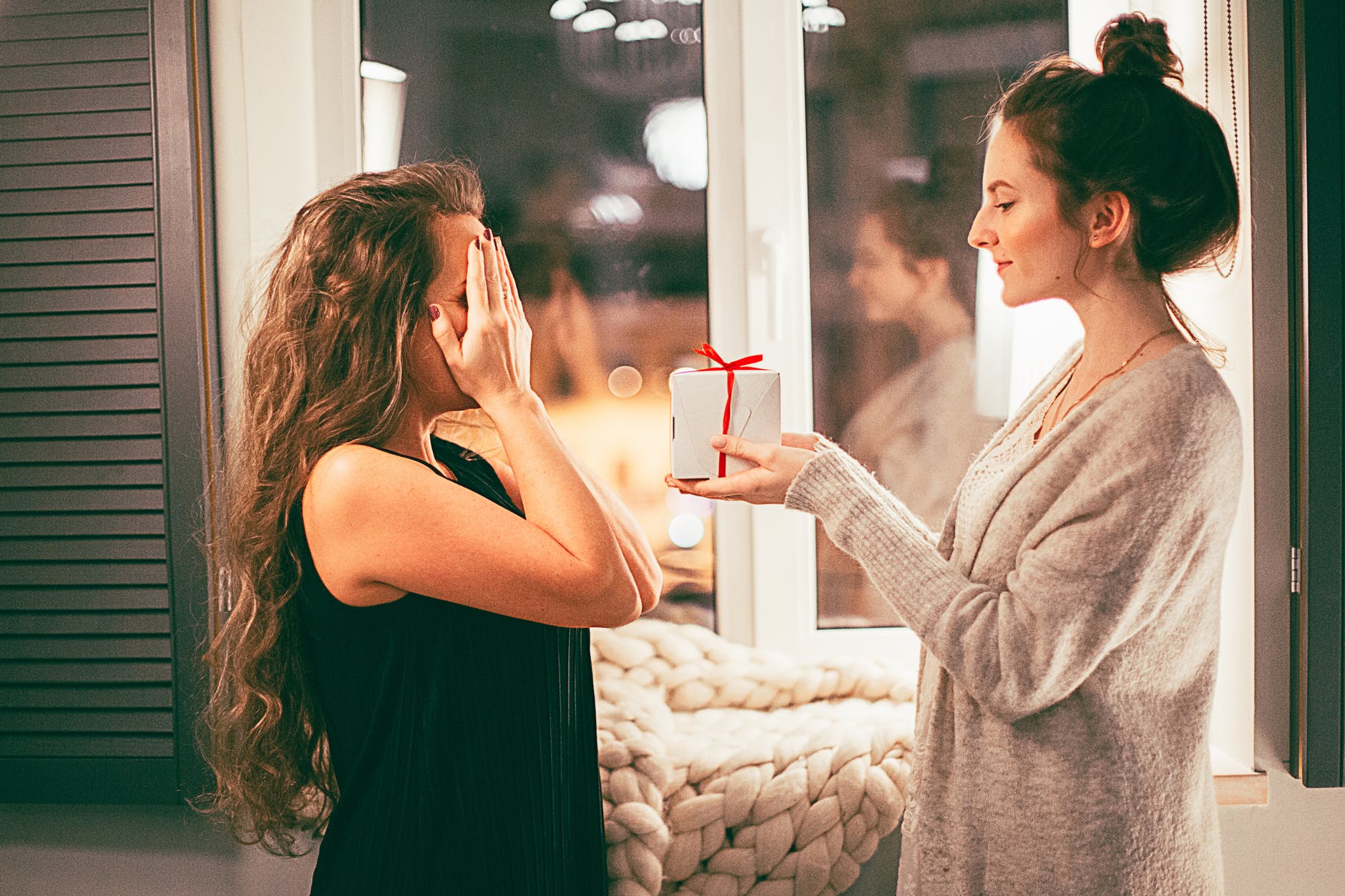 So, these are some excellent minimalist gifting options. All of them are necessary objects that your recipient will appreciate. Plus, they cover a large variety of genres, so whether it's fashion accessories, everyday use items, or sustainable qualitative objects that you want, you can find them all on this list.