This article contains affiliate links for which I may receive a small commission, at no additional cost to you, should you decide to make a purchase by using them. Learn More
Scandinavian minimalism is all about embracing a lifestyle and space that is calm, clutter-free, and makes you feel like all your trouble will evaporate as soon as you enter it.
A combination of two prevalent interior design themes, this style propels you to take out the best aspects of both and amalgamate them in a serene, tranquil, and highly relaxing space.
To understand it better as a whole, we must look at where it originates from. Therefore, the following sections are a simple breakdown of both the Scandinavian and the Minimalist styles.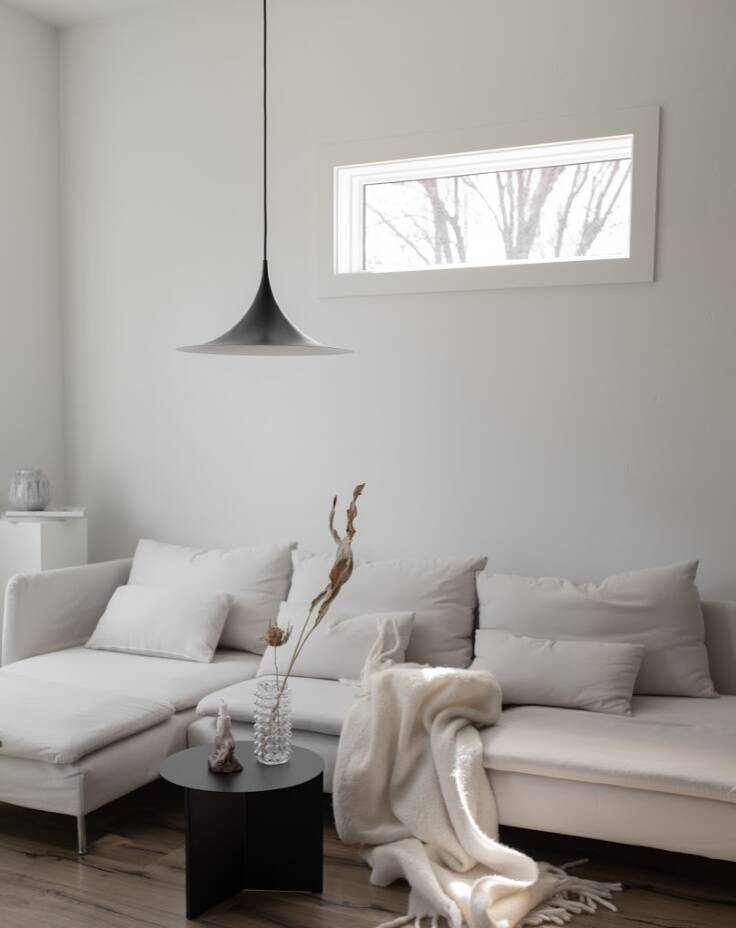 What is Scandinavian Interior Design
This style originates from the Nordic highlands and is known for its bright, airy spaces, light yet natural material scheme, and clean lines.
It's effortless and promotes a clutter-free atmosphere that is also quite cozy. This theme also incorporates the concept of "Hygge" (pronounced: Hoo-gah), where a sense of comfortable familiarity makes you feel safe and calm.
This style started to gain international traction in the mid-twentieth century and took inspiration from the Bauhaus movement.
Simplicity, modernism, and functionality took center stage here. It put a lot of focus on the ordinary things in life.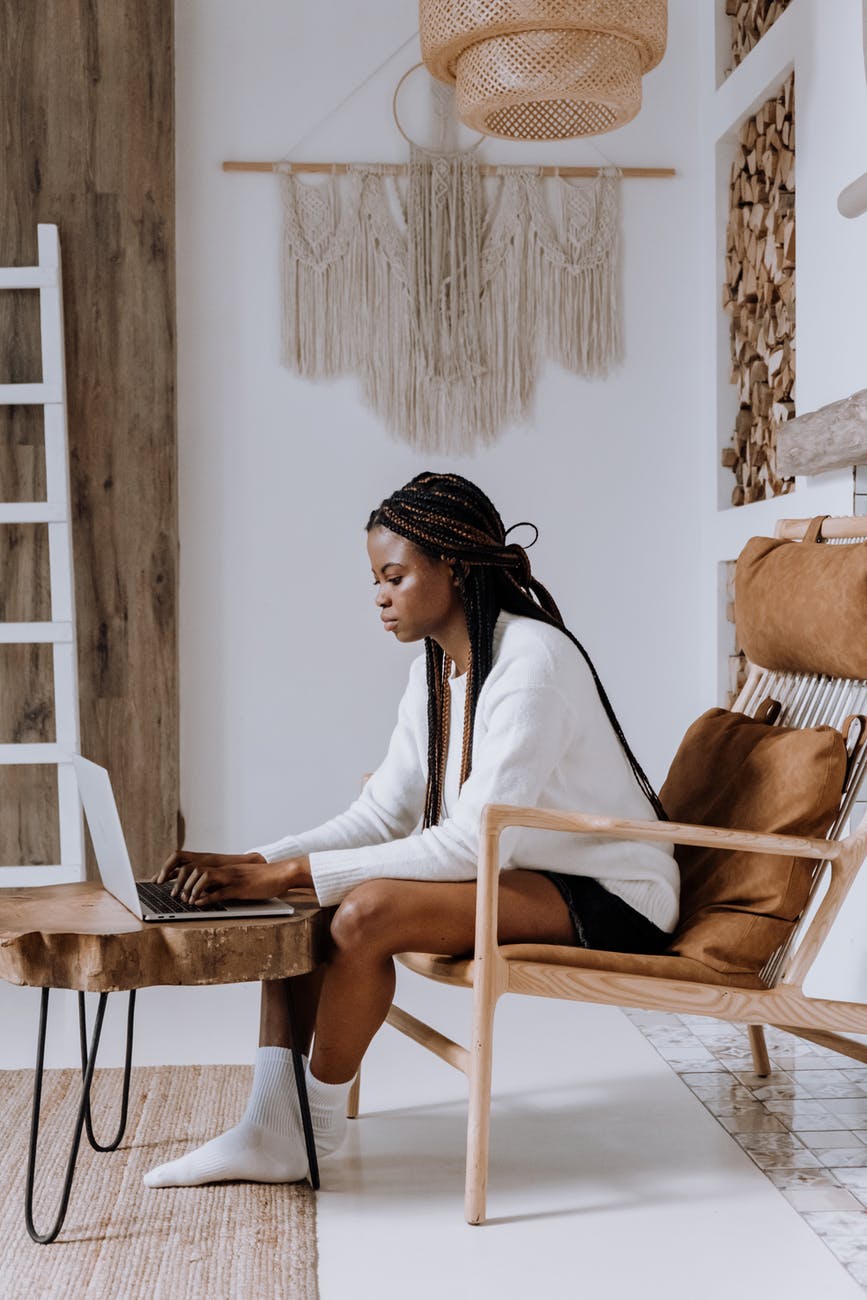 Overall, the Scandinavian style is very cheerful yet straightforward, making it a great option to pair with our other counterpart.
What is Minimalism
Minimalism is a movement that has defined an entire lifestyle. From art to architecture, interior designs, and more, it has redefined the way we view everything.
It's the essence of the "less is more" ideology and promotes extensive decluttering, simplifying complicated aspects of your living style, and embracing the idea that you do not need more than the bare necessities to get by in life.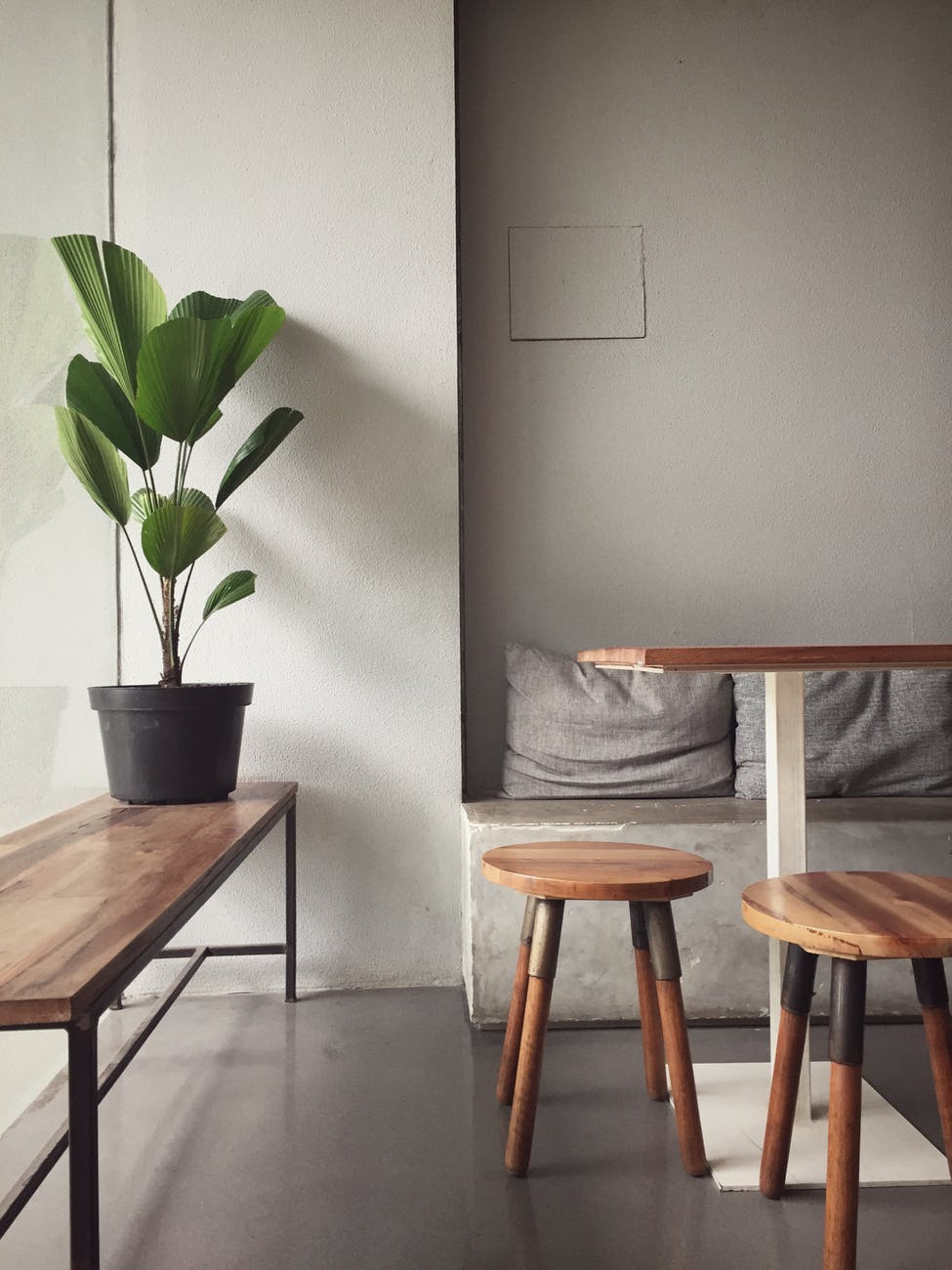 The minimalist style also exemplifies soft lighting, natural materials, and open spaces that aren't obstructed by too much useless furniture. It's very stark, but the philosophy behind it (i.e., the less you own, the more content you'll feel) has converted many people over the years.
So, now that you know the basics of the Scandinavian and the Minimalist styles, here's what their combined form entails…
What is Scandinavian Minimalism
This style conforms to its two counterparts' fundamental essence and enjoins a sense of positivity, homeliness, and purity within the spaces.
The idea of Scandinavian Minimalism is to be minimalistic while appreciating the Nordic way of life. However, combining these two aesthetics and their practical sides might be a challenging course of action if you don't know their key features.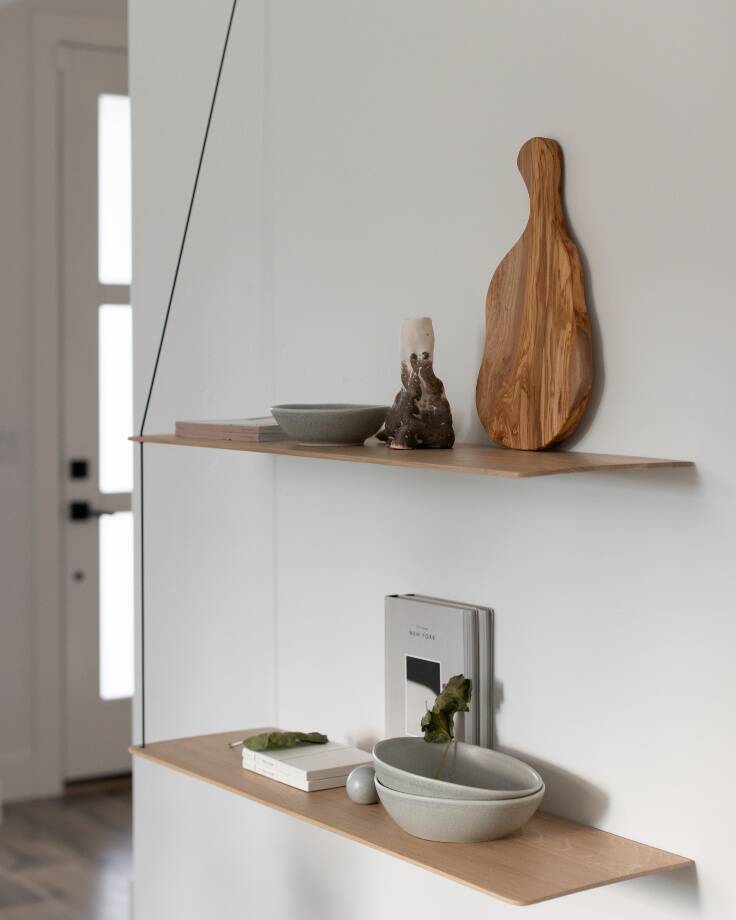 So below, let's look at some aspects that make this combination such a fine choice to implement in your homes.
How to Apply Scandinavian Minimalism to Your Home
Everything Must Be Purposeful
One of the things that many homeowners appreciate about Scandinavian Minimalism is the fact that it promotes purposefulness. The items – including the furniture, the décor, the accessorizing, etc. – must have a specific purpose. Otherwise, they'd be a redundant part and take away from the practicality of the space.
Therefore, if you decide to implement this theme in your home, make sure that every single thing that you pick out for your spaces has a specific intention. It must not be there just for the sake of being there.
The sofa should be there to sit, relax, entertain, etc. The media console should be compact enough to store your basic entertainment unit essentials, and no more. Only furnish with chairs that are going to be used. Accenting without intention is a big NO.
Everything about this style is actionable. No fluff is entertained.
Quality Over Quantity
Scandinavian minimalism always promotes quality over quantity. It's a style that is used to design durable spaces. "Built to last" is the motto of this theme, so everything featured in it should be not only purposeful but also extremely qualitative.
The dining chairs and table should be made out of high-quality materials, which won't need annual replacement or crack. Substantial wood items are highly appreciated. Thick, durable fabrics are a welcome addition.
Everything must be resilient enough to last years.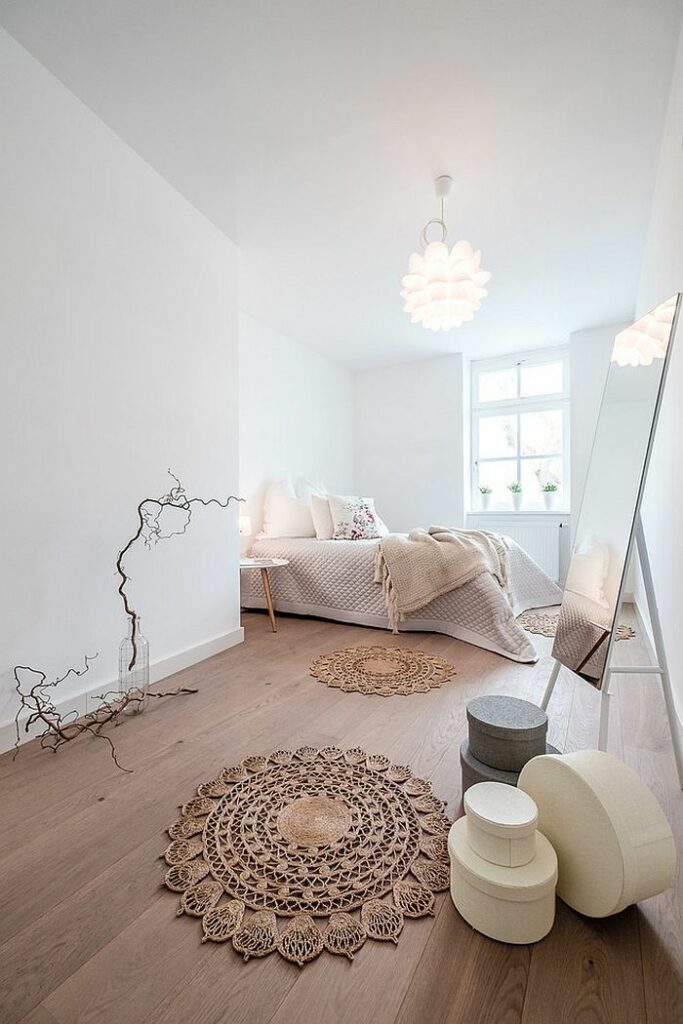 Good Lighting Is a Must
Another important feature of Scandinavian Minimalist spaces is that they always boast fantastic lighting.
This aspect is derived from a culmination of both Nordic as well as minimalist themes. Natural lighting is an essential fixture in this interior design theme, so windows are always used as a statement piece.
They are large, simply designed, and often complemented with sheer draperies so that the natural light enters the room in a diffused state. If you're leaning towards a cleaner look, then honeycomb shades are also a pretty great choice. Just remember to make them the focal point of the space.
Useful Tip: You need to ensure that you never use more than two or three colors in a single space to maintain the elegant integrity of this style.
A Simple & Neutral Color Choice
A vital element of the Scandinavian Minimalist space is understated neutral color schemes that translate into simple materials.
There are no bold, bright, and vibrant colors in this theme – unless you want to feature the occasional accent element (and that, too, must have a purpose). Wooden textures are quite eminent in this style, and they pair well with white walls.
Other than that, earthy tones like tan, sand, silver-brown, chocolate, dove grey, etc., are excellent color styling options for this theme.
Be Cozy in a Simple Way
The concept of Scandinavian Minimalism also embraces coziness but begs to enjoin it in the simplest way possible.
Typically, homeowners go for the "structured clutter" idea when trying to make their homes feel cozy, but that cannot be done in a Scandinavian Minimalist space. Instead, you can feature artfully worn-out materials in the few pieces of furniture you've got. Soft leather couches are a popular commodity.
So are distressed wood tables and chairs. You can find lots of similar ideas on the internet.
Integrating Indoor and Outdoor Spaces
One of the main things that you'll notice in Scandinavian Minimalist spaces is how they integrate indoor and outdoor elements gorgeously.
This styling choice falls in line with the core principles of both styles. You can use large windows to let in a scenic view of the outdoors.
You can also feature gorgeous planters inside your rooms to make a lush statement.
You can highlight stone masonry and its rough texture to add an extra dose of authenticity and coziness to your spaces as well! It's all about highlighting the subtle!
Invoking a Sense of Calm
This may seem like a pretty vague concept, but it also has a physical manifestation. Scandinavian Minimalism is all about achieving this ideal physical scale.
So how exactly can you invoke a sense of calm within spaces? For starters, you can choose a color scheme that emulates tranquility.
White and understated pastels are a great choice. Light wooden textures like oak and ash can be used to incorporate a sense of comfort. The furniture layout can be as sparse as possible to evoke spaciousness even in small homes.
And you can always use an uninterrupted flow of light to make the ambiance feel brighter and more cheerful.
Perfectly Blending Form and Function
Another way in which you can emulate the Scandi minimalist style in your homes is by learning to balance function and form.
If you choose to emulate some form within this theme, it must have a purpose other than styling.
Your goal should always be to prioritize function rather than beautifying the space with meaningless shapes and lines that don't contribute to its soul.
Clean Lines
Clean lines are another essential feature of Scandinavian Minimalist spaces.
When you're enjoining minimalism in your rooms, it's required to balance it out or even represent it through clean, sharp lines. They don't always have to be straight or horizontal.
You can incorporate an arched barrel doorway within your spaces that are not underscored by any material. You can feature statement light fixtures that boast classic geometric lines.
Just note that seamlessness is essential when incorporating this concept. If every line is choppy or short-lived, then your space might unintentionally look cluttered.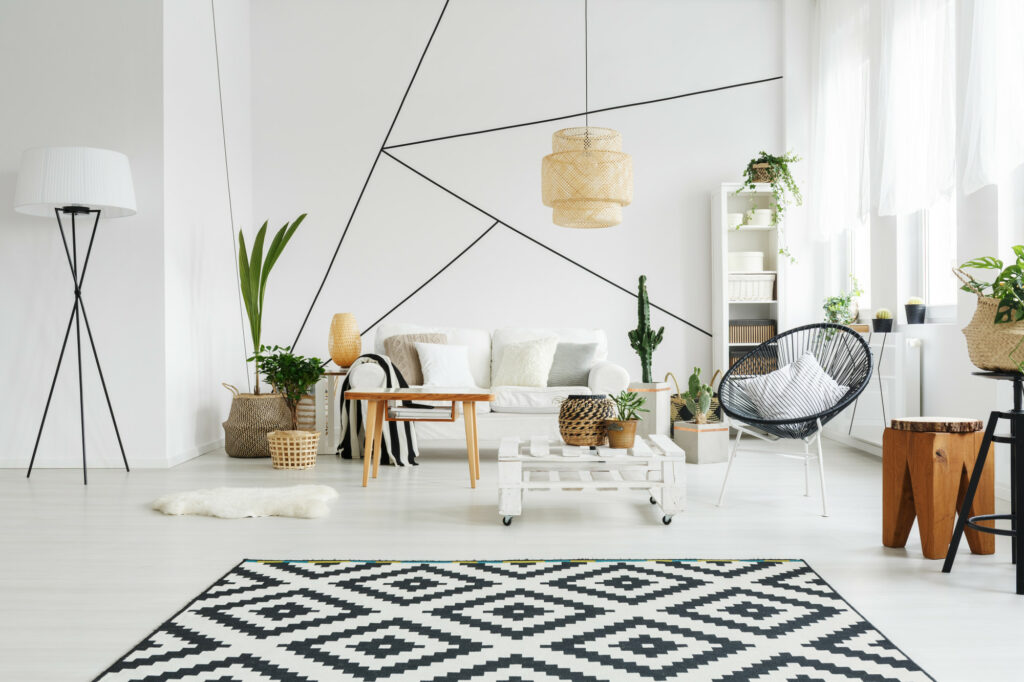 In the end, the concept of Scandinavian Minimalism entails a certain sense of responsibility.
It's not something that you can easily adopt, so here are some tips that can help you start off.
Getting Rid of Extra Stuff
An excellent place to start when adopting the Scandinavian Minimalist lifestyle is to get rid of all the extra things you've accumulated over the years.
You can start of small with your closet. Lose the things that don't spark joy. Look into capsule wardrobes and minimalist fashion. Change the way you perceive your wardrobe choices. Then you can go for bigger stuff. Give away or sell out the furniture that makes your home feel cluttered. Donate accessories and décor that are just fluff or frou-frou additions.
Embrace purpose and intention. Evaluate your spaces with a keen eye while doing so.
Recycling and Reusing
Since the basic idea of Scandinavian Minimalism is all about adopting functionality, you need to start focusing on recycling and reusing.
If you need anything new, try to find upcycled options that would have a lesser carbon footprint. Other than that, you can start looking into reusing what you already have.
Repurposing already existing things can not only bring satisfaction but also help you become more responsible.
Convenience and Ordinariness
Lastly, you do not need to go by the textbook description of what Scandinavian Minimalism should feel like. It's a style that merges convenience, simplicity, and ordinariness to provide a suitably functional home without being overly cluttered.
If your basic needs are being fulfilled without you going for anything extra, then that's all you'll ever need.
What's the Difference Between Simple Minimalism and Scandinavian Minimalism?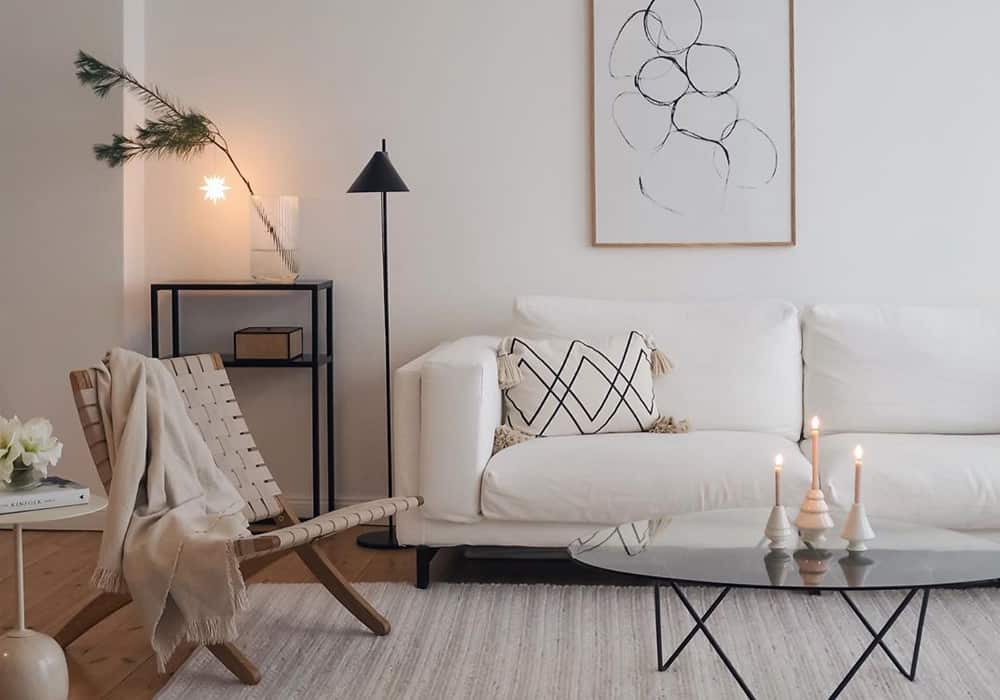 Some people might get confused about how Scandinavian minimalism is so different from traditional minimalism, and the answer is: it's all in the details!
Scandinavian minimalism derives some of its key elements from the general minimalist outlook. Still, if you do a side by side comparison of both, you'll see a clear-cut visual difference between the two.
The primary device of the Scandi-minimalist space is that it also retains many of its Nordic counterpart's main components.
So, while you'll notice how such spaces are distinctly clutter-free, there's a sense of homely ordinariness about them as well. They're not sharp and empty. They don't focus on bearing down space to its skeleton. They don't go about "essential minimalism" in a traditional sense.
Instead, Scandinavian minimalist spaces set themselves apart by focusing on practicality while producing an incredibly relaxing atmosphere.
Here, you're not just restricted to bare white walls and meaningless material exposition. This hybrid style allows you to create room for your well-loved, well-worn things while respecting the essence of minimalism.
It's multi-purposed, brimming with life, and is sophisticated without losing its welcoming charm.
Some Examples of Scandinavian Minimalism
Here are some great examples of this style and some notes on what makes them so unique:
Stylistic Yet Calm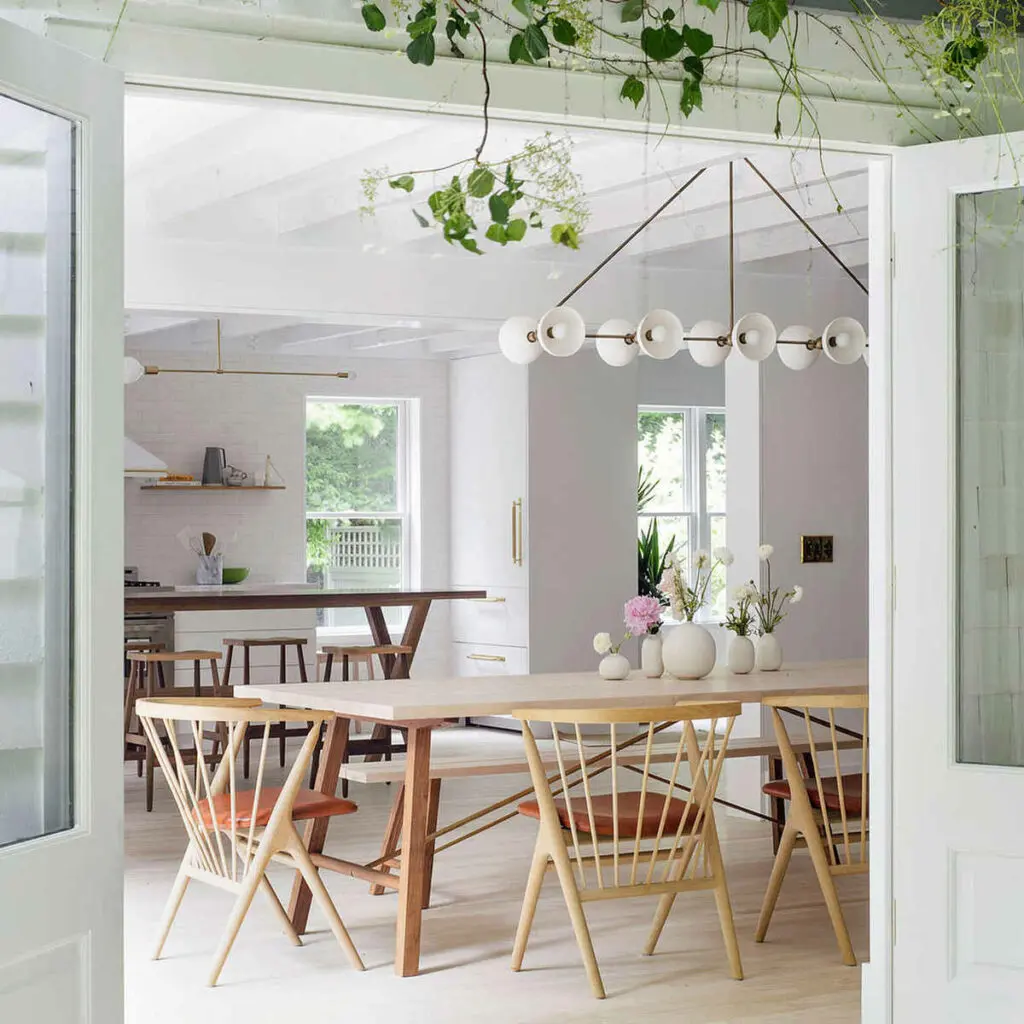 This cozy space complements the form-meets-function duality of the Scandinavian Minimalist style. It's lovely, feels breezy, and features practical furniture without losing its visual appeal.
Add in some natural accents, and the ambiance feels like a real home – complete with inherent tranquility and a sense of calm.
Making a Statement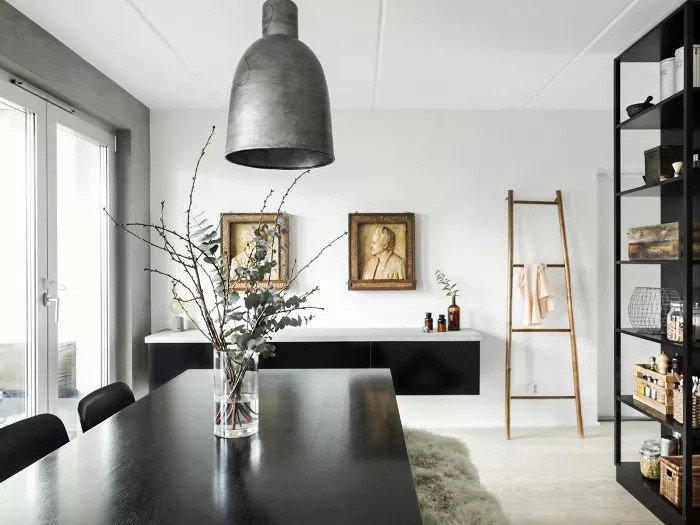 This dining area is an excellent expression of this style. It's very stylish, focuses on the earthy-neutral color scheme, and subtly makes all essential furniture items veritable statement pieces within the room.
The décor is minimal, and everything has been tastefully curated to complement the understated sophistication that adds a sense of refinement to the whole ambiance.
Formal With a Casual Twist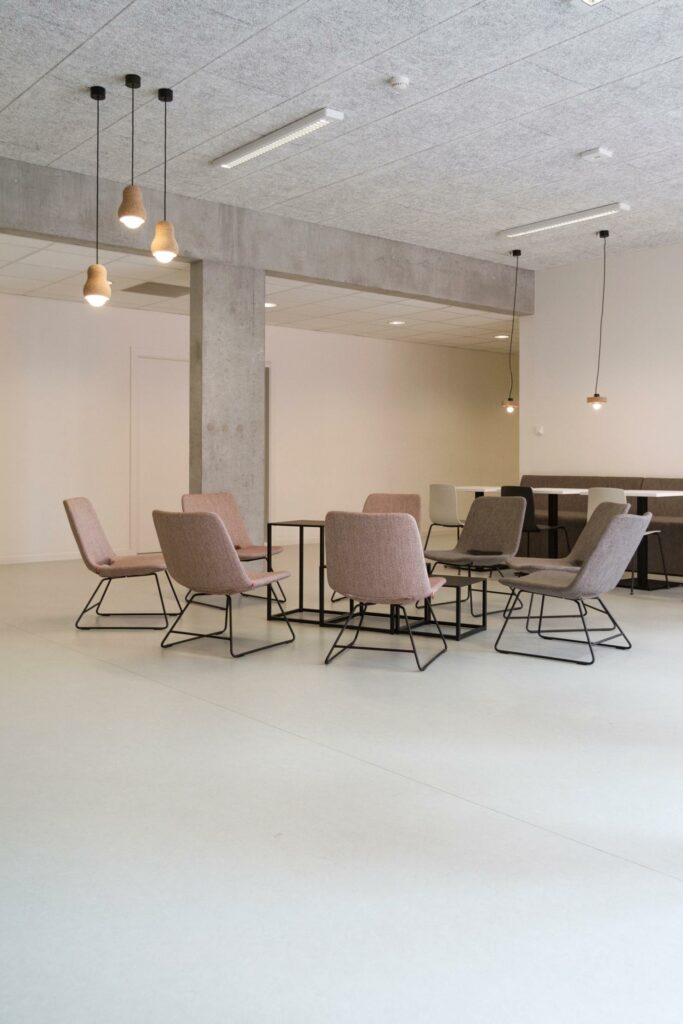 This impressive public space is an excellent representation of the Scandinavian Minimalist theme. It's spacious, designed in warm, neutral colors, and balances out the starkness with cozy, welcoming furniture plus beautiful textures: the airiness and casual appeal ramp up the ambiance two-fold.
The Stylish and Homey Look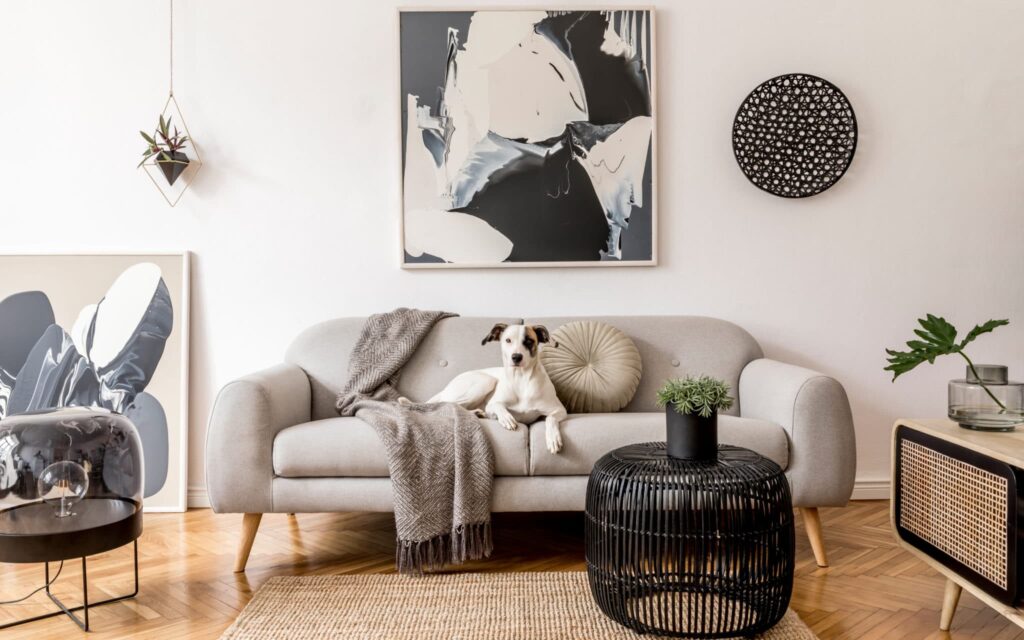 The neat and understated look of this living room is a testament to its Scandi minimalist styling.
Everything is carefully curated from the cozy textures to the functional yet minimalist furniture to present a sense of stylish homeliness.
The neutral color scheme is balanced with white walls and oversized statement art pieces, making the whole ambiance feel lived-in despite being brand new.
Catching the Essence of This Style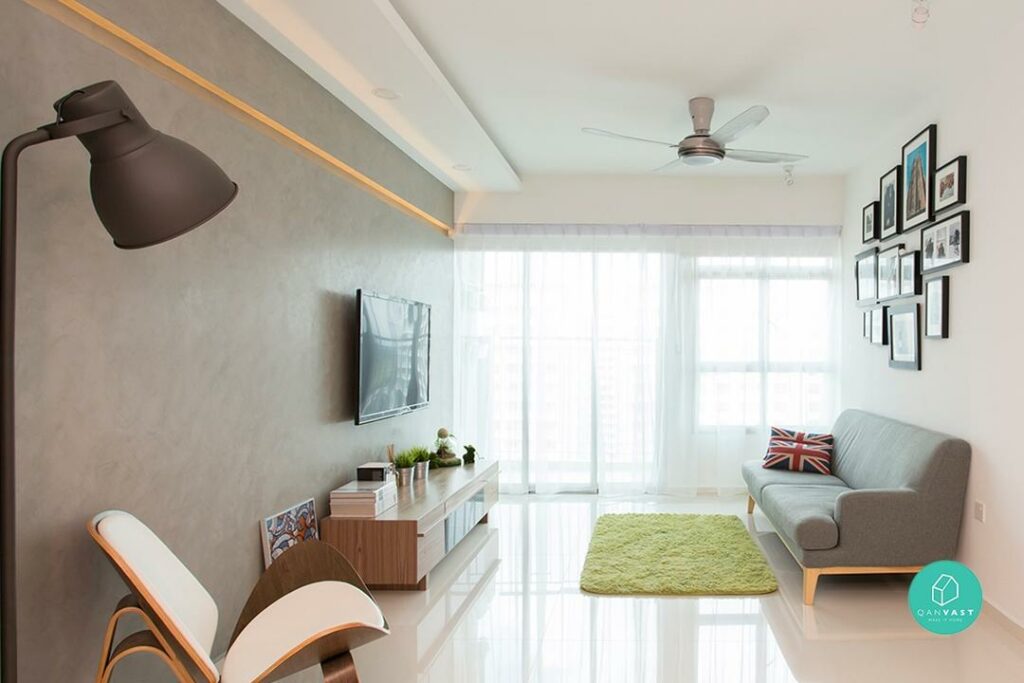 This living room interior is the perfect personification of the Scandinavian Minimalist aesthetic. It's designed in warm-neutral tones, has lots of natural light, and evokes a sense of natural calm that makes you want to lie down and watch some television on the couch.
The furnishing is minimal and to-the-point while the green shag rug provides great accenting with its green patch.
So, this is everything that you need to know about Scandinavian Minimalism, how to emulate it in your spaces, and what makes it so unique! We hope this post helps you get your perfect look!