This article contains affiliate links for which I may receive a small commission, at no additional cost to you, should you decide to make a purchase by using them. Learn More
Your home is your Eden. It's your little kingdom, situated in the middle of a bustling world, there to give you protection and refuge when you need time to rest. By that standing, your garden is your oasis.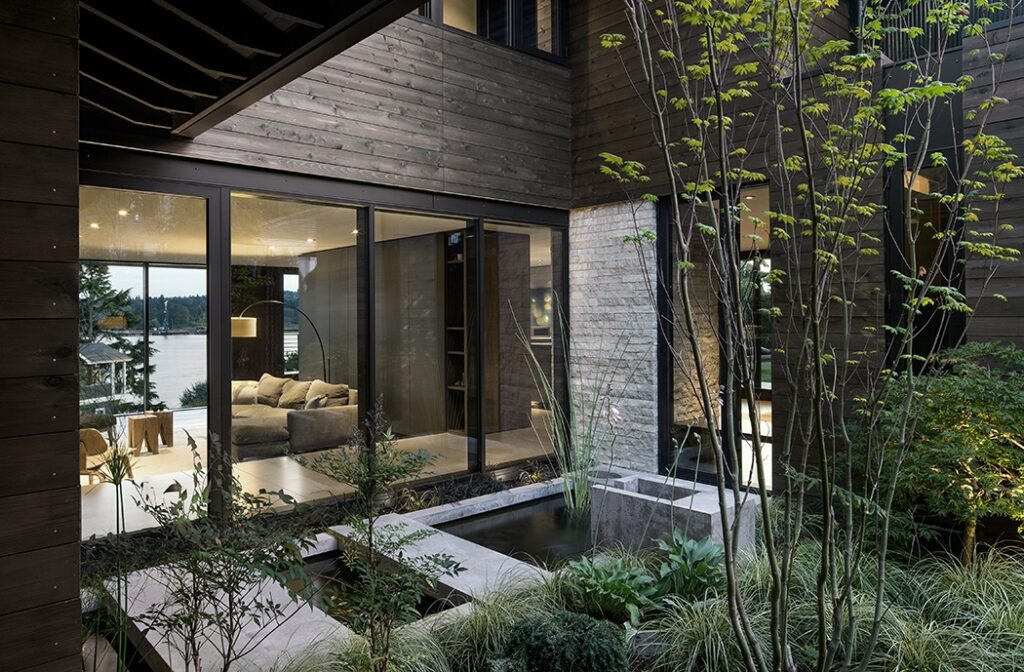 So, why does your oasis resemble the wilderness?
Designing your garden and giving it the TLC it needs requires more than a green thumb and some effort on your part. It's a living, breathing land, filled with plants and creatures that depend on you to keep them alive. And for someone busy all the time, that's a lot of pressure.
How do you keep your beautiful and thriving garden alive if you can't even do so for your indoor plants? The answer lies in the type of garden you have.
Those picture-perfect gardens we fawn at in magazines may remind you of little slices of heaven. But those gardens usually have a small army of people looking after them. With your little garden, you only have yourself for support, which is why the best garden design idea for your home should be a minimalist garden.
Imagine your world with no clutter and no excessive embellishment. Functional furniture sits atop a concrete deck. Clean workspaces gleam, while the wicker fencing panels with several ivy vines in the distance bring a warm glow to the place.
Your small collection of plants is thriving and growing, and the fine-cut grass seems greener than ever. And the water feature brings a beautiful touch of whimsy that you won't likely achieve with a plastic flamingo.
That is what your garden should look like.
Finding Your Path to Minimalism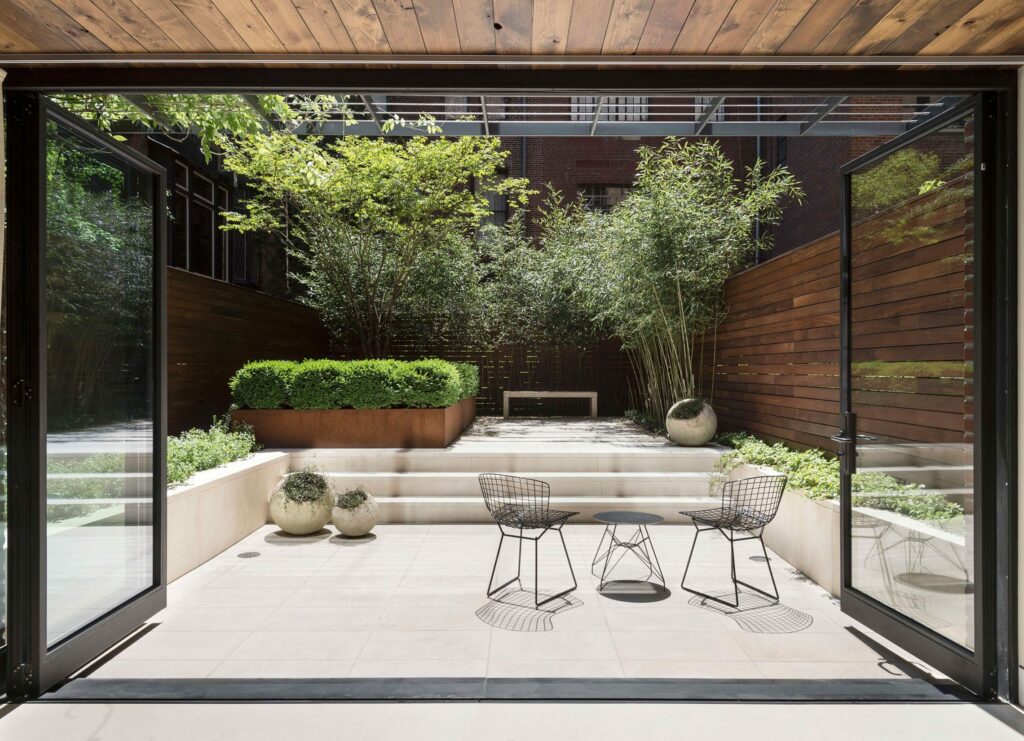 Minimalist garden designs did not become popular until the mid-1960s. That's when home designers and architects began incorporating ideas of outdoor rooms into the overall home look.
So, instead of treating the garden as an extra patch of land attached to the property, homeowners began turning it into an extension of their home.
Designers began connecting the home's interior design to the exterior design. Concrete walls and wood doors made way for patio doors and sliding glass doors. We saw designers transition the interior flooring choices to the outdoors, connecting the home design theme.
But during that time, we didn't have much of an idea of how we could minimize the look of an overgrown, luscious garden. On its own, the idea seemed lovely. But not many people could handle such a responsibility. That's when designers looked toward the Zen gardens in Japan for inspiration.
Zen gardens are the true source of minimalism. Rather than adding various plants and flora to give the place a boost, these gardens utilize rocks and gravel. Homeowners would rake the stone in different simple patterns, creating symmetry in style around the rocks.
The idea was to achieve spiritual balance by removing any elements that offer superficial satisfaction based on appearance. Using rock, sand, gravel, wood, and some plants, the person would have space where they could meditate and truly fixate on the meaning of existence.
This idea became very popular in the western world. As this garden-style started to evolve, more homeowners began incorporating the little touch of their favorite garden ideas into the minimalist style. The result was a beautiful amalgamation of simplicity and functionality, with just enough pizazz.
How to Achieve a Minimalist Garden Design
It's not as challenging to create a minimalist garden as you may think.
Your strength lies in using the space you have while following the garden design trends you like. Minimalist garden design involves using bold, hard lines, with small plants and simple landscaping materials. If you have the creativity needed, you should have no problem creating an idyllic minimalist garden.
Here are some ways you can achieve your desired garden design.
Keep Your Grass at Ground Level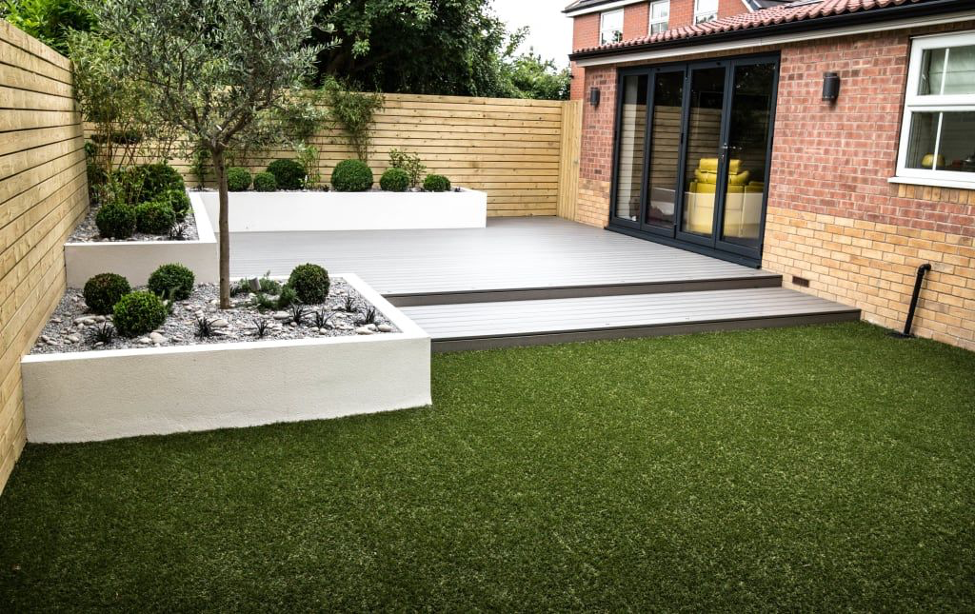 Of course, your grass would be touching the high heavens any time soon. However, we usually let the grass grow freely, mowing it in various styles and directions, but never with a particular theme in mind.
When designing a minimalist garden, your goal has to be to lay the grass carefully and level it to resemble a carpet. If you don't have such mowing skills, using artificial grass is an easy way out. Remember, the idea is to have as little clutter as possible, including the mess a wayward patch of grass can create.
Your grass is the foundation on which you'll be incorporating your minimalist garden design. You don't want to realize what a mistake it was when you're halfway done through your project.
Set Boundaries and Restrict Some Areas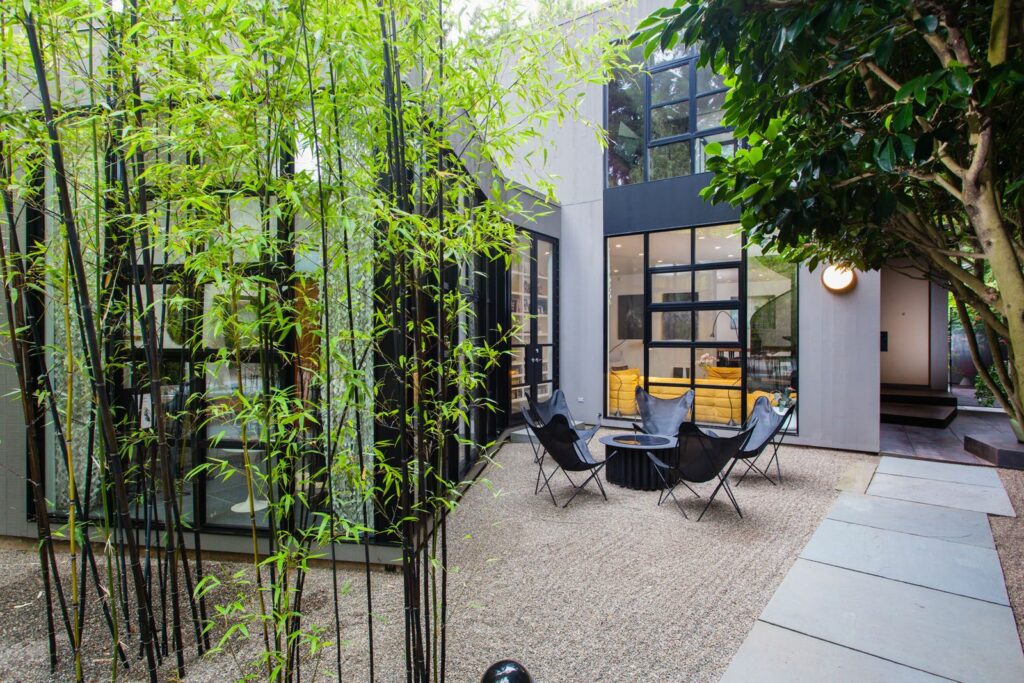 If you've been blessed with a large garden space, use it to your advantage by dividing it into separate areas.
It's not mandatory to add concrete, marble, or glass panels to your garden, but it could add a nice touch to the minimalist aspect of your place. Use trellis or glass walls to separate the dining space and sitting area. Or timber fencing or limestone blocks to give it that subtle but luxurious touch.
But keep your use of materials and colors to a minimum. Minimalist design does not allow for shiny metals and painted walls. Stick to the neutral colors that complement the preferred hue of your home interiors. Your objective is to make your outdoors understated and calming.
Limit Your Use of Materials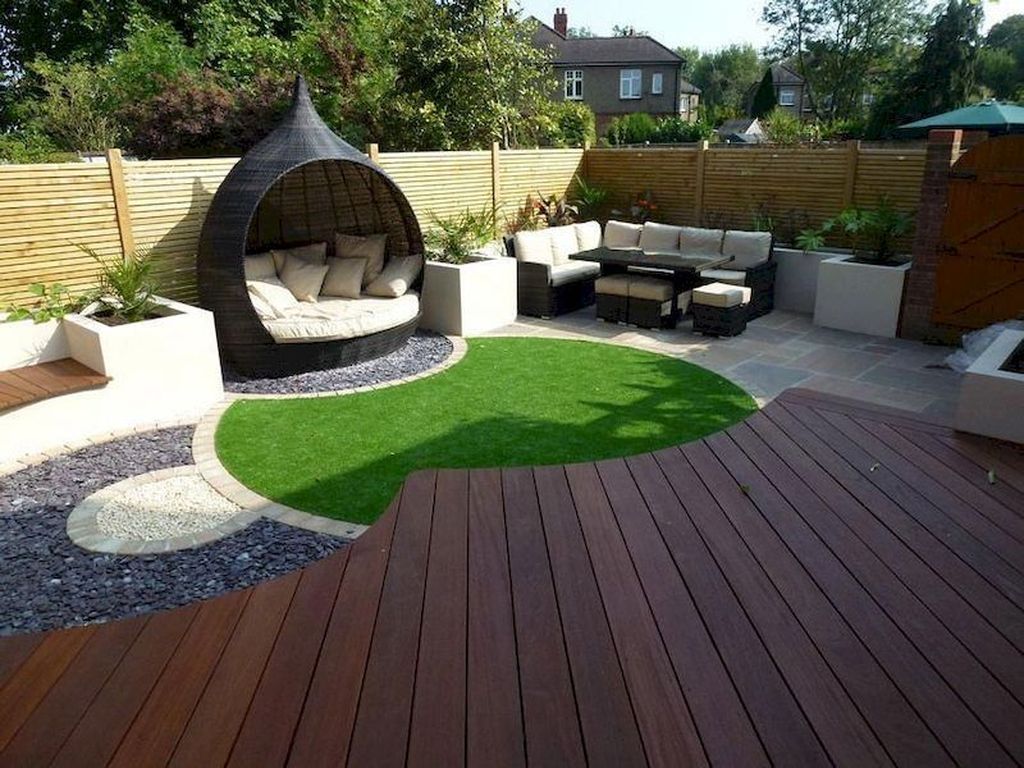 Using different types of hardscaping materials will do you no good.
You want to achieve a simple, clean look. And for that, you can't use various colors for decking or fencing to create a harmonious look. When using any style of wood, stick to one material and one hue. As for paving, minimalist garden designs usually call for a cool color finish. However, it also requires a just hand and skill.
If you're not much of a DIY-er, having a professional lay the pavement will ensure that you have a perfectly finished floor. Before that, when choosing a pavement, do not pick an option that you like, only for aesthetic purposes.
Your overall theme and hue dictate the types of flooring you should get. For example, if you've chosen dark grey seating, granite planters, and dark window frames, a lighter grey paving stone will offer that perfect balance of light and dark.
Use a Limited Range of Plants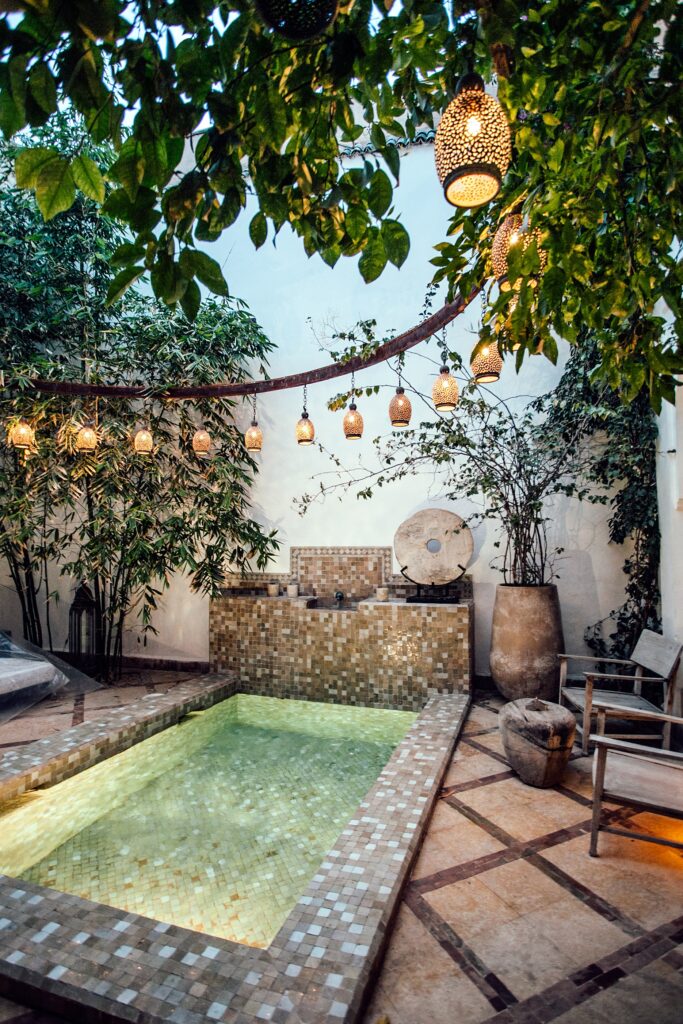 While most Zen minimalist gardens don't call for a selection of plants, the rules aren't so strict for a contemporary minimalist garden design.
Yet, there is a limit to how many types of plants you can experiment with. Most garden architects recommend using only three species, repeating them wherever needed. Using a limited number of plants allows you to create symmetry in design. Boxwood is one of the more popular choices for such gardens because of its evergreen quality, not to mention its striking design when clipped right.
But you can also use tree aloe, frangipani, Japanese maple, cycads, mother-in-law's tongue, birch trees, reeds, and bamboo to create scenery. Plant the species of plants in unified blocks. You want to use the color story to your advantage. Grouping these plants, perhaps in couples or groups of three, will give your garden a nice, clean finish.
Use Water Features to Satisfy Your Need for Movement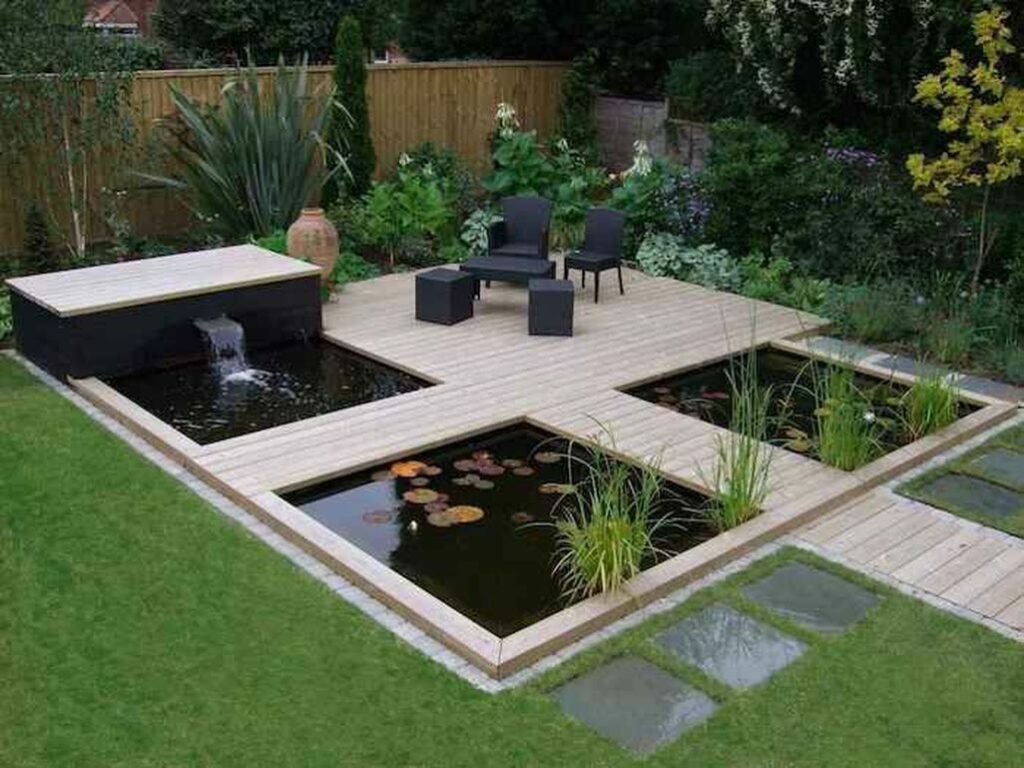 If possible, you can have a lush water feature in your garden. However, you may lose the point of minimalism in garden design.
This garden design style calls for understatement elements, and that rule extends to water features as well. We have to think further than just using water features for ornamental purposes. Instead of installing a fancy waterfall beside your modest pool, think about how your water feature's movement and sound will affect your garden experience.
Is it too loud or too ostentatious? Does it overwhelm the overall garden design or take away from the simplicity of the look?
Always start with a simple feature such as a small water bowl. If you get enough space to add a more extensive water feature, experiment with water rills, pouring jugs, ponds, or even a stream. There are so many beautiful ideas you can choose that will add to your minimalist garden design. Don't let the opportunity go to waste.
Add Some Room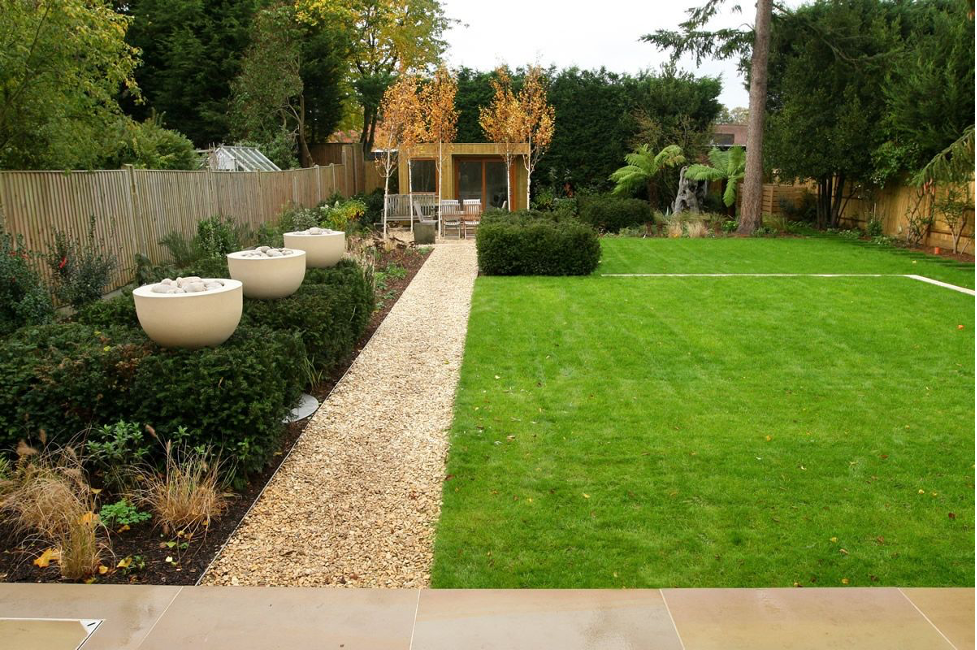 Those saplings may look a little small in your garden now, but give them time, and they will grow to three times your height.
Plants grow. All they need is some patience, love, and care. While your garden will look a little bare and spacious now, give the plants some room to breathe and grow, and don't give in to the temptation to fill the beds with more plants. Clear the garden regularly, and take care of your plants, especially the trees. As for your planters, don't add more than what you already have. It'll fall on you to take care of mulch and leaves later.
Come early spring; your garden will flourish into its ultimate state. It'll retain the minimalist design you'd always wanted. It'll just be at another level.
Choose Comfort over Aesthetic When Picking Furniture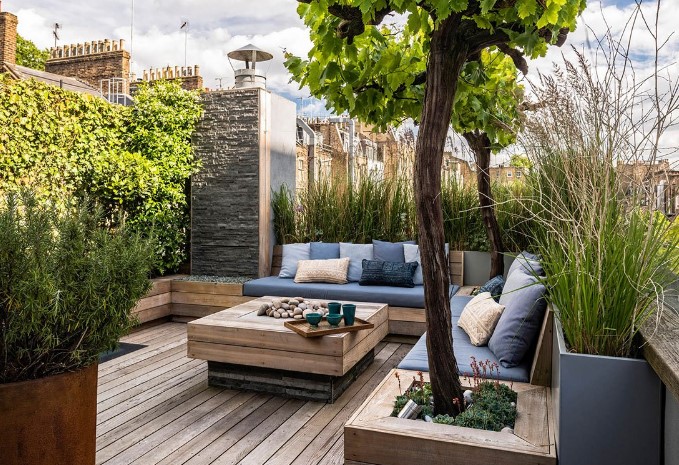 Unless you have a big family and friends over every other day, you hardly need a complete garden furniture set that comes with a dining table collection and pair of couches for good measure.
When choosing garden furniture for your minimalist garden, determine how much you need and stick to that estimate. Hosting the monthly event of evening cocktails won't require as much furniture as you need. Instead of going all out with your finances, opt for some comfortable seating and a couple of side tables.
Try it out before you buy it, and look for furniture that can stand the test of time and the weather. Many homeowners make the mistake of purchasing aluminum or stainless steel furniture to offset their garden's minimalist design. However, these are not ideal if you live in a sunny state. Wood furniture can crack and warp if you live in a wet climate, and natural wicker is only usable for indoor covered areas.
Unless you have the money to spend on furniture every few years, choose the right furniture that matches your style, comfort level, and weather.
Don't Forget About Lighting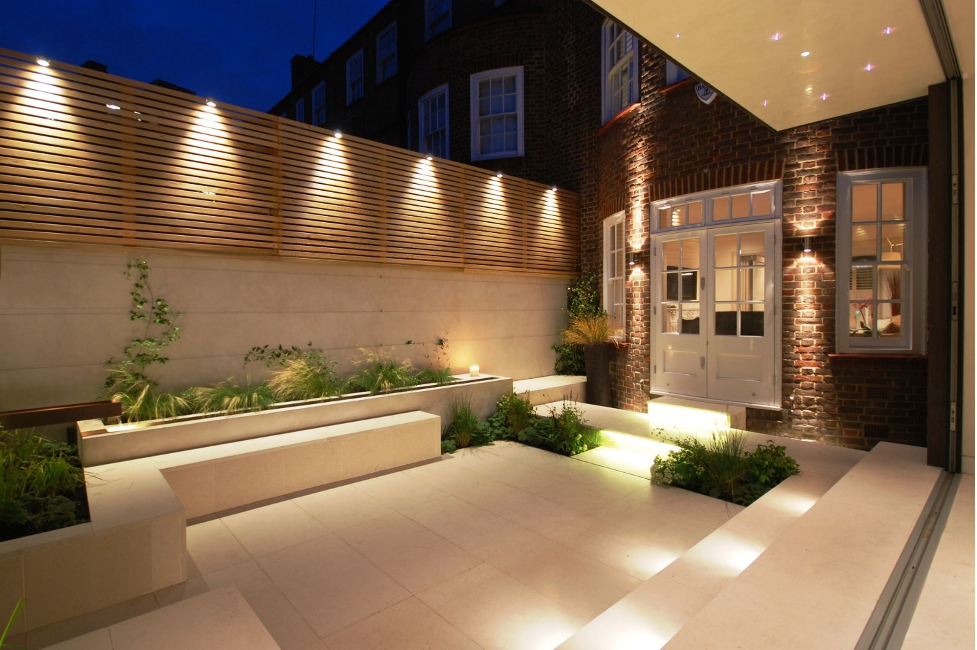 Lighting is an overlooked element of minimalist landscaping.
Using the right lights makes all the difference for your garden's ambiance. All you have to do is make sure you make the right choice of garden lighting. With a minimalist garden, you can take advantage of your water feature and add a simple spotlight underwater. But, if your water feature is too small to be a good light source, the next best option is to use the trees.
Layered lighting offers a soft, subtle glow to your garden. Pairing this ambient lighting style with accent lighting for the water feature and a lighting effect under the steps on the pavement will turn your simple garden into a sanctuary of perfection.
In the Spirit of Minimalism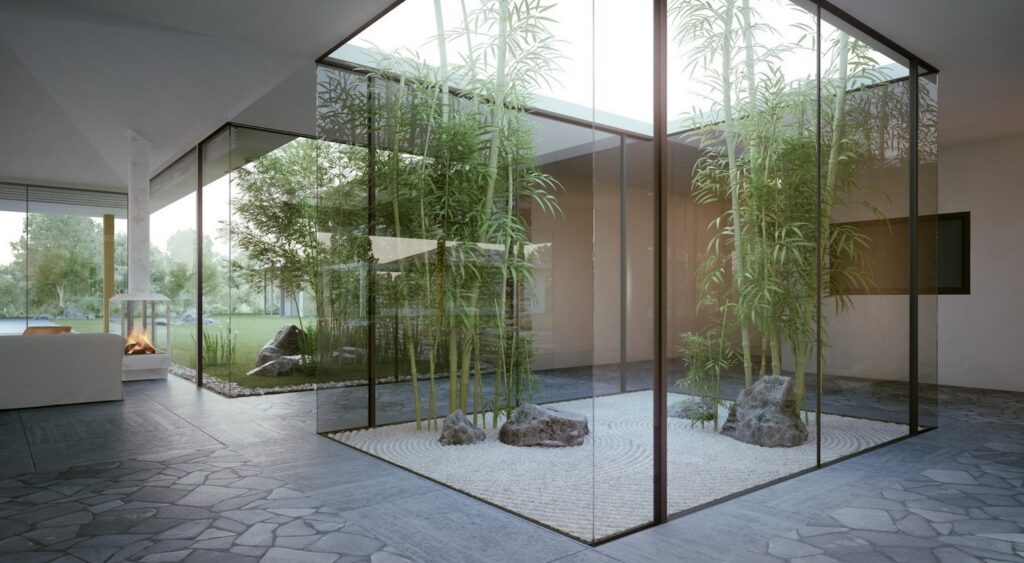 For a truly minimalist garden, there's no reason why you can't get away with the contemporary elements and turn your backyard into an Asian-inspired Zen garden. Use a bunch of lights, gravel, stones, and rock. To create texture, keep a rake handy and utilize it to create ripples.
If you still want to exercise your green thumb, plant a Sakura tree in the corner, bamboo, or a garden path highlighted with grass. You can also plant a common yew tree, Japanese maple trees, or Azaleas for a dash of color. As for the water feature, if you're worried about insects, creating a faux waterfall with a dry riverbed will give your garden an excellent, elevated look.
However you choose to go about it, it won't be challenging to create a beautiful minimalist garden. It's all down to your limits and creativity. Have as many features as you want, or as little as you please. Whether your garden is simple and plain, or tastefully designed with classy water features and planters, if it pleases you and brings you joy, that's all you should want at the end of the day.